Pando Moto Robby Arm Jeans
The Robby Arm 01 jeans represent an excellent combination of abrasion protection and stealth. With little outward indicators to their durable nature, these black jeans offer EN 17092 level AA protection while providing the look and feel of your average cotton denim. To top it off, Pando Moto offers removable impact protectors for the knees and hips.
Pros
Very comfortable
Stealthy "normal" jeans look
Super durable Armalith fabric (AA rated)
Removable knee and hip armor included
Cons
Included armor doesn't inspire confidence
Pricey, but inline with similar offerings from competitors
Specs
Manufacturer: Pando Moto
Price (When Tested): $375.00 (USD) €339.00 (EU)
Made In: Lithuania
Alternative models & colors: Black
Sizes: 28-36 (with some sizes available in Short and Tall)
Review Date: April 2021
Introduction
I can't believe it's been almost three years since I reviewed the Karl Devil motorcycle jeans from Pando Moto. At that time I wasn't familiar with the company and wasn't sure what to expect. It turned out I was really impressed with those jeans which frankly didn't really look like jeans.
Sure they were made of denim (on the outside) but they looked more like track leathers than jeans. They were also very heavy compared to your typical "blues". I liked them enough to wear them often when riding and only stopped doing so last year once I lost a couple of inches from my waist as they were just too loose.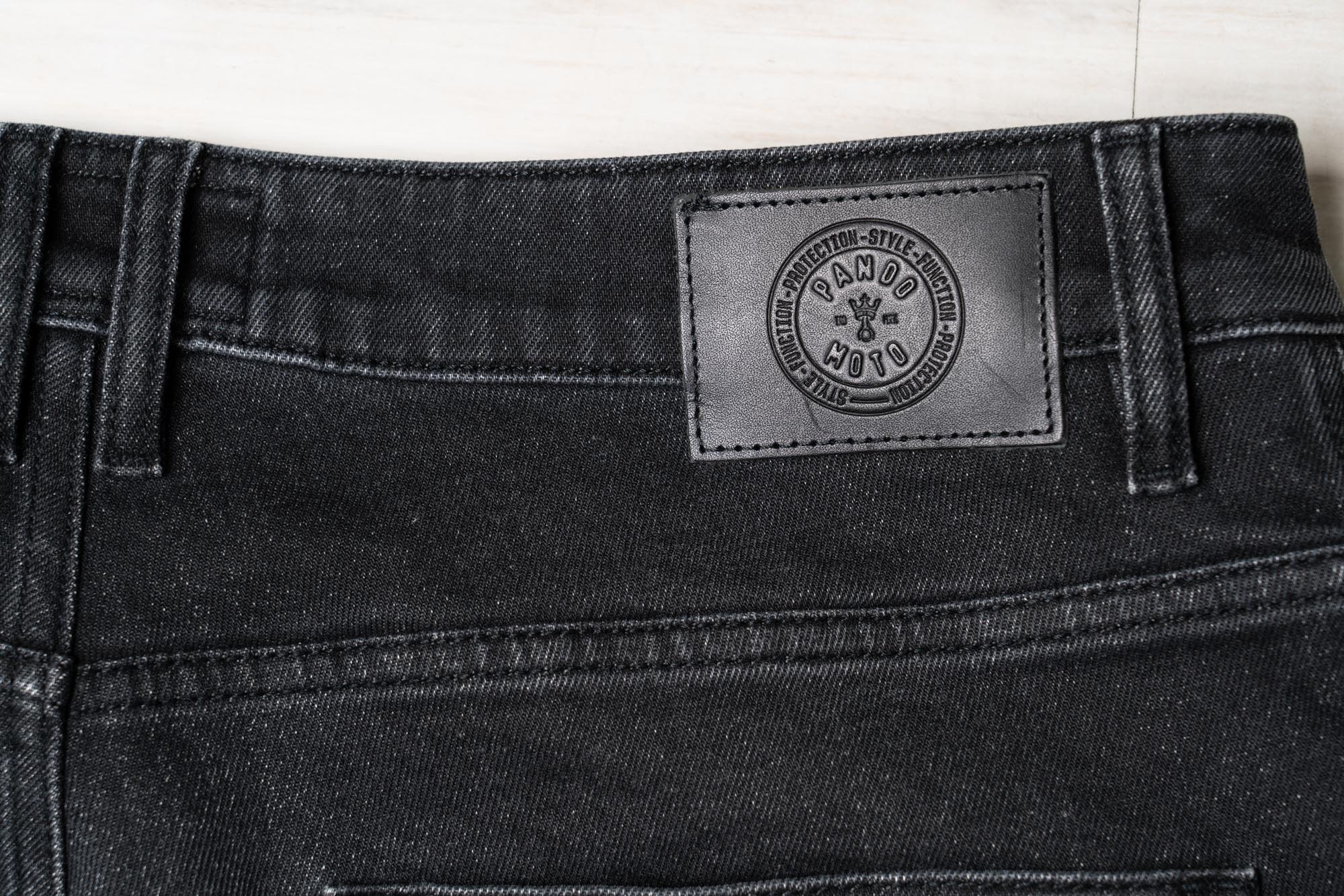 The most blatant piece of branding on the Robby Arm jeans and it is still pretty subtle.
With that experience in mind, I was very excited to have a look at a new pair of jeans from our friends in Lithuania. If you're not familiar with Pando Moto, they are a motorcycle apparel company that began life in a small office above a Harley Davidson shop back in 2011.
From that small beginning, they quickly grew their team and product line and arrived at the 2014 Eicma show in Milan to make their presence known. As of Q2, 2021, their lineup includes not only twelve different pairs of jeans (9 men's, 3 women's) but also a selection of armored base layers and other apparel. For more info on Pando Moto you can hit up their about page.
Now let's have a look at what arrived in the package from Lithuania.
The Robby Arm 01 Jeans
To be clear, the full name of this product is the Robby Arm 01 – Men's Slim-Fit Motorcycle Jeans which is quite a mouthful. Going forward I'll just call them the Robby Arm jeans to save time for you and me.
The "Arm" portion of the name is important as it denotes these jeans use Armalith® as the material from which the denim is made. Pando Moto also uses Dyneema®, Cordura®, and Kevlar® in their different jeans so as one can guess, the Robby Cor jeans use denim made with Cordura®.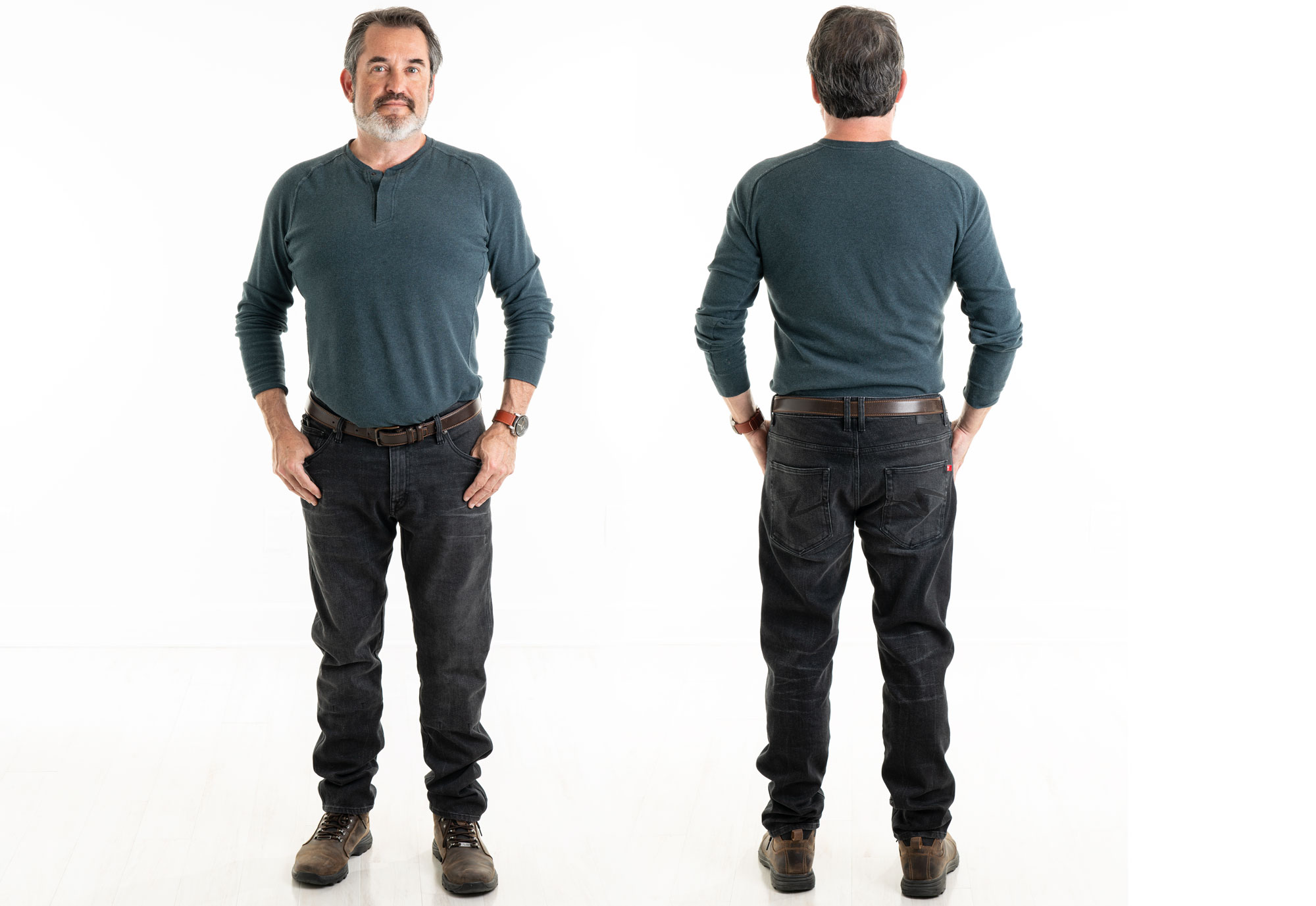 Front and rear view of the Robby Arm jeans
Armlith®
Armalith® may not be an immediately recognizable name like Cordura® or Kevlar® but it's becoming more familiar as larger manufacturers, such as Dainese, are offering products using this highly abrasion-resistant fabric. Unlike some other "tough" denims used in riding jeans, where an abrasion resistant yarn is woven into the fabric alongside cotton, in Armalith® the UHMWP (ultra high molecular weight polyethylene) fibers are wrapped within cotton.
This approach gives the Robby Arm jeans the look and feel of traditional cotton denim. The UHMWP fibers have zero moisture absorption and don't degrade in UV so they can withstand being out in the sun as well as deal with the rigors of the washing machine but don't iron them or dry them on high heat. You can get all the details on Armalith® at their website.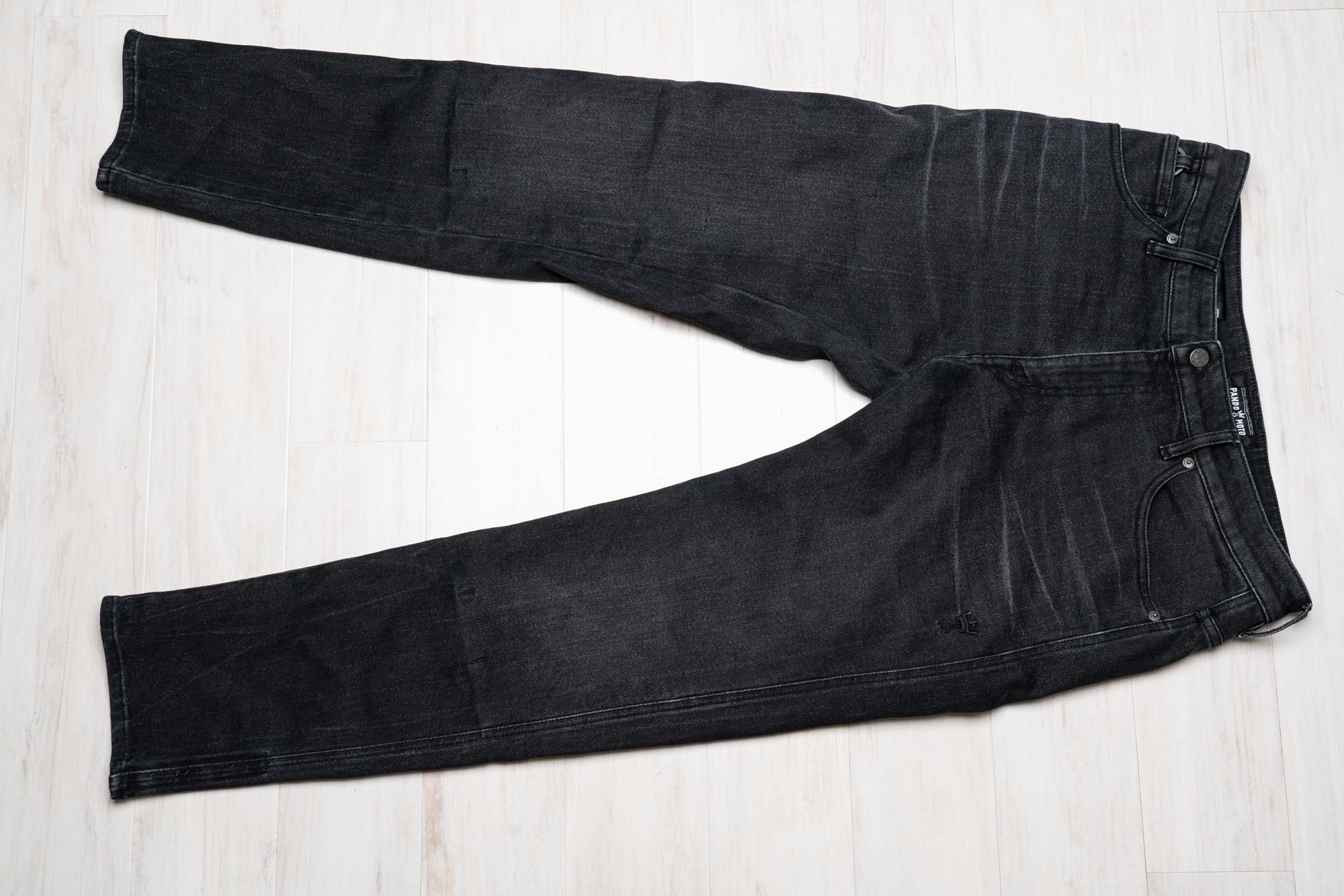 Pre-distressed black denim give then old worn look right out of the package
Despite the high tech fabric and provisions for knee and hip armor, the Robby Arm jeans look pretty much like typical black denim jeans. Eagle-eyed viewers might notice the small pair of vertical stitches just below the knees which anchor the lower end of the knee armor pockets but that's the only "tell" these are something special.
Sticking to the usual denim jeans configuration, the Robby Arm jeans have five pockets with the fifth pocket being a smaller coin sized pocket within the right front pocket. At the top of the coin pocket is a one inch (25mm) metal ring hanging from a small strap of denim. This can be handy for clipping to a keyring or other small object to prevent it from falling out of one's pocket during a ride. There may be a different use in mind but that's all I can come up with.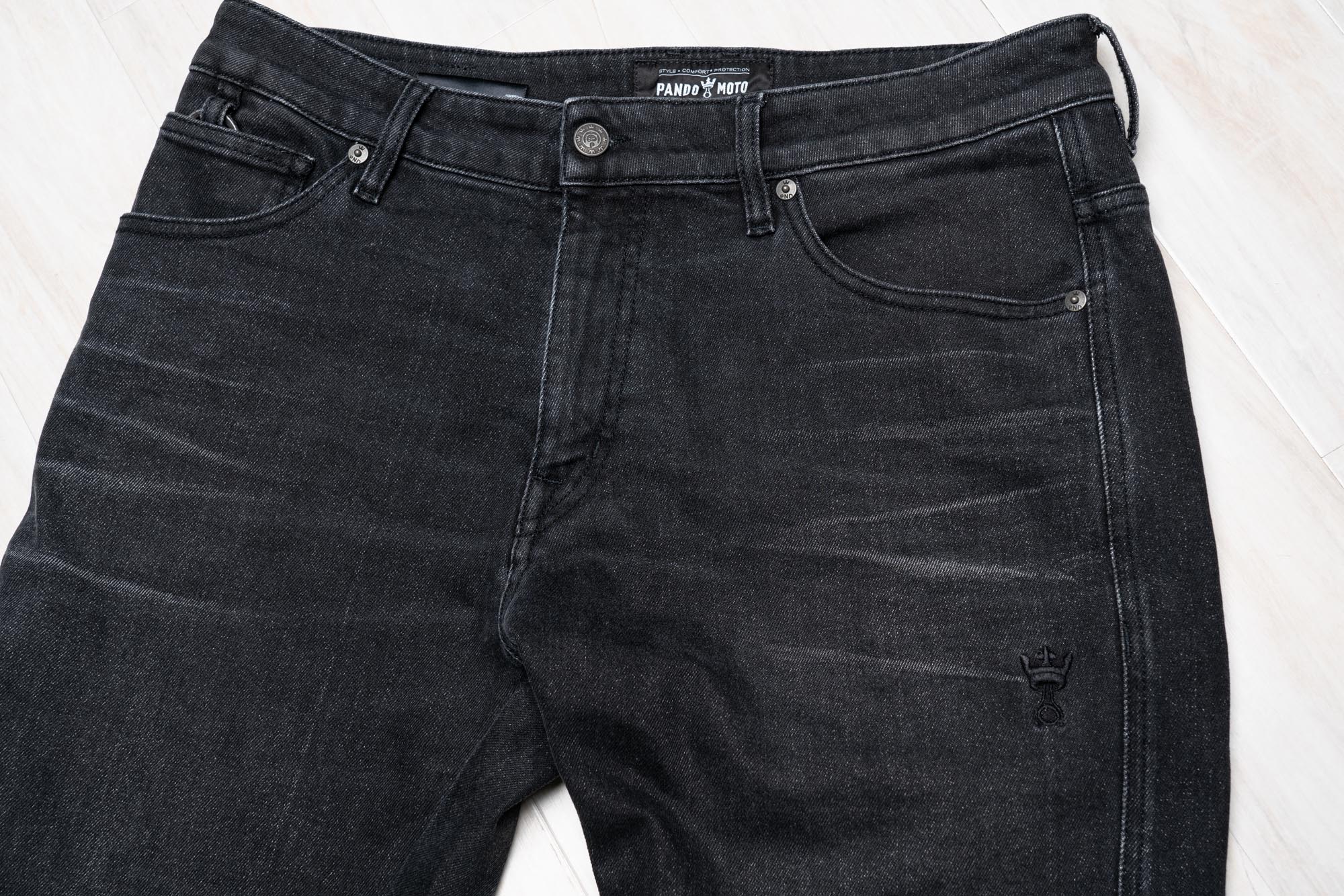 Metal button and rivets look good but I'd prefer some rubber/plastic covering to protect tank paint
Branding is very stealthy with a small Pando Moto "piston-crown" logo embroidered on the left thigh and a black embossed leather patch over the right hip in the belt path. Neither is noticeable so the Robby Arm jeans certainly don't shout their heritage but rather they quietly whisper it.
In a nod to fashion, the jeans come out of the package with distressed looking areas so they have the look of something you've worn a long time as soon as you put them on. The jeans use the standard button and zipper (YKK by the way) main closure but I would like to have seen the button covered in rubber or plastic. Likewise, the rivets on the front pockets are an uncoated or covered metal which could be a threat to paint on certain bikes.
Construction
The entirety of the outer shell of the Robby Arm jeans is made from a 13oz variant of the Armalith® denim which, as mentioned previously, is a UHMWP fiber wrapped by a cotton outer layer. In the hand, the denim feels no different to me than regular cotton denim.
Turn these jeans inside-out and it becomes evident these are designed for motorcycle riding. The interior of the front of the legs from the waist to below the knee is lined with a lightweight mesh material. At the knees and hips are pockets for the included armor made from a solid textile (cotton?).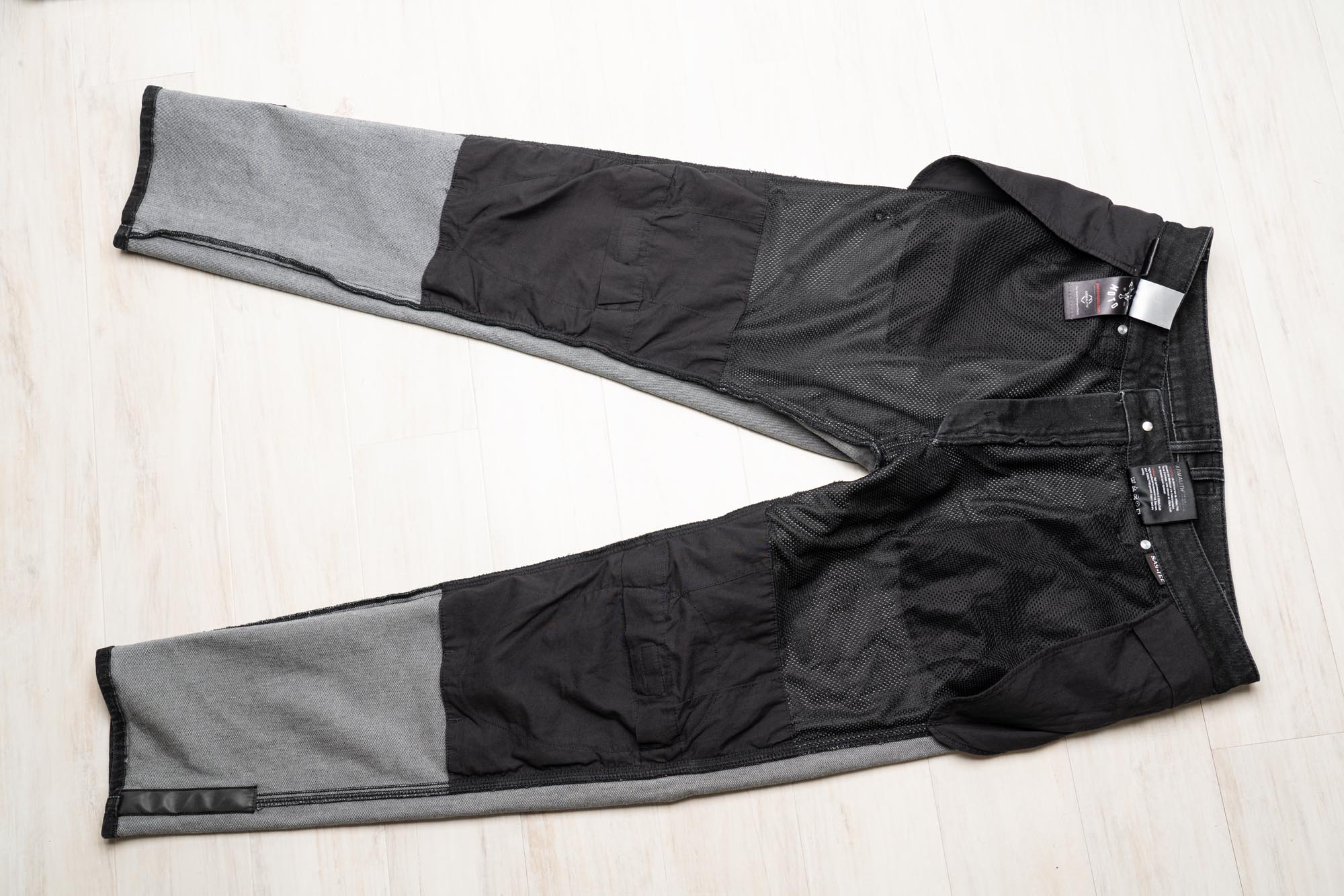 Interior mesh lining and armor pockets along with reflectors at the leg cuffs revealed when rolled up
The interior lining means these aren't a true "single-layer" garment but if you want to include provisions for armor, you have to have a space for it somewhere. I have to say I preferred the outer pockets for the knee armor on the Karl Devil jeans but that would no doubt take away from the "these are just jeans" look.
The overall construction is very good and the stitching is very neat. There are areas of stitching where it is not perfectly straight but the variability is pretty small. If one wasn't looking for this it would likely never be noticed.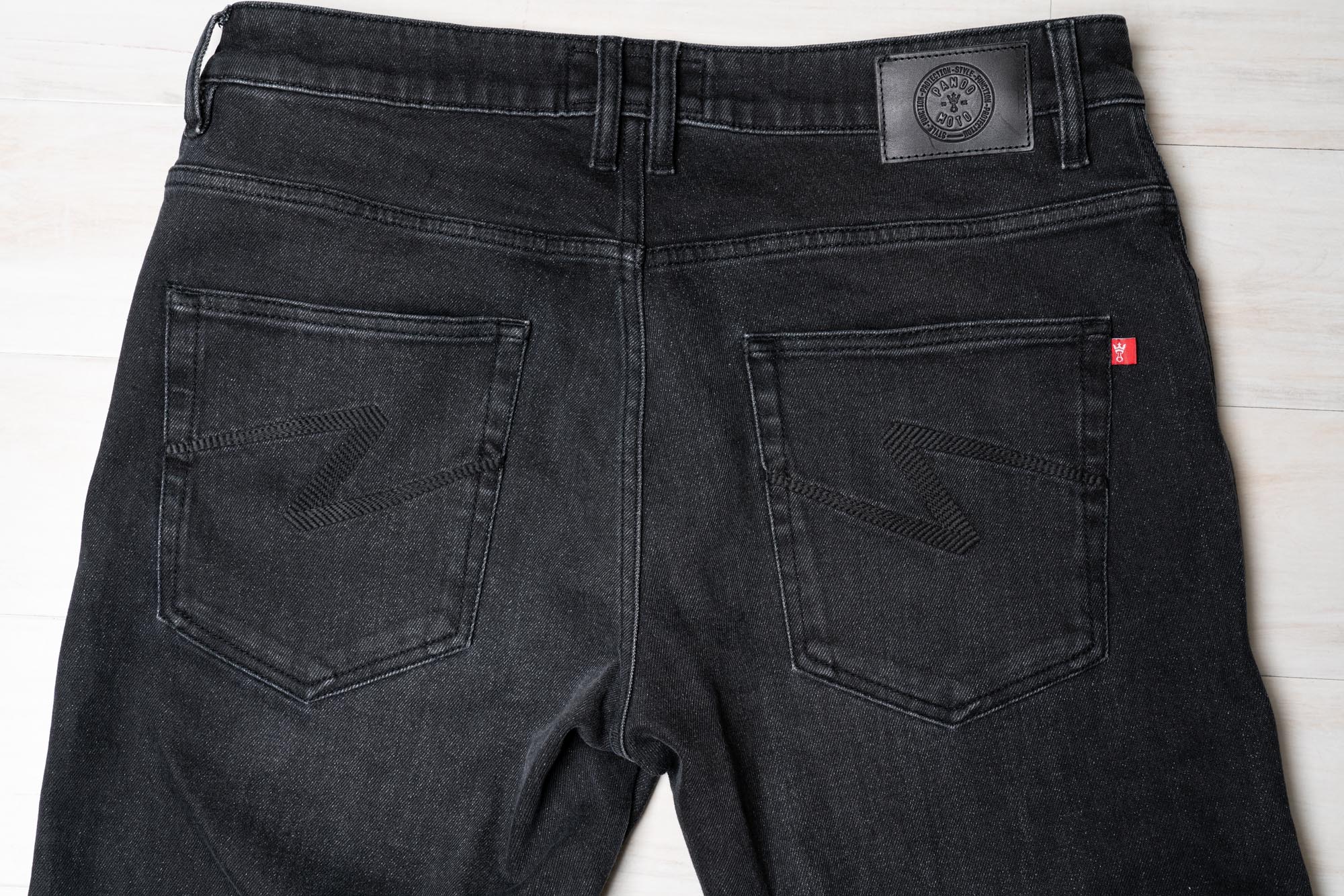 Not much branding to see here besides a small red tab and that under-the-belt embossed patch.
There is a nice touch in the form of chain stitches being used in areas that require reinforcement. Chain stitching requires more thread than the typical lock stitches I've seen used in other riding apparel and chain stitching offers more strength. It's a small detail but one I appreciate Pando Moto implementing.
Protective Features
The obvious place to start when looking at protective features is going to be the Amralith® denim. So how tough is this material?
Abrasion Resistance
There are different flavors (strengths) of Armalith® with the one used in the Robby Arm jeans being of the AA32 variety. This means it meets the CE EN 17092 standard at level AA which provides 32 meters (105 feet) of "slide" protection on the street. In my opinion that's more that adequate for the average street rider when commuting or even mildly spirited riding on secondary roads.
NOTE: Pando Moto lists the slide distance as 35 meters but I'm going to go with Armalith's numbers. I have asked Pando Moto if they are aware of this difference in spec listing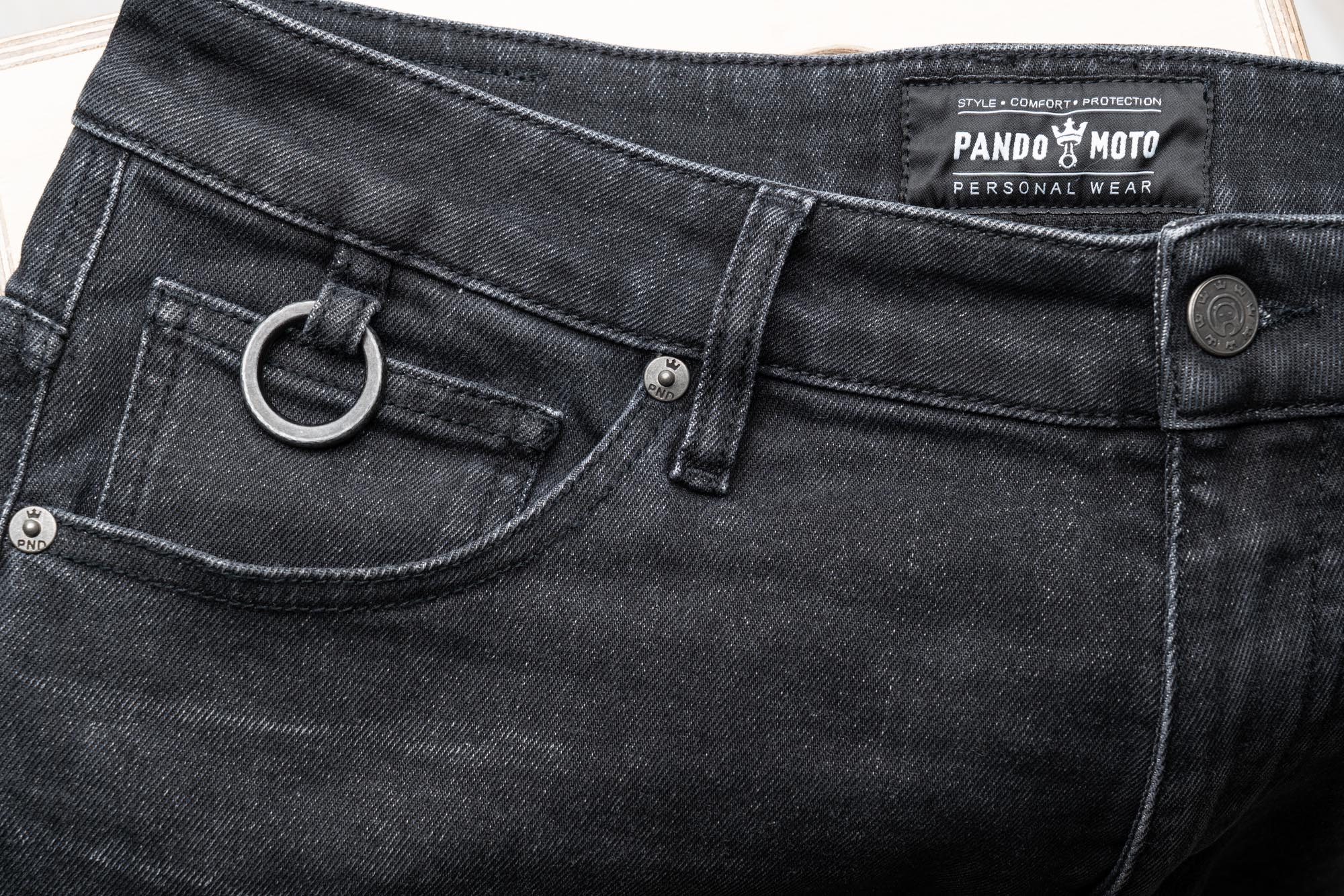 Ring for clip-on keyrings or other small items just over the coin pocket
Would I take these to the track? No, but that's not what they're designed for. However there is a AAA variant of Armalith® that provides slide protection of 54 meters (177 feet) so I suppose a manufacturer could make a racing suit out of this stuff, but I digress.
Impact Protection
Pando Moto definitely has the abrasion portion of protection covered, but on the topic of impact protection, I feel it is a bit of a mixed bag. First off I should point out I'm pleased that Pando Moto has provided pockets for both knee and hip armor which is something I feel all riding pants should offer. The issue I have is the armor that they have included.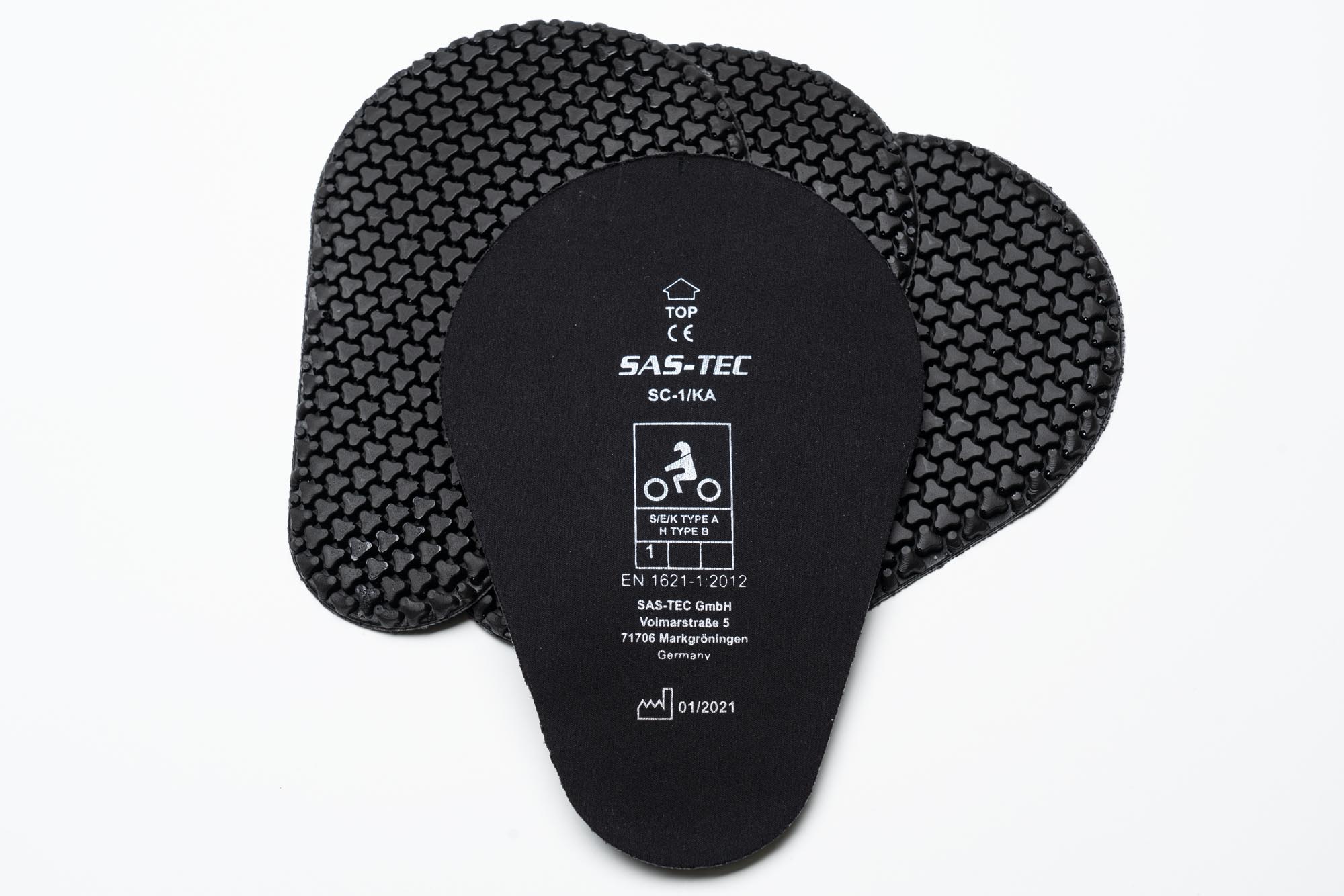 SAS-TEC TripleFlex CE level 1 armor included
The armor bits themselves are from SAS-TEC, specifically the SC-1/KA from their TripleFlex lineup. At first I was excited to see this armor as it resembles REV'IT!'s Seesmart armor in how it is impressively thin and light for the protection offered.
While this protector is very flexible overall, the small triangular knobs themselves are rather hard. If one presses on them very slowly they will "squish" a little bit but under an impact they feel very rigid. I get that that is how these viscoelastic materials work but they feel like they aren't damping the impact enough, at least not for my knees, and my own personal taste. As hip protectors I feel these would be adequate, but just so.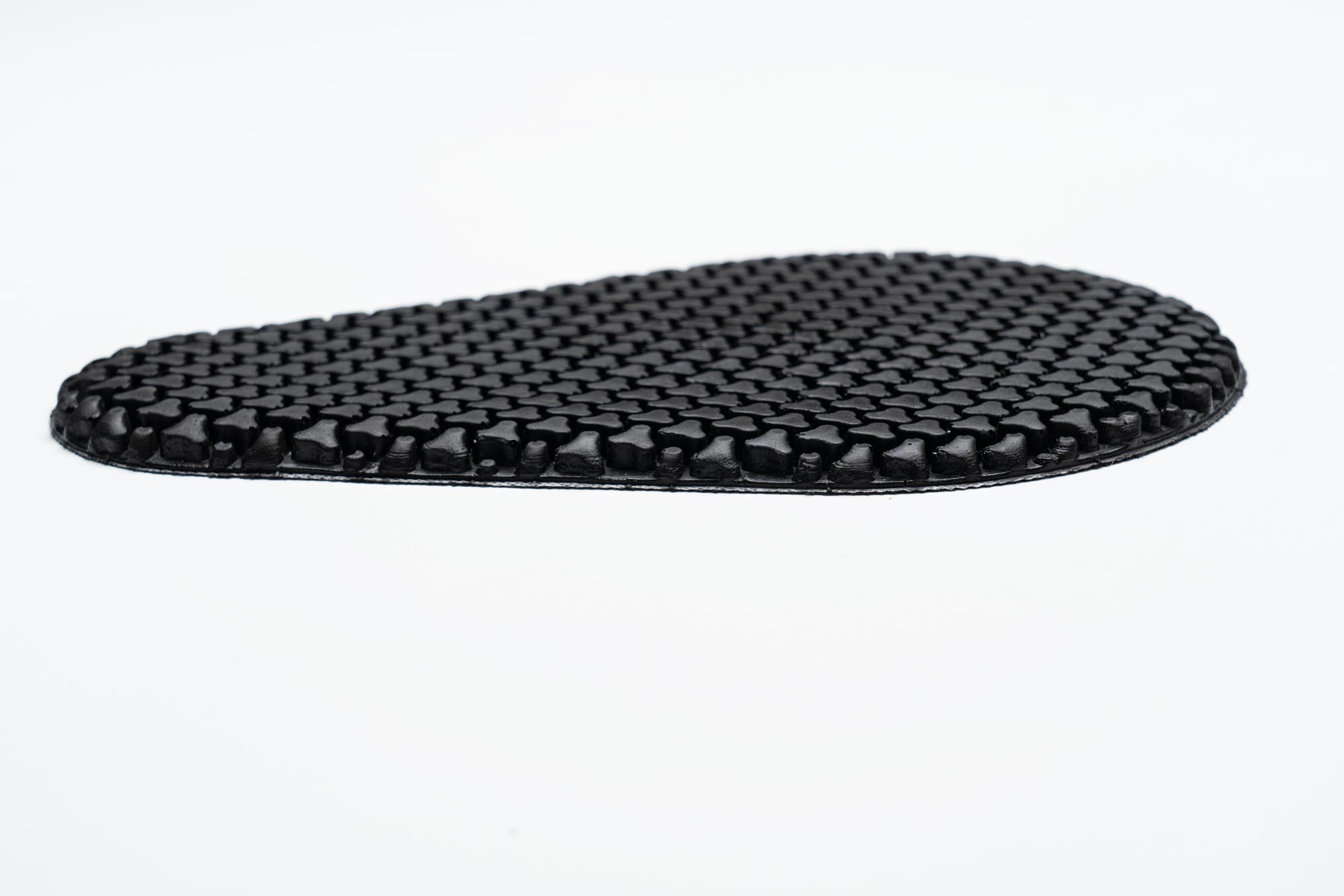 Thin and only 45g yet still provides CE level 1 protection
If one feels these protectors meet their own requirements as knee protection, they do offer some of the slimmest protection to be found. The protectors very easily conform to the shape of the knee and are about as unobtrusive as they could be. I found they bent a little awkwardly on the sides when the knee is bent but the flexible nature of the protector means it likely won't be noticed.
The pockets for the knee protectors offer two positions of adjustment for height. While not a wide range of options, it is better than nothing. The armor can be easily removed/installed using simple hook and loop fasteners to open/close the pockets.
My thoughts about the knee protection are not really a strike against these specific riding pants as I feel the same way about most knee armor present in motorcycle riding pants. I find that most textile pants, mesh in particular, are too loose in fit to hold installed knee armor firmly in place in the event of a crash. I prefer to use something like MX style knee/shin protectors under (or over) my riding pants as they provide a much larger area of coverage.
Exceptions include most any racing leather pants as they typically have much larger and robust knee and shin protection and usually fit snug to the leg. Another exception are the New Drake Air pants I reviewed from Dainese. These pants are not a loose fit and they include full knee/shin protection and somehow still manage to not feel that bulky.
It's important to keep in mind that this is my personal opinion on the level of impact protection I prefer to have in my riding gear. Everyone has to manage their own risk so others may be more comfortable with the included armor than I am.
Fortunately, if one prefers different armor, it is easy to replace it with the CE level 2 variant of these protectors or with another brand altogether. I will likely get a set CE level 2 version of these protectors for use in the hips in the Robby Arm jeans.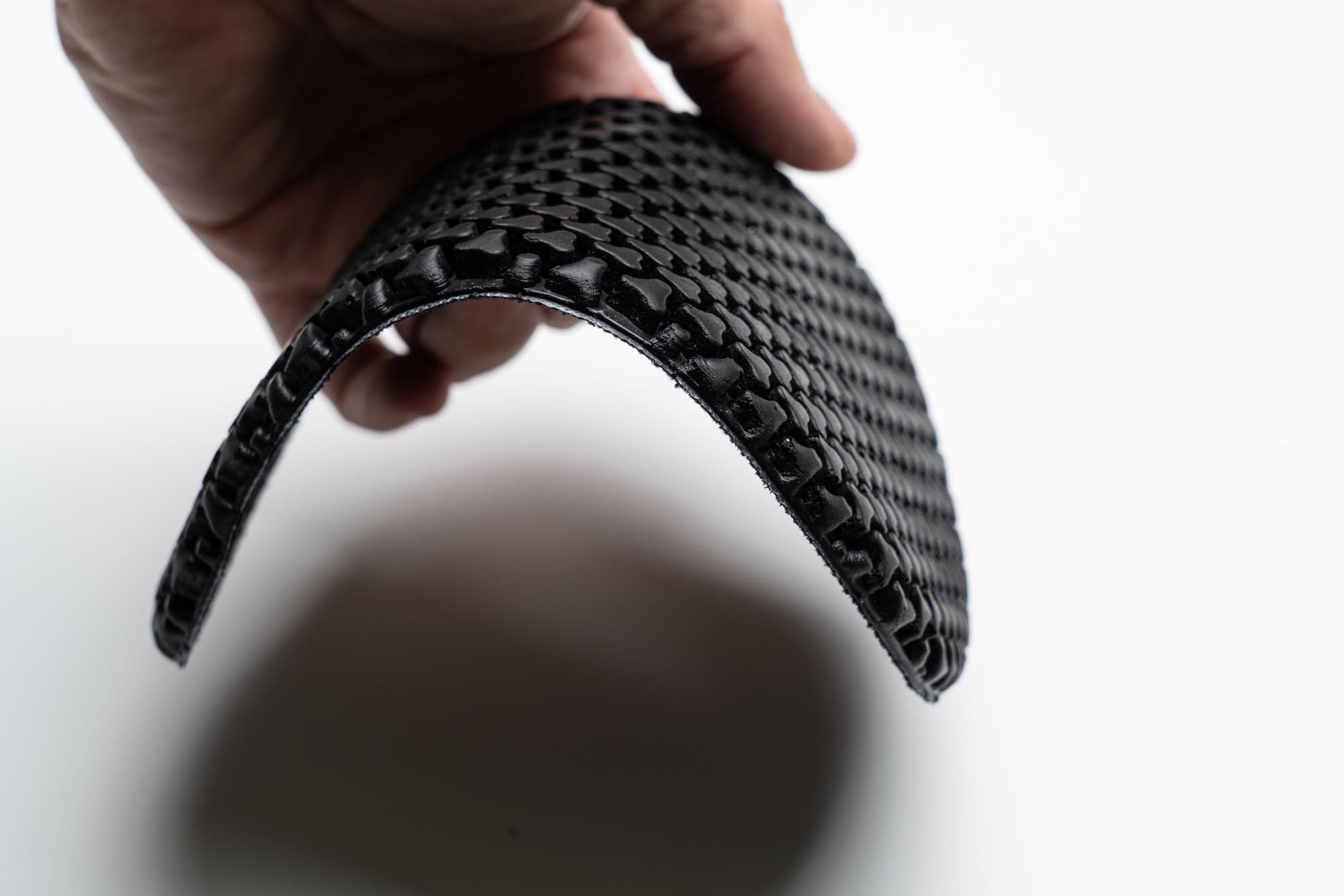 Flexible enough to bend like this under its own very skimpy weight
For the knees, I'll keep using my MX style knee shin protectors over them as there isn't enough room under to fit them comfortably. This option allows for easy removal once I get where I'm going so there is nothing on my knees when walking around at my destination.
Reflectivity
I mentioned earlier that these are black jeans and I threw the word "stealth" around a bit as well. So it should be no surprise that these riding jeans aren't going to do a lot to increase nighttime visibility. They do have an ace up their sleeve, or rather leg, as it were.
There is a 1 x 4.5 inch (25x114mm) strip of reflective material on the inside of the pants legs along the main outer seam. The idea is one can roll up the end of the pants leg to reveal this reflective material. In the case of these pants, there really isn't enough extra length for me to roll them up.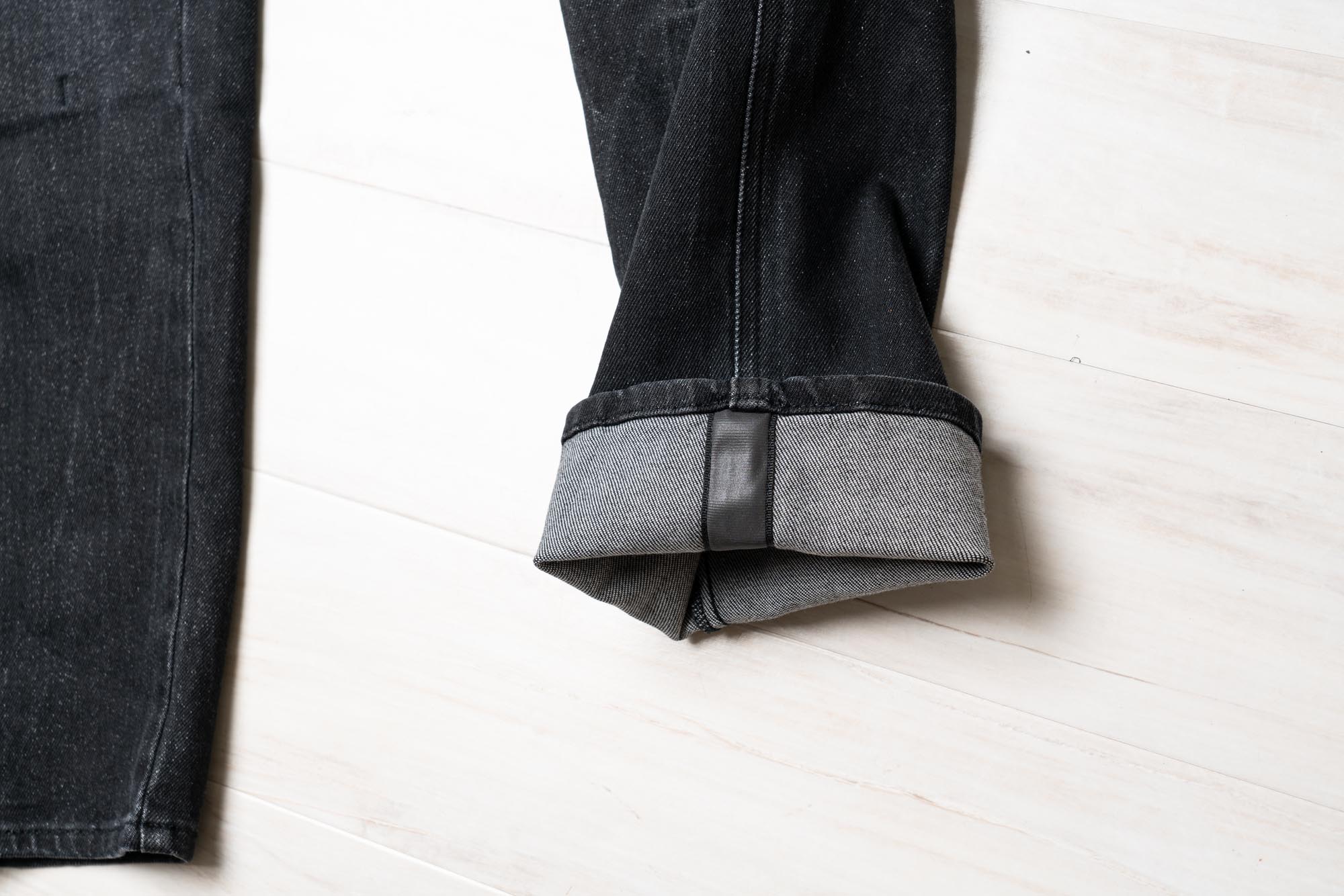 Reflective material is revealed when rolling up the leg cuffs but reflectivity is just average
If one plans on leveraging this feature, it's best to order them a little longer than needed. Personally I'm not a fan of rolling up my pants legs but whatever works for one's personal style, right? Keep in mind that I didn't find these reflectors were that bright. They are "OK" at best but if nighttime visibility is important these aren't going to be the solution.
Fit and Comfort
The Robby Arm jeans require a little thought / consultation to get the right fit but I am pleased that the pair I received fit me exactly as I prefer. From my previous experience with Pando Moto, I know their stretch denim has a good amount of stretch. For that reason I asked for a pair of 34 inch waist jeans to fit my 36 inch waist and this was the right call.
Without any stretching, the waist measured at 34.5 (87.6cm) inches and they feel very comfortable stretching to 36 inches. I prefer this feeling to the loose feeling I experienced in the 36 inch Karl Devil jeans I reviewed.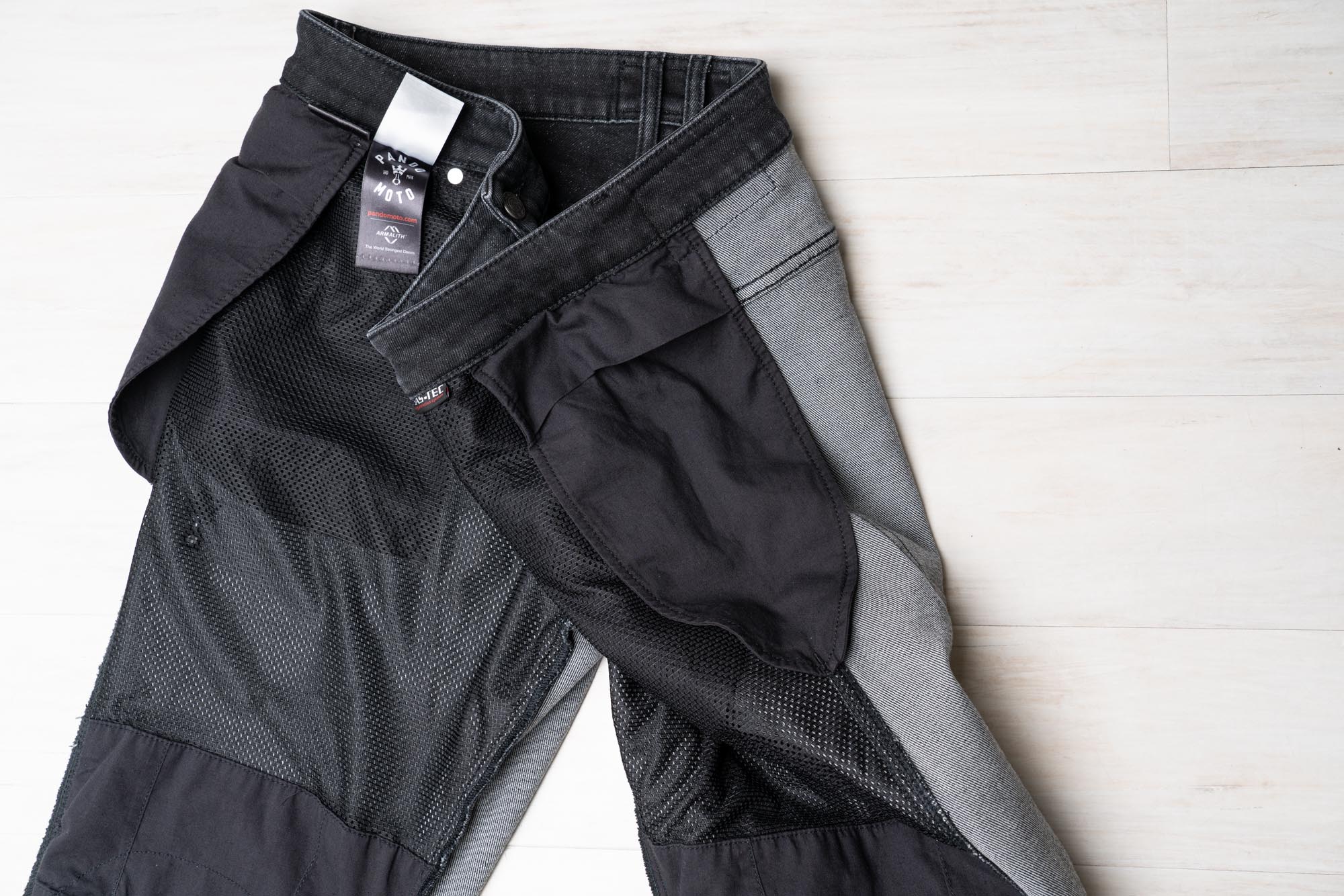 Hip armor pockets for the included armor
Pando Moto calls the Robby Arm jeans a "slim" fit and I feel that is an accurate description. They are not loose for me but they are not as close fitting as what I would call "skinny" jeans. I could actually get my Fox Racing "Launch" knee/shin protectors on under these jeans but they were too tight once I sat on the bike. Wearing these over the jeans works just fine and makes it easy to leave the protectors behind when away from the bike.
As far as inseam goes, the difference between label and reality is a bit more than expected, but luckily in my favor. My inseam is 30 inches and the shortest inseam Pando Moto offers in the Robby Arm jeans in a 34 waist is 32 inches. This is not unusual and the extra inches typically aren't an issue when in the riding position.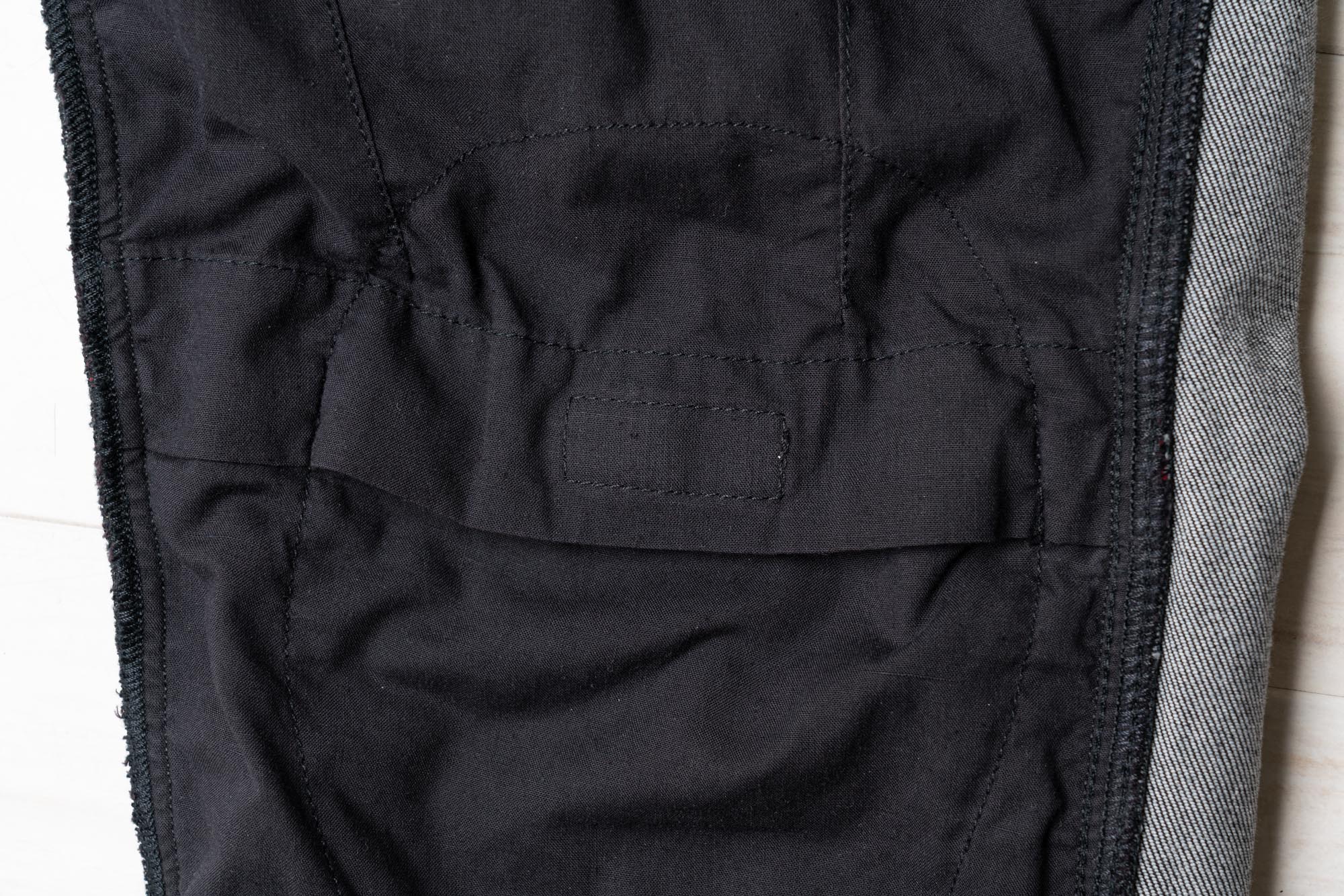 Hook and loop patch under that cloth can be felt a little bit against the skin
As it happened these "32" inch long jeans measure at just over 30 inches (77cm). As such they fit me perfectly when standing in them like my other jeans and pants. I asked Pando Moto about this difference in length and they said that the size 32 inseam is actually 79cm (31.1 in). They also said that this can vary a little from that 79cm so mine ended up on the shorter end. Keep this in mind if planning to make a purchase of these jeans.
Comfort
The good fit goes right along with good comfort. The Robby Arm jeans are something one could wear like any of the other jeans. The material feels like cotton and is soft at the first wearing. They have continued to get a little softer after a few wearings as well.
There is only one issue I notice when wearing them and that is the plastic backing of the hook and loop fastener for the knee armor pockets. The edges of that backing can be felt through the material in which the hook portion is sewn. This results in the occasional "scratchy" feeling from this location when riding. It's not persistent and overall a pretty minor thing, but it's there, and I had to find something to take issue with, right?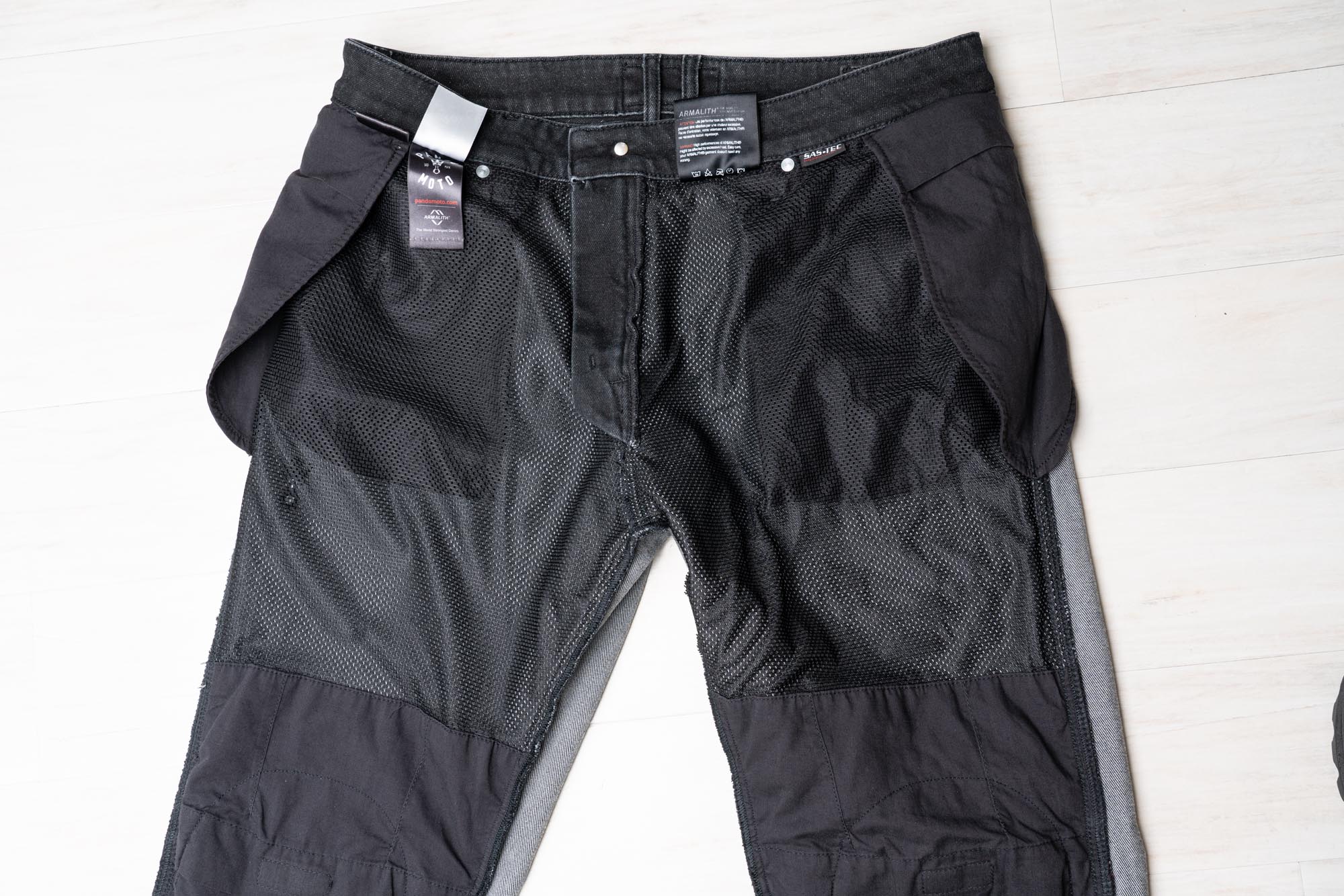 Mesh lining in the front panels of the upper thighs
One thing I was pleasantly surprised with these riding jeans is that they breathe well. Most riding jeans I've reviewed vented poorly to the point of being down right stuffy. Taking my first ride in the Robby Arm jeans I quickly noticed I could feel cooling air on my legs. It isn't a full on breeze but there is some airflow which means these black jeans might just get some extended riding time this Summer.
Conclusion
The Robby Arm jeans appear to be the real deal. A pair of protective riding jeans that offer real abrasion resistance and provision for impact protection. At the same time they are comfortable enough to wear everyday whether you're riding or not.
Yes, I'd like to see more coverage and higher impact resistance for the knees but that's my own personal view and one that's easy enough to remedy if desired. At least Pando Moto includes impact protection along with the jeans as standard.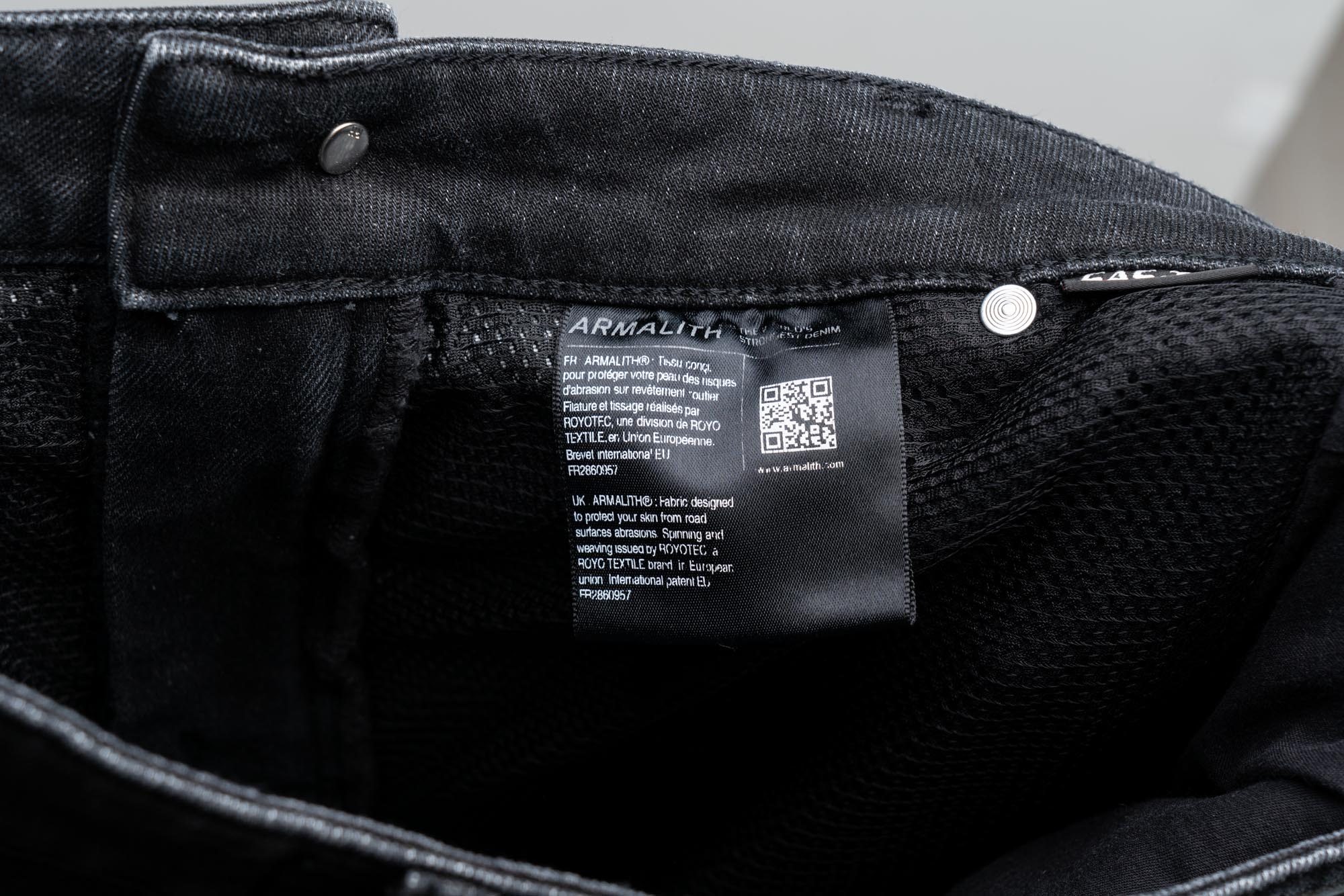 Interested in Armalith® ? The info is right inside.
I haven't mentioned price up to this point but I'm going to say that the asking price of $375.00 (USD) / €339.00 Euro is actually a fair price for what one is getting. Ask me ten years ago and I would have doubted anyone would pay that much for riding jeans. Now however, the technology going into denim fabrics like Armalith® is truly impressive and this stuff doesn't come cheap.
The cafe racer craze is likely no small factor in the popularity of super durable jeans like these. Riders want something that looks like jeans and yet can stand up to the rigors of street riding. On Revzilla's website alone there are over twenty pairs of riding jeans that are more expensive than the Robby Arm jeans.
With most of them over $400.00 (USD) and some over $500.00 (USD) there's obviously a demand out there for this type of riding gear. If one is looking to enter the world of super durable denim riding jeans, the Robby Arm 01 Men's Slim Fit Motorcycle jeans are worth a look for sure.
4.5 Stars
Pros
Very comfortable
Stealthy "normal" jeans look
Super durable Armalith fabric (AA rated)
Removable knee and hip armor included
Cons
Included armor doesn't inspire confidence
Pricey, but inline with similar offerings from competitors
Important Links
Specs
Manufacturer: Pando Moto
Price (When Tested): $375.00 (USD) €339.00 (EU)
Made In: Lithuania
Alternative models & colors: Black
Sizes: 28-36 (with some sizes available in Short and Tall)
Review Date: April 2021
Pando Moto Robby Arm 01 Jeans Gallery