All motorcycle helmets are not created equal. The safety standards rating system introduced by the Snell Memorial Foundation is renowned for being one of the world's most stringent—and the helmets that meet its criteria are markedly different from the ones that don't.
The SNELL system was developed as a more rigorous testing process for motorsports where the chances of high impact collisions are greater. Unlike DOT, SNELL is a nonprofit organization and acquiring a SNELL certification is optional. This means any helmet with a SNELL rating has been voluntarily submitted to undergo more rigorous testing in order to provide riders with the best protection possible.
During SNELL testing, helmets are impacted by 5 different shaped anvils (as opposed to the two used during DOT tests). SNELL also performs drop tests from a greater height than DOT and tests the chin bar and visor strength for 360 degrees of approved protection. So if you're planning on buying a new helmet to suit your cafe racer and want the best protection, a SNELL-certified lid is a big step in the right direction.
Check out the two latest SNELL standards: the SNELL M2015 standard, and SNELL M2020 standard. If you want to see SNELL in action, check out this article from my colleague Jim Pruner at webBikeWorld: See Inside a Helmet Torture Chamber: wBW Goes to SNELL.
Meanwhile, to help you on your helmet purchasing journey, here are 7 SNELL-rated cafe racer helmets we'd recommend checking out. Keep your head safe while riding, and thank us later!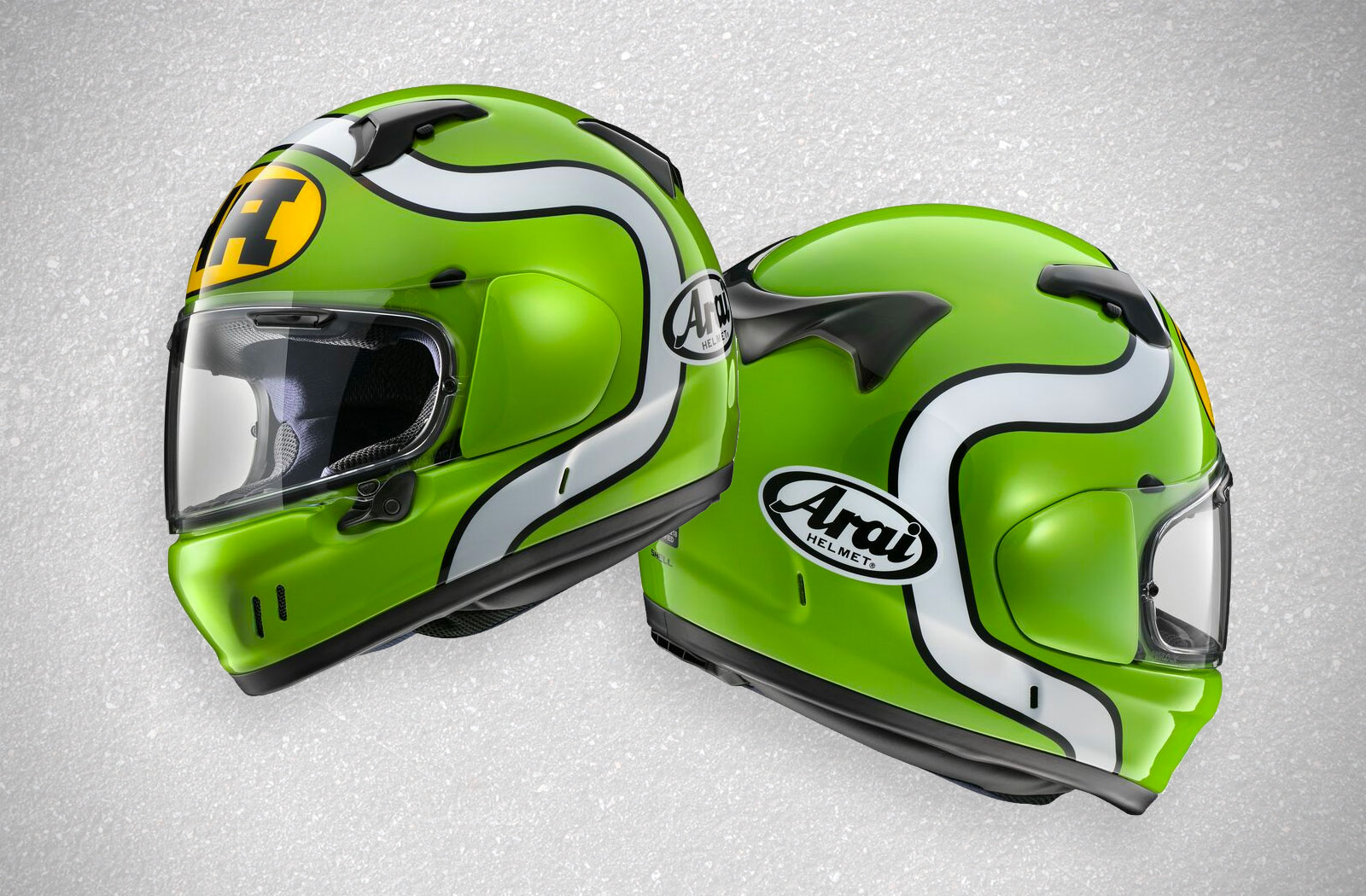 SNELL Helmet #1: Arai Defiant-X HA Helmet
Arai are a huge advocate of SNELL—and as such, many helmets in their range wear SNELL certification. Amongst them you'll find their latest addition to the retro helmet market: the Defiant-X.
Now available in a wide range of finishes, the Arai Defiant-X HA colorway is our pick of the bunch. It comes in either blue, green, or a highly visible yellow, with bold retro Arai branding and a slick white racing stripe.
Along with achieving a SNELL safety rating, Arai created a retro styled helmet that doesn't scrimp on performance. The Defiant-X features a shell constructed with Arai's Special Fibre Laminate, which is designed to disperse impacts over the widest area possible. On the inside you'll find a handmade, multi-density EPS inner core (created as a single piece for superior strength).
Multiple vents on the exterior of the helmet channel cool air through a Free Flow System, which is designed to reduce wind noise while extracting warm air from inside the helmet. The soft liner is anti-microbial and can be removed and washed to extend the helmet's lifetime. Additional features include internal pockets for comms speakers and a removable chin curtain for when the temperature drops.
Available from: Revzilla, Amazon
webBikeWorld review: Arai Defiant-X HA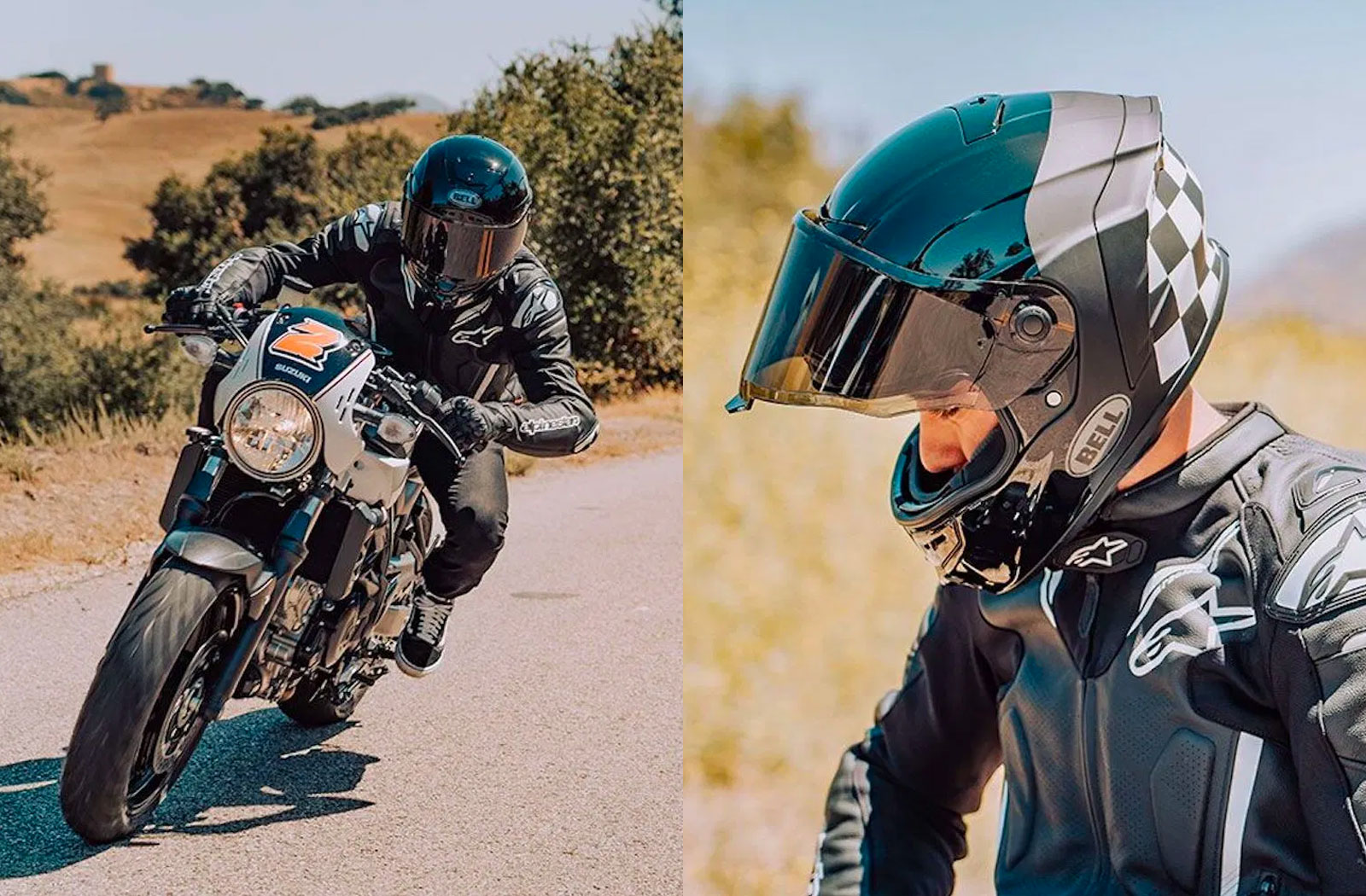 SNELL Helmet #2: Bell Star MIPS DLX Lux Checkers Helmet
While the Bell Star MIPS DLX isn't what most would consider a cafe racer helmet, this 'Lux Checkers' variant adds a touch of ton-up style. Built with MIPS (Multi-directional Impact Protection System) technology, it offers the latest in crash protection features and is both DOT and SNELL certified.
The Bell Star MIPS DLX comes with both a clear and a photo-chromatic visor, which will tint or lighten according to the amount of ambient UV light. The helmet's race-bred shell has been redesigned to have a smaller profile without sacrificing performance and offers exceptional aerodynamics in upright riding positions.
This feature-packed helmet has been specifically designed to minimize wind noise, can accommodate prescription eyewear, offers a wide field of view, and comes with integrated speaker pockets. The Bell Star MIPS DLX Lux Checkers also comes in 6 different shell sizes to ensure a perfect fit.
Available from: Revzilla, Amazon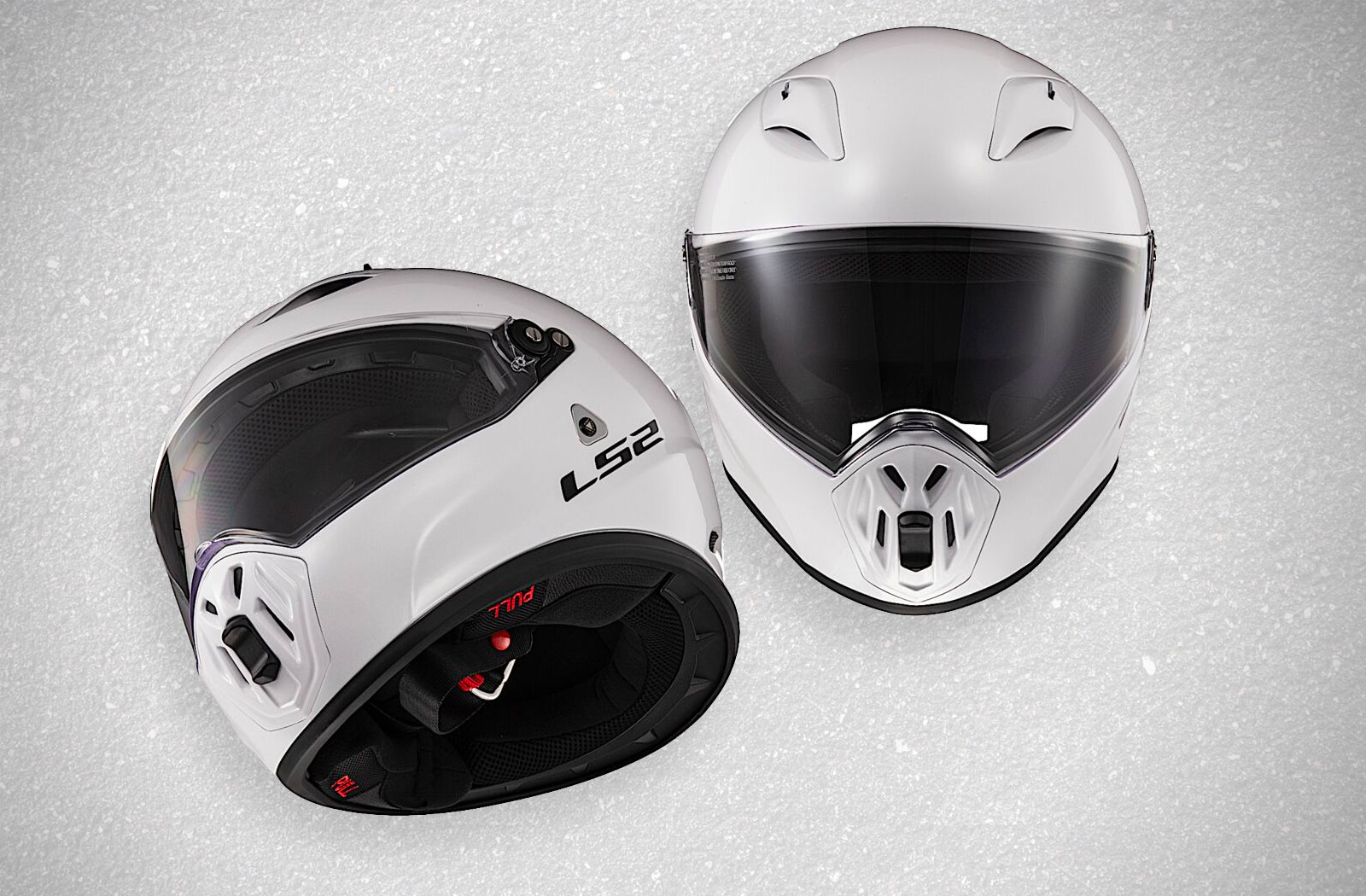 SNELL Helmet #3: LS2 Street Fighter Helmet
At a touch under $150, it's hard to believe that the LS2 Street Fighter helmet is SNELL certified. Rest assured though, this is no mistake. This tough-looking helmet was created with aggressive riders in mind but will look right at home on a performance-focused cafe racer or modern classic.
Recently, LS2 drastically improved the Street Fighter by decreasing its weight by a whopping 20%. This helmet also features a multi-density EPS liner, adjustable ventilation, and an advanced polymer alloy composite shell.
If your budget is tight but you don't want to scrimp on safety, the LS2 Street Fighter helmet has you (and your head) covered.
Available from: Amazon
SNELL Helmet #4: Arai Classic Groovy Helmet
Yes, retro open face helmets can achieve a SNELL rating too. Of course, it took the skilled engineers at Arai Helmets to make it happen.
The Arai Classic Groovy Helmet features their Peripherally Belted Complex Laminate (PBcLc) shell to ensure optimum protection. Beneath the shell, you'll find a one piece, multi-density EPS core that's covered in an antimicrobial liner with faux leather accents on the outer facing edges.
Ventilation in an open face helmet may sound pointless, but Arai didn't think so. Keeping the inside of the Classic Groovy cool are a series of discrete vents that channel air over the head and out via exhaust holes at the rear of the helmet.
Along with a great range of retro colour schemes, the Arai Classic Groovy Helmet features snap button clasps which can be used to fit a range of different Arai visors.
Available from: Revzilla, Amazon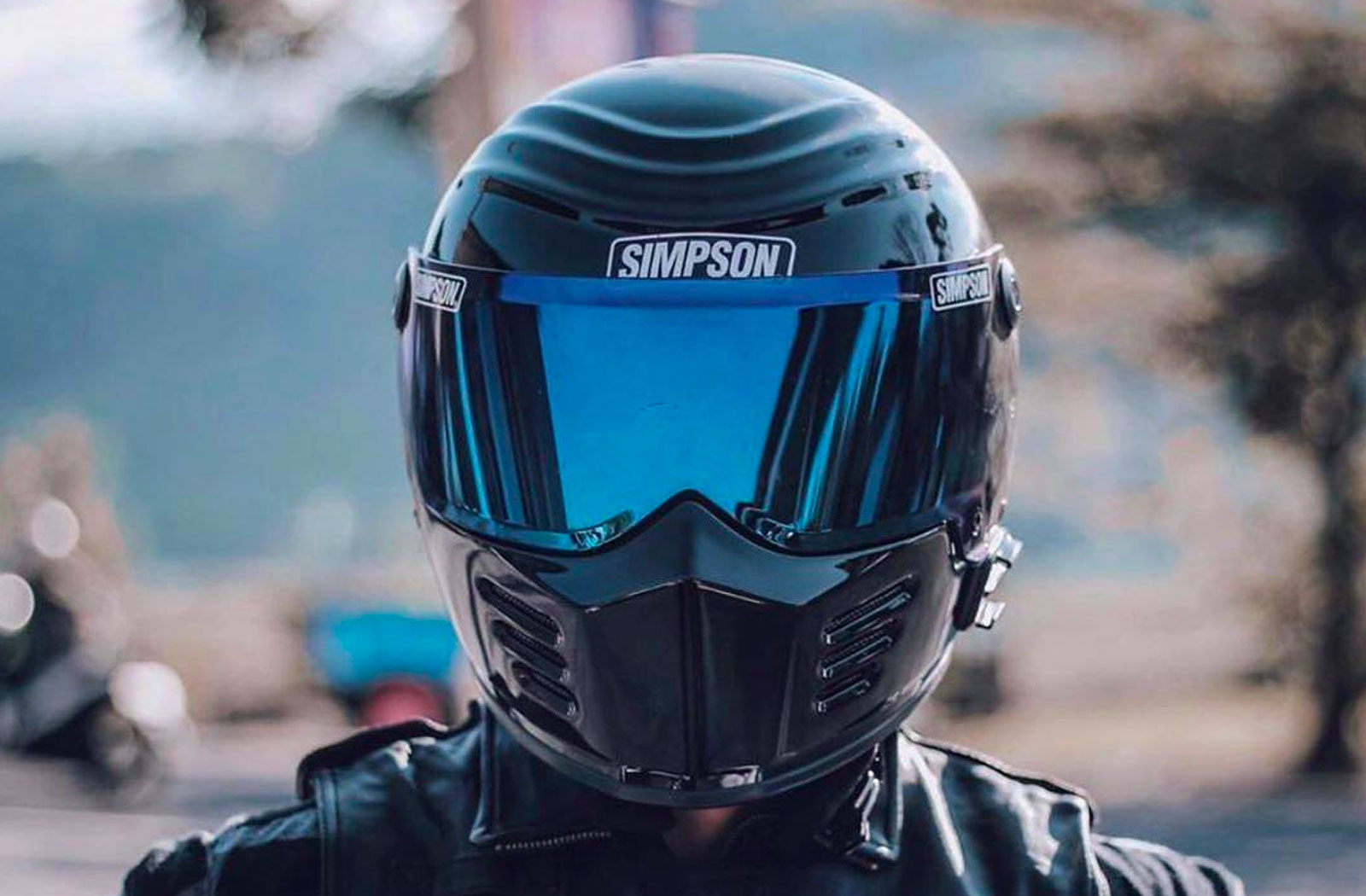 SNELL Helmet #5: Simpson Outlaw Bandit Helmet
If you want to look like a badass on your cafe racer, the Simpson Outlaw Bandit helmet is just the ticket. Simpson Performance Products have been around since the late fifties, specializing in products for the race track. These American made helmets became hugely popular after Top Gear's Stig wore one during his high speed antics (and as a result are homologated for use in most countries).
The Simpson Outlaw Bandit is one of the company's motorcyclist-specific styles. Designed with high speed riding in mind, it features an aerodynamically-optimized design that reduces wind turbulence and helmet lift.
A wide field of view lets you keep a close eye on what's going on around you and you can choose from an expansive selection of visor tints to complete your new look.
Available from: Revzilla, Amazon
webBikeWorld review: Simpson Outlaw Bandit helmet
SNELL Helmet #6: Shoei RF-1400 Helmet
Many people believe that the Shoei RF-1400, their most recent flagship model, is the greatest helmet available for riding on city streets. After endless hours in the wind tunnel, the RF-1400's drag and lift were reduced by 4% and 6%, respectively, over the older RF-1200. 
For the new RF-1400, Shoei totally reengineered the shield mechanism. It is a well-executed upgrade over the RF-1200. It is SNELL 2020 approved, incredibly quiet, has excellent ventilation, and this lid feels premium in every way. Shoei offers the RF-1400 in a wide array of solid color and graphic options, and there is certainly a scheme to match your cafe build.
Available from: Revzilla, Amazon
webBikeWorld review: Shoei RF-1400 Review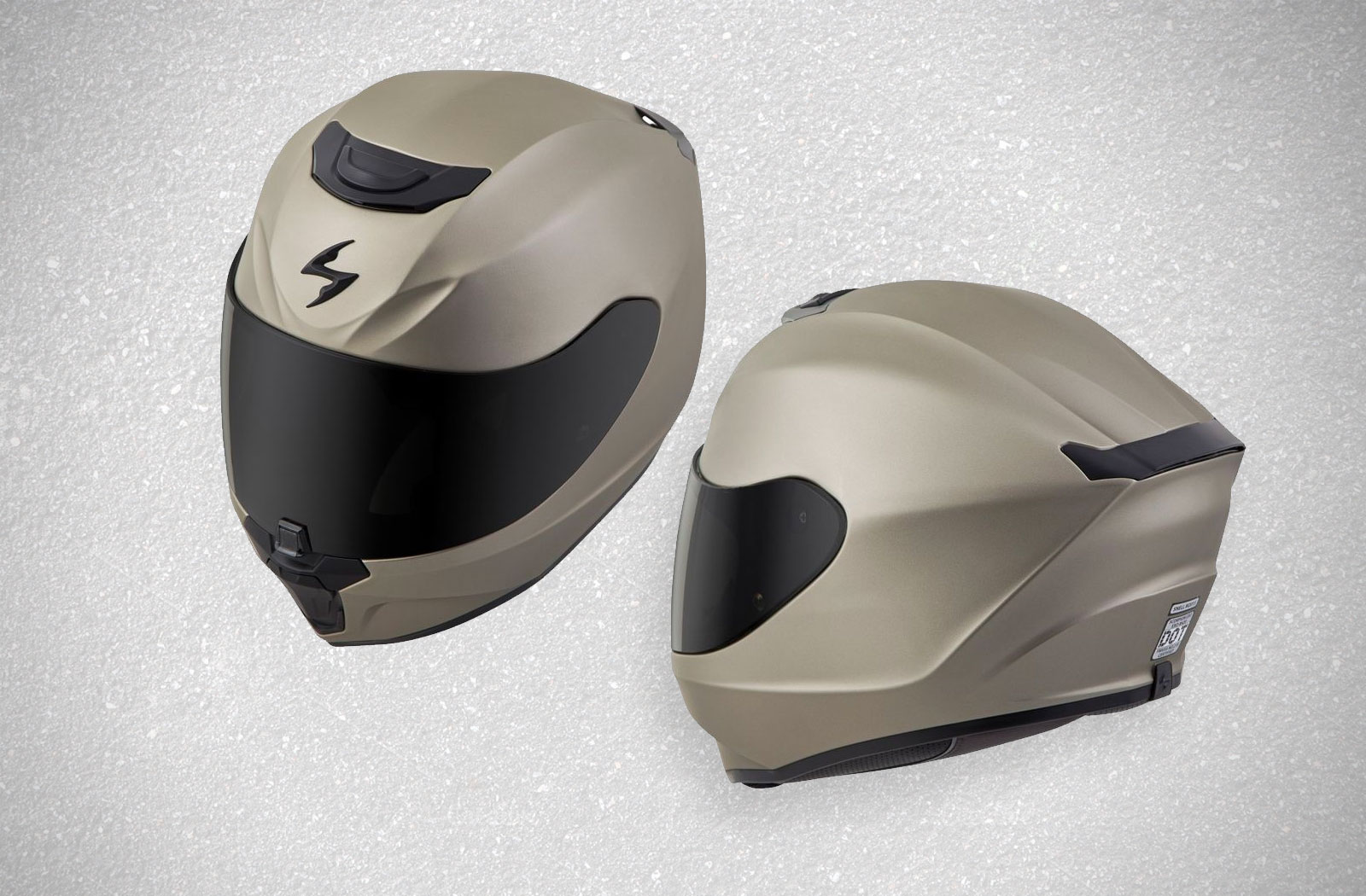 SNELL Helmet #7: Scorpion EXO R420 Helmet
It's one thing to claim a helmet is race-inspired, but to back it up with a race-ready safety certification shows you mean business. The Scorpion EXO R420 helmet does exactly that.
Featuring a sleek, clutter-free design, this modern helmet will look right at home on motorcycles of most styles—from cafe racers to sports tourers. Keeping your melon safe is Scorpion's LG polycarbonate shell design, which is both DOT and SNELL approved.
The EXO R420's quick release visor is optically clear, 100% UV protective, and scratch-proof, so you'll have no issue taking in your surroundings. A washable, antimicrobial liner will help you keep the helmet smelling sweet while a specially-designed ventilation system helps to prevent sweat build up.
Emergency release tabs on the liner offer additional peace of mind, while internal speaker pockets allow you to stay connected on the go.
Available from: Revzilla, Amazon
webBikeWorld review: Scorpion EXO R420 helmet