Motorcycle jackets have come a long way since the ton-up boys' heyday. Back in the '50s, it was all black leather, metal studs and club patches. Modern riders are no less interested in looking cool, but premium materials, modern styling and advanced safety features now appeal more than fanciful flair.
Today we're taking a look back at the last 12 months of motorcycle jacket releases to bring you – The Best Cafe Racer Jackets of 2020.
What Is a Cafe Racer Jacket?
The lines have definitely blurred when it comes to defining the cafe racer style. From the motorcycles themselves to the gear their riders wear. As always it's the gear that reimagines classic styles that fits the bill best.
However, in this list, you'll also find new styles that are just as well suited to a vintage cruiser as a modern classic. So whether you ride a 1972 Kawasaki Z1 or a 2020 Kawasaki Z900RS, you're going to cut a fine figure sporting one of these cafe racer jackets.
Leather Cafe Racer Jackets
When it comes to leather, there's no comparison. Leather still offers some of the best impact protection and abrasion resistance out there. These days riding gear manufacturers are using hides from all manner of animals in the design of their jackets and each offers unique benefits. What matters most though is how well they're put together and how good they look out on the street.
Spidi Premium Jacket
The name says it all. The Spidi Premium Leather Jacket is a premium item in every sense. The jacket features classic styling and a fitted tapered cut. Accordion panels along the rear torso improve rider comfort as well as adding to the jacket's classic looks.
The Premium Jacket is made in Italy, the home of Spidi, using leather from one of the country's oldest (600+ years) and most respected tanners. The 1.1 – 1.3mm all leather construction boasts AA protective riding jacket certification and Spidi has backed it up using Multitech shoulder and elbow armor. Diagonally oriented pockets on the chest double as cooling air vents on warmer days and there's a removable thermal liner for winter rides.
As far as leather jacket styling goes Spidi's Premium Jacket is the epitome of classic cool.
Roland Sands [email protected]#k Luck Punk Race Jacket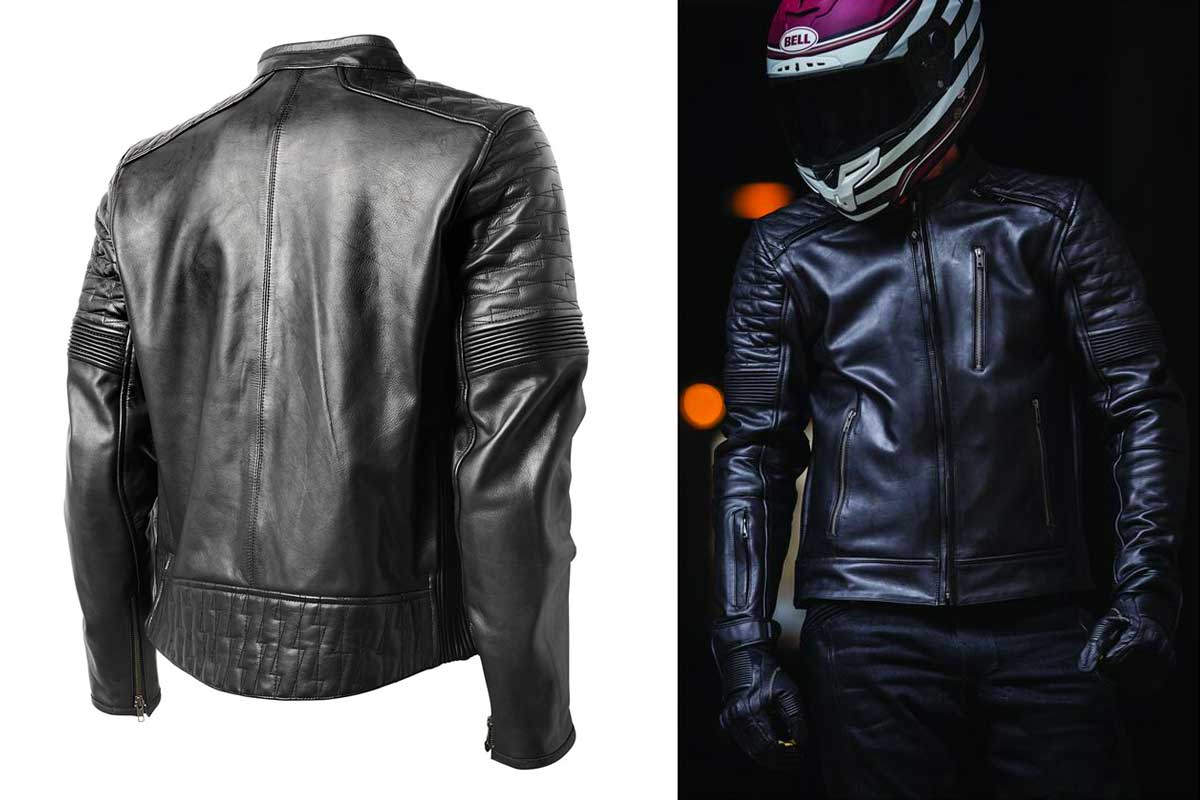 Roland Sands Designs have had their finger on the pulse from the very beginning. Their riding gear offers great on and off the bike style without sacrificing protection. In typical RSD style, the new [email protected]#k Luck Punk Race Jacket boldly raises its middle finger to mainstream styles.
The Roland Sands [email protected]#k Luck Punk Race Jacket features a full cowhide leather exterior ranging between 1.1 – 1.3mm thick. For improved comfort on the bike, the sleeves are rotated and pre-curved and you'll find flex panels on the sleeves and jacket sides. Additional protection comes in the form of Knox CE armour in the shoulder and elbows and there's space for an optional back protector. Extra features include an internal waterproof device pocket, bold red liner, zippered air flow vents on the shoulders and back and a zipper at the lower back for attaching them to riding pants. But what we love most about the Roland Sands [email protected]#k Luck Punk Race Jacket is its look.
The combination of a short waist, large areas of unbroken black leather, asymmetrically positioned zippers and quilted panels finished with lightning bolt stitching make this a definite stand out cafe racer jacket for us in 2020.
Alpinestars Burstun Jacket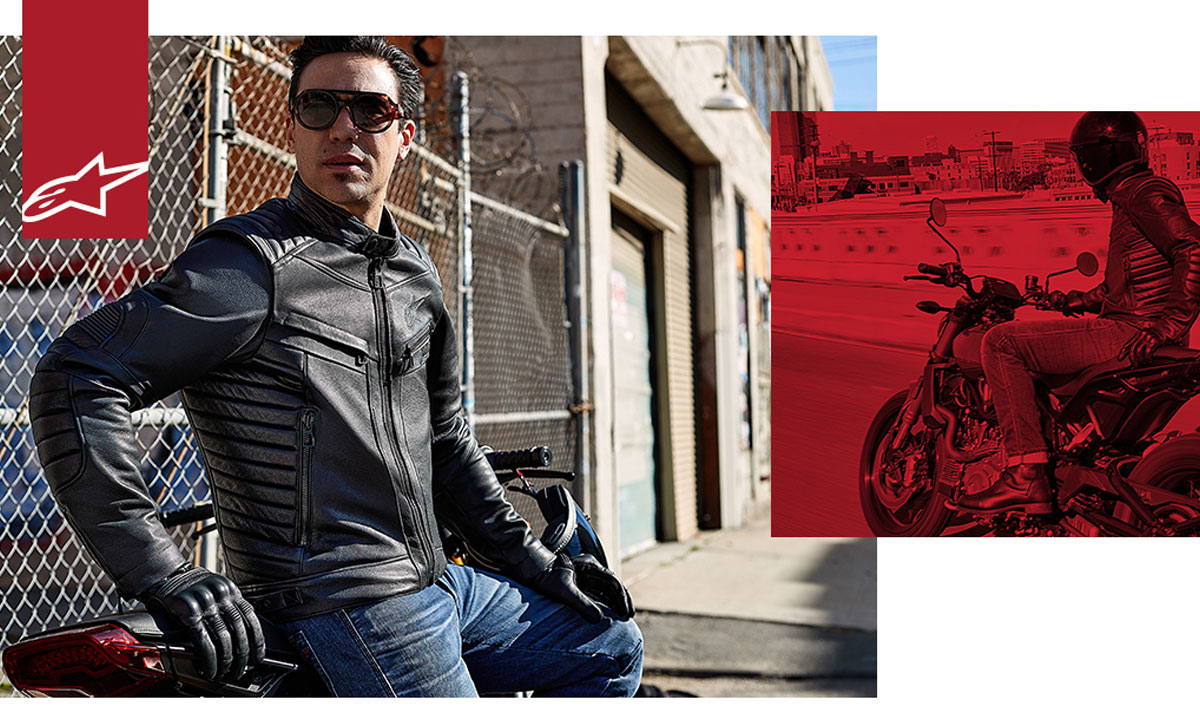 In the past, we always associated the Alpinestars brand with sports bike gear. But over the past couple of years, they've proved us wrong. The Alpinestars Oscar collection and urban range tap into the company's rich heritage to create gear that's inspired by their own designs from decades past. Sitting in amongst their 2020 releases is the Alpinestars Burstun Jacket and it's everything a leather motorcycle jacket should be.
The Alpinestars Burstun Jacket provides safety using a mix of cow and goat leathers. The leather is 1.3mm thick all over and is padded in high impact areas. Additional Nucleon Flex Plus impact armour is tasked with taking the brunt of any hard knocks and they've added reflective highlights to help you be seen at night. On hotter days vents at the torso keep you cool while in colder weather a removable full sleeve fleece liner traps in the warmth.
The Burstun has a unique look thanks to angled ribbing along the shoulder, torso and elbows. Branding is suitably subtle and you get the choice of either all black or a black and brown combination.
Spidi Clubber Jacket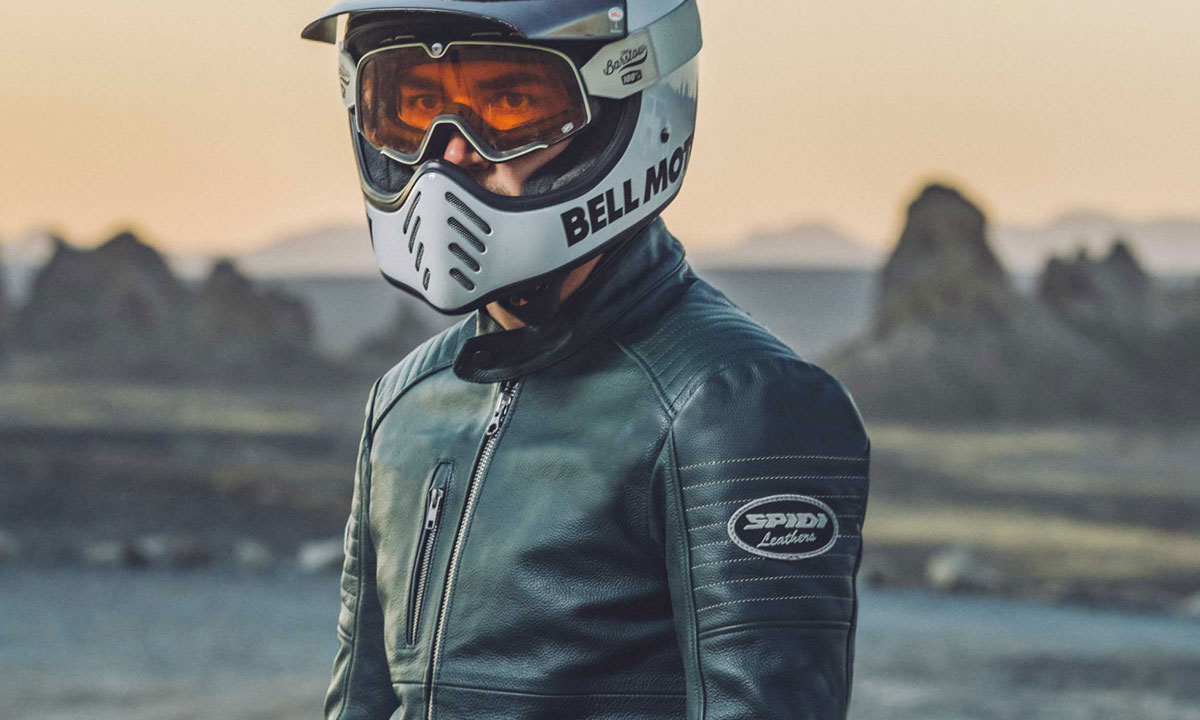 Buffalo leather has grown in popularity with riding gear brands in recent years. It's as tough as it sounds yet supple making it an ideal material for protective wear. The Buffalo leather in this Spidi Clubber jacket, however, is a little different. That's because Spidi imported the leather and had it tanned in Italy using an age-old process.
The Spidi Clubber Jacket features a 1.0 – 1.1mm Buffalo leather outer over a premium tartan print cotton liner. Warrior Lite armor at the shoulders and elbows provide CE-rated protection without detracting from the jacket's svelte profile. And the jacket's removable 80g thermal liner makes it 4 seasons compatible.
A stand out feature of the Spidi Clubber Jacket is that it's available in either classic black or a very smart looking green. The green Clubber also features contrasting stitching, ribbed design details and embroidered retro Spidi badges on the sleeves. Wearing this jacket is a surefire way to stand out from the crowd.
Textile Cafe Racer Jackets
When temperatures rise textile motorcycle jackets can offer much needed relief from the heat. On the flip side, they can also be very well insulated and weigh significantly less than leather alternatives. Although textile motorcycle jackets don't have quite the same timeless appeal as leather ones, manufacturers have been doing great things with tech fabrics in 2020. Here are a few recent releases that appeal to our cafe racer aesthetic.
Icon 1000 Brigand Jacket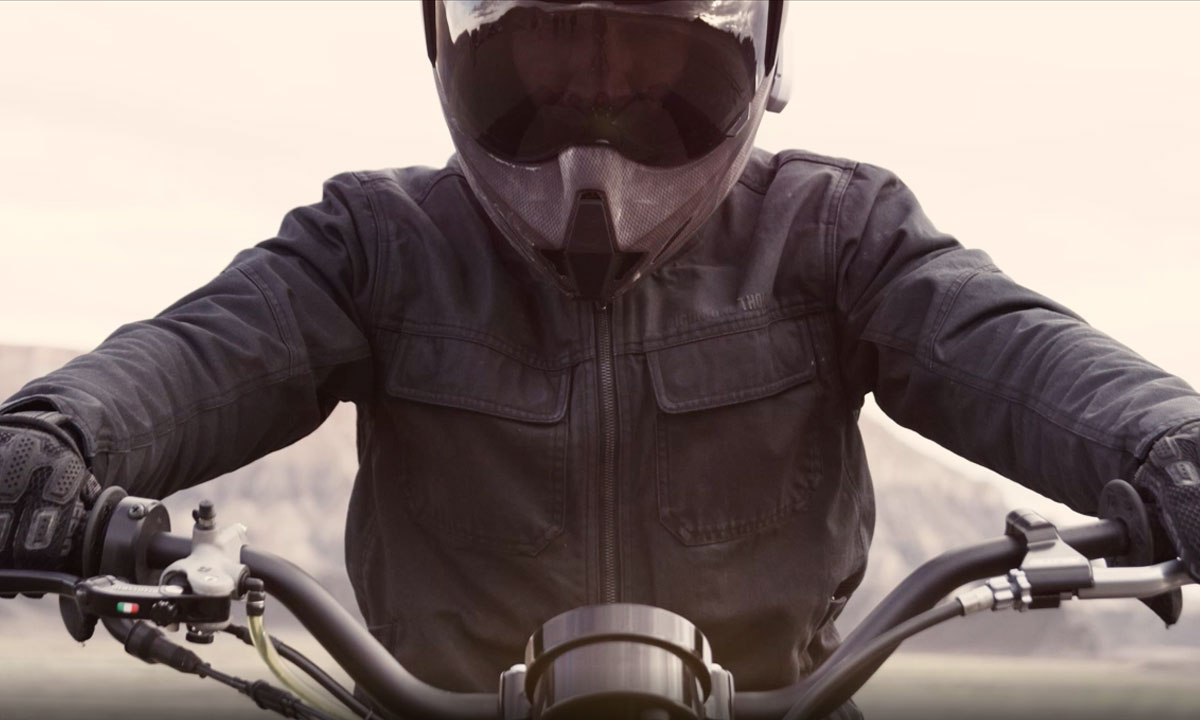 Similar to how we'd build a cafe racer the Icon 1000 Brigand Jacket has been stripped down to the bare essentials. The 'sport fit' Brigand is the equivalent of your favourite relaxed fit jeans providing plenty of room to move without being baggy. Constructed from Cordura denim the Brigand boasts the look of regular indigo denim streetwear without sacrificing safety. And, as with most of the jackets in the Icon 1000 range, it comes with a full gamut of low profile D30 armour; including the back protector that most brands offer as an optional extra.
Features like easy access, magnetic closure chest pockets, a two position snap collar lined with soft neoprene and a removable waterproof liner add extra value to this understated, no fuss jacket.
REV'IT! Stealth 2 Hoody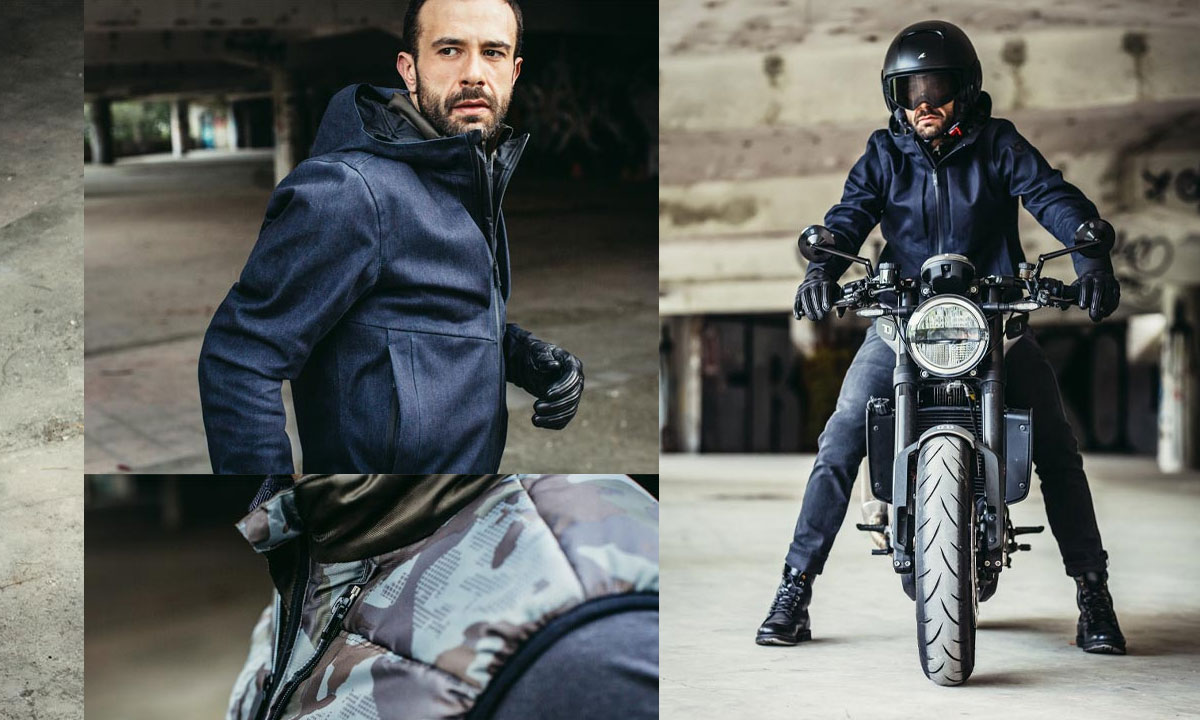 Hooded motorcycle jackets need to look good both on and off the bike.  They're a great choice for urban commuters and in the case of the Rev'It! Stealth 2 Hoody, we have no doubt it'll fit the bill. In fact, our editor is so enamoured by Rev'it!'s range of hooded jackets he's secured himself one for the upcoming riding season.
In keeping with its name the Rev'it! Stealth 2 Hoody is finished in sleek, minimalist black or blue, but there's nothing minimalist about its offering. Don't be fooled by its casual appearance, that outer lining is tough Cordura stretch denim and it's backed by Rev'it!'s abrasion resistant PWR shield in high impact areas. Seesmart armour covers the shoulders and elbows and there's room to accommodate back armour. A thermal vest liner sets the Stealth 2 up for winter conditions and it can also be worn on its own as a freestanding garment.
Rev'it! has also laminated a layer of their waterproof hydratex to the chassis of the Stealth 2 to keep you dry. Reflective details make other motorists aware of your presence and a snap connector on the back secures the hood in place at higher speeds.
Belstaff Long Way Up Gore-Tex Jacket
During their latest cross-continental motorcycle adventure, The Long Way Up, Ewan McGregor and Charley Boorman are kitted out in Belstaff gear. Ewan wears one of the brands tried and tested waxed cotton Trials jackets, but Charley wears an entirely new addition to their range.
The Belstaff Long Way Up Gore-Tex jacket features the timeless styling we expect from Belstaff, but beyond its appearance, there's nothing vintage about it. This jacket is one of the companies most advanced items of riding gear featuring an extensive list of features. During their adventure, Boorman was exposed to extreme changes in weather from freezing cold to blisteringly hot and this jacket enabled him to tackle it all head on. For a more detailed explanation of the features of the Belstaff Long Way Up Gore-Tex jacket read our in-depth feature here.
In summary, this is the jacket you need if you like to go riding no matter what's awaiting you outside.
Pando Moto Bomber Jacket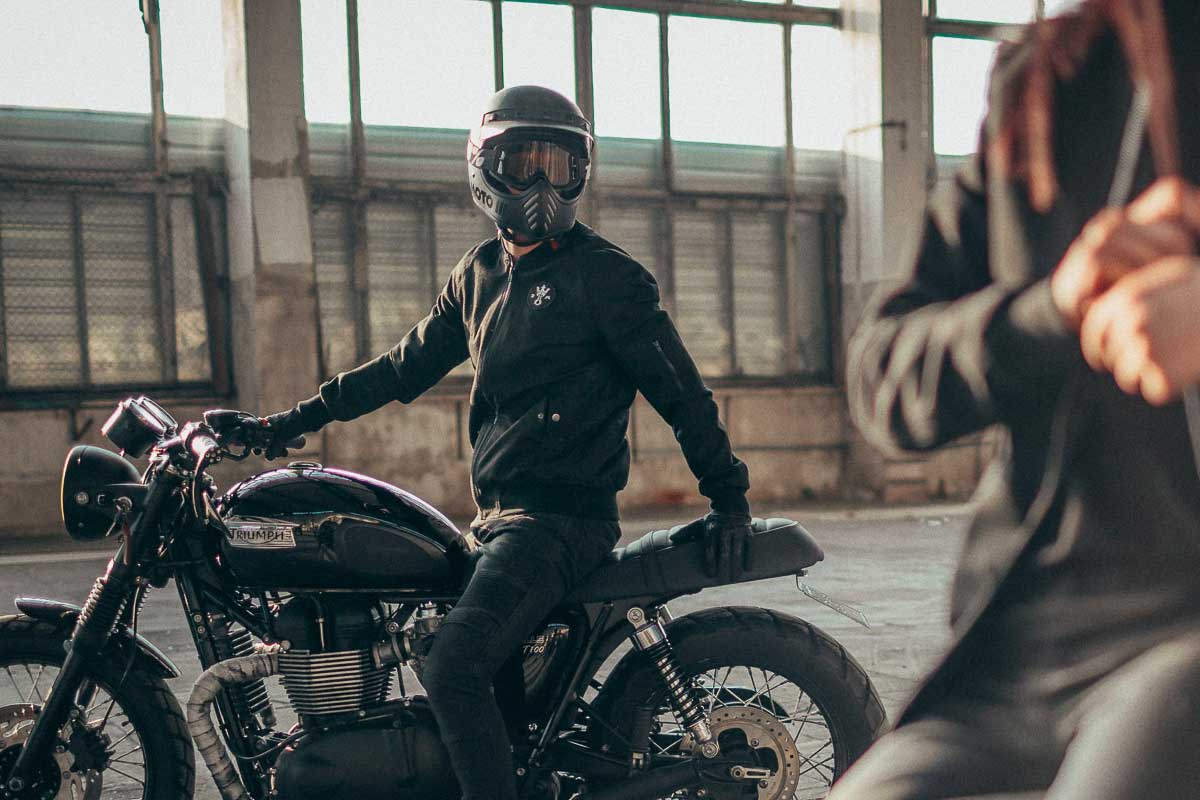 Bomber jackets made a huge comeback a few years ago and it was inevitable they would eventually be translated into riding gear. But the air pilot style jacket needed a few adjustments to make it suitable for the road. Lithuanian riding gear experts Pando Moto have done just that with their unisex Bomber Jacket.
Constructed using a sturdy 12.5oz Cordura the Pando Moto Bomber Jacket comes complete with SAS-TEC TripleFlex CE Level 1 elbow and shoulder armour. Bomber jackets traditionally sit short which would leave a rider's back exposed to the elements and danger. Pando Moto addressed this by lengthening the jacket while still maintaining a classic Bomber cut. A reflective stripe down the lower back increases visibility and there's provision for an optional back protector on the inside. In keeping with a classic Bomber look, the cuffs and waist are finished using a varsity rib that prevents cold air ingress.
The Pando Moto Bomber Jacket may look like everyday streetwear but it boasts CE Level A riding garment certification. So you can go riding knowing it's got your six.
Motorcyclist Riding Shirts
Riding shirts have come a long way. The best designs are almost impossible to tell apart from regular shirts making them an ideal option if you're heading out on the town or want to travel light. Best of all they now come in styles that complement classic and custom rides and offer impressive levels of protection.
Cortech Voodoo Riding Shirt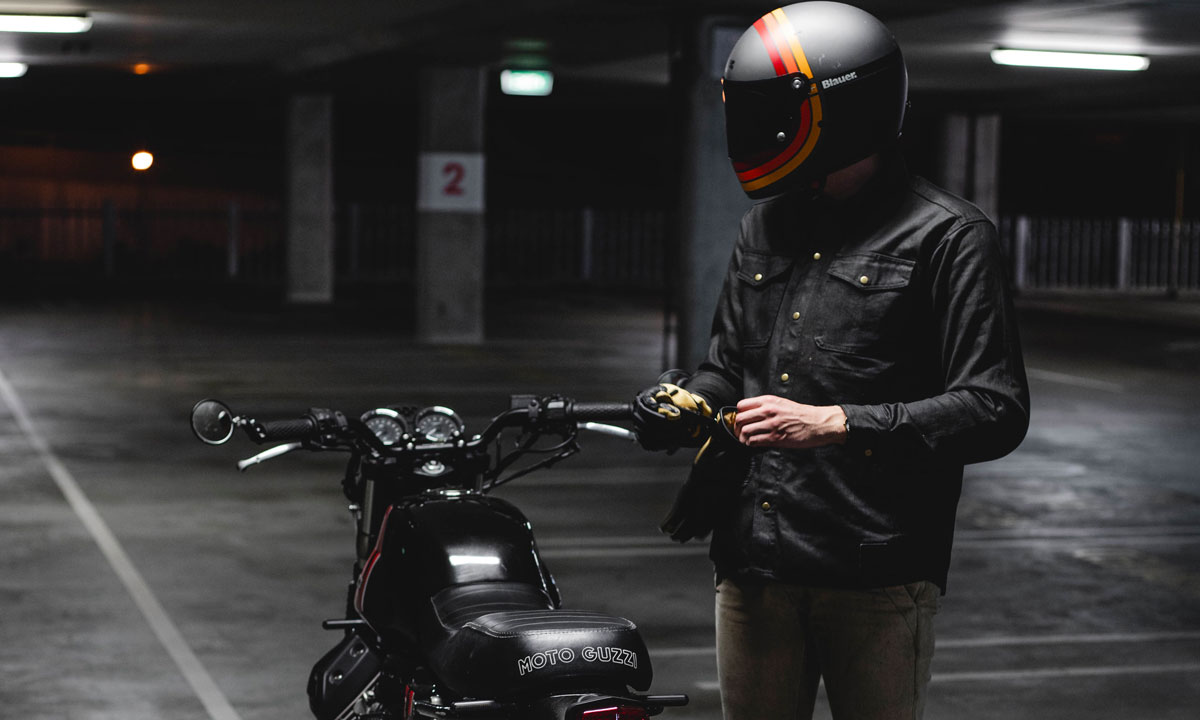 Cortech appeared on our radar around 12 months ago and we were instantly impressed. The company's Boulevard collection is perfectly suited to cafe racer styles and it's incredibly well priced. The Cortech Voodoo Riding Shirt is just one example of why this brand has us impressed.
You can read our full impression of the Cortech Voodoo riding shirt here but to summarise, this shirt uses a layered design with waxed denim on the surface and protective Dupont Kevlar beneath. A syncromesh liner helps to wick moisture along with holding the included elbow and shoulder armour in place. The snap stud main opening is backed by a sturdy YKK to prevent it from pulling open in a spill and there are both internal and external storage options.
This smart looking riding shirt will appear right at home in the office or perched at a bar.
Icon Upstate Flannel Riding Shirt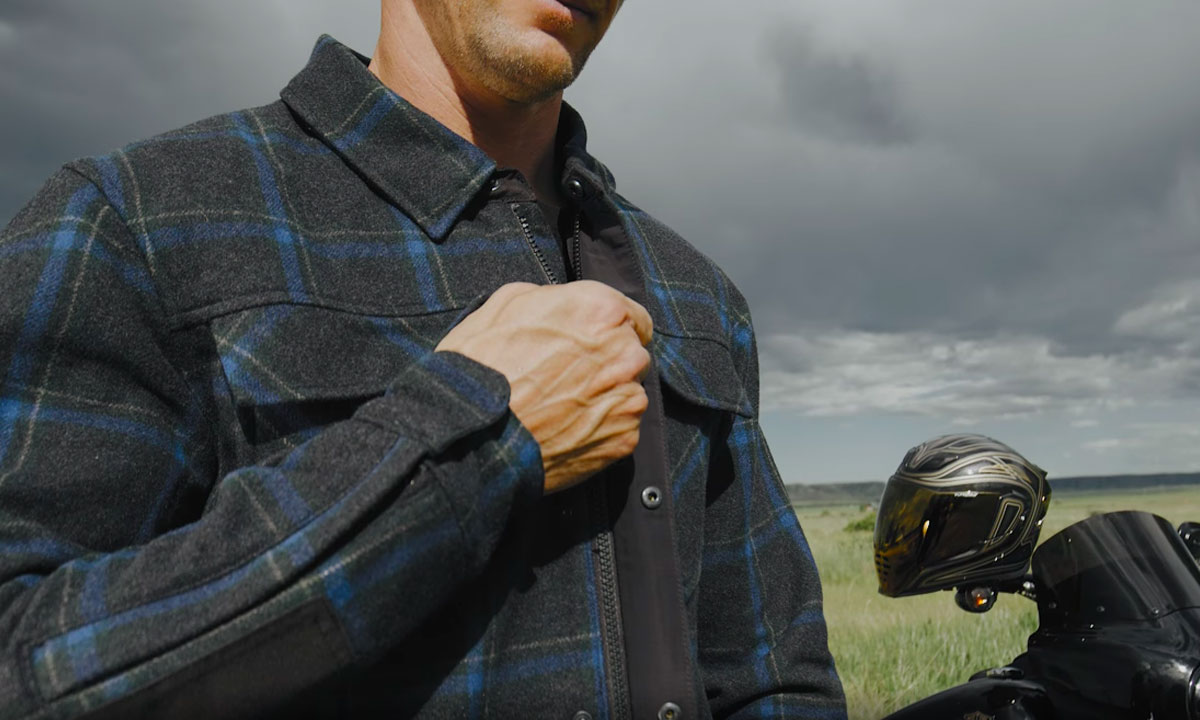 Flannel shirts are the ultimate in casual cool for milder conditions. Portland based riding gear outfit Icon took everything they loved about the style and applied it to their Upstate Flannel Riding Shirt.
Unlike Cortech's Voodoo riding shirt, Icon has achieved single layer brilliance with their design. This adds even more comfort and flexibility to its use. The Upstate Flannel riding shirt is made from a Cordura reinforced heavy weight flannel with impressive abrasion resistance properties. A relaxed fit ensures comfort whatever riding position you adopt and there are both ventilation points and breeze stoppers for managing unexpected climatic highs and lows.
The Icon Upstate Flannel riding shirt is available in either an orange or blue based flannel design. Panels on each elbow add extra abrasion resistance and reflective accents increase low light visibility. As we've come to expect from Icon the Upstate Flannel comes with a complete set of low profile D30 armour (elbows, shoulder & back) included in its very reasonable price.