For this review, I'm going to break things down into first impressions and ride impressions because there's nothing worse than spending your hard earned on a piece of gear you've fallen in love with at first sight, only to realise it's shortcomings after a bit of use. Like finally getting together with your childhood crush only to discover she smells like onions and hates motorcycles.
First Impressions of the Hedon Epicurist
Now what good gear review would be complete without comparing the product in question to a competing and more commonplace item? Here's how my facebook conversation with Geoff went after the helmet arrived:
Me: "Wooooooooah man this thing is mad! Straight out of the box you can tell this is preeeeeemium stuff. The build quality alone is instantly distinguishable when compared to Bell's efforts…"
Geoff: "Copy and paste that last comment into your story"
I have a Bell Custom 500 that I wore every day for about 6 months. I eventually retired it when the Bullitt became available. I am intimately aware of all the 500s niggles so I couldn't help but compare the Hedon Epicurist to it. I know this might not be the best way of reviewing two products that are complete worlds apart in terms of price and build quality, but you'll just have to bare this in mind.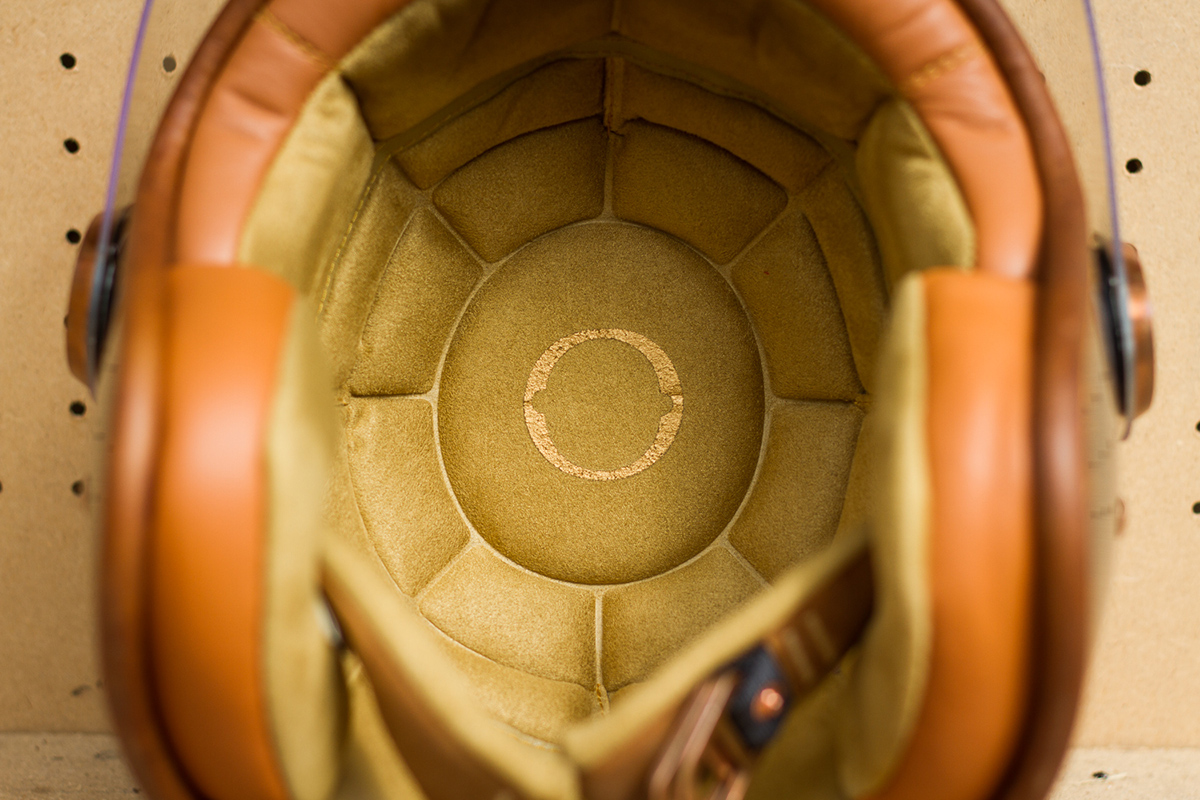 The trim on the Hedon is actual leather where the Bell is just rubber. The lining on the Bell is some sort of synthetic where the Hedon is natural calf leather combined with very plush Merlin anti-bacterial fabric (that looks and feels a lot like suede…). I run a size L in both the Bell and the Hedon, but I think you can guess which one fits better. Yes, it's the Hedon. This might be due to the "Hed Armour with 360º cushion padding" or it might be due to the head shape the helmet was designed for (yes, head shapes do vary around the world). Also, the Hedon shell itself looks smaller than the Bell, which is a big plus if you don't want to look like a bobble head on your motorcycle.
Open face helmets are always lighter than their full-face counterparts and the Hedon Epicurist is no exception. Slide your noggin into the Hedon and you can straight away feel how light it is thanks to the composite fibre shell of fibreglass and carbon fibre. The Double D-ring is easy to navigate (if a little stiff when new) and one of my absolute favourite things about the Epicurist is the fact that there isn't six metres of leftover chin strap to tuck away once it's done up. The reasonable amount of remaining chin strap is neatly tucked away using the small press stud fastener on the end of the strap and it's worth noting that all the hardware on the helmet matches. The two solid machined visor pods are raw copper and brass (you can order them anodised), everything else is copper coloured anodised brass along with the polished copper embossed Hedon logo on the forehead which is a nice departure from a simple sticker. There's a bright red leather pull tab on the Double D ring that I would've preferred to match the helmet trim, but I guess safety comes first.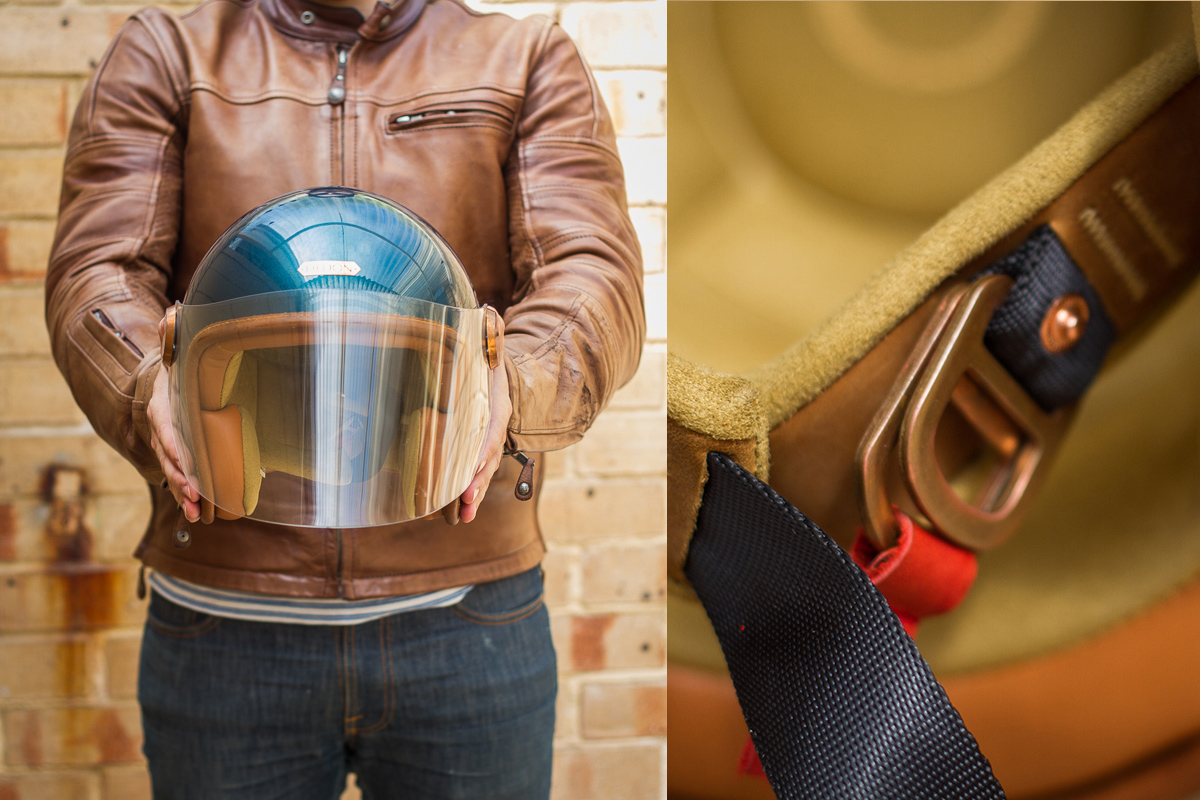 Ride Impressions
When you're out in the wind (looking dashing) the lightness of the helmet is even more evident and because there's no chin bar the field of view is amazing. The 2mm thick hand thermoformed shield is crystal clear and easy to operate as you don't have any pesky visor locking mechanisms to fumble with. What should be mentioned here is that if you do decide to leave the visor up it will whistle to no end, no matter the speed. If you push the visor all the way back it will stop whistling, but it will turn into a giant sail, forcing your gaze skyward at higher speeds. While this is undesirable it should be fully expected from a shield design such as this. I've used this helmet for hours at a time in different weather conditions and at no point felt uncomfortable with the visor down. So you should only need to lift the visor to talk to your friends at traffic lights or to reply to the driver at the lights who is asking you how old your 2013 Moto Guzzi V7 Special is…
The Epicurist also works very well with sunglasses. I wear Wayfarers and the frames are quite thick but they slide up into the helmet to rest in their normal position without getting caught on anything and without causing any discomfort. I love my polarised sunnies so while there is a slight rainbow effect through the shield the effect is nowhere near as pronounced as it is on my Bell Bullitt's bubble visor.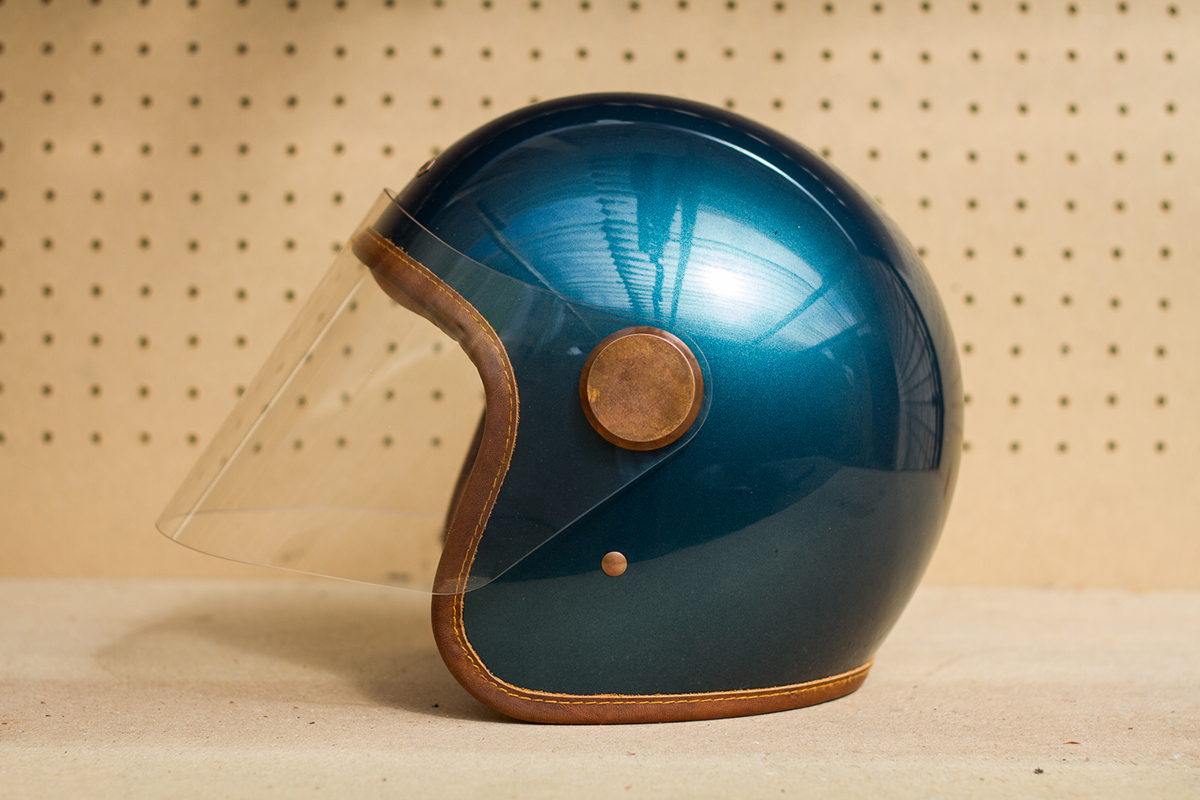 Now I shall answer the question you have all been screaming at your screens this whole time. Does the Epicurist lift off your head on the freeway like all other open face helmets?
The short answer is…yeah a little bit, but it's an open face helmet so it's not like you should expect otherwise. Mind you, this Hedon fits my head like it was made for it and the face shield does a good job of not letting the wind in which drastically reduces the amount of lift compared to my Custom 500. The shield also reduces wind noise but yep, you guessed it, it's still very, very loud at anything over 80km/h if you're not wearing ear plugs.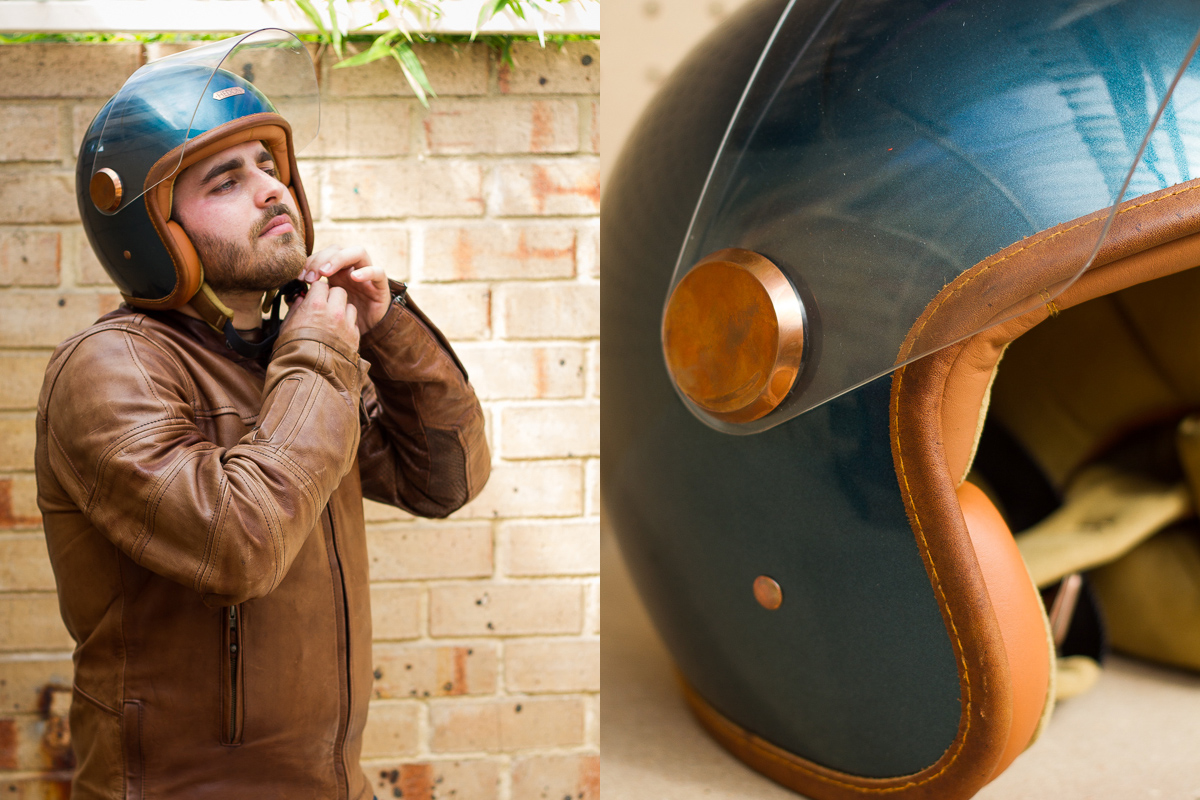 It's definitely the details of this helmet that make it so special, from the matching brass hardware, the sturdy thickness of the face shield and the ease at which the brass visor pods unscrew. You also cannot go past the stunning copper Hedon logo above the brow and how the chin strap padding is stitched in place to stop it from moving while you cinch the straps up. Now the details, as nice as they are do add up on the balance sheet so while you're going to look great and have a very nice and well thought out helmet you are left with a very expensive helmet. £349 is quite a lot of money to pay for something that doesn't technically cover your whole head, but this is the closest thing you're going to get to handmade Ateliers Ruby helmet for under a grand.
Yes the visor whistles or turns into a giant sail when up, the raw metal tarnishes, it's loud on the freeway and it costs a lot of coin, but the workmanship is spot on, the leatherwork is incredible, the choice of colours is out of this world, the fit and finish of the assembly is like nothing else and the attention to detail is simply superb.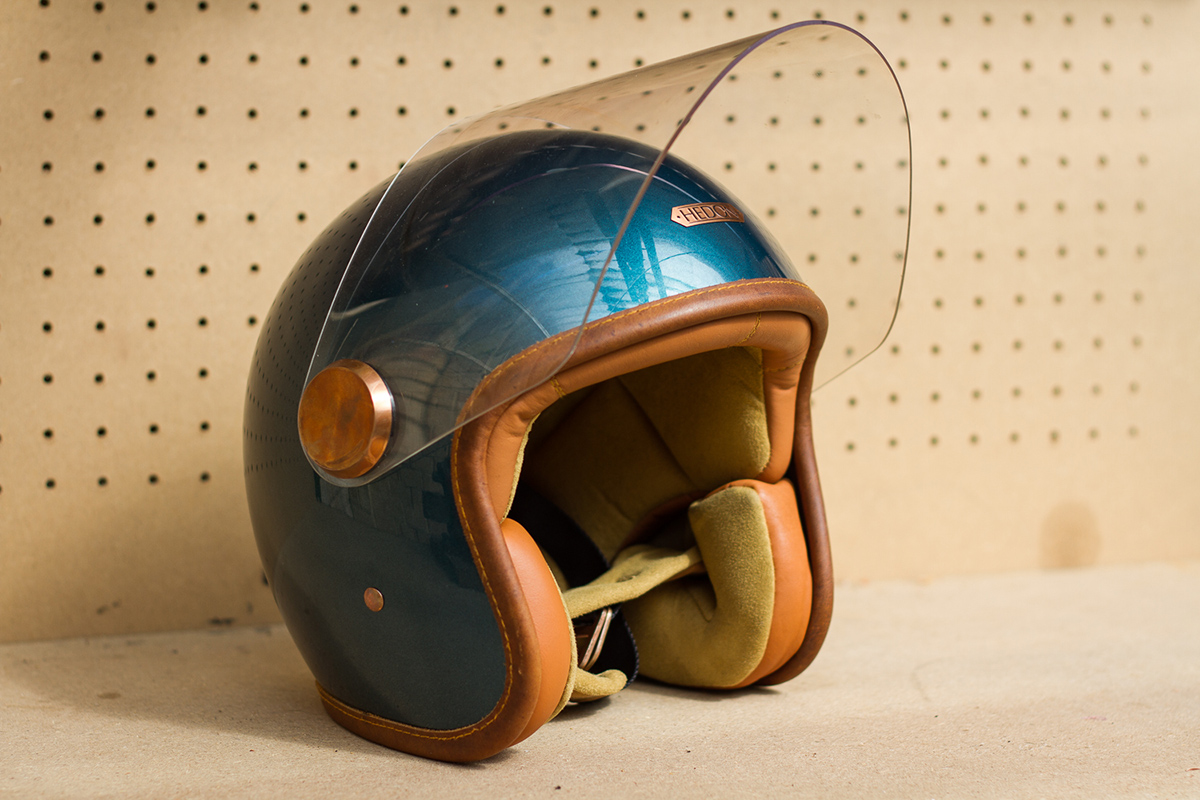 If you usually wear a full face helmet but want something a little more casual or something to perhaps wear to your local Distinguished Gentlemen's Ride then you should definitely consider this helmet. Its face shield makes it far more practical than a standard open helmet, you can specify ECE or DOT safety requirements depending on your location and again, it just looks so, so good.
The Bad:
Visor pretty much has to be down the whole time or removed
Expensive compared to other open face helmets such as the Bell 500
If you get the raw finish on the metals they do tarnish
Lining is not removable or washable
The Good:
Finish quality second to none
Huge choice of colours
Very comfortable
Great looking
Story by Ben Pilatti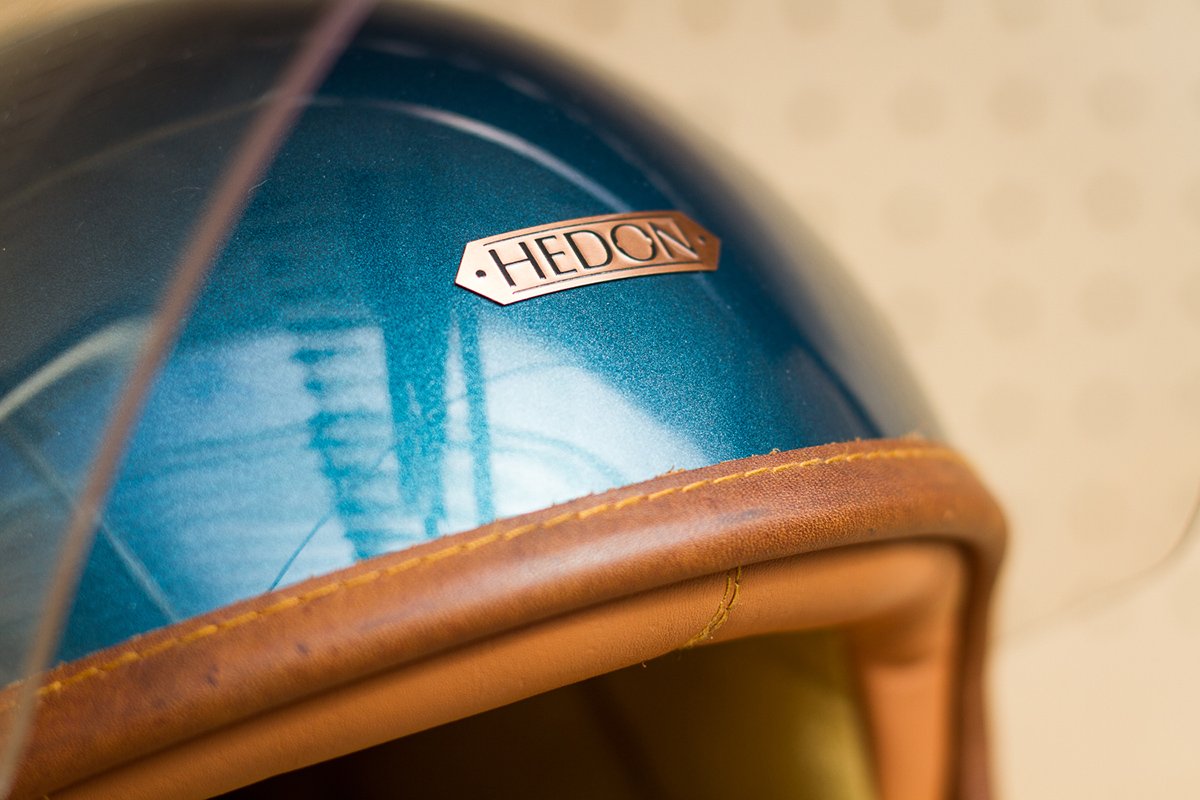 As some of our regular readers might have already ascertained our editor, Geoff, is a busy man. I'm somewhat of a nice guy so I asked Geoff if there was anything I could do to help. Soon afterward a Hedon Epicurist
helmet
in glossy 'Shortlist' teal green arrived in a very pretty package at my door and I could scarcely contain my joy. I get so excited about gear because when during my university years I worked at a motorcycle apparel store. This also means that I tend to be pretty picky and perhaps even overly critical when it comes to my gear.