A spontaneous retro helmet party ignited and all the manufacturers were invited. Bell, like someone who arrives two hours early, caught everybody off guard. However, their Chad Hodge-designed Bullitt was more party-starter than party-pooper. I was working in a motorcycle shop when the Bullitt was released and they flew out the door faster than we could stock them.
Other companies gradually trickled in but by 2020 the room was getting a little crowded. Then, just as we thought the party was going to fizzle out, the two popular kids arrived. Mid-2020 saw the release of the Arai Concept-X and the Shoei Glamster.
Arai and Shoei weren't just fashionably late, they were downright tardy. Regardless, when it was time for me to replace my ageing Bullitt it was a choice between these two. I chose the Shoei because I was familiar with the brand and it was easier to get in Australia. It was not based on price.
I'll get this out of the way now because it's a big drawback. The Shoei Glamster in Australia is $800AUD. If you want a fancy paint job it's $900AUD. That's an astonishing amount of money for a retro helmet. Even with a 20% Black Friday discount I still forked out over $600AUD.
I've used this helmet since early December 2020 so this is a long term review. I've ridden rain and shine and had time to discover the good, the bad and the questionable. Let's break down the helmet itself before we get into that, though.
At a brief glance, here are some notable features on the Shoei Glamster.
Shoei AIM shell construction
Customisable interior lining system
Dual-layer, multi-density EPS liner
Shoei Emergency Quick Release System (EQRS)
Pinlock-prepared CPB-1 Visor (also available in dark tint)
Double-D ring chin strap retention system
Shoei Glamster Construction
As with all full-face Shoei helmets, you'll find a Pinlock anti-fog insert, a chin curtain and some silicone lubricant in the box. There's a Glamster sticker included but that was relegated to my toolbox … on the back of the toolbox, that is …
The shell is the usual Shoei five-layer AIM construction. This means that it is made of hand-laid interwoven layers of fibreglass, organic fibres and resin. Shoei is the best in the business and it was great to see that none of the shell quality was lost on the Glamster. It's a featherweight at 1.2kg and there are three different shell sizes from XS to XXL.
This makes it one of the most low-profile helmets I've ever worn. Basically, if you're worried about the "helmet bobblehead" look you can rest easy in a Glamster.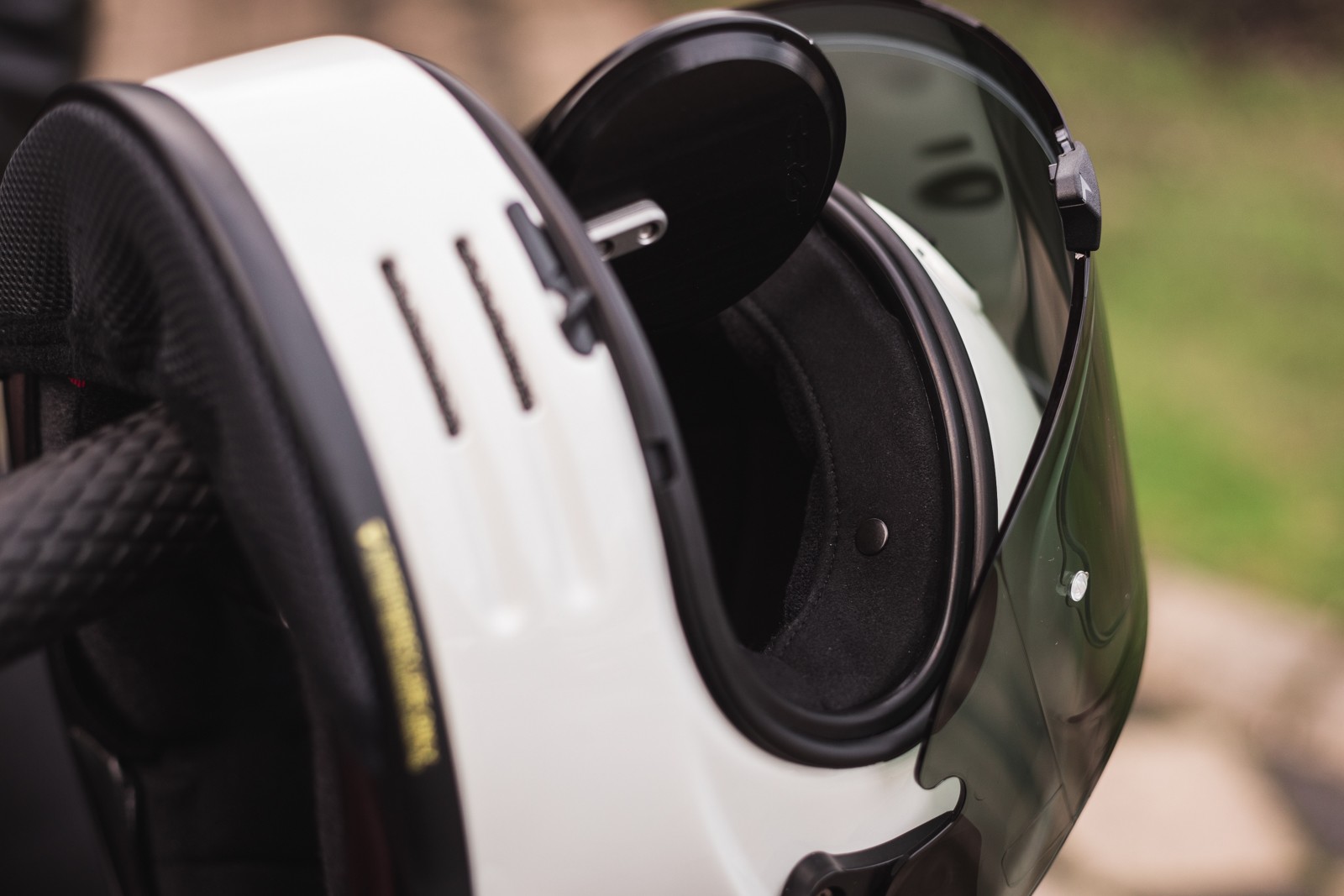 Like all Shoei helmets, the 3D interior liner is removable and washable. Unfortunately, the liner is where I think the Glamster falls short. I also have a GT-Air, Shoei's touring helmet, and I liken its liner to a silken cloud. In a GT-Air, your face lopes along in luxury and comfort. The Glamster has different liner material so it is missing this feeling.
Although this nitpick is small and almost imperceptible it gets on my nerves because of the high price. On the bright side, the fit is perfect and I couldn't be happier. As with all new helmets, it was a bit tight around my cheeks to being with but seven months later, it's worn in nicely.
If you want to use a Bluetooth unit (like the SENA 50R), I have some bad news. Being a very low profile design means there is not much room for speakers. The Sena 50R speakers push up against my ears, making for a very uncomfortable ride and I've had reports of other, smaller Sena speakers also struggling to fit. This isn't a huge deal, mostly because it's a retro helmet and I assume most of the people who buy this helmet aren't the Bluetooth type.
Shoei Glamster Performance and Design
Most retro helmets have vents on the outside of the helmet that do exactly nothing. The Glamster chin vents are no different. They're always open and while you can't feel anything on your chin they channel air to the inside of the visor. This is great for demisting but the visor is Pinlock-ready so the vents are mostly for show.
Visually, I find them very appealing as they break up the chin bar and look very sporty. The brow vent can be operated easily, even with gloved hands. Although the airflow is minimal, on hot summer days in Australia any lick of cooling is welcome.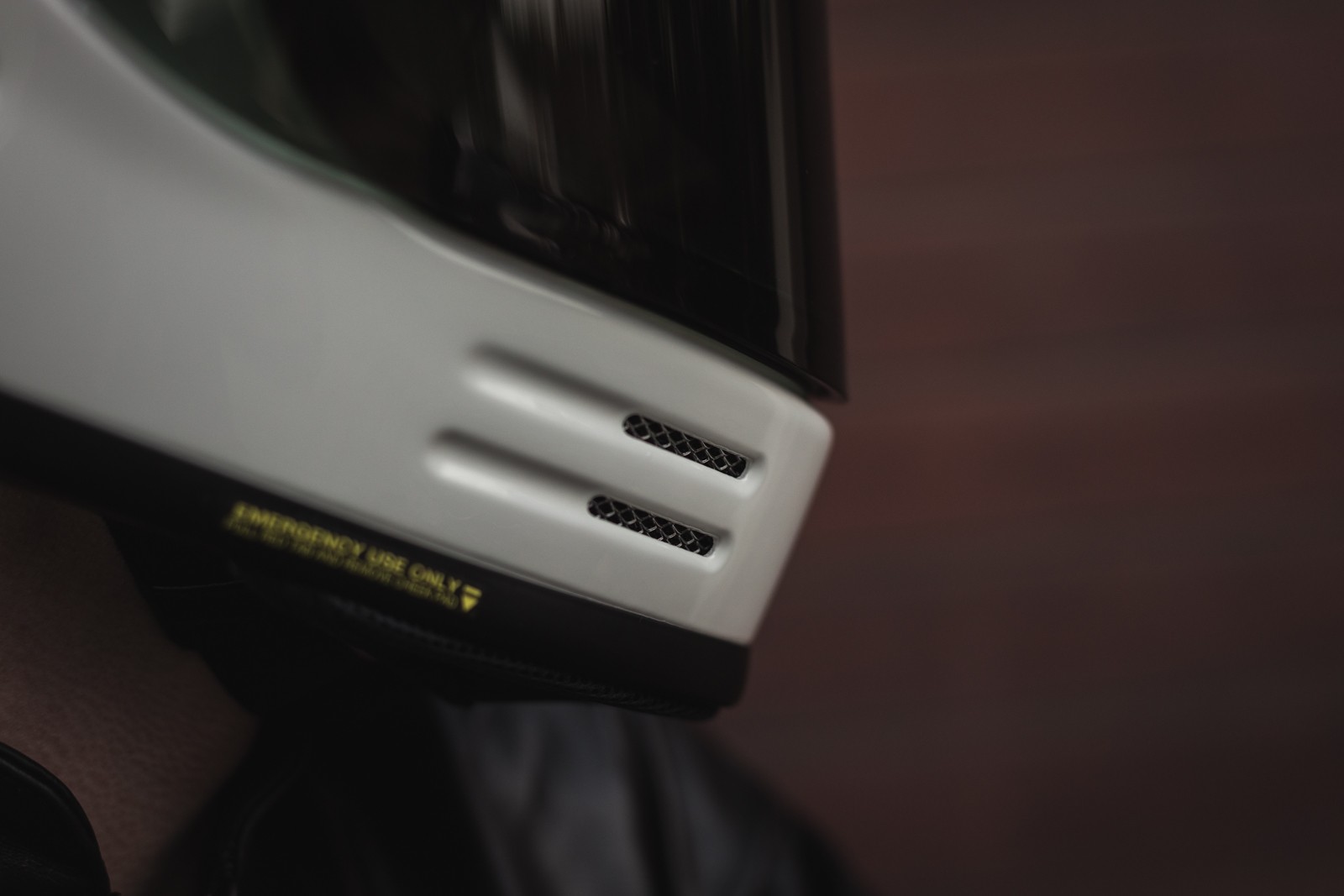 When I buy a new helmet I'm always concerned about wind noise. Helmets with a smooth, round shape have a reputation for being louder than their more modern counterparts. After owning two Bell Bullitts and this Glamster I wholeheartedly agree with this. Luckily, Shoei has made an effort to reduce wind noise by including a chin curtain.
This bit of fabric will keep you warmer in winter but most importantly, they cut down on wind noise. Ever noticed how tired you are after a long highway ride? Wind noise plays a big role in rider fatigue and it's why I always wear earplugs, regardless of the helmet. With the Glamster having a round profile, a thin chin bar and lightweight construction, I knew wind noise would be an issue. However, the chin curtain, together with earplugs, makes for a pleasant ride. I know wind noise is very subjective but this is what I found riding my Moto Guzzi V7.
Besides the good looks, a reason to buy a retro helmet is for the wide field of view and the viewport on the Glamster is huge. I absolutely love the amount of vison Shoei's new CPB-1 visor provides. On top of that, it's Pinlock ready and there's one in the box. If you haven't used a Pinlock before they are nothing short of genius. They prevent the visor from fogging up, even in the coldest temperatures.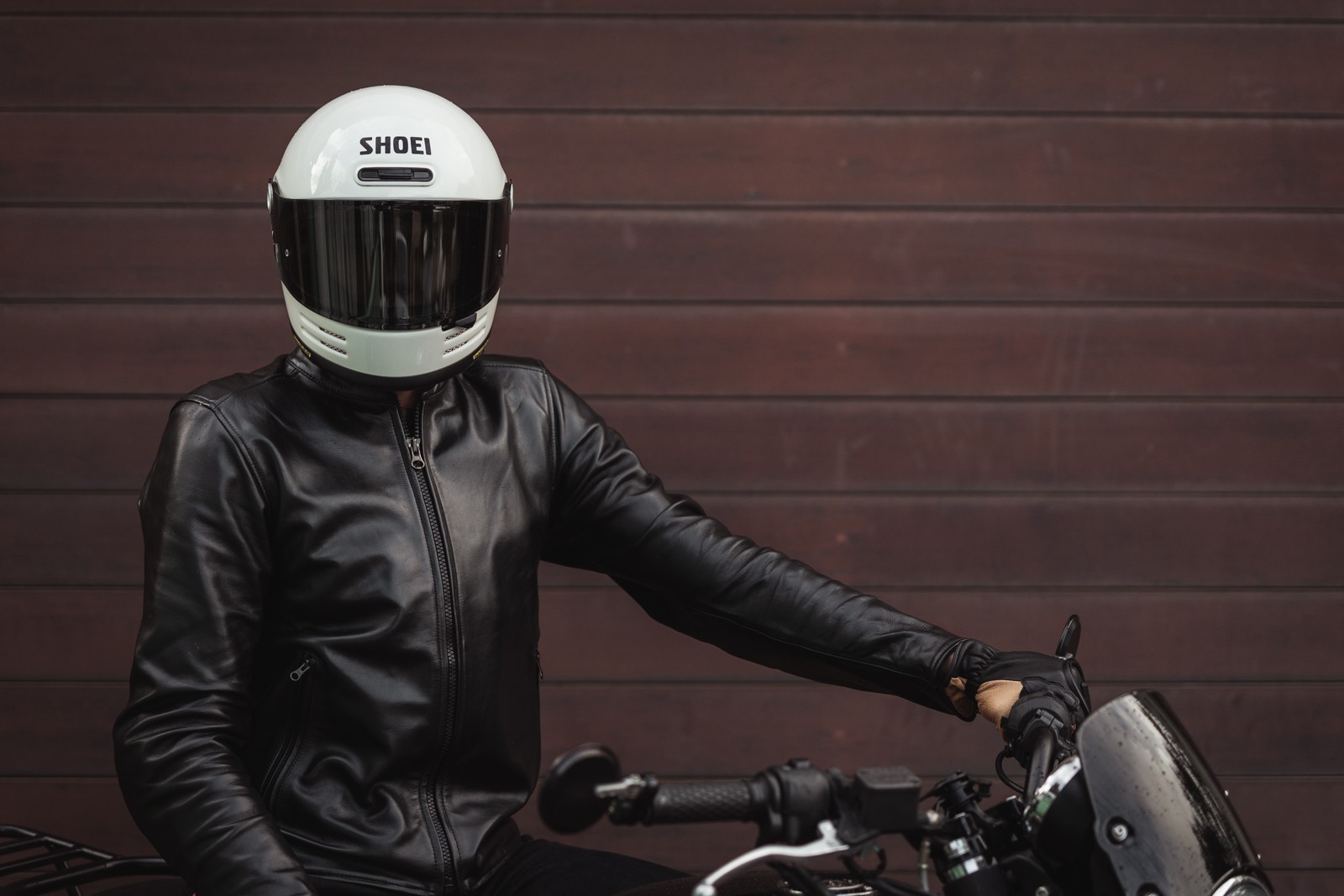 The Good, the Bad and the Questionable
Remaining on the subject of visors, I have a gripe. The visor that came with my helmet looks like something that you'd get with a low-tier, budget helmet. I expected a sturdy, well-moulded visor (like every other Shoei) but what I got was a thin, flimsy bit of plastic.
I love a tinted visor so I shelled out as soon as they were available. I only noticed how sub-par the clear visor was when I got my tinted visor. The darker of the two looks like it came out of a completely different factory. It's thicker, moulded beautifully and generally a superior product. Interestingly, a friend got a Glamster and his clear visor is the same quality as my tinted visor. If you're thinking of getting a Glamster this is certainly something you need to look out for.
I'll address the elephant in the room now. Yes, it's the name. Shoei's other retro-inspired helmets have cool names like J.O and EX-Zero. Why didn't they follow the same naming convention? How close they were to delegating it J.1 or EX-One, we'll never know.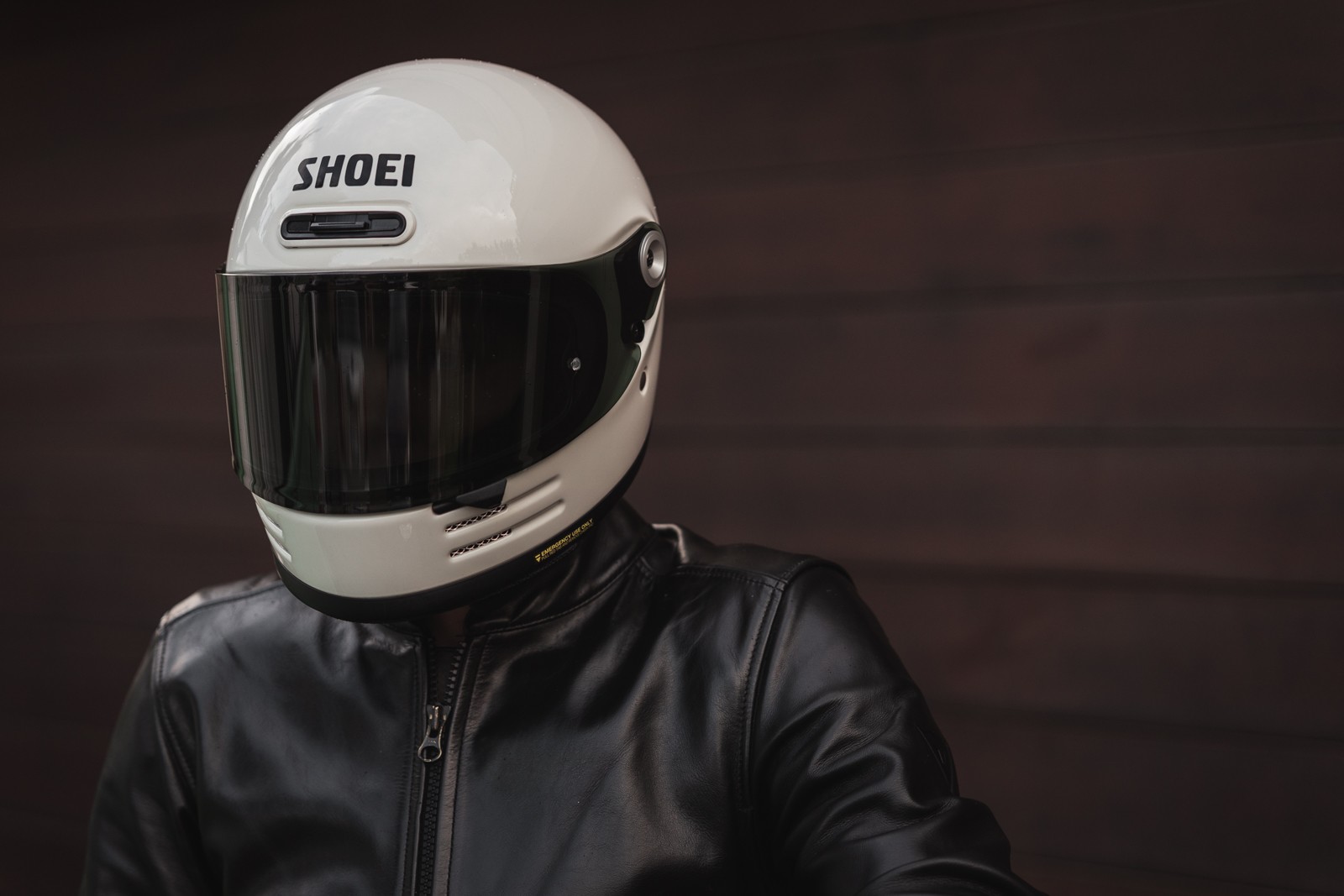 Honestly, I don't think the Shoei Glamster is worth $800AUD.
However, it's lightweight, looks great on any bike, has a Pinlock visor and it's a Shoei so the quality is guaranteed. If it was $200 cheaper the lower-spec liner and the wind noise would be worth it for the looks. Therefore, if you can find a Glamster on sale and use earplugs I do recommend getting one. Around the city, it's astoundingly good.
The wide field of view and low weight makes it the perfect commuter/city helmet. It's manageable at speeds up to 80km/h and with earplugs, it even holds up to brief stints on the freeway.
It's arguably the best, most reputable retro-style lid but it's only perfect in the looks department. Despite this, I really do like it. It's a great helmet with a dumb name. I'm just glad there's no Glamster branding on it.
Wait a second. Is "Glamster" embossed on the inside of the chin bar? Damn.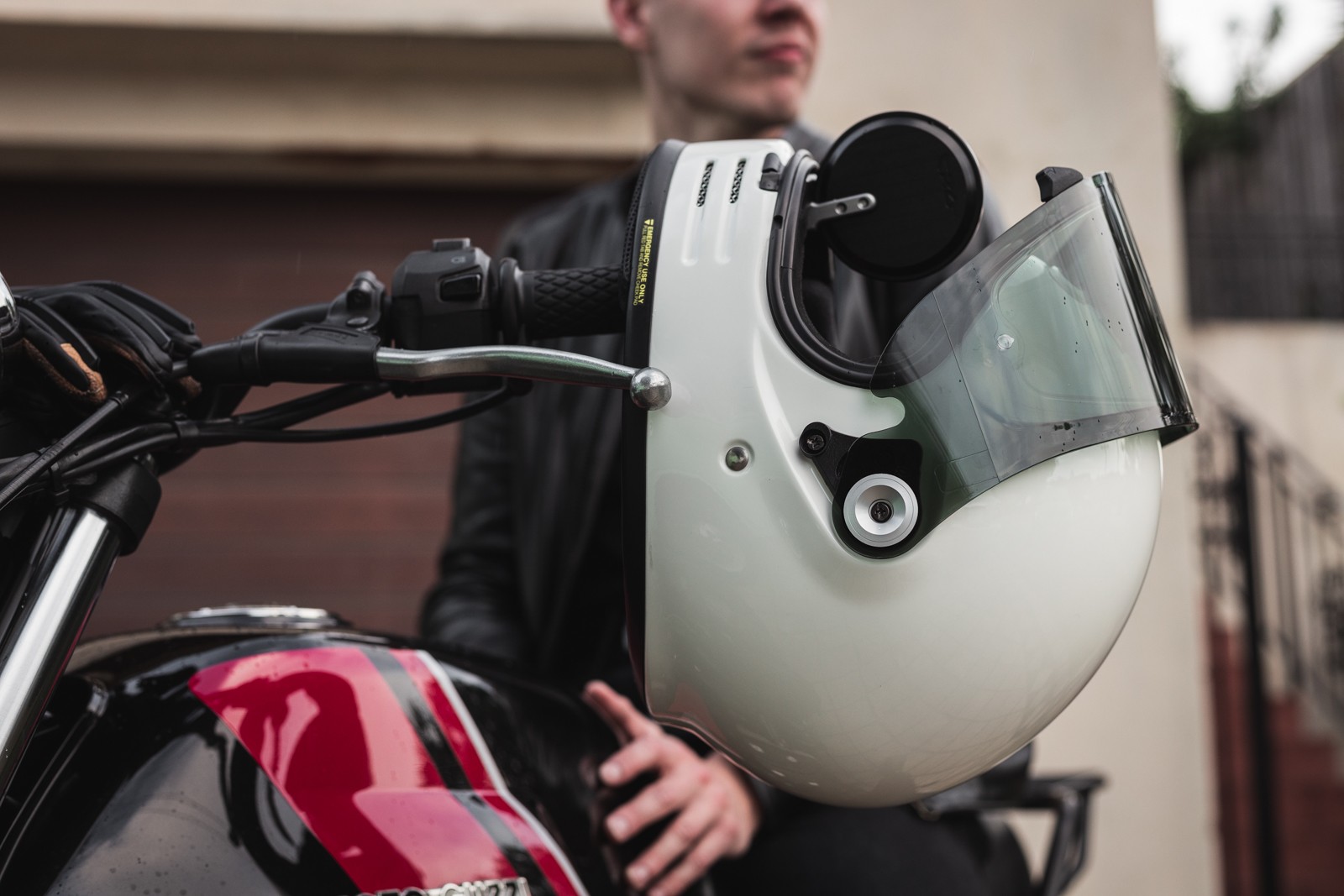 Overall Summary
The Shoei Glamster is the latest in Shoei's retro lineup of helmets. Ranging in price between $799AUD and $899AUD depending on colour, the Glamster is a premium product in what is now a saturated market. Arguably the best street helmet with the worst name, the Glamster is comfortable, looks great on any bike and is packed with modern features. A Pinlock visor, chin curtain and Shoei's AIM Shell construction will keep any discerning motorcyclist safe whilst looking good.
Pros
Stunning good looks
Light weight construction
Pinlock visor
Again, just look at it
Some of the best graphics options on the entire helmet market
Chin curtain for increased comfort
Cons
High price
Wind noise may be too much for some
Questionable visor construction on some models
Speaker pockets are not big enough
Currently not DOT-Approved
The name
Specs
Price: $799.90AUD for single colour options, $899.90AUD for graphics
Available in gloss white, gloss black, gloss grey, matte black and a variety of stunning retro graphics options
Made in Japan
Where to Buy / Important Links
Shoei Glamster Photo Gallery