Let's face it. Power Ranger-esque sportbike riding gear and cafe racers don't mix. During the past decade, riding gear manufacturers cottoned on to this. So they started producing retro helmets to meet the demand.
Naturally, if you ride a cafe racer these are the helmets that you will undoubtedly gravitate towards, but not all retro helmets are created equal. In a bid to separate the wheat from the chaff we've picked out our favourite new helmets to create this 20 Best Cafe Racer Motorcycle Helmets of 2020 list.
What Is a Cafe Racer Helmet?
In our opinion, any helmet that the manufacturer labels as 'retro' or 'classic' could suit your cafe'd ride. Some are based on models straight out of a manufacturer's own history books; while others lay claim to possessing the spirit of times gone by.
Thankfully despite looking like the brain bucket your grandfather once wore, these helmets all utilize the latest in safety technology to keep your melon safe. Getting the right look in most cases means sacrificing some of the features you find by default on modern helmets. However, what these helmets lack in features they make up for in good looks.
Of course, these helmets aren't aimed at just the cafe racer crowd. They'll look great on all manner of custom bikes from Scramblers to Bobbers and even the occasional chopper. They're also the perfect pairing for a restored classic. So, if your motorcycle falls into any of those categories then these helmets are ideal for you too.
Cafe Racer Helmets Under $300 USD
"How much is your head worth?" It's a statement thrown around by overly opinionated riders when asked how much one should spend on a helmet. In most cases, price is a good indicator of quality, but there are exceptions to the rule. These cheap motorcycle helmets offer exceptional value without scrimping on safety or style. So if you're on the lookout for a retro motorcycle helmet and your budget is limited to under $300 USD check these out…
Bell Moto 3 Fasthouse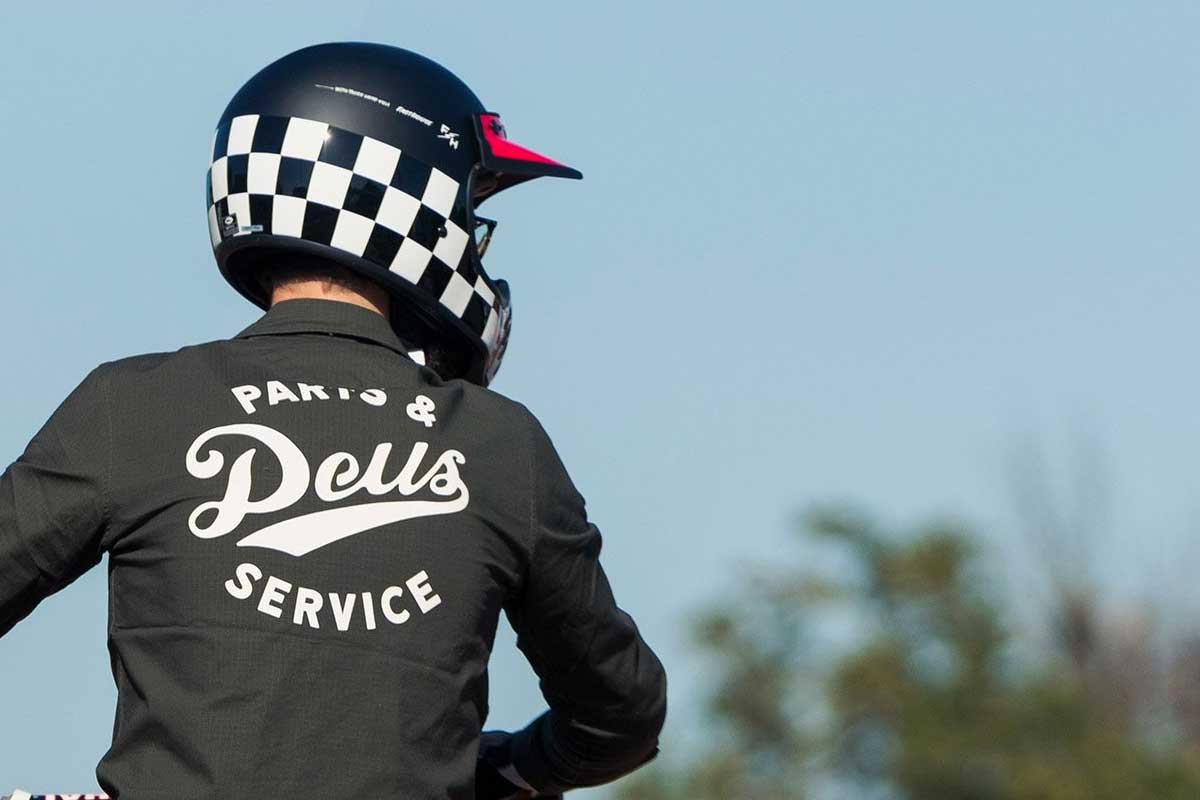 "NOT RETRO. ORIGINAL." The Bell Moto 3 is one of the few retro helmets on the market with 60 years of history behind it. Based directly on the original Moto-3 design, Bell has rejuvenated the MX styled helmet using modern manufacturing techniques.
The updated Moto 3 has been available for almost 4 years now and for 2020 they've teamed up with MX riding gear brand, Fasthouse. The Bell Moto 3 Fasthouse features a bold checkered design that's been a staple of cafe racer style for decades.
The helmet shell is finished in matte black and includes a bold red visor that can be removed as desired. Just throw on a pair of riding sunglasses or goggles and you're ready to rip.
Biltwell Lanesplitter Factory
California's Biltwell Inc. is a pioneer of the retro helmet movement. Their roots lie in the chopper and bobber scene, but their riding gear will look right at home on your cafe racer too.
The Lanesplitter is the latest addition to Biltwell's helmet offering. With its hard-edged, angular chin bar the Lanesplitter looks like it means business; and its technical features back that up.
The new Biltwell Lanesplitter Factory colourway features the iconic Biltwell logo in bold gold lettering along one side of the helmet for a unique asymmetric finish. Matching gold hardware on a gloss black shell adds a touch of class to this aggressive looking headgear.
Biltwell Gringo S Spectrum
Biltwell's Gringo is somewhat of a Grandad in the retro helmet market. It's been around longer than most of the motorcycle helmets on this list. A lot has changed since the Gringo was first released and the latest updated came with the addition of the S model.
The Biltwell Gringo S features an ABS shell and EPS liner that earns it both DOT & ECE certification. The helmets hand-stitched lining uses a specially designed Bio-foam to keep nasties at bay and there's space inside for inserting your Bluetooth comms equipment.
The Gringo S also comes with an integrated, interchangeable visor and a wide range of colours to choose from.
For 2020 Biltwell has added a few new additions to the Gringo S offering including the Spectrum. The new Biltwell Gringo S Spectrum features graduated pinstripes on a gloss black shell. The look is reminiscent of the paint schemes seen on Harley fuel tanks during their time under AMF ownership.
Combining '70s F1 inspired geometry with this classic paint scheme makes the Gringo S Spectrum an affordable and undeniably cool retro motorcycle helmet.
Cafe Racer Helmets Over $300 USD
You've been living off Mee Goreng instant noodles and instant coffee for months. Now it's time to put your savings to good use and splash out on a top of the range brain bucket. These are, in our opinion, the best of the bunch when your budget for a cafe racer helmet exceeds 300 bucks.
BSMC x Hedon Heroine Club Racer Carbon Edition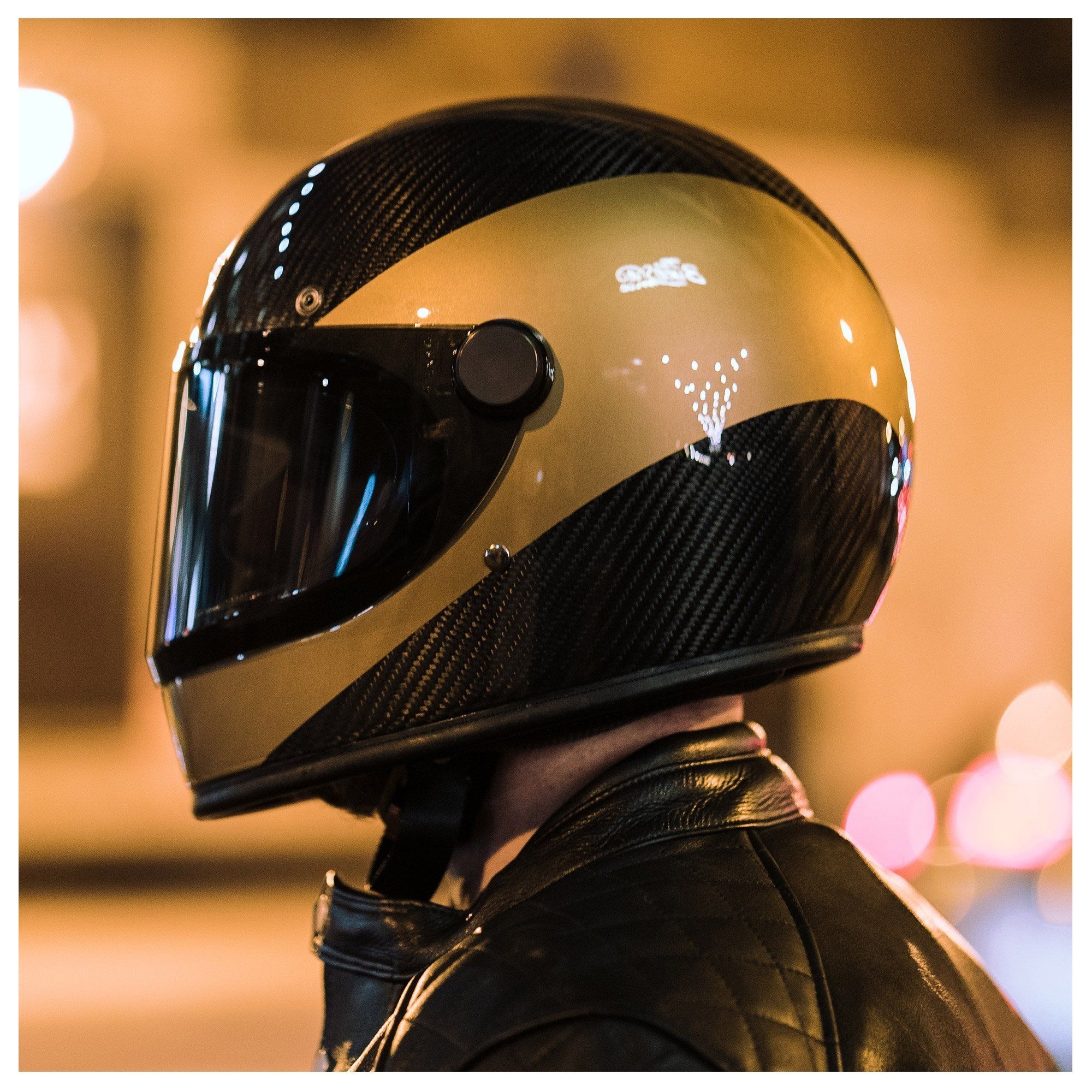 Our friends at the Bike Shed London have their finger on the pulse of the custom motorcycle scene. Part of their business model involves selling a range of BSMC gear. These include products that they've developed with a few reputable riding gear brands. The Heroine Club Racer Carbon helmet is their latest collaborative effort and was developed in conjunction with UK helmet company Hedon.
The Heroine is Hedon's full-face offering and this helmet example is the first carbon fibre version they have released. With this in mind, it makes sense to celebrate all that stunning carbon by exposing it under a deep glossy clear coat. Adding to the premium look is a bold gold speed stripe that wraps around the chin and tapers off at the back of the helmet.
To complement the classy exterior of the helmet the lining is a mix of plush Merlin anti-bacterial material and perforated black calf leather. Both the eye-port and base of the helmet are also finished with black leather trim.
A gold print at the top of the interior celebrates BSMCs involvement in the design and adds a touch of class to this limited edition helmet. The gold theme continues with a brass Hedon logo on the forehead, brass discs on the visors hinge, and a brass D-ring chinstrap.
Be warned the BSMC Heroine Club Racer Carbon is the most expensive helmet in the Hedon range and the price is not for the faint-hearted.
Shoei Glamster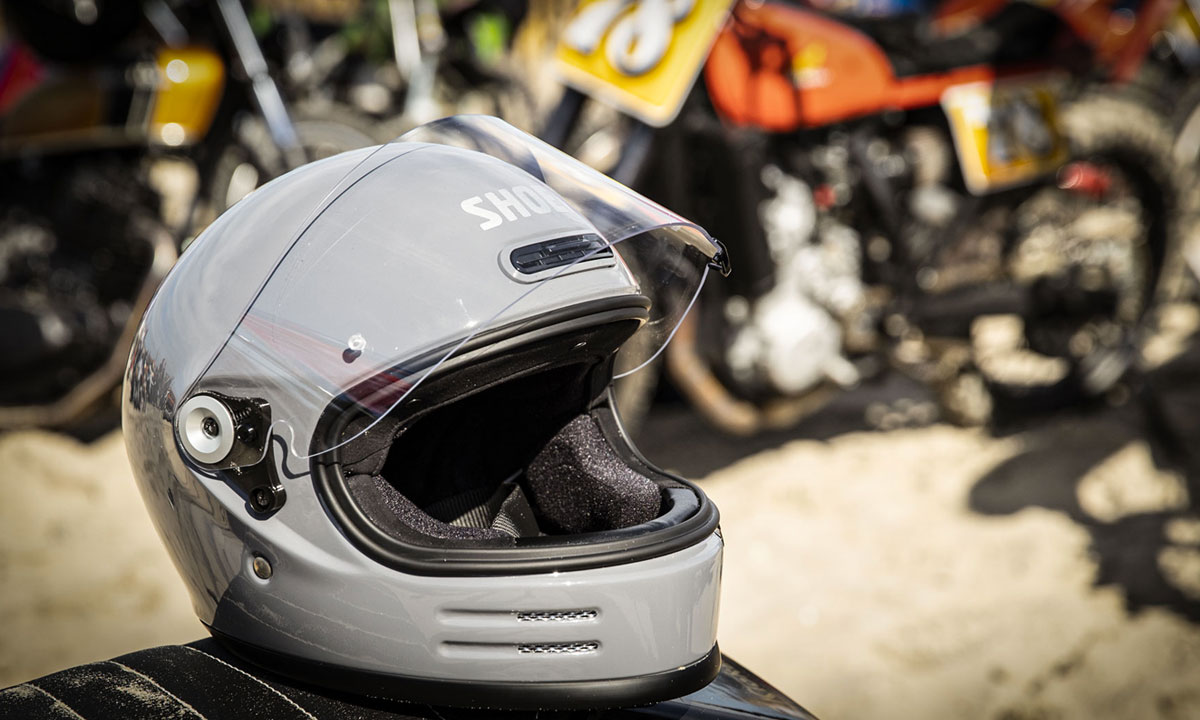 The Shoei Glamster is a newcomer to the cafe racer helmet market. This doesn't make it any less appealing than its competitors, but its cheesy name might. Forming part of the new Shoei neo-classic range the Glamster taps into the company's long history of manufacturing racing helmets.
The Glamster boasts a sleek, retro aesthetic, and features the very latest in Shoei's AIM (Advanced Integrated Matrix Plus) safety tech. This equates to 5 layers of composite and organic fibres and a multi-density shock-absorbing liner. As a result, the Shoei Glamster effortlessly passes international safety certifications.
Other unique features such as a quick-release chinstrap and emergency quick-release padding add even more safety to this offering.
Despite the Glamster helmet's minimalist appearance, Shoei hasn't scrimped on comfort features. Unobtrusive vents in the chin and forehead channel air through the helmet and out the base. This removes the need for additional vents at the rear and keeps the shell looking clean. The Glamster also comes with a multi-density liner that is removable and washable and the helmet's visor is 100% optically correct.
For 2020 the Shoei Glamster comes in 4 basic colourways (black/white/matte black/grey/blue) and 3 'Ressurection' racing striped variants. Our pick of the bunch would have to be the understated Basalt Grey option.
AGV X3000 Ago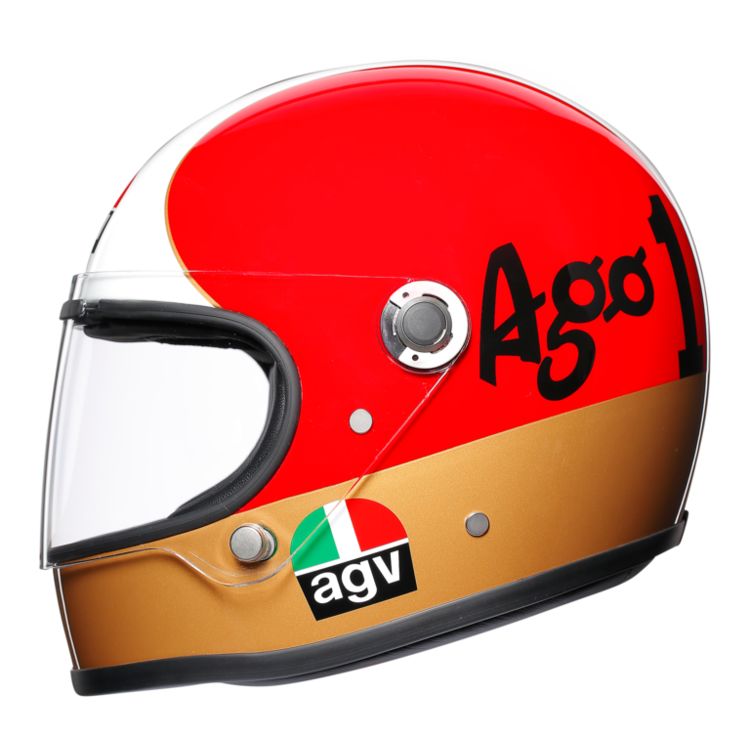 Another brand whose presence in the motorcycle scene goes back well before many of us were born is AGV. During the 1960s AGV was heavily involved in motorcycle racing, and some of the sports top riders wore their gear. Amongst them was the legendary Italian road racer, Giacomo Agostini.
With an astounding 122 Grand Prix wins, Agostini is often considered the greatest Grand Prix rider of all time. In recognition of Agostini's legendary achievements, AGV has released a special edition 'Ago' colourway of their retro-styled X3000 helmet.
The AGV X3000 Ago helmet has a genuine 1960s Grand Prix styling. The design features a wide chin bar, large viewport, and a smooth profile. Achieving this look means scrimping in some areas such as ventilation, but that's the cost one must pay to really nail this look.
Despite this, the AGV X3000 Ago still packs plenty of modern benefits. The AGV X3000 Ago is both DOT and ECE certified thanks to its ACF (Advanced Composite Fiber) fibreglass outer shell. It's available in 3 shell sizes for the right fit and has a premium leather and suede washable interior.
Nexx XG100 R Giant Slayer Carbon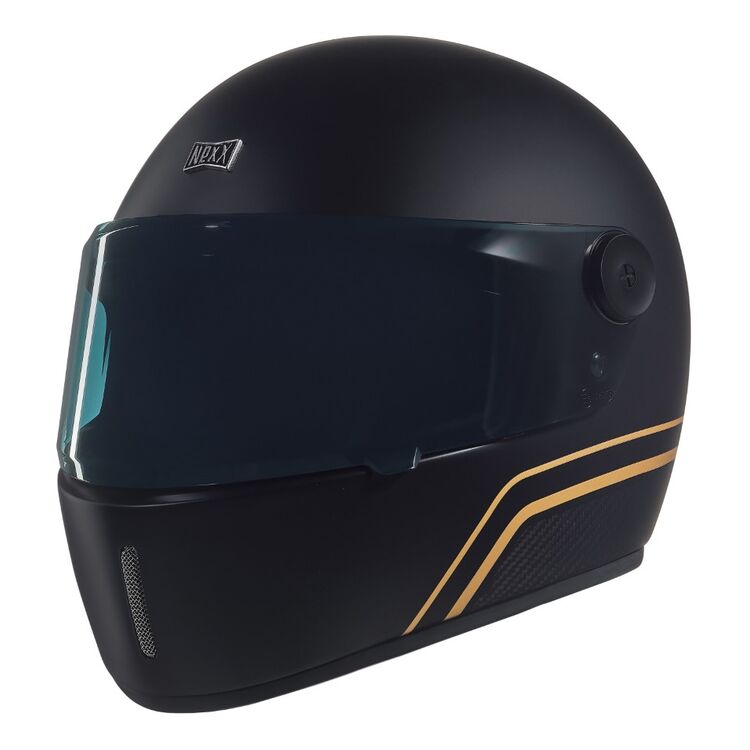 The Nexx XG100 R is one of the larger shelled helmets on this list. Rather than that detracting from the helmets appeal it's actually key to its retro vibe. Nexx has kept ventilation minimal so it's not the best helmet for hot climates, but a lack of external clutter help to emphasize its retro aesthetic.
When it comes to safety, Nexx hasn't cut any corners. The XG100 is both ECE and DOT approved for almost globally accepted compliance. Their X-Matrix outer shell construction uses a mix of fibreglass, organic, aramid, and carbon fibres to keep your head safe.
Another great thing about the Nexx XG100 is the wide range of colourways and patterns on offer. For 2020 Nexx has added the 'Giant Slayer' to their XG100 offering. The Nexx XG100 Giant Slayer features a sinister, predominantly matte black finish with a strip of exposed carbon fibre around the rear.
The carbon detail is bordered by timeless gold pinstripes which are paired to a gold Nexx emblem on the rear. Tying everything together is blacked out hardware and a sinister smoked visor.
AGV K6 Helmet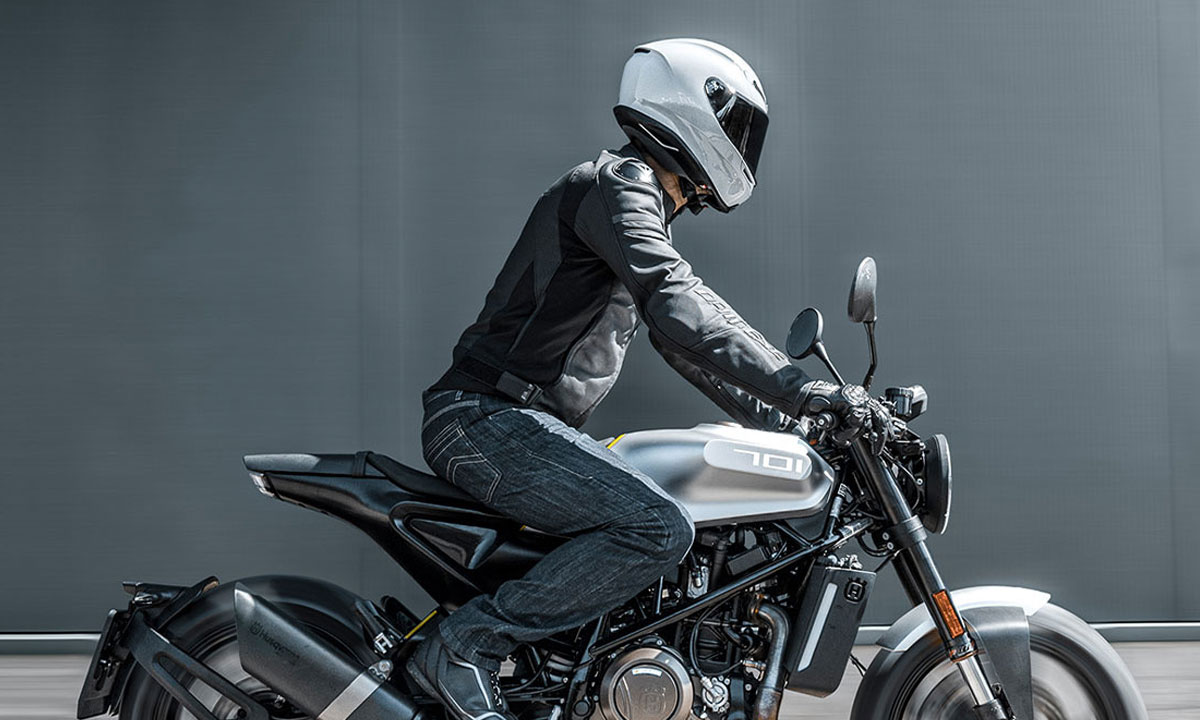 While the AGV K6 may not be our first choice on this list from a styling perspective, this helmet excels in all other areas.
Despite its modern appearance AGV pitched its K6 helmet as being suitable for any rider. From riders of modern sports bikes to those who love the classics. This is due to the helmet's aerodynamic properties which have been designed to work in any riding position. As a result, the K6 lacks the hard edges you'll find on sportbike helmets and resulting in a much more neutral looking lid.
Other key features of the K6 include being very lightweight which translates to improved, all-day riding comfort. This has been achieved using an outer shell design that's constructed from carbon aramid fibres and minimal, lightweight hardware.
AGV also produces the helmet in 4 shell sizes for both a perfect fit and a more appropriately scaled fit. A moisture-wicking liner combines with 6 vents to keep you dry in the heat and the price includes a removable breath guard for cooler days.
To back up the helmets tough exterior AGV has developed a 5 density EPS liner that exceeds both ECE and DOT standards. The AGV K6 is available in a series of basic colours including a very attractive primer grey or if you're looking for something ostentatious check out the striking AGV K6 Secret colourway.
Shoei EX-Zero EQUATION TC10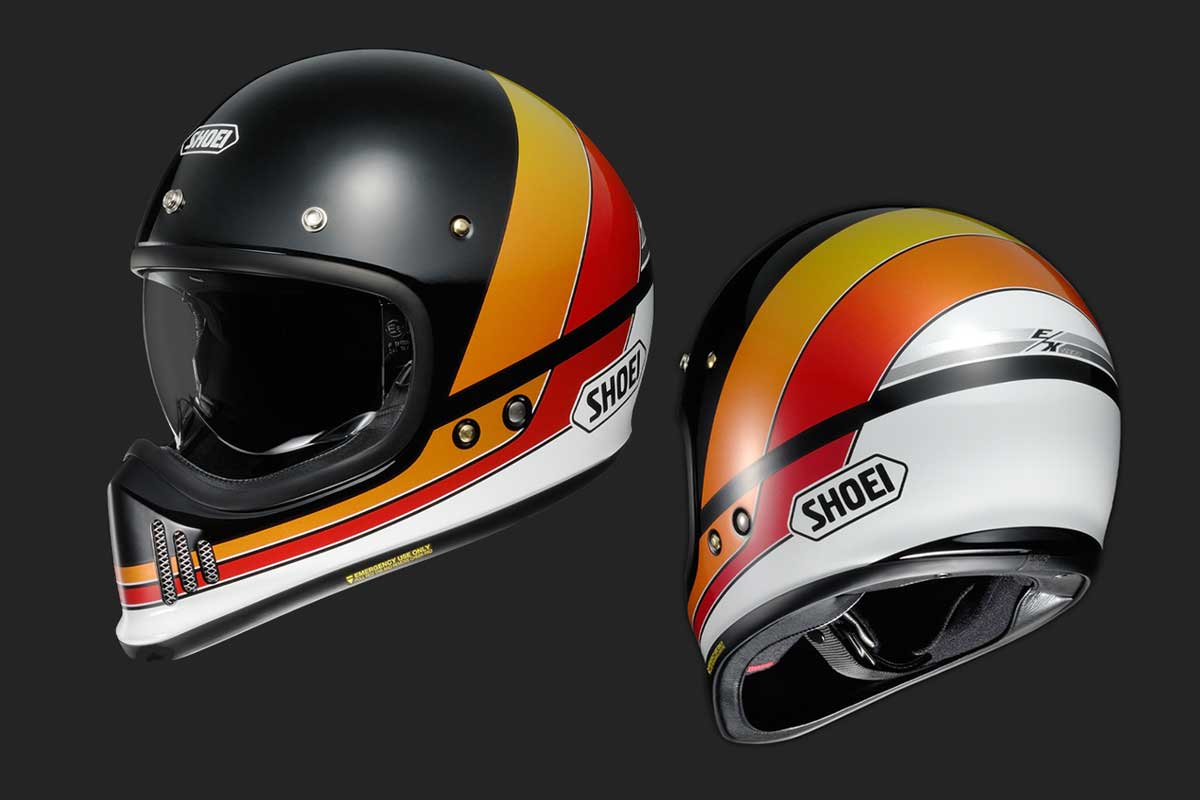 The Shoei EX Zero flew in under our radar around 12 months ago with a somewhat limited global release. The road going MX-esque helmet joins the likes of the Bell Moto 3 and DMD Seventy-five in the styling department but goes a step further with additional features.
This racing stripe version of the EX-Zero is named the Equation TC10 and is easily our pick of the bunch when it comes to colours (yes, we like our racing stripes).
The EX-Zero utilizes Shoei's tried and tested AIM shell and multi-density EPS liner combo for excellent levels of protection. A set of aggressive-looking vents in the chin bar provide additional airflow although getting air won't be an issue as there's no visor.
Designed to be worn with either riding glasses or goggles the EX-Zero is better suited to warmer riding conditions. All this sounds very much like the Moto 3 offering, but where the EX-Zero excels is in the addition of an integrated visor that drops down from within the shell.
This means if you start your ride during the day in tinted lenses when the sun goes down you can swap them out for the internal visor and still keep your eyes safe from road grime. Shoei also offers a tinted option for the integrated visor if that's more your style.
Arai Defiant-X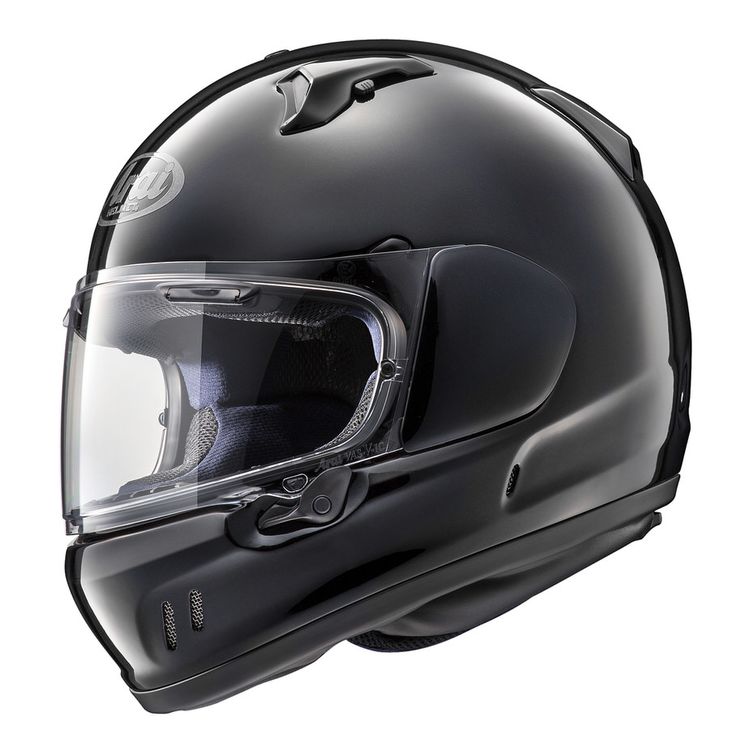 Arai helmets have a dedicated following amongst sports bike riders and the company hopes to tap into the classic and custom scene with their all-new Defiant-X. Arai is pitching the Defiant-X using the tag line "Old school cool. Minus the compromise".
While that may have sounded great during their marketing brainstorming sessions, the concept is nothing new to the cafe racer helmet market. What is new though is the fact that Arai now offers a retro helmet and that it looks noticeably different from its competitors. This can be attributed to the fact that Arai's design team didn't travel back in time as far as some of their competitors.
The Arai Defiant-X takes gets its styling cues from 1980s motorsport – complete with some rather bold colour and graphic options.
To back up their "Minus the compromise" claim the Arai Defiant-X is packed with modern helmet tech. The Arai Defiant-X shell is formed using the company's PB e-cLc shell design for exceptional lightness and strength.
Ventilation is provided by openings in the chin bar as well as in the brow of the helmet's visor. Venturi vents at the rear of the helmet and back of the neck draw warm air out via a series of internal air channels within the EPS liner. When temperatures vary the inlet vents can be closed or opened easily on the go.
For riding comfort at any speed, Arai wind test their helmets and the Defiant-X was no exception. A specially designed chin spoiler gives the Defiant-X an aerodynamic edge over its competitors without detracting from the overall look.
Arai has also included smart features like internal speaker pockets, an emergency release liner system, pin-lock inserts, a form-hugging facial contour liner, and best of all, a 5-year limited warranty.
Open-faced Cafe Racer Helmets
If you're the kind of rider who enjoys the wind in your face and the taste of bugs in your mouth check out these open-faced helmet options. Rest assured our selections won't leave you looking like a bobblehead and they are all properly safety certified.
Bell Riot Rapid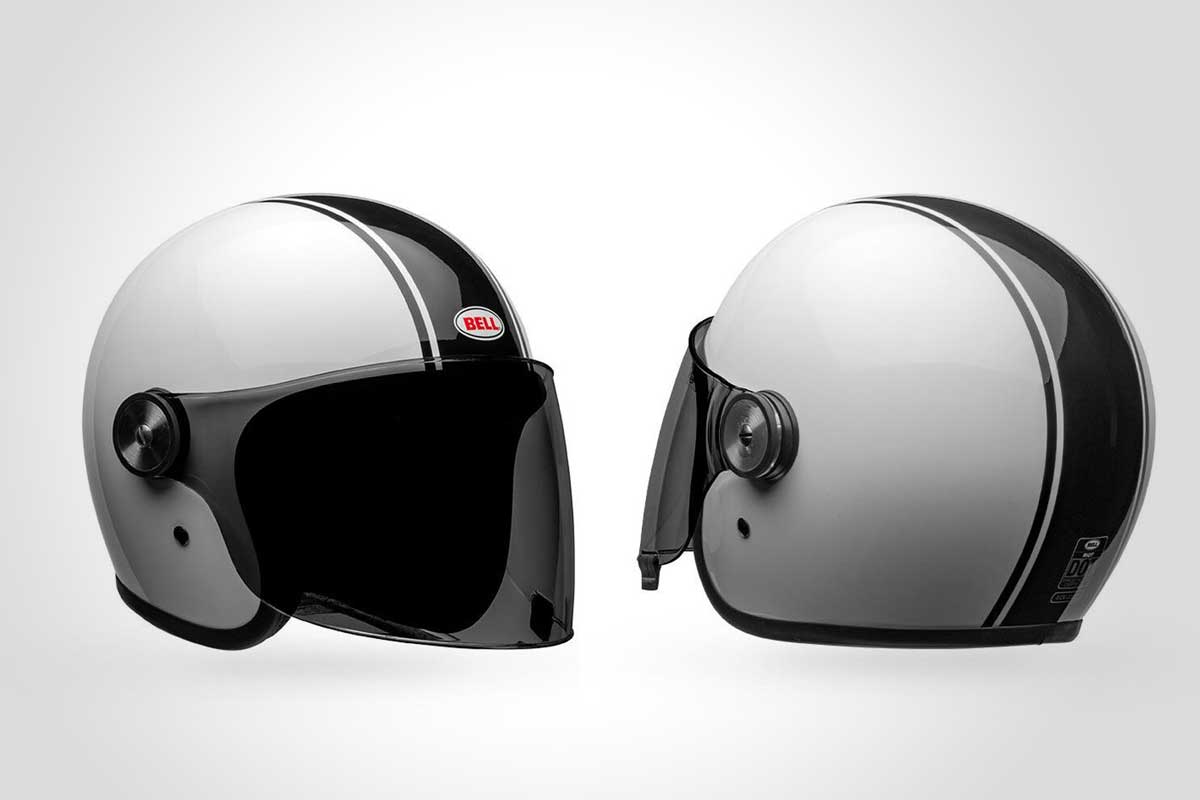 Want the freedom of an open face helmet without the inconvenience of goggles or a snap-on shield? Bell helmets have the solution with their Riot helmet. The open-face Bell Riot comes with an integrated hinged visor allowing you quickly and easily alter how exposed your face is to the elements.
Of course, having a visor permanently attached means when it is flipped up you'll get more wind resistance, but at least you have the option to cover up whenever you choose.
Like the bare bones Bell Custom 500 the Bell Riot is made using a low-profile composite shell. To ensure the best fit and look Bell produces the Riot in 5 shell sizes with specially designed EPS multi-density liners.
The helmets padding is designed to hug your chin tight to limit wind noise and the shield is fog, scratch, and UV protected.
The 2020 Bell Riot Rapid features a timeless white shell with a bold set of black racing stripes. A design that will look right at home on a wide range of motorcycles and riders alike.
Arai Classic-V Groovy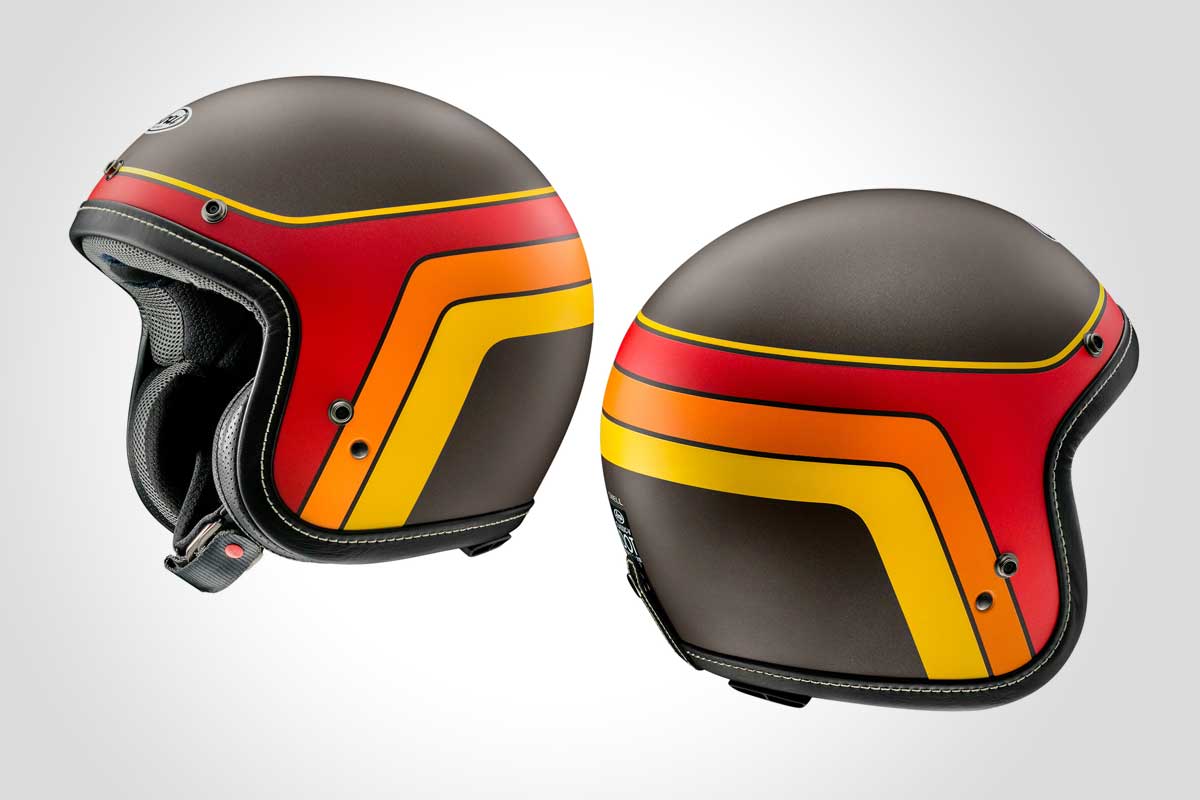 Another helmet on this list whose name has us cringing is the Arai Classic-V Groovy. At a touch under $600 USD, this open face helmet is the most expensive in this category making it a hard purchase to swallow considering the lack of a chin bar.
However, Arai is known for creating a quality product and the Classic-V certainly fits the bill. The Classic-V utilizes the same shell design you'll find in Arai's thousand-dollar X series helmets.
Arai recognizes a need for ventilation in open-face helmet design so the Classic-V has a hidden ventilation system built into its design. A one-piece multi-density EPS liner absorbs hard knocks and it's wrapped in an anti-microbial liner.
Aria offers customers the option of adding a snap-on visor and there's a clasp at the back for holding the strap of your goggles in place. The Arai Classic-V Groovy comes in Groovy White, Groovy Brown Frost, and Groovy Tan Frost. Each helmet is finished using a retro-looking faux leather edge with contrasting stitching.
Schuberth M1 Pro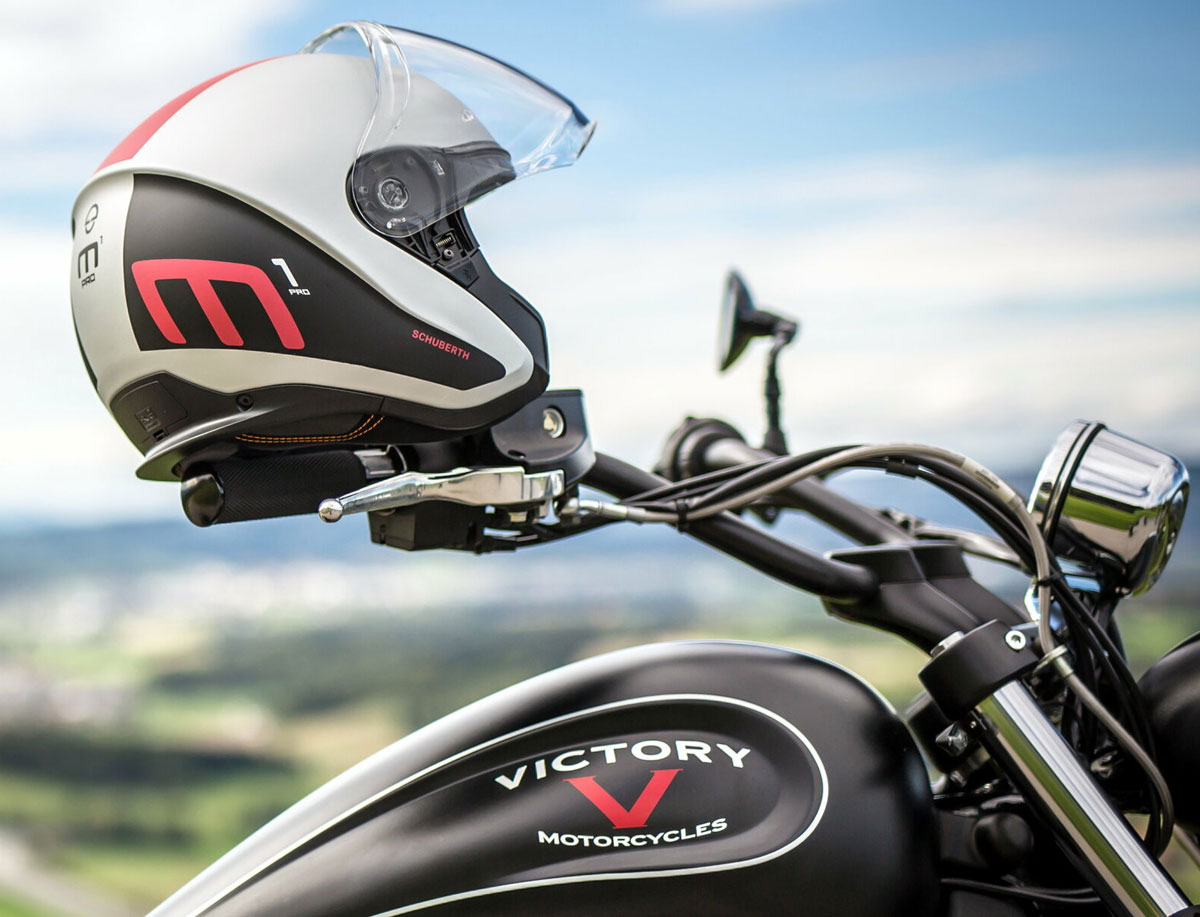 The Schuberth M1 Pro is an undeniably modern helmet. It's packed with amazing tech and safety features but this didn't deter us from adding it to this retro skewed lineup. Any open face helmet has an air of classic styling to it and the M1 is no exception.
Schuberth pulled out all the stops when developing the M1 Pro. Utilizing their own in-house wind tunnel they developed a unique shell shape. They then combined it with an aerodynamic face shield to keep wind drag and buffeting to an absolute minimum.
On the inside, they then installed a luxury liner to push comfort levels even higher. The M1 Pro also boasts pre-installed speakers and a microphone to integrate with an optional Bluetooth SC1M unit that mounts directly into the rear of the helmet.
Add to all that an integrated sun visor and a wide choice of colourways and you've got yourself one seriously feature-packed open faced helmet.
Bell Custom 500 Ace Cafe 59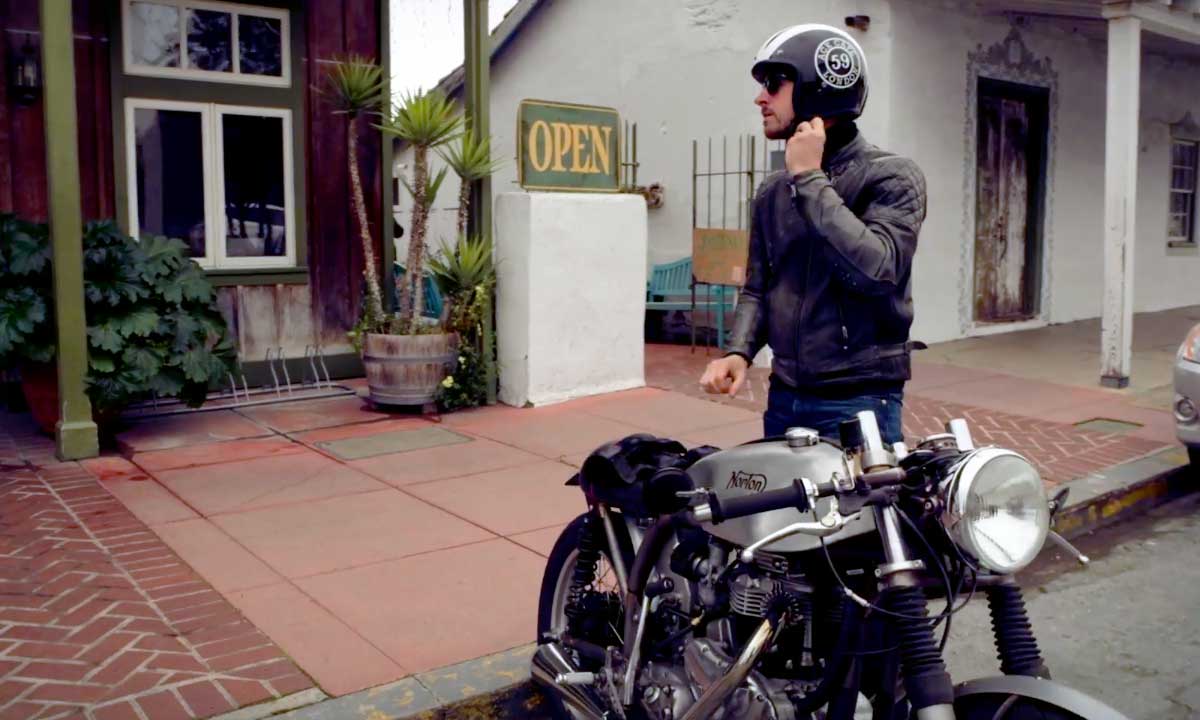 Bell makes yet another appearance on our 20 Best Cafe Racer Helmets with their 3/4 shell, open face Custom 500. Bell has done its utmost to dominate the open face helmet market with the Custom 500 series. This is a beautifully simple helmet that doesn't attempt to be anything more than it is. The Custom 500 features a sleek fibreglass shell backed up by a multi-density EPS liner.
Despite the affordable price point, Bell hasn't scrimped on materials. The plush quilted liner is made from an anti-bacterial material and there are leather accents both inside and out. The 2020 Bell Custom 500 Ace Cafe 59 design was developed in conjunction with London's very own home of cafe racer culture, the Ace Cafe.
The classic black and white scheme features the iconic Ace Cafe 59 emblem on each side and a set of union jack inspired racing stripes down its centre. Pair this helmet with a set of goggles or one of Bells visor options for the quintessential cafe racer brain bucket.
Modular Retro Motorcycle Helmets
Can't decide whether to buy a full face or open face cafe racer helmet? These modular solutions offer the best of both worlds in a thoroughly retro styling package.
Simpson Mod Bandit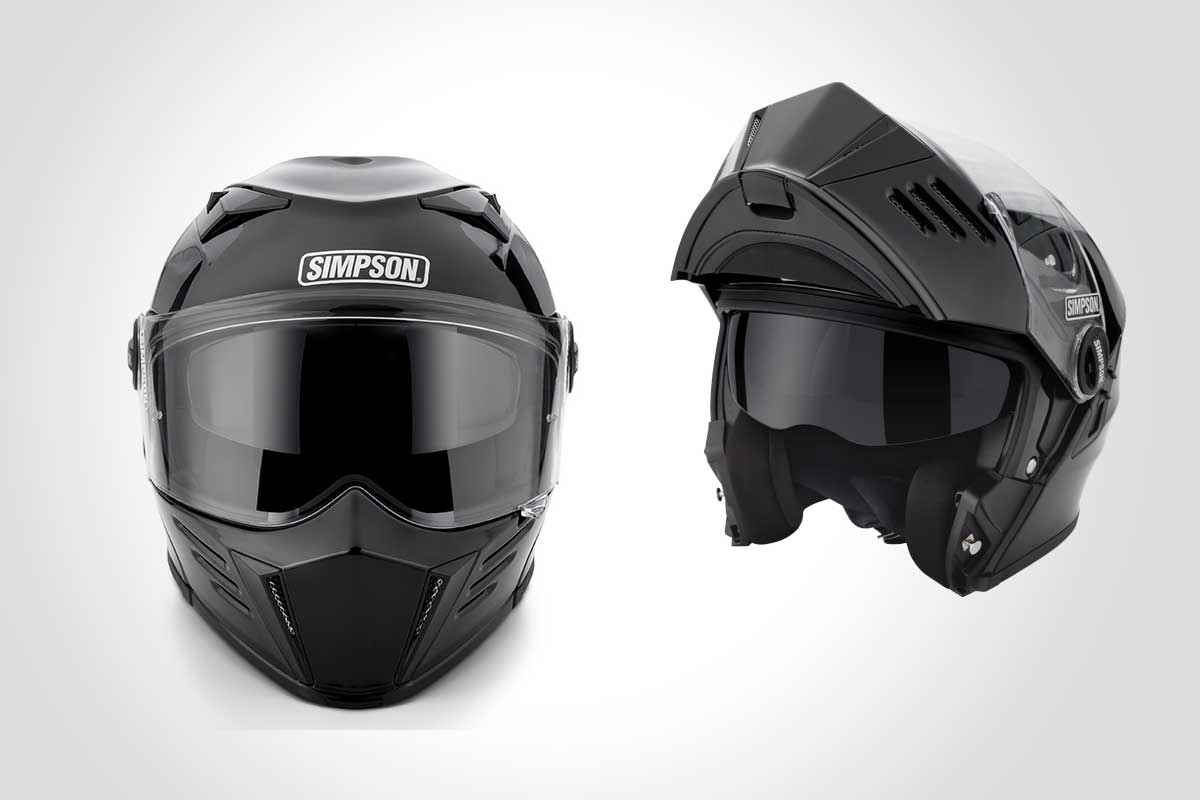 Simpson helmets are best known for being the manufacturer of the helmet worn by Top Gear's Stig. Their helmets feature a unique, angular and overtly aggressive style that is sure to grab peoples attention out on the street. Simpson also has a long history in automotive racing so you know you're buying a helmet that's benefitted from years of track experience.
The Simpson Mod Bandit helmet takes one of their most popular designs, the Simpson Bandit, and adds a host of new features. Aimed at touring riders or those who like the option of occasionally freeing their face, the Simpson Mod Bandit functions as a modular helmet.
This means that the entire chin bar can be slipped up to convert the helmet into an open face configuration. What is most impressive though is that Simpson has managed to do this in a design that shares the same profile and dimensions as the non-modular alternative.
Additionally, the Simpson Mod Bandit comes with an integrated internal flip-down visor, internal pockets for comms equipment, tool-free shield removal, loads of free-flowing ventilation, and removable nose and chin air dams for winter riding.
Bell Broozer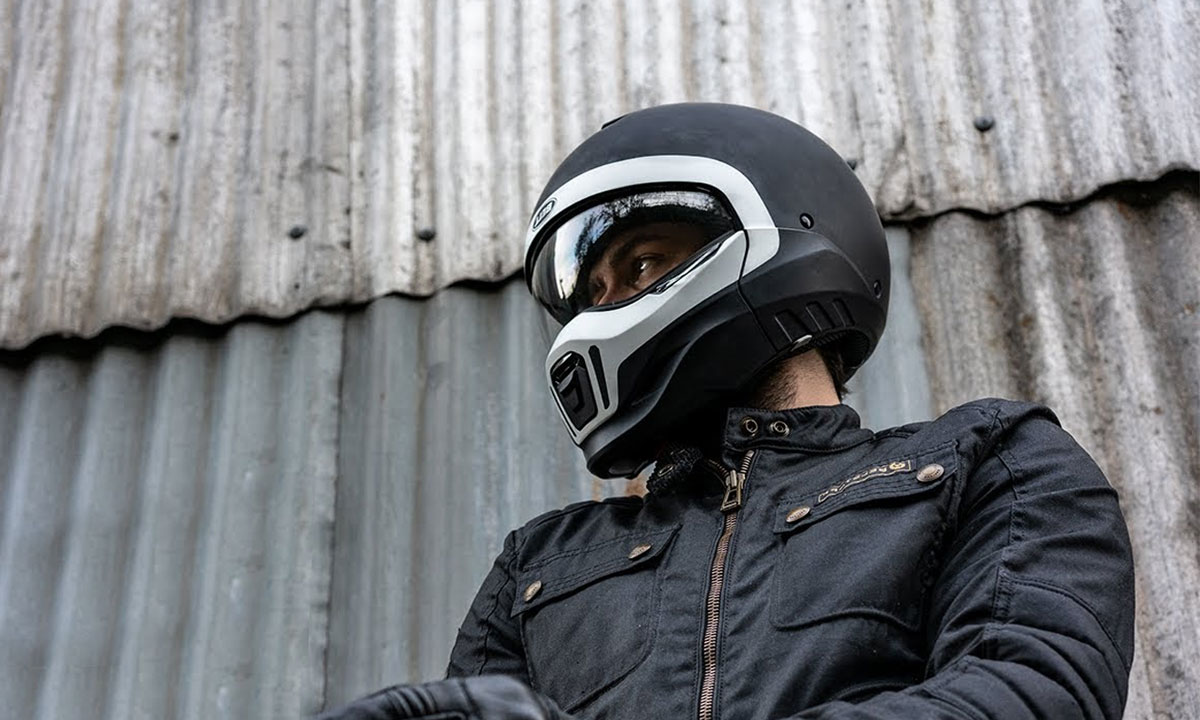 We have no doubt Bell's latest modular helmet, the Broozer is going to be a huge hit. The styling is tough and unique, the graphics are bold and the price point is just right. At a touch under $230, this is a great value, feature-filled design that will be the go-to helmet for riders of all styles of custom motorcycles.
The dual-certified (DOT & ECE) Bell Broozer helmet features a removable chin bar rather than a flip-up design for a more traditional open face look. This, of course, means you'll need to stow the chin bar in a backpack, but that's no deal-breaker for us.
The Broozer's main visor is integrated into the forehead of the helmet. This gives the helmet a more traditional appearance when it's up, but when circumstances change the visor drops down in seconds to keep your eyes safe.
Constructed from polycarbonate ABS the Broozer tips the scales at a mere 2.97lbs. Its visor is anti-fog, anti-scratch and UV protected and can be easily swapped out for a tinted option. The lining is machine washable and it uses a quick-release ratchet-style closure for improved convenience.
Colour options are limited to different black finishes or one matte metallic grey option. Our pick of the bunch would be the lightning bolt Broozer Arc or the skull-look Broozer Cranium.
Rare Gems (Lesser-known Skid Lids)
These retro helmets aren't as readily available as the others on this list, but that doesn't make them any less appealing. So if you're looking for a helmet that's as rare as hen's teeth, but still looks and functions as it should, one of these could be just the ticket.
Roeg Peruna Oompa Orange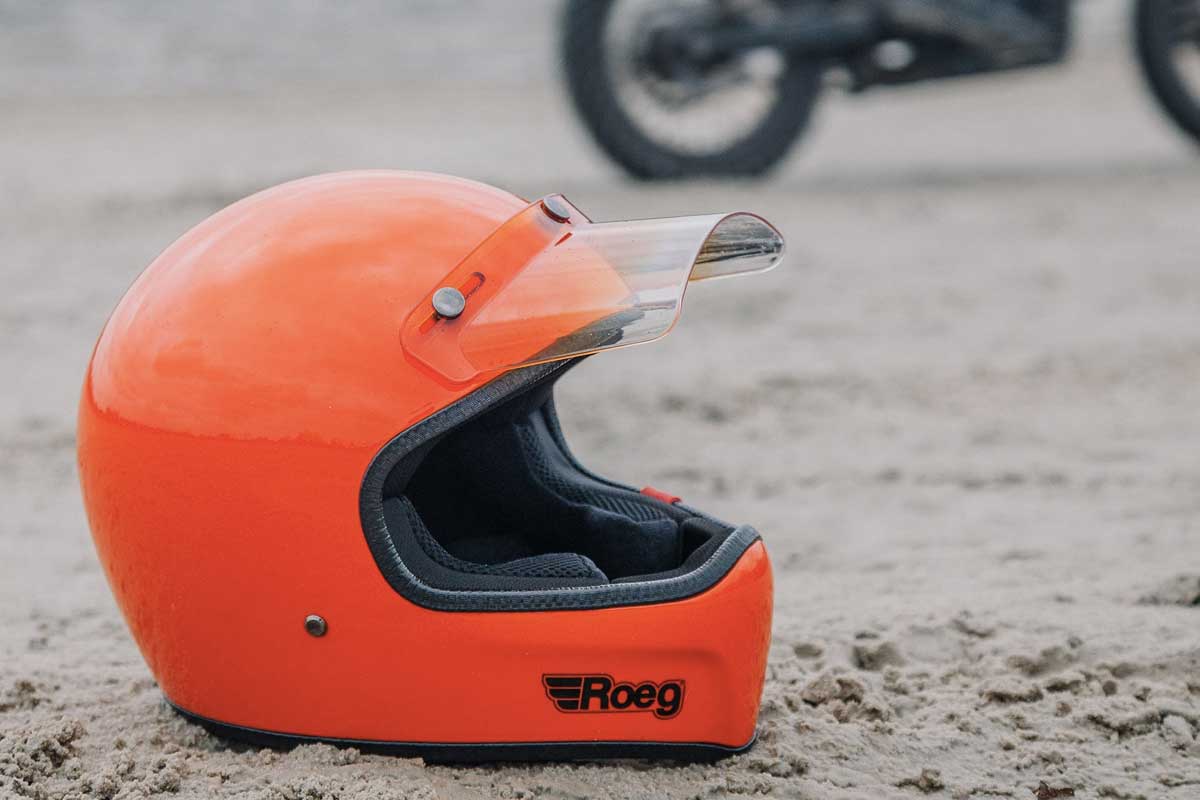 Roeg is a motorcycle lifestyle apparel and riding gear brand from the Netherlands. As they put it, their products are inspired by "the custom motorcycle industry and other adventurous outdoor activities". Amongst their range, you'll find the MX-esque Roeg Peruna helmet.
What separates the Roeg Peruna from its MX-styled competitors is its styling twists. Take for instance the helmet's snap-fit visor. Rather than the opaque plastics used by other brands, Roeg has utilized transparent plastic to create stylish sun visor peaks in a variety of bold colours. The Peruna's viewport and chin guard are uniquely shaped and the helmet is devoid of any vents leaving the shell strikingly simple.
As for safety, the Peruna offers ECE rated protection. The Roeg Peruna comes in a series of pattern free colours with the extra loud Oompa Orange being our pick of the bunch.
Ruby Castel Victoires
Premium French retro helmet brand Ruby Helmets entered the scene back in 2007. At the time they were the coolest helmet brand around. Along with having a look unlike anything else available at the time they were built to a level of quality you'd expect from high-end fashion and automotive brands.
This, of course, all came at a price and if the lack of a visor didn't make your eyes water, reflecting on the cost surely would. Owning any Ruby helmet requires a hefty investment and you won't be seeing any change from $1000 USD from even their cheapest helmet.
However, if you're willing to spend the money, rest assured you'll be riding around in a premium helmet that's rarely seen in the wild.
Sure the full face Ruby Castel helmets extravagant price tag is partly due to it being a premium brand, but the finish on these helmets will not disappoint. From the metal, resin-filled Ruby emblem on the brow to the colour matched fasteners, hand-sewn, quilted sheepskin liner, and jewel-like embellishments the Ruby Castel oozes high-end craftsmanship.
Every Ruby helmet is also constructed from carbon-fibre and all the paintwork is done by hand.
The new Ruby Castel Victoires adds an iconic automotive pattern to the helmet's exterior. The checkered design wraps around the entire shell for a striking street presence. Ventilation comes via the wide viewport and mesh filled vents in the chin bar. To finish things off the Victoires is lined with smart looking, burgundy red leather.
DMD Rocket Golden
If you're looking to make a statement out on the street, the DMD Rocket Golden helmet won't let you down. The eye-catching design leverages a mix of matt black and vibrant gold finishes that divide the shell clean in two. To top it off DMD's Rocket helmet has the kind of 1970s racer styling that's all the rage right now.
The DMD Rocket Golden isn't just a show pony. Under that slick paint scheme, you'll find a carbon kevlar shell that's ECE approved. The oval viewport is covered by a retro clear visor that secures with period look press studs. Peer inside and you'll find a luxurious removable/washable liner and a padded D-ring closure chin strap.
As with most helmets that aim to authentically recreate vintage styles the DMD Rocket Golden lacks the ventilation you'll find in modern sports bike helmets. But let's be honest. Feeling cool will be the last of your worries wearing a lid this groovy.
Blauer HT 80s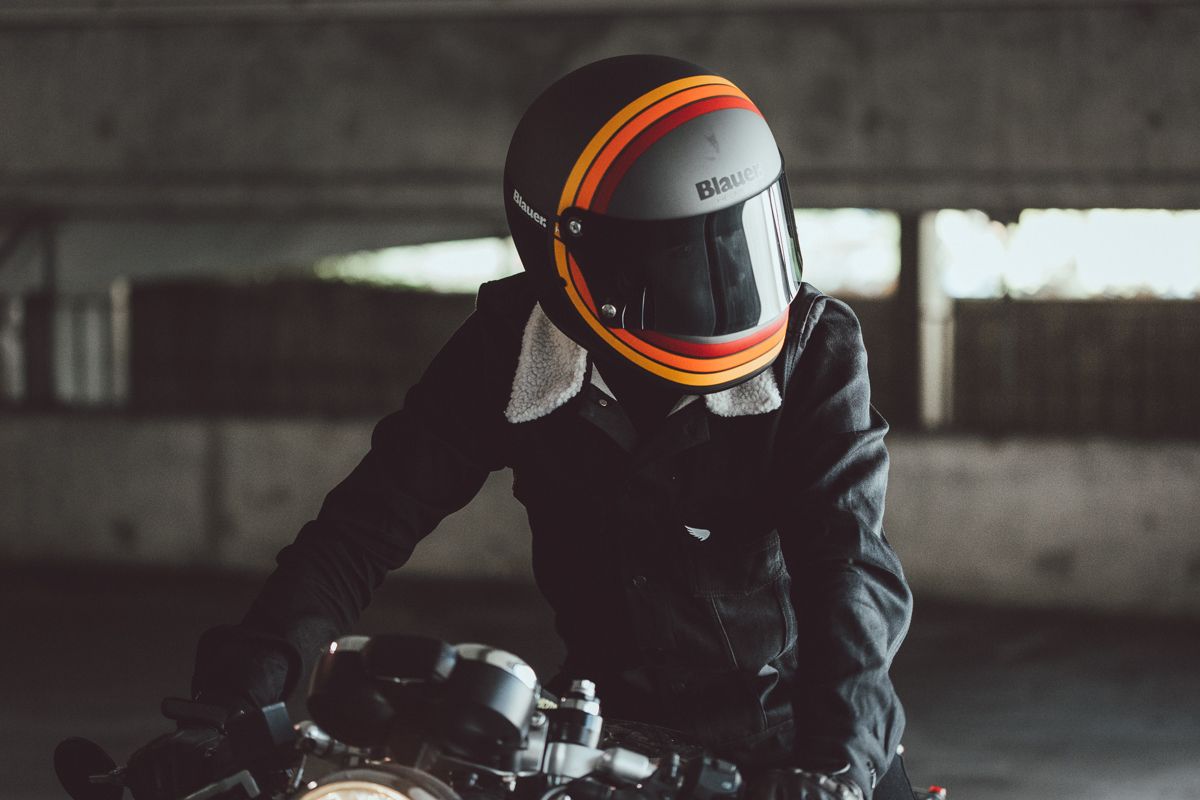 If you haven't heard of Blauer that's probably because you're not in the US military or police force. Blauer has been producing technical wear for those industries for years but in the motorcycle scene, they're relatively unknown. This doesn't mean they don't produce a good product though. Blauer applies the same approach to creating motorcycle riding gear as they do their tactical wear.
As hinted by its name the Blauer HT 80s takes styling cues from 1980s racing helmets. The full-face helmet features a slightly squared-off jaw, oval viewport, and a clasp secured visor which distinguishes it from other helmets on this list.
The Blauer HT 80s achieves an ECE safety rating thanks to a Tri-composite shell made from a mix of Dyneema, Carbon, and Aramid Fibres. On the inside, Blauer has also utilized varying densities of EPS foam to offer optimum protection against impacts.
Along with its unique shape what makes the Blauer HT 80s so appealing is how it's finished. Available in either a white or metallic grey base colour the helmet features a trio of speed stripes that really hit home its 80s vibe.
Despite its awesome look, this helmet's button-down visor won't be for everyone as it can be a tad fiddly to operate on the move. Don't say we didn't warn you.