The safety level of riding gear available to motorcyclists has come a long way in the last 10 years. Manufacturers now have access to tech fabrics and composites that are vastly superior to those used in the past. Additionally, thanks to advancements in production techniques, many of these materials have become affordable which has enabled smaller manufacturers to use them in their products.
Take motorcycle helmets for instance. Utilising carbon fibre is no longer a practice reserved for the biggest players. As a result, if you're out to purchase a lightweight carbon helmet that meets strict homologation requirements you're spoilt for options. So what's next? How will today's helmet manufacturers take their safety offering to the next level?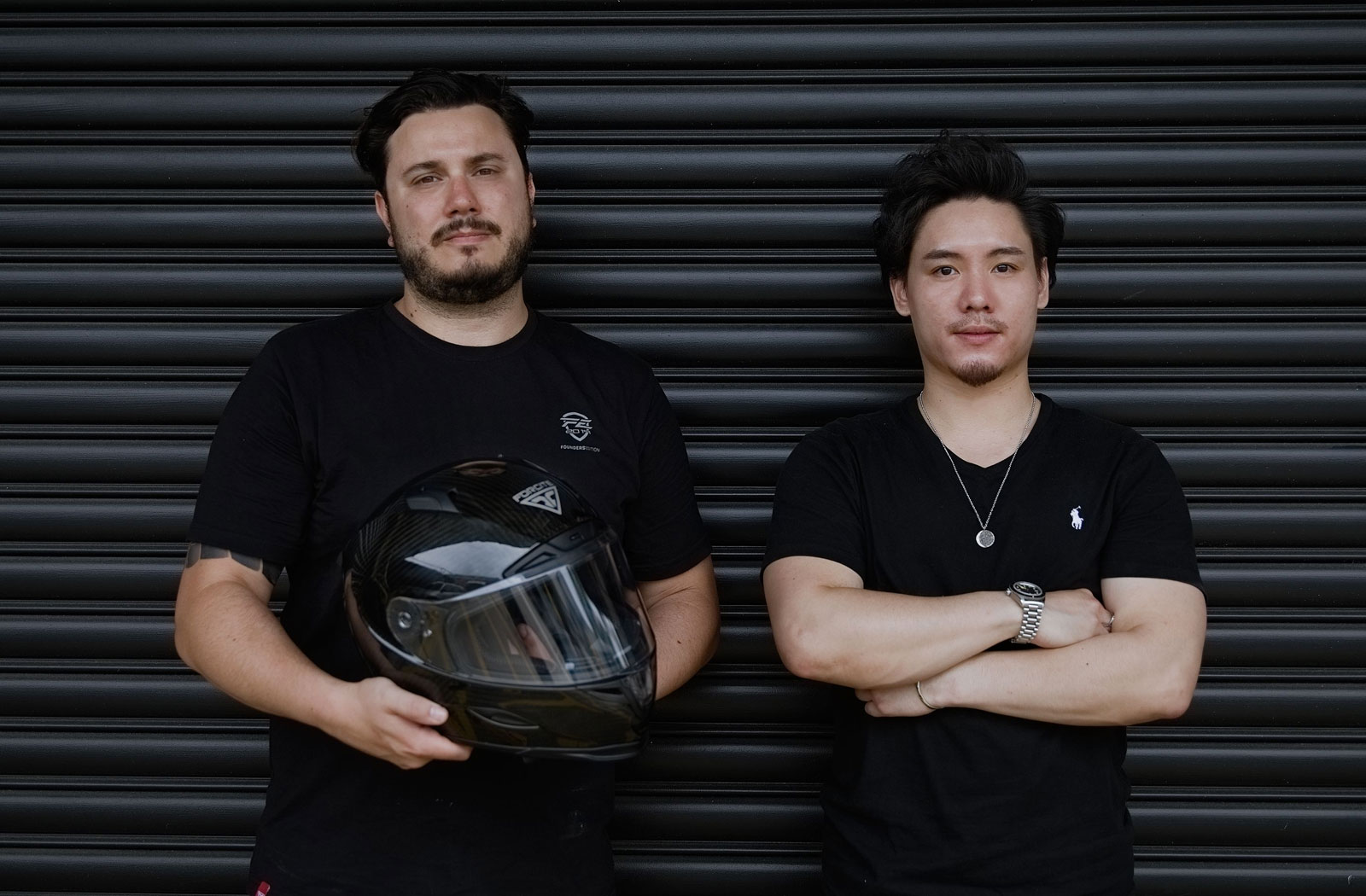 Australian helmet manufacturer Forcite is spearheading the way with its latest smart helmet design. Launched by industrial designers Alfred Boyadgis and Julian Chow, Forcite's goal was to create a helmet that not only offers the benefits of integrated audio and Bluetooth connectivity but also introduces patented technology designed specifically to improve rider safety.
To find out more we contacted Forcite CEO Alfred Boyadgis to discuss the development of the new Forcite MK1S helmet and find out why it's such a big deal for today's motorcyclists.
Where did the idea to develop a smart helmet spawn from?
The idea behind Forcite was born out of first-hand experience when in 2013, I took a fall going through an oil slick, injuring my knee. It also transpired that my camera mount had smashed the side of my helmet, which could have caused a life-changing injury. Aside from bolt-on devices not being designed for helmets, the thought did strike me that given modern, sophisticated cameras, sensors and tracking technology as seen in modern cars, we should be able to anticipate such hazards. This technology would allow riders to take evasive action before those hazards become dangerous.
So I teamed up with fellow UNSW industrial designer Julian Chow. We quit our jobs and set out to create a system from the ground up. We wanted to build a motorcycle helmet that provided superior protection and a seamlessly integrated camera, and audio and alert systems into a premium motorcycle helmet – to reinvent the riding experience.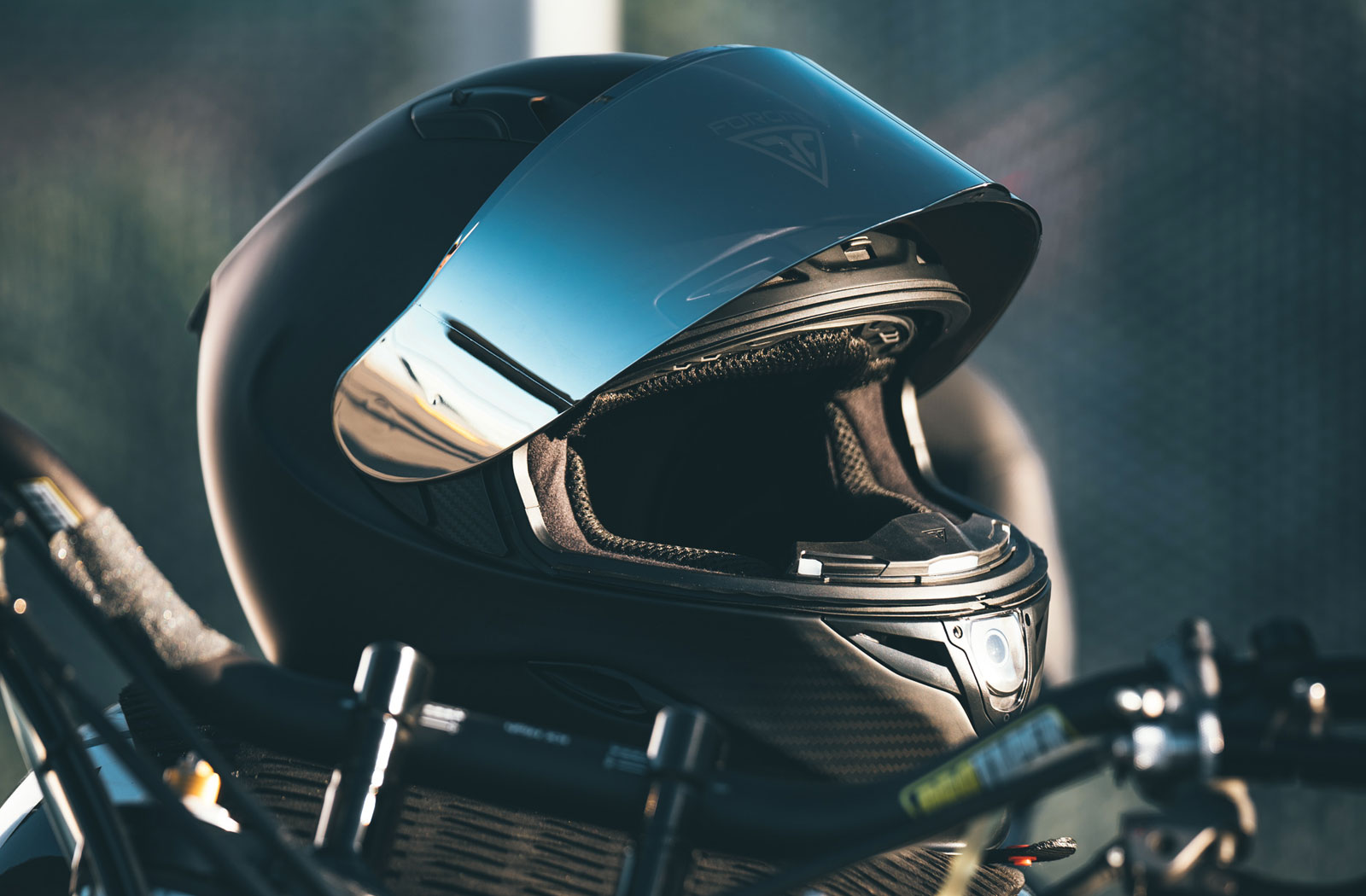 How did you decide what features and technology to integrate into the Forcite MK1S?
Since the beginning, we've wanted a design process that placed the motorcyclist at the centre. So in 2014, during the formative stages of the Forcite Smart Helmet journey, I put a call out to my local Sydney riding community. The message was clear: We wanted to leverage the best available technologies to transform the riding experience for the better, and we want riders of all types to be a part of the process.
A few dozen riders responded with enthusiasm and intrigue, and the "Forcite Test-Pilots" community was born, which peaked at 8,000 Aussie riders. We asked them what problems they faced on the road, how we could improve their ride experience and what technology they wanted in the helmet. Their input was crucial to the project's development, and we still engage them daily to help with our future R&D pipeline.
What have been some of the biggest challenges in developing the MK1S?
After launching the highly successful MK1, 10 Forcite design engineers spent two years, dozens of prototypes and invested $10.1 million in R&D to create the new MK1S. One of the most challenging components to develop was Forcite road alerts and the peripheral LED display.
Unlike busy heads-up displays, Forcite Test-Pilots wanted a technology that was not distracting while riding. Inspired by F1 racing RPM LED arrays on the steering wheel, we developed a simple LED display that lights up at the base of the visor to show road alerts through different coloured patterns, accompanied by an audio notification provided by integrated speakers.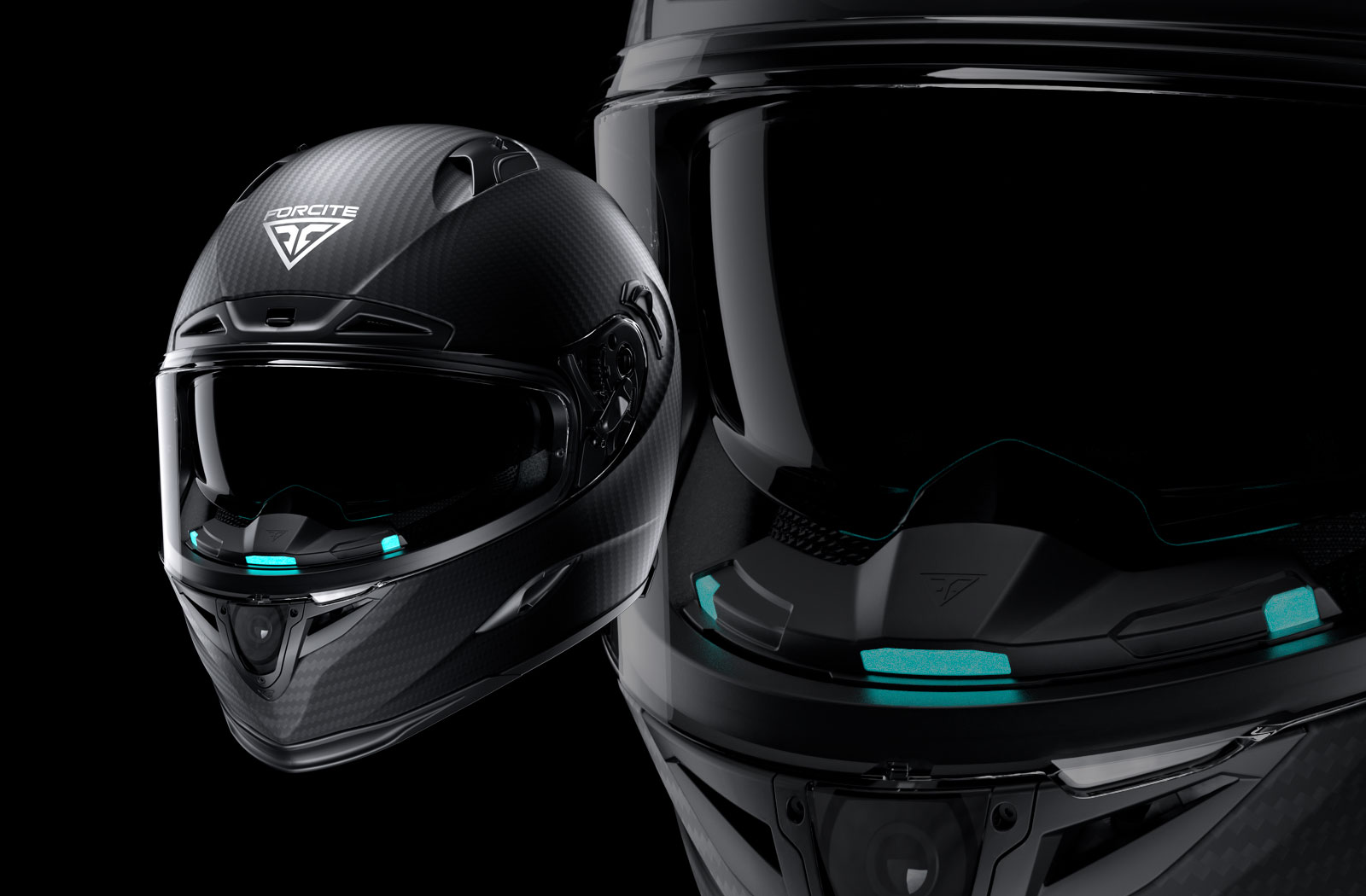 Does having all of that technology built into the helmet affect its safety rating?
No, our unique electronic integration method has enabled us to create an anti-shock feature, resulting in superior energy dispersion in the event of an impact. The chin section of a helmet is the first point of impact in up to 35%* of collisions. So because all of the electronics required to power your MK1S are contained within the chin, we designed an ultra-compact, patented chin-mounted module that can handle any impact. This allows us to achieve sleek and conventional proportions, and it also ensures that there is no compromise to the shell's all-important EPS layer.
*According to The Hurt Report (Motorcycle Accident Cause Factors and Identification of Countermeasures)
How does the Forcite MK1S aim to enhance rider safety?
With the Forcite road alert ecosystem, riders connect via the Forcite app to navigation, speed traps, mobile camera alerts, live traffic conditions, and hazards. The alerts are communicated via a unique in-helmet peripheral vision-diffused LED display, designed to be non-distracting. Whatever the time of day, the ambient light sensors adjust the brightness. As a result, there is no need to look down at displays; the Forcite MK1S keeps heads up and your focus on the road ahead.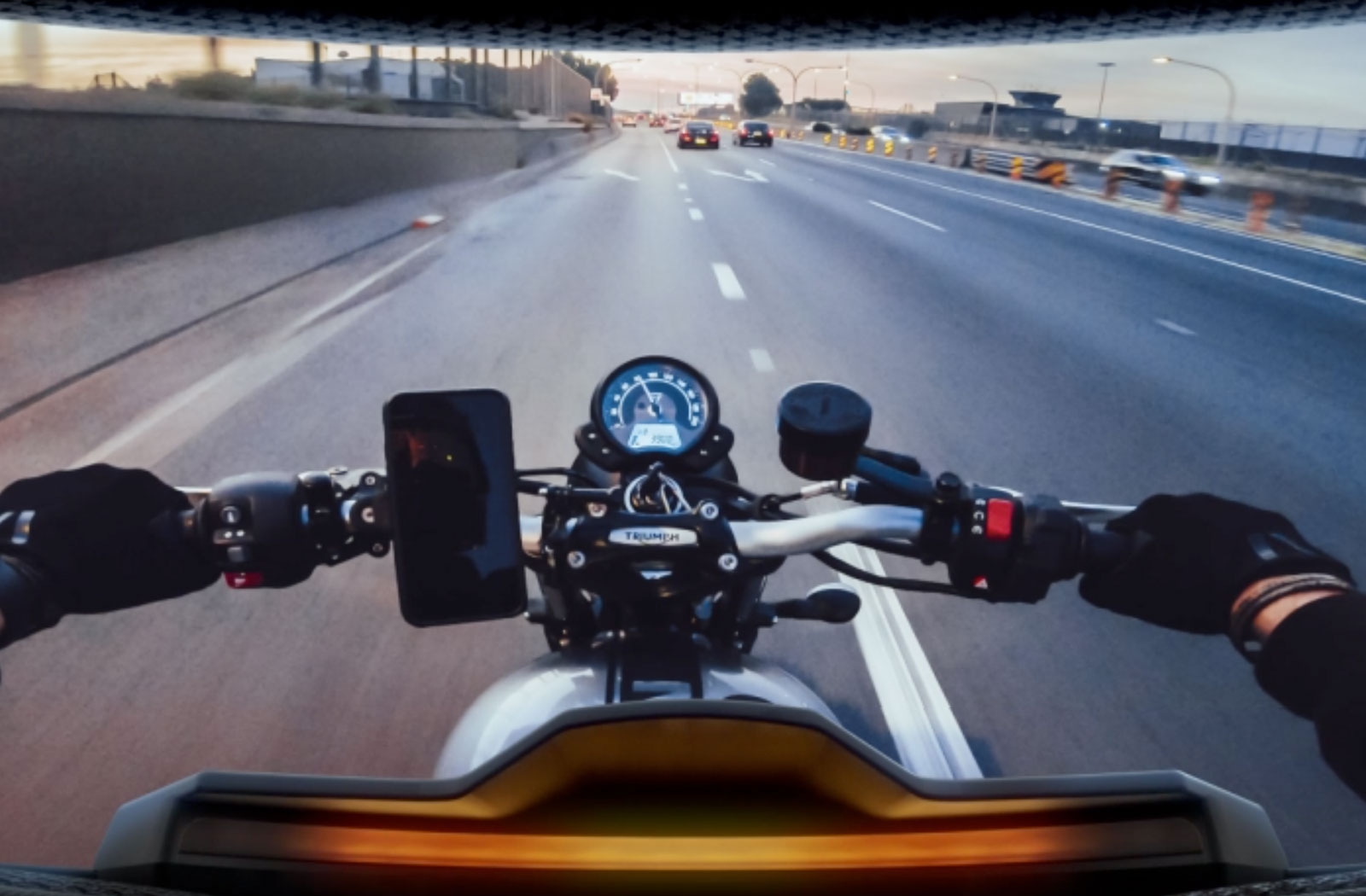 Why develop another smartphone app?
For so long, motorcycle riders have had to use multiple apps to connect and manage various devices. As a result, it's confusing, over-complicated and dangerous to operate on the road.
Our in-house developed Forcite App is the control centre for your entire Forcite ride experience. An intuitive interface puts you in control of your music, calls, POV action camera, video edits and navigation. In addition, the app allows you to tailor the alerts to your unique riding style. These are enabled via the motorcycle handlebar controller, so there's no need to grab your phone while on the road.
Forcite Command powers our app. It's a cloud-based server and software system that is always active and always learning. A sophisticated backend translates data on upcoming road conditions into personalised alerts, delivered via your Forcite helmet. Developed with input from a growing and diverse community of riders, our bespoke app and software package is frequently updated with new features and performance upgrades driven by user feedback and on-road data.
How has the public response to the Forcite helmet been?
Insane. We were taken aback by how many Aussie riders wanted to be part of the Forcite test pilot group to design something better. People expect more now from their motorcycle helmets. The basic helmet design has been unchanged for decades. The future is in integrated technology and high-performance design. The reaction to the Forcite MK1S shows we've made a technology that people want. The first build slot of 300 helmets sold out in three hours.
What markets will the MK1S be available in?
The Forcite MK1S is the first smart helmet to achieve the stringent ECE 22.05 safety rating. That makes it street legal in most markets across the world. Soon, we'll be launching the Forcite MK1S in Italy, Germany and the UK, which is incredibly exciting. The US requires DOT, which we can expect to achieve before the end of the year. The next step up is FIM which will make Forcite helmets race legal globally. We're sponsoring local Aussie racers so that we can research how the helmet performs at the high tolerances required by racing and what technology we can bring.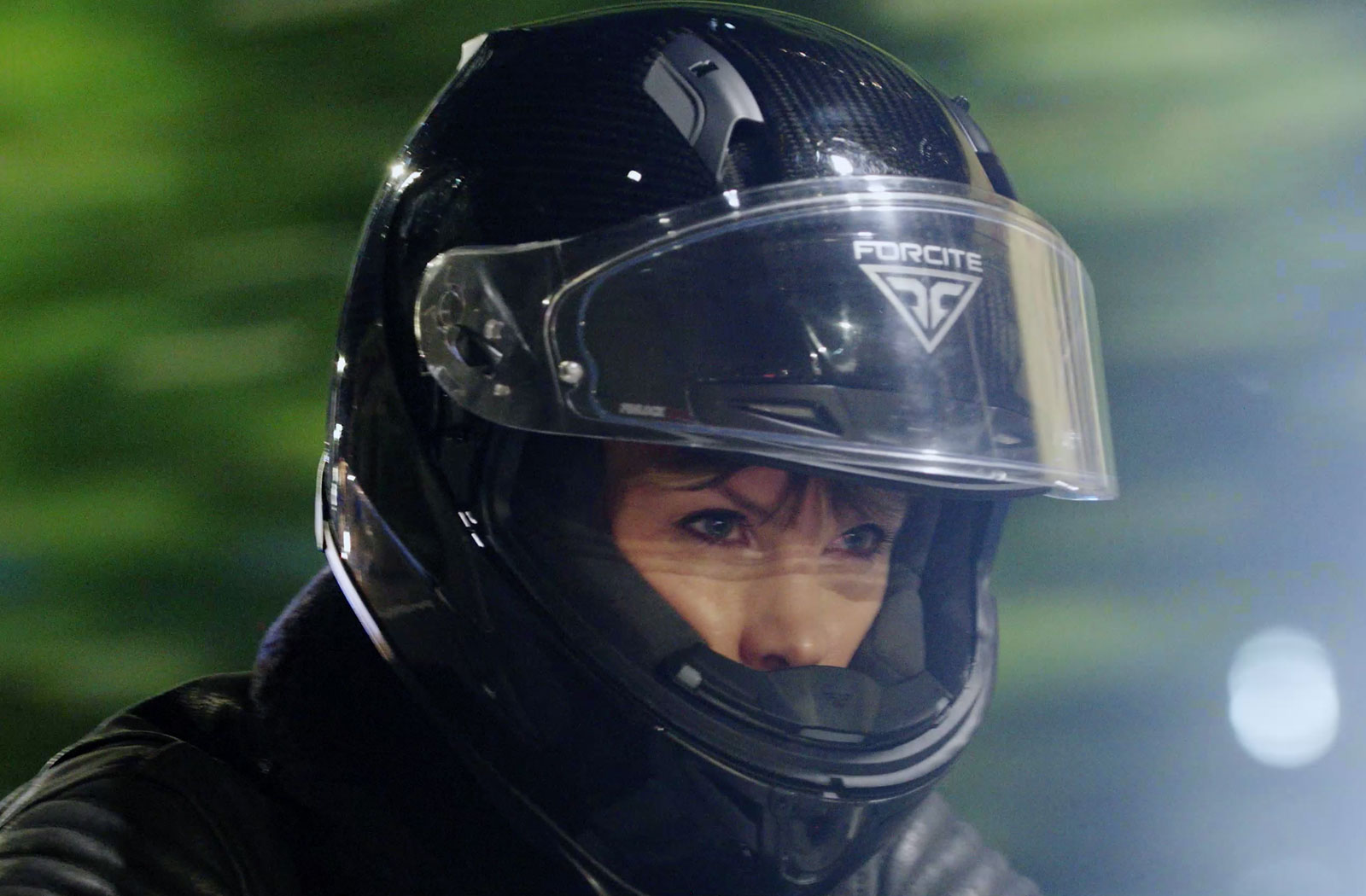 Who do you feel the Forcite MK1S helmet would best suit?
The Forcite MK1S is intuitive to use out of the box and packed with features that even a well-seasoned enthusiast would love. From riders who love to film their adventures to commuters who want to listen to their favourite tracks on the road.
Are there plans to make different styles of Forcite helmets in the future?
Yes. I can't reveal too much about what we've got under wraps, but we're looking at how we bring the Forcite technology to multiple helmet styles. And it's not just helmets. We're investing heavily in R&D on how our systems can integrate with smart bikes to help riders keep safe on the road.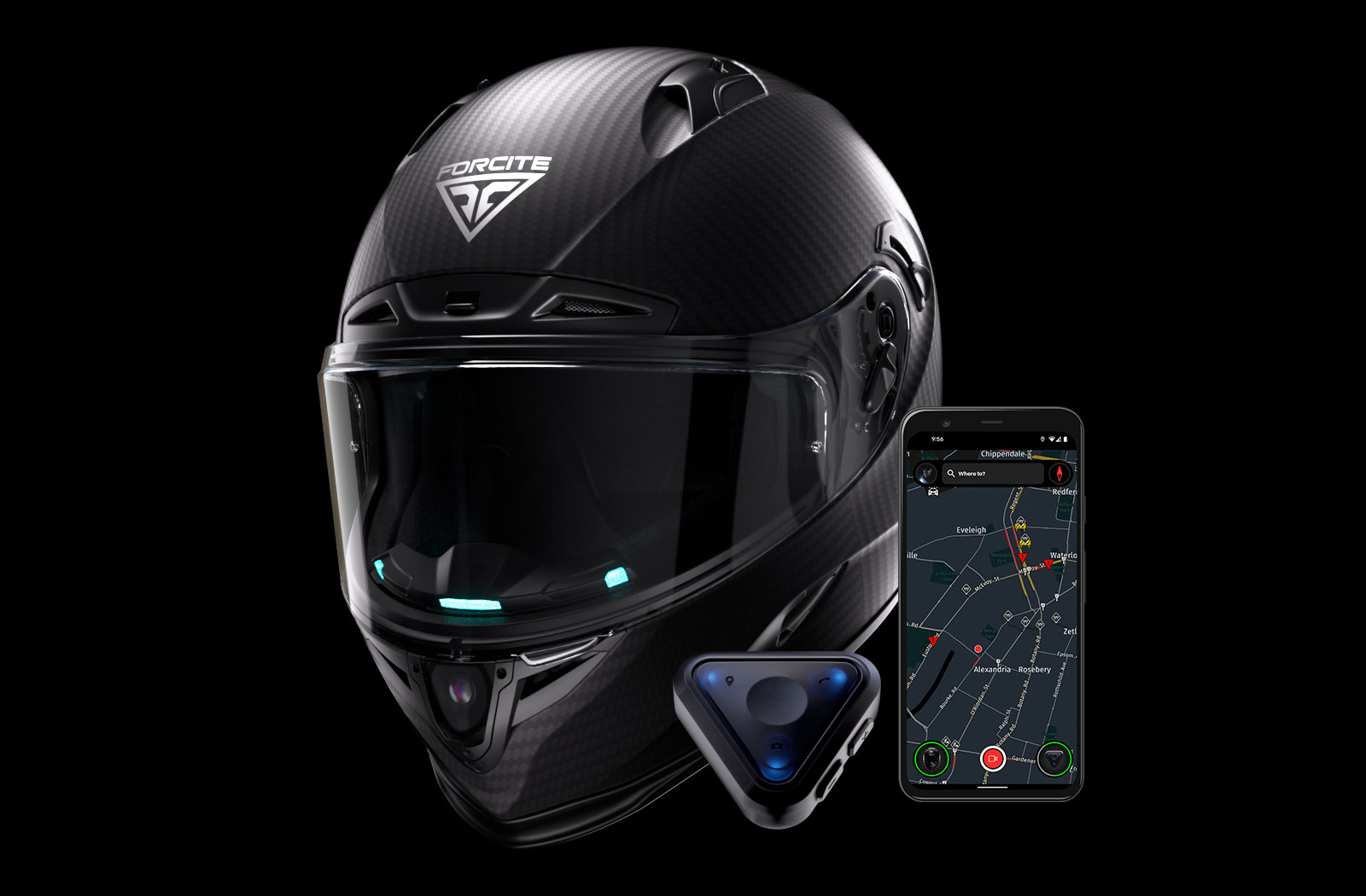 Forcite MK1S Smart Helmet Specs & Features
The Forcite MK1S is easily one of the most feature-packed motorcycle helmets we've ever featured. Here's a comprehensive breakdown of everything it has to offer.
MK1S design and safety
Forcite have designed the MK1S helmet using an intermediate oval head shape and the European sizing scheme. The helmet's shell is carbon fibre and is available in either a matte or gloss finish. A Pinlock Max Vision 120 ready main visor secures using a quick-release mechanism and comes in either clear, tinted or iridium finishes. Each MK1S also comes equipped with an internal flip-down sun visor that is UV400 rated. The helmet secures using a standard D-loop strap, it has a ventilation system made up of 8 ports and internal airflow channels and features a comfort liner with emergency pull tabs and a removable chin wind guard.
Including all of the integrated technology, the Forcite MK1S weighs a very respectable 1500 grams and has an ECE 22.05  safety certification.
LED peripheral alert system
Built into the base of the MK1S visor opening is the patented Forcite LED display system. Designed to sit in a rider's peripheral vision the LED display uses different colour patterns to passively relay notifications to the rider. The system can be used to alert riders of upcoming hazards on the road as well as function as a navigation system. In conjunction with the lighting, alerts are relayed to the rider using the helmet's inbuilt audio system. Light sensors automatically adjust the brightness of the LED array so that it remains visible in all conditions.
Internal audio system
The new Forcite MK1S helmet features a premium removable internal sound system by Harman Kardon. The system features 40mm speaker drivers, omnidirectional dual microphones and wind noise reduction technology. Forcite has also designed the helmet to seamlessly accept the audio system for optimum fit and comfort.
Integrated action camera
Built into the chin bar of the MK1S helmet is an HD 1080p 30-60 fps camera. The camera uses a wide-angle lens that features colour correction to better capture night and low light footage. The whole camera assembly sits within a shock-resistant housing designed to withstand the impact of a crash.
Footage recording can be set to start as soon as you put the helmet on or can be controlled via the included handlebar-mounted remote. Footage can be edited within the Forcite app and shared easily with friends.
---
The Forcite MK1S will be shipping from July 2022 and orders can be placed now via their website. Sizing ranges from XS to XL and buyers have the option of adding premium padding, extra visors (smoked & iridium), pin-lock inserts, SD cards and an extended warranty. Pricing of the MK1S starts at $1,299 AUD (around $840 USD).