The current popularity of the café and custom scene has seen a proliferation of quality riding gear at the high end of the market. Retro helmets are no exception, and while designer gear can justify a hefty price tag not all of us have the deep pockets to justify the outlay.
When it came time to replace my full face helmet I thought I'd check out some of the newer entries to the market and was pleasantly surprised to find the TORC T1 Retro had just been released. The T1 promised retro styling, ECE certification and fibreglass construction at a budget-friendly $199 US plus shipping. It was great to see that budget manufacturers are catching on. But would this new offering from Torc hold its own alongside the more expensive alternatives?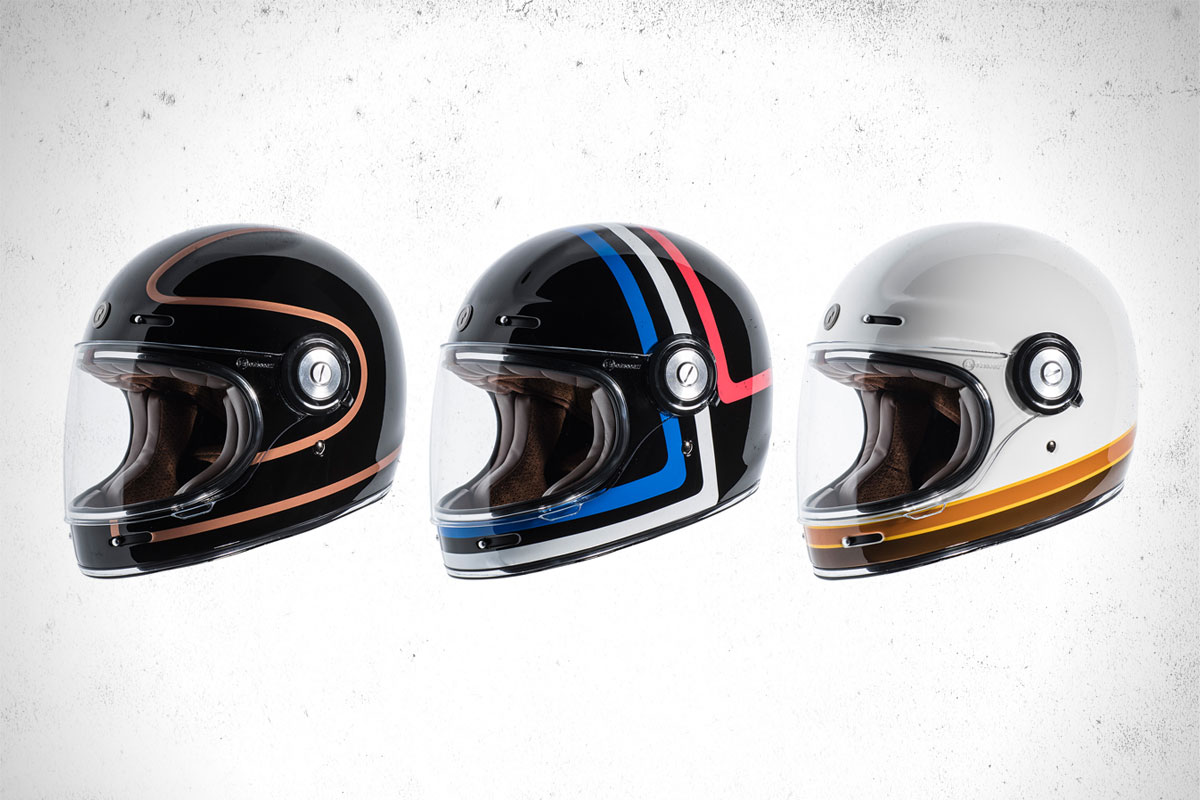 Same same, but different
I hadn't heard of TORC, but a browse through Google showed them to be the house brand of China's largest Helmet maker and responsible for manufacturing lids for a number of other brands. Indeed almost as soon as my helmet arrived a friend pointed out an almost identical helmet being sold here in Australia under the Scorpion Custom Helmets brand, and a quick trip to the store showed them to be one and the same aside from branding.
It doesn't take a keen eye to spot the T1's more than passing similarity to that 'other' retro helmet mainstay from Bell. It's got that same LEGO spaceman vibe, with a low narrow chin bar that will let café types swig a latte or punch a ciggy with the visor up. A little bit of styling to the overall shape and the welcome inclusion of some very functional vents is probably enough departure to dodge any potential copyright Bullits (badoom ching!).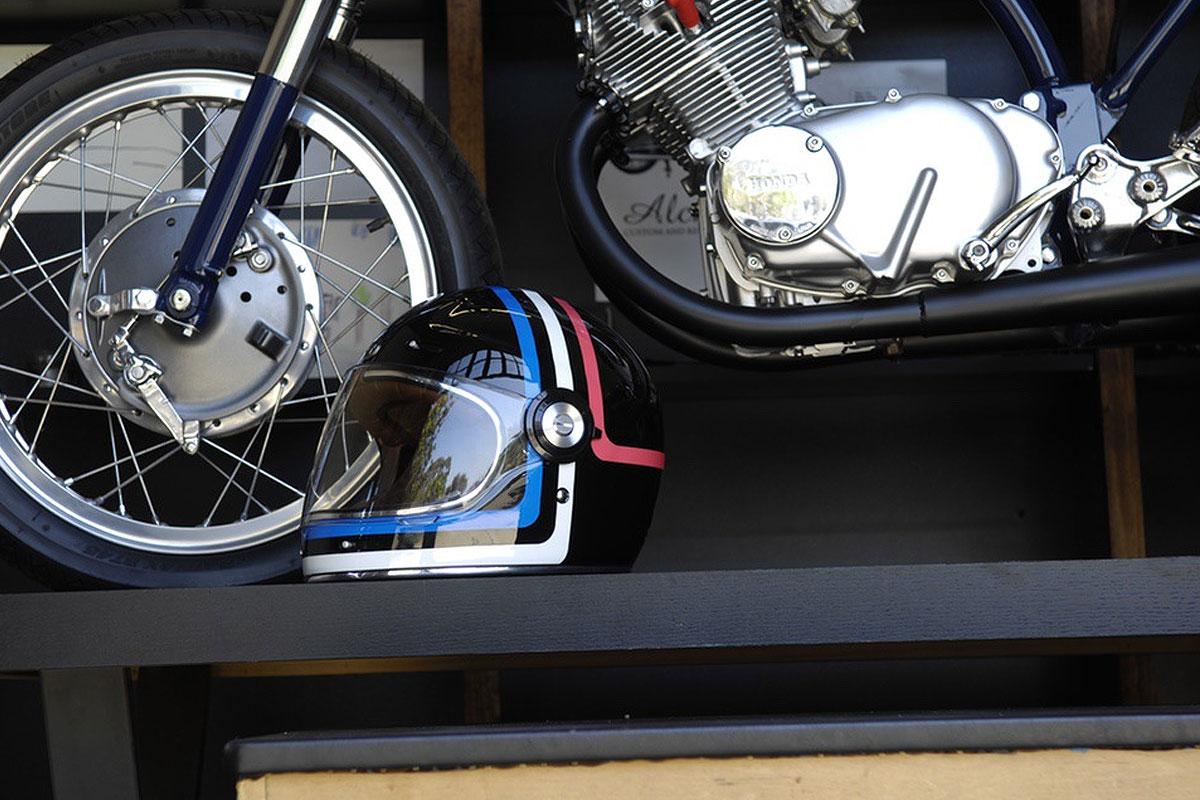 Fitting it on your head
The fit however is as different as it comes. Try as I might I simply cannot squeeze my bowling ball shaped head into Bell's offering – even in an XXL. I'd read that the TORC helmets ran a little large, and took a gamble on ordering an XL. I'm happy to report that it turned out to be the most comfortable fit I've ever found, even beating my old $500 Arai for comfort. If you've got a round dome and have been struggling to find a suitable helmet let alone a retro one, the Torc T1 might just be the helmet for you.
Finish and quality
There was some initial mystery around what the shell of the T1 was made from – while advertised as fibreglass, the interior label on mine showed 'injection molded ABS'. An emailed response from the manufacturer assured me that the shell is indeed fiberglass and that the first batch from the factory had the wrong labels applied. I also discovered that for an extra $100 the Scorpion branded example can be had in a gloss carbon finish. In either case, the shell is lightweight and seems well constructed.
Dodgy labels aside, the finish is as you'd expect from a helmet at this end of the price range. The brown faux-suede interior is welcoming if not exactly premium, although the red D-ring closure is a nice touch holding it securely in place. There is a thin wire mesh covering the vents that seems a bit fragile, and the vent controls are fiddly slide affairs that are best adjusted when not in motion. The visor is easily operated and uses a serviceable locking lever to close securely. Tinted visors are an option, but so far no sign of bubble shields like those of the Bell.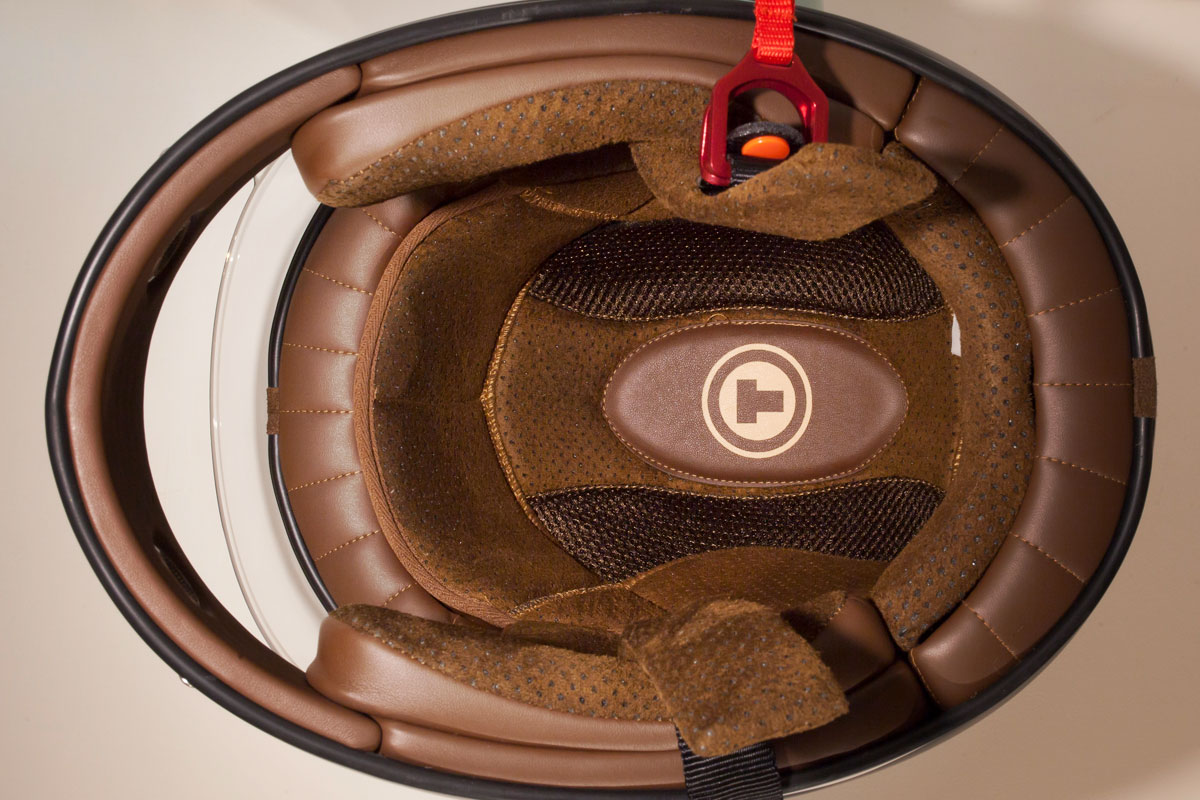 How does it perform?
On the road the T1 is exactly as you'd expect from a retro helmet. The field of view from behind that massive visor is exceptional although the low chin bar and lack of a breath guard mean it is prone to fogging up at the lights on cold mornings – it's fine, however, once you're up to speed.
Without the venturi benefits of aero styling, the vents do a passable job of moving cool air in and hot air out, and there's some buffeting to contend with at highway speeds. There's a bit of whistling and wind noise let in by the lack of a chin curtain too. No more so than most other retro helmets, but noticeable if you're changing over from a more sport oriented helmet.
All in all, I'm quite impressed with the proposition of the TORC T1 Retro Helmet. It's an affordable and stylish option for those looking for classic looks without the bespoke price tag. Rounder heads will rejoice over a fit not commonly found in this market, and it performs well enough to justify the very modest purchase price.
Review by Mik