True addicts of the two-wheeled persuasion don't let their rides sit idle an entire season simply because it's cold. All those blue sky mornings missed because the mercury drops? Pfft, don't think so. Weather be damned, we're riding.
To ensure you're snugger than a couch-bound Alsatian in a pizza Oodie, we've put together a couple of winter-ready kits to keep you chasing the horizon, even on the chilliest of days. These Winter 2022 must-haves won't just stop your bits from freezing; they'll also have you looking like a boss.
The Silver Fox (His)
Every cloud has a silver lining, every meal is made better by a dash of salt n pepper. So, survive this winter in style with these moto threads that are designed for real comfort in any condition.
HELMET | Hedon. Heroine Classic in Ash
Hedon makes a bloody good helmet. This premium lid utilises a carbon fibre/fibreglass composite shell with a plush antibacterial lining. There's a calf leather trim, capable soundproofing, and it scores high style points.
Available here
JACKET | REV'IT! Afterburn H20 in Grey
Boasting a high-density 3L soft shell outer, detachable thermal liner with inner pocket, and Waterproof Hydratex mesh G-liners; REV'IT!'s Afterburn H20 is like the Go Go Gadget of moto jackets. Drawcords, jean loops, back armour, and much more.
Available here
PANTS | Pando Moto. Mark 02 Cargos
Remember the 90s when cargo pants were cool and not the official uniform of backpackers and dads? Well, the 90s are back and you can thank Pando Moto. Their Mark 02 Cargos not only look the business but they're also made from 12.5oz Cordura super-stretch denim with Kevlar interlock-knit lining – plus Triple Flex knee and hip armour.
Available here
GLOVES | REV'IT! Livengood GTX
You may be able to stomach some occasional nasty weather on your winter rides but if your mitts are freezing from wind chill everything sucks. Maybe the most important winter tool in your defence against the elements, REV'IT!'s Livengood GTX gloves live up to the hype as the warmest winter gloves on the market. These are a winter riders MUST-HAVE.
Available here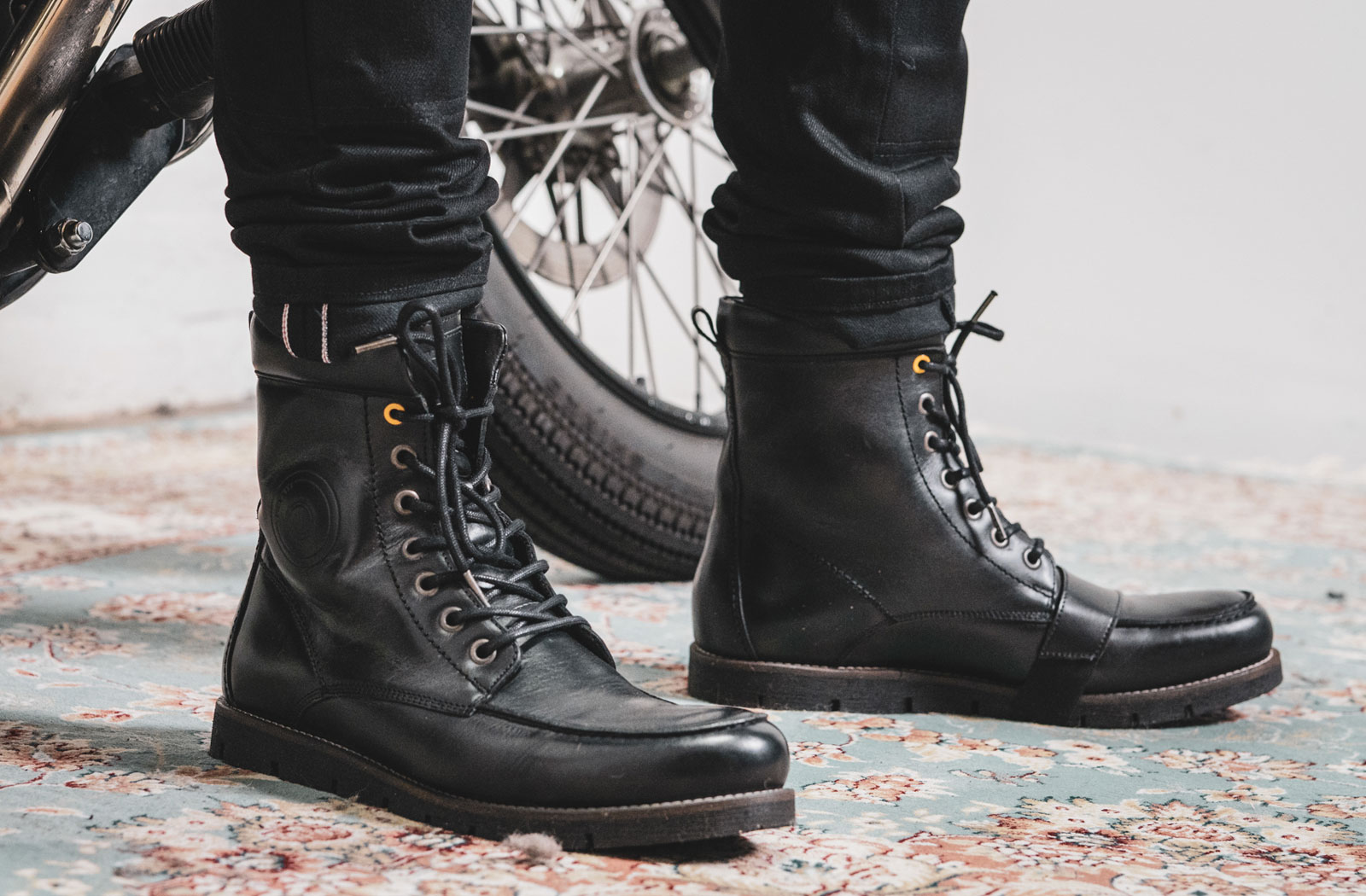 BOOTS | REV'IT!. Mohawk 2
Your feet and hands are the first things to freeze in cold weather. So quality boots and gloves are a solid investment in your comfort and happiness. REV'IT! Mohawk 2 boots utilise a 100% cowhide construction with a water-resistant coating. They also include a 100% rubber sole with thermoformed heel and toe caps. They look great. But, honestly, they're just super warm, designed for riding, and incredibly comfortable on two wheels.
Available here
Complementary Accessories:
TOP | Moto Est. Untitled Long Sleeve
RAIN PANTS | REV'IT! Acid 3 H20
——————————–——————————–
The Head Turner (Hers)
Snap necks this winter with stylish textures, sleek colours, and the kind of style that inspires people to question, can you really look that good and still ride in single-digit temperatures?
HELMET | Hedon. Heroine Classic Stable Black
We've said it before but it's worth repeating: Hedon makes a bloody good helmet. A carbon fibre/fibreglass composite with super plush antibacterial lining, calf leather trim, incredible soundproofing, and high style points. This Stable Black Heroine won't just turn heads; it'll protect yours.
Available here
JACKET | Corazzo. Avventura in Olive
Wind resistant, waterproof, and cruelty-free. The Avventura jacket combines comfort, style, and safety thanks to its abrasive-resistant 500-denier nylon construction. This is guilt-free fashion that keeps you both warm and stylish.
Available here
JEANS | Pando Moto. Lorica 02 Waxed Denim
Denim can make or break an outfit. Luckily, Pando Moto will have you turning heads with their slim-fit, 9oz, waxed denim with DuPont Kevlar lining and knee armour pockets. Wonderfully warm, incredibly comfortable and effortlessly stylish.
Available here
GLOVES | Black Arrow. Queen Bee in Tortoiseshell
Specifically designed for women's hands, these gloves are just for the ladies! 100% leather outer, longer wrist length, and lined! Black Arrow's Queen Bee Tortoiseshell gloves are without question the most gorgeous moto gloves on the market.
Available here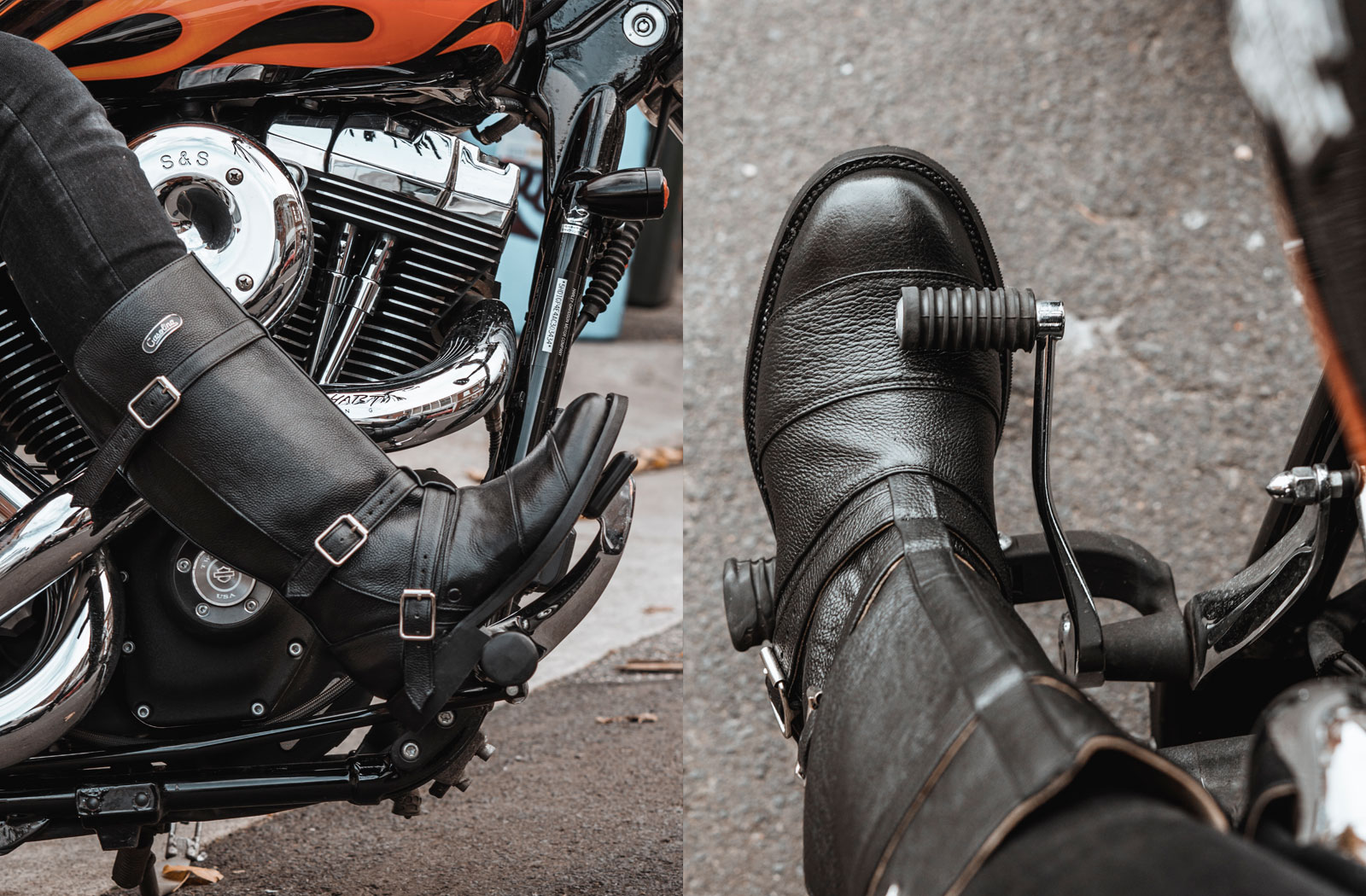 BOOTS | Gasolina Autobahn
The first and last line of defence when it comes to winter riding, Gasolina's handmade, three-strap, calf-high riding boots, Autobahn, reign supreme when it comes to style and safety. These tall boots are insanely warm, comfortable, and super strong.
Available here
BAG | Trip Machine Luggage
Made for years of use and abuse, every Trip Machine piece is guaranteed to get more beautiful with age. These bags are made from quality leather and come in a range of different sizes and mounting options to suit your individual needs.
Available here
Head Turner Complementary Accessories:
NECK WARMER | Black Arrow. 100% Cashmere
RIDING SHIRT | Black Arrow. Savannah