Deus Ex Machina has been instrumental in the growth of the custom motorcycle scene. They opened their first location in Camperdown, Sydney in 2006. Since then they've become somewhat of a motorcycle lifestyle apparel phenomenon. Their contribution to the scene has been so influential that it's likely most of you would have a Deus t-shirt hanging in your wardrobe. Along with producing a seemingly never-ending run of slick apparel, Deus now sell surfboards, snowboards, bicyclist attire, lifestyle accessories and even have their own record label. 13 years after unveiling their first custom motorcycle, they've returned to their two-wheeled roots with a limited run of Deus Ex Machina helmets.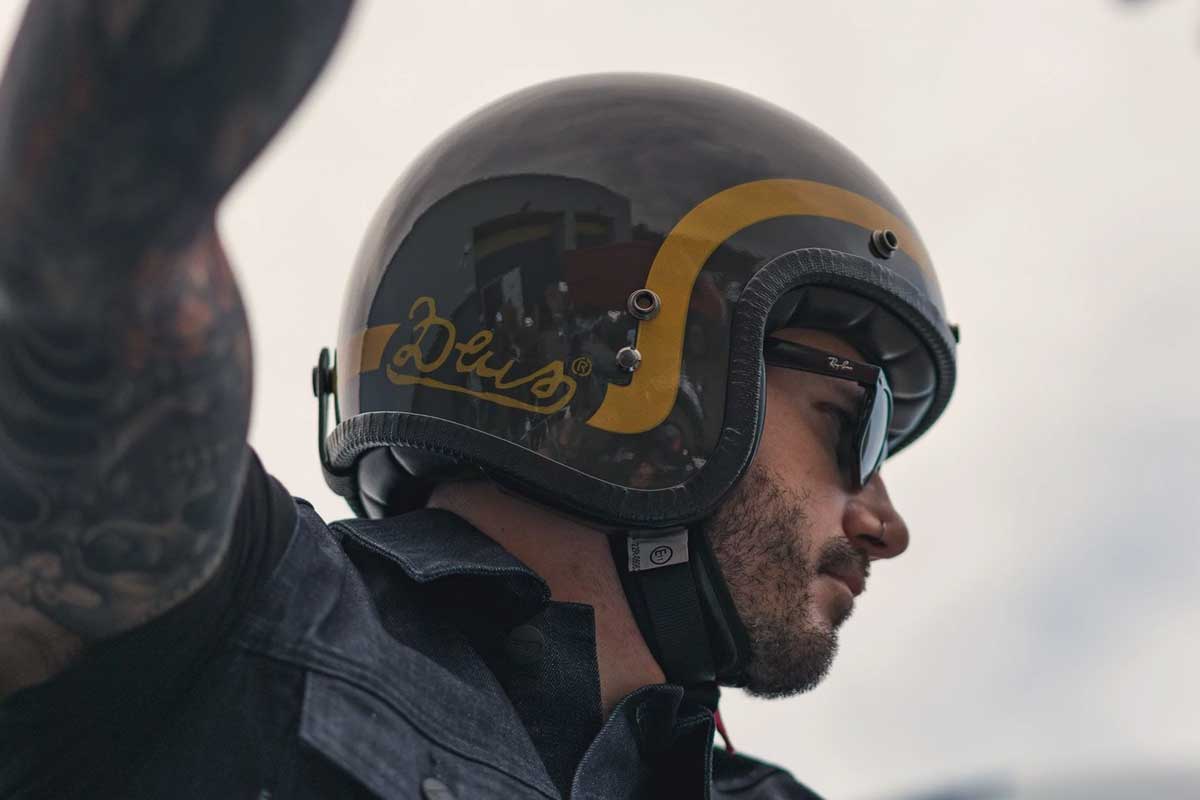 The Deus Ex Machina helmet range is for sale exclusively in Europe and is available in very limited numbers. The range features 3 shells styles that each come in 2 different colourways. The design of each helmet is stereotypical of the Deus Ex Machina style guide featuring classic colour schemes and vintage-inspired graphics. The helmets themselves are all based on iconic retro designs from motorcycle racing history. This pretty much guarantees they'll look right at home on your own custom motorcycle. The Deus Ex Machina helmet range is made up of the full face 'Cisco', MX style 'Django' and the open face 'Garcia'.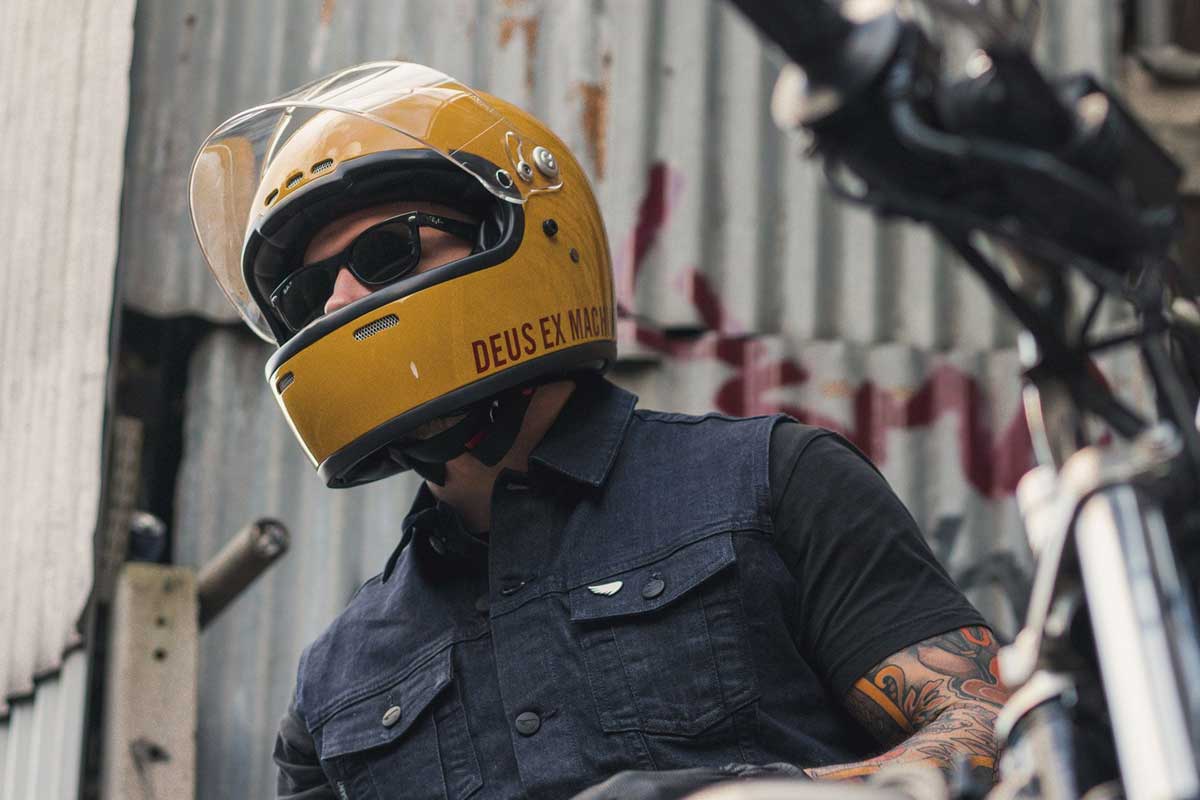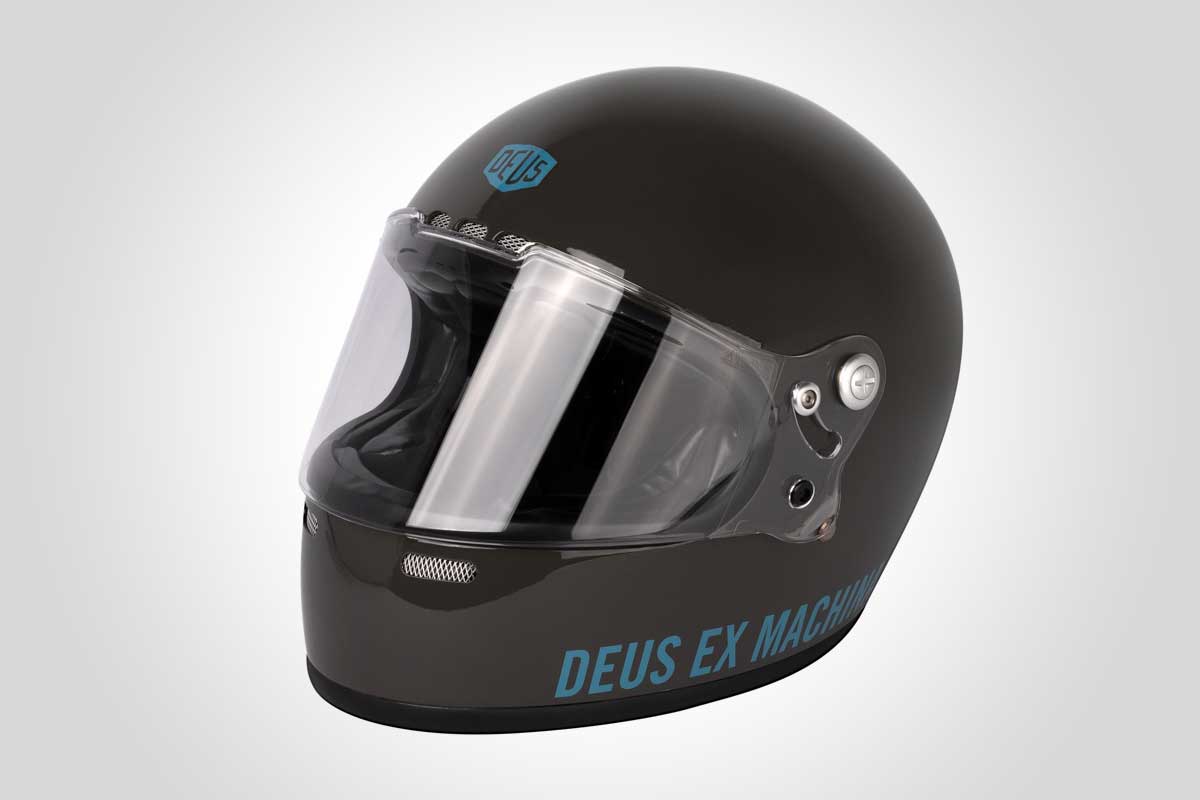 Deus Ex Machina Cisco
The Cisco full-face helmet follows suit with popular retro styles like the Biltwell Gringo and Bell's hugely successful Bullitt. The Cisco is definitely more focused on style than high-end tech. The design is clean and clutter-free with mesh-covered, always open vents on the brow and chin guard. The large visor offers a wide viewing angle and is held in place by a simple pin lock mechanism. On the inside, you'll find a faux leather and suede liner that's both removable and washable. Available in either a dark grey/black and blue graphic combination or bold yellow and contrasting maroon the Deus Cisco helmet is easily our pick of the bunch.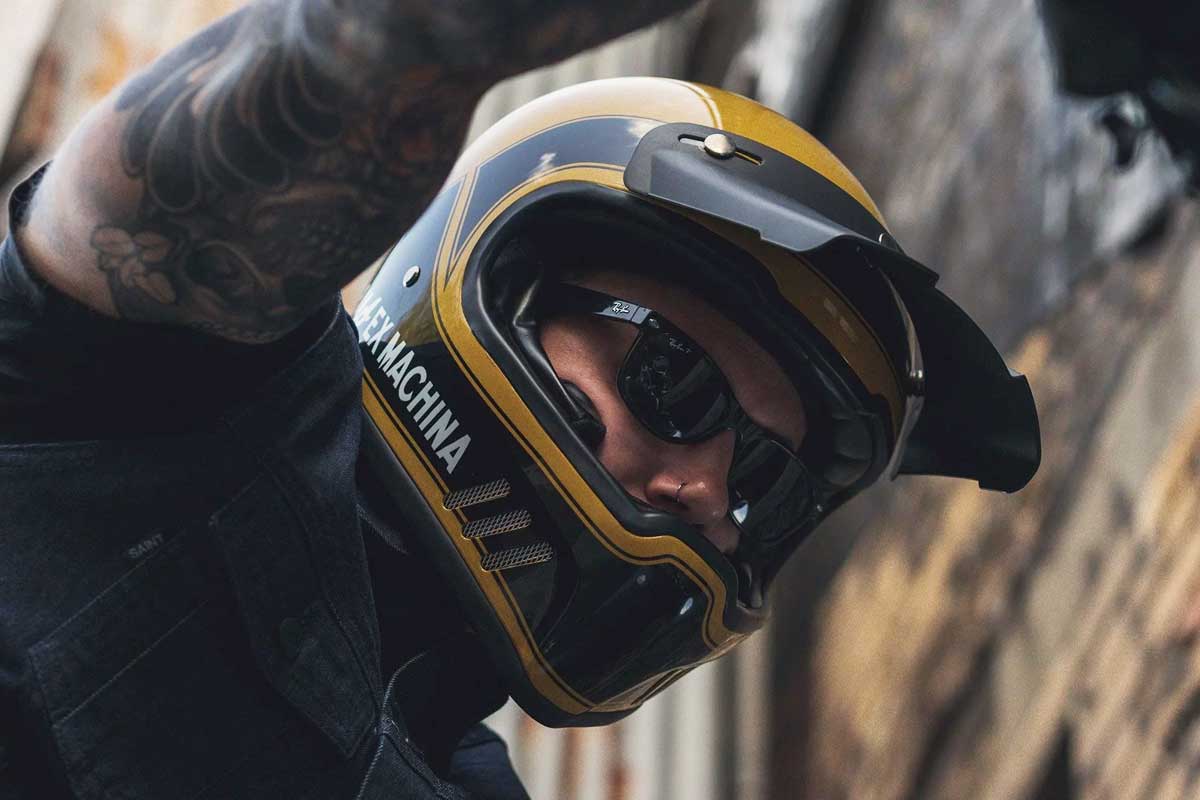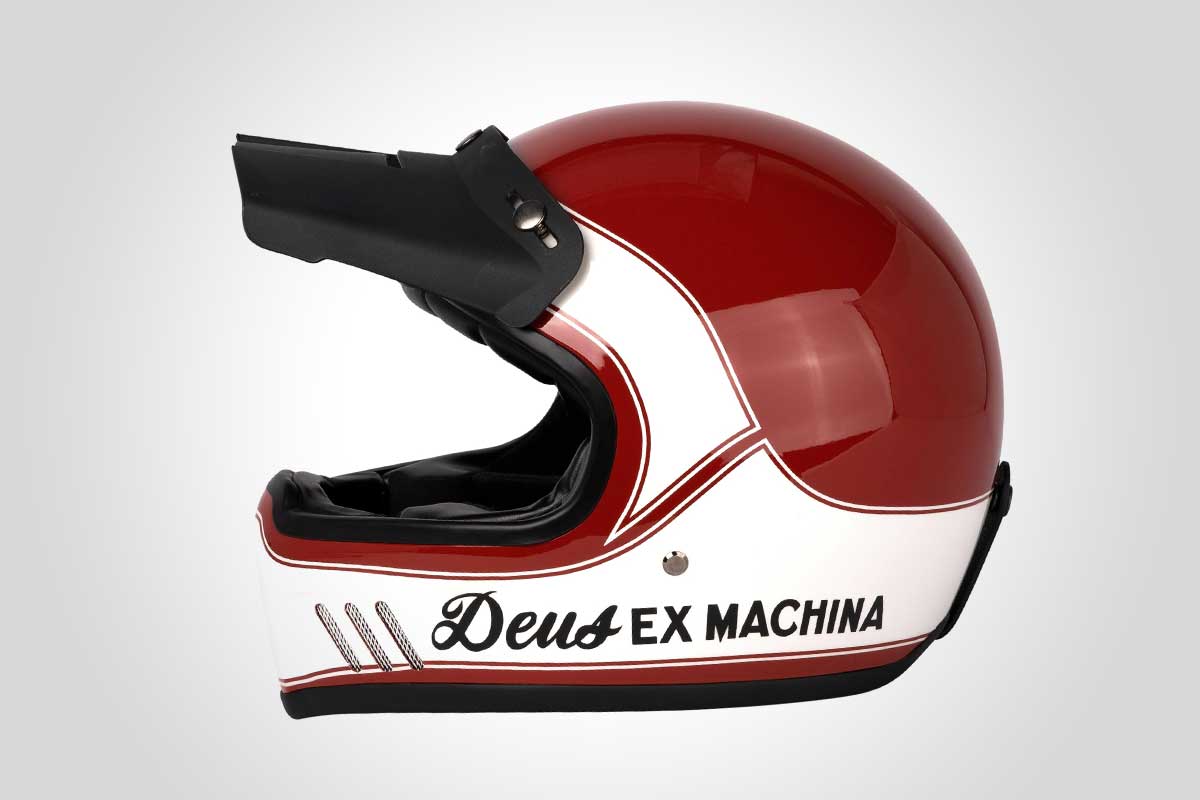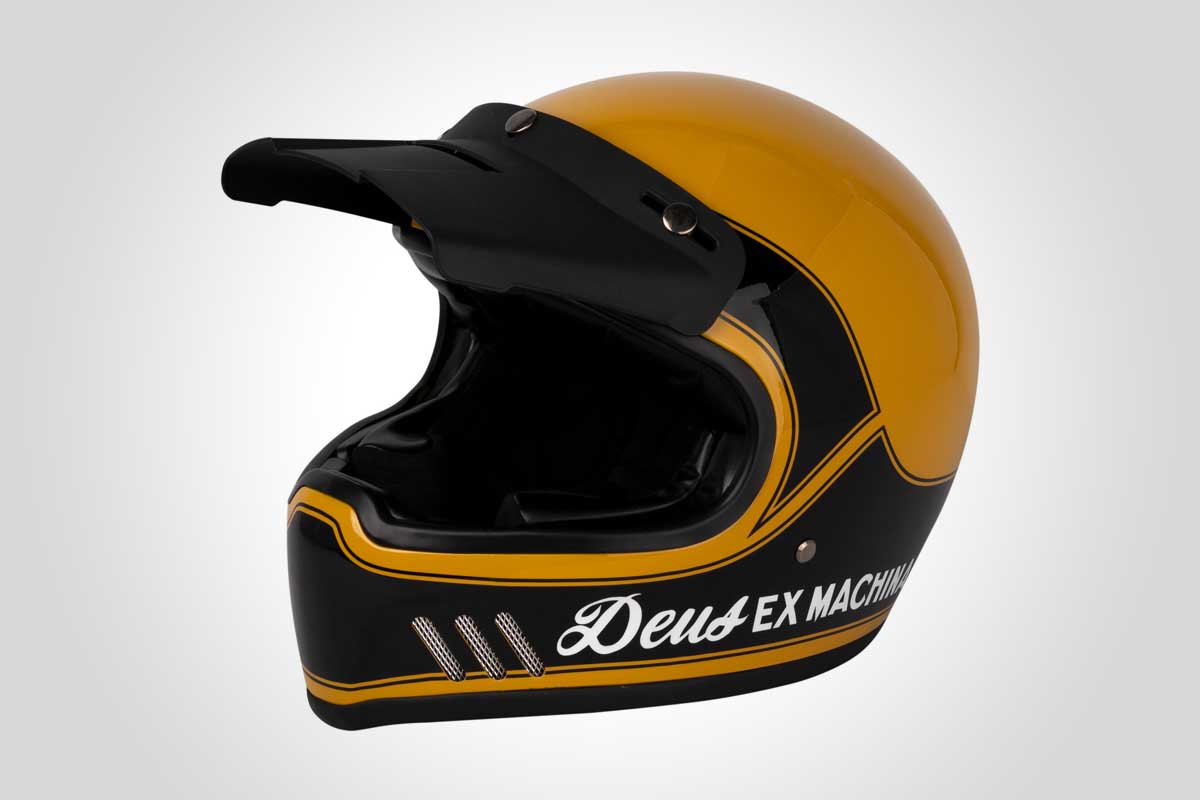 Deus MX Django
Retro motocross helmets have made a huge comeback in recent years. Bell helmets revisited their iconic Moto 3 design and it's now joined by the Django from Deus. The Django once again puts style ahead of hardcore technical features. Air flows in via a trio of diagonal vents on each side of the chin and the huge MX style viewport.  The extended chin kicks up at the front to fend off debris from the road/track and it comes with a removable snap-on plastic peak as all MX lids should. On the inside, you'll find the same faux leather finish as the Cisco. The Deus Ex Machina Django helmet comes in either mustard yellow with black graphics or red and white. Wear it with your favourite pair of moto shades or a set of MX goggles which can be secured using the integrated leather tab at the rear.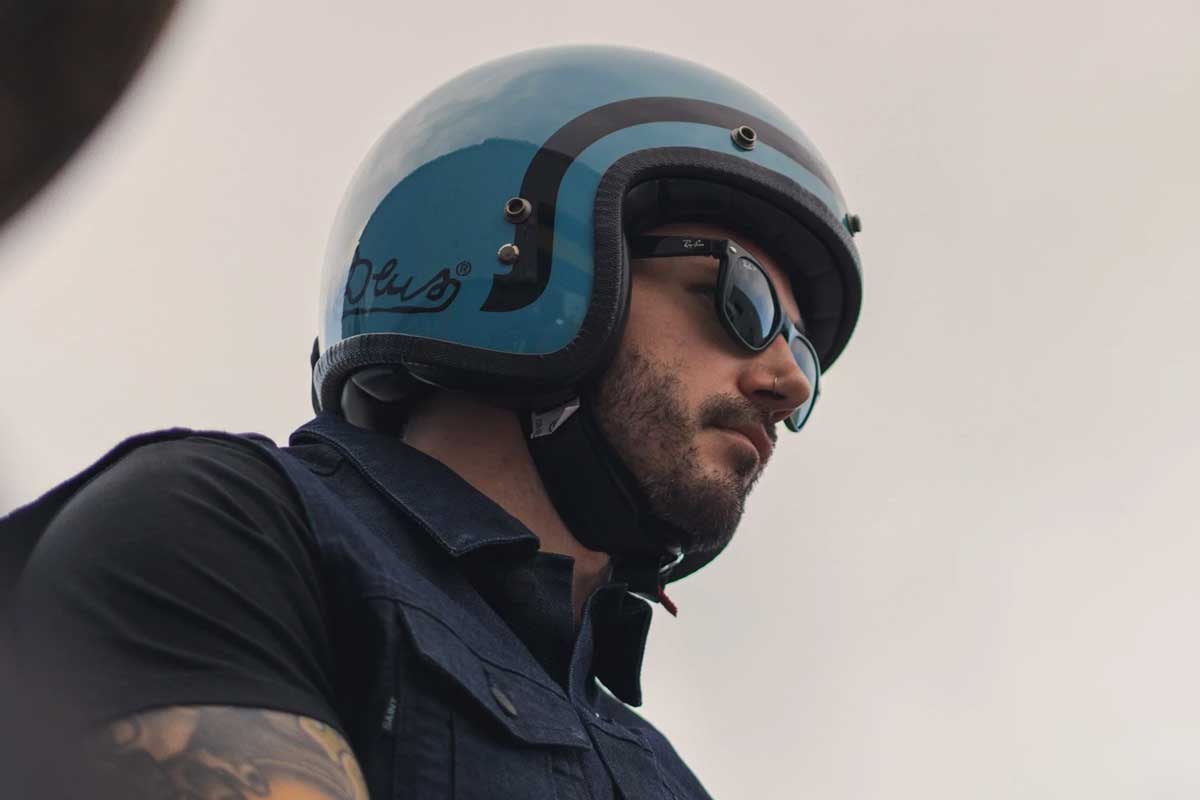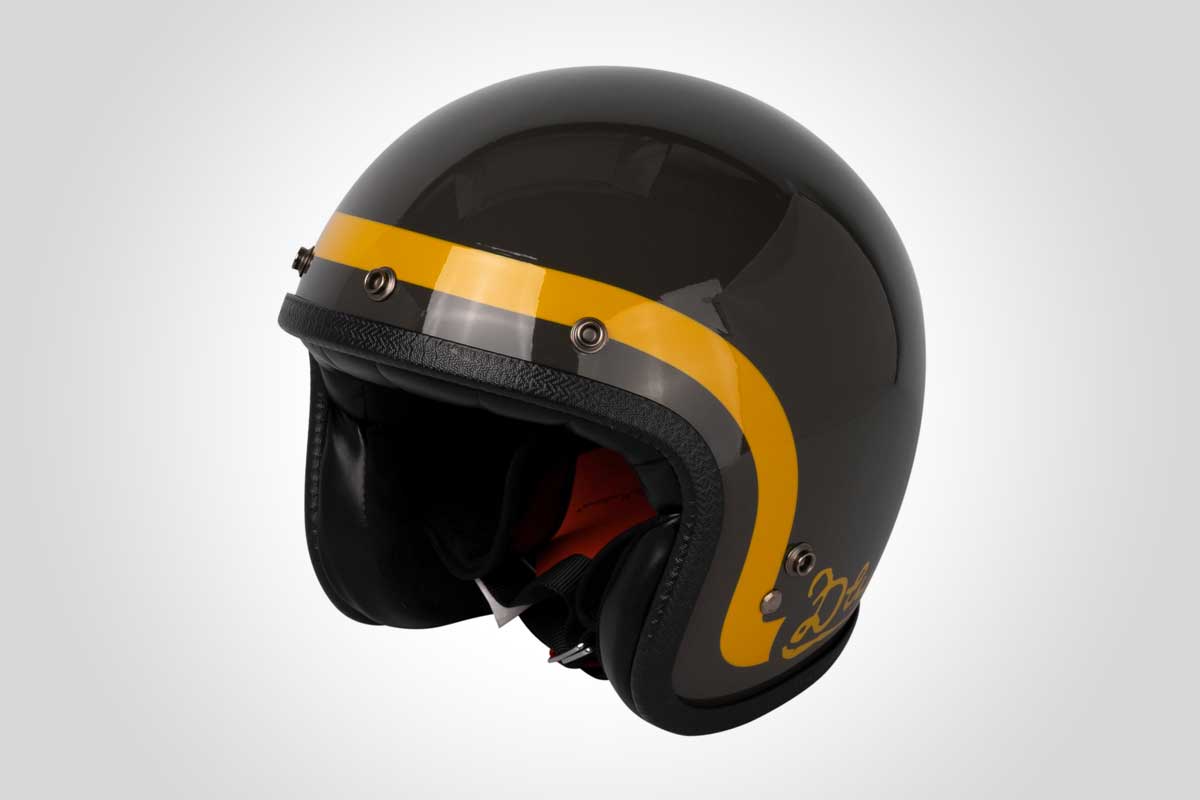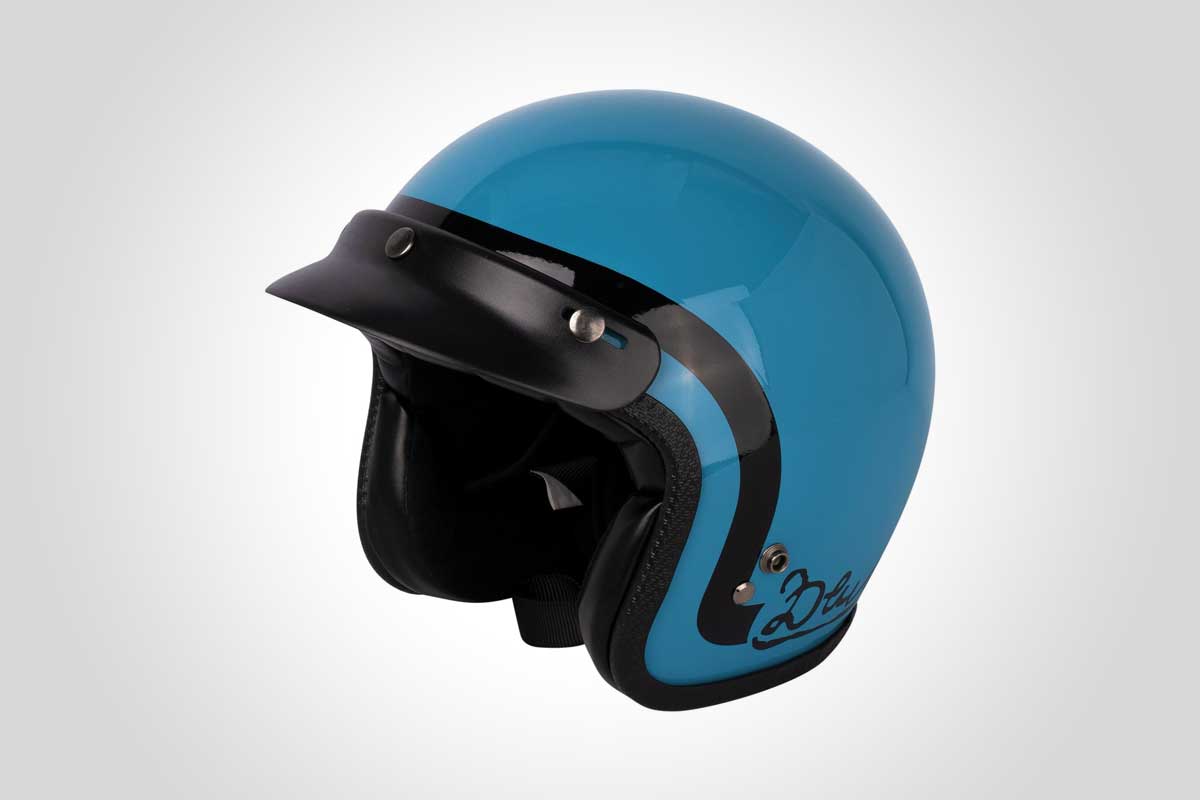 Deus Garcia Open Face Helmet
The Garcia is a no-nonsense, open face helmet that oozes 1970s Easy Rider cool. Deus has done their best to keep the helmets profile slim and have bordered the shell with a textured rubber trim. The Garcia comes in 2 colourways of either grey with yellow graphics or blue and black. Finished off with a bold form following pinstripe and a Deus handwritten script emblem this open-face lid is as retro-cool as they come.