The Nexx XG100 Racer helmet range continues to expand and evolve. This new design deemed the Salt Flats edition features a raft of design updates that improve upon previous iterations of the helmet and adds a unique look inspired by the iconic Land Speed trials of the Bonneville salt flats.
The "Old School Racing" XG100-R was created as a visor-equipped variant of Nexx's retro-styled XG100. The latest version of the Nexx XG100-R helmet features a new pin-lock-ready visor design to prevent fogging in colder conditions and it now comes in 2 different shell sizes to ensure a better fit. Featuring a clean smooth round shell and chiselled visor the XG100-R styling is distinctly seventies yet its features are unquestionably modern.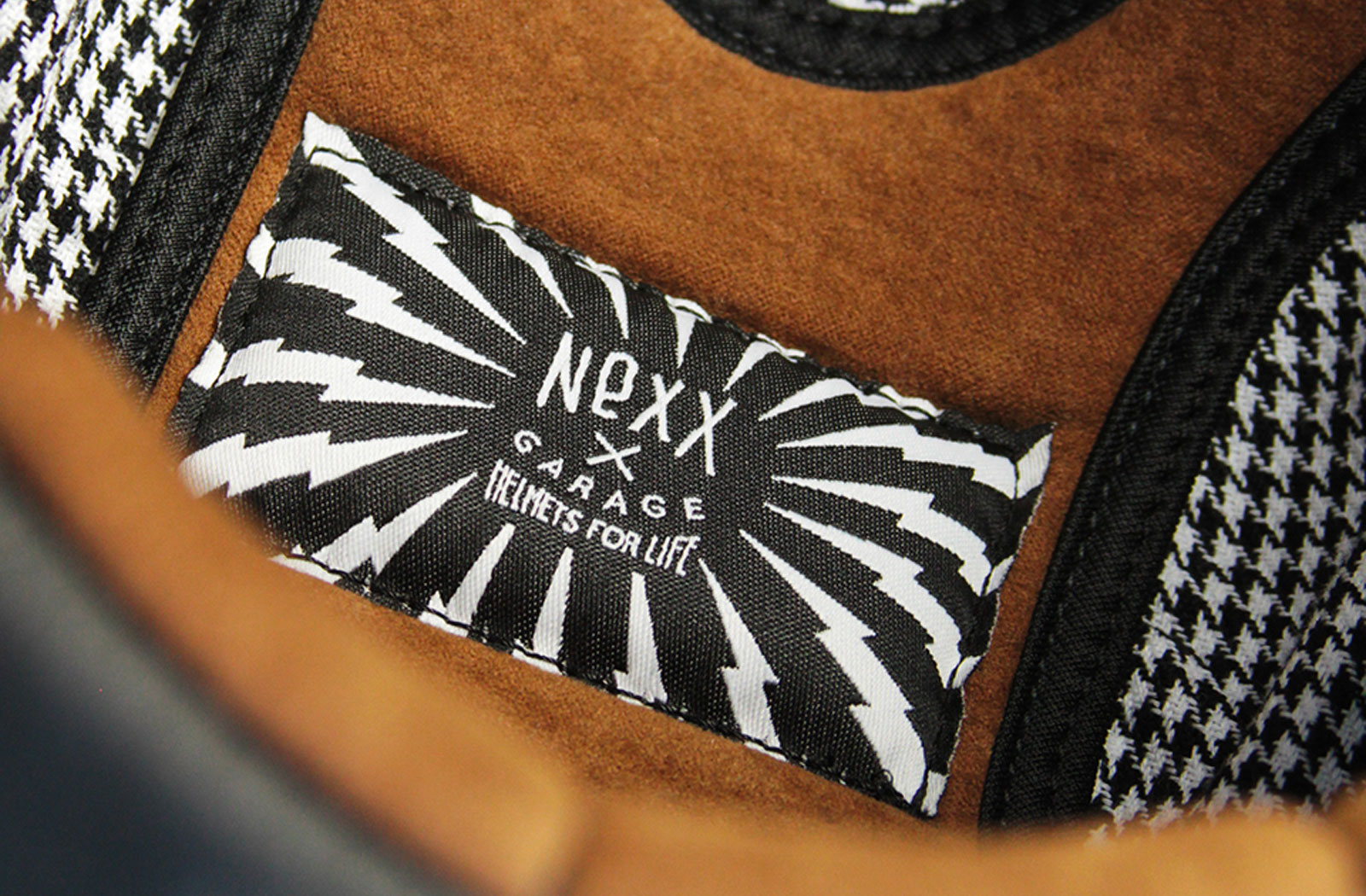 Starting on the inside, the liner of the XG100-R is made using a mix of Nexx's X.MART DRY fabrics. These fabrics are designed to provide optimum comfort thanks to their soft finish, but will also keep you feeling cool and fresh thanks to their anti-sweat and anti-allergen properties. The padding within the helmet's liner is designed for maximum comfort through the integration of specially designed 'ergo' materials which conform to your head and facial structure. The entire liner is also removable and machine washable to help extend its lifespan. And finally, a stand-out feature of this helmet's liner is its look. Finished using a mix of faux tan suede and a black and white houndstooth pattern, it looks just as cool as the helmet's exterior.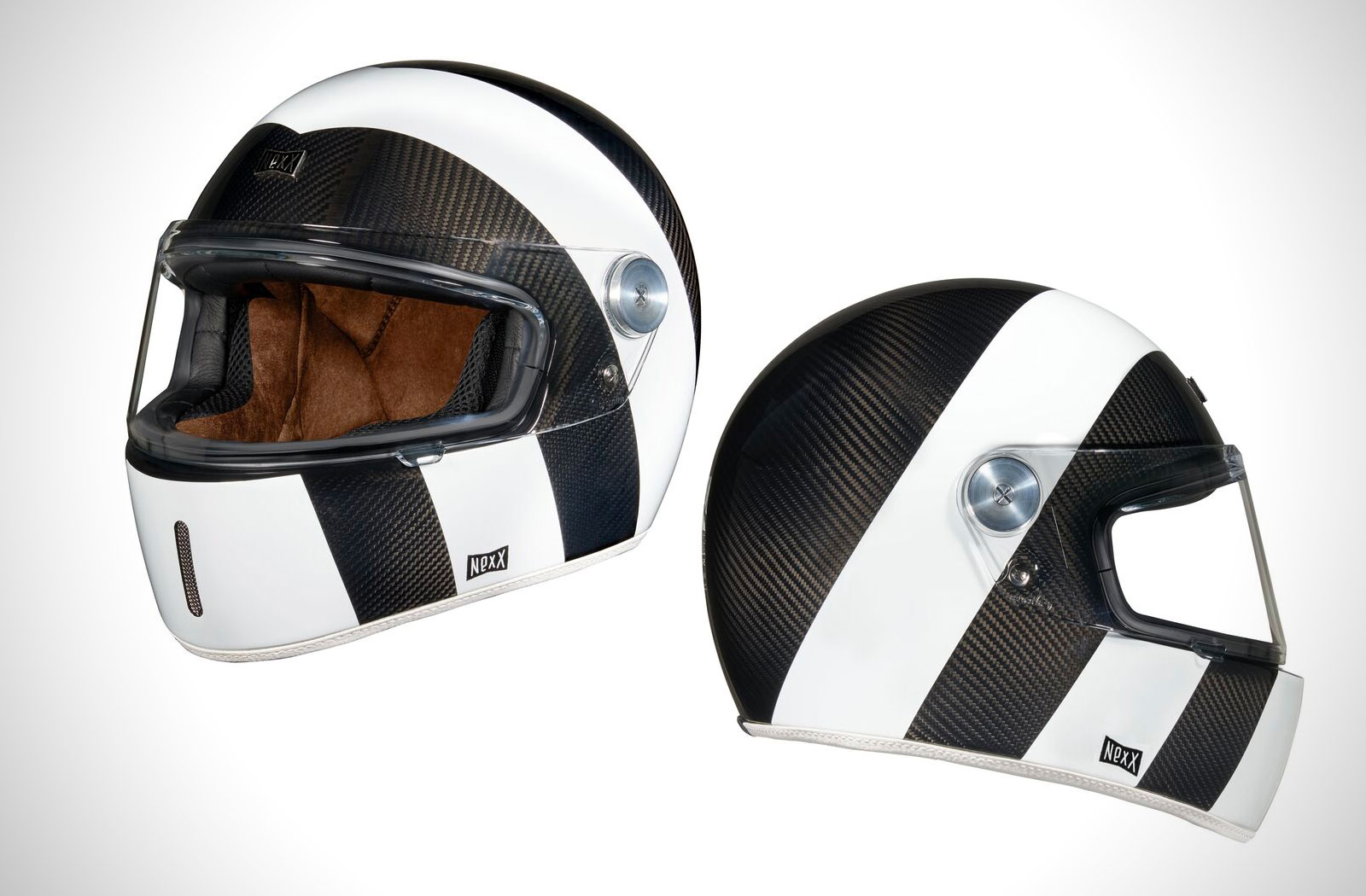 The exterior shell of the XG100-R is made primarily from lightweight carbon fibre. Nexx has combined the outer carbon layer with sub-layers of multiaxial fibreglass, 3D organic fibres and special aramid fibres to form a superior-strength shell they call their X-Matrix. Securing the helmet is done using a classic double-D ring buckle and there's a single mesh-covered opening in the chin bar that is operated using an internally accessed switch.
The XG100-R eye port is wide and deep to provide a wide, unobstructed view. Covering the opening is a PC Lexan flat shield visor which is secured via screw-down aluminium hardware on the pivots. The visor can sit in multiple positions to allow extra airflow when required while an optional chin guard can be installed to keep out the cold.
The XG100-R Salt Flats colourway was inspired by reflections seen on racer's vehicles as they rocket along the Bonneville raceway. The carbon fibre shell is finished in a gloss clear coat with bold white stripes breaking up the exposed woven carbon. On the rear of the helmet is a specially designed salt flats illustration as an hommage to Bonneville's racers.
The latest version of the XG100-R offers some solid improvements over the previous models and a bold eye-catching design. Two possible future improvements we would like to see Nexx make to the XG100-R range are a quick-release mechanism for the visor and additional vents on the temple. For now though, this Nexx XG100-R Salt Racer helmet is a great choice for anyone seeking a quality retro-styled helmet that doesn't skimp on safety or comfort.
Available from: Revzilla