The Bell Eliminator Helmet hit shelves a couple of years ago and has been a huge success for the brand. It perfectly combined aggressive lines with a unique retro look and the latest modern safety tech. Inspired by auto-racing styles from the past it had the right look for today's retro obsessed market. And, to top it all off, it was backed by Bell Helmets 60 years of helmet making history. For 2021 Bell has continued to expand on the Eliminator range with the introduction of 2 new colourways and the introduction of a unique custom paint service.
Bell Eliminator Features
The 2021 Bell Eliminator helmet range follows in the footsteps of its predecessors. Just like in previous years the Eliminator comes in 3 sizes with varying thickness EPS liners. This allows them to offer a full range of sizes from XS to 3XL and to remove the risk of anyone looking like a bobblehead in an Eliminator.
The helmets shell is made from composite fibreglass and the viewport is covered by a Bell ProVision Class 1 optics, dual paned shield. Inside you'll find an anti-bacterial liner with cutouts for comms speakers. For those who require glasses while riding the Eliminator can also accommodate them without sacrificing comfort. As for safety, the 2021 Bell Eliminator helmet is both DOT and ECE certified making it street legal in many countries.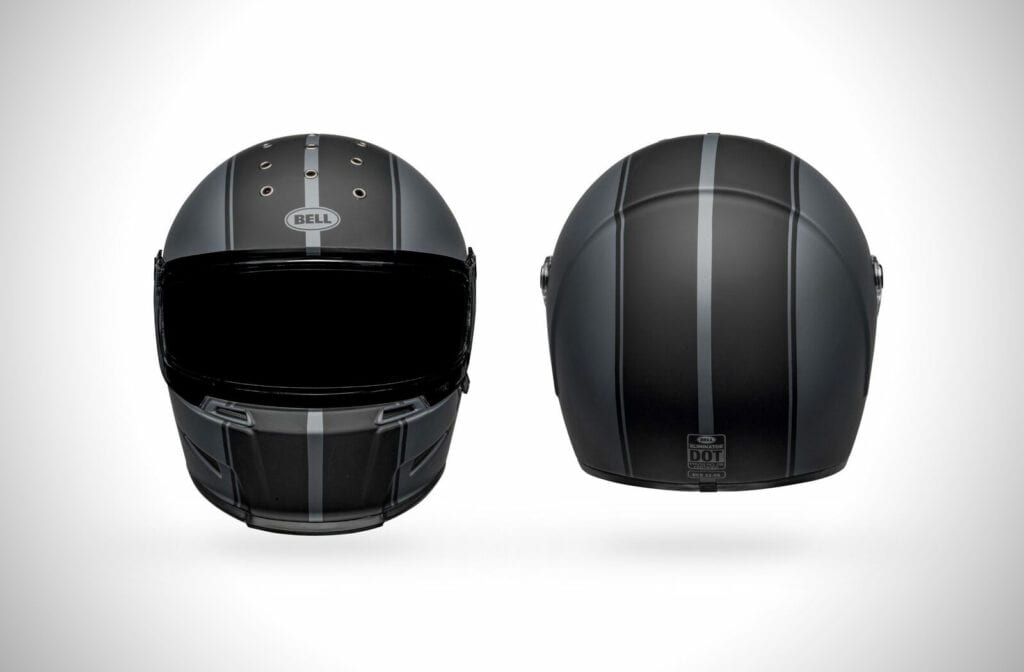 2021 Bell Eliminator helmet styles
2021 has seen the introduction of 2 new colourways to the Eliminator range, the Rally Matte and Stockwell.
The Bell Eliminator Rally Matte is a low-key version of the previous orange and black Rally design. It features the same double racing stripe livery over a muted grey background and is finished in a matte clear coat. The Rally Matte ships with a clear visor but we think the addition of a smoked shield is a must-have.
Through a special collaboration with Charlie Stockwell, head of design at London's Warr's Harley Davidson, Bell has created the new Stockwell Eliminator helmet. Styled directly off Charlie's own Street 750 Harley Davidson flat track race bike the Eliminator Stockwell features the same gold pinstriped white flames on gloss black as those seen on the bike's fuel tank.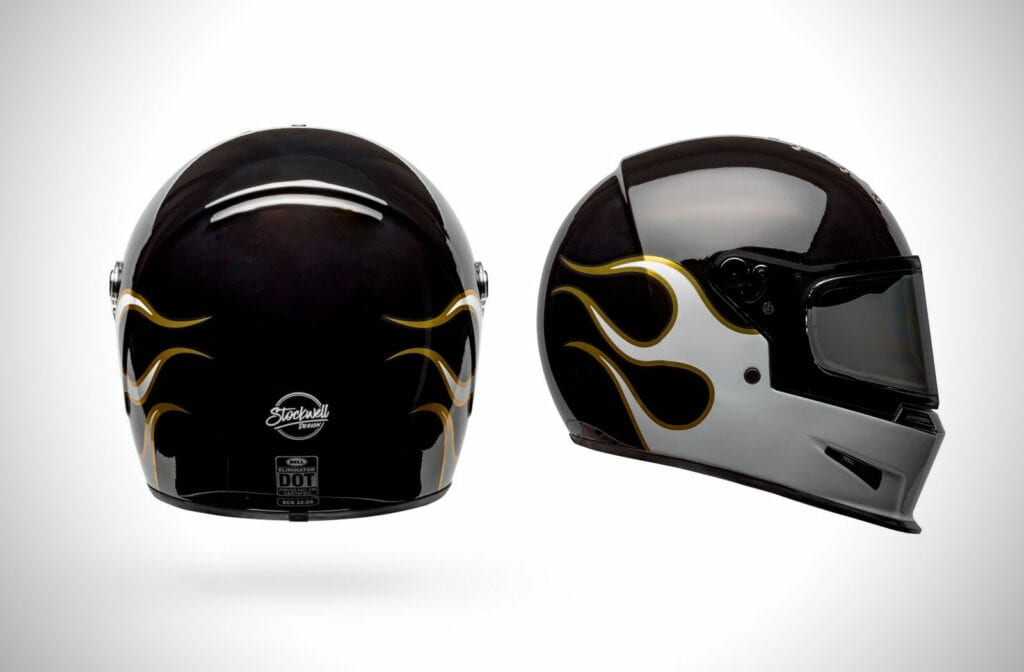 Design your own custom Eliminator
If you're willing to spend a little more to own a one of a kind helmet Eliminator helmet Bell now offers a customisation service. Working with custom helmet painters Helmade, Bell has created an online design tool that allows you to design and order an Eliminator of your own design.
After selecting 1 of 4 different base designs you can choose your own colour palette and finish it off with a matching visor. The service adds $200 (plus the visor cost) to the Eliminator RRP, but in our opinion, that's a bargain for a one of a kind helmet.
Available from: Revzilla / Bell Helmets