As Mark Twain so eloquently put it "Find a job you enjoy doing, and you will never have to work a day in your life." Adrián Campos personifies this philosophy with his enviable career. Along with running the Spanish Formula 3 race team Campos Racing, he is the frontman of the custom workshop Bolt Motor Co. At his Valencia-based workshop, Adrián and his team have been building their customer's dream bikes for more than a decade and they've put together over 50 of them.
Although they're happy to work on anything their customers present them with, Bolt has an affinity for older R and K series BMW airheads. For this project, the forty-seventh member of their ever-expanding portfolio, Bolt chose a BMW R45 as the donor.
When BMW Motorrad released the R45 in the seventies it was pitched at new riders. Featuring a 473cc boxer twin engine and smaller dimensions, it was a scaled-down, affordable version of the brand's much-loved larger-capacity airheads. The market's response to the R45 was favourable and it sold in droves. As a result, there are plenty of secondhand R45s available and they tend to be lower priced than their larger siblings.
"What we wanted was to turn this very heavy motorcycle, which many consider slow, into a light, comfortable motorcycle with appealing features," says Adrián. "If the challenge was already great, we found ourselves with the added problem that this bike did not arrive in optimal condition. The poor thing had been forgotten in a garage for more than 20 years and needed a lot of pampering to recover its former splendour."
To start the rebuild on the right foot, the Bolt teamed gave the airhead a complete overhaul. Due to the bike's poor condition, this ended up being the most time-consuming stage of the entire build, but it was well worth the effort. After a complete rebuild and upgrade this bike now boasts a capacity of 960cc which is more than double its original size. A set of modified pistons and cylinder heads has also resulted in higher compression so there's no longer anything slow about its performance. To feed the beast sufficiently it's been fitted with Dell'Orto racing carbs that offer more stable and linear operation. And to eke some additional power out of it Bolt designed and built their own exhaust system and fit it with GPR mufflers.
With the engine work done, Bolt turned their attention to the chassis and suspension. First, the skinny, stretched-out stock subframe had to go. In its place is a beefier bolt-on, stepped solution. Negative space can work wonders for a motorcycle's haunches, but too much can leave it looking unbalanced. To avoid this Bolt has filled the triangle in the subframe with mesh that wears their unmistakable lightning bolt emblem. To keep things looking clean the brake light is an LED unit that's integrated into the hoop. The turn signals live on a hugger-style license plate bracket that was designed and built in-house. For the seat, Bolt enlisted the help of auto upholstery pundits Tapizados Llop who put together a rain-proof leather saddle with contrasting stitching.
Suspension improvements on the R45 come courtesy of a rebuilt front end and aftermarket piggyback twin rear shocks. The handling also benefits greatly from a twin-disc front brake conversion, since the stock single setup was notoriously inept.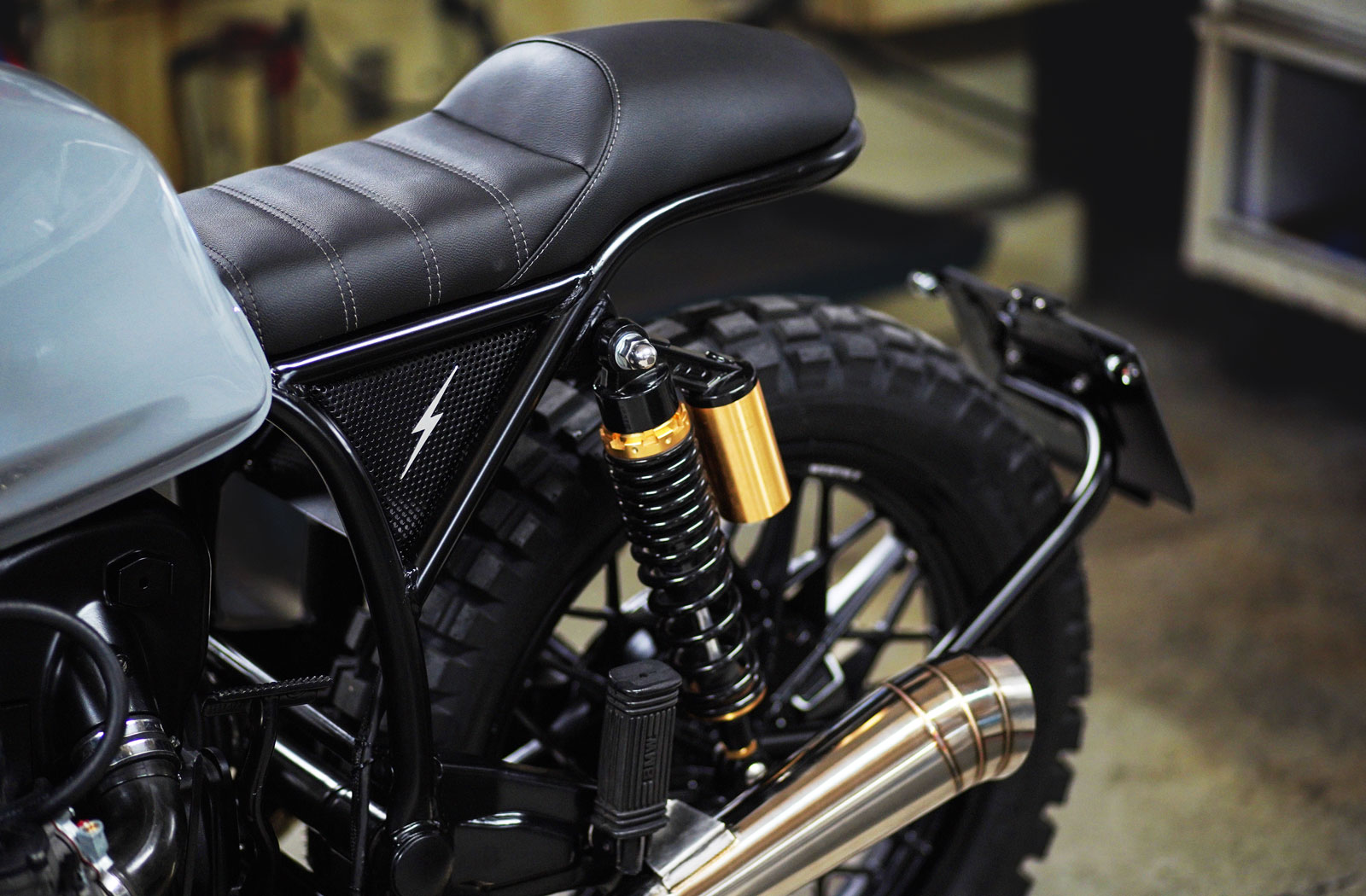 While they were at it the Bolt team also completely revised this bike's electrics. The well-hidden wiring is all part of a custom-made harness and it powers brand-new components and lighting. At the pointy end of the bike is a modern LED headlight in a beautifully simple and slender bucket that was once again designed and built at Bolt HQ. The front-end Motogadget turn signals reside in the bar ends and there's a single Koso gauge sitting atop the triple clamp with integrated warning lights. The updated electrics can also be attributed to performance improvements thanks to an electronic ignition and 16-position map. Finally, to help keep all the weight down low, the battery has been relocated to sit beneath the swingarm pivot.
Very little of this bike's original bodywork remains. Infact the only thing Bolt kept was the fuel tank. Although it's somewhat more angular looking than the rest of the bike, its retro livery by Airbrush Customs has it looking right at home. To get the final look they were after Bolt performed one or two form-over-function modifications, which we're happy to overlook. We are of course referring to the knobby rubber and lack of a rear fender, c'est la vie. However, the Renthal enduro bars and purposeful mirrors get full marks for being both practical and stylistically on point.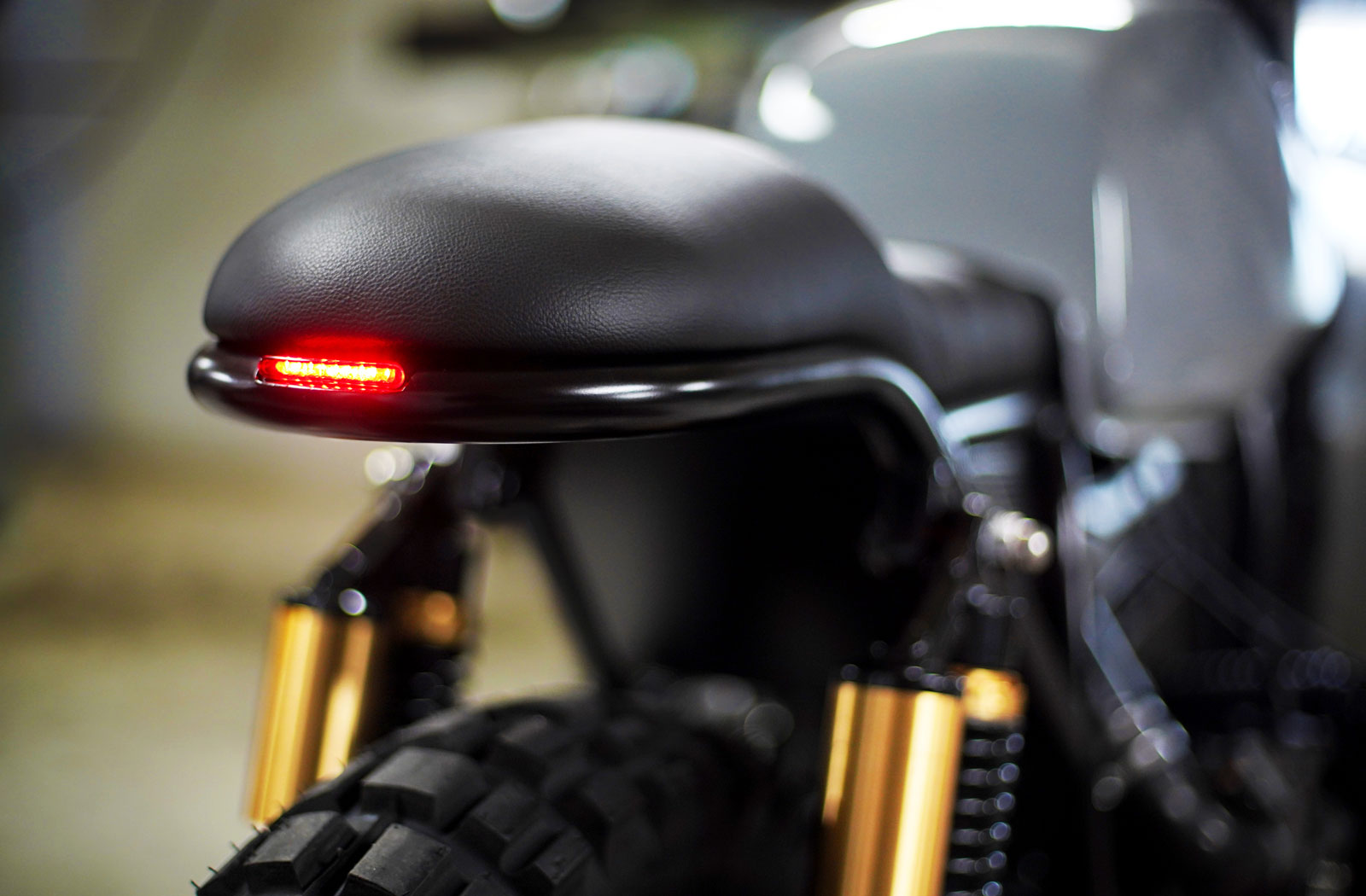 It's rare we veer away from our cafe racer theme, but every so often a bike piques our interest enough to get a mention. Bolt Motor Co. knows how to build great-looking, utilitarian motorcycles. This hopped-up, slimmed down and aesthetically upgraded R45 Scrambler epitomises their approach and most importantly their ability to turn something staid into something we'd happily throw a leg over.