Arguably the most important part of your riding gear after your helmet is your gloves. Protecting your precious digits means wearing purpose-made motorcycle gloves—and, like helmets, there's a vast selection to choose from.
If you're looking to buy a pair of riding gloves, you'll have to decide between multiple lengths, different materials, and the amount of armour you want. You'll also have to consider the season(s) each prospective pair of gloves is made for.
Now, in late 2022, we're here to share some of the most impressive gloves currently on the market, old and new alike. Check 'em out below and let us give you a hand with your next purchase.
ROCR X Goldtop England Predator Gloves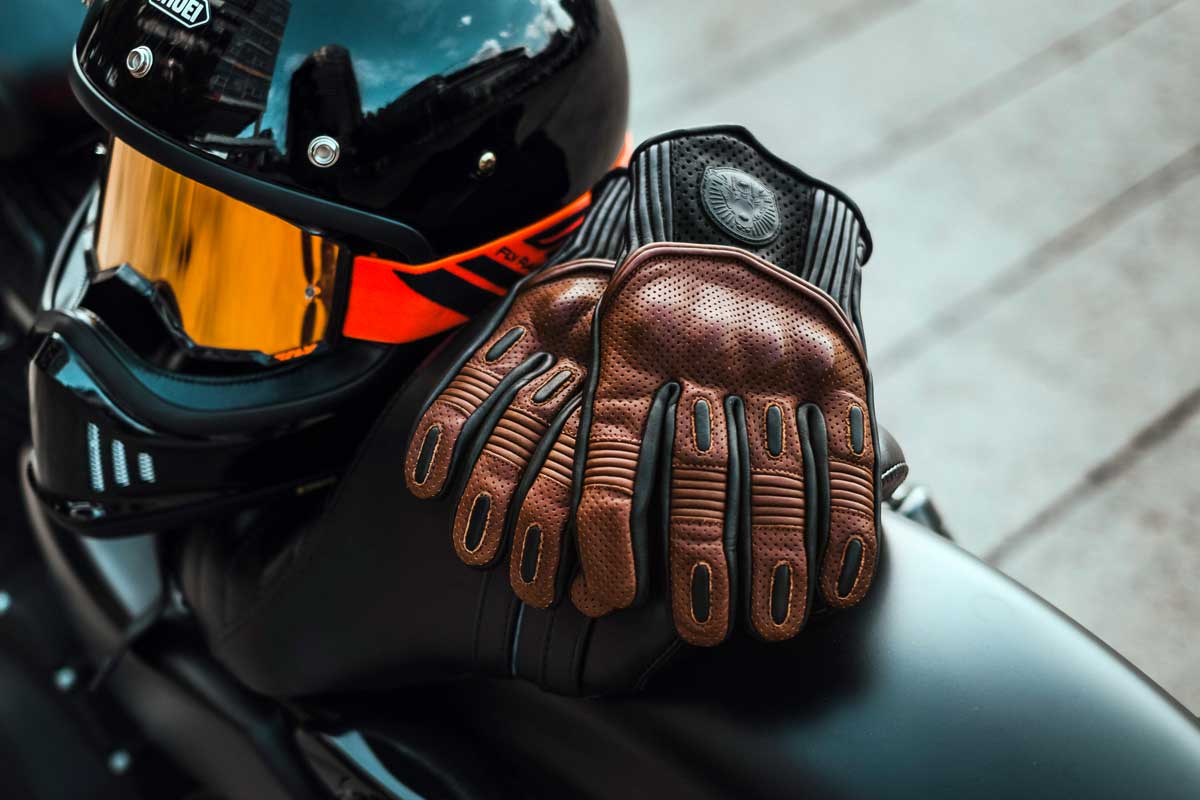 Goldtop has been around since the cafe racer movement emerged in the fifties. As a result, their classically-styled range of riding is about as genuine as it comes. Earlier this year, Return of the Cafe Racers teamed up with Goldtop England to create these special edition Predator Gloves.
The ROCR x Goldtop Predator Gloves outer shell is made from 1.0 mm premium drum-dyed Aniline cowhide leather. The new design uses panels of contrasting black and tan-brown leather to create a unique style that's proved a huge hit with our readers.
A mix of different finishes (including perforations, cross stitching and accordion panels) contribute to the glove's unique appearance while adding both air-flow and flexibility of movement to the design.
Embossed onto the back of each wrist, you'll find our Cafe Racer Rider emblem and a brass Goldtop button on the hook-and-loop closure. Peer inside and you'll find a luxurious red silk liner that wicks moisture and feels as good as it sounds.
When we teamed up with Goldtop, we weren't simply looking to create a good-looking glove. We wanted a glove that offered the kind of protection we demand from the gear we choose to ride in.
That's why the ROCR x Goldtop gloves feature a floating Knox Microlock knuckle protector, gel-padded fingers, double-reinforced palms and fingers, and triple stitching in high-stress zones. The result is a genuine CE safety rated summer riding glove that'll look right at home wrapped around the handlebars of your cafe racer.
Features: special edition design / CE certified safety/ silk lining
Where to Buy:

Goldtop England
Joe Rocket Cafe Racer Gloves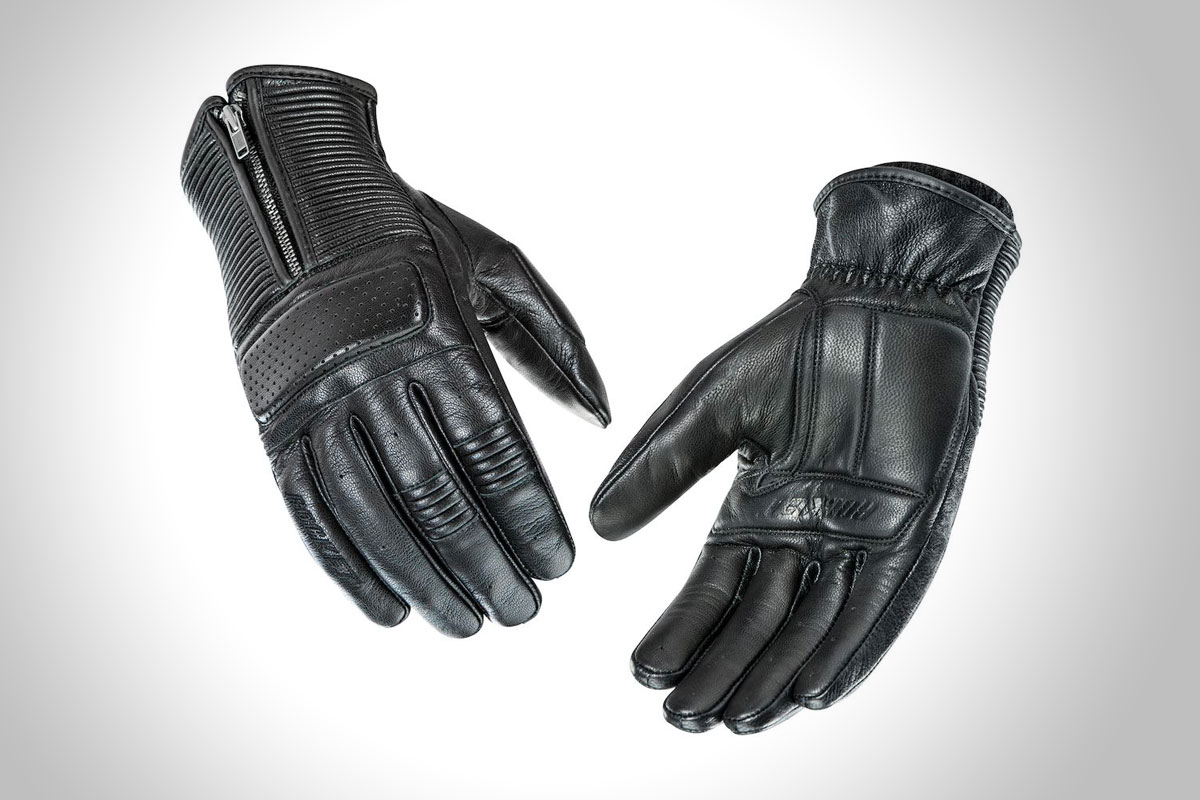 As the name hints, the Joe Rocket Cafe Racer Gloves are aimed at the cafe racer segment. To achieve this, they've designed a retro-inspired glove with a unique backhand zipper design.
Although we're not sure how much better a zipper on the back of the hand is as opposed to a traditional wrist closure, there's no denying it looks good. When you add to that the flexible accordion detailing on the wrist and fingers, perforations on the padded knuckles, and a clean fuss-free palm, you've got yourself a smart-looking bit of riding clobber.
The Joe Rocket Cafe Racer gloves are made from soft Napa leather. The backhand opening utilizes sturdy YKK zippers, and the knuckles and thumbs are covered by high-density impact foam. An elasticated cuff guarantees a snug fit, each little finger features a ROCKET embroidered emblem, and the gloves come in either a timeless black or brown finish.
Features: retro styling / unique backhand zip closure
Where to Buy: RevZilla
Dainese Blackjack Gloves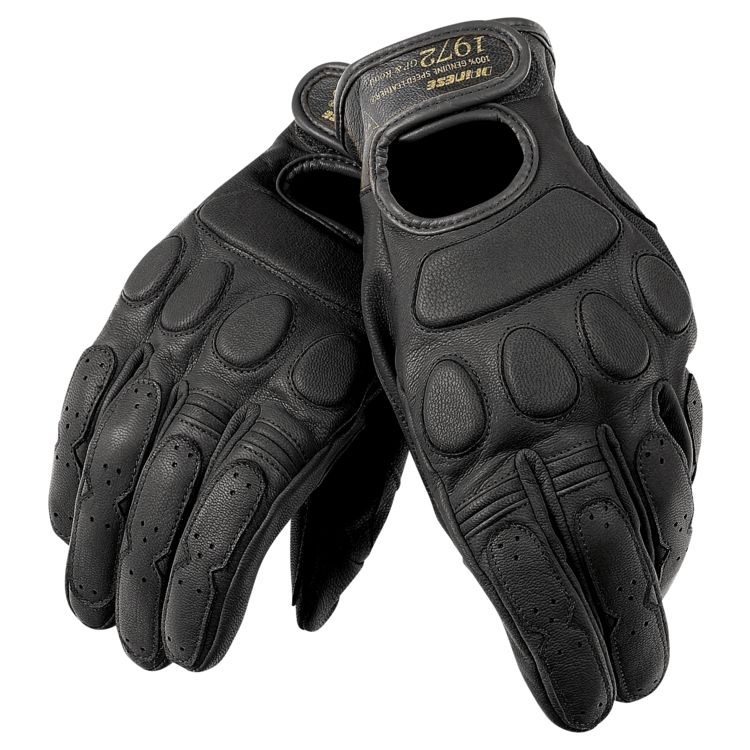 High-quality leather and timeless Italian style come together in these rugged and rakish gloves from famous gear manufacturers Dainese. Perfect for any retro café racing outfit, these make ideal spring and summer riding gloves, thanks to the perforations in the fingers that provide excellent ventilation.
You get a decent amount of protection with these bad boys, too—the Blackjack Gloves come with leather palm reinforcers, and they have soft inserts on the backs and knuckles to give you a bit of cushioning if you find yourself unexpectedly hitting the road in a literal sense. You've got to hand it to Dainese; they really fingered out how to make a great glove.
REAX Tasker Classic Leather Gloves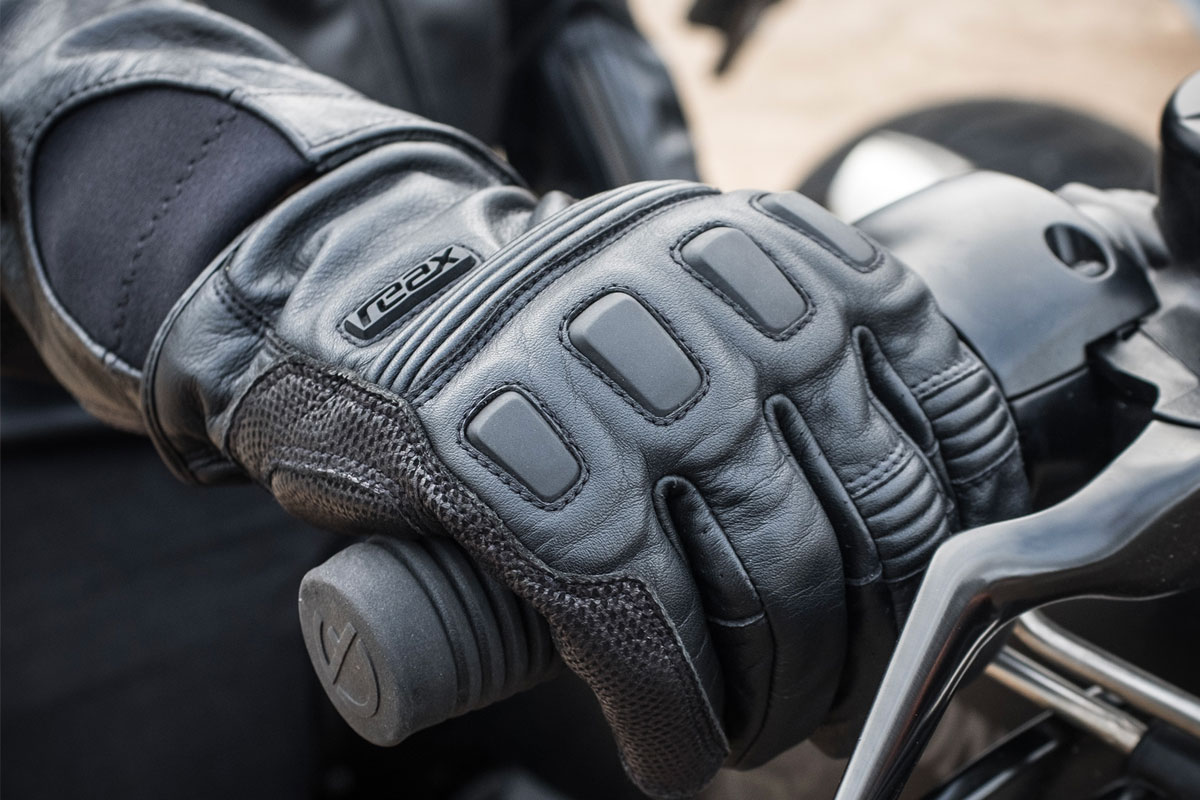 Created by part of the team behind Revzilla, REAX riding gear benefits from over a decade of experience testing other brands. With their Tasker Classic Leather Gloves, REAX set out to create a cafe racer glove that offers everything you need and nothing you don't.
The REAX Tasker Classic Leather Gloves come in either all black or a brown/black combination. The gloves are cut for an ergonomic fit and feature flex ribbing at the knuckles and back of the hand. This design helps to minimize fatigue in the hand and fingers while you ride. Touchscreen inserts in the index finger and thumb allow you to operate your device easily, and padding on the palm helps to dampen vibrations through your handlebars.
REAX knows what it takes to make a sturdy riding glove, and they've injected that knowledge into the design of these gloves. The backhand of each glove is constructed from tough 0.8–0.9mm leather while the palms utilize supple, yet highly abrasion-resistant goat hide.
All of the outer seams are reinforced to reduce the chance of bursts, and TPR inserts on the knuckles add additional crash protection. On the inside, you'll find a moisture-wicking poly tricot lining, and the gloves secure in place using an adjustable hook and loop closure. Best of all, REAX is so confident in the quality of their gloves that they offer a 2-year warranty.
Icon Pursuit Classic Perforated Gloves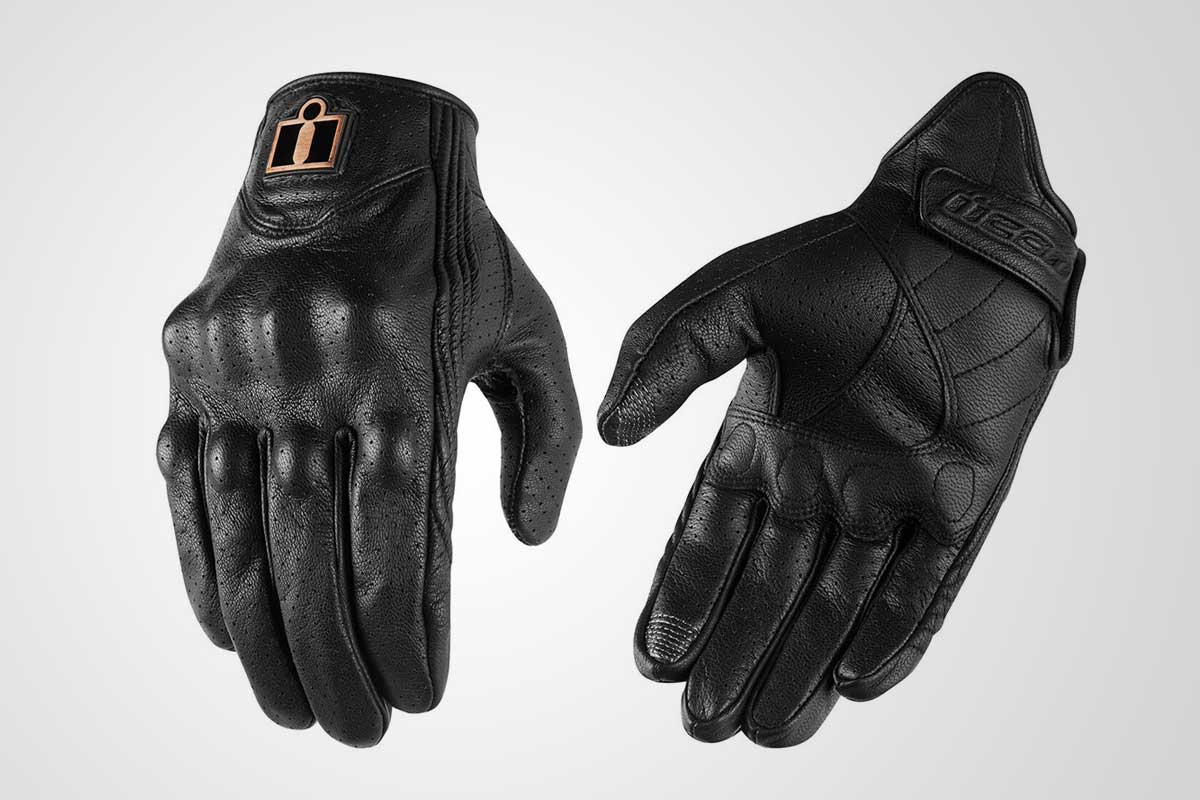 Icon Pursuit Gloves aren't exactly new to the market. Icon has, however, updated the design of the Pursuit gloves many times over the years, and they remain as appealing as ever.
The riding gear gurus at Revzilla label the Icon Pursuit gloves as 'the best-fitting glove on the market', and we couldn't agree more. The Pursuit gloves feature a simple, unlined design and a beautifully-snug fit that improves over time.
Recently, Icon has upgraded the chassis of these gloves with their tried-and-tested Battlehide goatskin leather. Integrated plastic knuckles and finger plates protect the hands against hard knocks, and the gloves are available in 2 styles (perforated or not).
REV'IT! Hawk Gloves
The newest REV'IT Hawk gloves! wonderfully combine contemporary, well-masked protection with timeless design.
These leather summer hand guards with short cuffs have a number of useful functions. The Hawk has robust knuckle guards and protection on the fingers and palm made of flexible yet strong goat skin. Stretch zones are a need for those hot summer rides since they guarantee flexibility of movement and a great sensation via the handlebars.
Features:

Elastic at wrist / stretch lips / connect fingertip / grip patches / short cuff

Where to Buy:

RevZilla
Akin Moto Blip 2.0 Gloves
Aussie riding gear outfit Akin Moto took their best selling glove, and made it better. Check out the Blip 2.0.
The "Blip" glove is made of fine goat leather and is comfortable while still being incredibly strong and abrasion resistant. Akin created the entire top panel to adjust to the curve of your hand in any position to deliver the maximum degree of flex. The rider can "feel" their motorcycle thanks to the straightforward palm design, and the thin fit stops the glove from bunching up.
Akin used industry leading 'AX Connect' in the thumb and forefinger making it simple to use touchscreen devices.
Features:

second skin fit / unique styling / touchscreen enabled

Where to Buy:

Akin Moto
Racer Connectic 4 Heated Gloves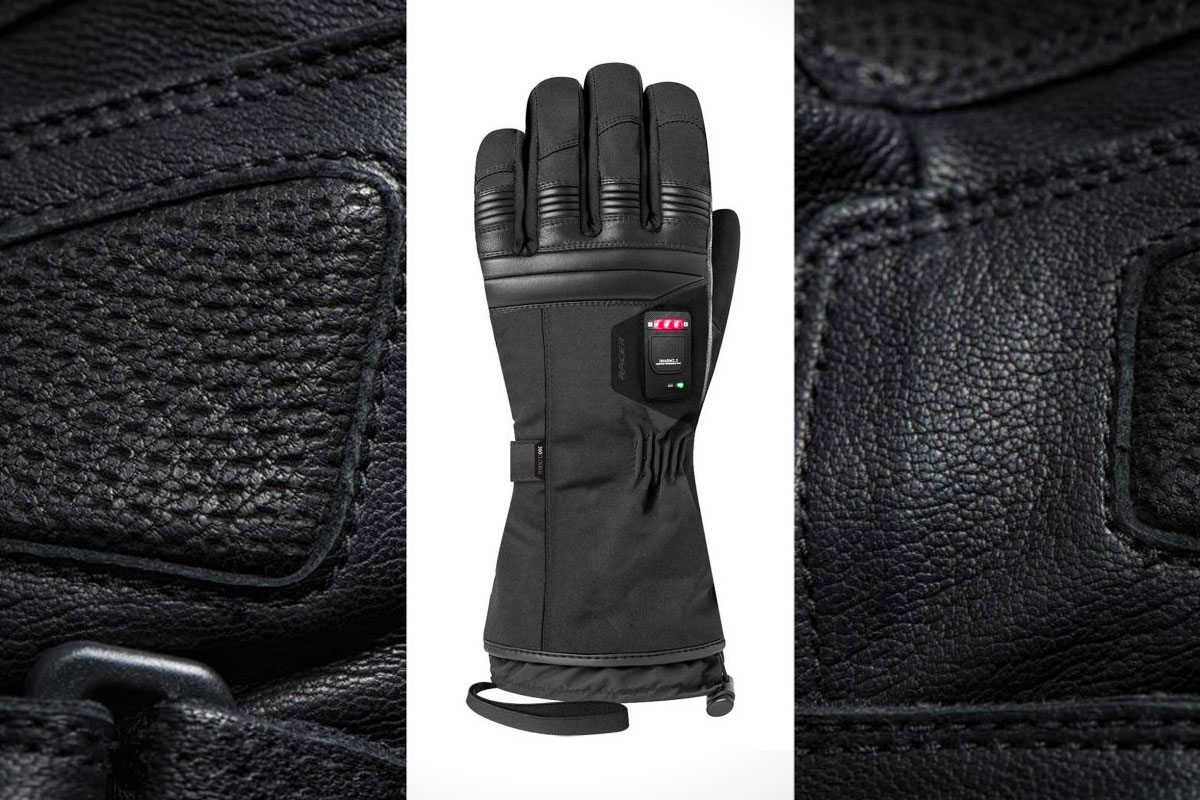 Riding in cold weather can be downright unpleasant. And when your hands get so cold you can't feel the grips, it can get dangerous too.
Quality purpose-made cold weather riding gloves are worth their weight in gold. Most winter gloves use liners to stave off the cold, but these clever gloves from Racer take things one step further.
The 2020 Racer Connectic 4 Heated Gloves keep your digits warm in even the most extreme of temperatures. Using a thermo-regulated heating element integrated into the design of the gloves, Racer has created a glove that warms the back of each hand and the full length of each finger.
The gloves offer 3 different heating levels, which can be easily switched between using a controller on the back of each hand. There's even a boost mode for when you really want to turn up the heat.
Our favourite feature of these hi-tech gloves is the lack of any wires. Unlike other heated gloves, the Racer Connectic 4 are powered by rechargeable batteries that are housed in each cuff. The battery level is displayed on the controller unit and they can stay warm for up to 10 hours on the lowest setting. A Fiberfill insulating liner helps to retain the heat, and there's a Polymax weatherproof membrane to keep out the rain.
These gloves aren't just about warmth. The Racer Connectic 4 gloves feature a softshell design with accordion leather panels in high flex and impact regions. The inclusion of a goatskin palm means the Connectic 4 are also a CE certified riding garment. Although these gloves don't feature armour, Racer also offers the higher-spec Racer Heat 4 gloves.
Features: cable-free heating / fully insulated / 10 hours of heating
Where to Buy: Racer
REAX Ridge Waterproof Gloves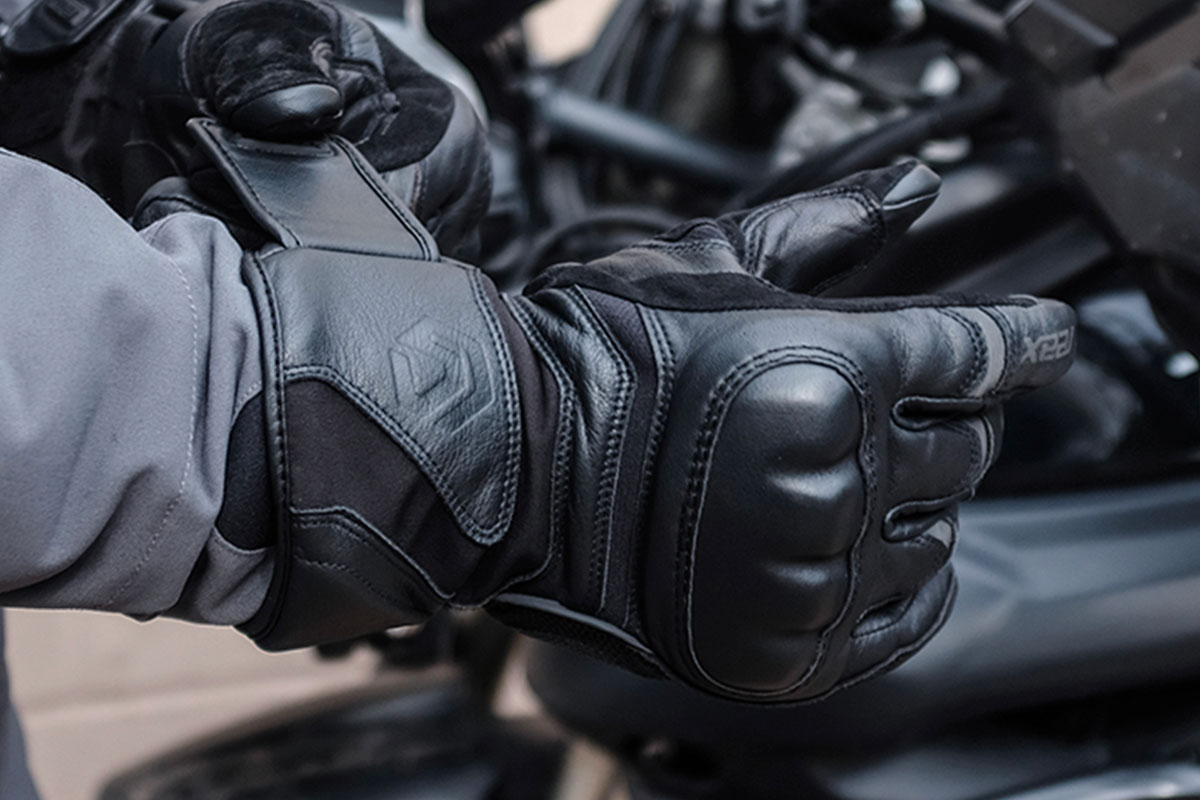 The last 2 sets of gloves in our 10 best cafe racer gloves of 2022 are designed to tackle foul weather head-on. First up are the REAX Ridge Waterproof gloves. These purposeful gloves offer all the benefits of wet weather gear without the plasticky appearance.
Featuring a cowhide backhand, goat leather palm, a Superfabric palm inset, and knuckle armour, they pack all the protection a good riding glove should. Beneath their extra tough exterior lies a 360-degree waterproof membrane that keeps water out while still letting your hands breathe.
The gauntlet design sits high over your sleeve to keep the wind and cold out, and subtle reflective details increase your visual presence in low-visibility situations.
Rev'It! Hydra 2 H20 Gloves
The Rev'it! Hydra 2 H2O Gloves are a worthy addition to your wet/cold weather riding garb. The Hydra 2 H20 Gloves keep your hands safe with the aid of a tough goatskin palm that offers excellent tactile feel on your controls.
A mix of Rev'it!'s PWR|shell tear and abrasion-resistant fabrics cover the back of each hand—providing freedom of movement without sacrificing safety. To round things out, knuckle guards and Temperform shields protect the fingers, knuckles and palms against hard knocks.
As for protection against the elements, the Hydra H20 gloves keep your hands warm with a Thinsulate G and polar fleece liner. To keep the breeze out, Rev'it! have also added an elasticated ribbed cuff, and waterproofing is managed by a high-tech Hydratex Z-liner.
Last but not least, these great looking gloves are available in either black, khaki green or a smart looking navy blue.
Features: waterproof membrane / insulated / knuckle armour
Where to Buy: RevZilla