From handheld devices to off-grid homes lithium battery technology is reshaping the way we live. Motorcyclists are now also getting to enjoy the benefits of lithium technology beyond simply exchanging their motorcycle's battery for a lightweight alternative.
When heated motorcycle gear first hit the market you'd have to wire yourself to your motorcycle for it to function. While this method certainly worked, anyone that has used it is sure to have forgotten to unplug themselves before dismounting or got tangled in the wires at least once.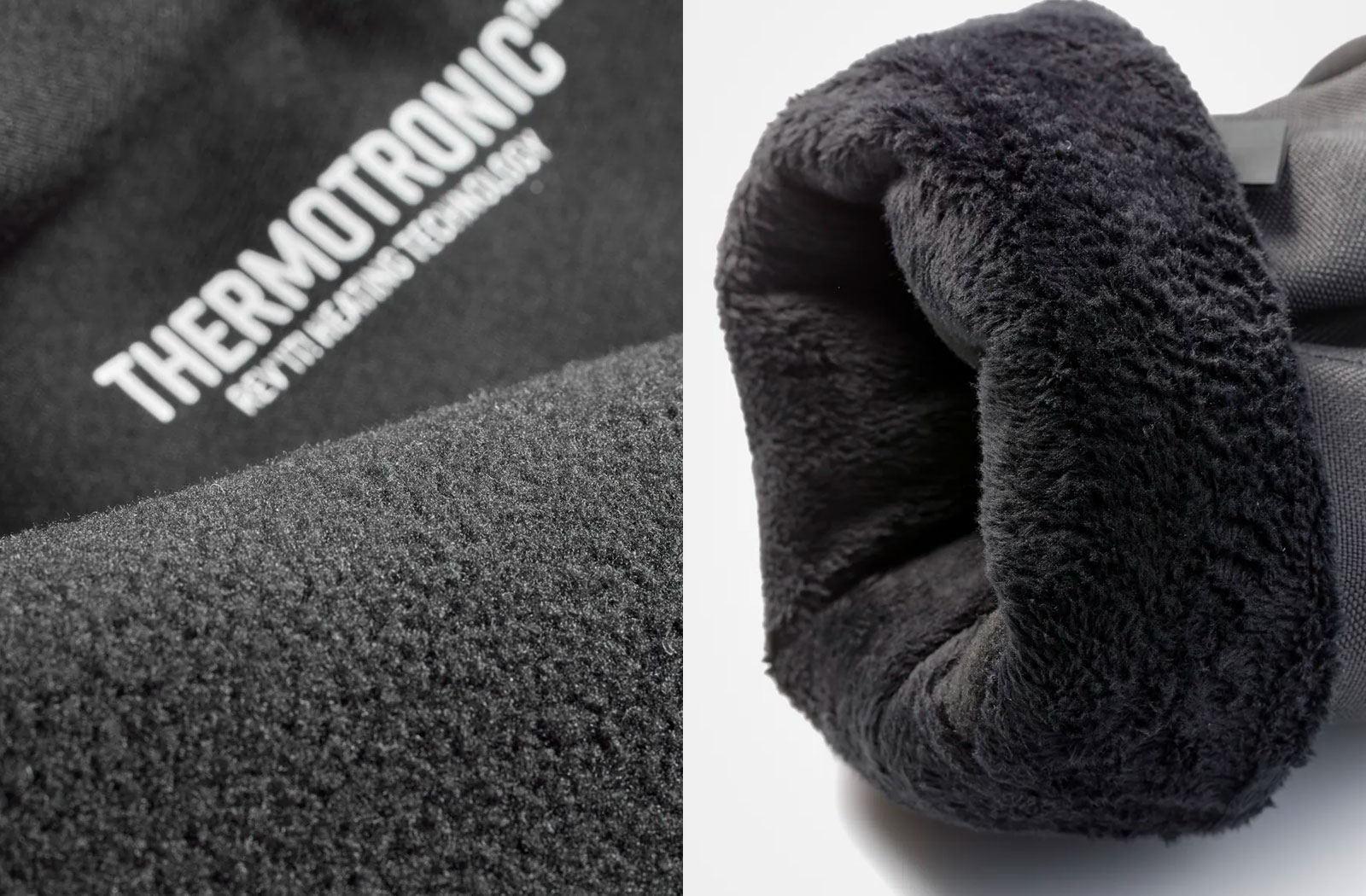 The development of wireless heated gloves for motorcyclists has been slow due to their inherent size, but we are now starting to see some excellent products hit the market. The Liberty H20 heated riding gloves are the latest offering from Rev'it!. Despite being the brand's first heated gloves the Liberty H20 gloves are packed with technology that'll keep your hands warm and dry all winter.
The key to developing these gloves was Rev'it!'s partnerships with some of the world's top tech fabric manufacturers. Using several different patented materials Rev'it! has created a layered glove chassis that is both wind and water-resistant. Starting from the innermost layer, they feature a Primaloft Gold high loft moisture-wicking liner that offers premium levels of comfort. Next is an insulating heat retaining layer then the Thermotronic layer which contains the glove's heating elements. Above that an Exkin Platinum layer of heat-reflective material designed to reflect heat back to the hands. Moving up again you'll find a water-resistant layer of Hydratex and finally the glove's softshell outer layer.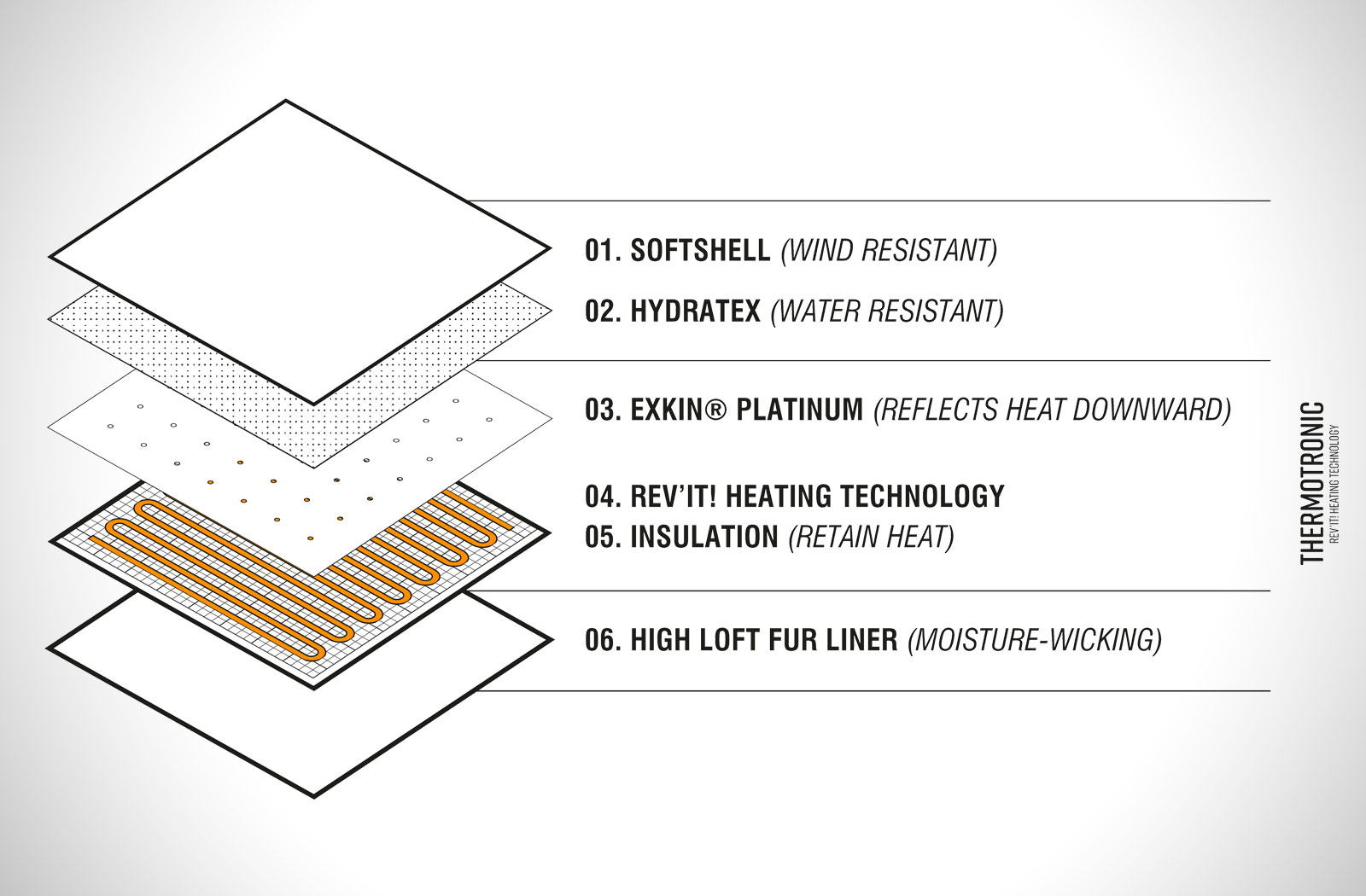 Fancy fabrics aside the standout feature of the Rev'it! Liberty H20 gloves is the integrated, battery-powered heating technology.
The Thermotronic layer within the body of each glove is designed to heat up to 33 degrees celsius which has been proven to be the optimal temperature for your hand's comfort and function. The heating elements are powered by 2 individual (1 per glove) 7.4v rechargeable lithium batteries. Each battery is stored within pockets on the long cuff of the glove to protect them from the elements and prevent any loss in battery performance due to external temperatures. The batteries are removable for easier charging via a micro USB and take 4-5 hours to fully charge. Controlling the glove's temperature is done using an easily accessible backlit button on the top of each hand. You can choose from 4 different heating levels (indicated by the colour of the button) which can provide up to 480 minutes of heat.
Other features of the Rev'it! Liberty H20 heated motorcycle gloves include an adjustable velcro wrist closure, stretch material on the fingers for improved dexterity, touchscreen-compatible tips on each index finger and thumb, specially designed visor wiping material on the side of each index finger and grip-enhancing and abrasion-resistant goat leather on each palm.
As with all of their riding gear the Rev'it! Liberty H20 gloves are also designed to protect your hands in the event of an accident. This is achieved through the inclusion of a hard shell knuckle, temperfoam palm and knuckle armour and a TPU palm slider.
Available from: Revzilla