There are many factors that influence our decisions on what riding gear to wear. When it comes to motorcycle footwear, your destination and day's activities are key factors. If you're off to hang with your mates, a pair of trainers might suffice. Commuting to the office? You'll probably want something that looks smart.
In the past, this would have meant wearing regular footwear as opposed to dedicated riding gear, but these days, we're spoiled with options. Whether you're chasing a set of classic boots, smart-looking work shoes, or casual trainers, there's a manufacturer out there making a riding shoe in that style. Here are 10 of the Best Cafe Racer Boots available in early 2023.
Gasolina Classic Boots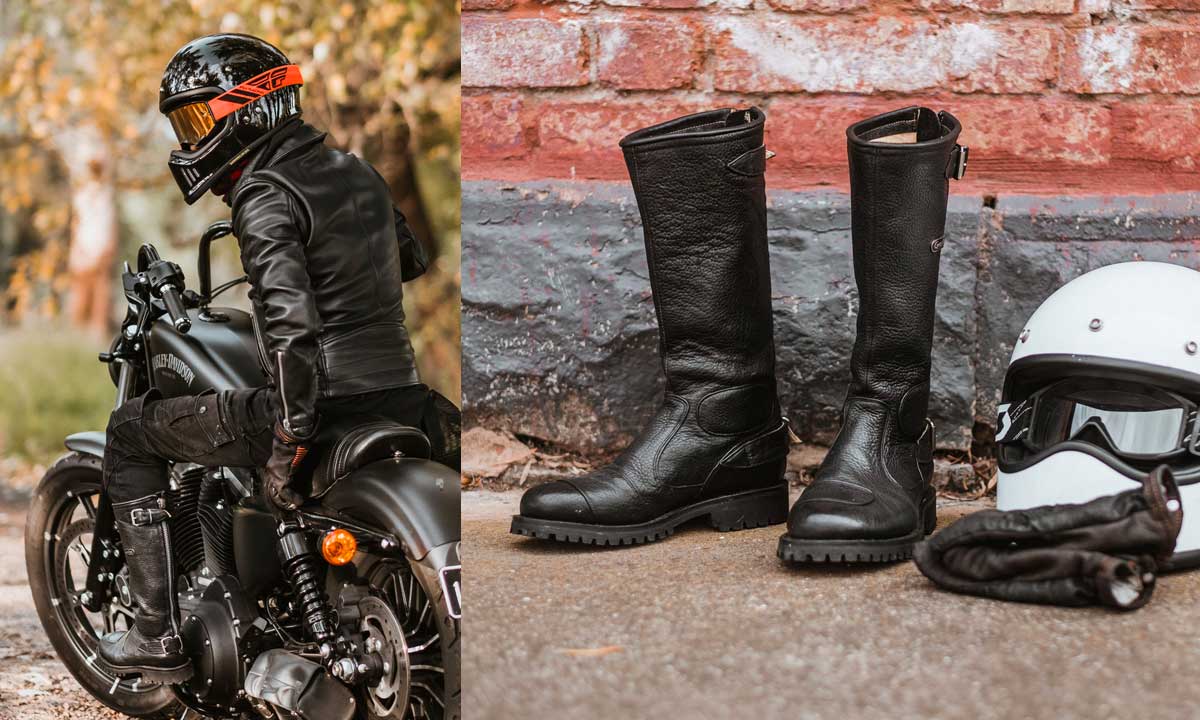 These tall leather Classic Boots from Gasolina are the archetypal footwear of 1950s cafe racers. Similar to the boots that influenced their creation, the Gasolina Classic Boots are painstakingly made by hand. The order process involves submitting accurate measurements to ensure a perfect fit, and production takes around 3 weeks to complete—but they're well worth the wait.
The Gasolina Classic Boots are made up of a premium top grain 1.8–2mm leather outer and a supple glove-soft leather liner. A special dying process ensures the colour seeps all the way through the leather, which reduces the chances of visible scuff marks. The Classic Boots measure 15 inches (38cm) from the ground up and can be worn under or over your riding pants.
Removing the boots is also easy, thanks to a sturdy zipper down the length of the back, which Gasolina has lined to keep the elements out. A natural rubber sole offers a durable, solid grip and all-day comfort on or off the bike. Thanks to the boots' double Goodyear welt construction, the sole can also be replaced (if you ever manage to wear it out).
Cortech Slayer Riding Shoe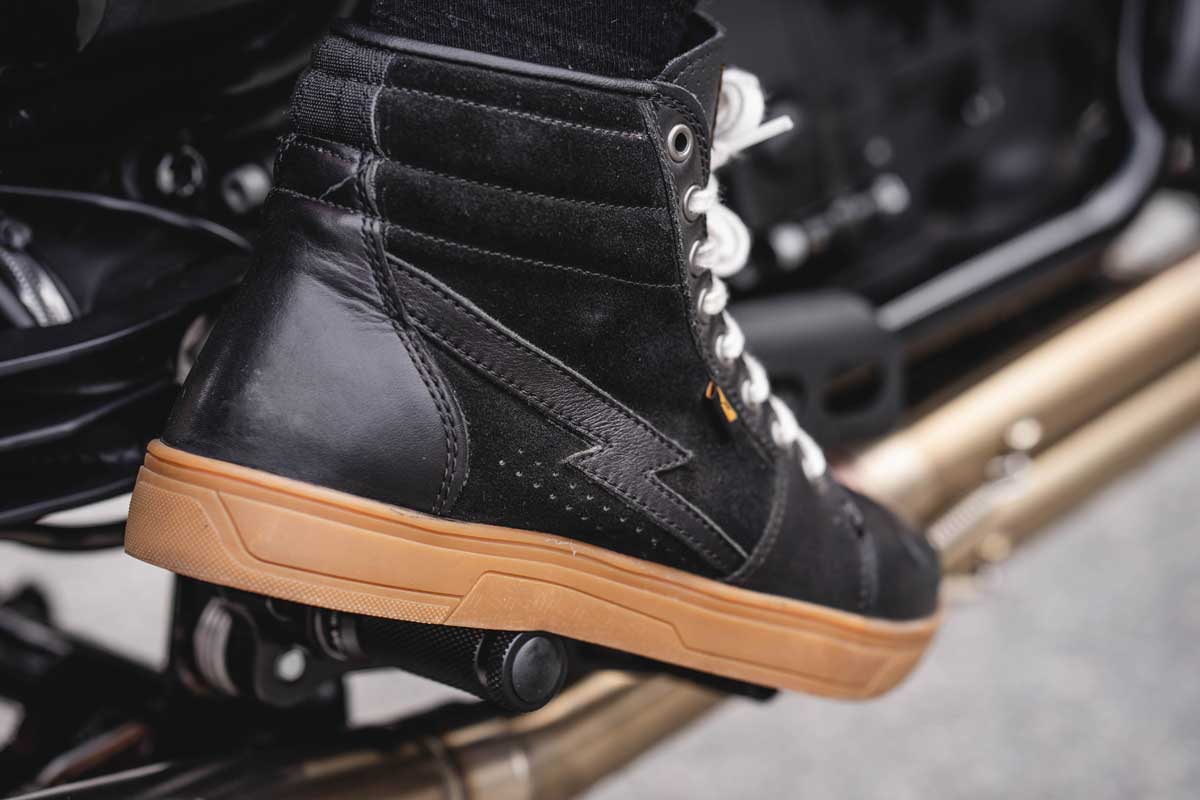 Anyone who used to skate will appreciate the styling of the Cortech Slayer Riding Shoe. These classic mid-height trainers are an ideal addition to your casual riding garb, offering the perfect balance of style and performance.
The Cortech Slayer Riding Shoes feature a slick leather lightning bolt motif across each suede sidewall. High impact zones such as the toe and heel are made from 1.0–1.2mm drum dyed leather and are backed by thermoplastic cups to take the brunt of any hard knocks. Additional protection comes in the form of dual-density contoured ankle protectors and a reinforced anti-twist midsole.
To keep your feet firmly planted, the skate-style sole uses an anti-slip design, and the shoes come with both white and black laces to suit whatever look you're going for. Available in both all black and black/gum colourways, you'll find yourself reaching for these shoes even when you aren't planning to ride. SLAAAAAAAYYYYYYYYYEEEEERRRRR!
Icon El Bajo2 CE Boots
In Spanish El Bajo means "The Short One" and this boot is indeed the shorty version of Icon's much beloved Elsinore 2 boot. 
The materials have been improved over the original, but the badassery has also found a way to step it up. The Motocross meets Mad Max style could be just the look your Cafe ride requires. Impact-resistant nylon buckles, heavy top-grain leather chassis, and reinforced toe box and heel make for a serious piece of riding footwear.
Spidi X-Village Boots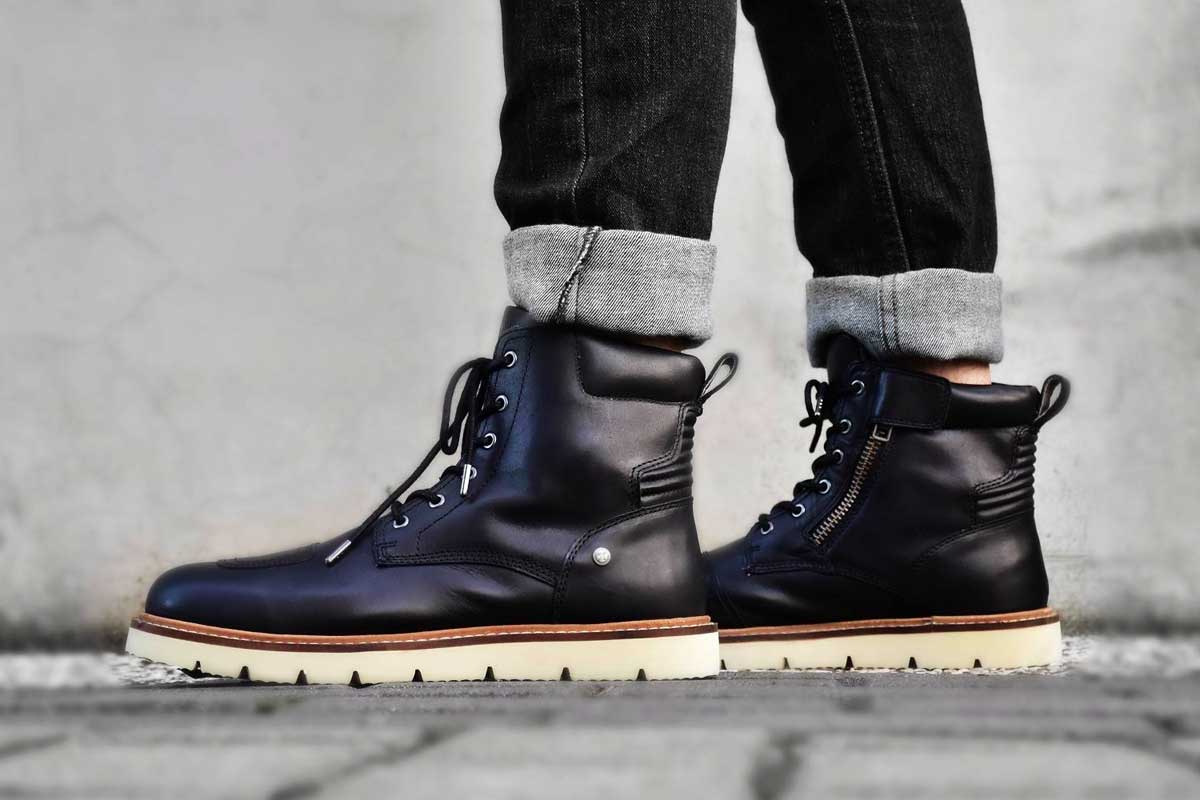 Riders who live and breathe Moto GP are sure to recognize the Spidi brand. Along with their extensive range of technical riding gear, Spidi also offers a wide range of motorcycle boots under the XPD name. Amongst the power ranger-esque racing boots in the XPD catalogue, you'll find a collection of classic, urban-style footwear that includes the X-Village Boots.
These stylish mid-height boots are as appropriate for the office as they are for the bike. Available in either dark brown or black colorways, they feature a contrasting white vulcanized rubber sole. The outer chassis uses oiled, water-repellent 1.4mm cow leather with 0.8mm thick panels at the rear for unrestricted ease of movement.
The boot's oiled laces offer additional water resistance, and polyurethane malleolus protectors keep your ankles safe. Reinforced toes and heels round out these solid safety features, while side access zips allow you to slip them on and off without the need to struggle with laces.
Belstaff Resolve Waterproof Boots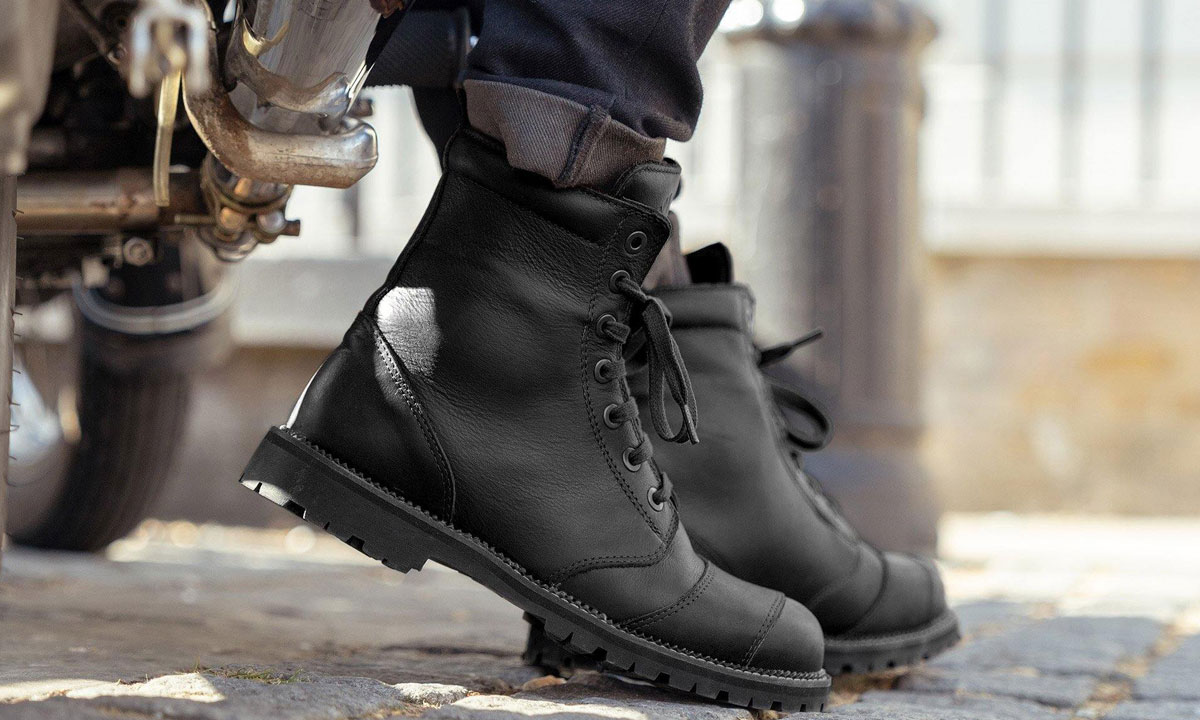 If you're planning on doing any riding in the rain, a good pair of waterproof boots is a must. The Belstaff Resolve Waterproof Boots were released in late 2020, but they remain some of the best boots you can buy if you want to keep your feet dry while riding in the café racer style.
Built to Belstaff's high standards (for fashion and quality), the Resolve Waterproof Boots are constructed from premium full-grain leather. Leather is naturally waterproof—but to prevent moisture from seeping through seams, these boots are also lined with a waterproof, breathable liner.
Despite their stylish appearance, the Resolve Waterproof Boots are still an example of high-quality riding gear and feature everything we'd look for in a motorcycle boot. The toe, heel and ankles all include inbuilt protectors to keep these areas safe. A Vibram sole offers ample grip in all conditions, and there's a leather overlay on each boot to slow down wear-and-tear from gear shifts.
On top of all this, Belstaff has been careful to create a boot that's comfortable enough to wear day in and day out, on or off the bike.
TCX Hero WP Boots
Take the classic Dr Martens, a little combat style, and some petrol sauce and you have the TCX Hero WP boots.
The Hero Boots from TCX include anatomically correct construction, accordion stitching at the achilles for flexibility, and TCX's Comfort Fit System. The laces enable you to fine-tune the fit before using the zipper for easy entry and exit. The zipper is equipped with a leather zipper stay and a VELCRO® brand closing. The WP is for the fully waterproof lining, ensuring you always have comfortable, dry feet on the pegs.
Merlin Ether Boots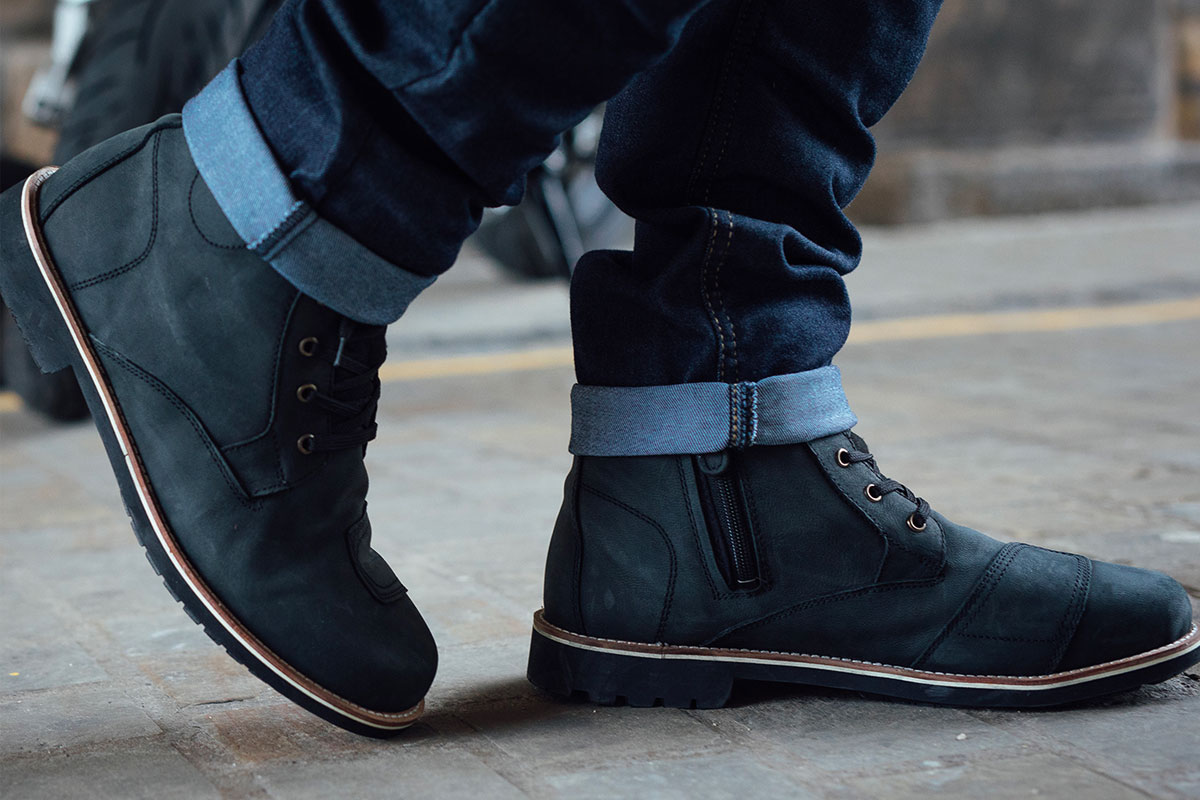 UK riding gear manufacturer Merlin is quickly becoming one of the country's top riding gear brands. Their catalogue features items for even the most fashion-conscious rider, and the Ether Boots are no exception.
The Merlin Ether Boots are a full-grain leather, round toe boot that could easily be defined as all-purpose. With styling suited to just about any occasion, you'll find yourself wearing them even when riding isn't on your radar. Symmetrical shifter pads tie in nicely with the boot's double stitched seams, and the inclusion of side entry zippers means fitting them is a cinch.
On top of looking great, the Merlin Ether Boots are packing CE approved protection. D30 armor guards the side of each ankle and the footbed itself is a CE rated item. Being a UK-based brand, Merlin also recognizes the importance of keeping water out. So to keep your feet dry, the entire boot is lined with a Hipora triple breathable liner.
Stylmartin Matt WP Riding Shoes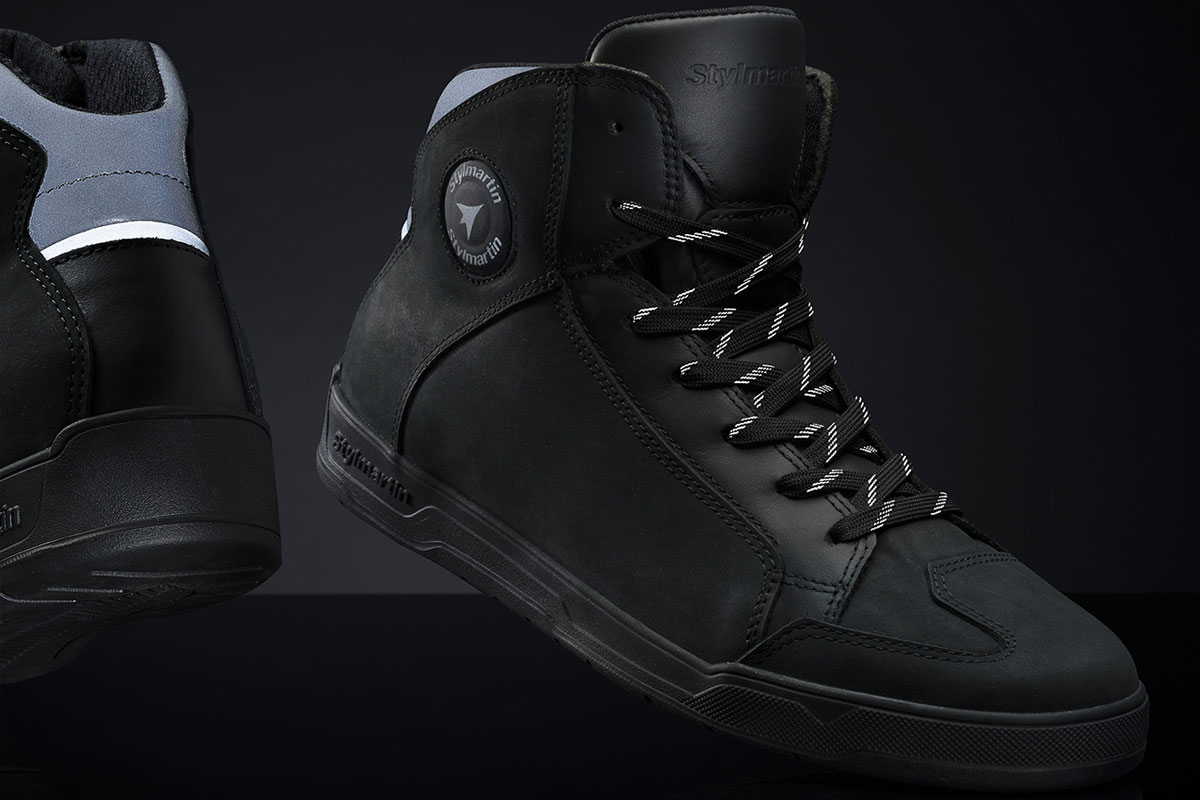 Riding in inclement weather can be risking business. On top of having to deal with slippery surfaces, your visibility is often obscured—worse still, it can be difficult for other motorists to see you. In cases such as this, increasing your visual presence is good practice.
Stylmartin are big supporters of this approach, and it's one they've applied to their Matt WP Riding Shoes. These purposeful waterproof boots may look stealthy during the day, but thanks to a series of reflective details, they'll stand out when you need others to see them.
Featuring a stylish mix of matte and polished leather, the Stylmartin Matt WP Riding Shoes are the epitome of modern streetwear style. However, a quick scan over the boots feature list confirms their true purpose. Safety is offered in the form of malleolus protectors and a hardwearing, oil-resistant, anti-slip sole.
Comprehensive waterproofing is provided by hydro-grain leather and an internal breathable waterproof membrane. As for low light visibility, Stylmartin have integrated reflective panels into the rear of each boot, and they've even threaded reflective strands into the laces.
Alpinestars Oscar Monty V2 Boots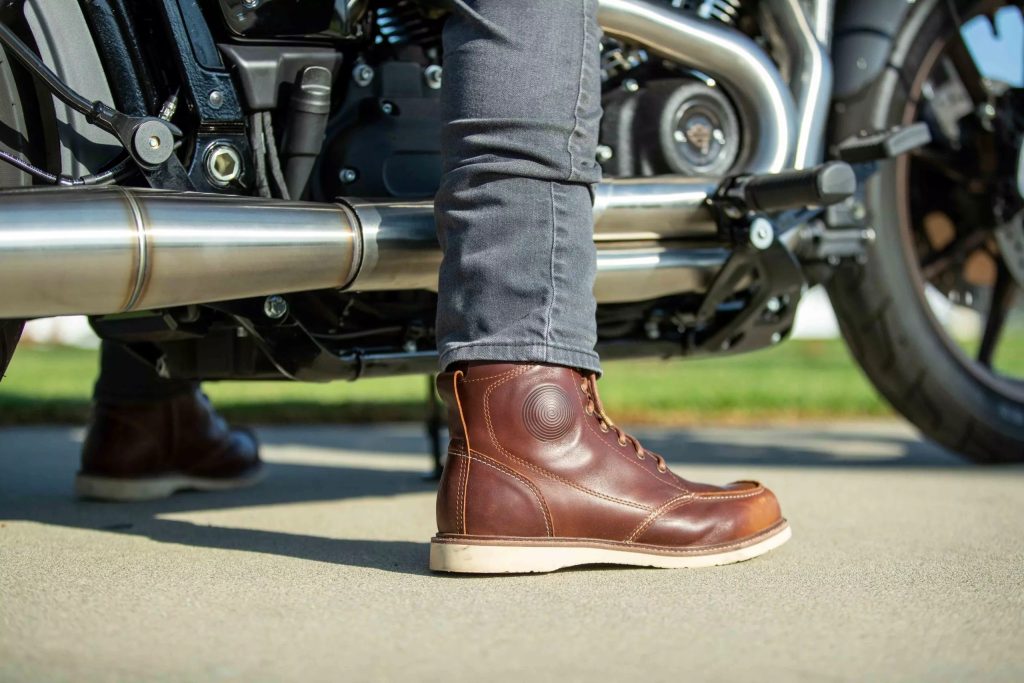 Are you looking to ride with period-correct boots that harken back to the days being fitted at the local cobbler? Alpinestars feels your vibe, check out the Oscar Monty V2 Boots.
With a full-grain leather top and Alpinestars' oil-resistant rubber-compound sole, the Monty is CE certified (CE 89/686/EEC-CAT 2). The footwear features dual-density TPU ankle protectors on the sides of each shoe, as well as interior padding in the shift area. The rear collar is fitted with flexion inserts for improved comfort around the Achilles area, while the toe box and heel counter are reinforced for added support and impact resistance.
These boots patina so beautifully, as a perfect brown boot should.
REV'IT! Ginza 3 Shoes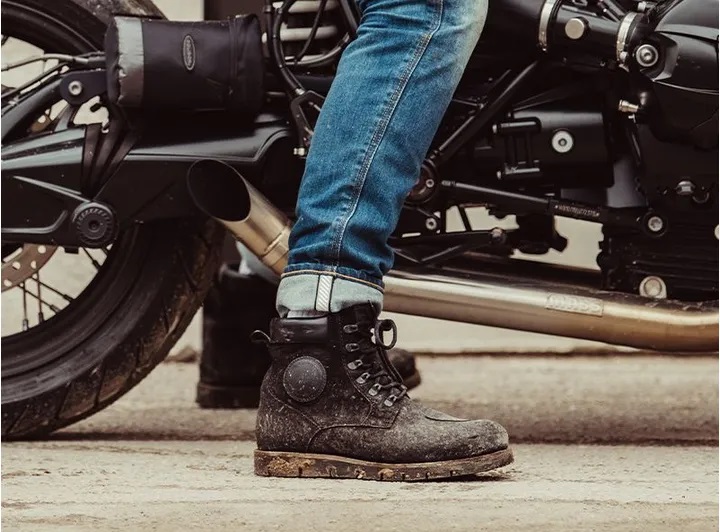 REV'IT! Ginza 3 Shoes are cozy, fashionable, and match almost everything in your closet. The break-in period is shorter and the fit is better than the previous Ginza 2 Shoes.
The waxed suede leather will form to your feet as you wear them, giving them a custom fit. The gorgeous leather covering is flawlessly integrated with injected ankle cups on both sides of the ankle and a thermoformed heel and toe cup.