I was going about my morning routine, perusing motorcycle blogs with a coffee in hand. As I skimmed through my favourite websites I came across an article on Revzilla's Common Tread. The article "Motorcycle Riding Shoes Versus Riding Boots" by Brandon Wise piqued my interest, mostly because of the box delivered to me the previous day. The box contained a pair of Cortech Slayer Shoes.
If you're not familiar with the Cortech brand, up until recently, their main target audience has been riders who err on the sportier side of motorcycling. However, the newly-released Cortech Boulevard Collective range changes all that. Decidedly urban and retro, the Boulevard Collective features some rather good looking products at even better-looking prices including the Slayer Shoes.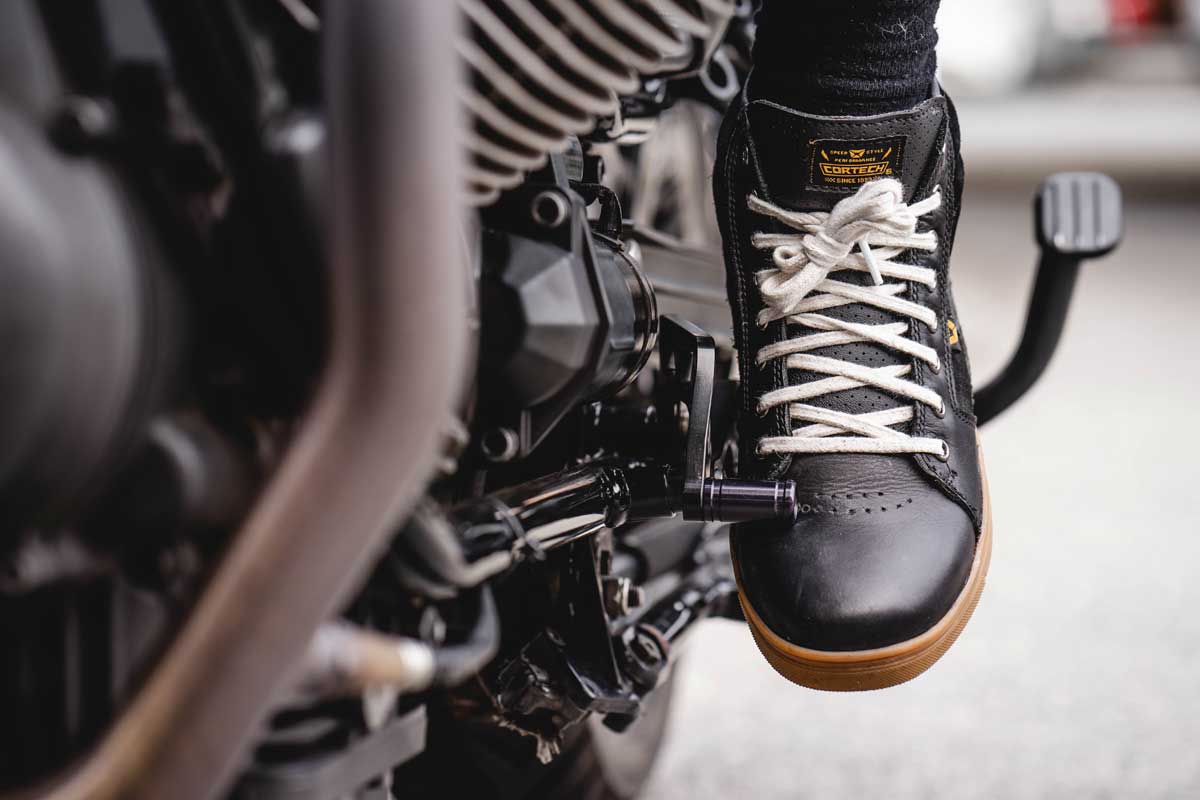 The Slayer Riding Shoes are Cortech's casual riding shoe option. Skewed more towards an urban streetwear style, you can have them in any colour you want, as long as it's black. I chose the gum sole and white laces option. In the box was an extra set of black laces which was a nice feature since the white ones started getting dirty after their first ride.
Like all good riding shoes the Cortech Slayers Shoes started off quite rigid – a nylon-reinforced midsole is responsible for that. A few rides and a few kilometres of walking broke them in to the point where I didn't feel like I was wearing motorcycle shoes at all. The soles are nice and neutral and their high-density rubber provides satisfying grip when you have to put a leg down.
Riding away and changing up through the gears is business as usual with the Slayer shoes absorbing any and all footpeg vibrations. The reinforced heel and toe boxes are only noticeable when you're holding the shoes in your hand, which I strongly advise against doing while riding. The same goes for the lateral and medial heel cups on either side of the shoes. You have to look closely to see them, but you can rest easy knowing they are there. Thanks to all this stealthy protection and visual appeal the Cortech Slayer Shoes look great against a pair of black jeans. Any Casual Friday workers should feel comfortable wearing these to the office.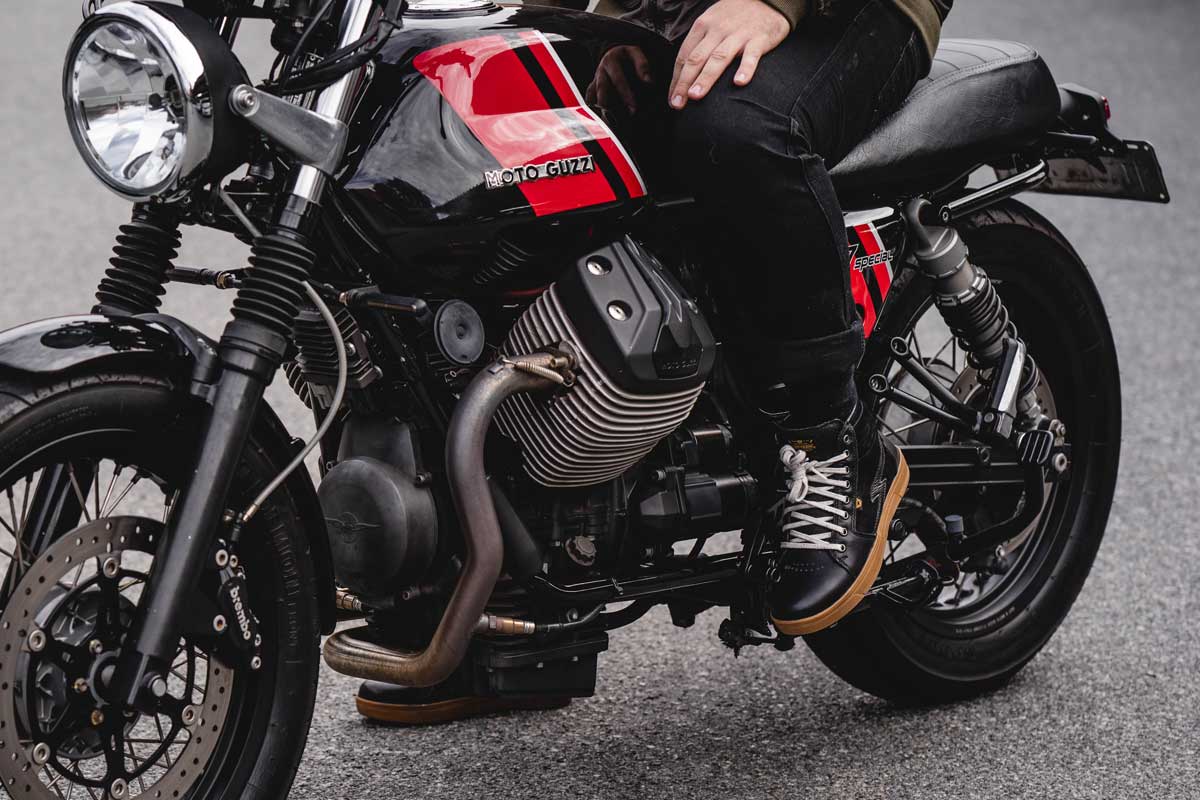 How a riding shoe looks is one thing, but let's get down to brass tacks and look at how they perform. When I write reviews I try to get in as much saddle-time as possible and I made no exception with the Cortech Slayer shoes. As well as a few rides in and around the city I wore them on a weekend trip where we covered around 800km. The first thing that I noted about the Slayer shoes was that they felt almost as supportive as my go-to riding boots. Gear shifts were solid and the reinforced toe slipped in nicely under my gear lever. The rubber soles gripped my knurled footpegs well and the safety reinforcement never hindered my movement.
The trip was at the tail end of an Australian summer, with temperatures up in the low 30s in the middle of the day (we're talking Celcius here). After a late morning coffee stop, we were smashing along one of our favourite roads and I felt a strange sensation on my feet. It took me a few seconds to figure out what this foreign feeling was – a noticeable amount of airflow. I usually sport a sturdy pair of waterproof riding boots so I am unaccustomed to any sort of airflow in my footwear. I was amazed at just how good the ventilation on the Cortech Slayer Shoes was, especially through the top of the foot. I've predominantly ridden in winter-oriented boots for years now and I have to admit having vented shoes made for a very comfortable summer riding experience. I'm guessing that this will be the complete opposite in winter, both in terms of air temperature and water ingress. Unless you like soggy feet, I'd leave these at home if there's rain on the horizon.
Another downside is that although the leather has a nice finish, it is easily marred. I found this out the hard way. During their first wear I scuffed the leather after catching them against a brick wall. This is of course only an issue if you're a real sneakerhead, but let's be realistic, motorcycles and clean footwear are not compatible.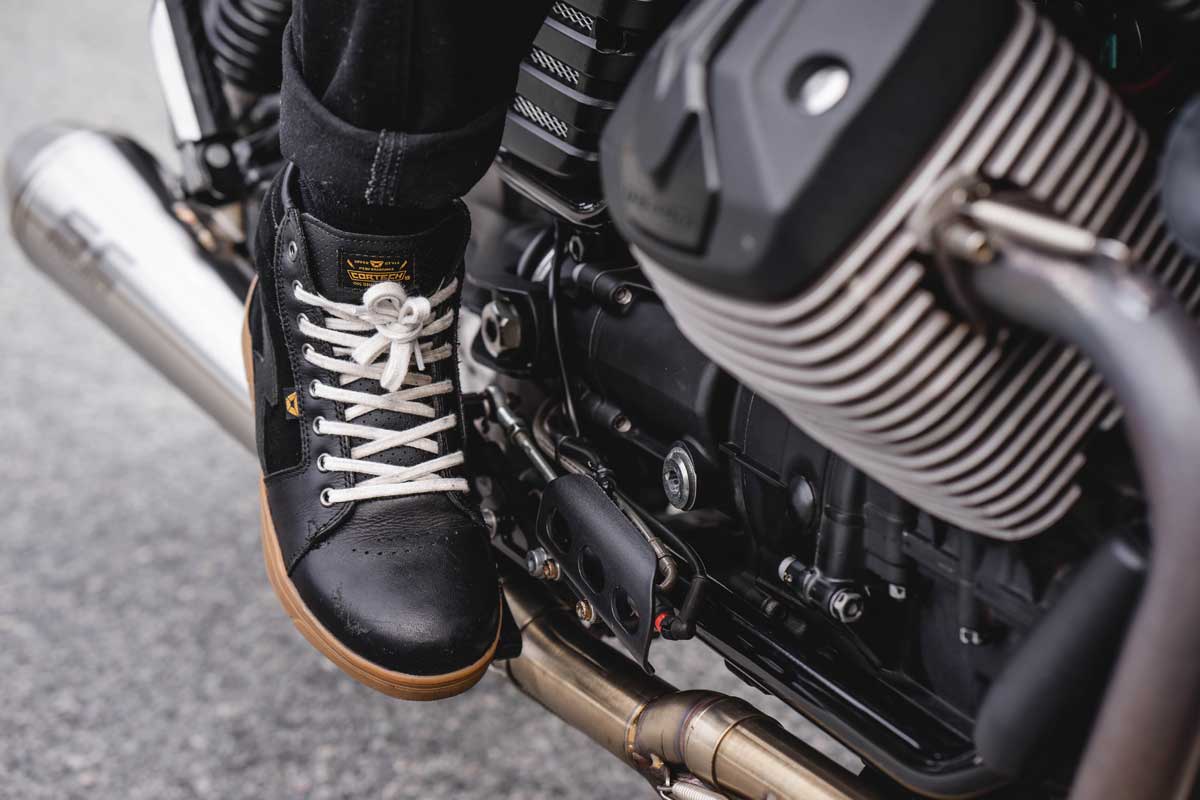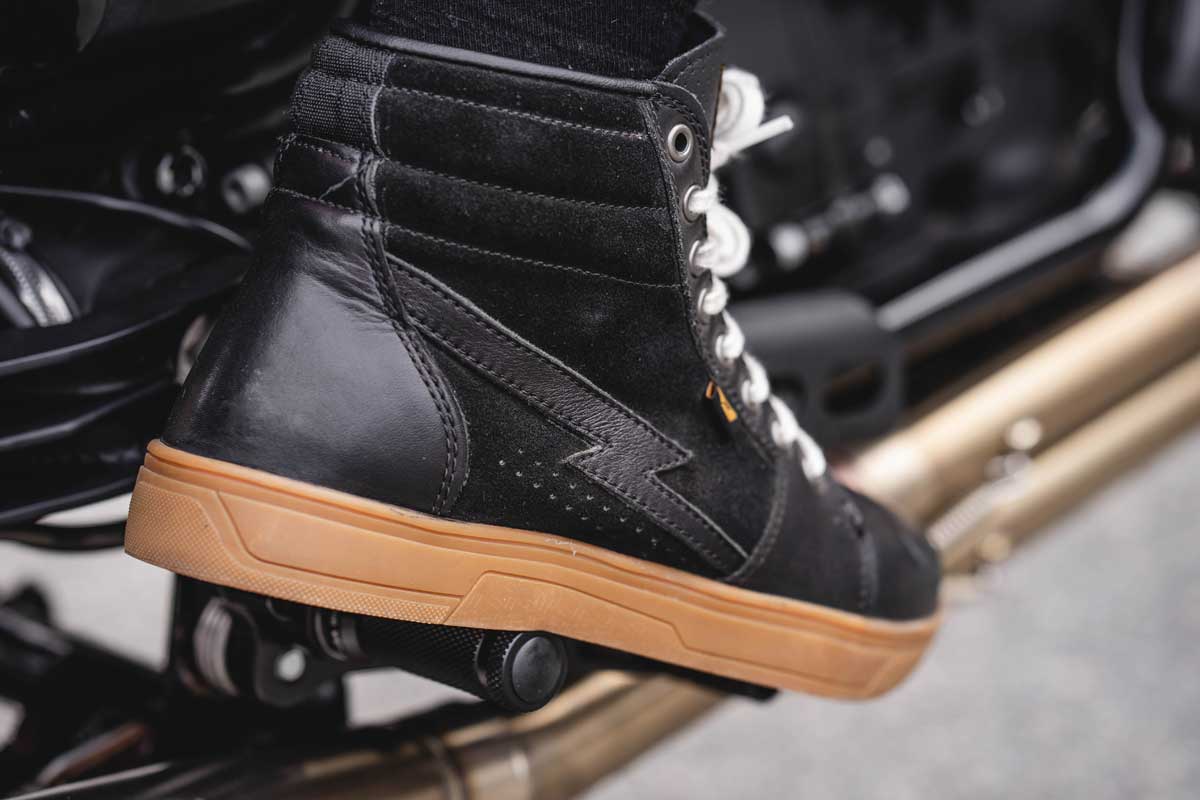 The Cortech Slayer shoes fit true to size but I was pleased they relaxed a little during the trip. Walking in the Slayer shoes is more comfortable than other moto-specific footwear I've had, probably because of the lower, more casual cut. I did miss the usual amount of ankle support my boots provide but this is to be expected if you're opting for this style of footwear.
As Brandon eludes in the Revzilla article, one pair of riding footwear is never going to satisfy all design briefs. Motocross boots offer increased protection but are near impossible to walk in. Casual riding shoes are light, comfortable and easy to walk in but the protection on offer pales in comparison. That said, street riders are far more likely to take shortcuts through laneways than single tracks so for their intended purpose, the Cortech Slayer shoes are absolutely perfect.
Every motorcyclist dreams of having a garage full of different bikes and a wardrobe to suit. Motocross boots, track day boots, winter boots, casual riding shoes, the list goes on. This is not a reality for most riders, myself included. Having made do with just one pair of street boots for years makes it is hard to justify buying more street riding footwear. However, now is the perfect time to highlight the last and most important feature of these shoes. The price. For $135USD the Slayer shoes are amazing value for money. They offer good protection, look great and perform regular casual riding duties flawlessly.
Story by Regular Moto / Photography by Harley Loffler