Call me a hipster, but if there's one thing I like more than my blue Levi's it's my black ones. I've been searching for a good looking pair of black motorcycle jeans for quite some time with little success. Maybe I'm too fussy, but these days you shouldn't have to sacrifice comfort or style when it comes to your bike gear. So, when European riding gear specialists Pando Moto offered me the opportunity to try out their Steel Black 9 riding jeans I gladly accepted.
First impressions count and the Steel Black 9 didn't disappoint. These are a quality pair of jeans that are built to last. Pando pitches these jeans as a slim fit, but compared to other streetwear brands I'd say they're more of a straight leg. While this was unexpected it certainly wasn't a disappointment. I not a fan of baggy jeans, but I'm also not big on overly tight denim. The Steel Black 9 jeans look sharp and would be well suited for a night out on the town or even office attire. They also offer a bit of stretch so they remain comfortable the whole time you're riding.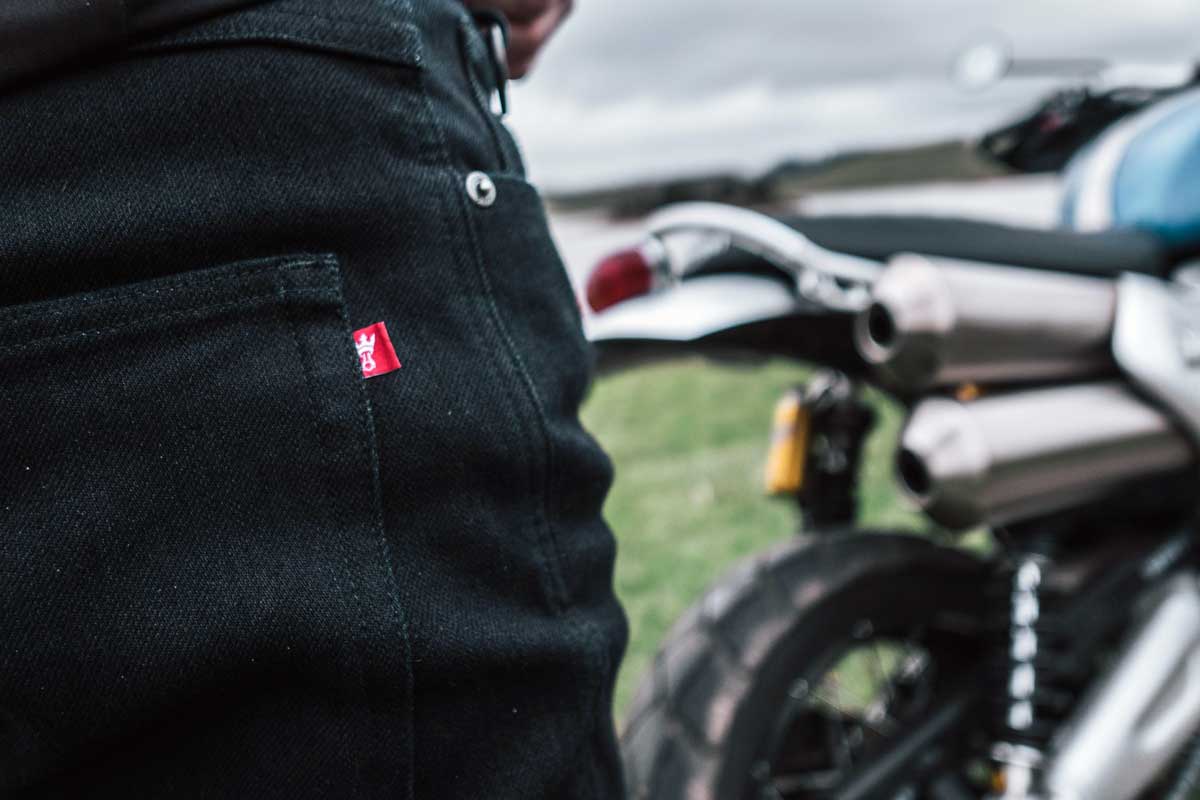 I stand at a touch under 6 feet tall and have fairly standard proportions. I found that the Steel Black 9 jeans had a longer cut in the leg. To reduce bunching at my ankles I rolled a cuff. Pando has obviously designed the jeans this way intentionally because on the inside of the cuff is a reflective seam. It's a nice, subtle safety addition, but if you're not into rolled cuffs you may want to look at other jeans in their range. Other Steel Black 9 design details include a subtle embroidered Pando logo on the left leg. There's a metal ring above the coin pocket, but I'm not sure what it's for. There are diagonal stitches across the thighs that secure the internal armour pockets and a small red Pando tag on one back pocket. Too many "design details" usually put me off, but since almost everything is black they are discreet enough for me to ignore. Oh, and as for the jeans being black, they're actually a really, really dark blue that looks black. I'm not sure yet if that will change over time with washing, but for now lets just say they're the blackest blue I've ever seen.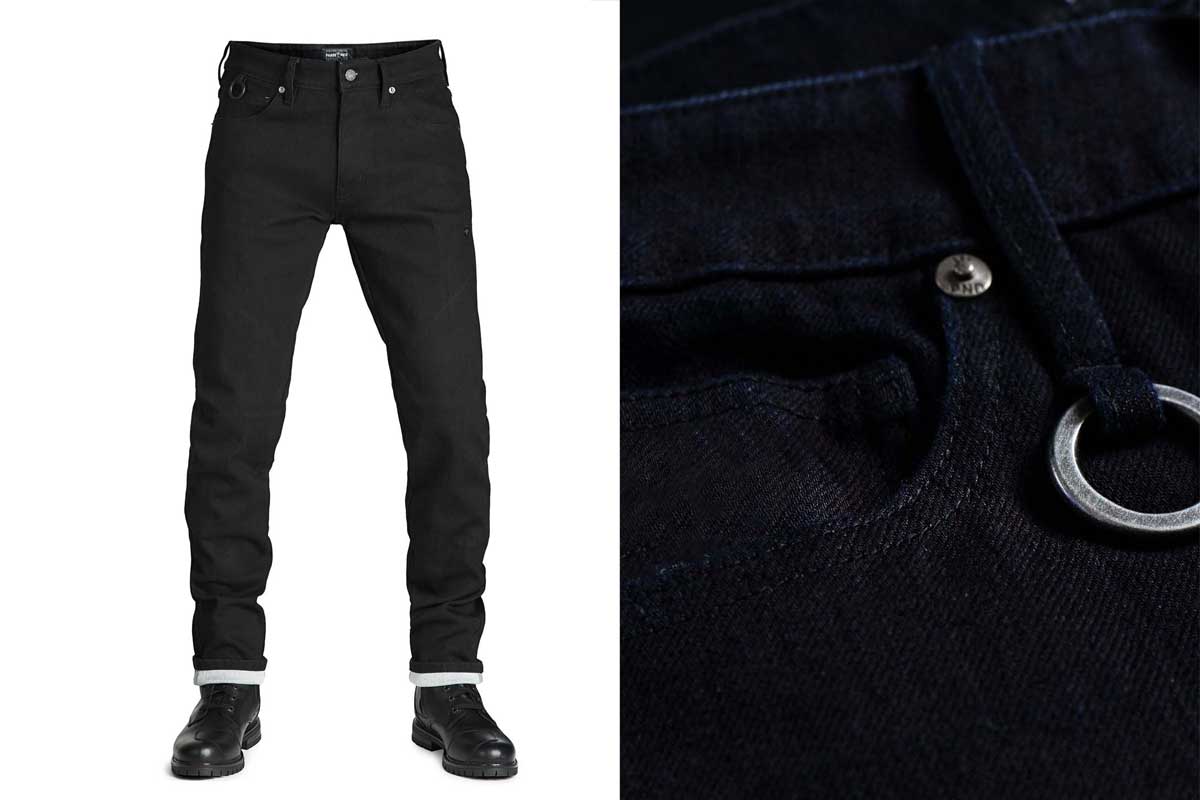 We all know wearing standard denim jeans while you ride your motorcycle is about as protective as a pair of budgie smugglers (or swim trunks for our international readers). That's why companies like Pando Moto have developed safe alternatives for motorcyclists. When it comes to protection, the CE certified Steel Black 9 jeans have you covered. Each pair comes with knee armour in the purchase price. They can accommodate hip armour too, but you'll need to purchase that separately. The CE approved KNOX Micro Lock knee armour installs easily into internal pockets and there are 2 positions for adjustment. The jeans themselves are constructed using a 25% Dyneema 13oz denim. Dyneema is 15 times stronger than steel. Weaving it into the Steel Black 9 jeans provides enough abrasion resistance to withstand a 70kmh slide on the asphalt.  Seam bursts have also been taken care of by using extra tough chain stitching.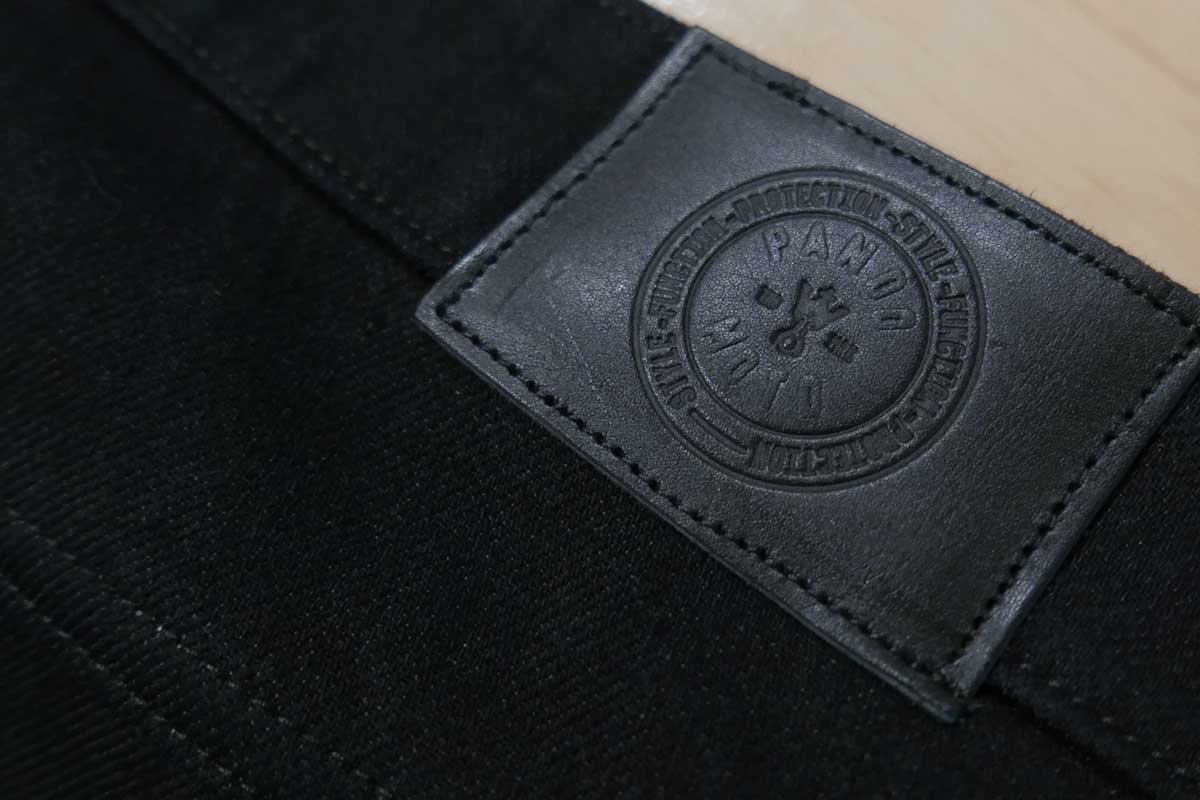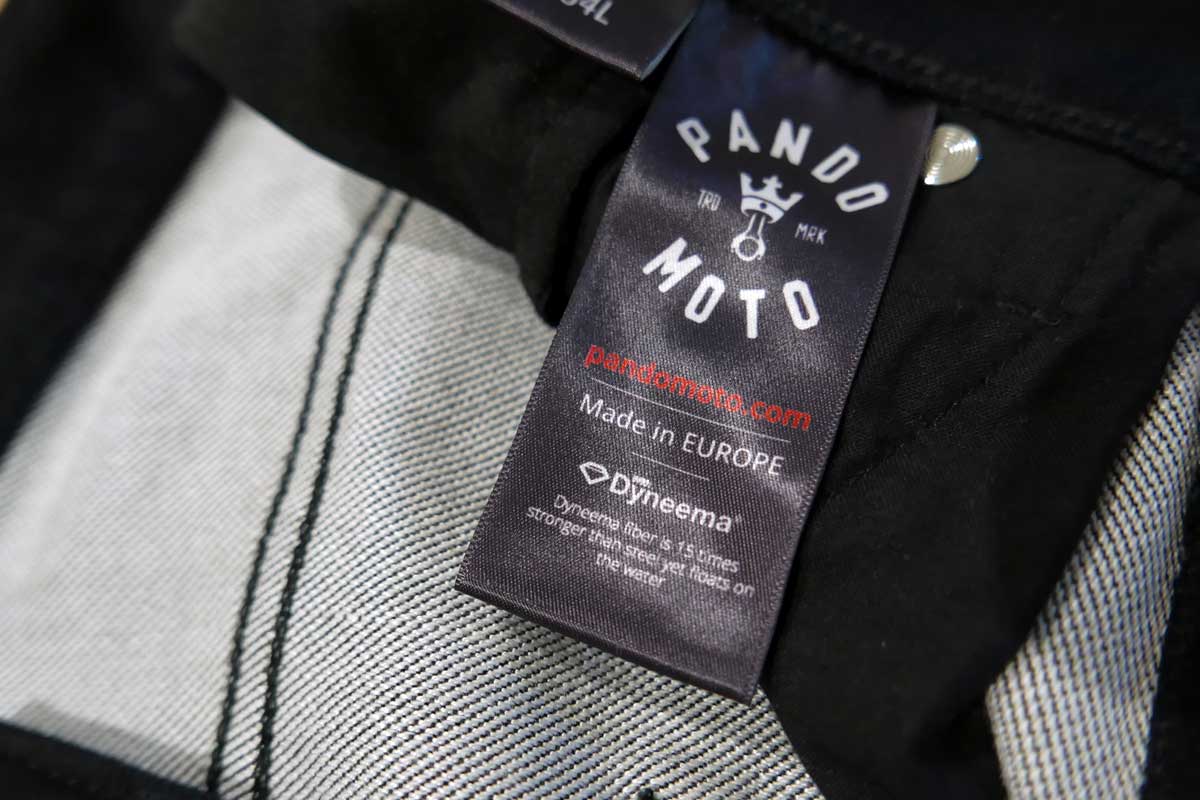 Unlike Kevlar lined jeans that use panels beneath standard denim, the Steel Black 9 jeans are single layered. That means they feel almost identical to your favourite selvedge denim. These jeans also have a natural ability to reflect heat. This makes them a much more practical option for summer riding than kevlar lined alternatives.
Now the all-important question… would I buy a pair? After clocking up around 600km in the Steel Black 9 jeans it's a yes from me. Well done Pando Moto, you've made this hipster very happy.