Making a great product doesn't always mean reinventing the wheel. Lithuanian riding gear manufacturer Pando Moto sell the customary range of protective motorcycling apparel. What sets them aside from their competitors is the quality of their product. One of the latest additions to their range is a testament to this.
The Tatami LT 01 is a classically styled, mandarin collared leather motorcycle jacket and it's by no means revolutionary in its styling or construction. What it is though is an excellent example of how quality materials and attention to detail can make a huge difference.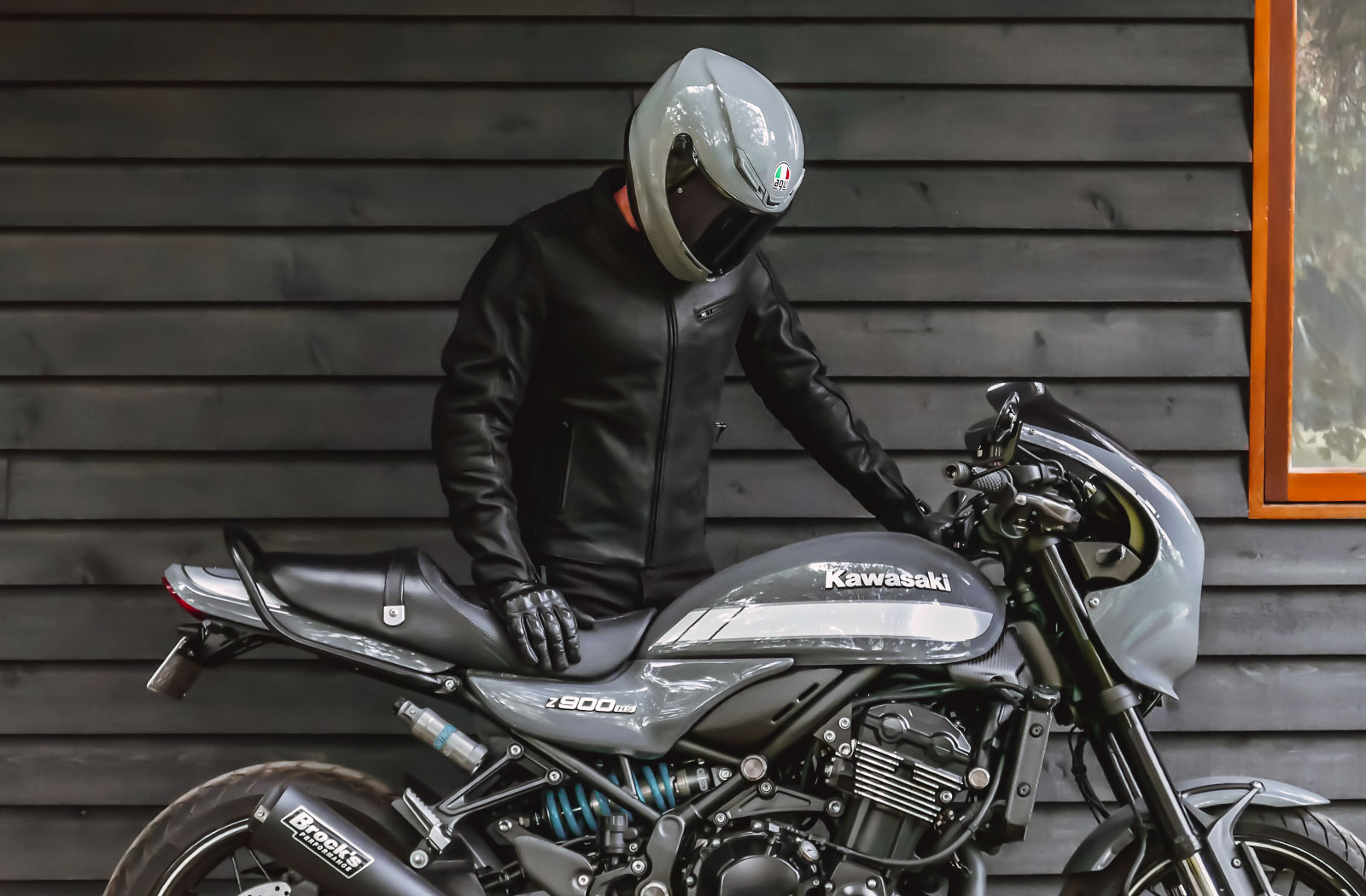 The Pando Moto Tatami jacket is a traditional style motorcycle jacket with a mandarin styled, buttoned collar. Its constructed from black leather and has a handful of retro styling features to add to its classic good looks. It also comes with basic adjustment features to manage comfort levels and body armour for rider safety. Nothing new here. However, out of the box (and the suit jacket bag it's shipped in), the Tatami jacket is an impressive bit of kit.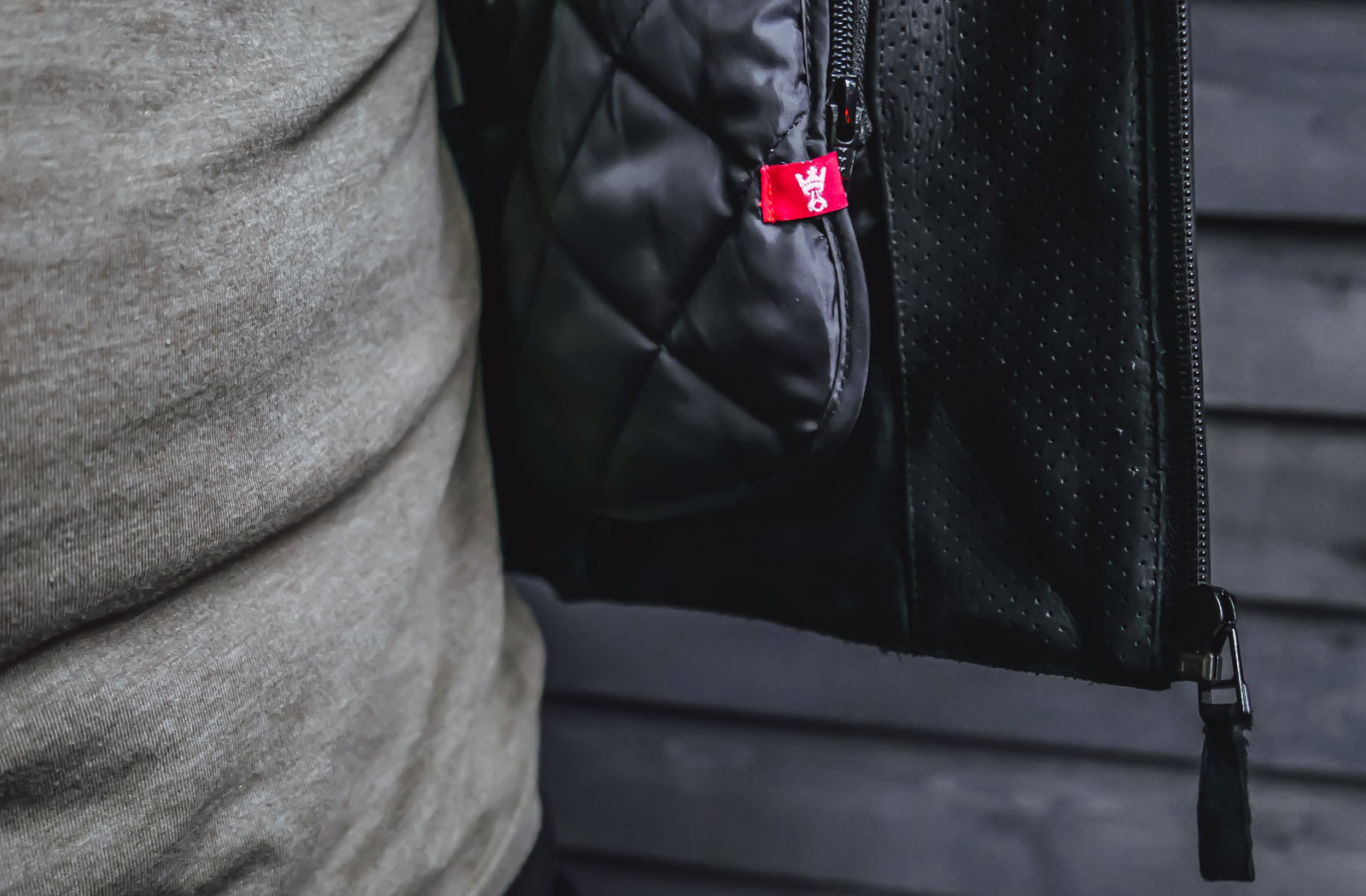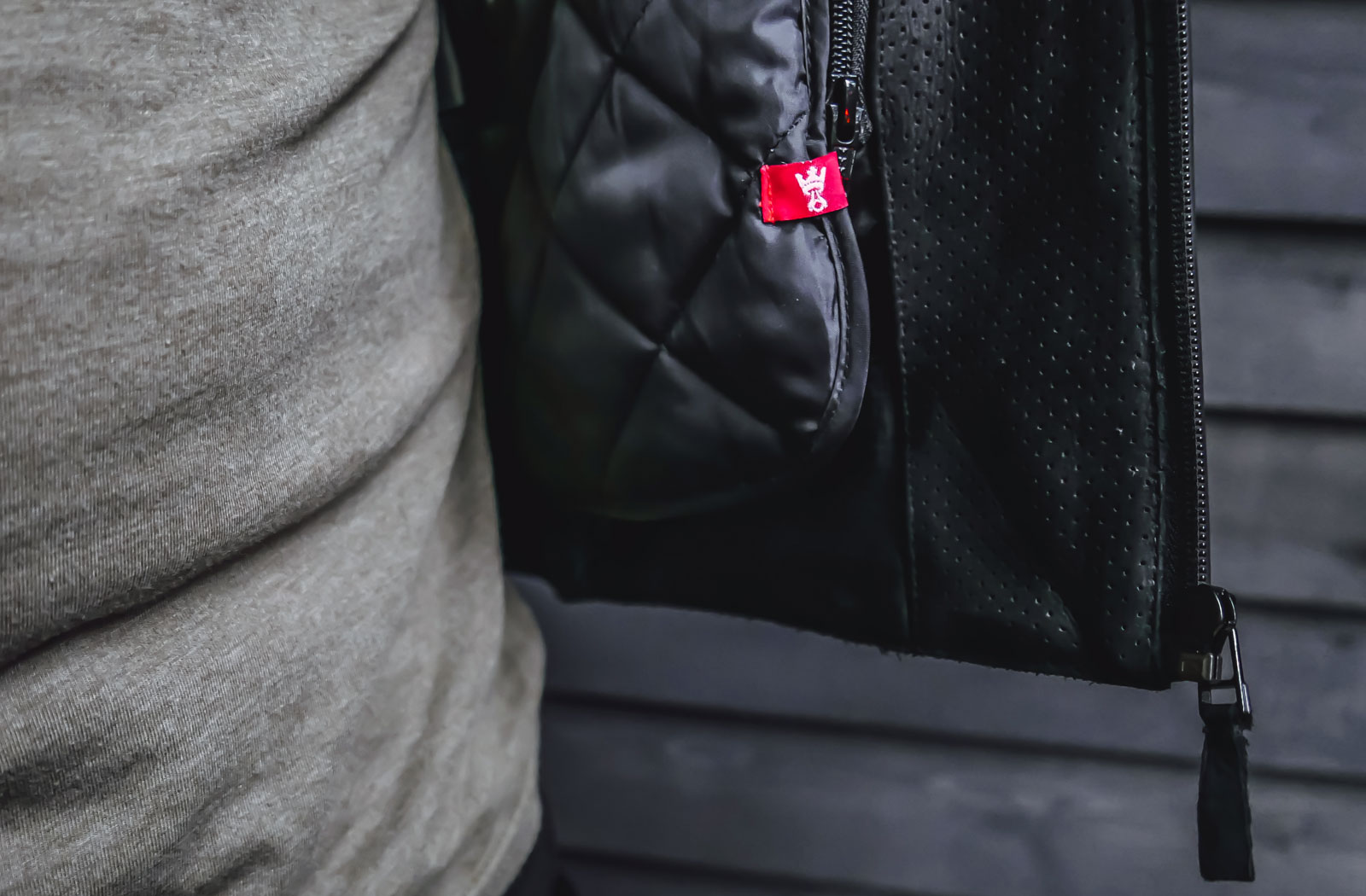 The reason the Tatami is so impressive straight out of the box is that it's constructed from some of the softest, most supple bovine leather I've felt in some time. Pando Moto calls it oil-tanned cowhide leather which doesn't sound like anything special, but trust me, it looks and feels, unlike any cowhide I've thrown over my shoulders before.
To the touch, the leather has a soft finish, almost like suede, but without a flocked surface. The leather's appearance is also unique with more of a matte finish rather than the typical high gloss sheen that tends to cheapen the look of other leather jackets. So as far as appearances go, the Tatami gets off on the right foot, but there is, of course, more to this leather motorcycle jacket than just good looks.
The soft finish of the leather used in this jacket means it's exceedingly comfortable out of the box. Unlike stiffer leather jackets that can take weeks, if not months, of riding to properly break-in, the Tatami wears like a jacket that's been in your wardrobe for years. For optimal riding comfort, Pando Moto has pre-curved the sleeves of the jacket, but not so much that you look like you are about to break out a chicken dance when you're off the bike. The included D30 Ghost also armour helps to disguise the jacket's rider-centric design thanks to its relatively low profile, form-hugging design.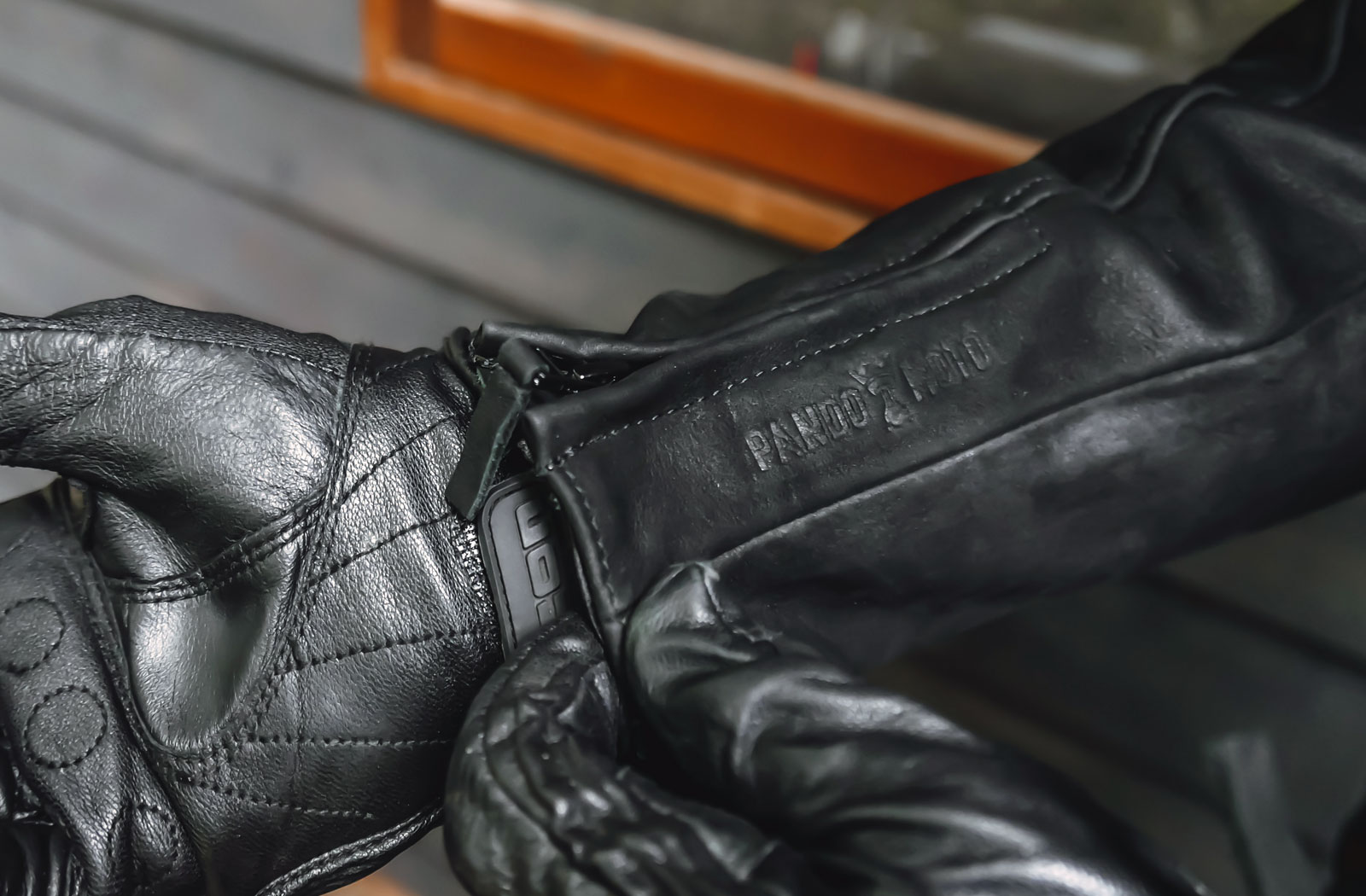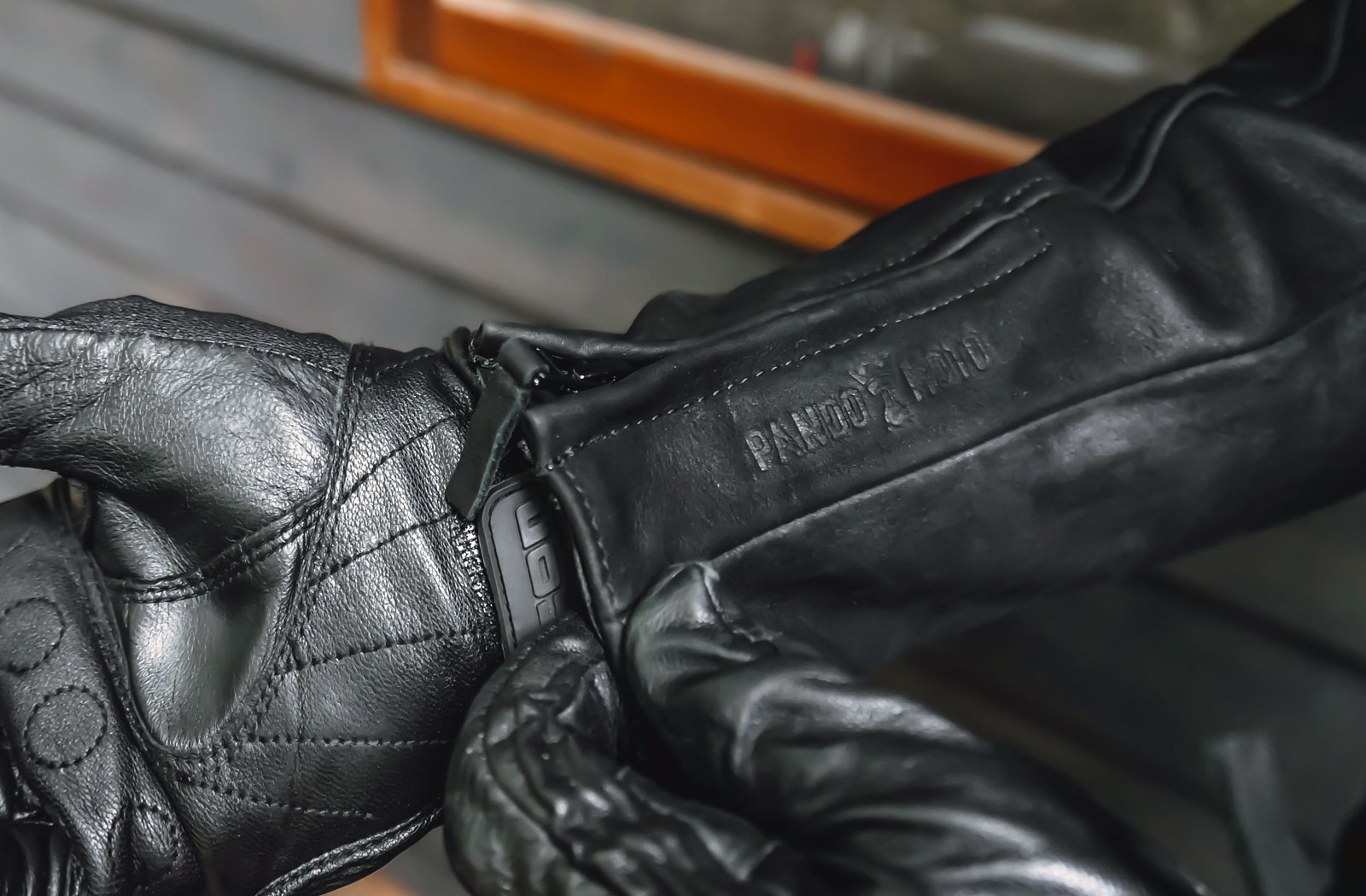 In regard to standard features, the Tatami has everything I'd expect from a typical leather motorcycle jacket. The sleeves feature zips that can be opened to let in the breeze on warmer days. The main zipper is backed by a leather flap to help keep out the cold and the zips are sturdy YKK items. Accordion panels on the side of the waist and chest improve comfort when you're hunched over handlebars and the collar secures using a standard press stud. Storage comes in the form of 3 external pockets (2 waist one chest) and one internal. It is designed to accommodate shoulder and elbow armour, which it comes with, and optional back armour. And press studs on the waist provide basic adjustment for those carrying a little extra baggage around their waistline.
As for additional features, Pando Moto has limited them to a handful of convenient additions rather than complicating things with a plethora of non-essential add-ons.
We all carry fragile electronic gadgets these days and we risk exposing them to the elements while riding. So to keep your valuable smartphone safe Pando Moto has made the Tatami's single internal pocket 100% waterproof.
To make this jacket 4 seasons compatible there's a detachable thermal liner. From my experience, it does a decent job of keeping you warm. The thermal liner is a vest which lacks sleeves. This makes it easier to remove and install but the lack of sleeves means your arms are more exposed, but at least your core will remain toasty. With the liner removed there's no loss of comfort thanks to the leather being lined with a silky polyester/viscose material.
The Pando Moto Tatami leather jacket is equal parts form and function. The 1.1mm to 1.6mm leather is rated to withstand a 35m slide (or 4.1 seconds) and the included D30 Ghost armour is level 1 rated. The combination of these features has resulted in a CE AA safety certification.
Due to the jacket's snug fit Pando suggest sizing up, which proved appropriate for me. I'm 5″ 11′ and weigh around 82kg. I'd usually wear a medium jacket, but went with a large Tatami which you can see by these photos fit my proportions well. As a testament to their devotion to providing a quality product, Pando Moto offers a 2-year warranty on this jacket – something that very few riding gear brands offer. The Tatami leather jacket retails for $479 USD and is available via their website.