There are so many things to consider when buying new jeans for the bike. Cut, colour, style… but hang on a minute, aren't you looking for motorcycle jeans? Motorcyclists expect much more from their riding denim these days. They still want a jean that offers reliable protection, but it also needs to be comfortable enough for a full day in the saddle and, more importantly, they have to look good. The Pando Moto Karl Navy Motorcycle Jeans with Cordura offers all this and more.
After receiving a pair of the Pando Moto Karl Navy jeans to review I can report that these are one of the most comfortable pair of jeans I've worn on the bike. Straight out of the box you can tell the Karl Navy jeans are designed by motorcyclists, for motorcyclists. The jeans use a tapered slim cut with a mid rise design. In layman's terms that means they have more room than a skinny jean but are far from a Y2K-level of baggy. The mid-rise also means you won't feel like you need to pull them up every few minutes which is an issue I've found with many other motorcycle jeans I've tested.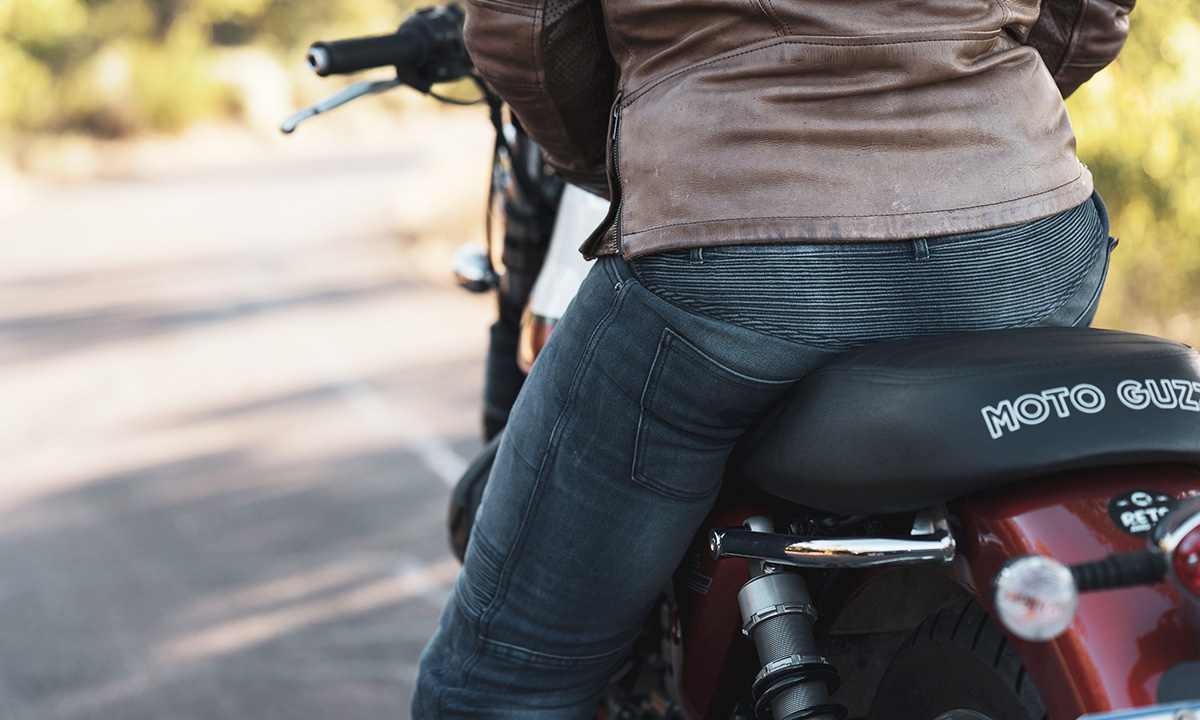 The Karl Navy jeans are constructed from 12.5oz Cordura denim which offers a decent level of abrasion resistant. Pando has backed this up with DuPont Kevlar through the seat and knees. Additionally to prevent seam bursts they've sewn the jeans together using Kevlar stitching. At the moment it's warm here in Western Australia. The Kevlar layers make things a touch warmer on scorching Summer days, but the heat dissipates quickly once you're on the move.
In terms of sizing, I followed the Pando Moto size guide to the letter and received a pair that fit me well. I had assumed the cut to be slimmer, especially in the calf and ankle and the colour was lighter than expected. Rather than a deep, indigo dye jean, they are a little more distressed in areas. Not a big deal but I usually prefer my jeans to be a dark colour. For me, stretch denim is an essential element in motorcycle jean design. Pando has certainly not disappointed in this regard. The Cordura denim stretches in all the right places without feeling too loose or saggy. Throw a leg over a bike and the stretch panelling in the back and knees does a great job of keeping you comfortable. The back panel keeps the waist from dropping below your jacket while the knee panels ensure the denim doesn't pull up your legs and expose your ankles. Sure these panels add a design feature that may not be to everyone's liking, but it's impossible to ignore their effectiveness.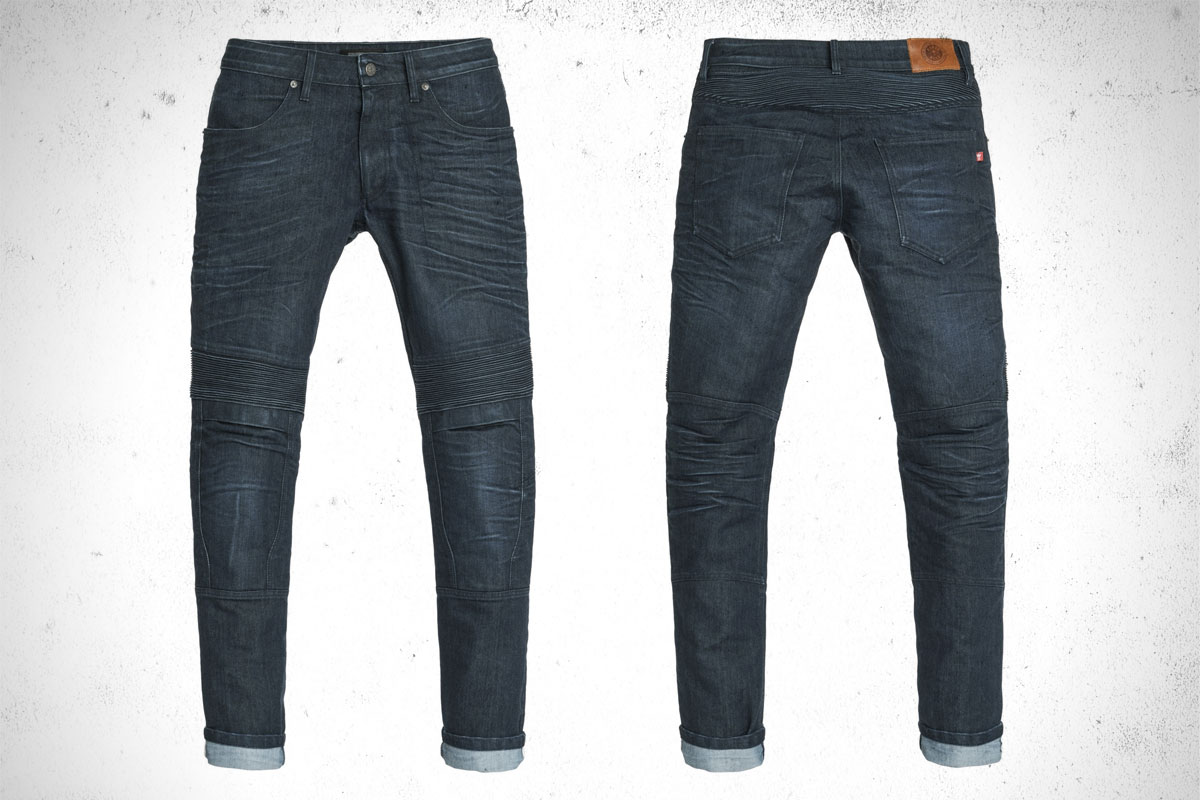 The Karl Navy jeans come with SAS-TEC CE approved armour for the knees with the option to add armour in the hips. The armour is generous but doesn't hamper movement. They also stay in place well thanks to the stretch panels in the knees. Another feature I really appreciate is that the armour is installed from the outside of the jeans. Just unfasten the small velcro tabs and the armour slips right in. This means you don't need to find a restroom to remove the armour when you reach your destination. For those who like to roll their jeans, Pando has sewn reflective strips into the cuffs for extra visibility at night. The Karl Navy jeans are also offered in both short and long leg versions.
Again, when you're wearing these jeans on your bike you can tell that motorcyclists have designed them. The added safety benefits of the kevlar lining and the SAS-TEC armour are worth their weight in gold, even if it does sacrifice airflow on a hot day. Come winter, when extra layers are essential, I expect the Karl Navy jeans to become a staple of my everyday riding gear. At 249 euros they are not as eye wateringly expensive as other options on the market. Considering Pando throw in the armour and free shipping these jeans are a pretty good deal. You can order the Karl Navy motorcycle jeans direct from Pando Moto via their online store or one of their global stockists. If every pair of motorcycle jeans ticked as many boxes as these choosing the right pair would be easy!
Story by Ben Pilatti  /  Photography by Harley Loffler