It's 1959 in London, England. What suffices for a summer here has arrived, and you are a 20-year-old that's still living at home in a terrace house in the outer suburb of Harrow, in the city's north west.
Despite the comparatively sorry state of the British nation when compared to the bright and shining American economy with their cars, music and drive-in cinemas, you've just landed a new job that means you've got a little something extra left over after you've paid for the essentials and helped your parents out with the mortgage repayments. And now that the country has managed to escape the post-war slump, things are looking up. With more families now buying their first car, there's plenty of decent, used motorcycles on the market.
Courtesy: Flashbak.com
But that's not all. There's also Rock 'n' Roll. It's really been taking over the past few years. It's on the TV. It's on the radio. It's on the newsstands and it's in the local record stores. And the best thing of all is that your parents really don't like it. They, along with everyone else over the age of 30, keep telling you it's just noise and American nonsense, but to you that only makes it all the more cool.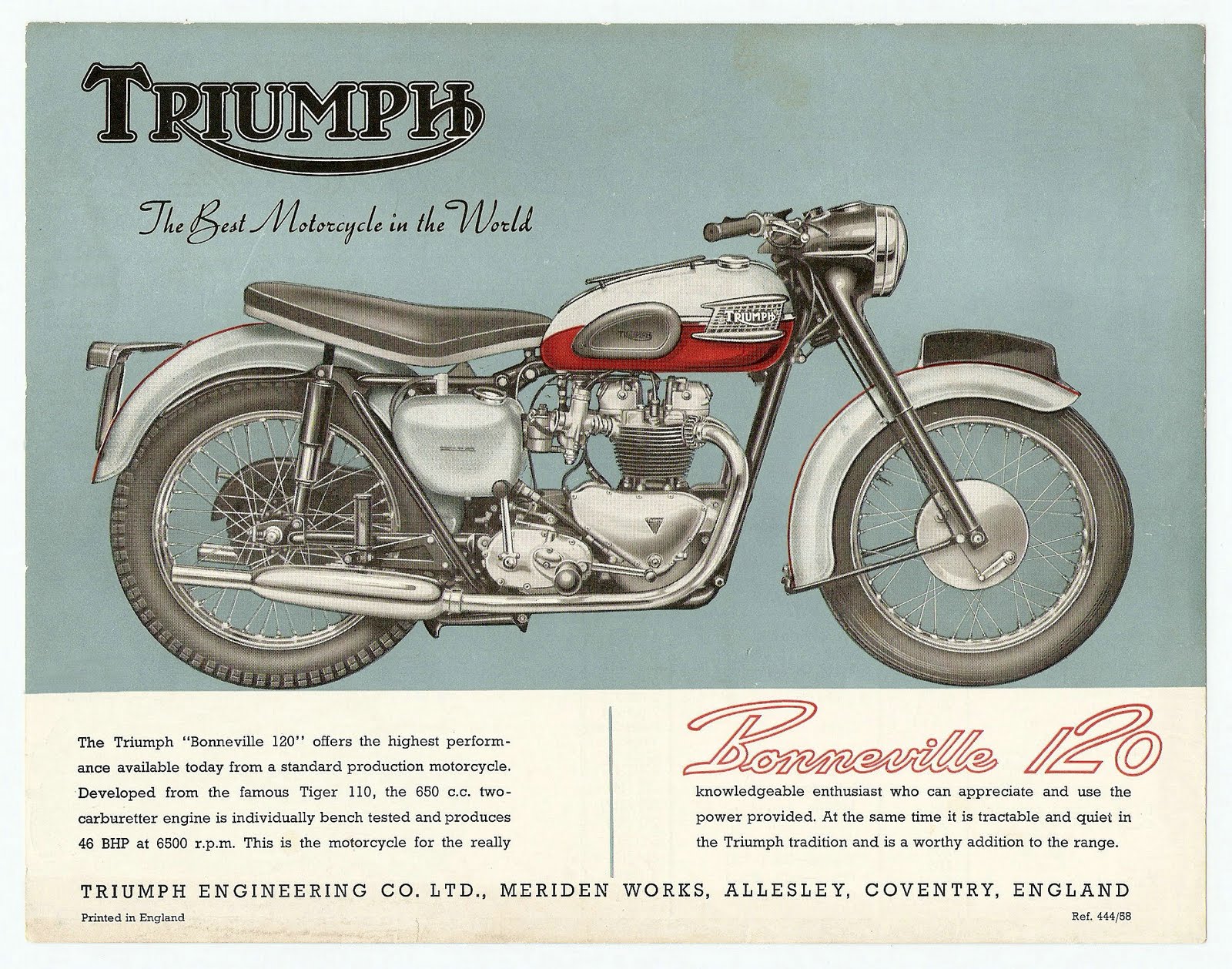 Ruffling Feathers
You've just got yourself a new pair of blue jeans and for the first time, you've got a haircut not by your Mum, but by the St Annes road hairdresser who now has photos of American stars like Tony Curtis with his long, slicked back hair in the window. You and your old school friends are all really keen on it; it seems like every teen in the country is, too.
The only problem is, the record store owner doesn't like your type hanging out there. Any more than a few brill creamed hair-dos and they'll be at you with the bloody shop broom or even threatening to call the police. It's clear that all this 'youth' stuff – like the new haircuts and the looks they get from people on the street – is ruffling a few establishment feathers.
Courtesy: themoones.co.uk
On your daily bus trips to and from the Kodak factory where you now work, you have noticed something that really gets your attention. At the local transport cafes that were once frequented by grey-haired truck drivers and dust-coated delivery men, there now seems to be a new crowd gathering.
Guys and girls that look just like you and your friends in every way, but with one very important difference – they're all on motorcycles. What's more, you spy a jukebox in one that's likely full of the latest Rock 'n' Roll records and a shop owner that's more than happy for the new customers despite the loud music, louder bikes and the odd, angry displays of youthful exuberance.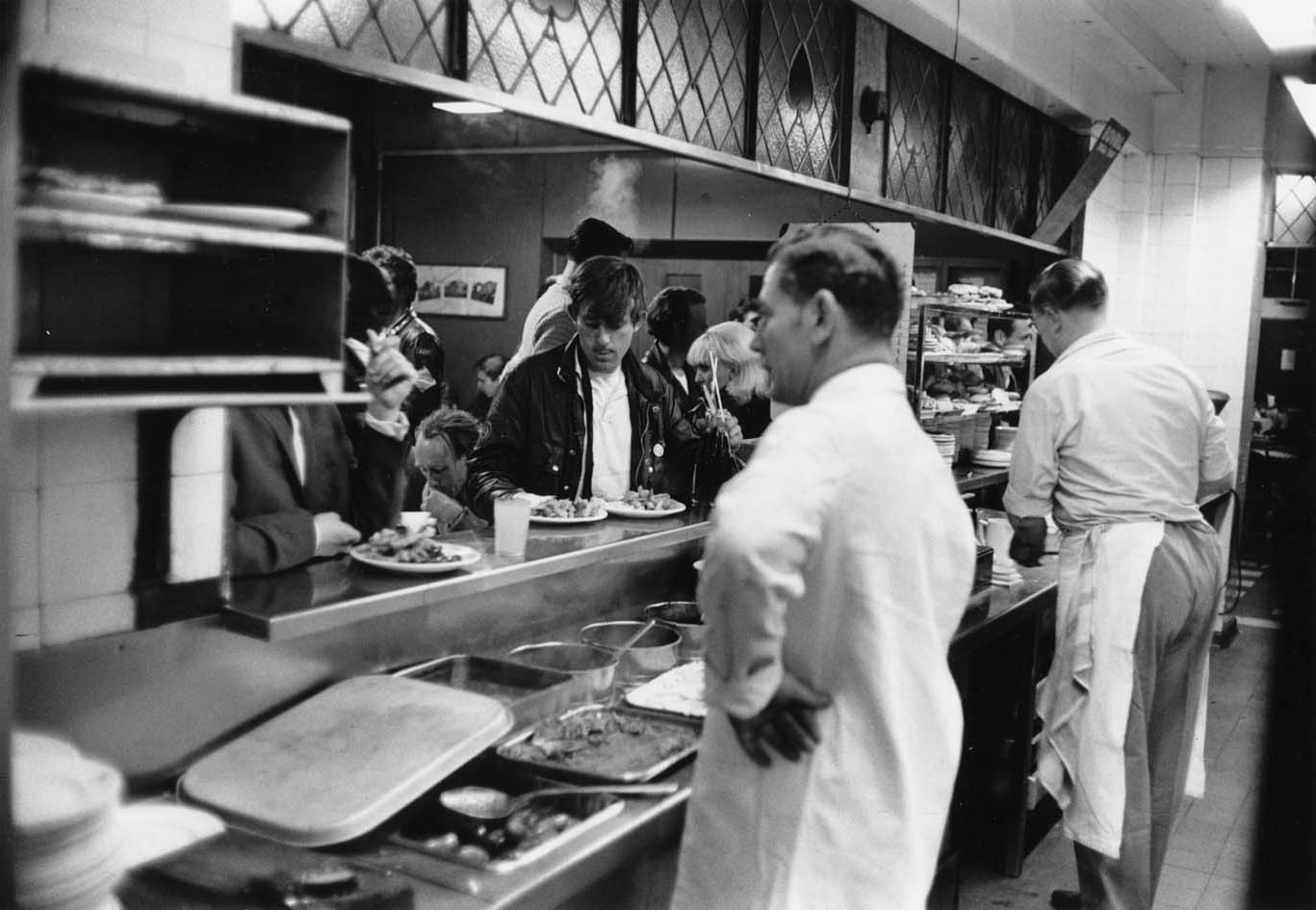 Courtesy: london.acecafe.com
Not Like Your Dad's
So one Friday after work, you jump off the bus a few stops early and wander over to the cafe. Of course, this isn't a 'café' in the French sense of the word. There's no funny little accents over the letters here. This is England. This is a 'caff' without the fancy é. And while there is instant coffee on the menu, most of the customers are drinking cups of tea by the lorry load. That or a Coke-a-cola if you're feeling the need to cool down after a hot ride in leather.
As you approach the front door, you thread your way through a car park that's full of motorbikes. From a distance you thought they were the same as all the other bikes you'd seen a million times before; just like in the newspaper ads and what your Dad used to ride in the '40s because he couldn't afford a car. But as you get closer, you notice that some of them are really different.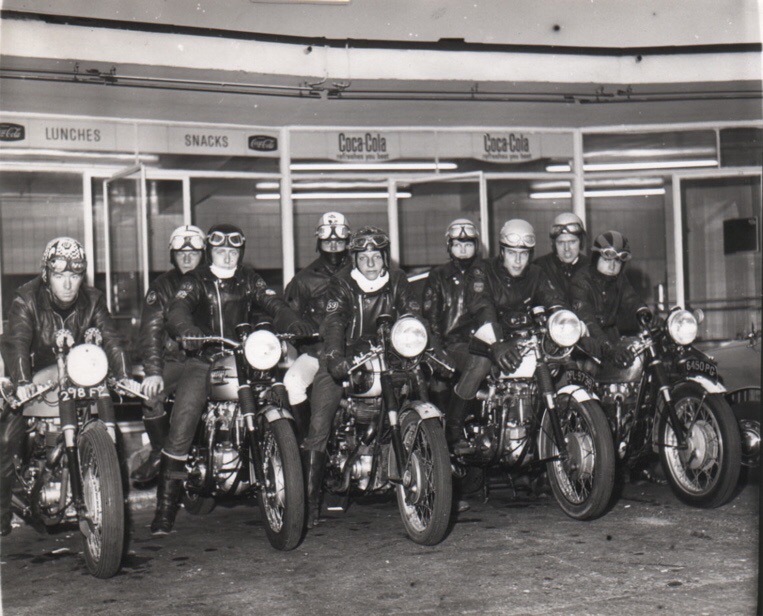 Courtesy: london.acecafe.com
Cool, Man
They are much cooler than that old stuff. They're customised and racy-looking. Their handlebars are low and streamlined, as are their seats. Parts of the bike have been taken off; mostly the useless stuff that just makes them heavier and slower. These modifications have also made them look much cooler. Much more like the bikes you've seen racing at the Isle of Man TT and on your bedroom wall posters.
Then, sitting over a steaming cup of tea at a table in the cafe, you start connecting the dots. With Elvis' 'Jailhouse Rock' banging away in the background, you realise that you can ditch the bus and start riding a bike to work.
It'd be quicker, much cooler, and you think there's also a chance that some of these rocker girls may find you a whole lot more attractive, too. Not only that, but here's a new place that you and your mates can spend time listening to Rock 'n' Roll without getting hassled by the old folks who don't understand it.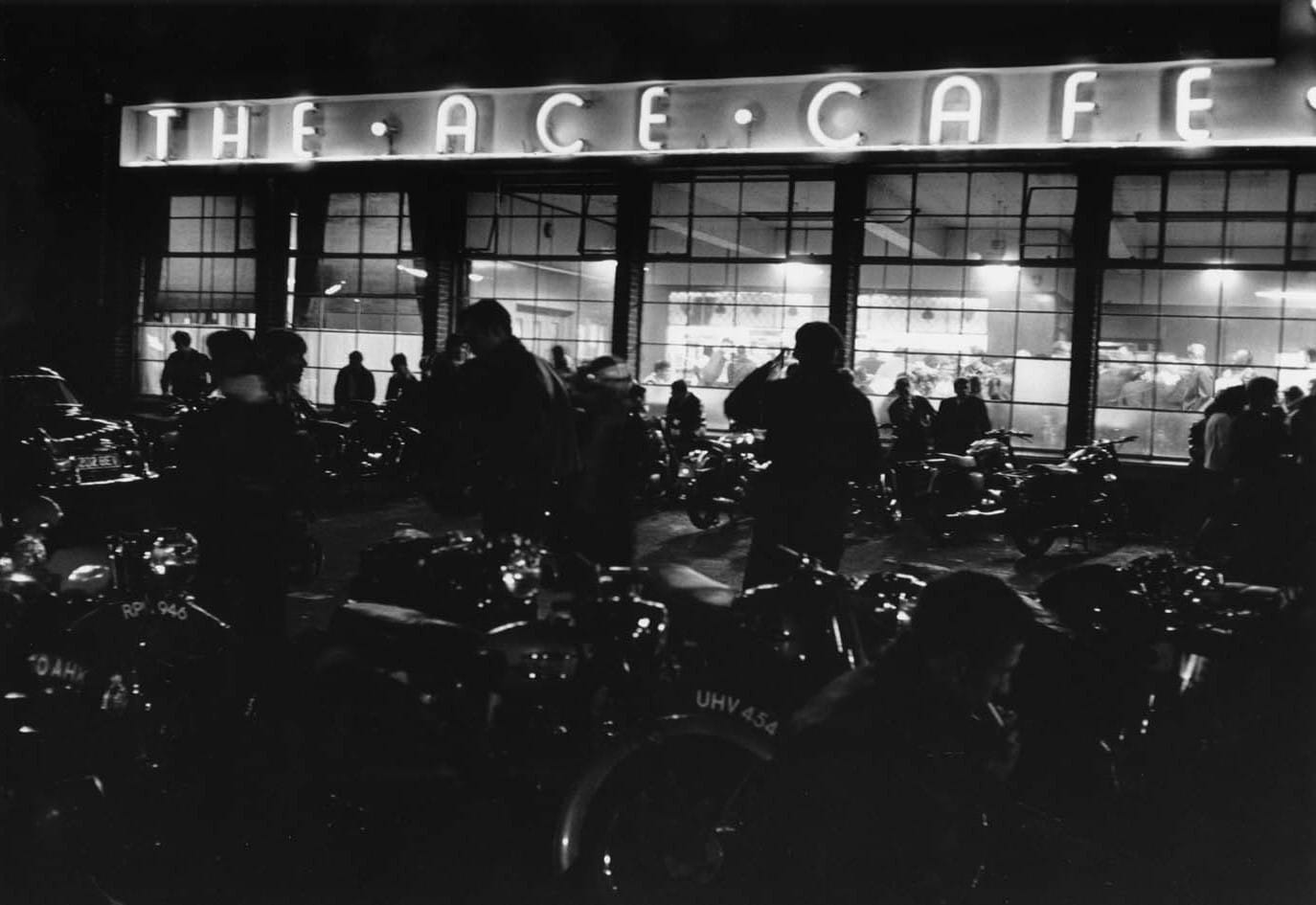 Courtesy: london.acecafe.com
Hit the North
As you finish your cuppa, double egg sandwich and baked beans, you notice a commotion in the car park. Wandering out into the early evening light, you approach a small crowd gathered around two guys on bikes. They look tough with their patch and badge-covered leather jackets, open-faced helmets, pilot's goggles and white scarves.
After a few tense laughs and a bit of engine upgrade bragging, the two riders are off down the empty North Circular road in a cloud of exhaust smoke. It's clear that they are having a race, but you're not quite sure why or how.
Transfixed, the rest of the crowd stare off in the bikes' parting direction as you strike up a clumsy conversation with the young woman that's standing next to you. Chewing gum and clearly not impressed by your lack of knowledge on motorcycles and your uncool work clothes, 'Jenny' patronisingly explains that the two guys are racing to see who's bike is fastest.
They'll do the run on the motorway from here to the big intersection near Brent Park and back again. The first one back here wins.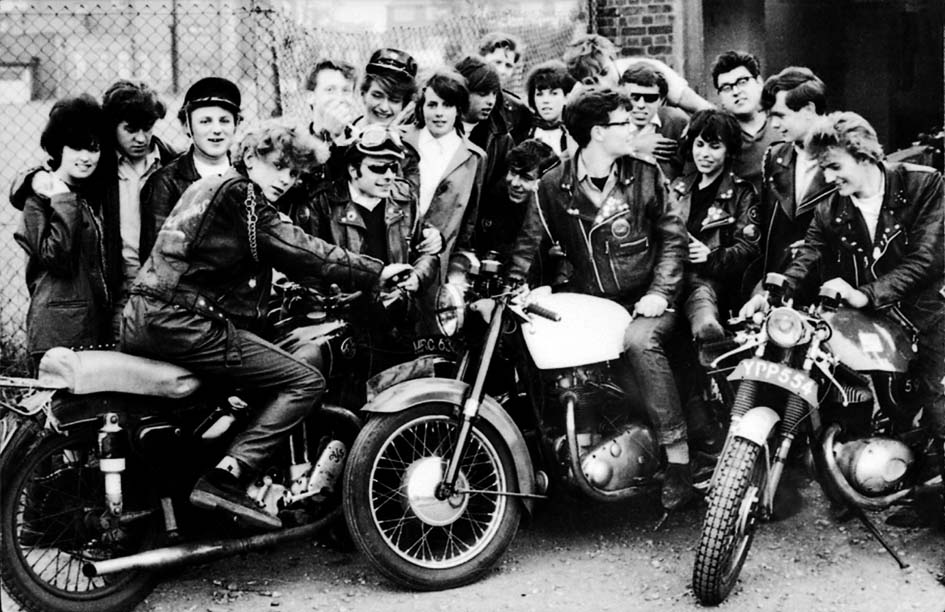 Courtesy: london.acecafe.com
Smashed Royalty
Three minutes of small talk later and without a phone number from Jenny, you hear an approaching roar. A lone bike appears at breakneck speed despite the fact that the other racer seems to be nowhere in sight. Locking up the rear wheel for show and to wash off some speed, the winner re-enters the carpark to the smiles and back pats of the crowd.
Over the modified exhaust noise, he screams something about 'a ton,' 'greasy roads' and 'a wet corner' with a wry smile on his face. The holes in the story are instantly explained a moment or two later as the second biker returns.
He is babying his Royal Enfield Constellation, which looks a little worse for wear. His blue jeans are torn though and his knee is freshly bloodied. Worse still, the bike is all scratched up on its right hand side; the front wheel isn't straight and by the rider's hovering foot, it also looks to be missing a footpeg.
Courtesy: london.acecafe.com
Join the Club
Despite the chaos, damage and clear threat of physical danger, you're absolutely, unequivocally smitten. It's like you've suddenly seen the light. That night you have trouble sleeping what with all the ideas racing through your head about saving up for a bike, the mods you are going to make to it, what type of leather jacket you are going to get and how the hell you'll explain all of this you your Mum and Dad without them kicking you out of the house.
But eventually you drift off to sleep and dream about yourself and Elvis Prestley racing on bikes together. Sure, he wins in the end – he always does – but the fact that you came second doesn't seem to deter the cute biker girl who jumps on the back of your new Triton cafe racer afterwards.
While the crowd vies for a chance to congratulate Elvis, she gracefully slips a small piece of paper with the name 'Jenny' and her phone number into the pocket of your patch and badge-covered black leather jacket. Still in shock, you look up with a dumbfounded expression on your face as Elvis makes eye contact with you through the crowd and smiles knowingly.