Nothing grabs the headlines quite like an enormous selling price at auction. We've seen motorcycles sell for phenomenal money over the years, but they're usually rare examples of stock machines, models attached to a celebrity, or low-volume racing prototypes. It's quite unusual to see true custom-built café racers bring in the bucks.
Since originality is one of the key features that keep values high, custom café racers generally don't sell for serious amounts of cash. Check your local auction sites and compare the prices of an unmolested Honda CB500 to one that has been chopped here and there, or treated to aftermarket parts. Even the most superbly executed custom won't be worth much compared to an original. That is unless it was made by an internationally renowned garage or was owned by a celebrity.
With that in mind, we're not just looking at custom models. We're also looking at factory-produced café racer models that tick all of the classic café racer boxes. But even then, don't expect too many outrageous prices on this list.
Also, we're not listing the 10 most expensive—we're looking at bikes that sold for serious cash, and that can be in relation to their real value too. A bike that's worth a few hundred dollars that sells for a couple of thousand is just as impressive as a super rare model selling for an eye-watering (but expected) expensive price.
Let's take a look at 10 racers that killed it at auction:
1962 Matchless G50 Café Replica – $4,500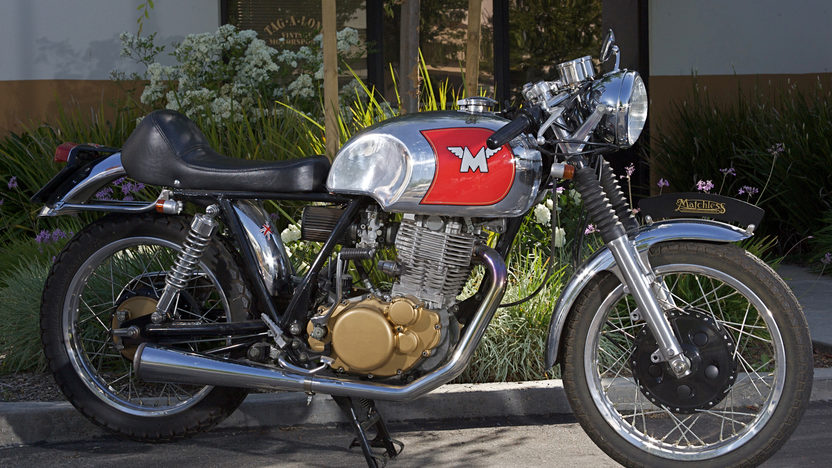 One café racer that sold for an unexpectedly high amount at auction is this beautiful 1962 Matchless G50 Replica. If you're not familiar with the Matchless G50, it was a British-made competition motorcycle, designed for real circuit racing.
First released in 1958, the G50 featured was built around a 350cc single-cylinder engine that had been bored out to 496cc. The result was an impressive output of more than 51 horsepower.
Not only did it feature impressive performance, but it was also a looker too. So far, you might be thinking why this premium motorcycle sold for so little. The reason why it sold for so little is the fact that it's only a replica.
In truth, there isn't a classic British motor tucked into that frame. Instead, it features a modern Yamaha single-cylinder unit. It's all entirely new—with the tank being a modern, but still handcrafted, alloy unit. Given that it isn't original, and it's just a Yamaha in British clothing, the selling price is surprisingly high.
Even if you don't agree with this one, you can't help but admire the beauty of this machine. So that's why it's on the list.
1966 Ducati Diana Café Racer – $10,450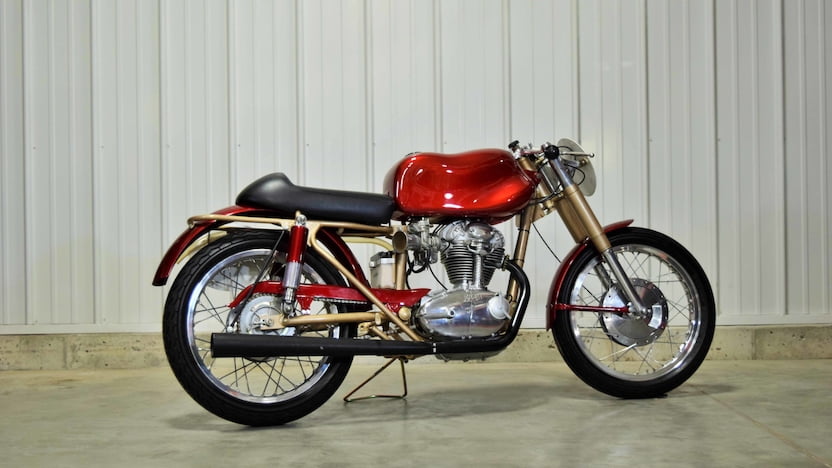 Now for something really interesting: this is a rare example of a Ducati Diana that has been kitted out with some unusual upgrades. Ducati Diana models in pristine condition can sell for giant prices on the auction block, but unusual examples like this—which include non-standard hardware—aren't as sought after. Still, this one sold for a large sum. Especially when you consider that it features unoriginal parts and that it's not in street-legal trim.
The stock Ducati Diana featured a powerful single-cylinder 250cc motor that could propel the little Diana to speeds of up to and just over 100 mph. In its day, it was known as the fastest production 250 on the market!
What makes this Diana unusual is the addition of a strange "jelly bean" fuel tank, along with the addition of racing components, and a custom paint job. Under normal circumstances, that could've drastically lowered the selling price of a motorcycle like this. But in actual fact, it sold for an impressively high price. Or not high enough, depending on your stance.
Either way, this Ducati Diana café racer is something special.
1970 Rickman Triumph Café 650 – $12,000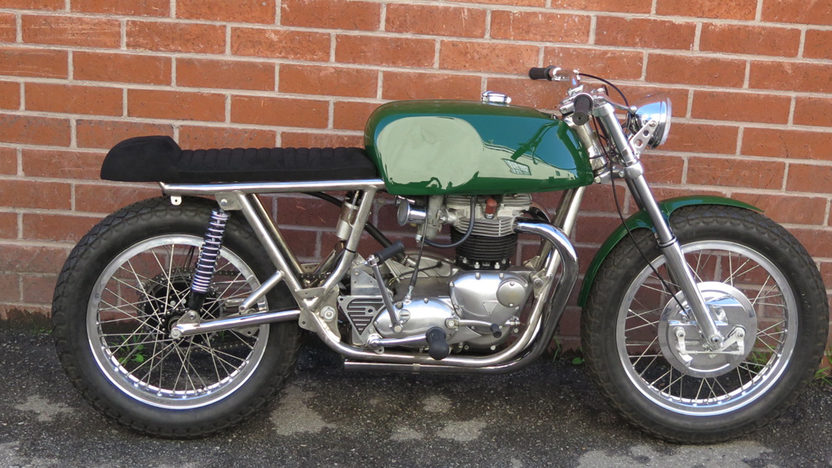 The Rickman name can certainly drive up prices. That's exactly what happened when this relatively unimpressive-looking café racer went to auction. The Rickman brothers, Don and Derek, specialized in chassis design and over the years they developed a wide range of innovations, from pioneering oil-in-frame systems to large diameter forks.
They based their engineering on real-life racing experiences, and as such, the Rickman name has become the stuff of legend. Especially since the last Rickman-branded motorcycle was made in 1975.
This one, however, was made in 1970. Built around a Triumph Bonneville 650cc twin-engine, this impressive café racer features all of the hallmarks of a classic Rickman motorcycle. Naturally, the most important detail is the frame. For this example, the Rickman brothers developed a lightweight nickel-plated chromoly frame. It's a beautiful piece of engineering, though it's not as advanced as many other Rickman frames out there.
This amazing Triumph can do more than lay claim to impressive DNA and the fact that it's a super-rare street model, but it has also never been ridden. Throughout its life, it has only ever been used as a static display. There's not a single real-life mile on the clock. That's what has helped this unique handcrafted Rickman creation command such an impressive price tag.
1974 Norton Commando Cafe Racer Replica – $17,600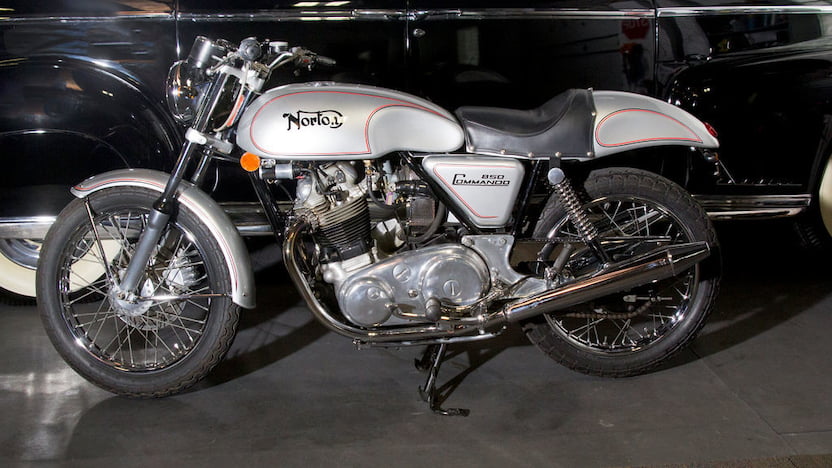 When customization is done correctly, it's possible to add value rather than reduce it. Even when it comes to absolute classics like this Norton Commando. Under normal circumstances, it could be considered sacrilegious to get creative with a legend such as the Commando, but with the right amount of care, attention, and respect, something amazing can happen.
In fact, the modifications on this beauty are so well-executed that you would think they were as the factory intended—and that's exactly what builder Bill Steele was hoping for when he built this stunner. Steele, the winner of the first Grand Master Award for motorcycles at Detroit's Autorama, knew what he was doing.
Powered by an unmolested 828cc parallel-twin engine, with an output of 60 horsepower and a top speed of 125 mph, Norton's don't get better than this. This fully-restored Commando sold for an impressive sum of $17,600, which is more than many similarly aged and similarly modified Norton Commandos.
1970 Honda CB750 Sandcast Café Racer – $17,600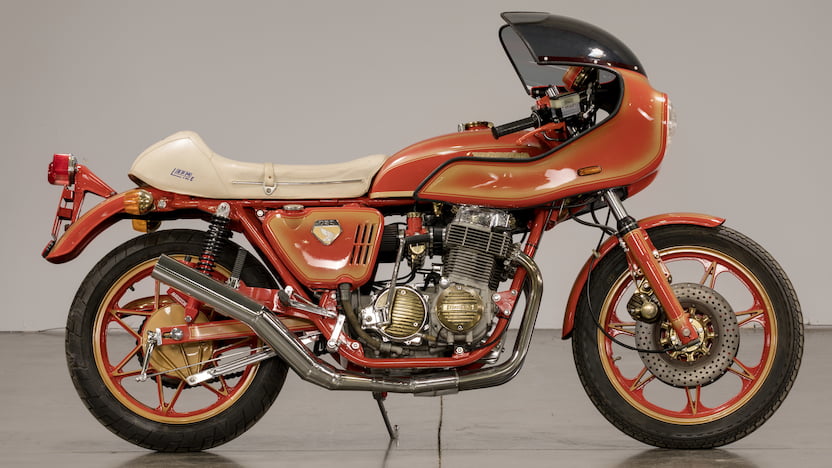 This motorcycle sold for a lot of money, but not as much as the estimators thought. Given an estimate of between $32,000 and $40,000, auctioneers were left flummoxed when this rare sandcast CB750 sold for $17,600. Now, it's less than its estimate, but $17,600 is a lot of money for an orange motorcycle that isn't a KTM—sandcast Honda or otherwise.
As far as weird-looking motorcycles go, this one is pretty wild. It's a unique four-cylinder hot rod-inspired café racer with an impressive paint job. Rather than being a paired-down street racer, it's more of an ostentatious endurance racer, with a large front fairing and dual headlights. And take a look at that beautiful four-into-one-exhaust system! But it's not the café racer parts or accessories that provide the value to this motorcycle. Nor is it the paint job or white leather saddle. It's the engine.
This is a genuine 1969-made CB750 K0, a first-series machine that comes complete with much-sought-after sandcast engine cases. These early sandcast cases are very rare and they were only made in a limited quantity before Honda switched to die-cast production.
1977 Harley-Davidson XLCR Café Racer – $18,700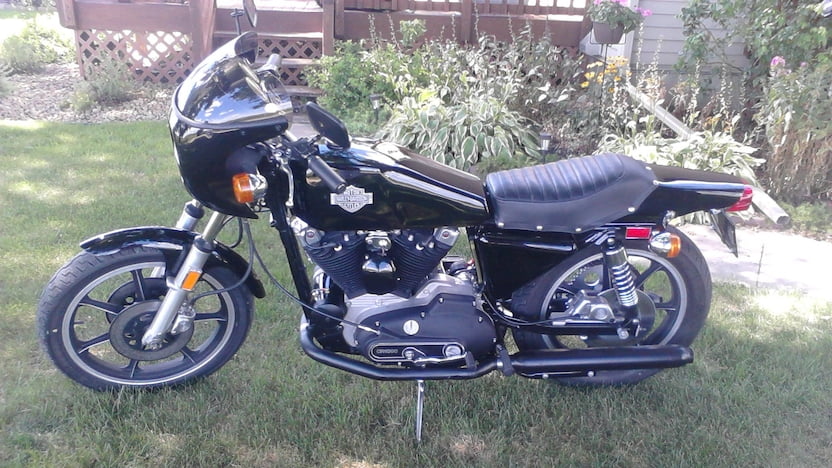 During the golden age of café racers, it was easy for factories and home customizers to simply throw on a set of clip-on handlebars and remove the unnecessaries and call the job done. That is if you were dealing with a European or Japanese motorcycle. For the likes of Harley-Davidson, with its big V-twin engines and cruiser geometry, leaning in the café racer direction was a much bigger challenge.
However, it wasn't beyond the skills of Willie G. Davidson, and he threw himself at the challenge. To produce the first Harley-Davidson café racer, Willie—grandson of one of the company's founding fathers—redesigned the classic HD formula by adding low handlebars, a large flat-track inspired tank, a short stubby seat, sharp tailpiece, and a front fairing into the mix. The result was the XL Café Racer, or XLCR for short—the fastest Harley in the line-up, back in 1977.
What really makes this one a good purchase was the fact that it only had one owner, and it had been stationary for most of its life. Before the auction, it was completely overhauled and tuned by G&K Engines of Minnesota, and treated with new perishables and more.
Given the low-mileage and pristine condition, it's easy to see why this sold for so much. In fact, it's not the only XLCR to score big on the auction block, but this one is one of the cleanest examples.
1966 Velocette Venom Thruxton – $27,300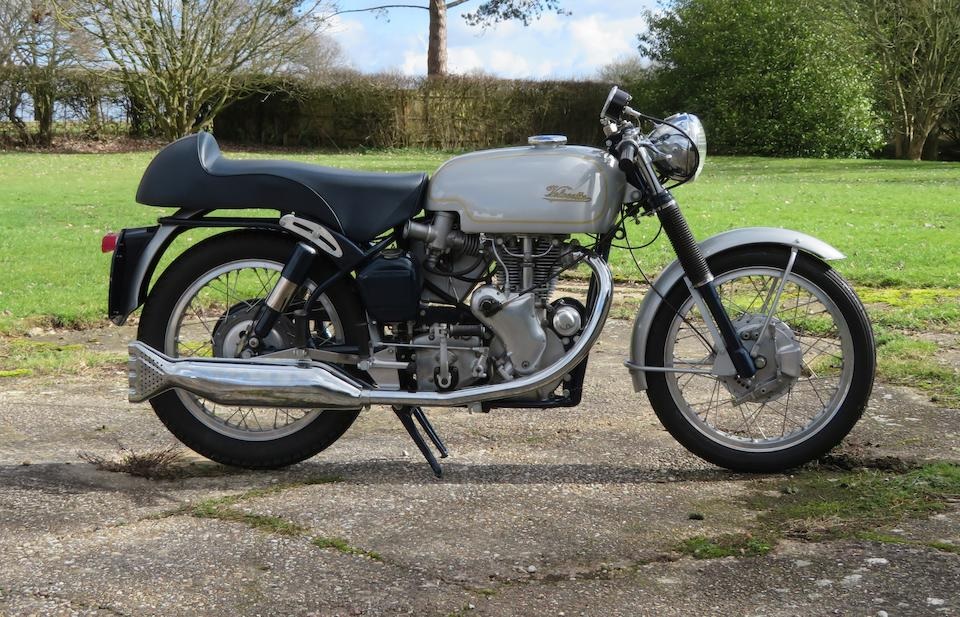 Many motorcyclists would call themselves lucky to own a Velocette Venom these days. But the Velocette Venom Thruxton is an even rare breed. While it shares a lot of its DNA with the stock Venom model, the Thruxton featured a turned engine, a big-valve cylinder head, a high-spec Amal GP carburetor, racing-style clip-on handlebars, rear-sets, and an advanced twin-leading-shoe front brake system—all as standard equipment.
Technically, it was already an advanced motorcycle, and it was expensive when it went on sale. That alone should warrant the high auction price. But there's more. The Thruxton was also incredibly rare. In fact, it's thought that only around 1,100 were ever made.
A few more are thought to have been made by dealers using assorted parts, but even so, that's not a lot. This particular model pictured here is an original factory model.
The one that went to auction has a full history, with supporting paperwork that proves that it was a legitimate factory-built model. It also comes with the original frame, engine, gearbox, and registration number, making it an incredibly rare example of one of the most sought-after post-war Velocettes.
1968 Triumph Rickman 750 Café Racer – $31,900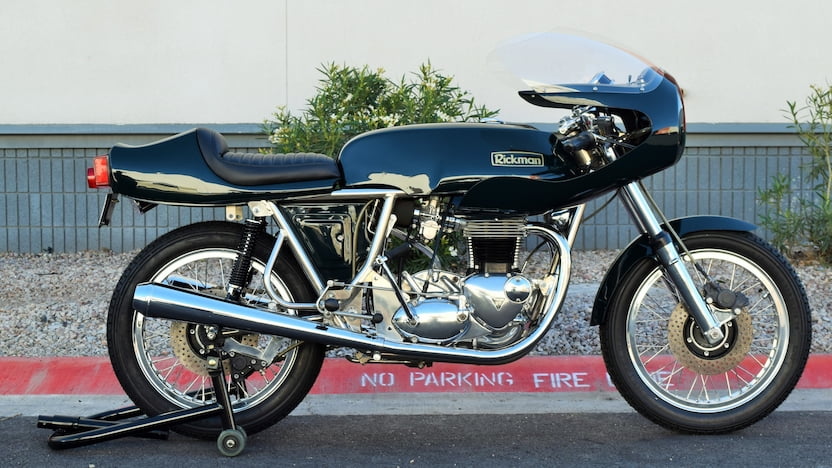 We've already had one Rickman-engineered machine on this list, but here's another. This one is a special 1968 Triumph café racer, and it sold for a lot more money than the other! Classic British café racers don't get much better than this: a Triumph 750 twin, in British racing green, with a racing frame, and café racer components. It's the full package.
Like all Rickman-made motorcycles, this Triumph café racer features an innovative, hand-engineered frame. It uses a nickel-plated frame with a lightweight design and boasts a number of other lightweight parts to keep the weight down. These include hand-laid fiberglass side covers, fenders, fuel tank, and seat.
What's more, this Triumph twin-cylinder engine is equipped with a converted Weslake cylinder 8-valve cylinder heads. This results in improved power output, pushing the engine's power to over 60 horsepower depending on the tune.
This Triumph café racer has also been kitted out with the best components of the era, making it an impressive (and incredibly rare) example. And what does a shiny classic British motorcycle in classic British racing green cost? Well, this one sold for an amazing $31,900!
2016 Officine GP Design MV Agusta Brutale "Onirika 2853" Café Racer – $34,000
Not all café racers have to be classic models. This stunning neo-café racer is the work of Officine GP Design, and it was commissioned by Motul with the sole purpose of being auctioned off to raise money for a charity that supports underprivileged kids. Officine GP Design got stuck in, and created one of the most exceptional modern interpretations of a café racer, that sold for an impressive price.
Built on top of an MV Agusta Brutale 800, the Onirika 2853 is something of a cyberpunk homage to single-seat urban racers. There's not a lot left of MV Agusta's original machine, but the muscular physique remains, along with MV's powerful 798cc triple-cylinder engine. Almost every other part on this motorcycle was hand-fabricated, and it was well worth the effort.
The Motul Onirika 2853 debuted at Verona's Motor Bike Expo back in 2016, and it was met with a positive reaction. It certainly inspired a few bidders to get out their checkbooks, because when the hammer fell to signal the end of the auction, this unique and eye-catching modern café racer sold for a whopping $34,000.
1974 Ducati 750 SS – $137,000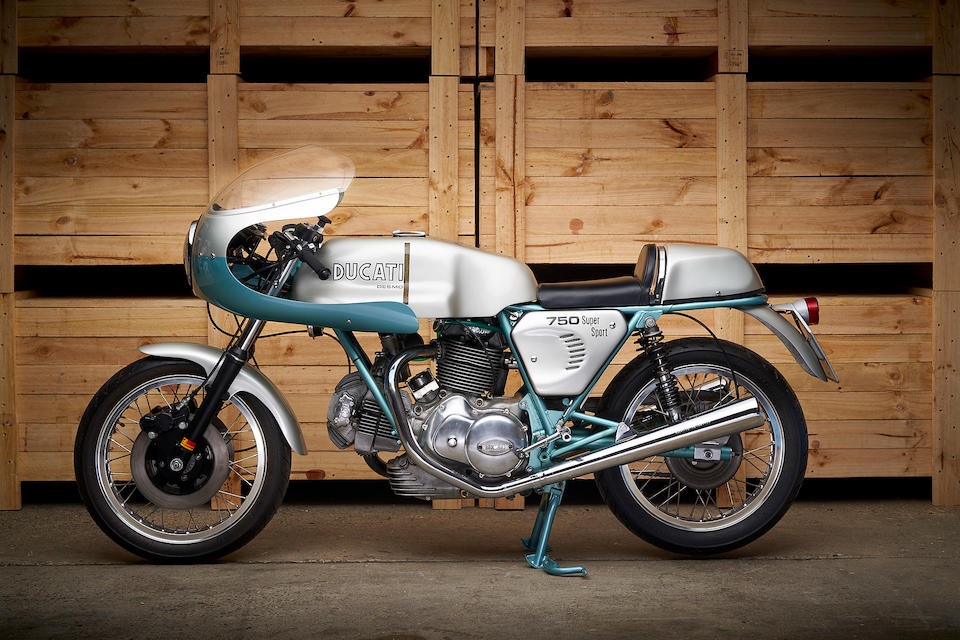 And now for something really expensive: a 1974 Ducati 750 SS. This list could've been half-filled with 750 SS models that have gone to auction, but we decided to limit ourselves to just one example: this amazing $137,000 machine. It's an incredibly high price for a motorcycle, café racer or otherwise. But why can it command such a high price?
In 1974, the Borgo Panigale factory produced around 400 "green frame" street 750 SS models, and over the years many of them have been lost. This was largely because they were excellent racing machines, and of the small production volume, most of them were subjected to the thrills, spills, and dangers, of racing. Engines were modified, fiberglass features were broken or had deteriorated under stress, and few pristine examples exist today.
On the track, the Ducati 750 SS was unbeatable. Featuring a 748cc Desmodromic 90-degree V-twin engine, with up to 70 horsepower and a 52.8 lb-ft of torque on tap, and a lightweight and easy-handling frame, with Marzocchi suspension.
When racer Paul Smart first put the 750 SS through its paces at the inaugural Imola 200 road race, he was left unimpressed—until he reached the pits and learned that he'd smashed the lap record by a serious margin. The 750 SS was so well made that Smart didn't even realize he was riding at such a speed!
And that is why the Ducati 750 SS commands such a high price.