Pando Moto Boss Dyn 01 AAA+ Jeans
The Boss Dyn 01 by Pando Moto is a stylish pair of jeans that offer the confidence found in a full-fledged pair of protective motorcycle pants. Don't let your eyes fool you, these are much more than your average pair of jeans. They fit true to size, have a comfortable stretch, offer armor pockets in key areas, and they look fantastic - not just in terms of moto pants, but all pants. They come in at €289 (about $340) - and in terms of jeans, they're pricey. But remember, these are denim riding pants built to last, protect, and look great while doing both.
Pros
Very stylish
Great attention to detail
Zero break-in time
Amazing abrasion protection
Quality is excellent
Cons
Knee Armor can be bothersome
Not water repellent or waterproof
Can feel a bit heavy compared to regular jeans
Metal keyring can be a nuisance
Denim Jeans with a Protective Punch
Riding pants are often overlooked when taking the bike out for a quick ride around town. Jeans are a chosen favorite among riders for these short trips but they lack the protection you need on a motorcycle – no matter how short the commute.
Among the selection of riding pants, most may provide the protection you need but don't come close to getting you any style points. Additionally, finding riding denim that provides ventilation and protection can be a tough task.
The Pando Moto Boss Dyn 01 is a new style for 2021 and they look fantastic. These slim-fit, multi-layer riding jeans have a AAA CE rating thanks to the Cordura denim. This is the highest rating given and means they have been tested to provide slide protection of 92 meters (301ft) or 6.7 sec on the pavement. The European brand has worked since 2011 to develop the perfect combination of style, protection needed for a AAA-rated riding jean. So, do they belong on a list of the best motorcycle jeans?
In short, yes.
Thank you to Pando Moto for providing these Boss Dyn 01's at no cost for this review.
Boss Dyn 01 AAA+ Jeans Material
What Makes Up the Chassis?
Pando Moto has thrown just about everything into the Boss Dyn 01's to ensure strength, versatility, breathability, and style. These riding jeans come flaunting big brand names in the tech fabric world. Let's get a breakdown of the major players that make up these jeans.
The Outer Shell
The outer shell is made up of Cordura, Coolmax, and cotton denim. Together, they offer protection, ventilation, and style without compromising comfort.
CORDURA®
According to their website, CORDURA® Advanced Fabrics are both strong and versatile, great for combating the daily grind to surviving some of the world's toughest environments. We challenge the definition of fabric with advanced solutions that help protect against tears, scuffs, and abrasions.
COOLMAX®
The COOLMAX® brand takes polyester fibers that are designed to help keep you cool. Their cooling technology has been blended into the Boss Dyn 01's denim to ensure you are the "coolest" on the block.
Inner Lining
The Boss Dyn 01's inner lining is made up of 65% ultra-high molecular weight polyethylene (UHMWPE) and spandex. UHMWPE is 15 times stronger than steel and is located on buttocks and shin areas. These blended fabrics are so comfortable, you forget they are there.
SAS-TEC
According to their website, SAS-TEC is an innovative producer of protectors (body armor) with many years of experience in this sector. The fraught with risk bike sport, in particular, is our core competence.
The SAS TEC armor fits into the inner hip and knee pockets perfectly and stays in place until you remove them. They are lightweight and flexible but are noticeable when the knee is bent – not the most comfortable but the protection provided far outweighs the initial annoyance.
The Denim
The Boss Dyn 01's denim is 69% cotton, 29.5% Nylon, and 1.5% Elastine. The 12 oz denim felt extremely comfortable straight out of the box and did not require an immediate wash to soften them up. The stretch in the denim was perfect for my liking as they did not feel like jeggings nor did they feel like starched cowboy jeans. In all, these feel and fit like a regular pair of quality jeans.
Breathability
Throughout my weeks of testing, I was able to put the Pando Moto jeans into the deep end in terms of temperature and humidity. On the hottest day, 87F and 83% humidity, I questioned myself as to why I left my house but in the name of science, I took the Pando's for a spin.
They held up just fine and felt a touch warmer (understatement) than if I wore a regular pair of jeans. They didn't feel too breezy in cooler temperatures and gave me just enough insulation to remain comfortable.
Overall, these jeans would be appropriate for spring, summer, and fall without skipping a beat.
Waterproof?
The denim is not waterproof or water-resistant – though the Coolmax is moisture-wicking.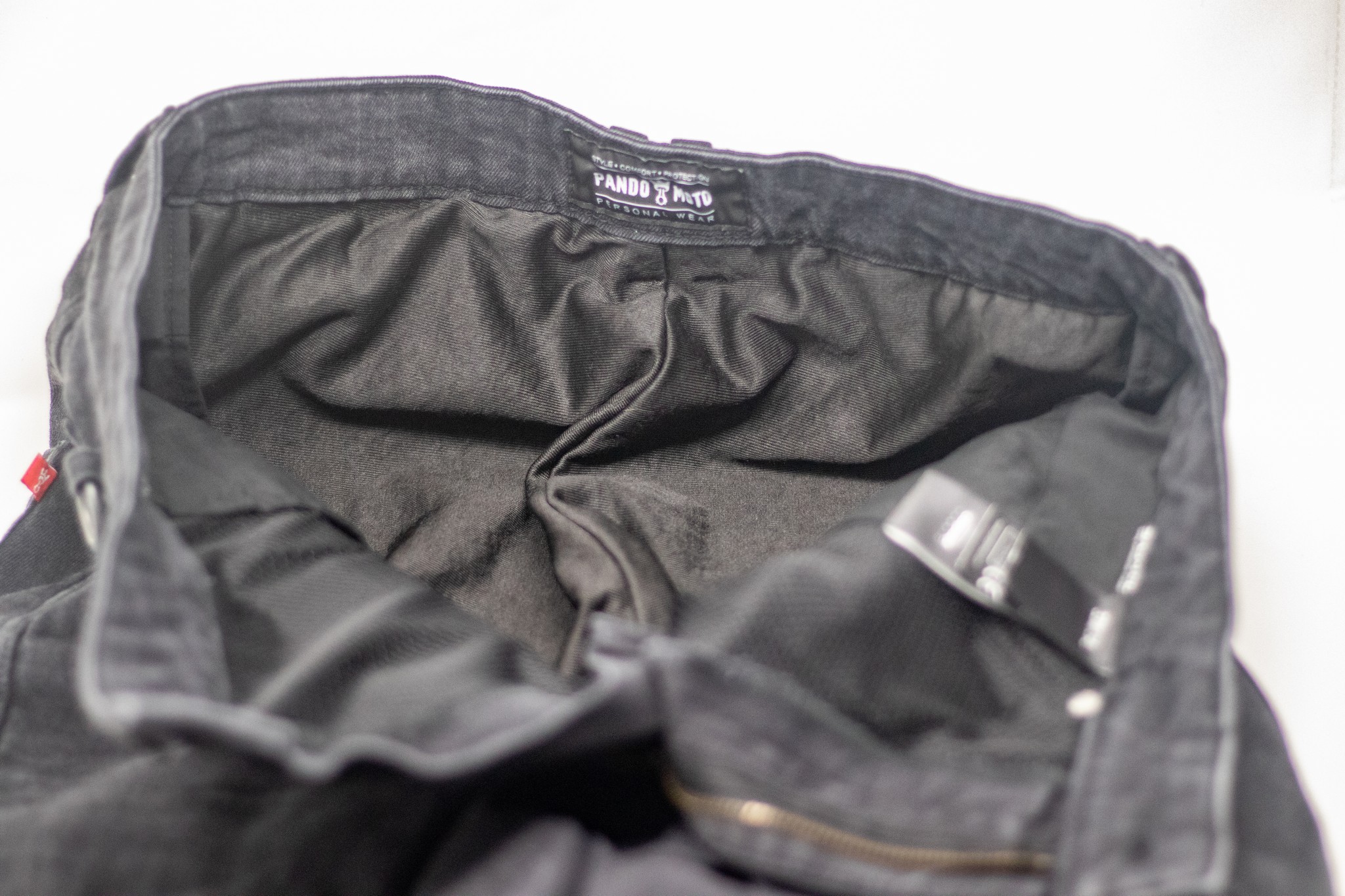 Color
The Boss Dyn 01's come in black but give the impression they have already been washed. Like regular denim jeans, these jeans are meant to fray and fade – Isn't that the best part about denim jeans?
Boss Dyn 01 AAA+ Jeans Design
My first impressions of the Boss Dyn 01's were very positive. The fit and style were exactly what I would look for in a normal pair of jeans. These come with the bonus of saving your behind in the case of a low-side.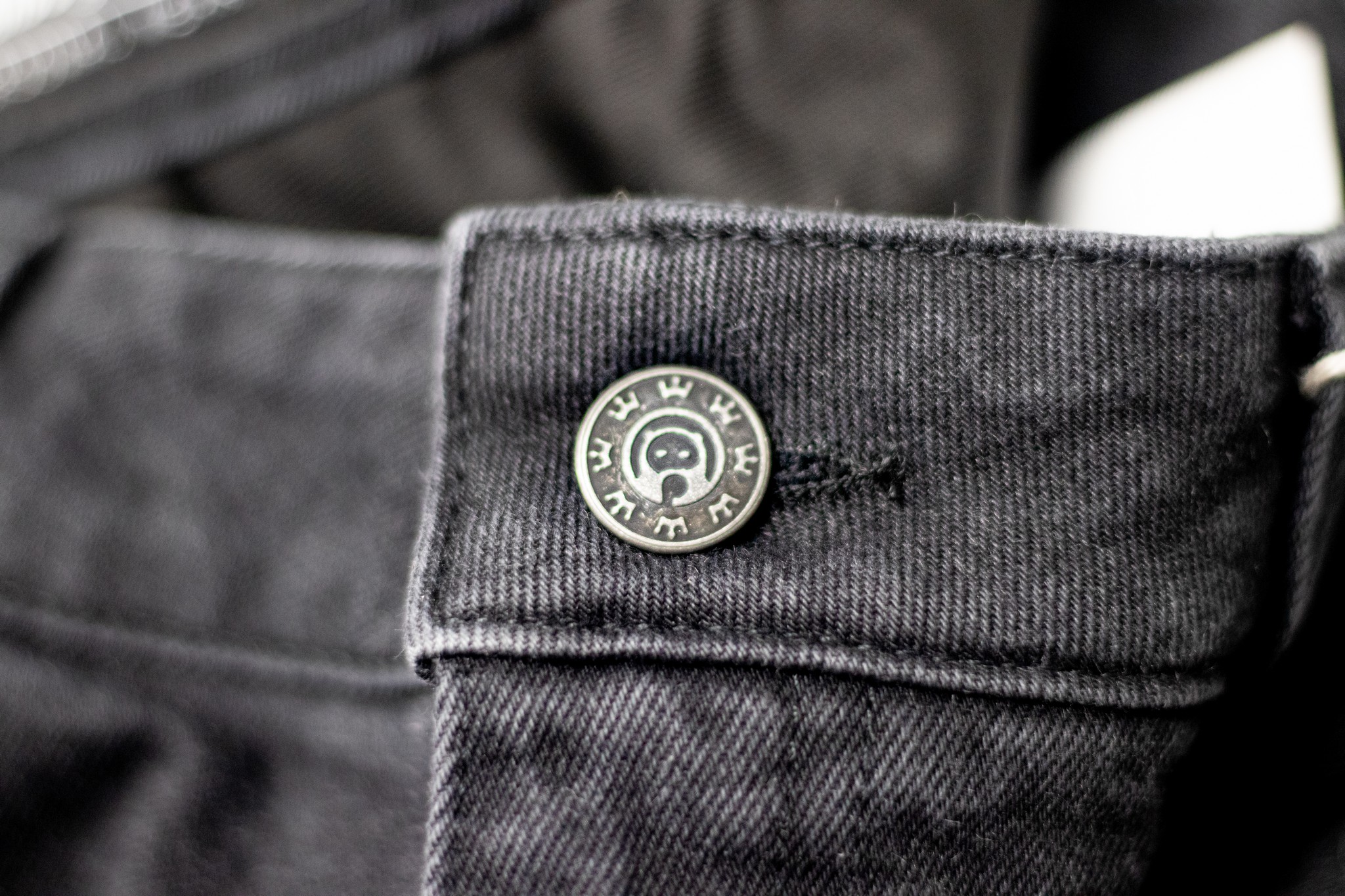 The jeans come with a five-pocket design found in most jeans and contain only four rivets that are used for the front pockets. The pockets are all average size and capable of carrying your cell phone, keys, wallet, and pocket knife without discomfort.
I've been wearing "slim-fit" jeans for over 10 years and these jeans fit the bill perfectly. The slim-fit tapering found on the legs is great and as described. Again, the stretch was very comfortable and gave me the impression I get from a regular pair of jeans.
Note: The Pando's come in three lengths: 32 (Short), 34 (Regular), and 36 (Long). I typically wear a W33-L32 in regular pants but to give ample ankle coverage I went with the "Regular" length as laid out by Pando Moto. If you have questions about sizing, refer to Pando Moto's sizing guide.
As far as the armor in the jeans, this is my only gripe – they weren't the most comfortable when I bent my knee. This was because the armor, understandably, struggled to form a spherical shape around my knee. The only solution for this is to replace the armor with formed type armor but that will completely destroy the seamless look of the Boss Dyn 01's.
That small gripe aside, the overall design and fit are great. Note that the weight of these riding jeans comes in at 3lbs 1oz – whereas a standard pair of my jeans weighs about 1lb. This weight is certainly felt but otherwise not obvious to onlookers.
Another neat addition to the jeans is a key loop above the front right pocket. However, it is made of metal and can be a nuisance when leaned over a sportbike.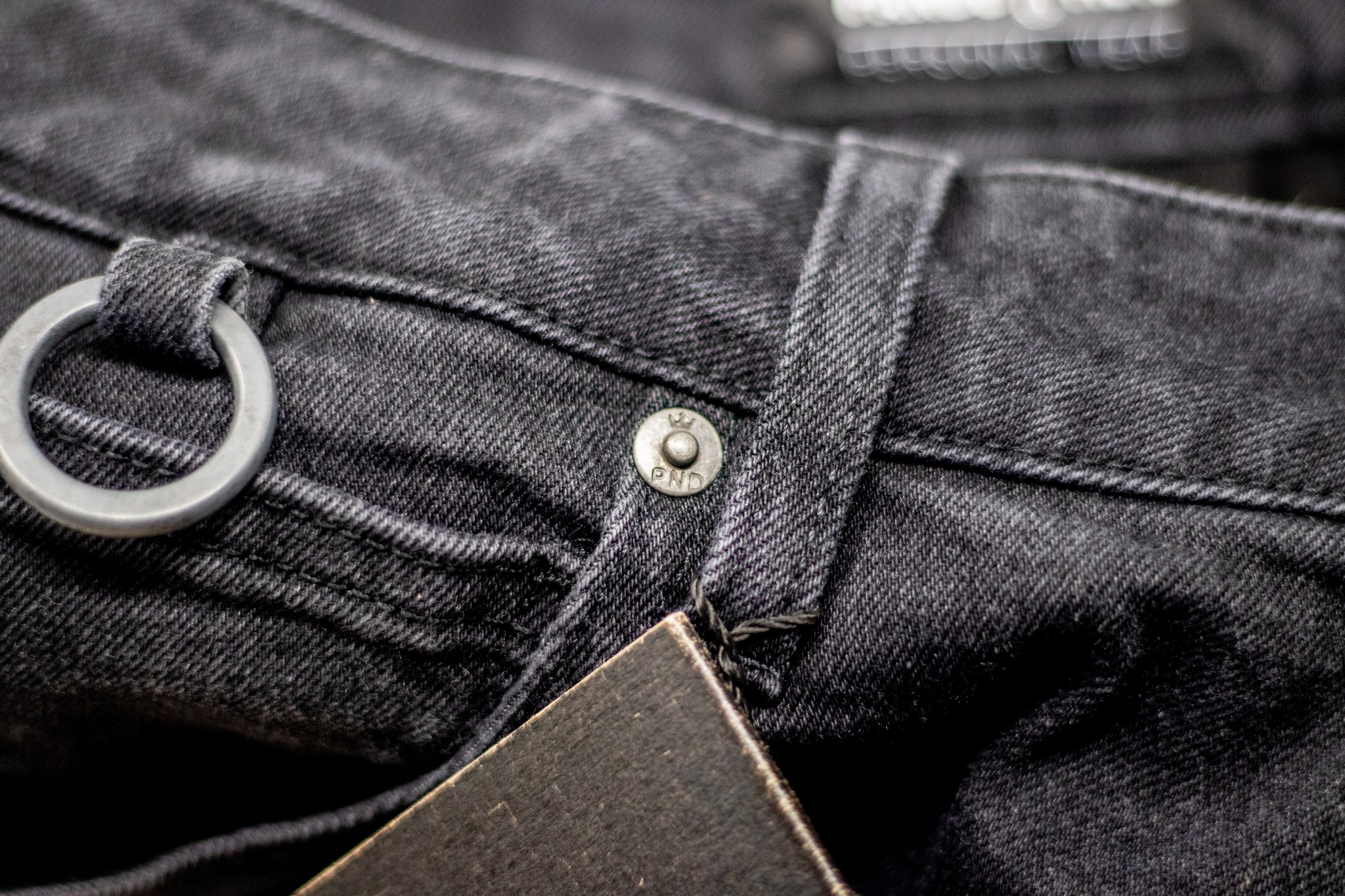 Boss Dyn 01 AAA+ Jeans Construction
According to the tag, they are "Made in EUROPE" and are done so with quality in mind. The stitching throughout was perfect, along with the embroidery, branded tags, branded buttons, and even brand rivets. The seams are also triple-needle stitched to ensure strength and longevity. These are touches found in only the highest quality jeans.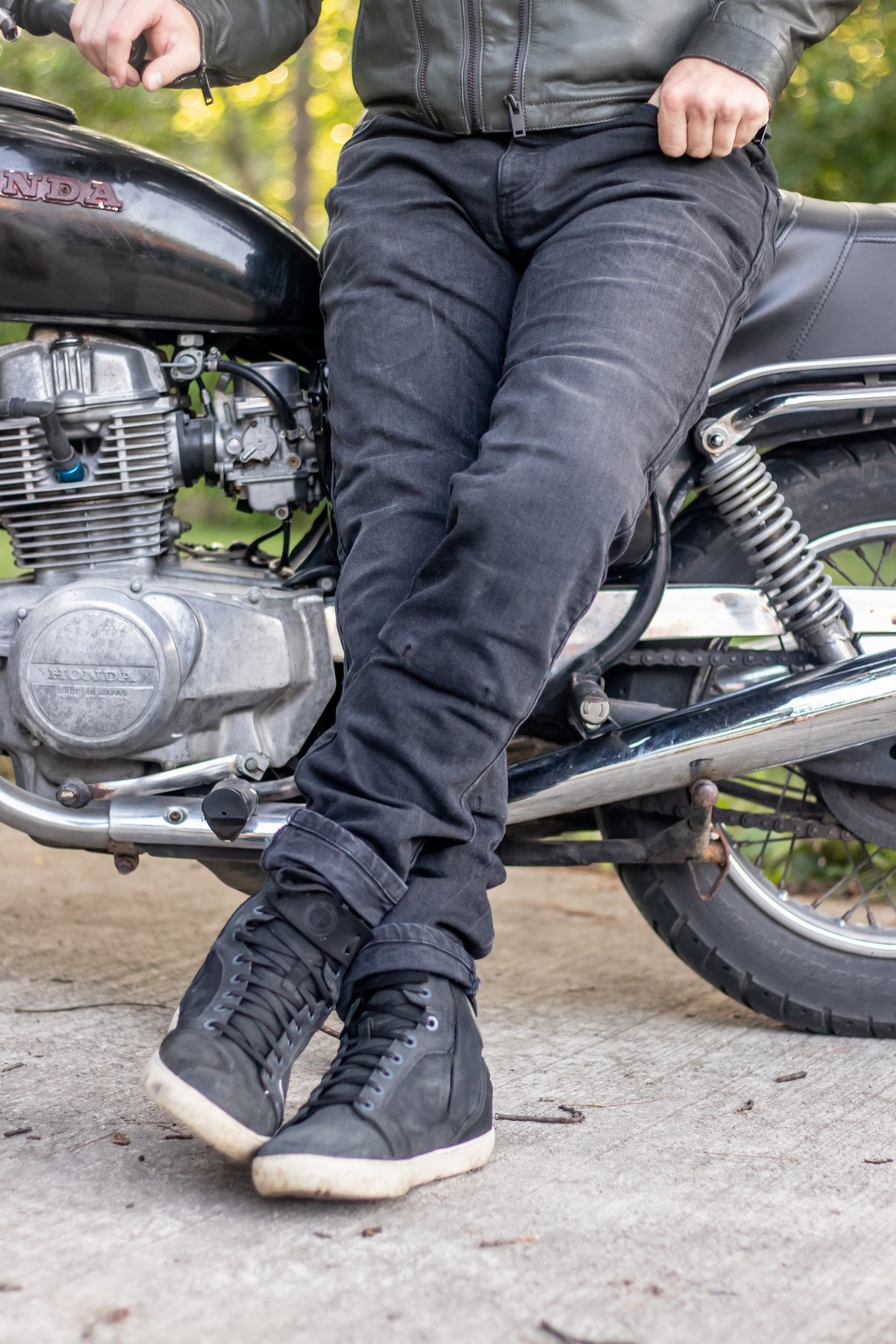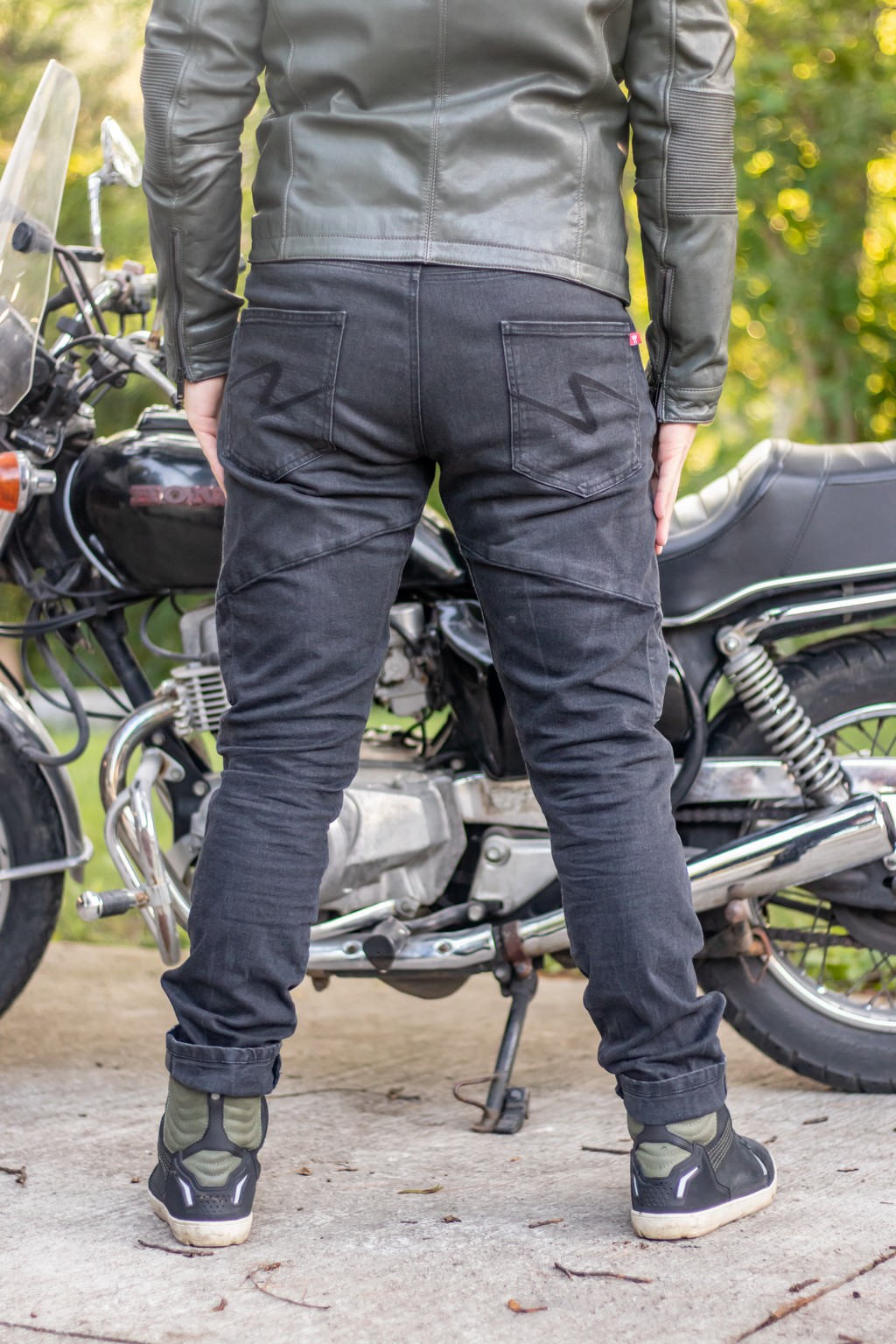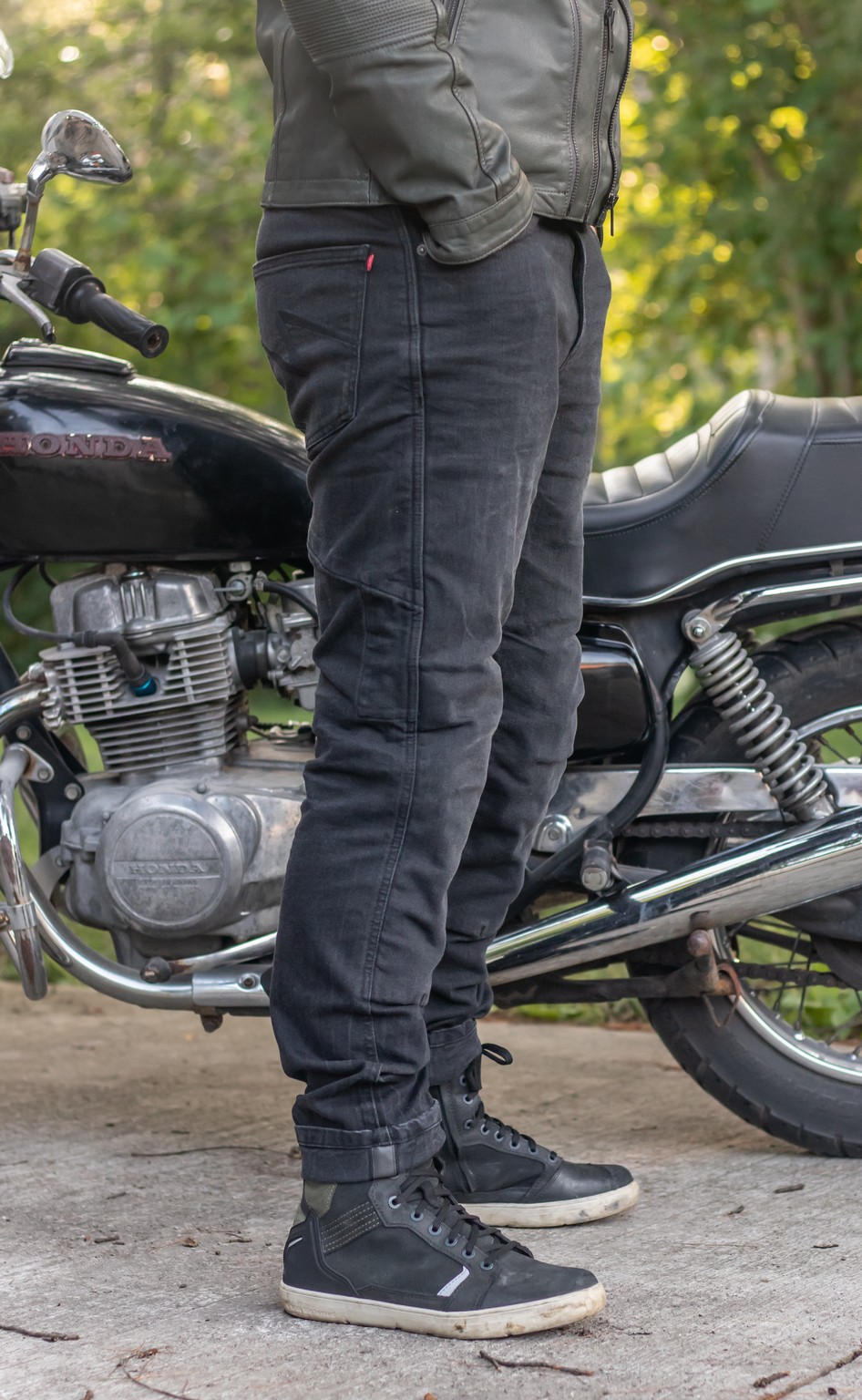 Boss Dyn 01's are available in US waist size 30 to 36 and lengths have been mentioned above. I usually wear US denim size W33xL32 but I am wearing a size W33xL34 per the Pando Moto website.
When wearing them with my high-top riding shoes, I fold the hem up about 2 inches to prevent them from bunching up.
My Measurements For Reference
| | |
| --- | --- |
| Height | 5'11" |
| Weight | 192lb |
| Waist | 36" |
| Hip | 41" |
| Thigh Circumference | 26" |
| My regular jeans size | 33 X 32 |
Boss Dyn AAA+ Jeans Protection
The Boss Dyn 01's are approved according to the EN17092 safety standard AAA in combination with the Cordura denim and SAS-TEC armor. The slide protection in these jeans offers a slide time of 6.7 seconds or 92 meters (300 feet) though I luckily didn't have to put this to the test.
Boss Dyn AAA+ Jeans Cost
In terms of riding jeans, €289 ( $340) is getting into the higher price range in the category. Per Revzilla's website, the range for moto denim ranges from $60 to $529.
Is $340 a lot for jeans? Yes. Is it a lot for riding pants? No, not really.
When considering the massive amount of tech, style, function, and attention to detail included in the Boss Dyn 01's, the $340 price tag is more than fair.
Comparable Motorcycle Jeans
When it comes to achieving a AAA rating, there aren't many on the market who can compete. Here are a couple that have comparable style and protection.
Rokker RokkerTech Tapered Slim Jeans come in looking fantastic but only come with a AA rating vs Pando's AAA. The Rokker's Indigo-dyed cotton is woven around the UHMWPE and comes with D3O knee protection. They are currently featured as a 'Staff Pick' on Revzilla and are a whopping $449.
Spidi J-Dyneema Jeans are multi-layer riding jeans made with Dyneema. They are EN 17092: 2017 class AA certified with the Warrior Lite knee and hip protection. They look very minimalist but in 2021, that's not a bad thing. They hit the stage with a price tag of just under $360 on Revzilla.
Lastly, Pando Moto also offers other riding jeans in their collection, such as the Robby Arm jeans, which we've also reviewed.
Final Verdict
They look and feel like a pair of high-quality jeans. Once you put them on, it does take a moment to get used to the weight of them. They don't appear to be bulky but the internal components do add up.
If you're looking for a pair of quality riding jeans, these are the ones. They will last you years to come and look awesome doing so. If you are questioning the price, don't. $340 for something that will save your legs from getting torn apart is a small price to pay.
No matter how short your ride is, it's always a smart idea to gear up, including pants. So instead of picking up your eighth pair of gloves and 10th pair of boots, grab yourself a pair of riding pants.
Pros
Very stylish.
Great attention to detail.
Zero break-in time.
Amazing abrasion protection.
Cons
Knee Armor can be bothersome.
Not water repellent or waterproof.
Can feel a bit heavy (when compared to regular jeans).
Metal keyring can be a nuisance.
Specs
Manufacturer: Pando Moto
Price: $340
Made in: Europe
Sizes: US Size 30×32 to 36×34
Colors: Black
Safety Designations: Fully CE approved – performance level AAA+ in accordance with EN 17092
Review Date: June 2021
Important Links
Pando Moto Boss Dyn 01 Image Gallery