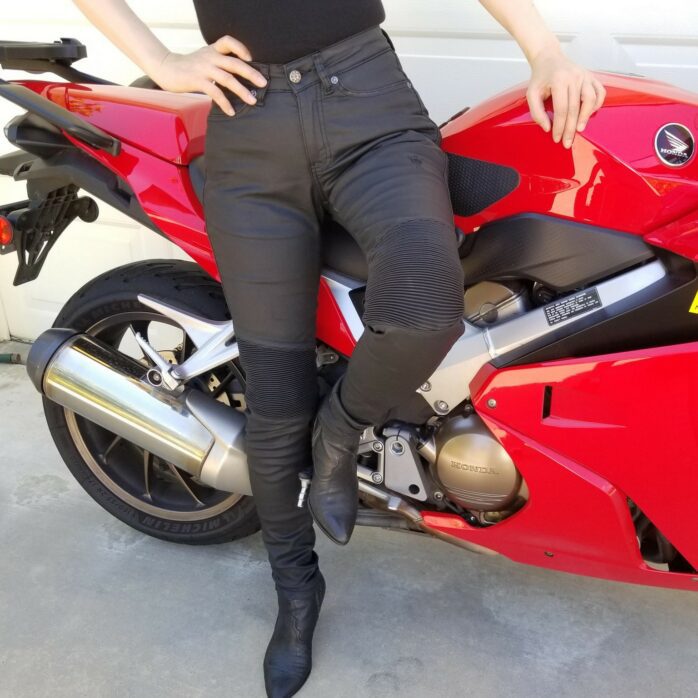 Pando Moto Kusari Kev 02 Jeans
Breakdown
Pando Moto Kusari Kev 02 are waxed denim riding jeans with a kevlar liner. The black rubber-like coating makes the jeans look cool and stylish. But the coating started to deteriorate after 2000miles, and $249 seems a little too expensive. The 9oz denim stretches well, and with the ribbed panel on the knee, they are comfortable in any riding position. The fabric is thin and relatively breathable. However, they are too hot to wear on summer days. The construction of the jeans is good, but they have metal rivets on the front pockets. Knee armor is included, and the jeans have sewed-on pockets for optional hip armor. They are CE EN level A certified, and in case you crash, Pando Moto offers a lifetime warranty. They are not waterproof but relatively water repellant.
Relatively breathable
Stretch and fit well
Stylish aesthetic
Ribbed stretch panels make the jeans comfortable in any riding position
Knee armor is included
The bottom end of hip armor pockets is sewed onto jeans
Good construction and even stitching
Lifetime warranty
Not great in the hot weather
Have metal rivets
Wax coating deteriorates
Not waterproof
The closure of knee armor pockets rubs the knee
€249 ($293 USD) is expensive
Buy These Jeans At RevZilla
How many of us started riding because it looked cool to be on a motorcycle? You dreamed of being like Steve Mcqueen in "The Great Escape." Or you had a crush on Trinity on that beautiful Ducati 996 in "The Matrix Reloaded." As I grew up watching races at Suzuka, I always thought the colorful leather racing suits were the coolest thing in the world. In any case, no one wants to or chooses to ride a motorcycle to look dull. So I am always on the hunt for motorcycle gear that is safe, comfortable, and fashionable. 
Pando Moto KUSARI KEV 02 Materials and Care
Pando Moto is a Lithuanian motorcycle apparel company. They made their international debut at the 2014 EICMA show in Milan. Since then, they have become a significant brand known for their functional and stylish riding gear. They provided me with their Kusari Kev 02 waxed riding jeans, and here is my review after riding in them for about 2500 miles.
The Denim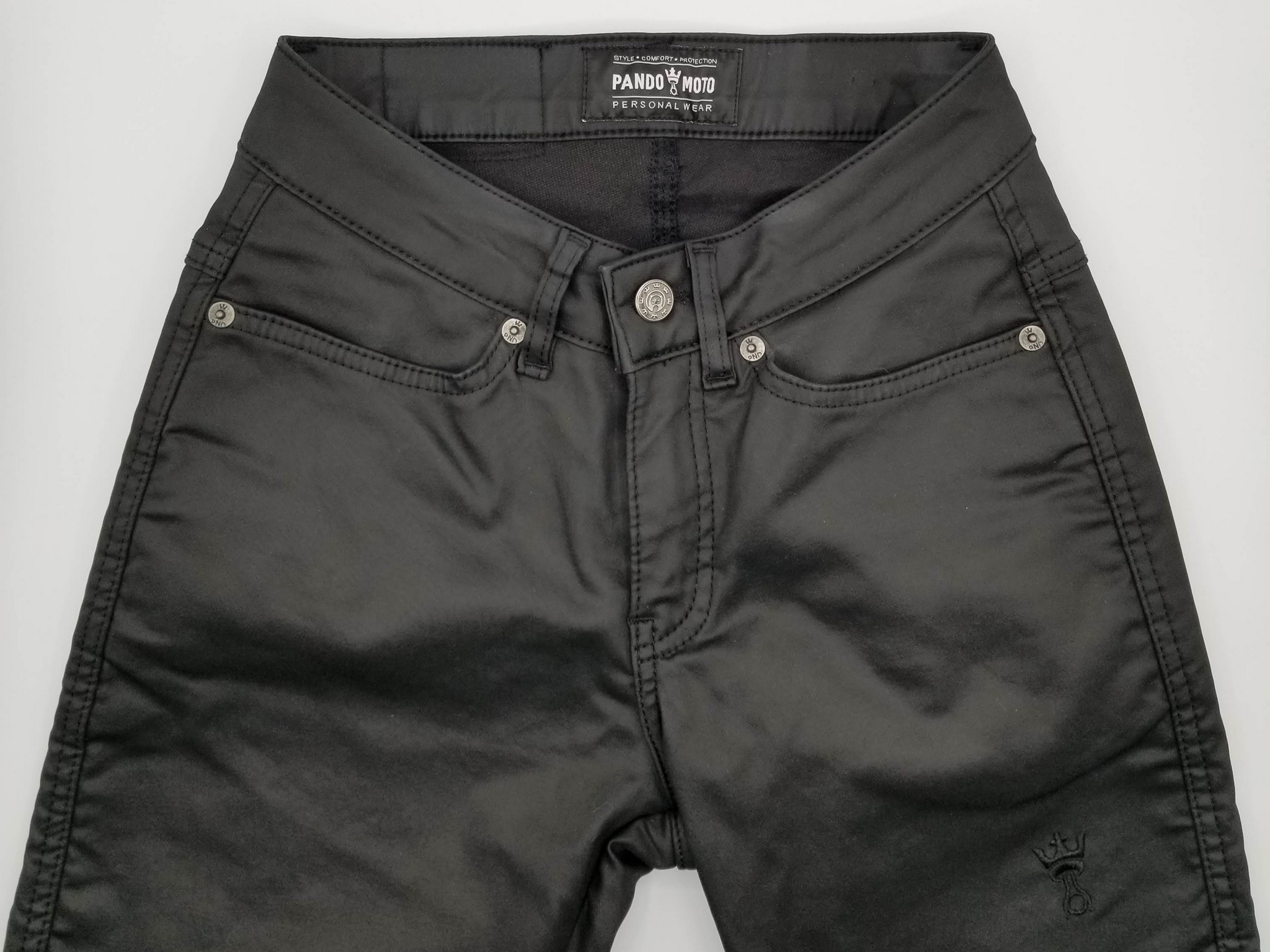 Kusari Kev 02 Jeans are 66% cotton, 30% polyester, and 4% elastane. The jeans feel hefty, but the 9 oz waxed denim is relatively thin, and the elastane gives a good stretchiness for comfort. The coated fabric surface has a slight sheen and feels almost rubber-like with a somewhat sticky texture. They look sort of like leather from a distance.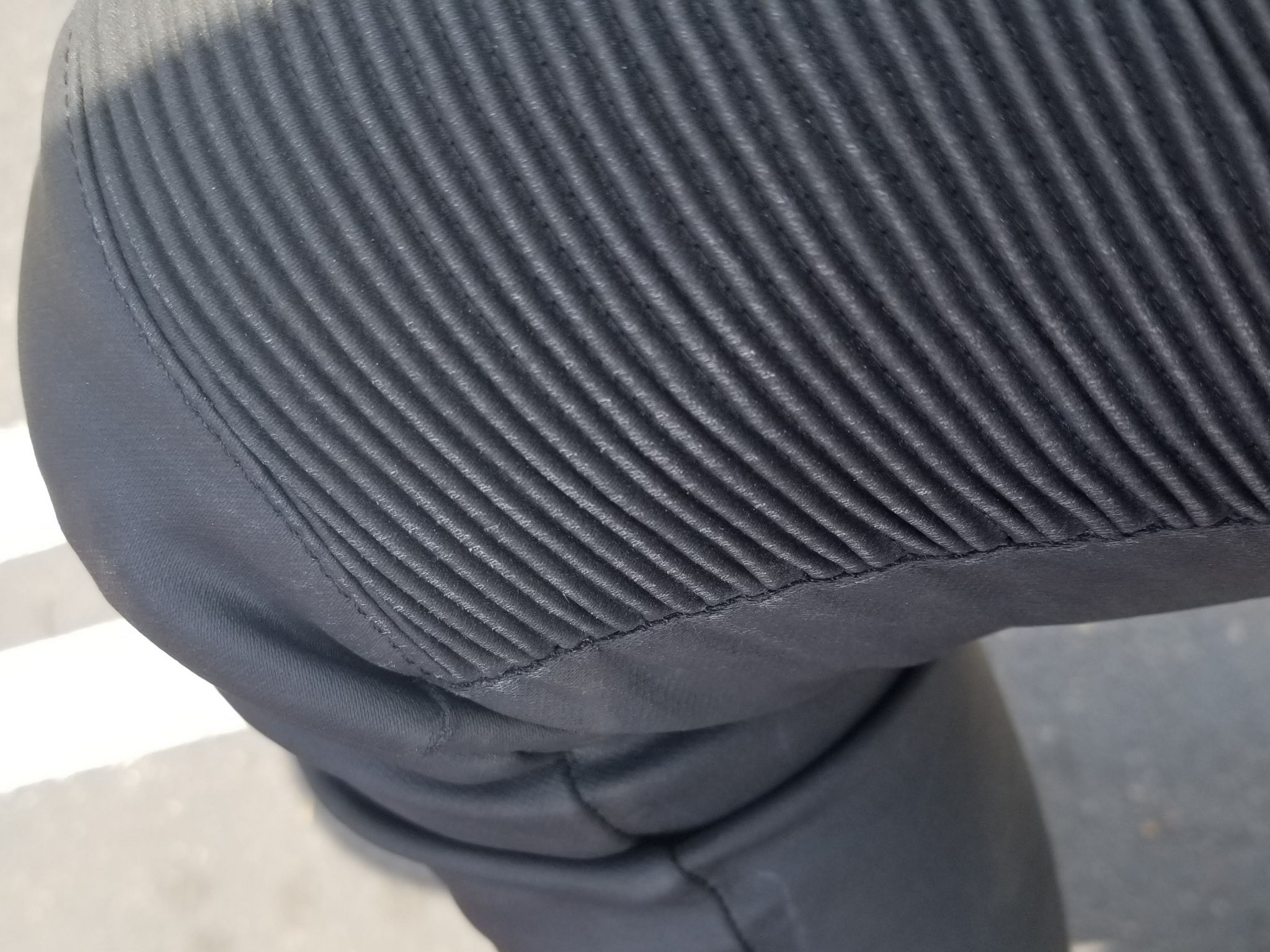 Unfortunately, I noticed wear on the coating inside the knee of stretch panels after riding in these jeans for about 2000 miles. It looks just like the wear on leather- the surface got rubbed off. So far, I was a bit disappointed, but it doesn't bother me too much because the wear is still minimal. 
I have to wait to see how it will look as it deteriorates more. Keep in mind that I ride a sportbike in which I hug the tank with my knees. So depending on your riding style, the rate of wear should vary. 
The Kevlar® Liner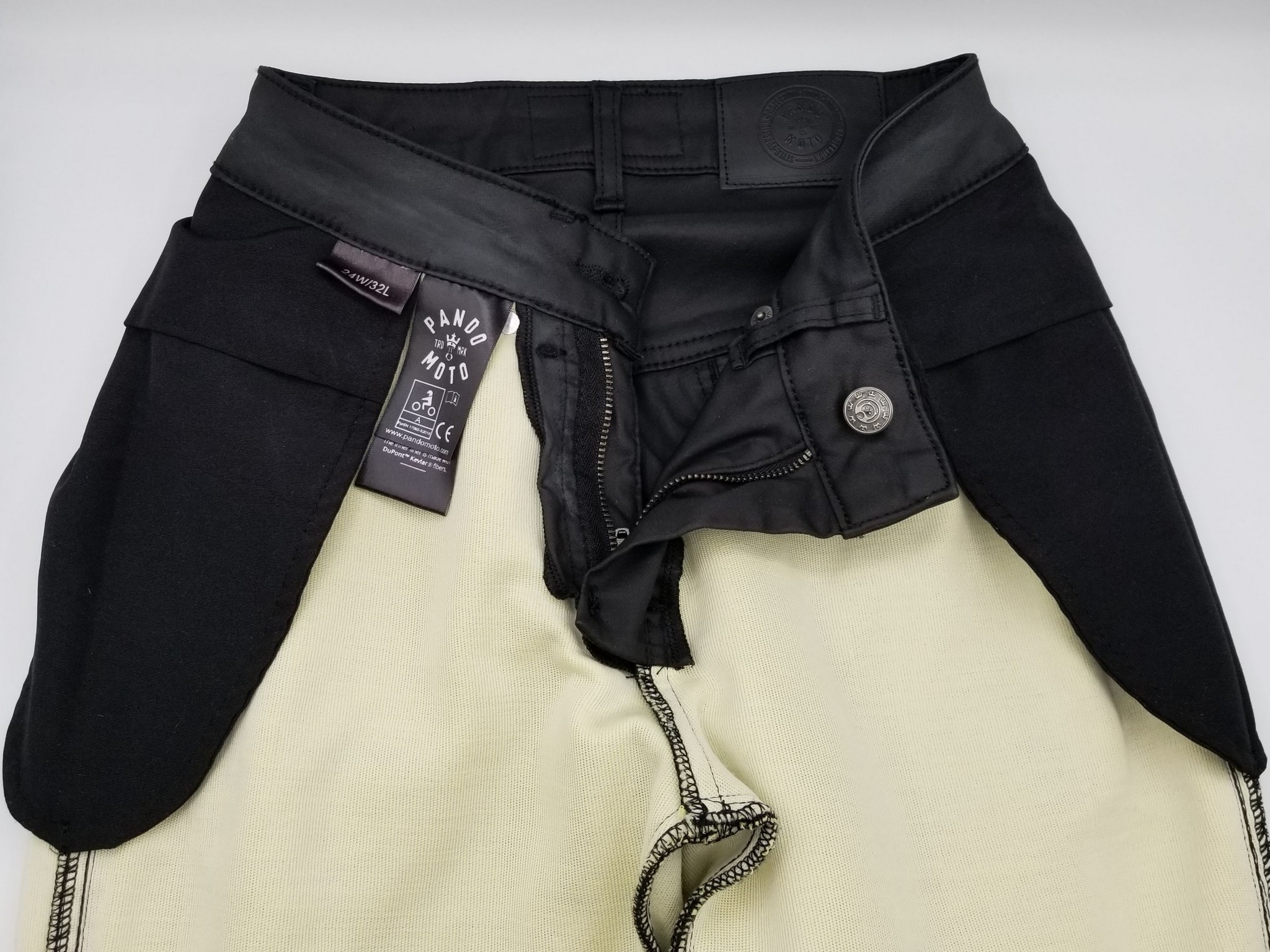 The inner liner is 50% aramid and 50% Coolmax polyester. It is very soft and relatively stretchy like jersey knit. It covers high impact abrasion zones – from waist to mid calves on the front and the hips and thighs on the back. The hems of the liner are sawed onto the denim layer with two .5 inch (1.3mm) vertical stitches on both the front and back sides. These stitches are visible on the surface layer but small enough that I didn't mind.
Breathability
I was pleasantly surprised that waxed denim is more breathable than it looks. These jeans are as breathable as ordinary two-layered kevlar riding jeans. The only parts that get a little sweaty are behind the knee protectors. That being said, they are, of course, not as cool as single-layered Dyneema jeans. When the temperature reached close to 100F, I wished I was riding in single-layered denim. 
It provides fairly decent insulation for cold and wind. I was comfortable riding in Kusari on a chilly and foggy day in Northern California, where the temperature was mid-50F. With an underlayer, I am sure I can ride in these jeans in below 50F weather. 
Waterproof?
Pando Moto is not claiming these jeans are waterproof nor water-resistant. So I won't wear them in the rain. However, from my experience, waxed denim seems to be fairly water repellent. A small amount of water spilled on the jeans or condensation from dense fog didn't seep into the fabric. 
Washing
I noticed white markings for sewing assembly on the left hip when I took the jeans out of the package. However, these markings disappeared after the first ride and didn't require washing. 
So far, I washed the jeans three times and didn't notice any shrinkage. The kevlar is heat resistant, but the washing instruction recommends hanging dry.
Pando Moto KUSARI KEV 02 Design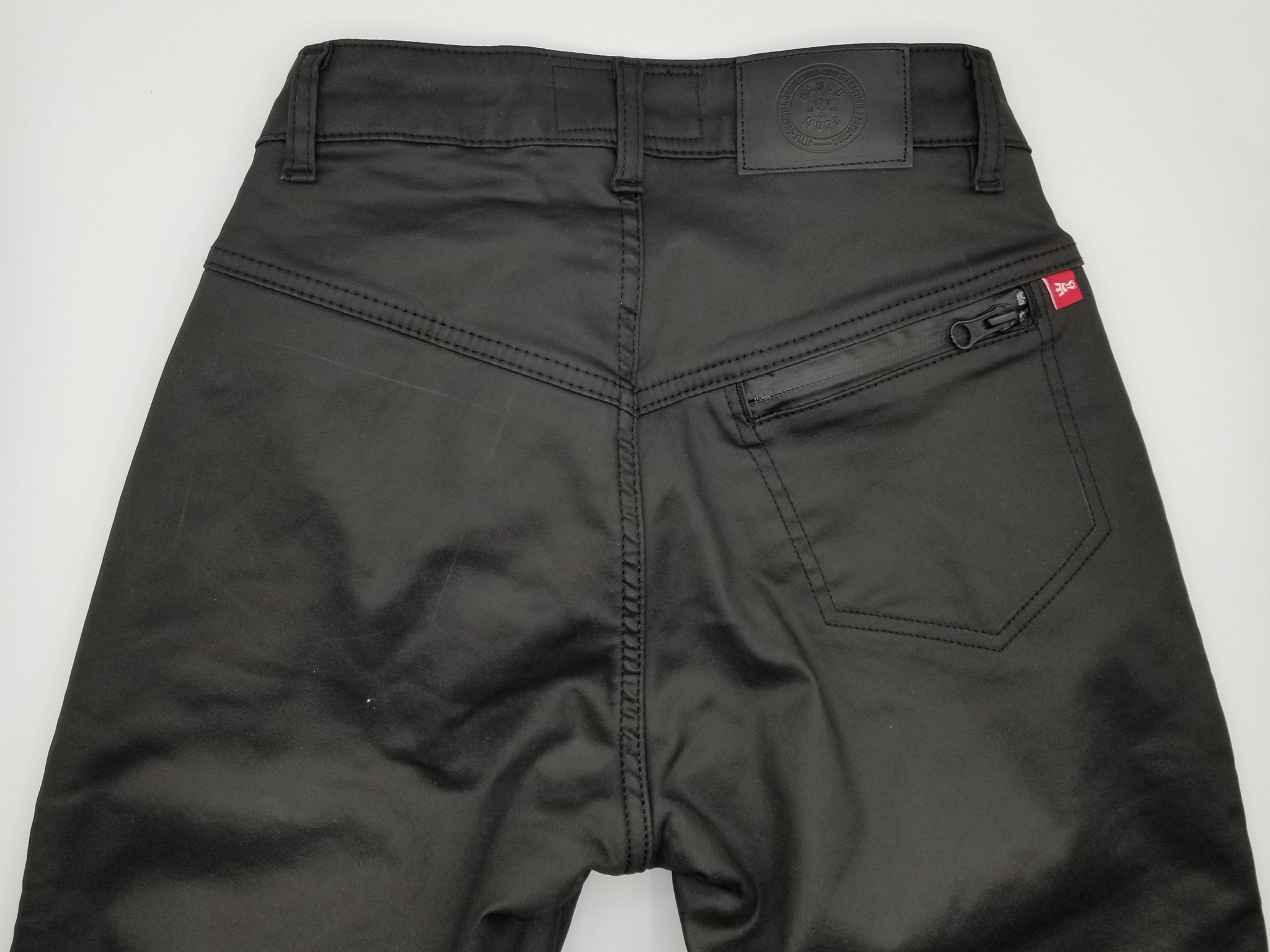 I like Kusari Kev 02 jeans' cool looks. These are something I would imagine badass ladies on motorcycles wear in movies and TV shows. Everything is black, including the leather belt patch, except the small red tab with the logo next to the back pocket with the logo. The embroidered logo on the left thigh is somewhat large but discreet enough not to ruin the look.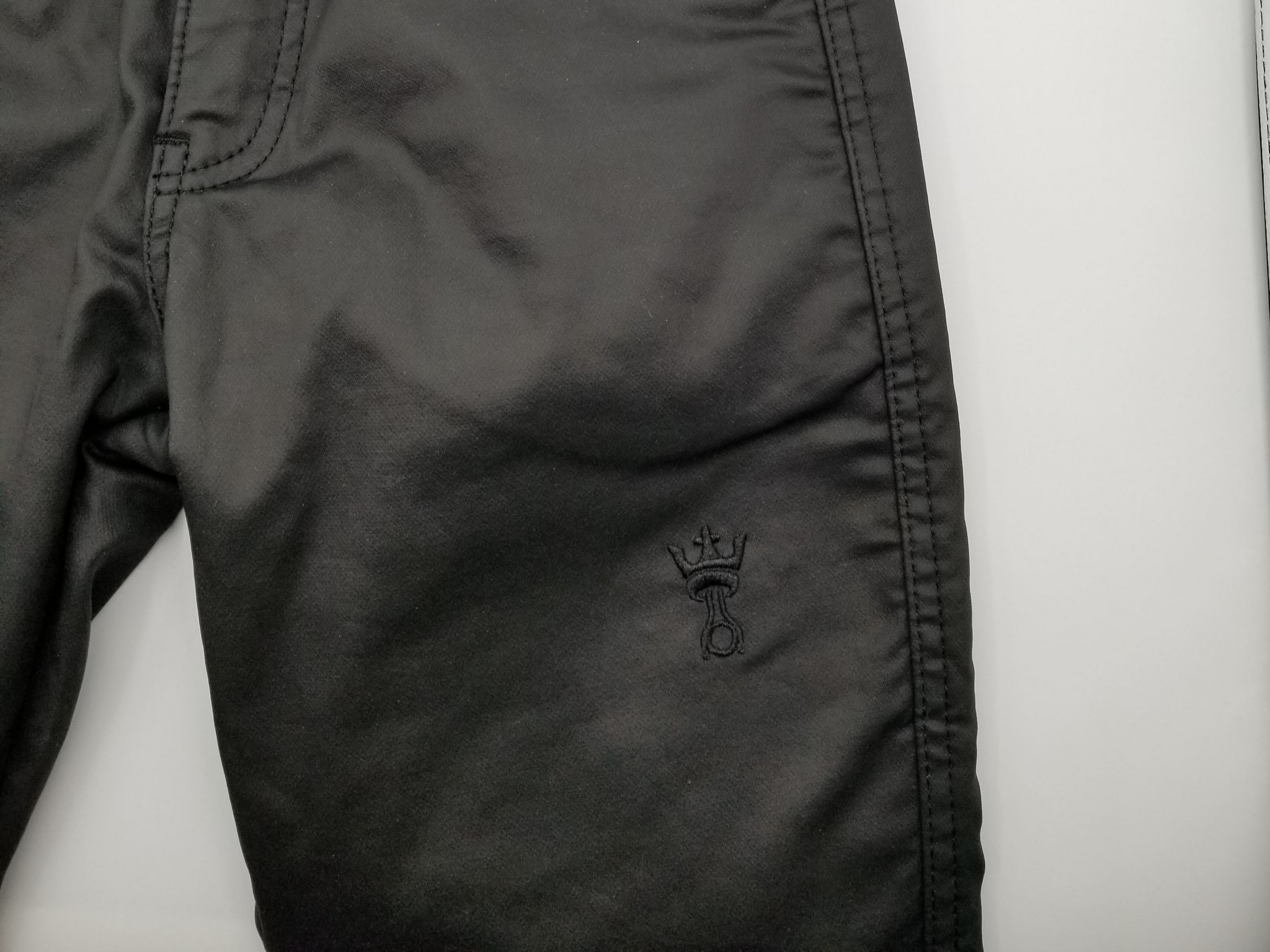 The jeans have two front pockets deep enough to be functional which is rare for women's jeans. However, these pockets have metal rivets. I wish they didn't because they may scratch the tank. There is one back pocket on the right hip with a waterproof YKK zipper. I really like that the coated zipper matches the waxed denim look. I appreciate such attention to design detail.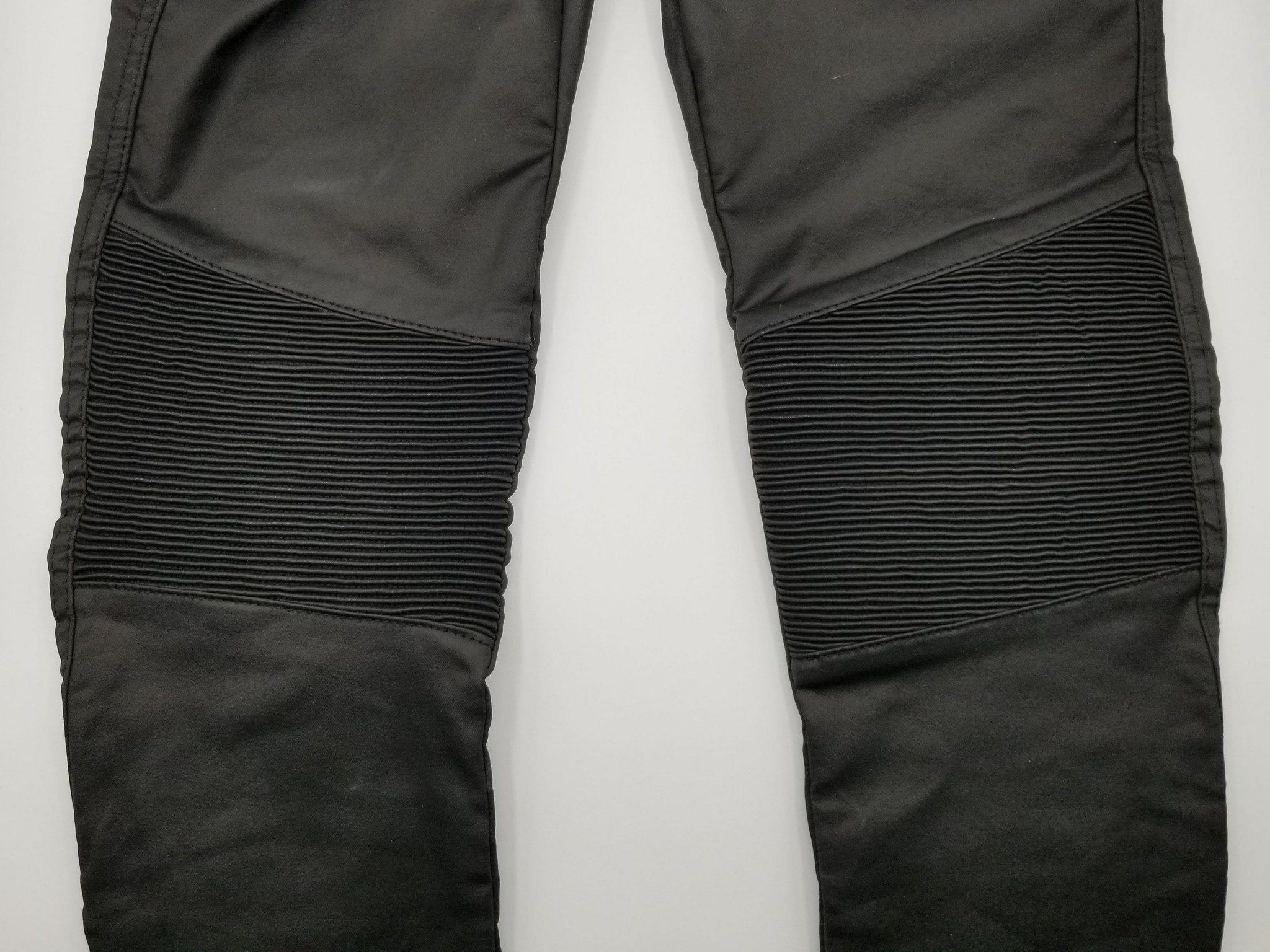 The mid-rise waist measures 8.5inches (21.6cm) from the crotch and sits below my belly button. The back is relatively high and covers the lower back nicely without gaping. The cut is skinny from the hip through the leg, yet the fabric itself stretches well, and the ribbed panels above the knee area make these jeans very comfortable in any riding position. The leg opening is 5 inches relaxed, 5.75 inches stretched. I can easily tuck it in the boot without fuss. 
Pando Moto KUSARI KEV 02 Construction
They are made in Europe – Pando Moto didn't specify any particular countries because different stages of production can be done in different factories across Europe due to Covid situations. Nonetheless, the construction of the jeans is top-notch. The stitches and seams are neat and even.
Pando Moto KUSARI KEV 02 Sizing and Fit
Kusari Kev 02 Jeans are available in two inseam lengths, Regular (32) and Long (34). Waist sizes are available from 24 to 34 in Regular, and 27 to 30 in Long. I usually wear denim size 25 x 32, but Kusari Kev02 stretches, so I chose 24 X 32. I worried they might be too tight when I received the pair because the waxed denim looked unforgiving. 
However, once I put them on, I was pleasantly surprised by how stretchy they were. The fit is snug but not skin-tight like leggings. They are comfortable and don't require any break-in.
My Measurements for Reference 
| | |
| --- | --- |
| Height | 5'7" |
| Weight | 120lb |
| Waist | 26" |
| Hip | 36" |
| Thigh Circumference | 19" |
| My regular Jeans Size | 25 X 32 |
Pando Moto KUSARI KEV 02 Protection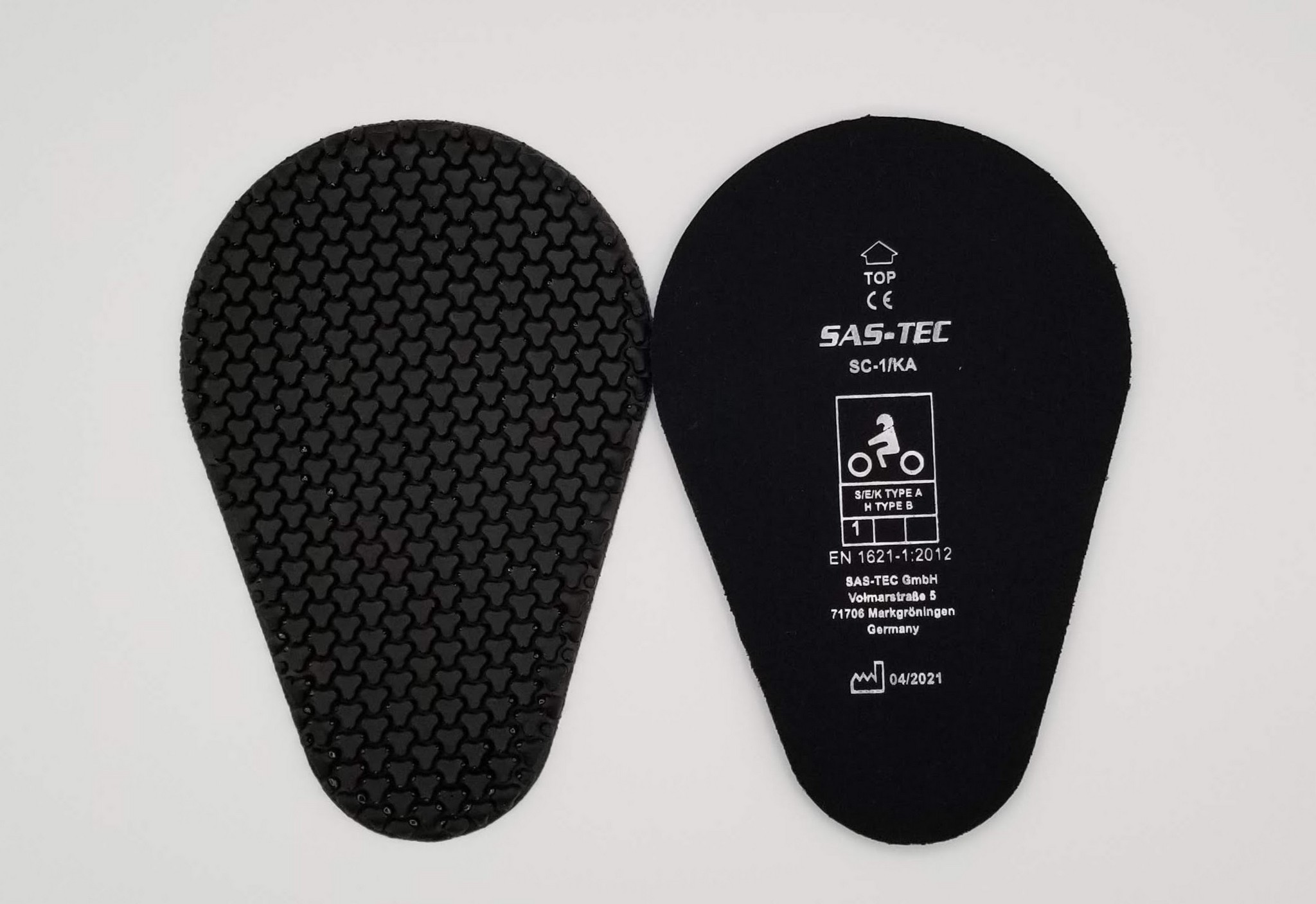 Kusari Kev 02 jeans are certified EN17092 safety standard level A with a slide time of 2.5 seconds or slide distance of 52.5ft (16m). Very flexible CE level 1 SAS-TEC TripleFlex knee armor is included. The pockets for knee armor have two positions with a vertical difference of about 2 inches(5cm) for proper armor placement. 
One thing that annoyed me was that the velcro closure of the knee armor pocket rubbed my upper knee. After a long ride or when I wore the jeans all day, the area got chafed. 
The jeans also have pockets for optional hip armor. I appreciate that the bottom end of hip armor pockets is sewed onto the jeans, so these pockets always stay in the right place. We don't want to deal with uncomfortably bunched-up pockets, especially on skinny-fit jeans like these. 
Pando Pilot Program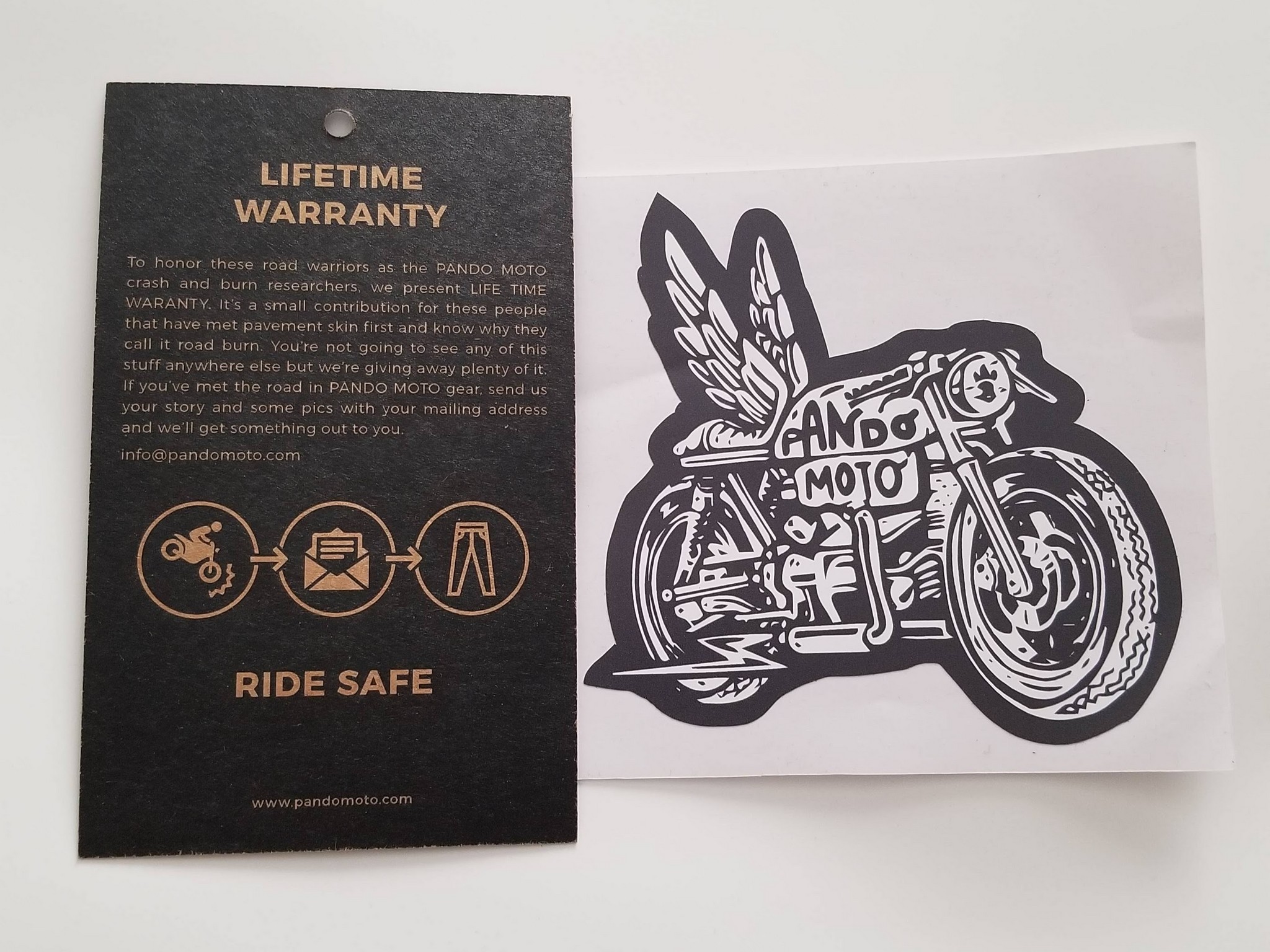 If you crash in Pando Moto jeans, Pando Moto offers a promotion called Pando Pilot. It is a lifetime warranty that if you send in your legit crash story with supporting pictures, they will send you a new pair of jeans free of charge. I find this program very neat. Hopefully, I never need to replace the jeans, though. 
Pando Moto KUSARI KEV 02 Cost
Pando Moto Kev 02 jeans are €249 on the Pando Moto website, about $293 USD. However, they are available on Revzilla for $249 USD. The price is on the higher end for two-layered riding jeans with knee armor. I do not mind paying extra for the added safety, comfort, and style. However, the deterioration of wax coating is a worrisome factor. Will it last for at least a few seasons? If not, $249 feels a little too much to pay. 
Comparable Motorcycle Pants
I didn't find any waxed motorcycle jeans other than by Pando Moto in the current market. I remember Rokker Jeans used to have their Diva available in waxed jeans, but they are discontinued. However, there are a couple of pairs in similar designs with Kusari Kev02.
Roland Sands Julian riding jeans ($220) are kevlar lined and come with both Knox® Micro-Lock™ knee and hip armor. The denim is 10 oz with 2% spandex. Mid-high rise, five-pocket design without metal rivets is classy and versatile. 
Rev'It! Moto women's riding jeans ($259.99) are another comparable pair. They are made with 12.5 oz Cordura denim with Rev'It!'s own PWR shield liner in a high-impact abrasion area. They have rated class A in EN 17092 certification and have a slide time of 6 seconds. Seesmart knee armor is included. 
Final Verdict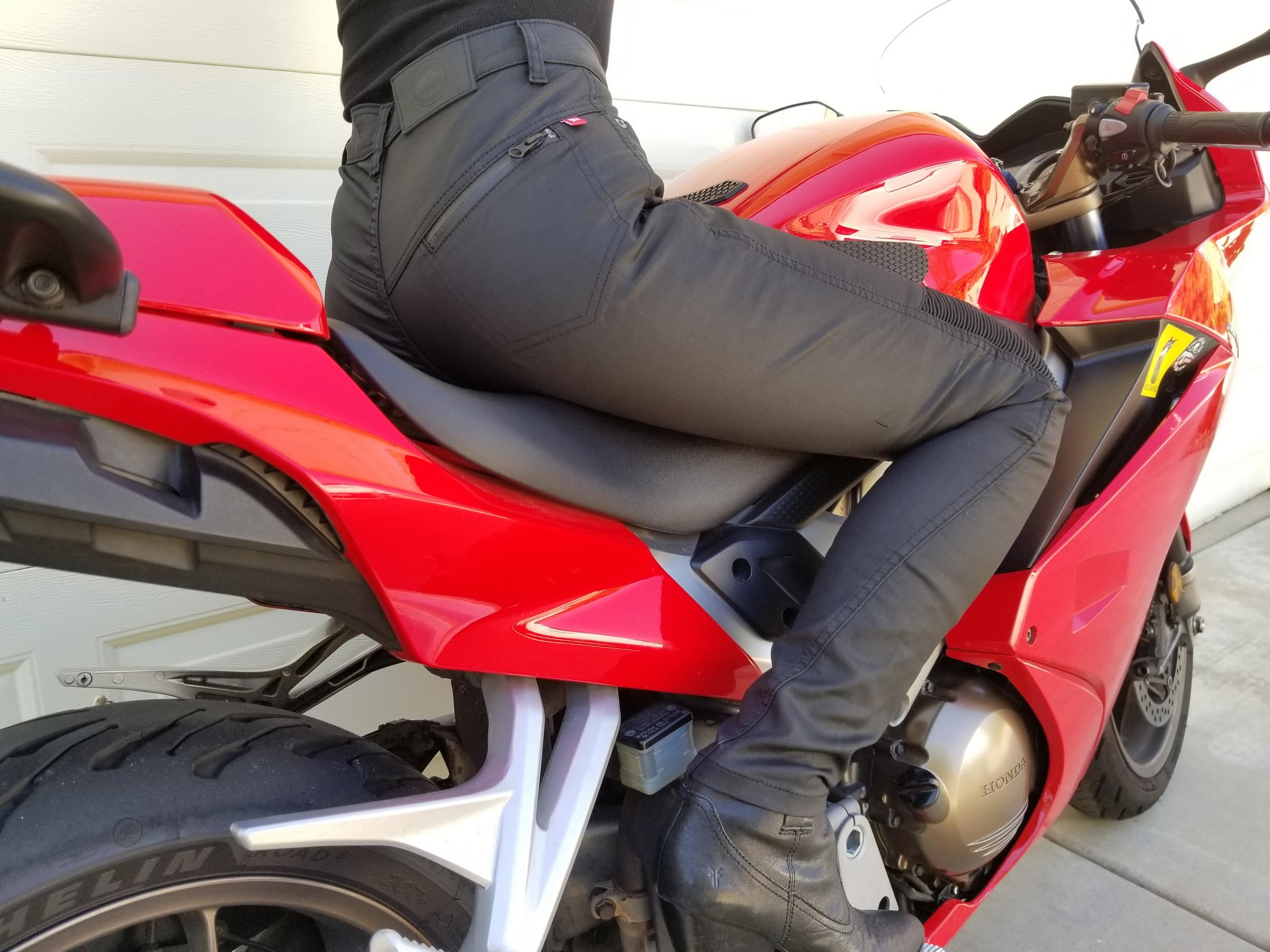 I wore Kusari Kev 02 often while I was testing because I liked the fit and the cool look of the waxed denim. They were indeed too hot on 90F+ summer days, but they stretched well, and I was able to bend my knees into a sportbike riding position comfortably. So I was a little bummed out when the coating started to deteriorate after 2000 miles. That made me feel their $249 price tag seemed a bit too high. 
The construction and the design of the jeans are above satisfactory, except the velcro on the knee armor pocket rubbed my knee uncomfortably and had metal rivets on the front, which may scratch the tank.
They are not waterproof but seem to be somewhat water repellent. Unfortunately, I didn't have a chance to ride wearing them in the rain, but my legs were dry even after riding in a very dense fog. 
They are CE EN certified with a slide time of 2.5 seconds. Knee armor is included, and the denim has pockets for optional hip armor. It is a minor detail, yet I really appreciate that these pockets are sewed onto the jeans and stay put.
I think the Pando Pilot program is awesome. I appreciate the company that offers a lifetime warranty. 
I'll keep the jeans and update you on the wear of the wax coating. 
Pros
Relatively breathable

Stretch and fit well

Stylish 

Ribbed stretch panels make the jeans comfortable in any riding position.

Knee armor is included.

The bottom end of hip armor pockets is sewed onto jeans.  

Good construction and even stitching. 

CE EN Level A Certified 

Lifetime warranty
Cons
Not great in the hot weather

Have metal rivets

Wax coating deteriorates. 

Not waterproof

The closure of knee armor pockets rubs the knee

€249 ($293 USD) is expensive 
Specs
Manufacturer:

Pando Moto

Price:

€249 / $249 USD

Made in:

Europe 

Sizes:

Regular length: 24 X 32 ~ 34 X 32 ; Long Length 27 X 34 ~ 30 X 34

Colors:

Black

Safety Designations:

CE EN 17092 Level A certification

Review Date:

August 2021
Important Links / Where to Buy
Pando Moto KUSARI KEV 02 Image Gallery