During the past decade, there has been some great riding gear designed and manufactured by resourceful Australians. One such Aussie is Queenslander Max Duff. Max created his brand after tiring of the same old garish gear he was seeing the big manufacturers produce year after year. His goal was to create safe riding gear for motorcyclists that looked like normal streetwear. The result was the formation of his riding gear brand, Akin Moto.
Akin Moto produces a range of great looking riding gear that seamlessly merges streetwear style with the latest in safety tech fabrics. Among his latest developments are Akin Moto motorcycle jeans.
The Akin jeans range features 2 models. The blue denim, slim-fit Rambler and the black denim slim-fit Stealth motorcyclist jeans. Seeing as I always gravitate towards black denim over blue I decided to give the aptly named Stealth model a try.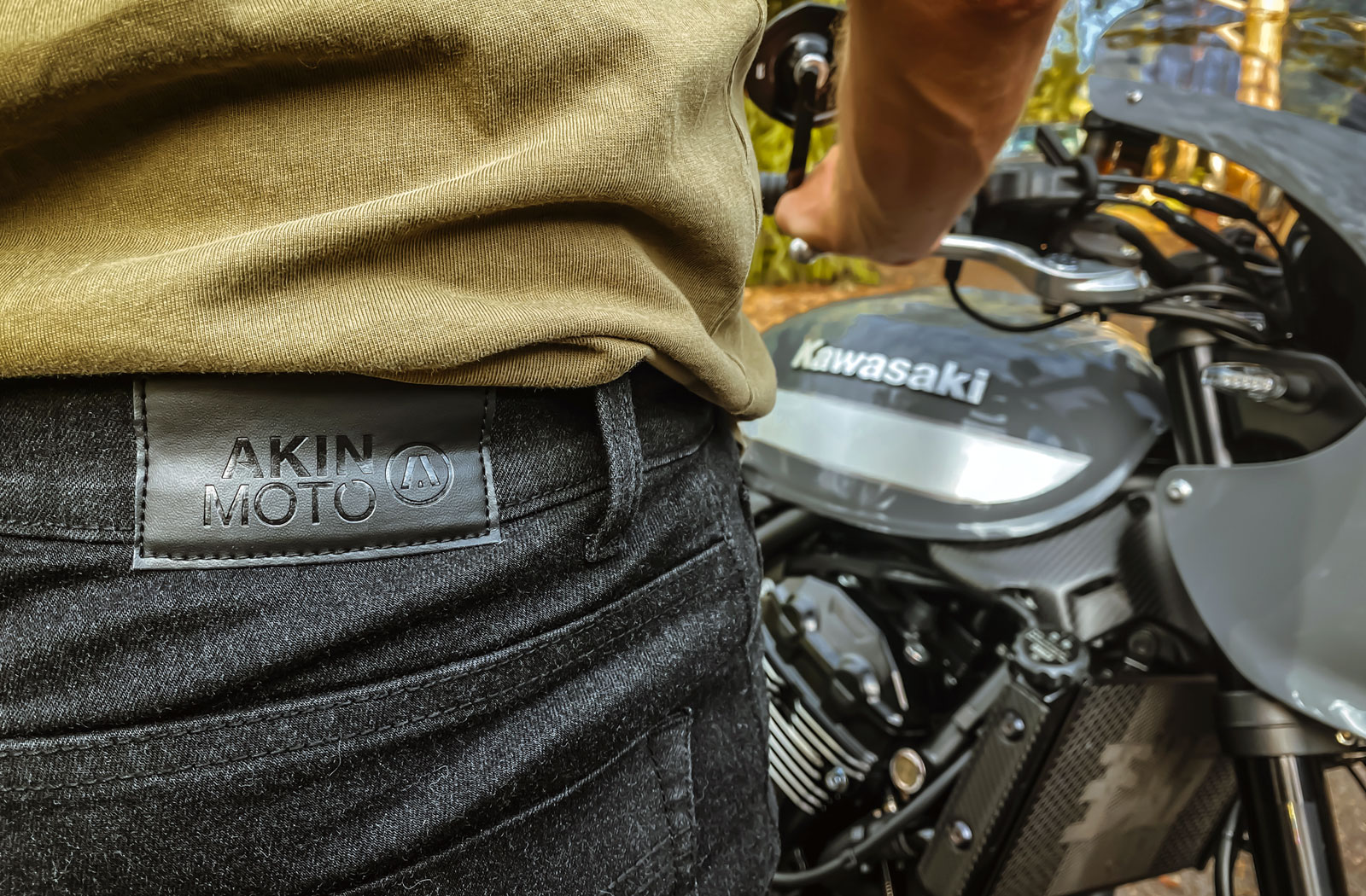 Max explains that his Akin motorcycle jeans have been years in the making. During their development, he focused on 3 key areas being safety, comfort and style. Let's take a look at how he's achieved it…
Akin Moto Stealth Jeans / Safety
On paper, there's no denying that the Stealth jeans achieve their safety requirement. The material Akin Moto has chosen for the main structure of these jeans is a 12.5oz Cordura denim weave. Cordura is a proven abrasion inhibitor and is many times stronger than standard denim. For added protection, the Cordura denim here is backed up by Dupont Kevlar. The Kevlar lines the entire upper section of the jeans (waist to knees) offering extra protection to the areas that need it the most.
"This is not normal denim. It's stronger. Way stronger." – Akin Moto
The Akin Moto Stealth Jeans also come readily equipped to accept armour. By utilising the integrated internal pockets at the knees and hips riders can add optional armour which Akin also sell in the form of SAS-TES Tripleflex 'Air' Level 2 armour. Finally to ensure that everything holds together nice and strong all of the jean's seams are reinforced.
As for the effectiveness of this configuration, I can only rely on the tech specs. I haven't slid down the road in these jeans and I'd prefer not to. I will say though that knowing the Stealth Jeans jeans are packing all this safety tech certainly makes me feel safer than I would in a pair of flimsy Levis.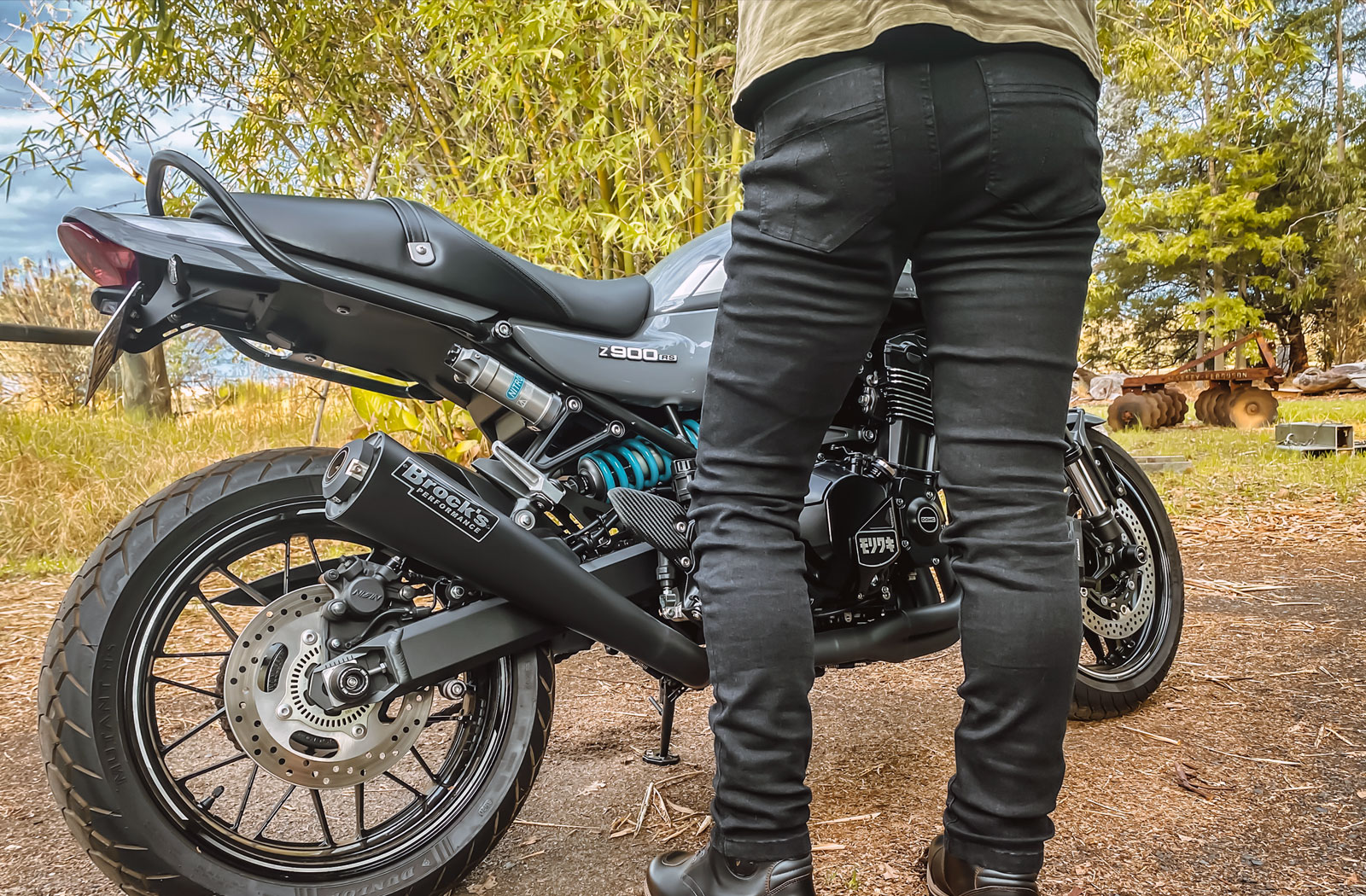 Akin Moto Stealth Jeans / Comfort
Being comfortable in your riding gear isn't just about buying the right size. Motorcyclists hold their bodies in a fixed position for long periods of time. This can lead to discomfort. Restrictive patterns or fabrics can exacerbate this issue by creating pressure points that restrict the flow of blood. This results in cramping, fatigue or in extreme cases the loss of feeling. Max addresses this issue with all the gear in his Akin Moto catalogue, and the Stealth Jeans or no exception.
To prevent the jeans from causing any discomfort the Cordura denim used in their construction offers plenty of stretch. So whether you're laid over the tank of a cafe racer or reclined into the backrest of a tourer they will conform to your pose with ease.
Another concern with riding gear is how comfortable it is in different weather conditions. In the past, I would have avoided layered riding jeans in favour of the single-layer alternatives that are in vogue right now. That's because I live in Western Australia where it tends to be warm for most of the year. In my experience extra layers of Kevlar beneath denim usually results in sweat building up in places where I really don't like or want it. To avoid overly sweaty situations Max has used another tech fabric called 'Coolmax".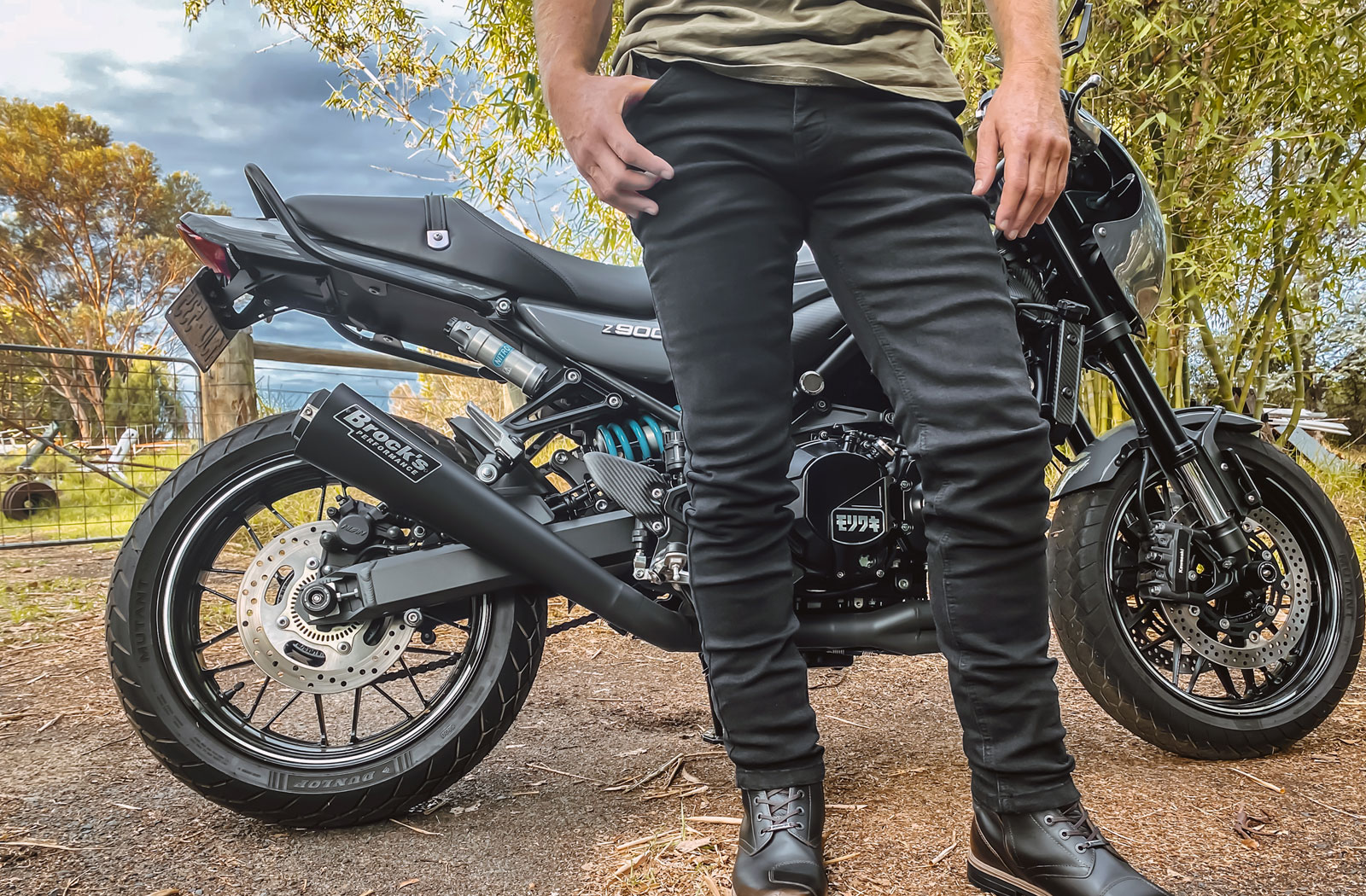 Coolmax is a polyester-based fibre that is designed specifically to "beat the heat". Its integration into the Stealth Jeans design means that despite the additional internal layer, you stay cool. Coolmax offers permanent moisture-wicking performance. It works by transporting moisture away from your skin to the surface of the material it is woven into. Once there it can be evaporated by the wind and in turn, help to cool you as the wind penetrating the fabric is cooled by the moisture.
My maiden voyage wearing the Akin Moto Stealth Jeans was on a customary hot day in Western Australia. This summer has been a stinker and on this day the temperature was hovering between 34-36 degrees celcius. I'm an ATGATT kind of guy which can prove difficult in temperatures like these, and on this day I was feeling it. I had my jacket sleeves expanded, the main zipper 1/3 of the way down and all of the pockets and vents open to get as much air in as possible. After an hour or so in the saddle, I could feel the sweat running down my back. However, my legs, crotch and (ahem!) butt crack were relatively unaffected by the searing heat. I'd like to think this was because the Coolmax was doing its job efficiently. I wouldn't go as far to say they are cooler than the single-layer jeans I own, but they were cool enough to remain comfortable.
Where the Stealth Jeans outdo the single layer UHMWPE alternatives is when temperatures drop. I've now worn these jeans on a few evening/early morning rides where the temperature was in the 12-15 degree Celcius range. At these temperatures, UHMWPE jeans feel very cold on the inside. This is because the abrasion material in those jeans, which feels like silky Teflon, sits on the inside of the denim weave and it's not a good insulator. But when you're wearing jeans that have an added layer of material, like the Akin Moto Stealth Jeans, you end up with an insulating barrier that I can confirm will keep you warmer for longer.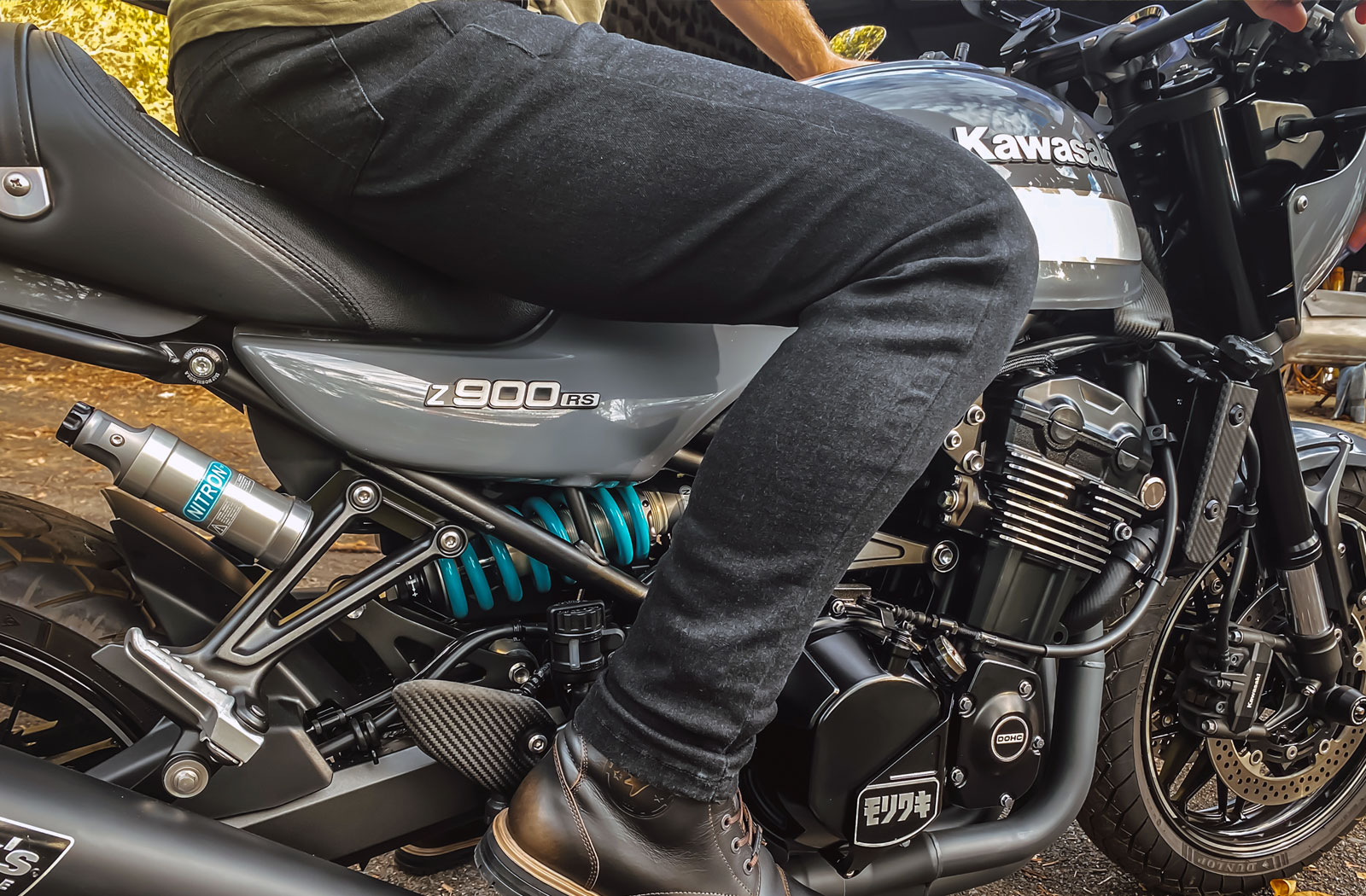 Akin Moto Stealth Jeans / Style
In keeping with Max's streetwear aesthetic goals, the Akin Moto Stealth Jeans feature a slim, tailored fit. This slim but not too skinny cut is the style I usually opt for with the regular jeans I buy. The Stealth jeans mimic the look perfectly and are very comfortable thanks to the ample amount of stretch they offer. I'd have no worries wearing these jeans out to a bar on a cooler evening because they are so comfortable. The extra layer does make it feel a bit like you're wearing tracksuit pants, but to anyone else, you're just wearing standard jeans.
Despite the heavy 12.5 oz weight of the Cordura denim, these jeans feel very soft. The colour of the jeans in certain light looks more like a really dark grey than a solid black and the Akin label on the waist is black leather. The jeans are secured using a classic bronze button and zipper. As for sizing I generally wear a 32 waist but found the best size for me in the Stealth Jeans was large. Be sure to check Akin's sizing guide or hit them up for advice if you're unsure before purchasing.
Do I like the Akin Moto Stealth jeans? I can emphatically say yes. These jeans are ideal for the cooler months and a great option for those times when you need something that looks good both on and off the bike.
The Akin Moto Stealth Jeans retail for $249.95 AUD (~$187 USD) and are available directly through their website.
AKIN MOTO