If you read through the comments section on any modern cafe racer review you are sure to come across a statement like this… "There's no such a thing as a factory-built cafe racer!" It's the opinion of a purist and one we can relate to. How can you name a motorcycle straight off the factory floor after a style of bike that is, at its core, a custom creation? Despite anyone's opinion manufacturers insist on producing bikes they define as modern cafe racers and customers obviously keep buying them. So in an attempt to add a bit of authenticity to these cafe racer clones, we've pulled together this comparison of modern cafe racers to sort the wheat from the marketing chaff.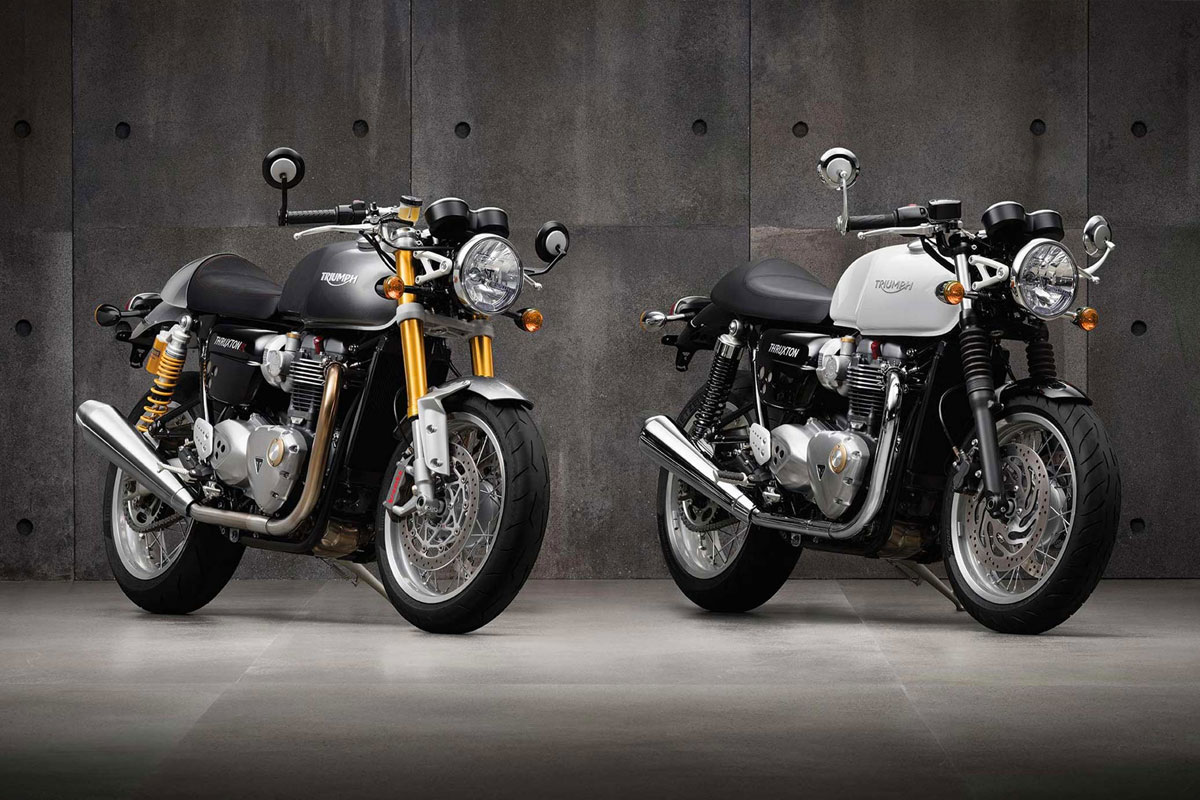 Cafe Racer ranking factors
First, let's look at how we scored the bikes. This whole exercise is about authenticity. As such the ranking factors are based on what makes a motorcycle a cafe racer aside from being custom built. So to do this we created 5 score categories. They are style, components, power, handling and ethos. Here's what each one means:
Style: When we're talking style we generally want to see a design that was clearly influenced by the original cafe racers of the 1950s.
Components: The component category refers to purposeful parts on the bike that are synonymous with cafe racer styling and performance. These include things like clip-on handlebars, rear-set footpegs, tail sections, retro cowls etc.
Power: In this instance, power isn't just referring to how much horsepower each bike has. Instead, we looked at whether the cafe'd version of each motorcycle had increased performance over similar models in the manufacturer's range. Improved performance should always be one of the main goals of building cafe racers in the first place.
Handling: Handling is ranked the same way as power.
Ethos: Lastly, we looked at how credible the manufacturers back story behind each motorcycle was.
The scoring system is simple. Each category is scored from 0 to 2. A score of 0 means the bike did not meet the requirement. If it gets 1 then it did meet the requirement and a 2 means it exceeded the requirement. That means a top score of 10 points can be achieved if the motorcycle in question exceeded our expectations in all 5 categories.
Our 2019 Modern Cafe Racers
Now for the bikes. Our list includes all the latest models that are labelled as cafe racers or lay claim to being influenced by the style. These are the Kawasaki W800 Cafe, BMW R nineT Racer, Ducati Scrambler Cafe Racer, Kawasaki Z900RS cafe, Honda CB1000R Neo Sports Cafe, Royal Enfield Continental GT 650, Triumph Thruxton R, Moto Guzzi V7 III Racer LE, Suzuki SV650X and the Kawasaki Vulcan S Cafe.
Here's how they stacked up…
10th Place – Kawasaki Vulcan S Cafe
"The Vulcan S CAFE reflects the huge upsurge of interest in personalised bike building. With its distinctive colour and graphic treatment combined with cafe styling…" – Kawasaki Europe
No, no, no. I'm sorry Kawasaki but this simply won't do. As far as "styling" goes they're referring to the bike's front fairing and orange paint as a unique differentiator from the other models in the Vulcan S range; in our book that doesn't cut it. The Vulcan S Cafe is, at its core, a cruiser. A style of motorcycle that has more in common with choppers than cafe racers. Someone in the Kawasaki marketing department obviously didn't see this as an issue when slapping the Cafe branding on this cruiser. This is an exercise in catchphrase marketing and nothing more. Sorry Kawasaki but the 2019 Vulcan S sits in last place on this list where it most definitely belongs.
Style: 0
Components: 0
Power: 0
Handling: 0
Ethos: 0
Score: 0/10
KAWASAKI    RRP $8,099 USD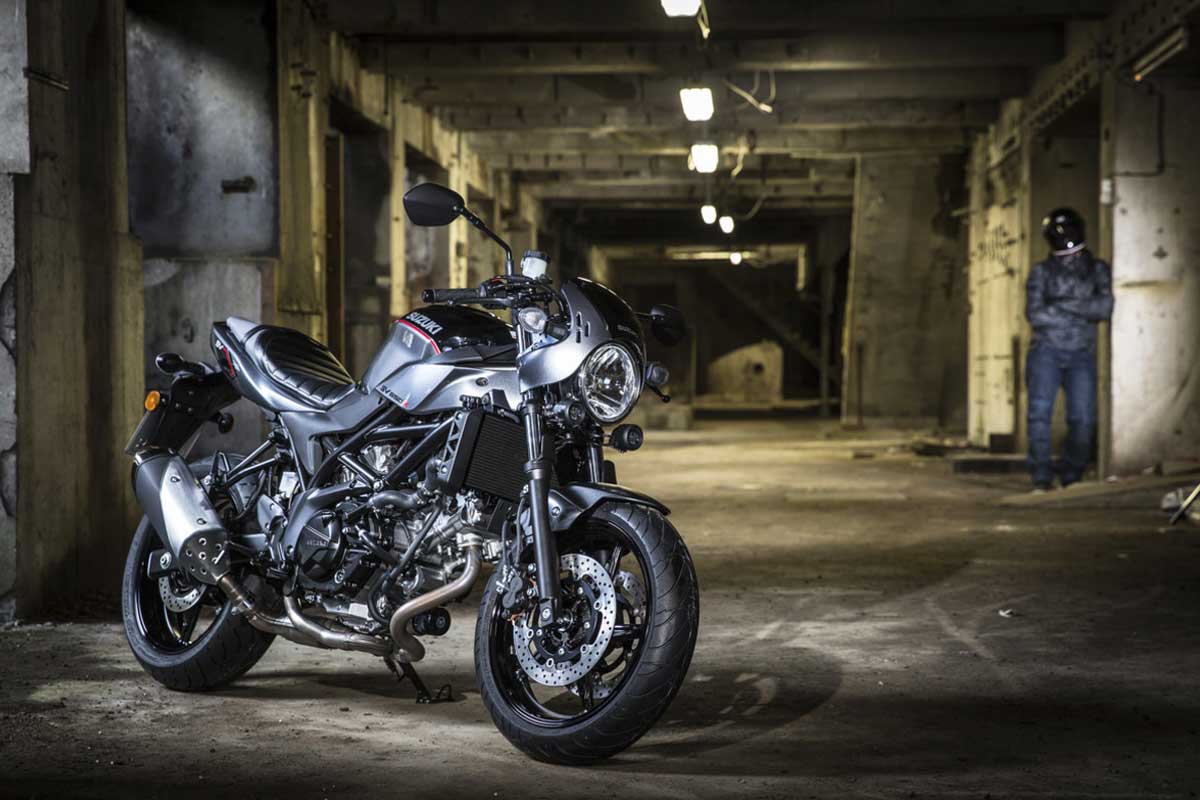 9th Place – Suzuki SV650X
The Suzuki SV650X is the Japanese manufacturer's attempt at adding a cafe racer variant of their long-running SV650 range. The SV650X is built on the SV650 chassis, engine and handling package, and that's a great start. The SV650 has a torquey 75bhp, twin spark, 90-degree v-twin engine hung in a great-looking trellis frame. It features ABS twin disc brakes, low RPM assist technology and a fully adjustable rear mono-shock. The SV650 also happens to be very well-priced so you're getting a lot of bike for not a lot of money. This formula has obviously proven successful for Suzuki as the SV650 has been in production for 20 years now. Unfortunately, the cafe racer themed SV650X does very little to build on this offering.
Like the Vulcan S Cafe, the SV650X is little more than a marketing tactic that lacks any real substance. For a premium price, Suzuki fit a set of lower bars, a front cowl, a retro tank emblem and a brown tuck-and-roll seat. The styling is more akin to an early 2000s Ducati Monster than a cafe racer and there's no improvement in power or handling over the standard bike. 9th place is the best we could offer Suzuki's attempt at a modern classic.
Style: 0
Components: 1
Power: 0
Handling: 0
Ethos: 0
Score: 1/10
SUZUKI    $8,400 USD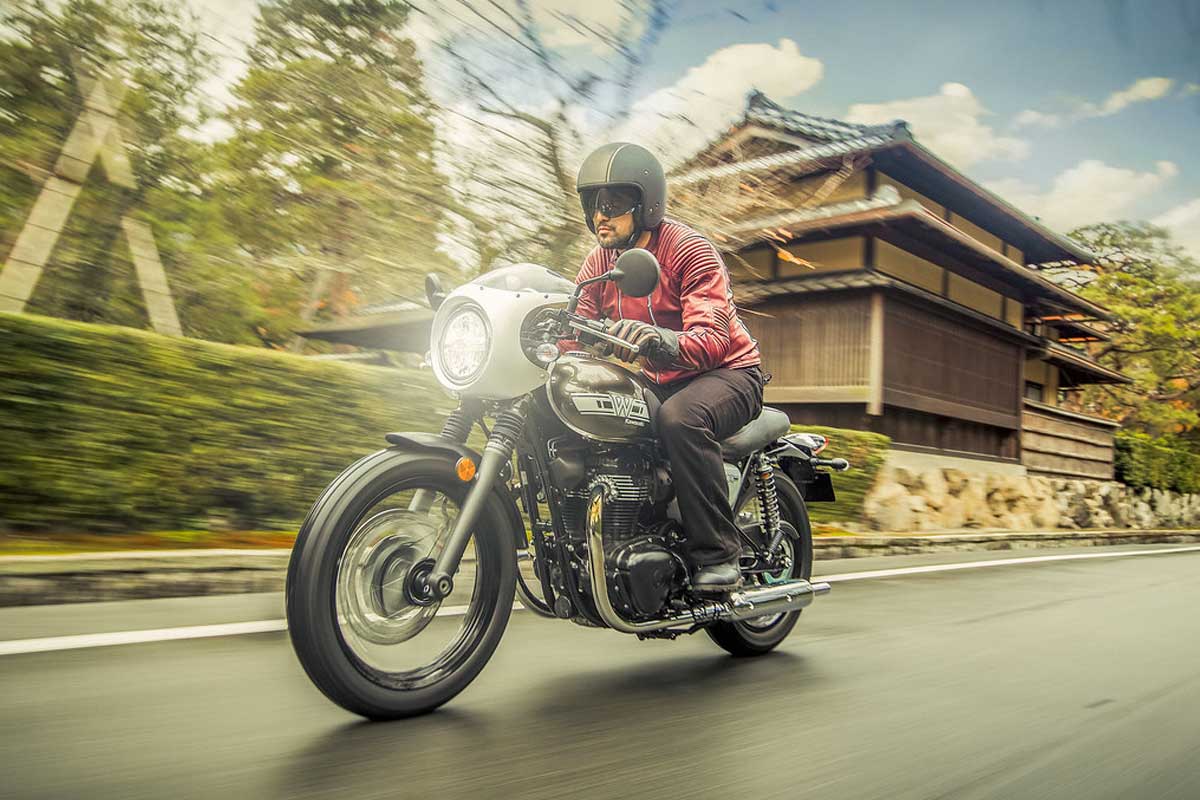 8th Place – Kawasaki W800 Cafe
Just when we all thought the W series was coming to an end Kawasaki threw us a curveball. After announcing the discontinuation of the 50-year-old series they re-released their evergreen parallel twin. We were pleasantly surprised, to say the least. Then, when they also announced the inclusion of a cafe racer-influenced model. things got a little more exciting.
The 1965 W1 is a historically significant motorcycle. The Japanese basically built a better-performing British bike. The similarities between the Kawasaki W1 and models from both Triumph and BSA were undeniable; and so was the fact that it was a better motorcycle in many ways. Since then the W continued to evolve resulting in the W650 during the late nineties and then the W800 in more recent years.
Unfortunately, our excitement about the W800 Cafe was quashed when the bike was revealed. The Kawasaki W800 Cafe is pretty much a standard W800 with a different seat, front cowl, slightly lower bars and a unique paint scheme. While this may have resulted in a better-looking bike it doesn't really scream cafe racer. Sure the 35kw W800 was never intended to be a performance machine, but we would have liked to see at least some consideration put towards improving this models performance over the standard W800. As a result, the Kawasaki W800 Cafe sits at a fairly dismal 8th place.
Style: 1
Components: 1
Power: 0
Handling: 0
Ethos: 1
Score: 3/10
KAWASAKI   $9,799 USD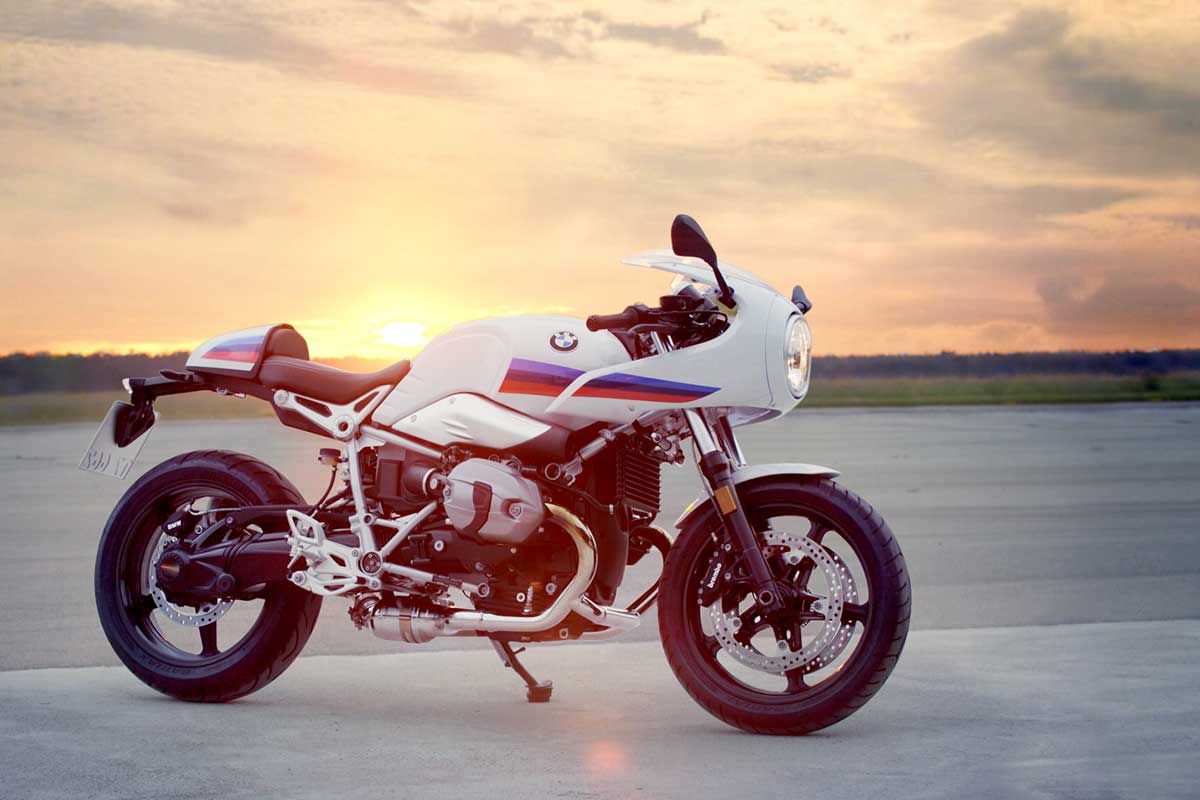 7th Place – BMW R Nine T Racer
Sitting amongst the models in BMW Motorrad's hugely successful Heritage range is the R Nine T Racer. There's a lot to like about this bike. It's a great-looking machine powered by a gutsy 1170cc air-cooled boxer motor. The additional bodywork does wonders for the bike's styling and as with anything that wears the BMW badge it oozes quality. When the BMW R Nine T Racer was released there was a lot of talk of it being the cafe racer in the range, but that messaging has evolved to it being more of a 70s race bike homage. However, you look at it there's no question this bike appeals to the cafe crowd.
The BMW R Nine T Racer got top marks in the styling category. A retro-styled front fairing and wasp-like tail unit combine to create a balanced cafe racer aesthetic. Clip-on handlebars and rear set footpegs set the rider up in a suitably aggressive riding position so it ticked the standard components box. Where it lost marks though was in the power and handling categories. Despite being one of the best-performing bikes on this list, the R Nine T Racer actually has lower spec components than a standard R Nine T. The power figure is also identical to the stock model so you're not getting anything extra for your money aside from the styling tweaks. These factors meant the R Nine T Racer only scored 4 out of a possible 10 points.
Style: 2
Components: 1
Power: 0
Handling: 0
Ethos: 1
Score: 4/10
BMW MOTORRAD    $11,999 USD
6th Place – 2019 Ducati Scrambler Cafe Racer
When Ducati announced they were making a Scrambler Cafe Racer it made us chuckle. Confusing naming conventions aside the Italians did right by the cafe racer label with this variation on their hugely popular Scrambler platform. That's because the 2017 iteration of the Scrambler Cafe Racer boasted significant performance improvements. This didn't apply to the engine's power figure, but rather the handling. The 2017 Scrambler Cafe Racer wore a higher-spec mono-shock in the rear and improved forks. The dimensions were tweaked to tighten handling and the front brake was a more capable unit. The wheels were also balanced out with a 17-inch rim front and rear and they wore superior rubber to the standard Scrambler models.
Unfortunately, in 2019 Ducati levelled the playing field across the Scrambler range. The only stand out features for the Scrambler Cafe Racer are now its styling and the rubber wrapped around its spoked wheels. So while this edition of the cafe'd Scrambler gets top marks for style and components it lost out in other areas.
Style: 2
Components: 2
Power: 0
Handling: 0
Ethos: 1
Score: 5/10
DUCATI   $11,995 USD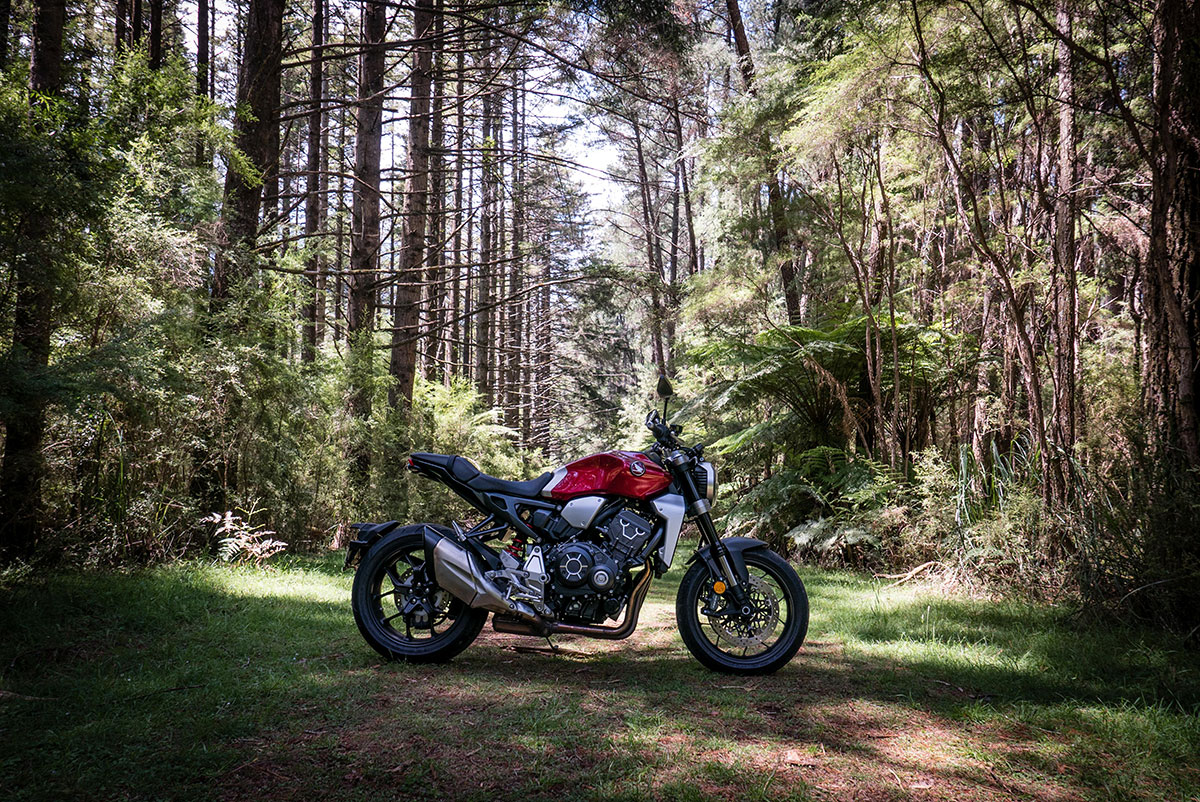 5th Place – Honda CB1000R Neo Sports Cafe
The Honda CB1000R Neo Sports Cafe is the black sheep in this collection of modern cafe racers. That's because it's the only bike on this list that claims to be a modernised cafe racer. Honda has created a new Neo Sports range which is made up of this bike and its smaller capacity siblings. While the CB1000R has a distinctly modern look about it, its connection to cafe racers is questionable. The styling is definitely skewed more towards a super naked than a retro racer, but Honda hasn't attempted to convince anyone otherwise. The end result is a bike that looks distinctly modern with a few nods to cafe racer design trends.
The CB1000R's fit and finish, as you'd expect from Honda, is top-notch and there is bucketloads of power with 143bhp and 104Nm of torque on tap. For the 2019 release of the bike, Honda has ditched the black paint so your only option now is red…thankfully it looks amazing.
The Honda CB1000R Neo Sports Cafe scored 1 point for cafe racer styling. Sure there's a connection there, but it's a loose one. It scored 1 for components due to a more relaxed riding position and 0 for ethos as there's no story tying this bike back to the cafe racer history books. Where the Honda excelled, however, was in its performance. Honda developed this bike using the engine from the outgoing CB1000R. Rather than just sticking with the same performance they re-engineered things a bit. The revised 998cc inline-four has increased power, torque and redline which earns it top marks in the performance category. The same goes for handling with the Neo Sports Cafe running a completely new frame, suspension and brake package. Proportions are tighter, handling is optimised and inevitably, good times ensue.
Style: 1
Components: 1
Power: 2
Handling: 2
Ethos: 0
Score: 6/10
HONDA MOTORCYCLES    $12,999 USD
4th Place – Kawasaki Z900RS Cafe
This is one bike we would have loved to see in the top 3, but the Kawasaki Z900RS Cafe fell just short of a podium finish. We reviewed the standard Z900RS and the Z900RS Cafe here on the site and thoroughly enjoyed both of them. The Kawasaki Z900RS was the result of a complete overhaul and redesign of the Z900 sports bike. It features an all-new frame design and revised power delivery for a slightly more sedate, commuter-friendly ride. As for styling, the Z900RS is a hat tip to the legendary Z1 and out on the street it definitely stands out from the crowd. If we had to choose between the two Z900RS models it'd be the Cafe version due to its retro bodywork and iconic Kawasaki green livery.
When it came to scoring the Z900RS Cafe it excelled in the ethos and component category. Kawasaki has a great back story for why these models exist rather than just tapping into whatever happens to be cool at the time. The Cafe version of the Z900RS also gets top marks in the components category. That's because the lower handlebars and windscreen set it up for higher-speed riding. As for styling, this bike scored 2 points. It may bear a stronger resemblance to the 1980s Eddie Lawson KZ1000R than a traditional cafe racer, but it oozes retro-cool.
What let this modern cafe racer down was that its performance was no better than the stock Z900RS. In fact, the Z900RS Cafe weighs 1kg more than the Z900RS which could be considered a cafe racer sin.
Style: 1
Components: 2
Power: 1
Handling: 1
Ethos: 2
Score: 7/10
KAWASAKI   $11,699 USD
3rd Place – Moto Guzzi V7 III Racer LE
The Moto Guzzi V7 III Racer has remained untouched since 2017. However, for 2020 the Italians are treating the USA and Canada to a special Limited Edition model. The differences you'll find on the LE are primarily aesthetic and involve swapping the matte chromium silver paint for gloss white with red accents and brown leather on the seat and tank strap. This factory-built modern cafe race oozes exclusivity. Each one is individually numbered and features finishes and components unique to this model. The premium price of this machine also gets you fully adjustable Öhlins shocks on the rear and a lightened front end.
I awarded the Moto Guzzi top marks for styling and components. The bike's machined rear-set footpegs look convincingly like aftermarket items and the huge mufflers are straight out of the 1950s. A leather strap across the tank, the tank itself and the fact that they've kept branding to a minimum add to the V7 Racer's authentic look. The V7 series has a great back story that spans 50 years so this model also has a genuine reason for existing. The only thing letting the Italian down was that it didn't offer any extra grunt over a standard V7.
Style: 2
Components: 2
Power: 0
Handling: 1
Ethos: 2
Score: 8/10
MOTO GUZZI   $9,990 USD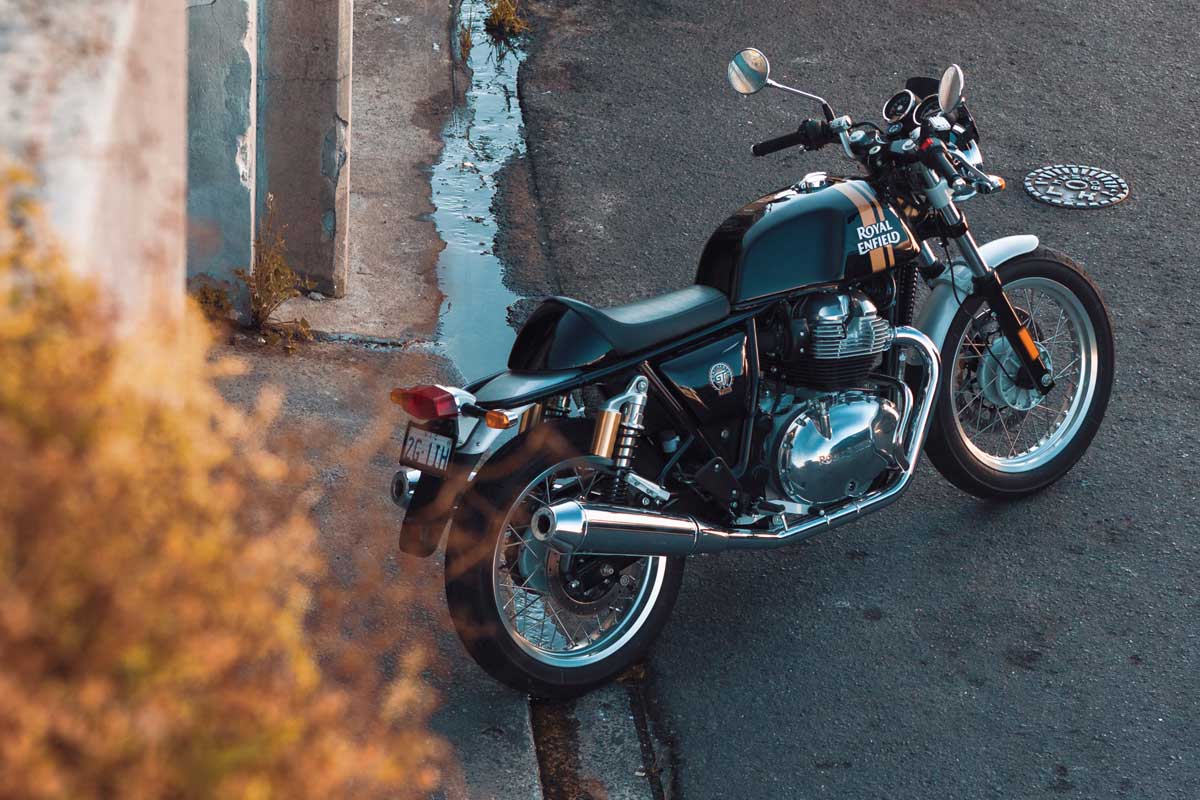 2nd Place – Royal Enfield Continental GT 650
The Royal Enfield Continental GT name is steeped in history. Back in 1965, when the marque was still being manufactured in Britain, the original Continental GT 250 was the fastest 250cc production bike in the country. In 2014 they re-released the Continental GT with the biggest engine they'd produced for decades, a 535cc iteration of their long-standing single. The 2019 Royal Enfield Continental GT 650 features the company's new 650cc parallel-twin engine. This is the first twin-cylinder engine Enfield has produced since the 60s and it has been very well received. The new engine and frame design both outperformed expectations and its price tag is almost too good to be true.
When it comes to styling you can't label this motorcycle as being a retro-clone. That's because Royal Enfield has never moved away from its classic design aesthetic. As such the 2019 Continental GT 650  gets top marks for styling. The same goes for ethos because, in 1965, the Continental GT was the first factory-built cafe racer ever made. That makes this bike's backstory more plausible than any other cafe racer on this list. The Continental GT 650 also got top marks for components. Although the bars sit higher than fork-mounted clip ons they are lower than those on the other models. The footpegs are also moved slightly rearward on this model.
Where the Continental GT lost out was in the power department. While the 650 twin is the most powerful engine in Enfield's offering its 47hp pales in comparison to some of the other bikes on this list. If, however, we added a value-for-money score to this ranking, the Continental GT650 would have taken out the top spot. There simply isn't any other modern classic that gets you this much motorcycle for your money.
Style: 2
Components: 2
Power: 0
Handling: 2
Ethos: 2
Score: 8/10
ROYAL ENFIELD   $5,999 USD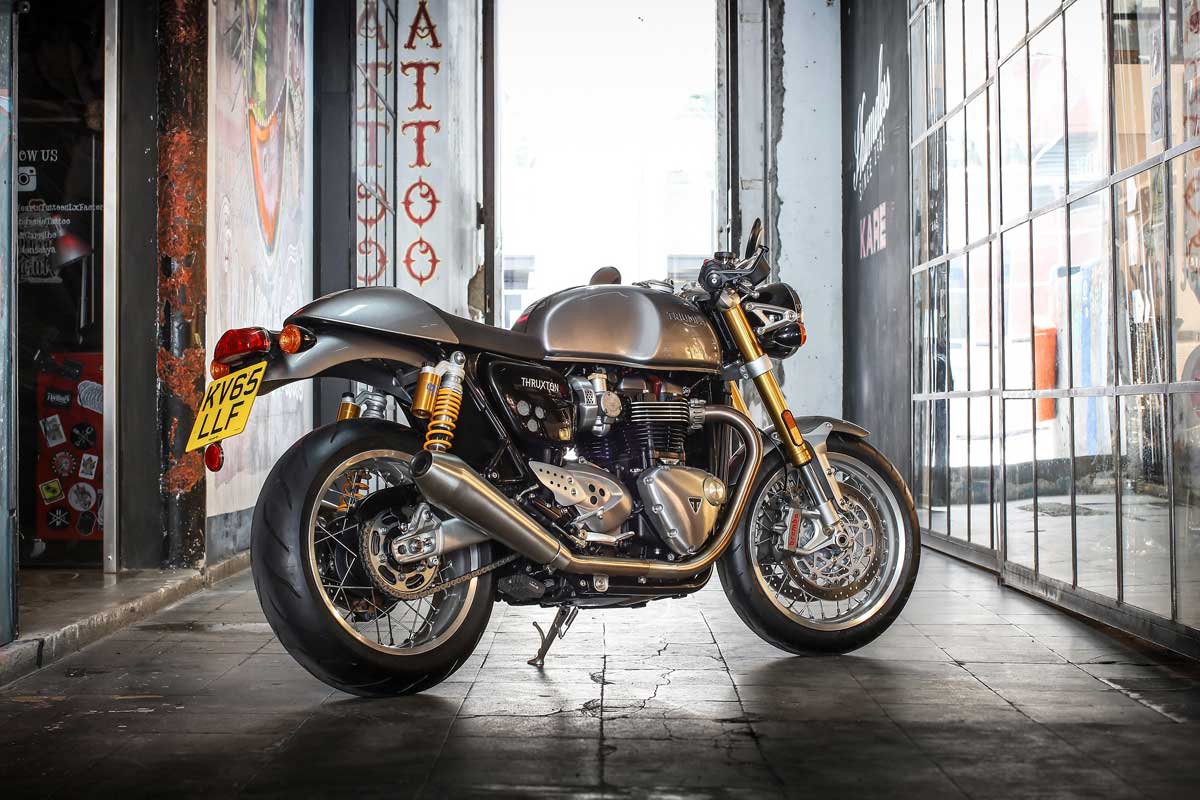 1st Place – Triumph Thruxton R
The undisputable king of the hill in our modern cafe racer shootout is Triumph's Thruxton R. Earning top marks in all five categories it rose well above its challengers. I don't need to tell you that the Thruxton R is a great-looking bike. It demands attention and it gets it where ever it goes. Special touches like a polished top clamp, tank strap, wasps tail rear cowl and retro-styled lighting add to the bikes cafe racer appeal. You'll also find clip-on handlebars, bar-end mirrors, rear-set footpegs and plenty of brushed, raw alloy.
With the release of the new water-cooled Bonneville range, Triumph made sure that the Thruxton R stood out from the bunch. Powered by a high torque, 1200cc version of their new water-cooled twin it was, at the time of its release, the most powerful of the bunch. The Thruxton R also boasts a premium handling package with fully adjustable Öhlins rear shocks and Showa forks. The brakes are made up of high-end Brembo components and Triumph wrapped the bike's spoked wheels in performance-focused Pirelli Diablo Rosso Corsa tyres.
As for ethos, Triumph has played a huge role in cafe racer culture since it first appeared. The Thruxton R celebrates that history, unlike any other modern cafe racer can.
Style: 2
Components: 2
Power: 2
Handling: 2
Ethos: 2
Score: 10/10
TRIUMPH   $15,400 USD
So there you have it. Ten factory-built "cafe racers"  ranked according to their authenticity. To be honest the results even surprised us a bit. It's rare that we'd review a motorcycle based on how well it adhered to an ethos rather than how it rode. If this was a traditional comparison the results would have been very different, but for the purpose of putting a few marketing departments in their place, the outcome was pleasantly accurate.