Royal Enfield lay claim to producing the world's longest constant production motorcycle design. The first Royal Enfield Bullet rolled out of the UK factory back in 1931. Despite it being produced for some 88 years there are still many similarities between the first Bullet and those being produced today. So, as you can imagine, when Royal Enfield releases a new motorcycle it's kind of a big deal. After announcing the development of a new Royal Enfield 650 twin back in 2017 the new bikes have finally arrived. As part of their global release, I flew to Sydney to spend some time getting to know the 2 new models for our own Royal Enfield Interceptor and GT 650 review.
Back in 1955, Royal Enfield production shifted from the UK to India where they have remained ever since. Despite other manufacturers experiencing declining sales over the past decade, Royal Enfield has continued to steadily grow. This has allowed them to expand into other markets and build state of the art development facilities. Along with their high tech factory in Chennai, Royal Enfield have returned to their birthplace in the UK to establish a new technology centre. Here they employ over 120 staff from 8 different countries who were brought together to develop the new 650cc parallel twin.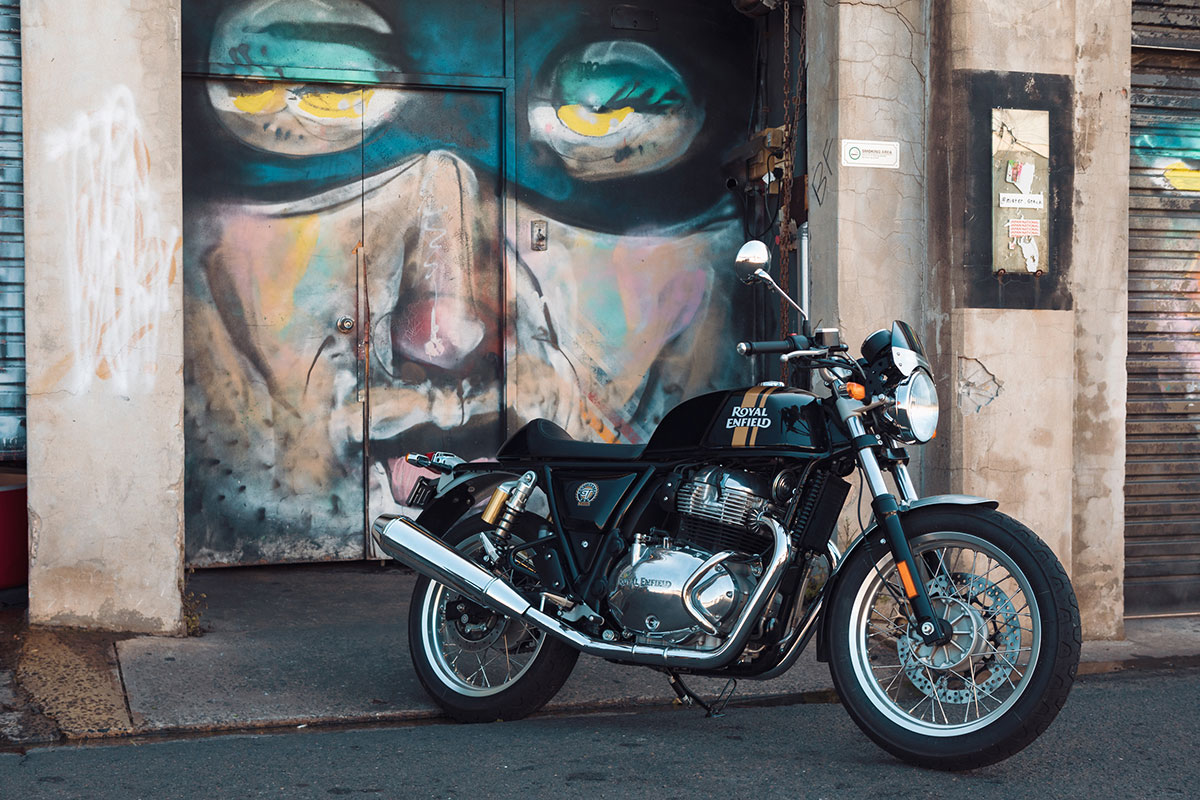 Return of the Royal Enfield twin
Royal Enfield haven't had a twin cylinder model in their range since the early 1960s. Since then their motorcycles have all been singles limited to a maximum capacity to 500cc; with the exception of the 535cc Continental GT cafe racer released in 2013. This hasn't been an issue for them though. The majority of Enfield's customers have been based in India where smaller capacity motorcycles are better suited. However, with their increased interest in international markets, they had to bump things up to meet their new customer's demands.
The design of the Royal Enfield 650 twin was lead by the team at their new UK based tech centre. Their goal was to develop a middle-weight engine that would appeal to foreign markets. The result was a 4 stroke, 648cc, air, and oil cooled parallel twin. The single overhead cam design features 8 valves and has a 270-degree crank similar to Triumph's modern classic range. Power sits at 47 bhp with 52 Nm of torque and its managed by a 6-speed gearbox. While those power figures are fairly conservative it has been noted that the design is capable of producing more power which tuners and future models in the range are sure to exploit.
To house their new engine Royal Enfield also developed an entirely new frame design for the 650 twins. Working with the team at Harris frames they created a double down tube design with telescopic forks and twin rear gas shocks. The new models also feature Bosch ABS, ByBre (by Brembo) front and rear disc brakes and spoked aluminium rims wrapped in Pirelli Phantom Sportcomp rubber. The resulting package is a machine unlike any Royal Enfield has produced before and riding them proved to be a whole new experience as well.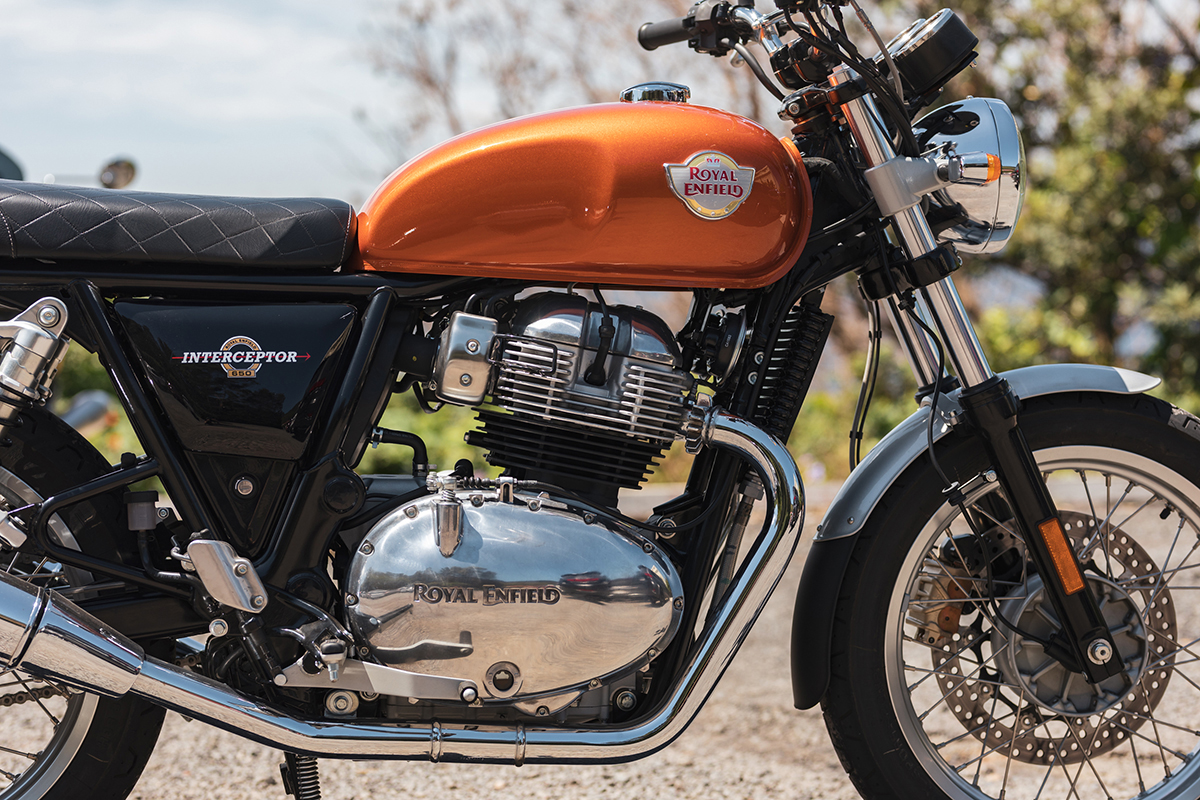 Riding the Royal Enfield 650 Twin
The last time I rode a Royal Enfield was a few years ago on a 500cc Bullet. The Bullet lacked grunt and vibrated a lot, it's brakes offered average performance and the suspension was mediocre. What I loved about it though was how classic it seemed. I felt as if I was riding around on an immaculate barn find. Like the bike had been cooped up in a shed for decades prior to someone wiping away the dust and handing me the keys. Sure it wasn't a great performer, but I thoroughly enjoyed riding it. I experienced that feeling again riding the 650 twins, but thankfully the Bullet's shortcomings were nowhere to be seen.
Our ride started at Bondi beach on Sydney's coast surrounded by tanned six packs and tiny bikinis. From there we headed south to enjoy a windy ride through the Royal National park and along Sydney's southern coastline. As we set off the parallel twin performed exactly as I had hoped. I'm a long term Kawasaki W650 owner. These new bikes share a lot in common with my W, including a similar power figure. So while the bike didn't accelerate as rapidly as say Yamaha's XSR700 or the Triumph Street Twin, it was smooth and strong just like my beloved Kwaka.
As we crawled through Sydney's awful suburban traffic the twin felt right at home. The gearing was right, the clutch light and the throttle responsive making it ideal for city commuting. Where the engine really came to life though was when we reached the national park. Sydney's Royal National Park is a mix of sweeping bends and tight corners. This gave us the chance to stretch the 650 twin's legs. The twin's redline sits up around the 8000 rpm mark and that's where most of the grunt (and fun) can be found. Because of the bikes relatively low power I was working through all 6 gears to maintain a steady pace which made for an interactive and entertaining riding experience. I was also pleasantly surprised by how smooth the gearbox was, which is a testament to just how well this engine has been put together.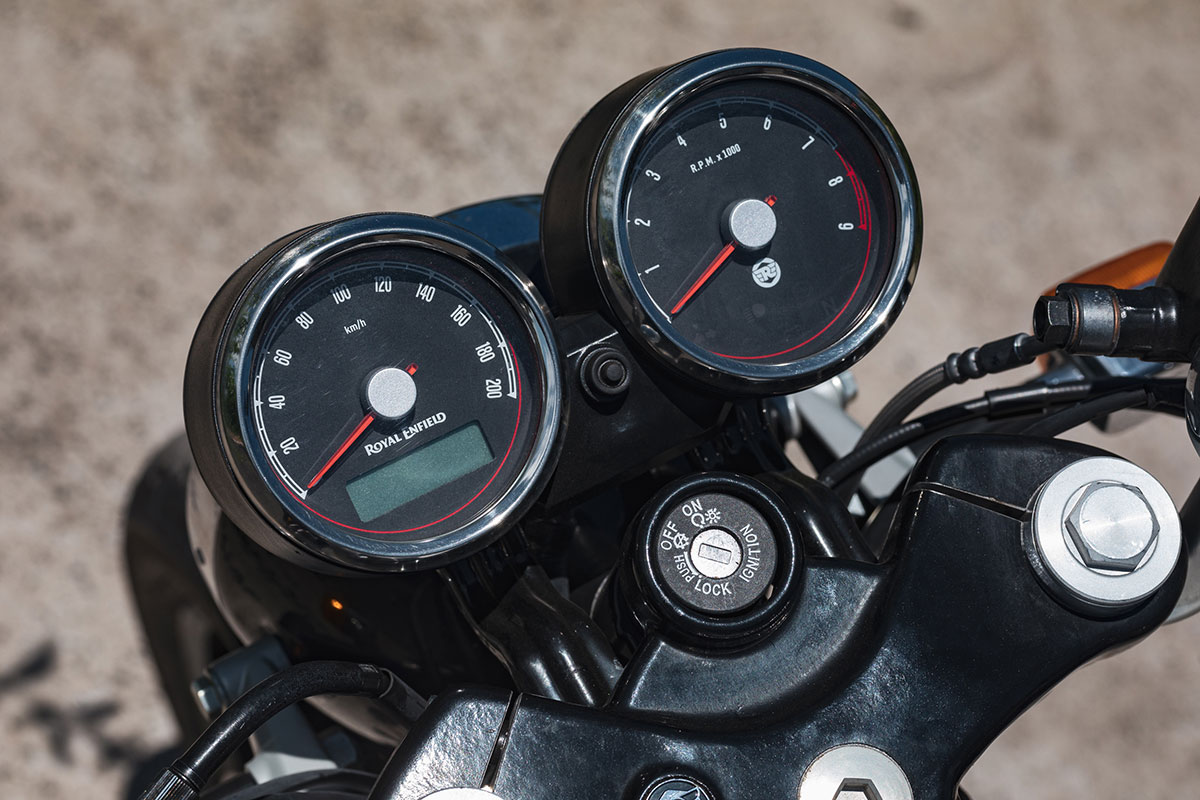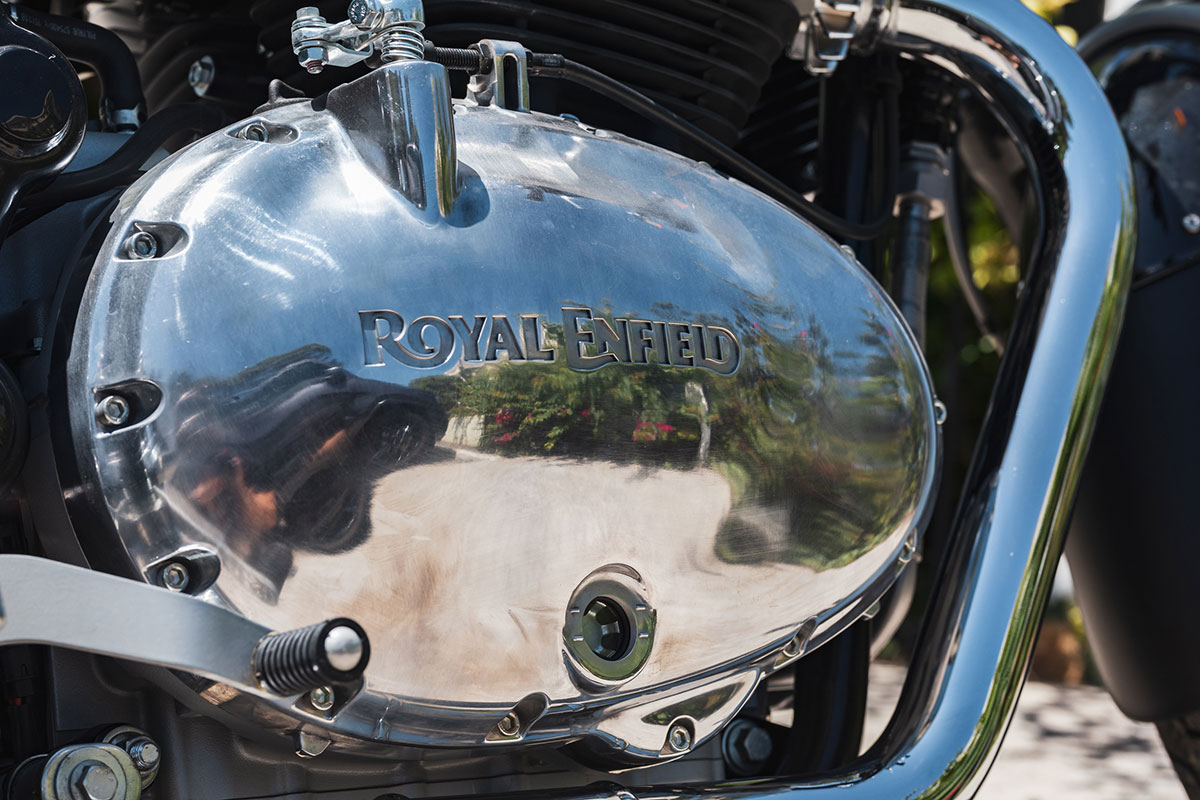 The first real surprise the 650 twins delivered was how well they handled. Weighing in at around 212kg (wet) its no featherweight, but it is a very well balanced package and a cinch to manoeuvre at low speeds. I learnt this quickly as we weaved our way through the morning traffic. What was even more impressive though was how it handled at higher speeds. To be honest, this is where I thought the 650 might be lacking, but as I pointed the bike into each corner it followed the line I had chosen without hesitation. Enfield controversially delayed the release of these bikes to spend more time getting the handling right and it's clear that the extra wait was well worth it.
As for other aspects of the bikes handling, they were equally impressive. The Pirelli rubber offers plenty of grip for the kind of riding most people will do on these bikes. The suspension is set up well for city riding and although the seat isn't the most comfortable I've sat on, I wasn't left feeling sore. What I like most about these bikes though is that Royal Enfield has avoided going too high tech. Most modern classics feature different riding modes, switchable traction control and digital displays, but Enfield has kept things simple. Obviously, there's more behind that decision than simply wanting to retain a classic feel. But for me this it's what sets these bikes apart from other modern retro motorcycles on the market.
The new Royal Enfield 650 Twin range features 2 different models. There's the cafe racer Continental GT 650 and the California beach cruiser Interceptor 650. They are both based on the same engine and frame design so most of the changes are stylistic. Here's an overview of each…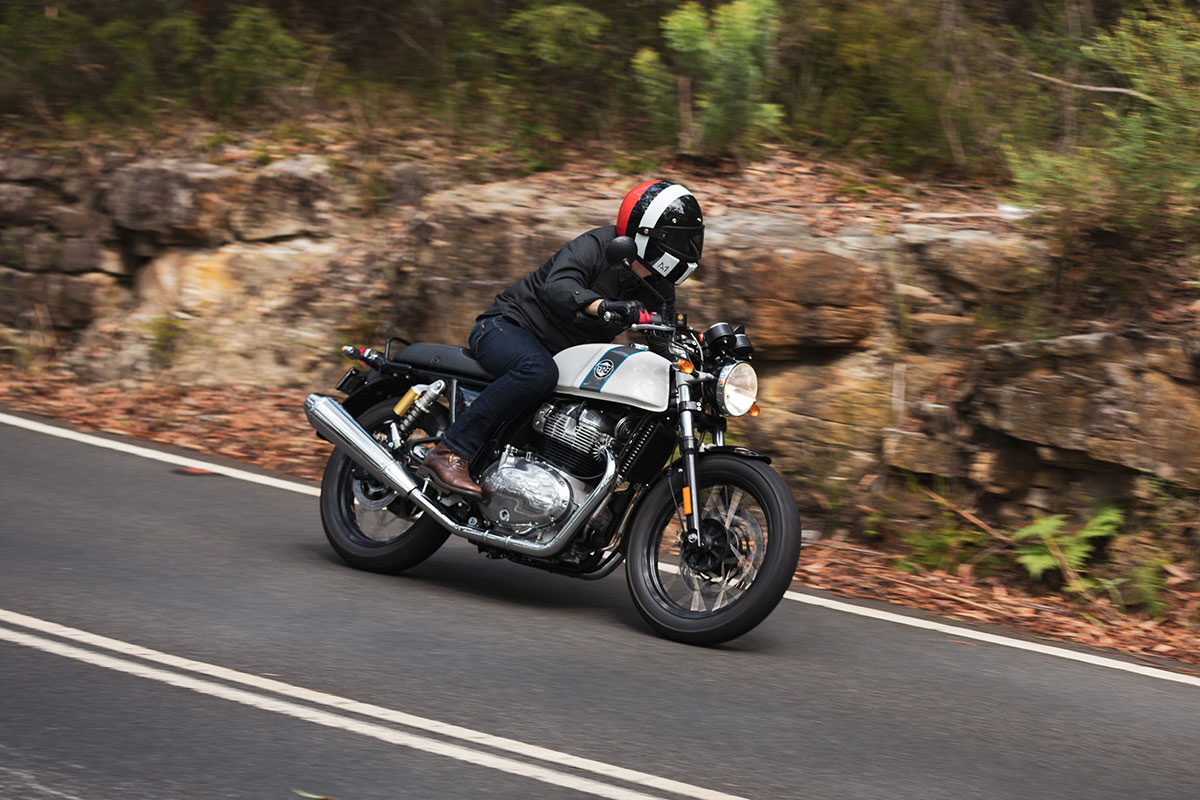 Royal Enfield 650 Continental GT
Another of Royal Enfield's historic achievements is that they are responsible for producing the first factory-built cafe racer. The 1965 Continental GT 250 was, at the time, the fastest 250cc motorcycle on the market. It was a true performance-focused machine that bore typical cafe racer components and styling. In 2013 they relaunched the Continental GT name with the 535cc version. Unlike its predecessor, the 2013 model lacked the performance of the original Continental GT so it was more of a styling homage than anything else. With the release of the Continental GT 650, Royal Enfield has found a decent middle ground with classic cafe styling grafted on to a solid performance package.
Although the Royal Enfield 650 Continental GT isn't about to set any record-breaking lap times it is a great performer. What these bikes lack in power they make up for in handling and the GT's riding position optimises this. It's the more aggressive of the two Royal Enfield 650 models with clip-on bars and rearward set foot controls. As you push the engine harder you'll find yourself hunching over the bars and leaning into corners and grinning the whole time. Enfield has set the riding position up so it isn't uncomfortable on short rides, but if you are planning long trips you'll be feeling it after a couple of hours.
The rest of the Continental GT 650s design is all about recreating the cafe racer look. The Manx-esque fuel tank sits level and low for the quintessential cafe racer stance. The seat is set up for two with an optional, removable wasps tail cowl and the mufflers are twin reverse megaphones. The Continental GT also comes in a range of different paint finishes including my favourite the "Mister clean" chrome tanked version.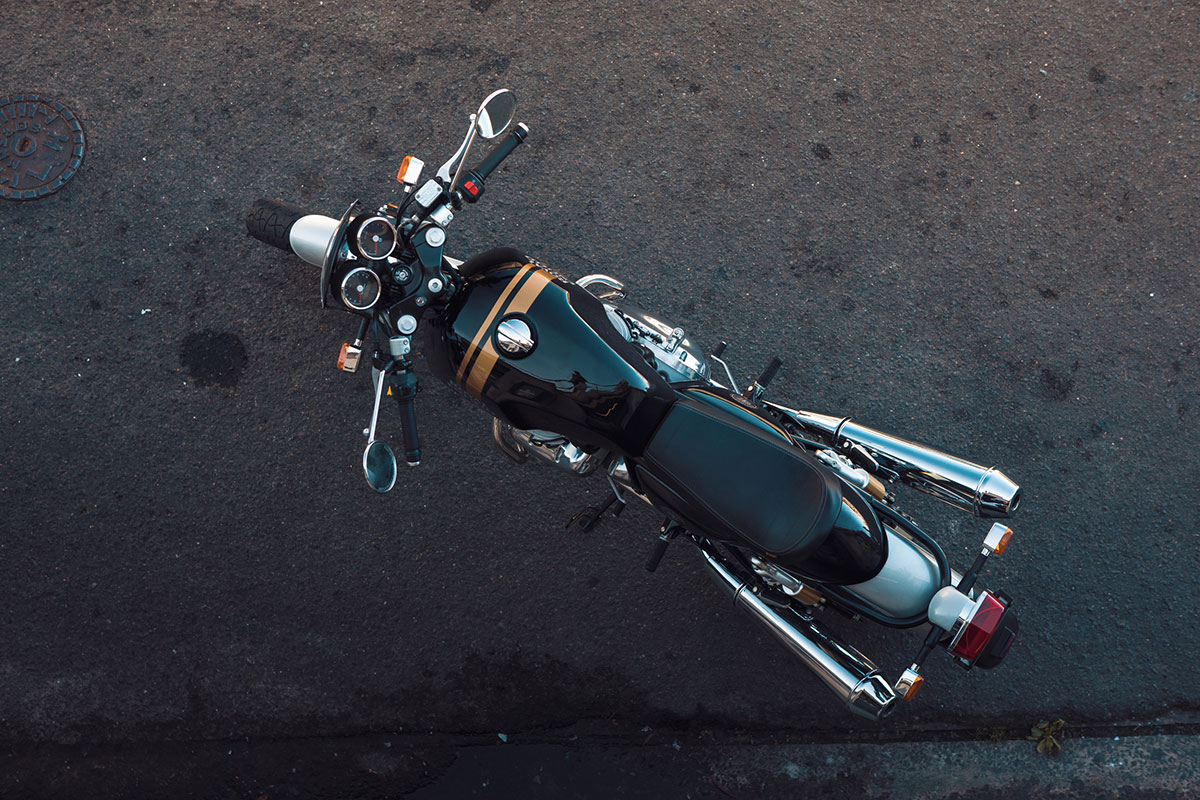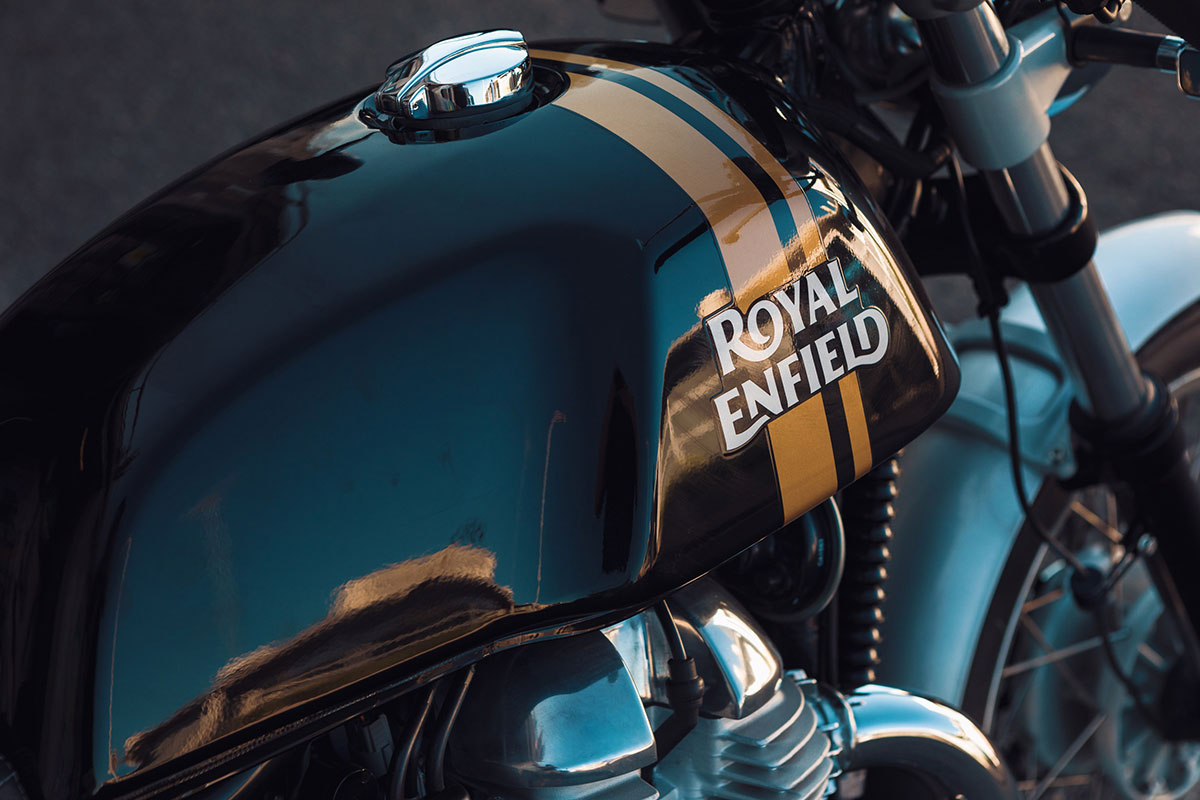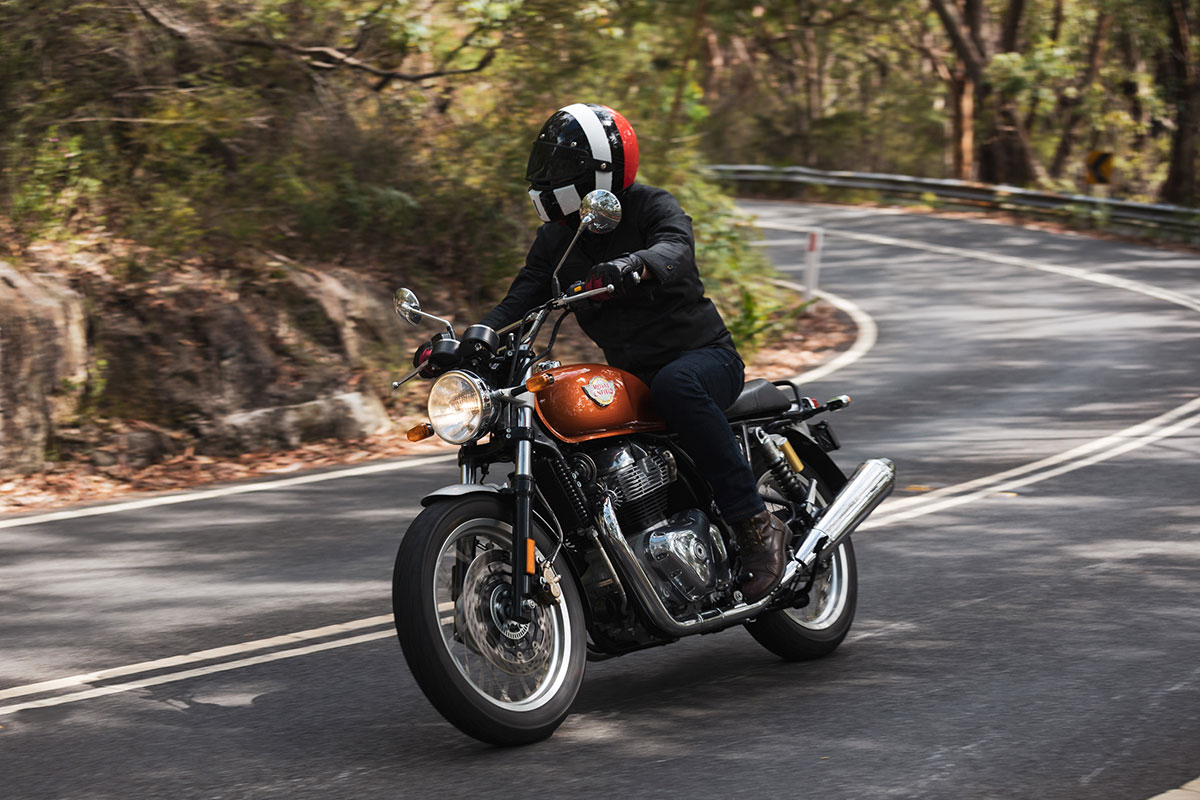 Royal Enfield 650 Interceptor
The Royal Enfield 650 Interceptor is the naked cruiser styled version of the 650 twin. This model is a celebration of sixties California beach and bike culture. With a relaxed riding position its ideal for cruising highways or the coastline in style.
The big difference between the Interceptor and the Continental GT are in the seat, tank and riding position. The Interceptor's longer flatter seat with a grab rail at the rear offers ideal ergonomics for riding two up. The bars are wider and higher and foot controls centrally located for a relaxed upright riding position. It also sits slightly taller than the GT and its fuel tank holds 1.2 litres more fuel so you'll make it further down the highway. Like the Continental GT, the Interceptor 650 also comes in a wide range of colour options.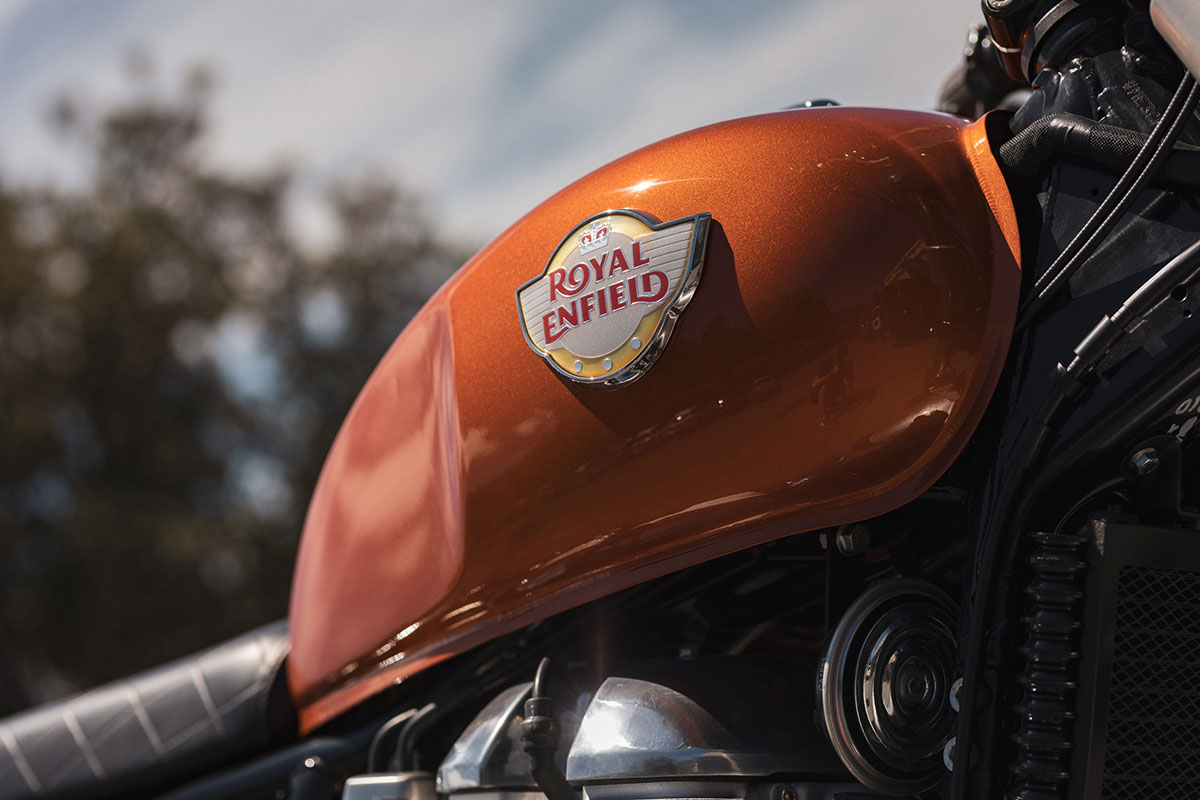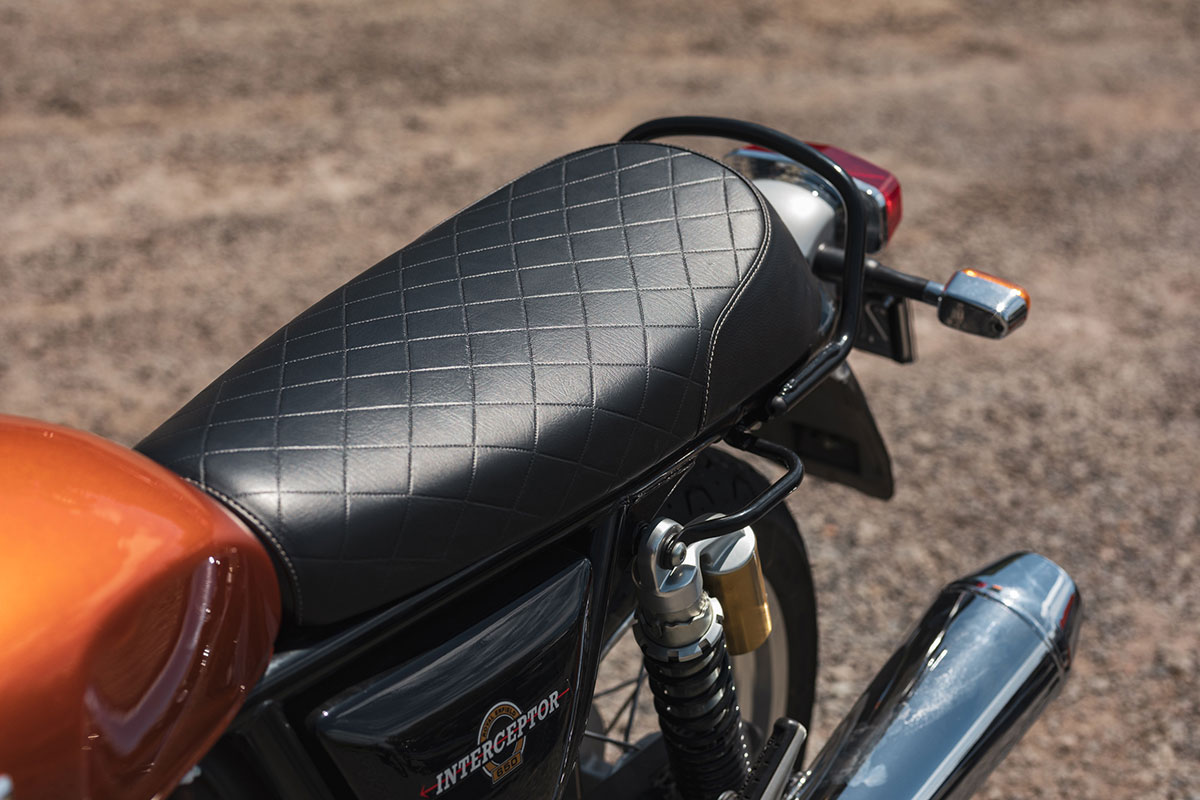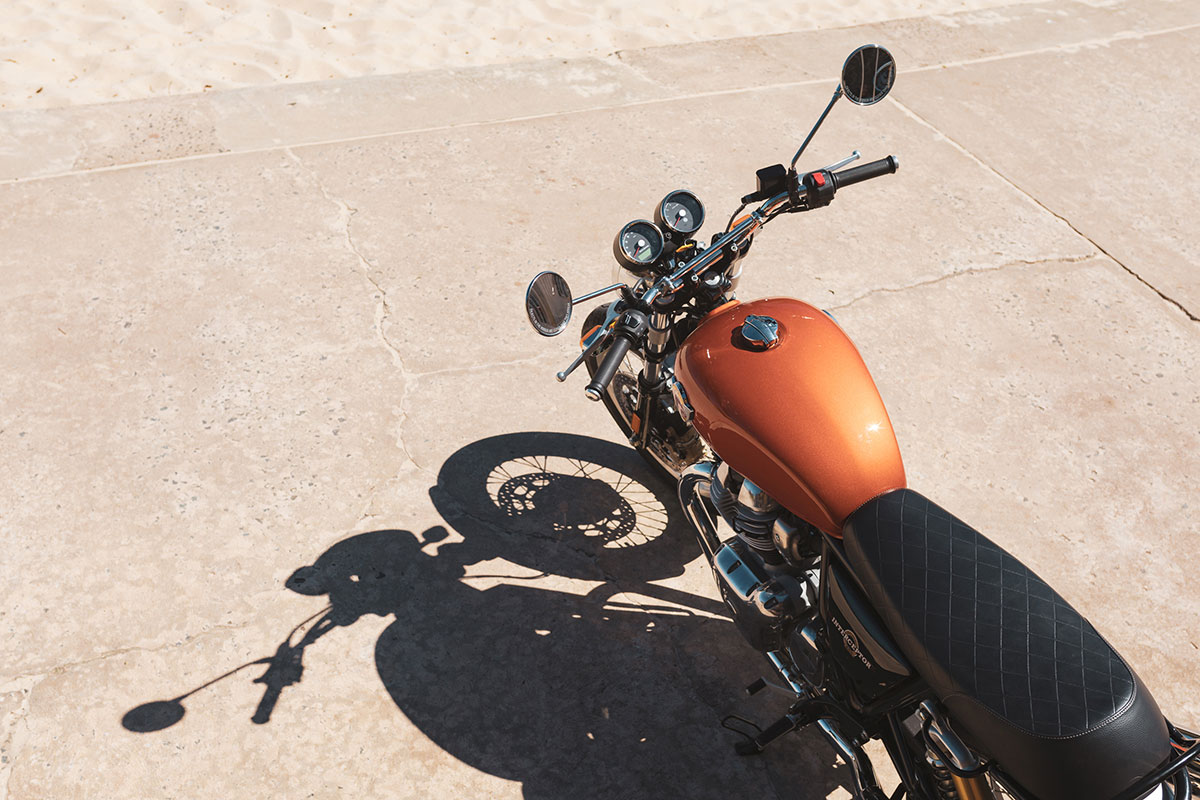 Individualising a twin
As with most motorcycles that fall into the modern classic category the 650 twins are ripe for customisation. Royal Enfield has developed a range of around 50 aftermarket parts which they plan to expand rapidly. These can all be fitted at the dealership without having any effect on warranties and will soon include a range of S&S exhaust systems. One of the Interceptors in our group was kitted out with these aftermarket parts including a pair of the S&S mufflers. The sound alone made by those pipes meant we were all eager to give it a go during the launch and it's a modification I'd definitely recommend.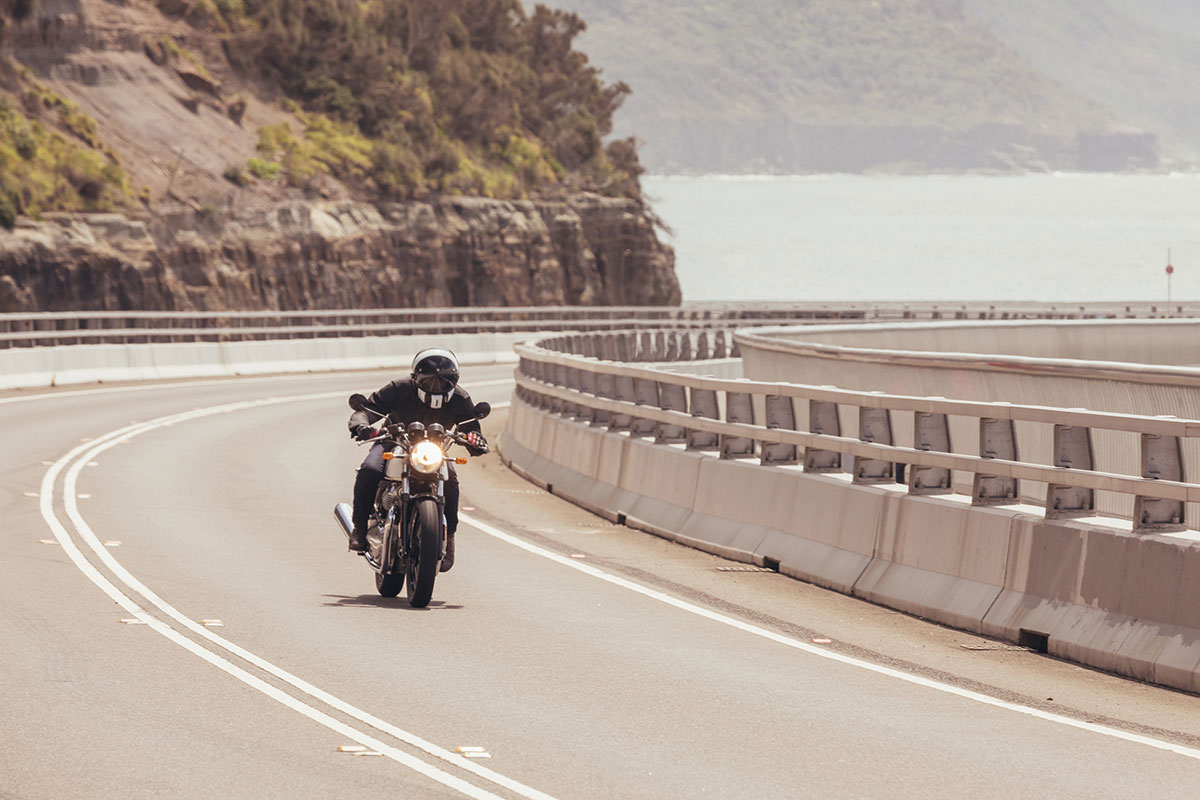 Royal Enfield 650 Review Wrap Up
Perhaps the most exciting thing about the Royal Enfield 650 twins is the incredible value for money they represent. Sure fit and finish isn't the same standard as a new Bonneville, but it is certainly of a high standard. The paintwork is great and I only noted one electrical connector near the airbox that could have been hidden better. On a few of the bikes, I also noticed that the neutral light was a little temperamental but that's the extent of quirks I could find.
It's clear that Royal Enfield is confident that these new bikes are going to outperform people's expectations. They're so confident in fact that the 650 twins come with a 3 year, unlimited kilometer warranty and roadside assistance. So even if you get a flat they'll be there to lend a hand.
Just how much value for money are we talking? Less than $10,000 AUD ($5,999 USD) for the base version of either bike. That makes this middleweight motorcycle cheaper than every bike I would deem direct competitor. That includes the Yamaha XSR700, Harley-Davidson Street 500 and Suzuki SV650X. This makes either of these bikes an ideal purchase for beginners who want to start their riding life on a new motorcycle. It's also a great bike for those wanting to move into the modern classic segment or perhaps people who looking for a modern platform to customise.
Would I buy one you ask? Hell yes.
Photography by Ben Galli
My riding gear: Nexx XG.100 helmet / Fuel x ROCR Victory gloves / Rokker BSMC jeans / Akin Moto all-day shirt / Falco Aviator boots