"The Street Twin is our most contemporary, fun and accessible new Bonneville" – Triumph Motorcycles
The Street Twin is the feather weight of the new Bonneville modern classics range. Powered by a 900cc version of the all new water-cooled parallel twin it's good for 55 horses and 59 pounds of torque. I've ridden a few of the older Bonnies, most recently a 2015 Triumph Thruxton, and this bike provides a whole new riding experience.
Despite a lower horsepower figure than the old Bonnevilles the Street Twin offers a much more exhilarating and refined ride. The re-engineered parallel twin boasts a higher torque figure for quick off the line acceleration and it's controlled by a ride-by-wire throttle that is perfectly suited for the everyday urban rider. The Street Twins ABS brakes, redesigned frame and traction control create a great handling package and the lower seat height makes it the perfect choice for riders of smaller stature.
Out on the road the Street Twin has plenty of power on tap. The bike pulled hard up to 120 kmh and winding the needle around to 140kmh didn't feel like a struggle (do not try this at home). The ABS worked well, although I found the rear kicked in earlier than expected, and the traction control did its job on wet surfaces. The standard pipes were also a pleasant surprise with a note much louder and deeper than other factory bikes I've ridden.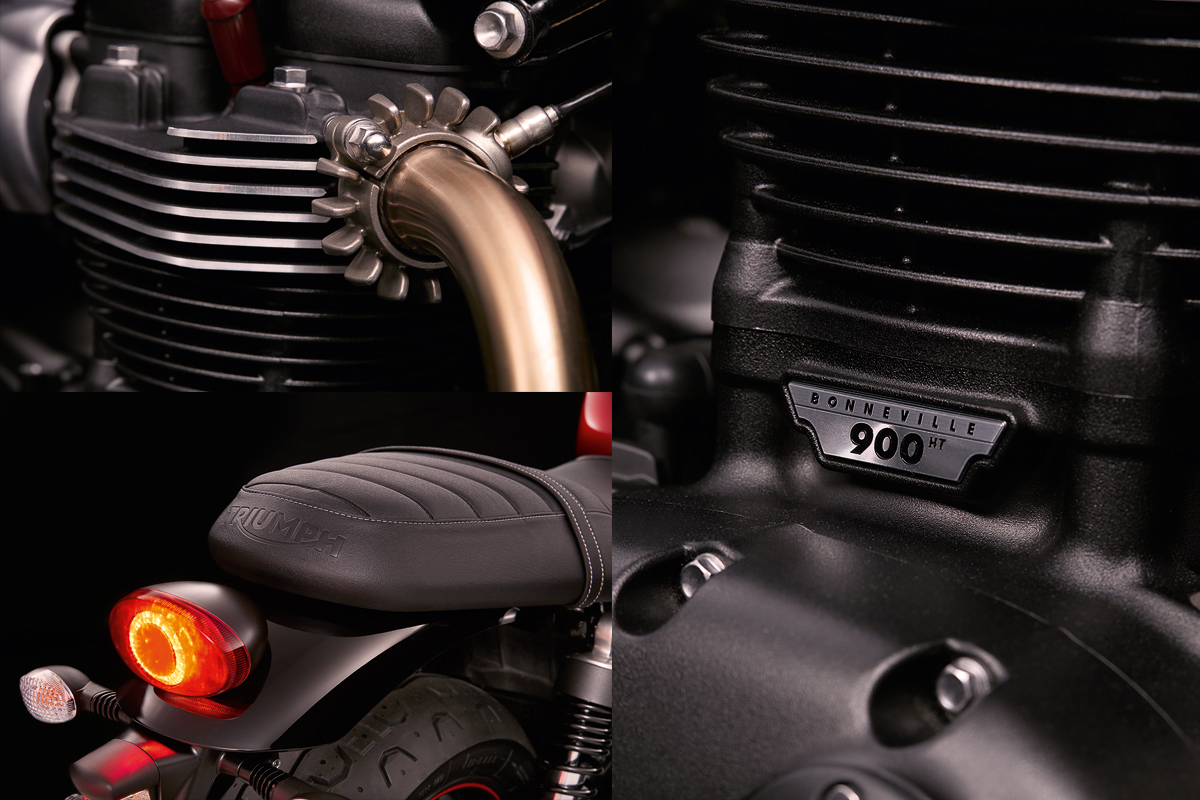 The designers at Hinckley Triumph have done a stellar job creating a modern interpretation of the Bonneville and for 2016, it gets even better. A lack of exposed wiring and minimal cabling leaves the bike looking incredibly clean and simple. There's plenty of negative space around the motor which makes the bike look even more like an old classic. Triumph have backed this up with other old school design tweaks such as rubber fork gaiters, finned exhaust clamps and reverse megaphone mufflers.
The Street Twin's blacked out engine with its shaved header fins is a work of art. The bike rolls on cast wheels has a single instrument cluster and a great looking LED taillight. You can choose from Silver, 3 different blacks or candy red for the paint and the tank is new too, holding less fuel than the older Bonnies, but giving you 30% better fuel economy thanks to the water cooling and improved tune.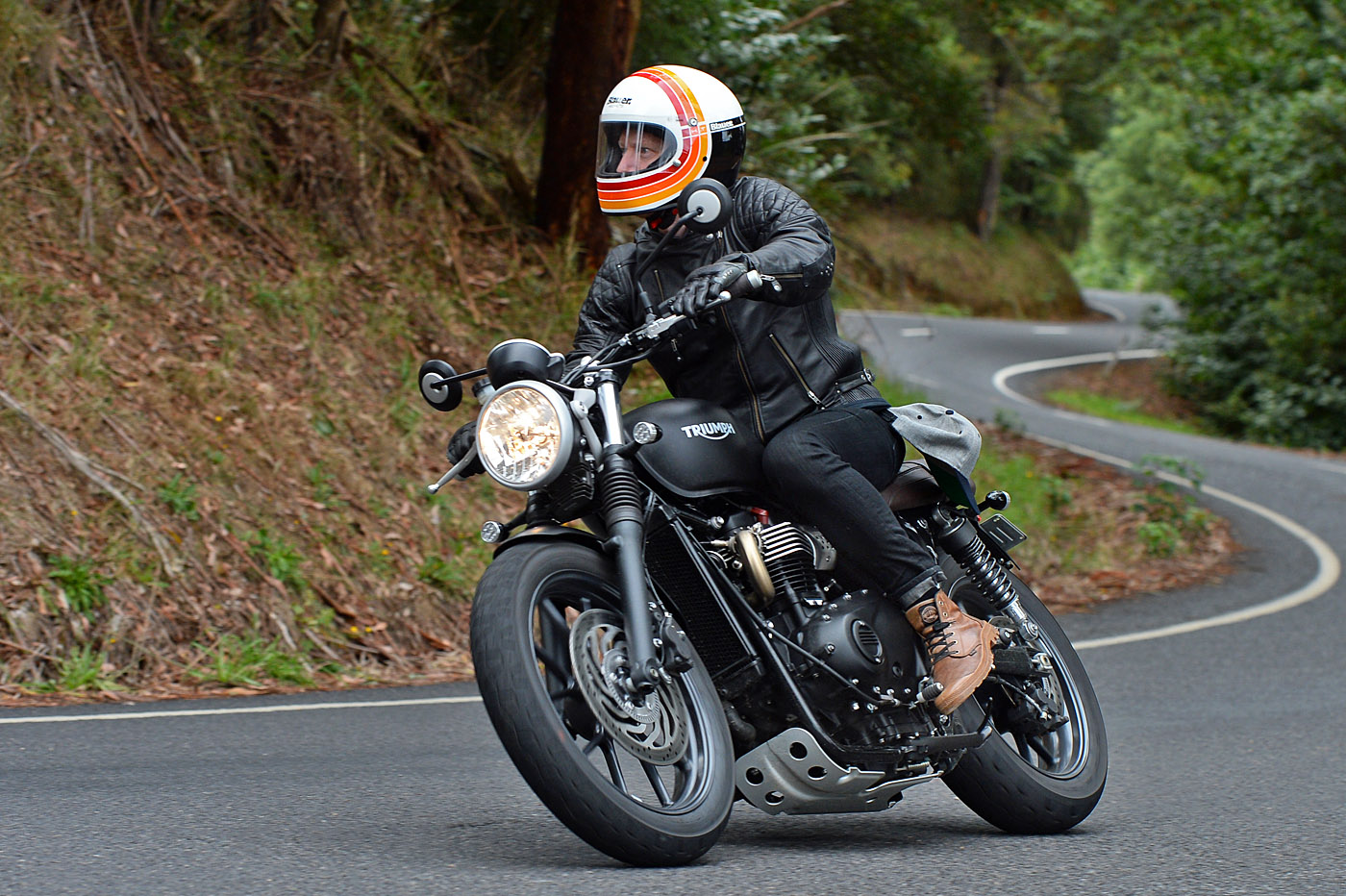 There are also a few things I'm not so fond of on the Street Twin. It might sound like I'm nitpicking, but the headlight bracket does nothing for me or for the retro look of the bike. There's a distinct lack of chrome to minimise the chance of corrosion, which owners of the previous Bonnevilles would appreciate, but it's been replaced by the same, plastic looking satin silver finish you see on the Scrambler and R nineT (which I dislike just as much on those bikes). Some of the engine covers are plastic, which looks like a cost-saving exercise more than anything else and the standard indicators are run of the mill incandescent plastic units that are crying out to be snapped off by a clumsy pillion passenger.
Overall though I think the Street Twin is a very tidy looking bike and I was particularly impressed by how inconspicuous the bike's radiator is. In fact, I'd happily high five Triumph's engineers for bothering to do what so many other manufacturers seem to not even consider when designing water cooled motorcycles.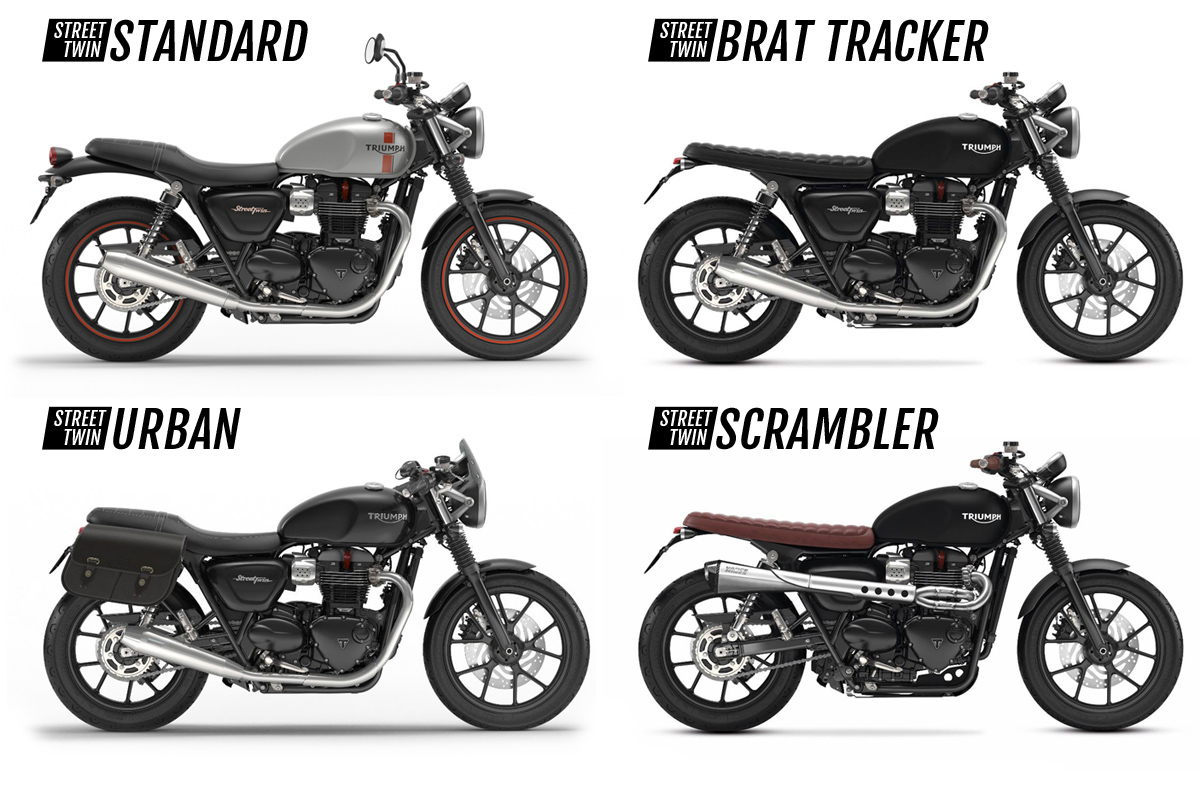 When it comes to customizing a Street Twin, Triumph have all bases covered. Similar to Ducati's Scrambler they've provided a selection of 'inspiration kits'. You can buy the kits complete, break them up or even mix and match your favourite parts from each to make something unique. The 3 inspiration kits on offer are the Brat Tracker, Urban, and Scrambler and all feature Vance & Hines exhaust systems. Clearly, these kits have been designed after studying current trends in the custom scene and they've done a decent job of it. Here's what each Street Twin inspiration kit contains (prices do not include fitment)…

BRAT TRACKER ($2228 AUD)
"AGGRESSIVE CITY CUSTOM STYLE"
– Brushed Vance & Hines slip-on silencers
– Rear mudguard removal kit with compact rear light
– Black ribbed bench seat
– Compact led indicators
– Black 'barrel style' handlebar grips
– Brushed sump guard.
URBAN ($1986 AUD)
"CASUAL STYLE & URBAN STANCE"
– Brushed Vance & Hines slip-on silencers
– Rear mudguard removal kit with compact rear light
– Black ribbed bench seat
– Compact led indicators
– Black 'barrel style'
– Handlebar Grips
– Brushed sump guard.
SCRAMBLER ($3123 AUD)
"STRIPPED BACK 'OFF ROAD' STYLE"
– Brushed high-level Vance & Hines exhaust system (off-road use only)
– Rear mudguard removal kit with compact rear light
– Brown ribbed bench seat
– Brown 'barrel style' handlebar grips
– Compact led indicators
– Brushed aluminium sump guard.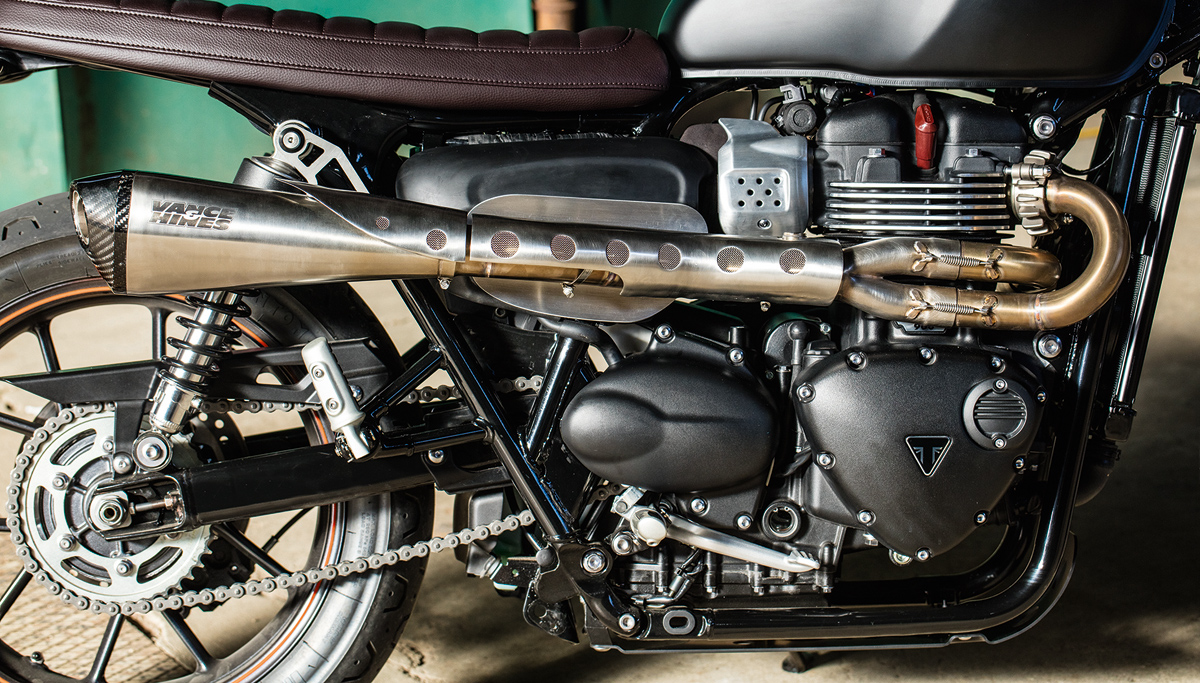 As with the previous Bonnevilles, it's only a matter of time before aftermarket manufacturers start creating their own parts for the 2016 range. There's no denying the old Bonnies are a huge hit in the custom scene and once the new ones start hitting streets around the globe I'm confident they will be just as popular.
What do you think of the new Bonneville range? Add your two cents with a comment below…
Late last year I ventured over to London for a sneak peek at the all new <a href="https://www.returnofthecaferacers.com/category/triumph-cafe-racer/">Triumph Motorcycles</a> 2016 Bonneville range. Since then I've been eagerly awaiting the arrival of the bikes in Australia so I could get a chance to ride one. That chance finally came last week when I joined a group of Aussie motorcycle journalists on a blast through the hills outside Melbourne to <a href="https://www.returnofthecaferacers.com/category/ride-review/">ride and review</a> the new Triumph Street Twin.
This is, of course, a factory bike and not something I often write about, but like <a href="https://www.returnofthecaferacers.com/ducati-cafe-racer/scrambler-caferacer-review/">Ducati's Scrambler</a> and <a href="https://www.returnofthecaferacers.com/bmw-motorcycles-cafe-racer/ride-review-bmw-r-ninet/">BMW's R NineT</a>, it's aimed at us, the home builders and custom enthusiasts. So with that in mind here's my take on Triumph's latest iteration of the legendary Bonneville twin…