In the world of modern-retro motorcycles, there's a new player who is somewhat of a black sheep. That's mainly due to the fact that this motorcycle isn't as "retro" looking as it's brethren. To get around the issue its manufacturer (Honda) has created a new category of motorcycle which they've coined 'Neo Sports'. The bike in question is the Honda CB1000R Neo Sports Cafe and thanks to that one word tacked onto the end of its title I had to give one a go.
So if the Honda Neo Sports Cafe isn't a true modern-retro then what is it? It has plenty of grunt, but lacks the white knuckle performance of a super naked. There's no fairing so we can't call it a sports bike and despite what Honda say I don't consider it a street fighter either. Honda has done something new with the Neo Sports Cafe, and while I can't pinpoint exactly where it fits in the scheme of things, I definitely approve.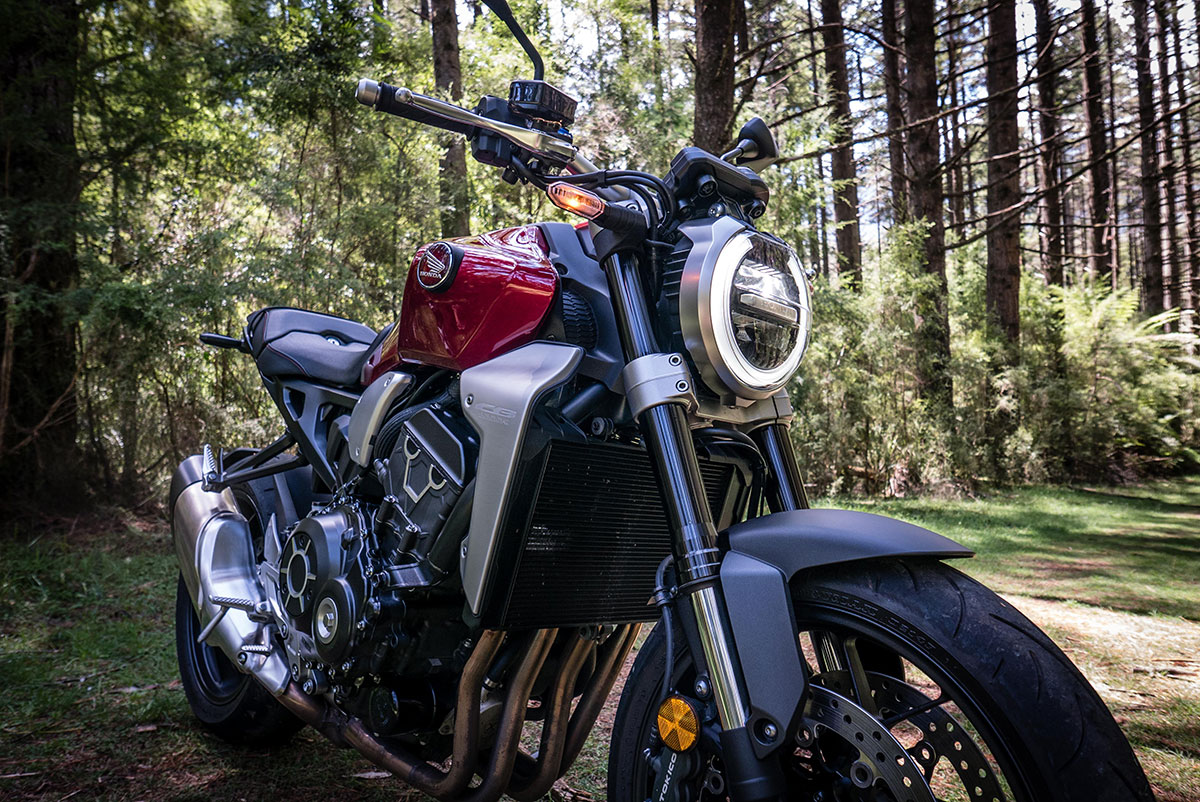 In terms of design the CB1000R Neo Sports Cafe it is in a league of its own. It sits somewhere between the Yamaha XSR900 and the Husqvarna Vitpilen. However, I've always considered the design of each of those bikes to be a little confused. The XSR looks like a bunch of retro parts bolted to a modern motorcycle while the Husqvarna looks like a future bike bolted to a present-day machine. In comparison, the design of the Neo Sports Cafe is, dare I say, perfectly balanced. The engine and bodywork are in complete harmony with each other and nothing looks tacked on or out of place. Although I'm not completely comfortable saying it's a modern-retro (or a cafe racer for that matter), I will say it looks great.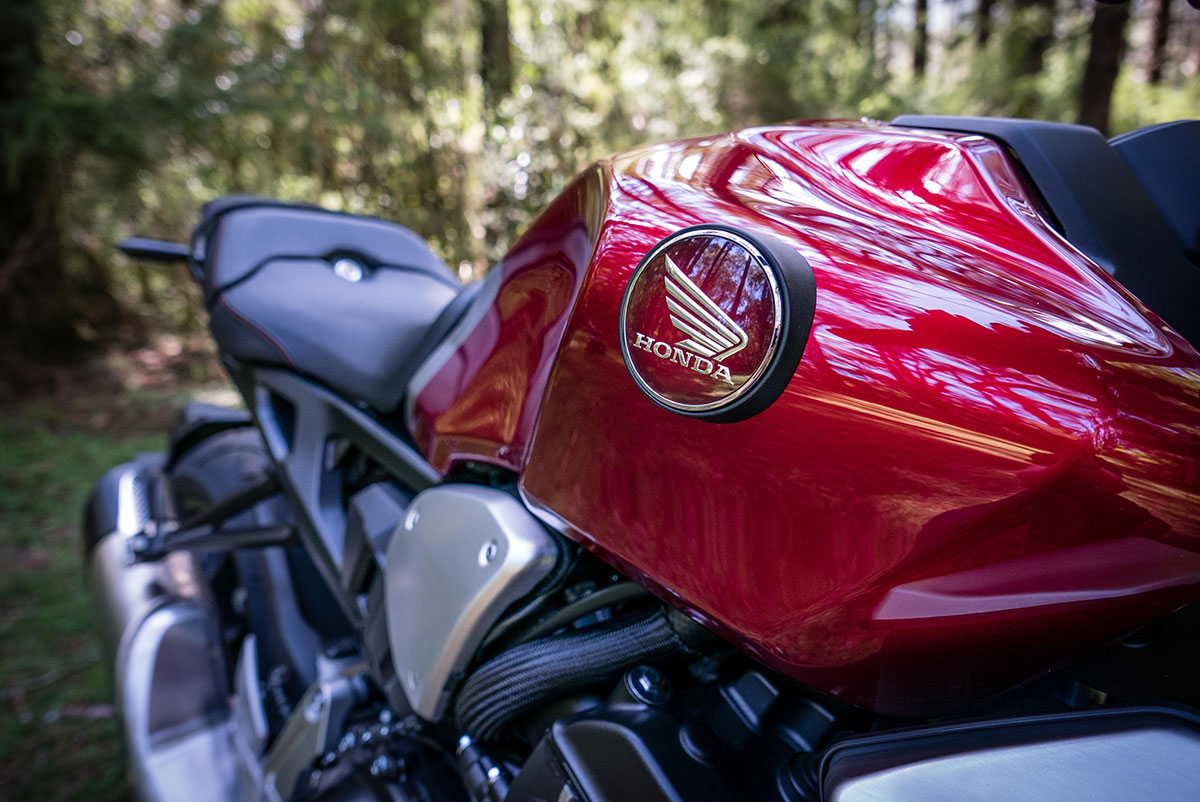 Honda has created a bike with the tight proportions custom builders strive for. The fuel tank is wide and angular while the tail is narrow, giving it an aggressive, bulldog-like stance. The engine isn't boxed into a frame so the exhaust is tucked in nice and tight. All the lighting is LED powered and nothing protrudes further than it legally has to. What impresses most though is the quality of this bikes fit and finish. Honda is known for being meticulous and the Neo Sports Cafe is no exception. There are no unsightly plugs or hoses ruining the view. The paint is flawless and everything from the tank badges to the alloy side covers ooze quality.
It's not all roses though. Nobody is perfect and that includes my favourite new Honda. Like Triumph with their modern classics, Honda made a big hoo-ha about how little plastic there is on the CB1000R, which is admirable. Unfortunately, they've done their best job of making all that lovely metal look exactly like plastic. Also, what's with all the wheel huggers of late? I know I'm not the only one who hates them and Honda have unfortunately shoved one on the back of this otherwise great looking bike. And finally who can ignore that massive radiator? Those fancy alloy covers aren't kidding anyone, it's a behemoth. Thankfully these minor aesthetic gripes did little to quash my desire to ride the bike.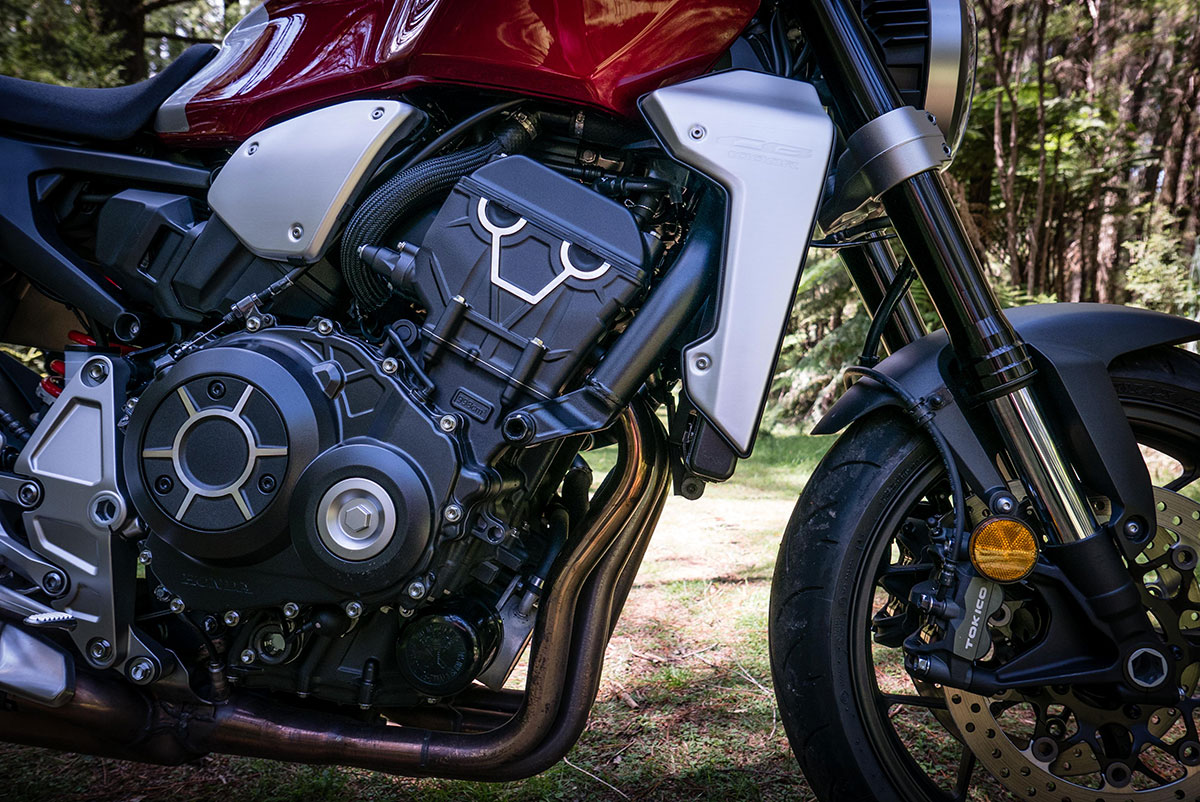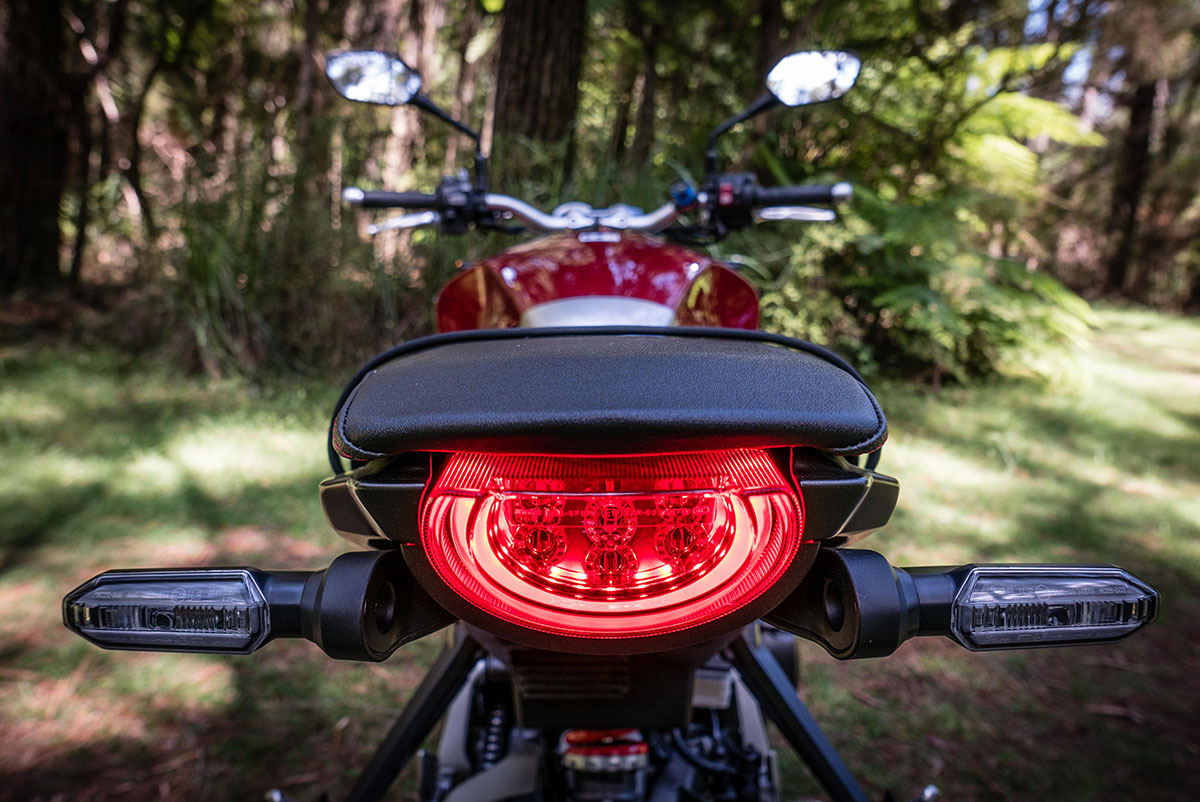 The engine Honda chose for the CB1000R Neo Sports Cafe was originally found in the '06 Fireblade. For this bike they've re-tuned the engine to make it more suitable for commuting, but it's still an absolute beast. The 998cc DOHC inline four produces 142 bhp and 104 Nm of torque. To put that into perspective that's a whopping 45 hp more than the previous king of the modern-retro hill, the Triumph Thruxton R. This becomes very clear when you grab a fistful of throttle. In sports mode, the CB1000R's front end will rise off the ground with little effort and if you don't ease off you'll soon be in jail time territory. Thankfully Honda has added different riding modes to help restrain your urges.
The 3 basic modes are Sport, Standard and Rain. Each mode changes the power, engine braking, and traction control settings appropriately. There's also a fourth User mode that can be customised to suit your taste. Navigating through the options on the dash is very straight forward. A mode button highlights the different functions and a toggle switch lets you tweak each setting. Speaking of the dash its the best LCD unit I've seen on a motorcycle. Even in the direct Australian summer sun, I could see exactly what was going on.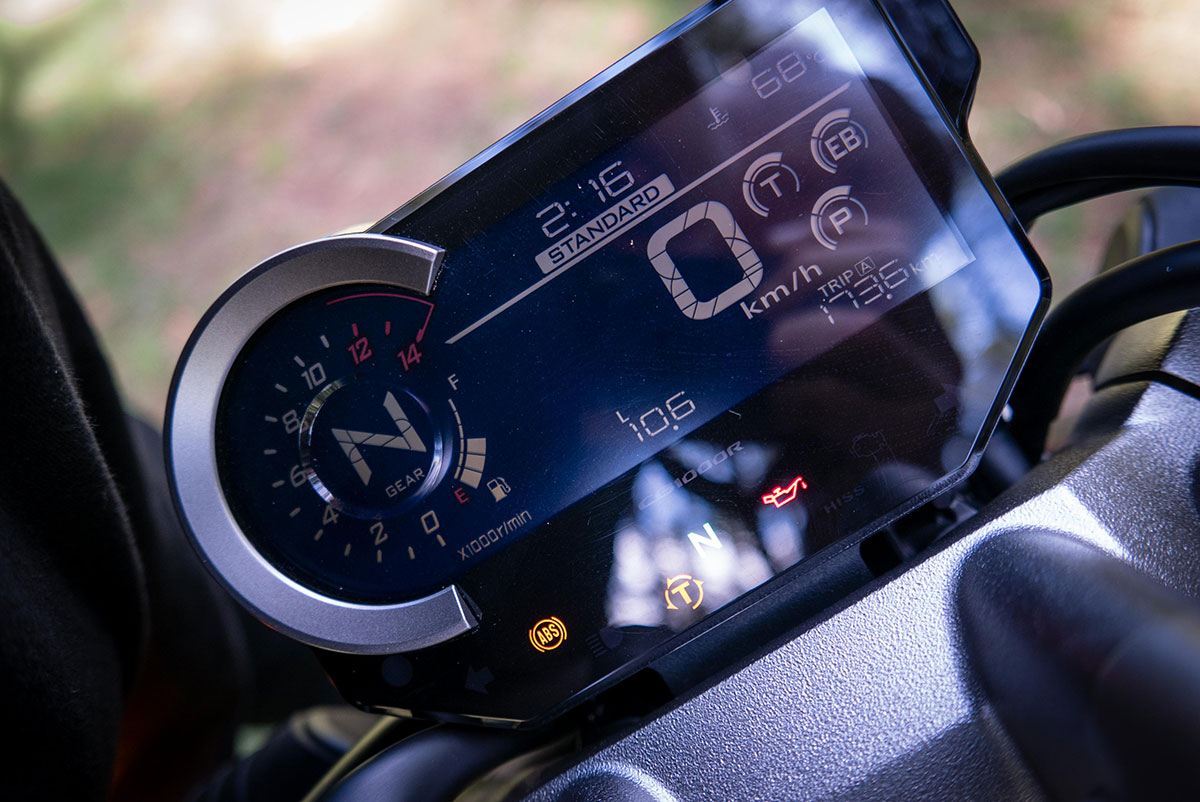 Out on the road, it's obvious you're sitting atop a powerful machine. Honda has tuned the inline four to give it plenty of low down grunt. This means quick launches are effortless and exceeding the speed limit will become a recurring concern. The handling is also well suited for everyday riding. The Neo Sport Cafe's suspension is all provided by Showa and it's fully adjustable. I was more than satisfied with the factory settings though and especially with how it dealt with harsh bumps. In the corners the wide 190/55 rear tyre provides seemingly endless grip and, as any cafe racer should, it turns like it's on rails.
Honda has also set the Neo Sports Cafe up with a relaxed riding position. Once again they had commuters and city riders in mind when they developed this bike. The seat is wide and comfortable and I felt no sign of numb bum even after a 3-hour haul. At 210kg (467 lbs) the Honda Neo Sports Cafe weighs less than both the Kawasaki Z900RS and BMW R Nine T. It's also very well balanced so low-speed maneuverability isn't an issue. Thanks to a slipper assist clutch your 2 year old could pull in the lever and ABS is, of course, standard. Despite looking like it's designed to muffle a V12 the bikes stock exhaust actually sounds great and I'd change it only to reduce visual bulk.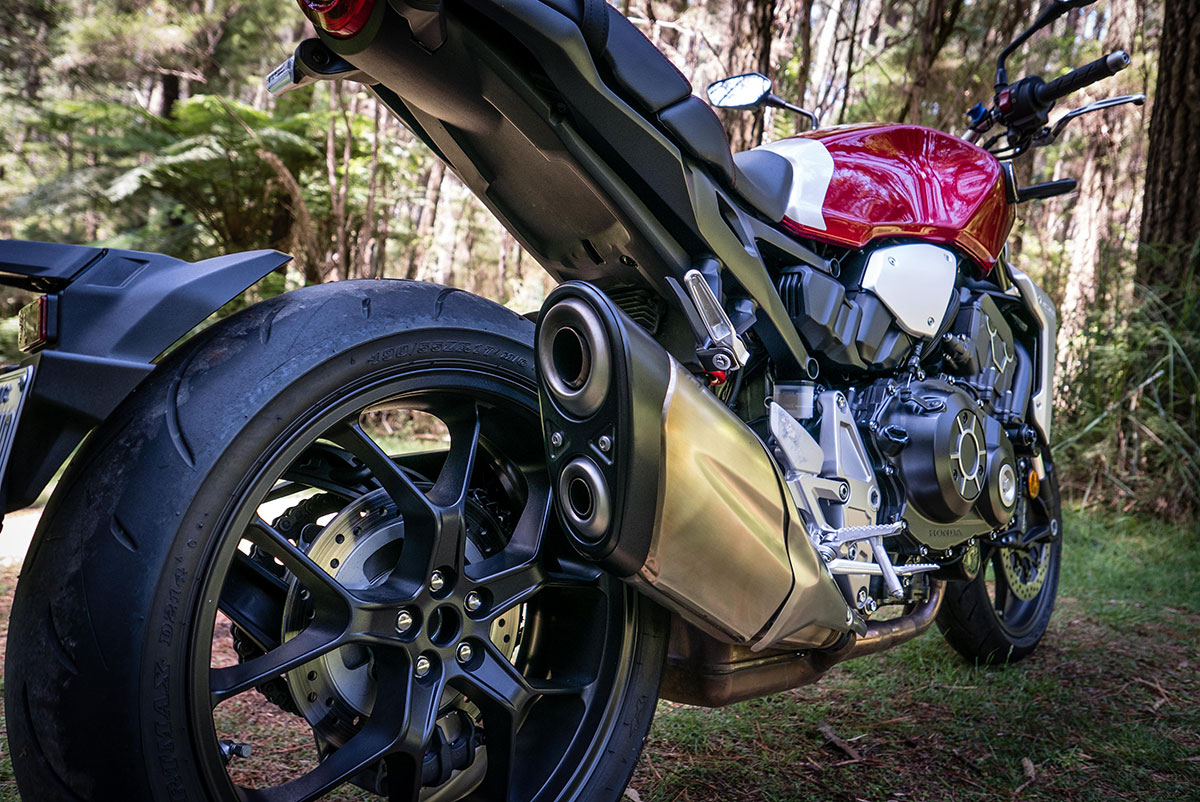 For 2019 Honda have added a CB650R and CB300R to the range for those seeking something a little less racy. The Honda Neo Sports Cafe is priced at $16,499 AUD ($12,999 USD) positioning it with the likes of the Z900RS and the non-R version of Triumph's Thruxton. You can buy the Neo Sports Cafe in either a metallic black or candy red paint finish with the latter being my choice.
When I first heard of the CB1000R Neo Sports Cafe I was pretty excited. Honda didn't have a dedicated retro range, despite their CB1100 being a good contender, and I'd been eagerly awaiting them to add one. They marketed this new model as a "revolution" and laid claim to it being the best bike in its category…which they'd just created. Obvious statements aside they were right. The CB1000R Neo Sports Cafe is an impressive machine that sits in a world of its own. So if you were that kid who always liked to do his own thing you can now do just that on a Honda Neo Sports Cafe.