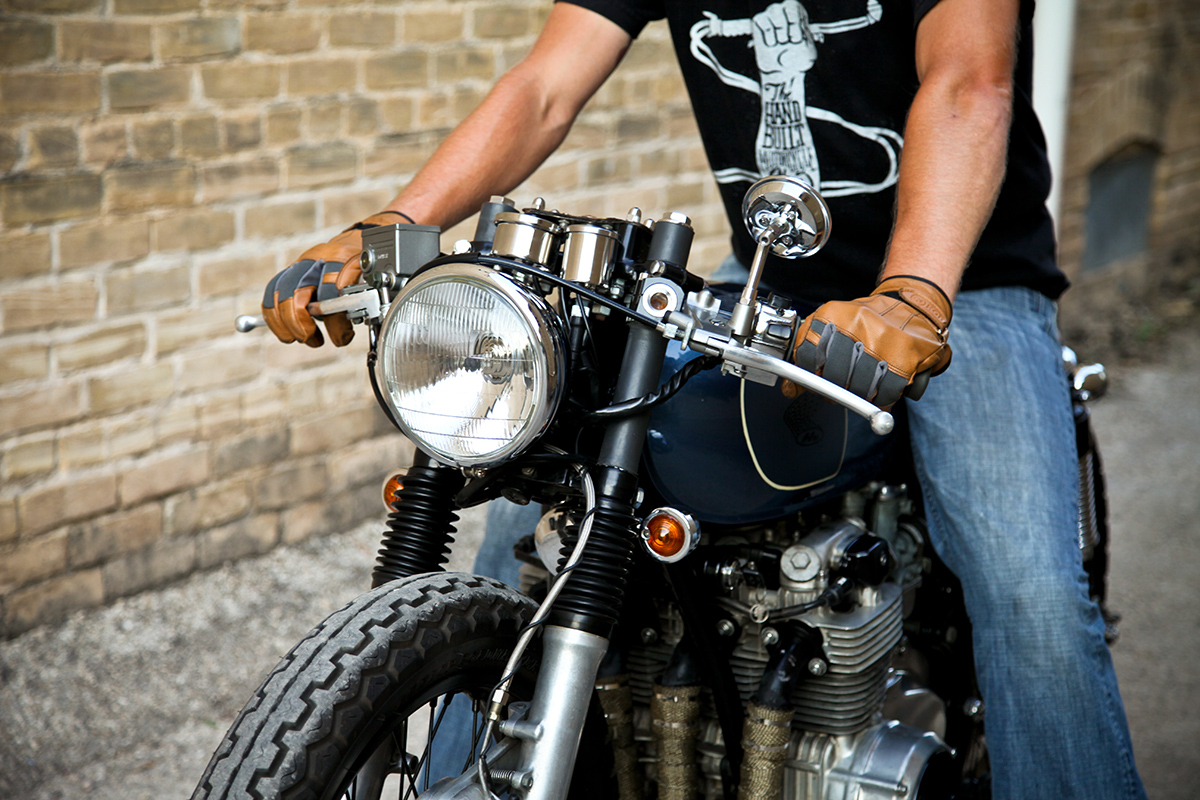 The weekend following the rider class, I bought my first bike. I was hooked. I picked up a 2009 Vulcan 900 with the intention of turning it into a bobber. I was a carpenter at the time so thought I was good with my hands. I had no knowledge of building bikes or much experience working with metal. I decided to purchase a bobber kit through Blue Collar Bobbers and after a weekends worth of work in an empty space in my house, I had myself a bobber. I loved riding and tinkering. It became a way for me to put a smile on my face while I was dealing with the hand that I had just been dealt. As I became more comfortable riding and working on motorcycles I wanted to do a full build instead of just a bolt on kit. My brother Tyson, whose build was featured here a few weeks back, started tossing around the idea of building a café style bike and since I was already into the vintage look, I was immediately interested.
In the spring of 2014, I decided to start looking for a candidate for my build and settled on a 1974 Honda CB550 that I had found on Craigslist. I paid $250 for the bike so as you can imagine the condition it was in. I don't have a shop or even a garage, but I do have a small 8'x10' shed, a front porch, and a front yard so I figured I could somehow make it work. The neighbors might have thought that a frame hanging in a tree while it was being worked on was a little "redneck" but they were always cool about it and even became interested in the project.
I had been looking at many bikes online and had a folder on my phone of photos titled "Build This".  These were bikes that I had come across in my research that I liked the look of in one form or another.  I didn't necessarily love every bike in that collection, but each one had something unique or cool that I liked so that is where my design and inspiration came from.
The first thing that I did with the bike was take it to a trusted shop in Austin and see if the engine needed a rebuild. Because I had paid so little for it, I figured that it did, but I was hoping for the best.  The compression gauge that we put on it told a different story however.  Knowing that I didn't have the tools or space at the time to learn how to rebuild an engine, I pulled the engine out of the frame right there in the parking lot and left it with Chris at Limey Bikes to let him work his magic. I then took the chassis home and began work.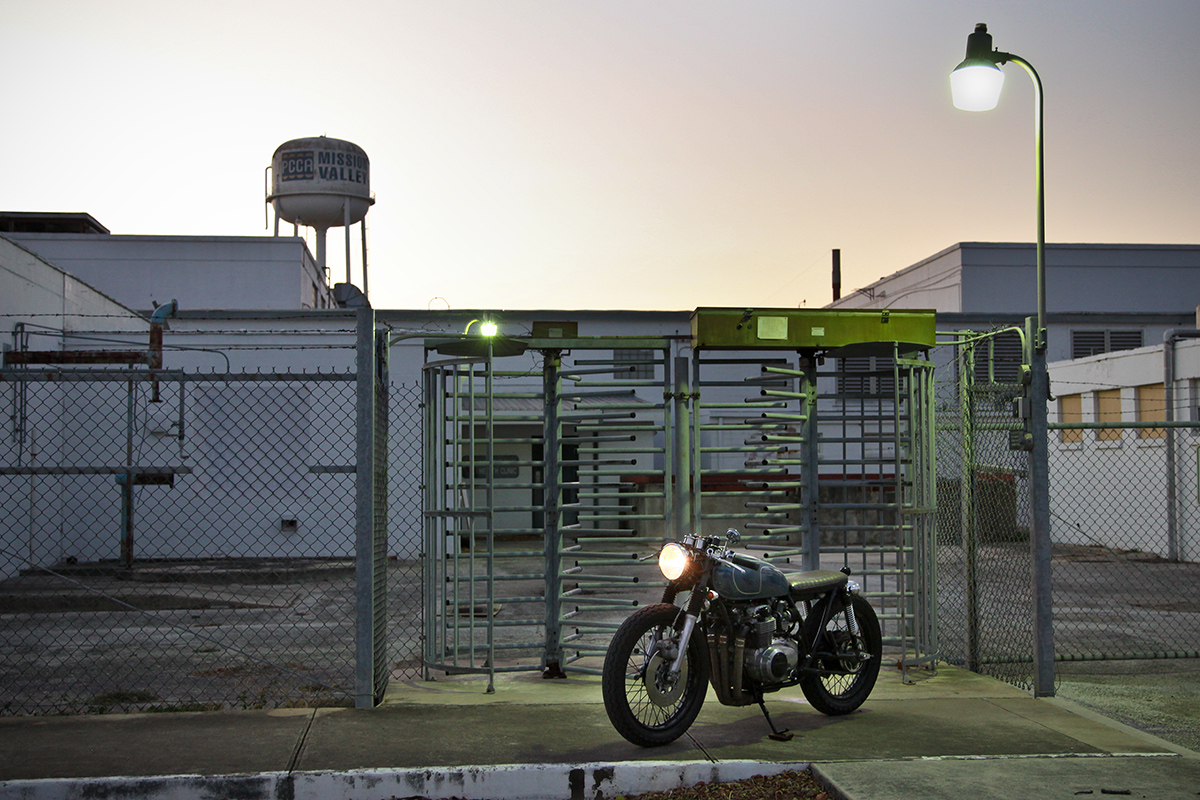 I de-tabbed the frame and removed the rear section. I then built a new rear loop that would fit my needs and had a buddy of mine weld it in. Along with the wheels and other pieces the frame went off for a powder coat. I also totally reworked the rear fender, rebuilt the forks and brakes and put all new bearings in the wheels and frame. I also reworked the dash area of the bike with some leather from an old boot that I had.  My mom used to make rodeo chaps and saddle bags back in the day so as a little tribute to her, I used an old Mexican coin concho (they were one of her trademark touches on everything that she made) right in the middle of the leather dash.
After about 3 months of work, it was starting to look like a bike again.  I had the engine back from the shop and in the cradle and things were coming together nicely. I had installed an exhaust from Carpy's Café racers, a seat from Toughside (which was later reupholstered to better fit the bike),  Dunlop K81 tires, and many other parts from Dime City Cycles and eBay. I also got the phone number of a local guy named Czech who was known to be a great painter and took him  my worn out tank and some ideas. Once it all came together, I took the bike back to Limey bikes and had them do the carb work and get her running.
The first time I took it out for a cruise was to get it inspected and legal, it failed me on the highway and I had to hitch home. There were some bugs to work out on the electrical side of things, but after a month or two of riding its been running like a clock ever since. I have now put over 4000 miles on the bike and continue to ride it weekly. I never intended it to come out as nice as it did so the compliments have been a welcome surprise.  It has also been a great time taking the bike out and meeting new folks around the area who share the same passion for vintage motorcycles.
Story and buildby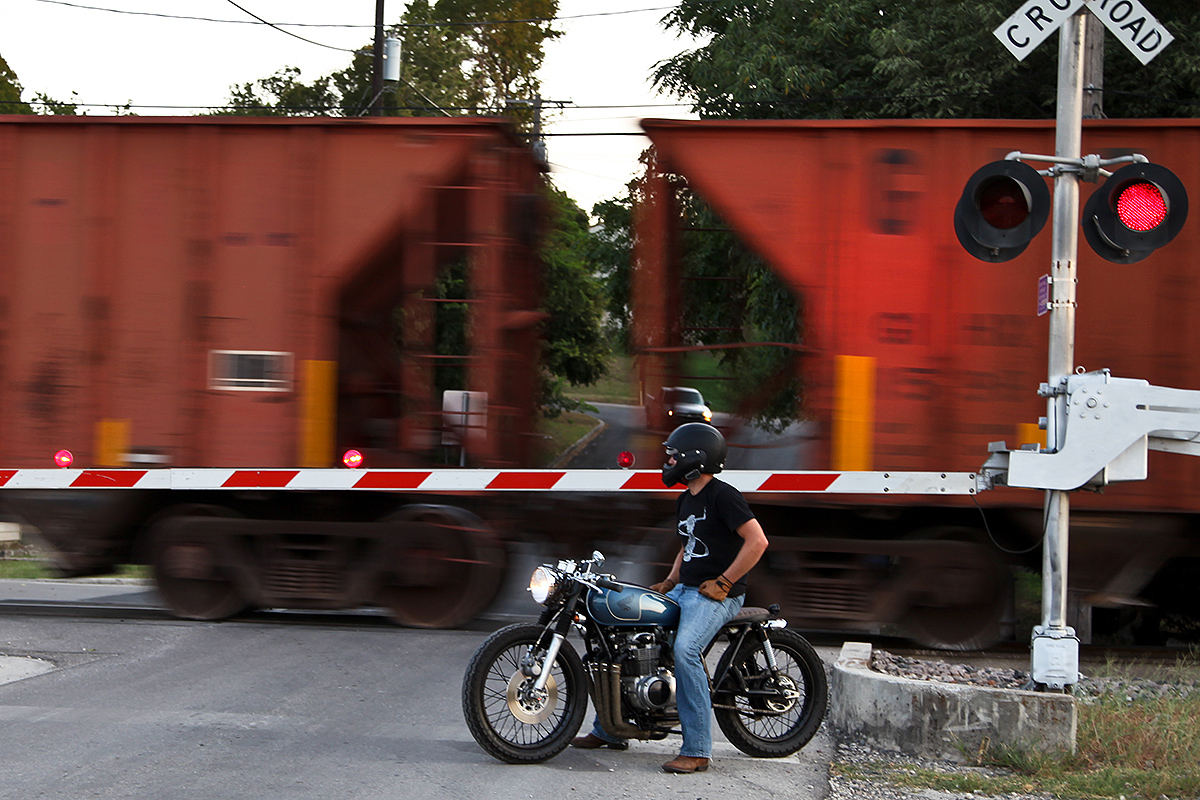 Motorcycles came into my life a little over 5 years ago at the age of 28. In February of 2011, my mother passed away and then 2 months after in April, I lost my father as well. During this time, my
twin brother Tyson
decided that he was going to buy his first bike and learn to ride as an escape and something fun to do. Motorcycles always seemed like a lot of fun to me but they were never something that I felt like I needed to get into. My brother and I have also been playing music together for most of our lives so one night after a gig (and a few cocktails) my brother asked me what my PayPal password was. I told him and when I asked him why he needed it, he told me that I was going to take the riding course with him and that he had just signed me up. I wasn't thrilled that he had just spent my money, but on the other hand, I knew that riding would be something that I enjoyed.  Even more importantly, however, I knew that riding together would be something that would keep us close through the most difficult time in our lives.