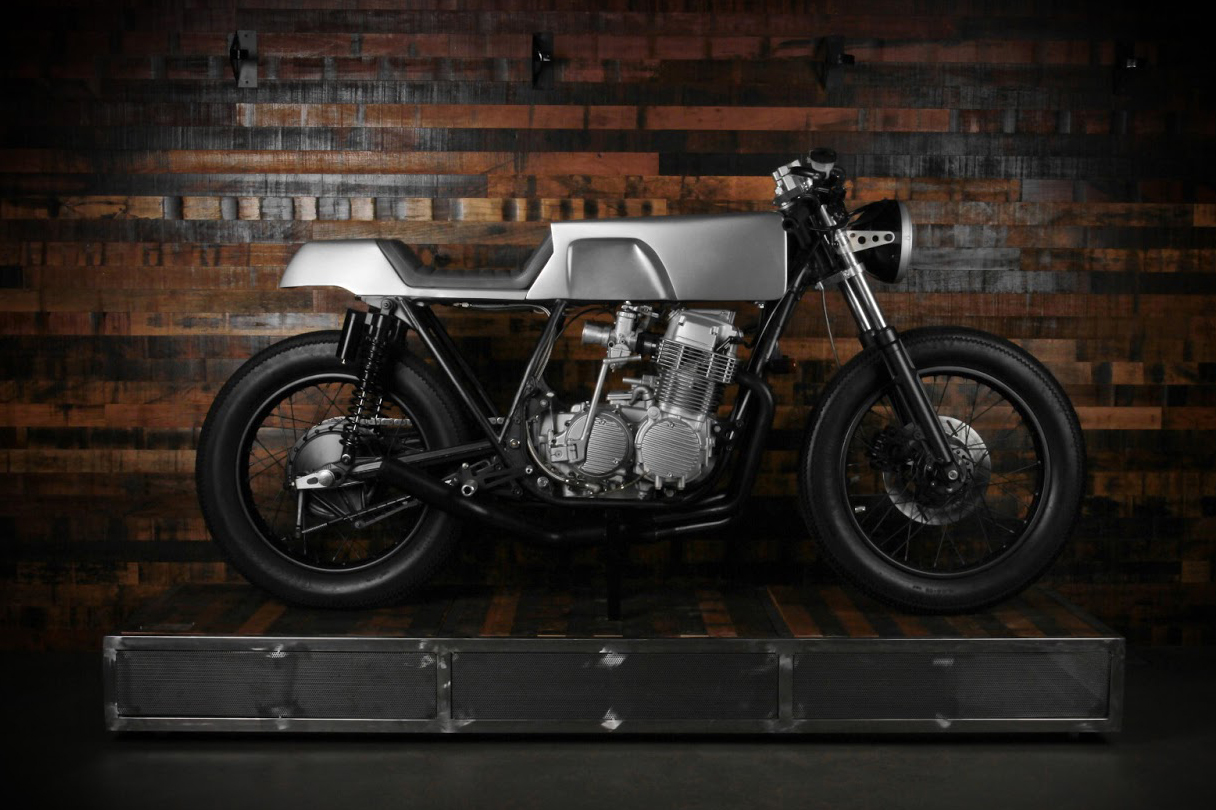 Being in Australia when the
One Motorcycle Show
is happening over in Portland USA is like not getting any presents at Christmas time. Thankfully a flood of social media posts from the lucky sods who attended has helped to bring the show to me. As I waded through the hundreds of photos I noted several bikes worth hunting down and this one finally popped up on David Mucci's awesome blog, 
Moto Mucci
.
Built by Toby Grubb and Justin Lewis the 'DigitalCraftBike750' or DCB750 for short, represents an opportunity for two guys who specialise in the digital space to spend some time with real world mechanics, which in this case happened to be a '73 Honda CB750.
This isn't the guys first encounter with a custom motorcycle. Justin and Toby are part of the crew at Instrument, 
the digital agency that recently released 
'Build' the interactive motorcycle movie
. Inspired by some of Portlands top custom builders they set out to utilise their skills in digital design to create their own vision of a custom motorcycle. Starting with a "dust-collecting" CB donor bike owned by a fellow Instrument team member, the guys began the build where they felt most comfortable, on a computer screen. Working in Illustrator they created a schematic and 3D model that was influenced by Cafe Racer styling and mimicked the finish and form of Apple's iconic 
G5.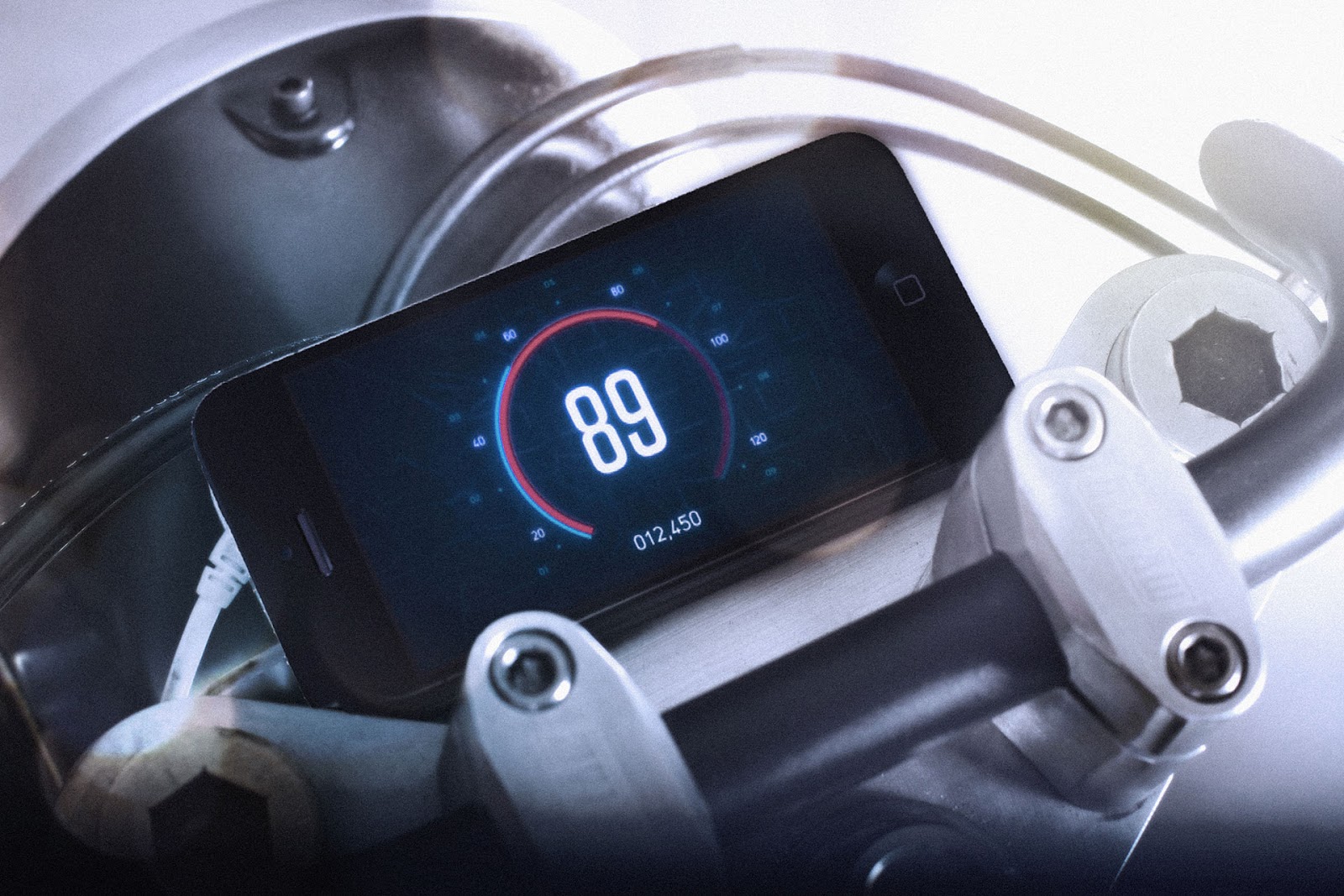 "We make beautiful things. Most of the time, these things live in the digital realm, but every once in awhile we get to mix our digital craft with real world blood, sweat, and tears. Instrument's DigitalCraftBike750 is the quintessential example of that."
To assist with the build the boys called in Ian Halcott from House on Fire and the team at Twinline Motorcycles. Using their 3D model as a guide Ian used 090 aluminium to hand form the bikes gas tank and tail section which houses an integrated oil tank. Using the perforated panel from the front of an old G5 case a rear hatch was designed to conceal the oil filler cap and a LED tail light. A custom pair of rear sets were also fabricated by Twinline and a Nostalgia Speed & Cycle, Yoshimura style exhaust was bolted into place.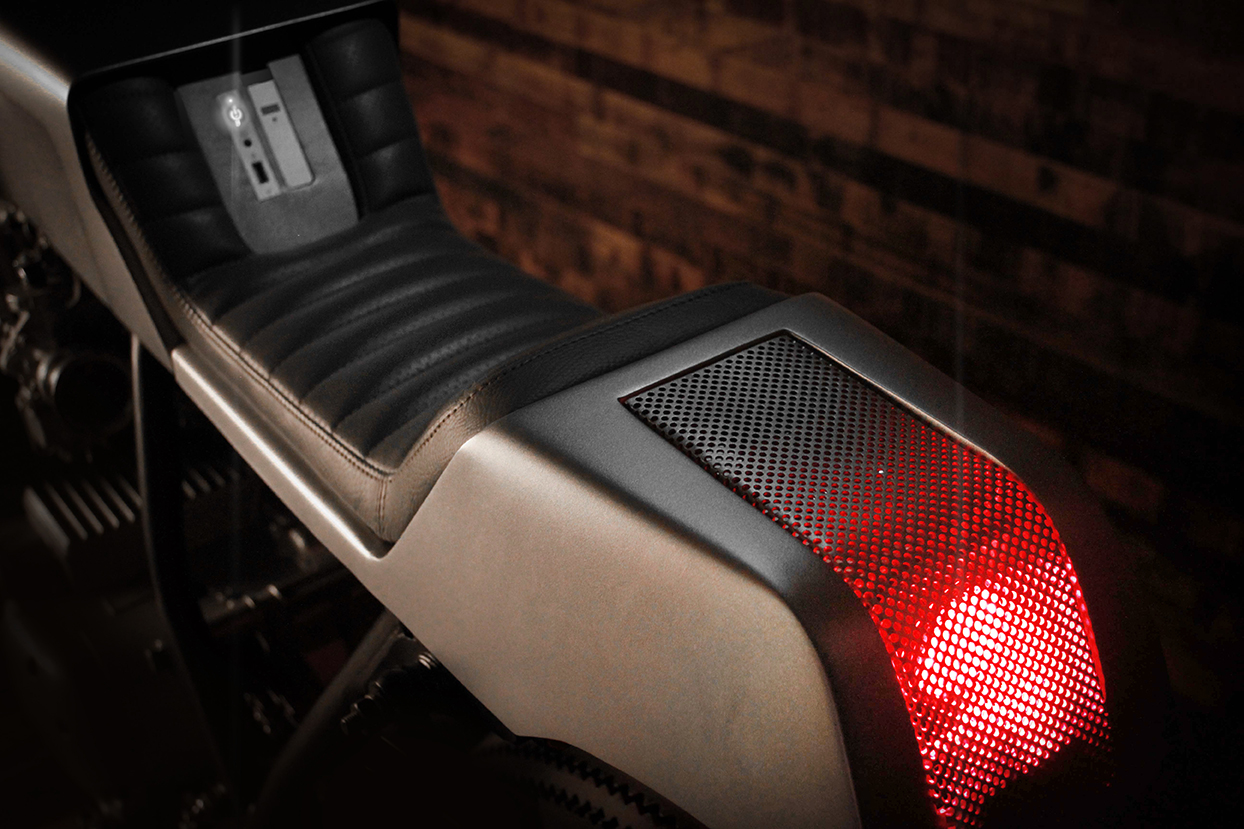 Electrics on the bike received a major overhaul with all new LED lighting from Daytona and Revival Cycles and a truly unique instrument cluster was developed. The boys got together with the Instrument team to create a mobile dash app they call 'The Instrument™' (coming soon to iTunes). Using the built-in GPS of an iPhone and some very clever programming the app features a ground speed indicator, engine RPM readout, an odometer, trip meter and integrated navigation maps. The rider simply plugs their iPhone into the cradle on the triple tree, launches the app and they're ready to roll. To bike fires into life using a G5 power button at the rear of the tank and a headphone jack gives its rider the ability to enjoy some tunes straight from their iPhone/dashboard. The bike was finished in a G5 style paint scheme by Coachman Auto Body and a custom covered seat by Ginger McCabe at New Church Moto.  Apple fanboy jokes aside this is one of the most unique approaches to a custom build I've seen in some time.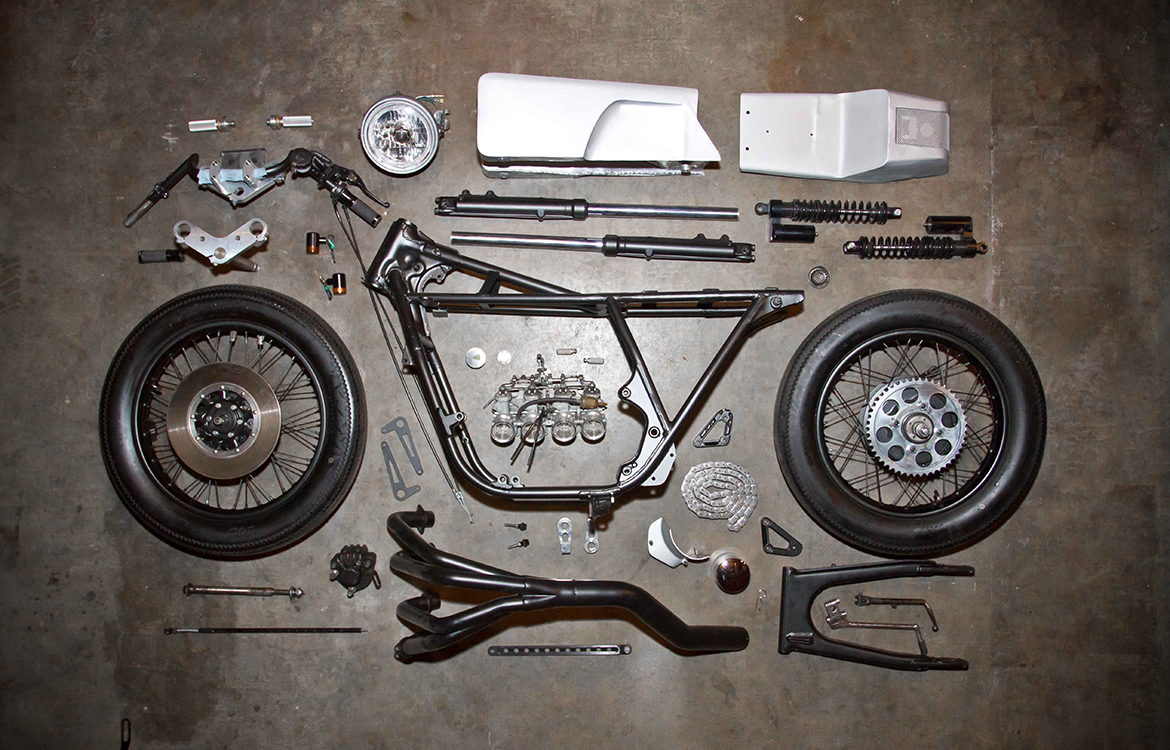 Somethings missing, but I can't quite put my finger on it?