Krzysztof Rogalinski, aka KrisBiker, is a Polish bike enthusiast who documents his two-wheeled exploits on Youtube. The self-taught mechanic and fabricator has been tinkering with bikes since his teens and uses those skills to assist friends with restoration projects and general servicing. In the past, his work has focused almost exclusively on restorations, but his latest project has seen him depart from that trend. In search of a more creative outlet, Krzysztof has built his first cafe racer, the' Honda CB750 F2 'Spider'.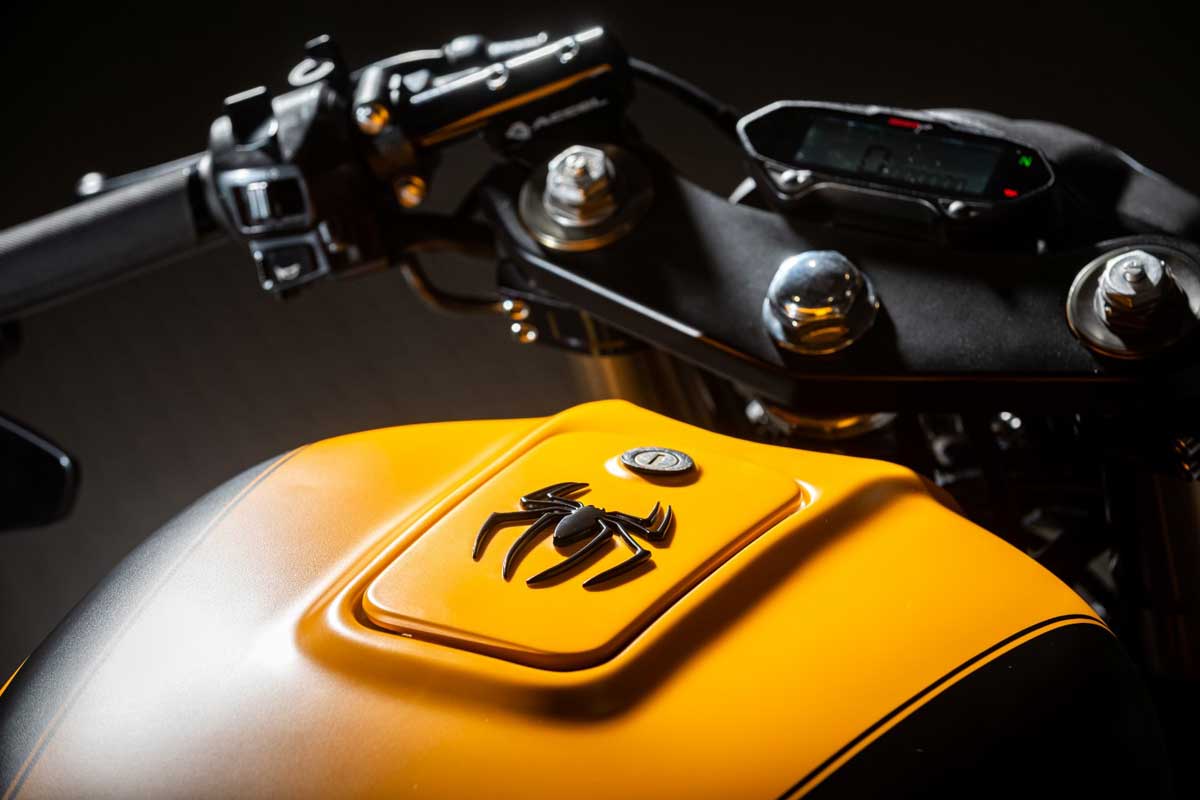 "In January I completely restored a Russian Ural M63 in 30 days using 98% original parts," says Krzysztof. "I thought a cafe racer project would be a walk in the park. I was wrong."
Unfortunately, Krzysztof's choice of donor didn't make things any easier. The mid-nineties Honda CB750 F2 was never a showstopper. Original reviews of the CB750 F2 feature words like 'adequate', 'good' and in some cases, 'boring'. It was a far cry from being labelled one the "Greatest Motorbikes Ever" like the original 1970s CB750. This meant Krzysztof would have his work cut out for him if wanted to build something special.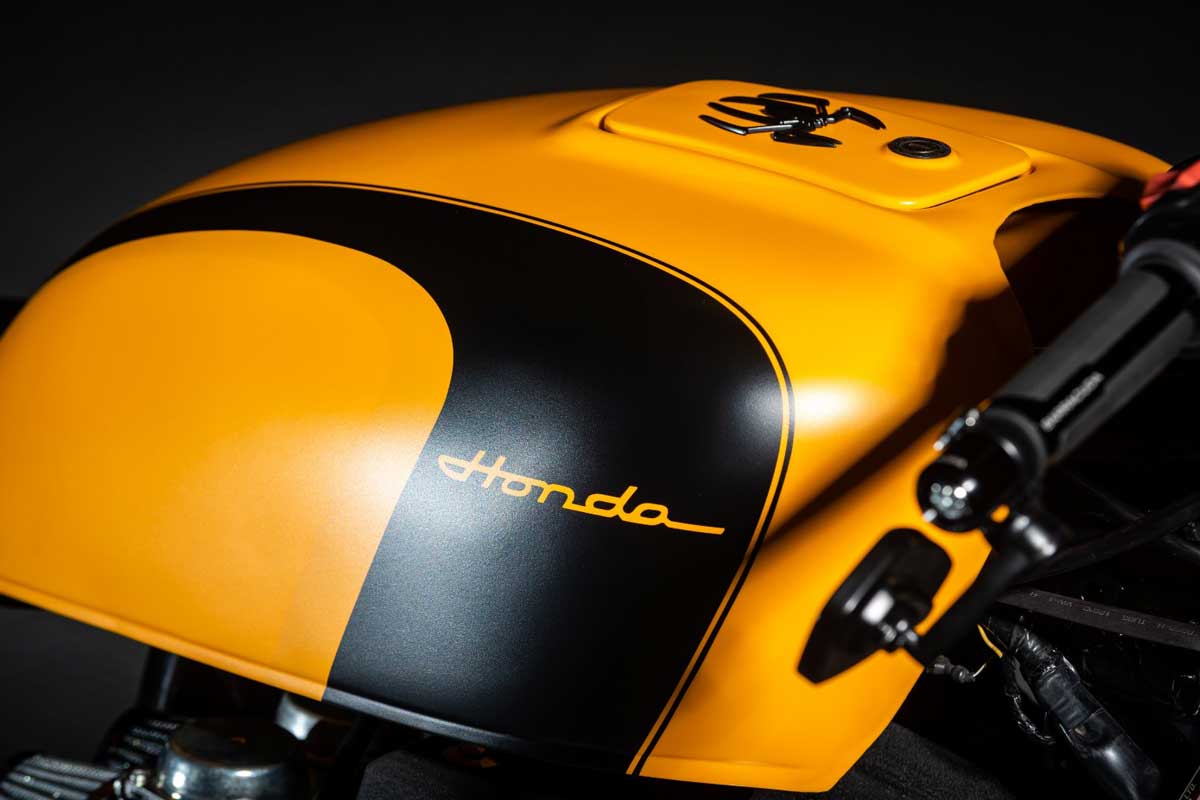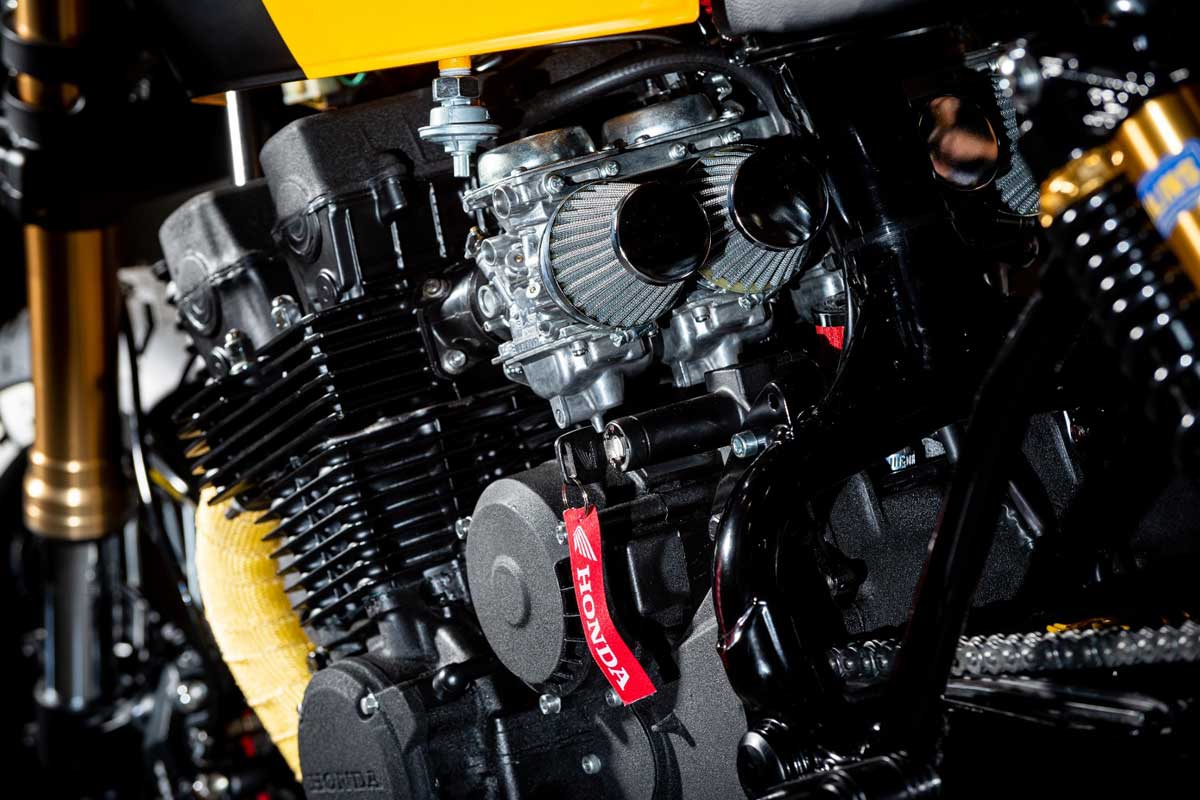 The build kicked off with a series of frame modifications to allow the fitment of new bodywork. With a goal of achieving visual balance, he sourced a seventies CB550F fuel tank. Using new mounting points the 550 tank sits parallel to the road for the quintessential cafe racer bone line. Next, the subframe was chopped off and a custom loop installed. A new seat pan was then built which matches the length of the tank and visually tightens the bike's proportions.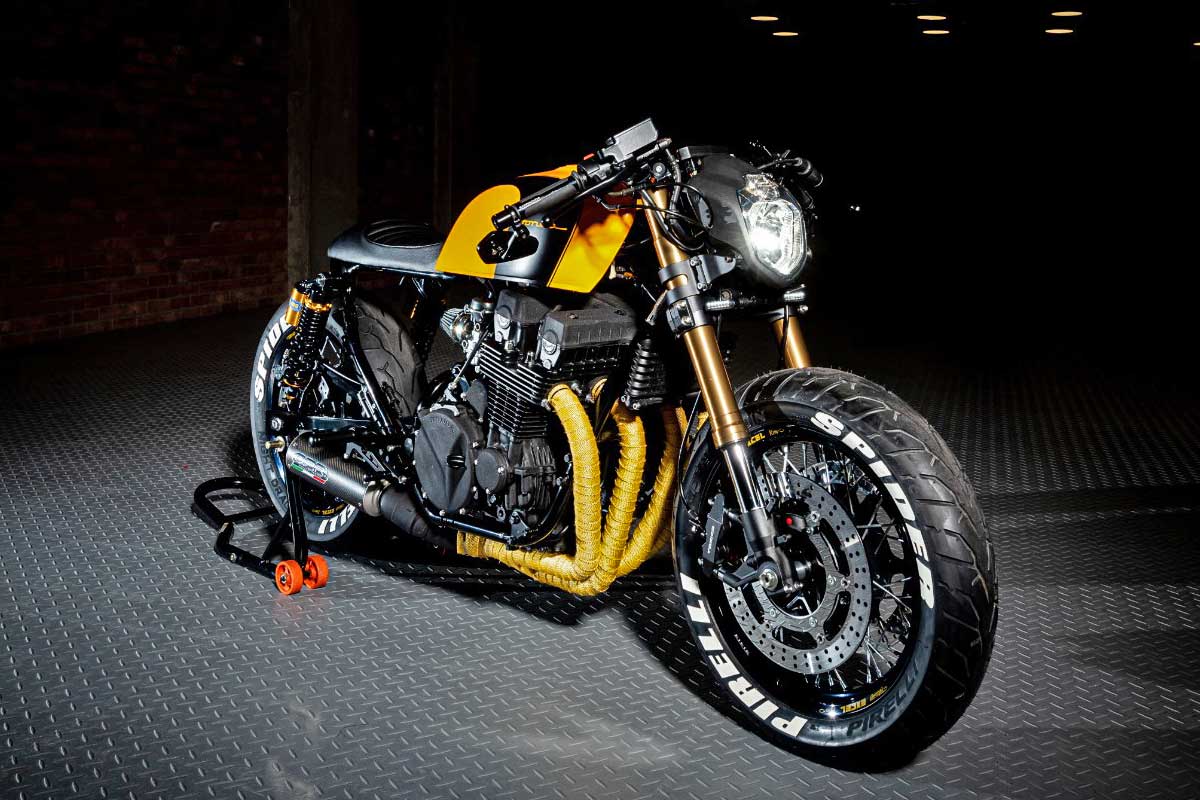 Next came the biggest challenge faced during the whole build. The conversion to spoked wheels. "It consumed one month oF research and development!" says Krzysztof. "There were no spoked wheels available, especially since we planned to convert the front suspension."
The new front end is of Suzuki GSXR600 heritage and was fully rebuilt then installed using a custom top clamp. The Gixxer forks were chosen to improve handling and to beef things up. To maintain a level stance and round out the handling upgrades he then added a set of Ohlins shocks that ran 15mm shorter than the original items.
As for the wheels themselves, they're 17″ Excel rims that have been retrofit using modified Honda Comstar hubs. Krzysztof worked alongside Nazar from Kiev-based workshop Gazzz Garage to achieve his goal. "We had to meet the GSXR fork requirements which were for a wide hub and larger brakes. Then to get things to work with the OEM swing arm we needed to adapt a Supersprox rear sprocket which required a stronger and longer chain." In case you didn't notice Krzysztof then opted for Pirelli rubber in the form of their performance-oriented Night Dragon tyres.
The revised brake package is a mixed of bag of retrofit components. In the front is a GSXR1000 calliper fitted with fresh Brembo pads. A pair of 318mm floating disks flank the front wheel while out back there's a Honda CBX750 calliper and aftermarket disc. Steel braided lines provide plenty of feel while slimline fluid reservoirs keep everything looking clean.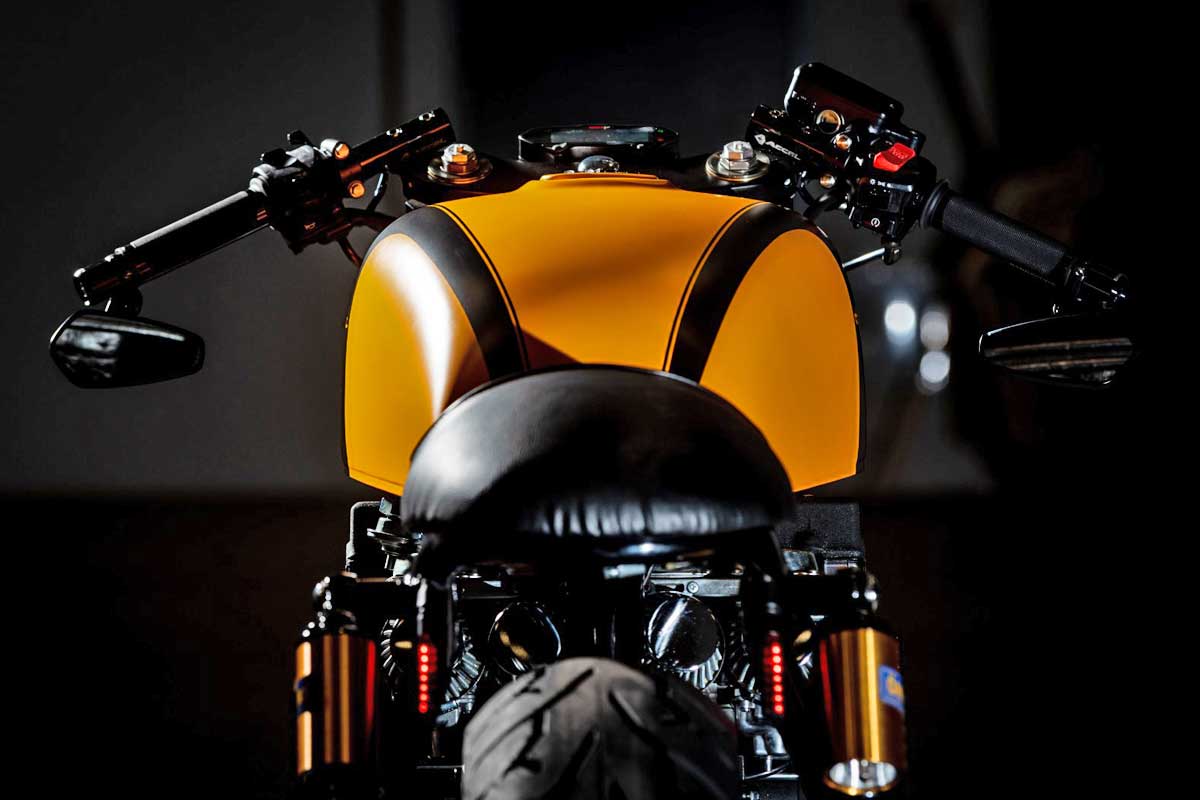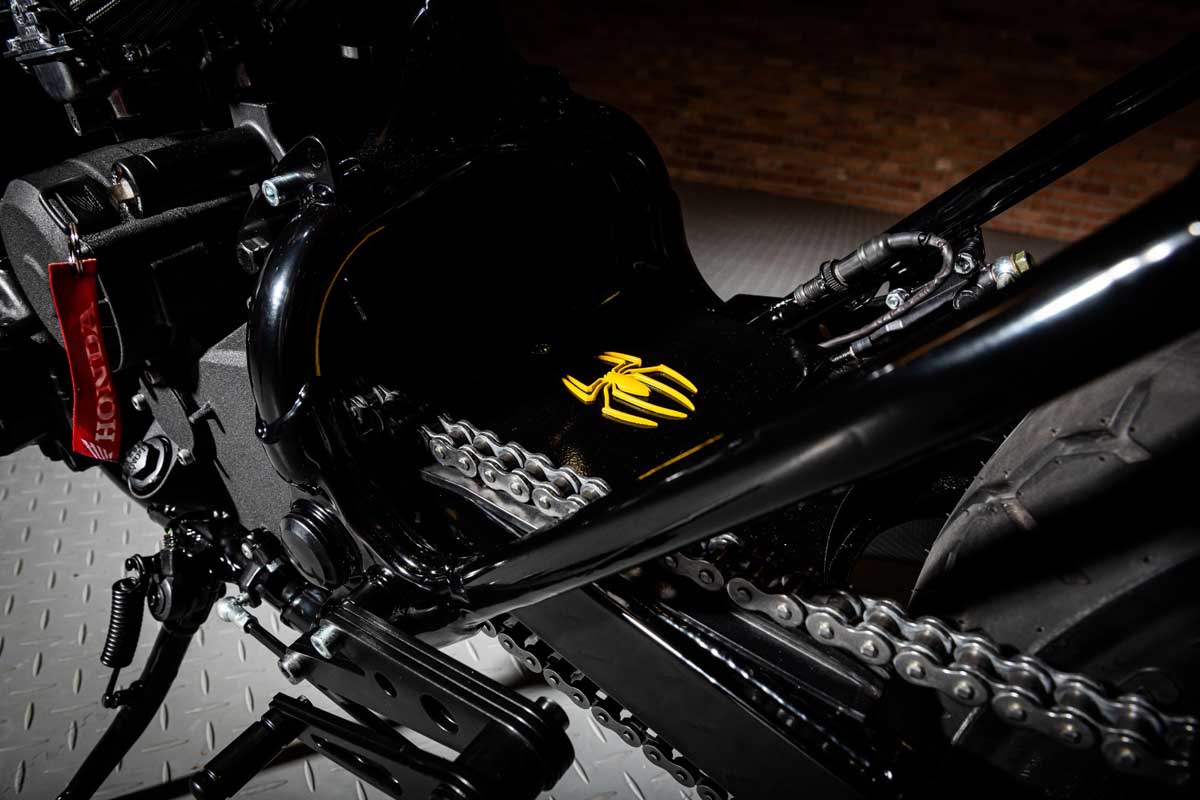 "The Honda CB750 engine was completely restored using new rings. A comprehensive cylinder head service was also performed which included surface grinding, cylinder honing, a valve service and piston clearance verification. The starter was renovated too and the carburettors ultrasonic cleaned and balance." Along with performing like new the inline-four also got a visual overhaul thanks to a few coats of satin black on the cylinders and some wrinkle black on the cases.
With the airbox gone and the frame left wide open the battery needed a new home. With a bit of clever fabrication work, Krzysztof managed to stash it out of sight in the swingarm. In keeping with the slimmed-down approach of the build, the CB is now running completely revised lighting. Sitting alongside each shock are vertically mounted LED strips that double as brake and indicator lights. A set of aftermarket LED indicators are mounted to the lower clamp of the forks and the headlight, which hails from a Yamaha MT-03 was inspired by a BMW K100 cafe racer from neighbouring country Lithuania. The dashboard was also modernised and simplified with the addition of a KOSO digital speedometer and the ignition key has been relocated the rear of the engine.
Shop This Look
| | | |
| --- | --- | --- |
| Image | Product | Buy Now |
| | LED lighting | |
| | Aftermarket gauges | |
| | Bar end mirrors | |
| | Clip on handlebars | |
| | Performance tyres | |
To complete the cafe racer transformation there's a pair of Accel clip-on handlebars wearing Barracuda grips. Discreet bar end mirrors and rear-set footpegs. The final performance tweak came in the form of a 4-into-1 exhaust capped off by a GPR muffler. As far as overall power gains are concerned Krzysztof is yet to run the bike in. Improvements are inevitable though thanks to the engine rebuild, exhaust and intake tweaks and a whopping 21kg drop in weight.
As far as first efforts go, the Honda CB750 F2 Spider sets the standard high. No pressure Krzysztof, but we're expecting big things for the next KrisBiker custom.
Photography by Łukasz Widziszowski