Jas Babalija is a mechanical engineer and Automotive Vehicle Examiner in Melbourne, Australia. For years his work focused on the legal certification of vehicle modifications, specifically those made to motorcycles. After years of seeing what others were doing to their bikes, and learning the ins and outs of the system, Jas decided to embark on a personal project of his own.
In 2019 he formed JAX Garage. Since then he and his team have completed several ground-up custom motorcycle builds and added a range of premium aftermarket parts to his workshop offering. Using a wide range of specialised tools at their disposal the JaAX team are able to fabricate bodywork, modify frames, shape metal, machine custom components, weld, paint, perform general servicing and rebuild engines. One of JAX Garage's most recent projects is this, a thoroughly customised and upgraded 1981 Honda CB750F cafe racer.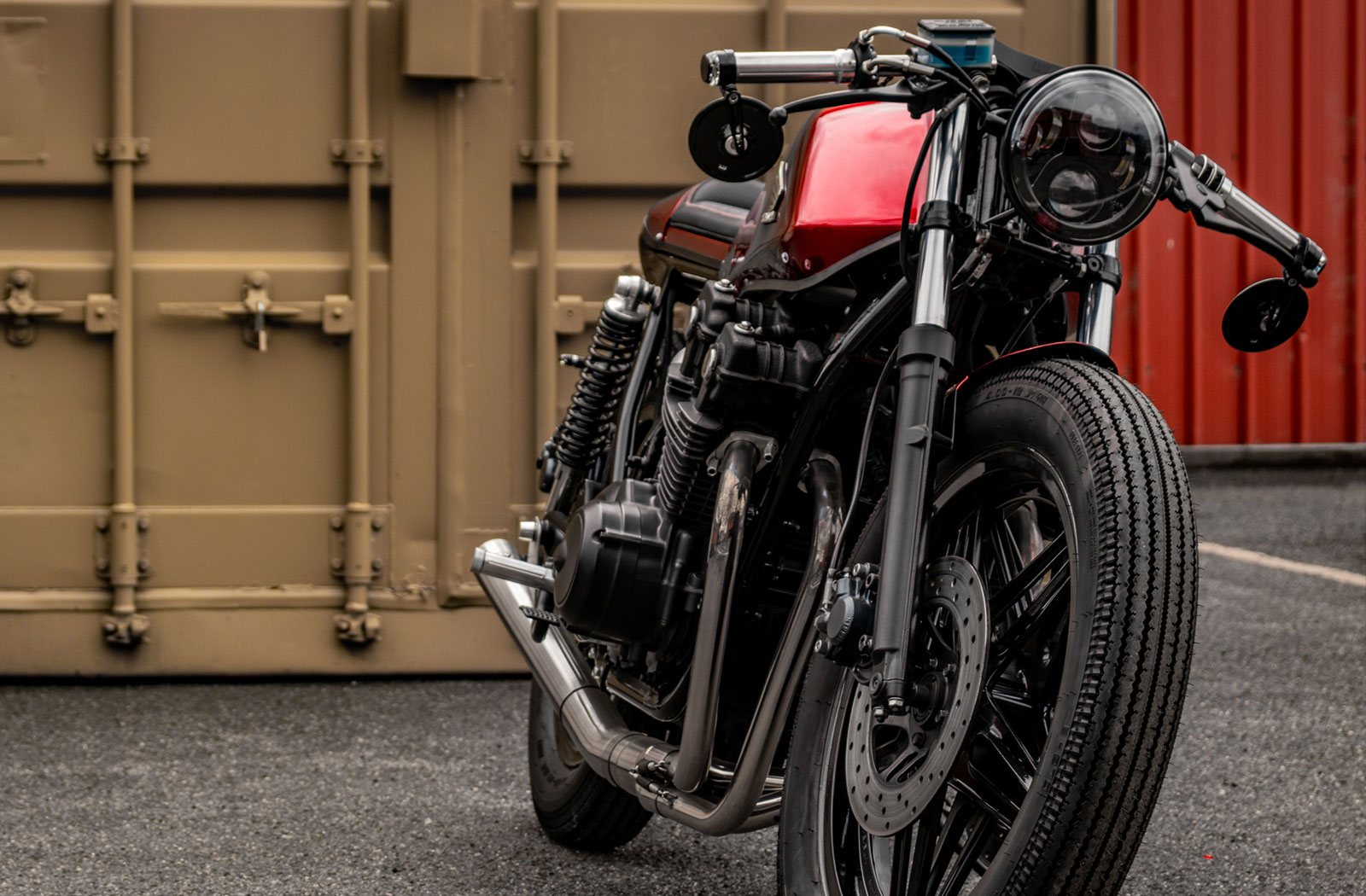 "The build process for this was rather stop-start," says Jas. "We purchased the bike in December 2019 from the eastern shores of Victoria. It was a half-finished project that came up at the right price. It was always intended to be a personal project, hence the very long timeline. "
During the build, the Honda often took a backseat to paid client projects. Timing also blew out due to many of its features being concept parts which required lengthy prototyping. Take for instance the billet aluminium grips, footpegs, and frame hole/bolt covers which are all one-off pieces crafted in-house at JAX. The JAX team also fabricated a custom top triple clamp, fork tube caps, crankcase breather and rear brake reservoir for the Honda rather than fitting aftermarket alternatives.
When the need for aftermarket parts did arise, JAX went with top-of-the-range accessories like the glassless mo.view mirrors, RFID keyless ignition, a mo.unit Blue electrical controller and a Motoscope Pro Speedometer from Motogadget. All of the lighting front and rear has also been converted to LED components and they too include items from the Motogadget catalogue.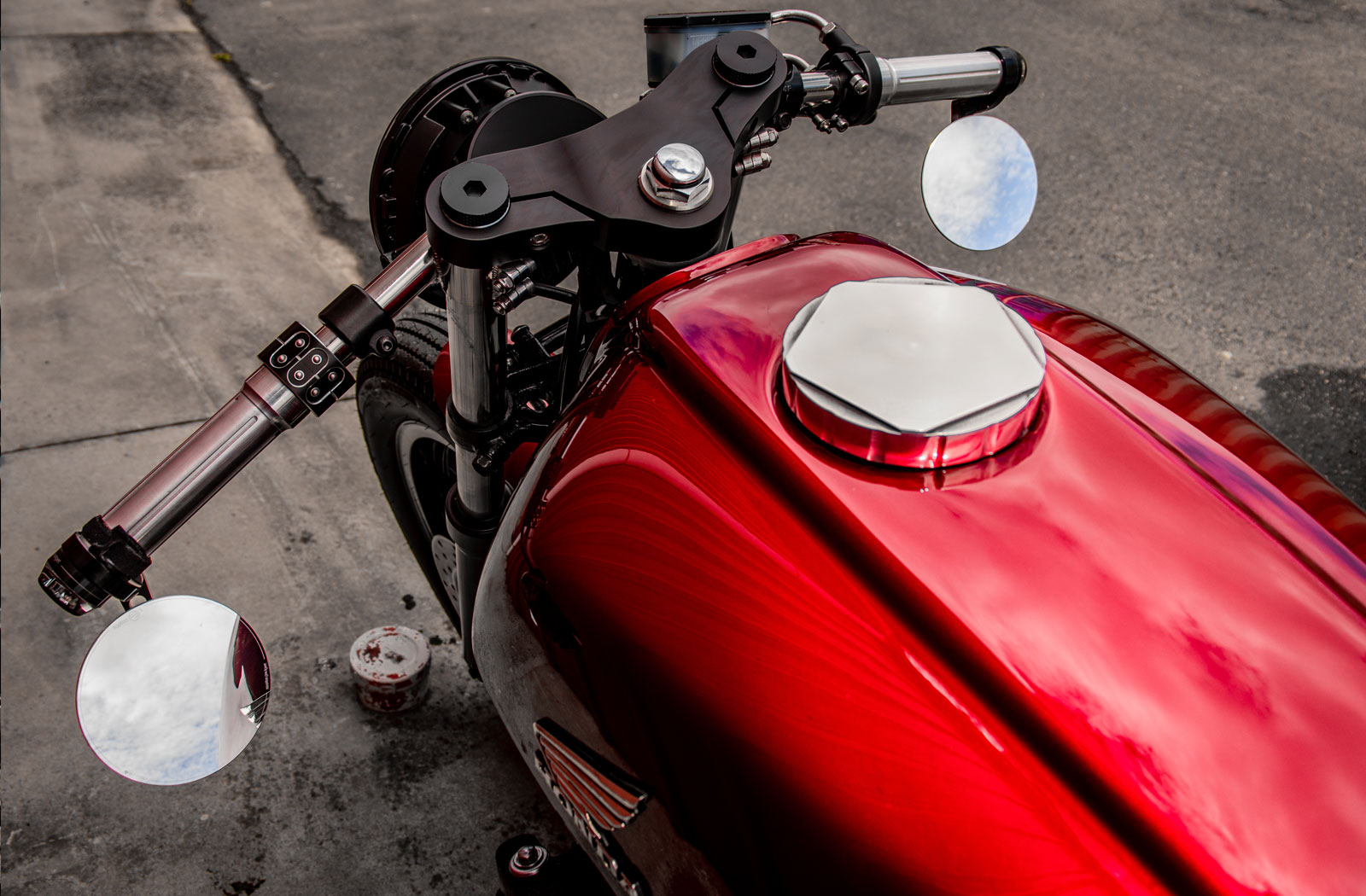 In order for the bike to take on a classic cafe racer stance JAX has reworked the Honda's frame. "The rear subframe was modified to take away the step up and down that came standard in these bikes," Jas says. "This allowed for a more continuous horizontal line from front to back." Closing off the revised subframe is a custom-made hoop with rear-end lighting integrated into it. Within the rails of the frame sits a custom electrical tray which houses the mo.unit, various electrical components and a lightweight lithium battery. When it came to wiring it all up Jas designed and built a custom loom which he generously shares with others to utilise for their own CB750F projects on the Jax Garage website.
To protect everything from the elements there's an aluminium cowl and seat pan which was shaped using JAX's' own English wheel. It wears a custom upholstered seat which is the only part of this project that wasn't completed in-house.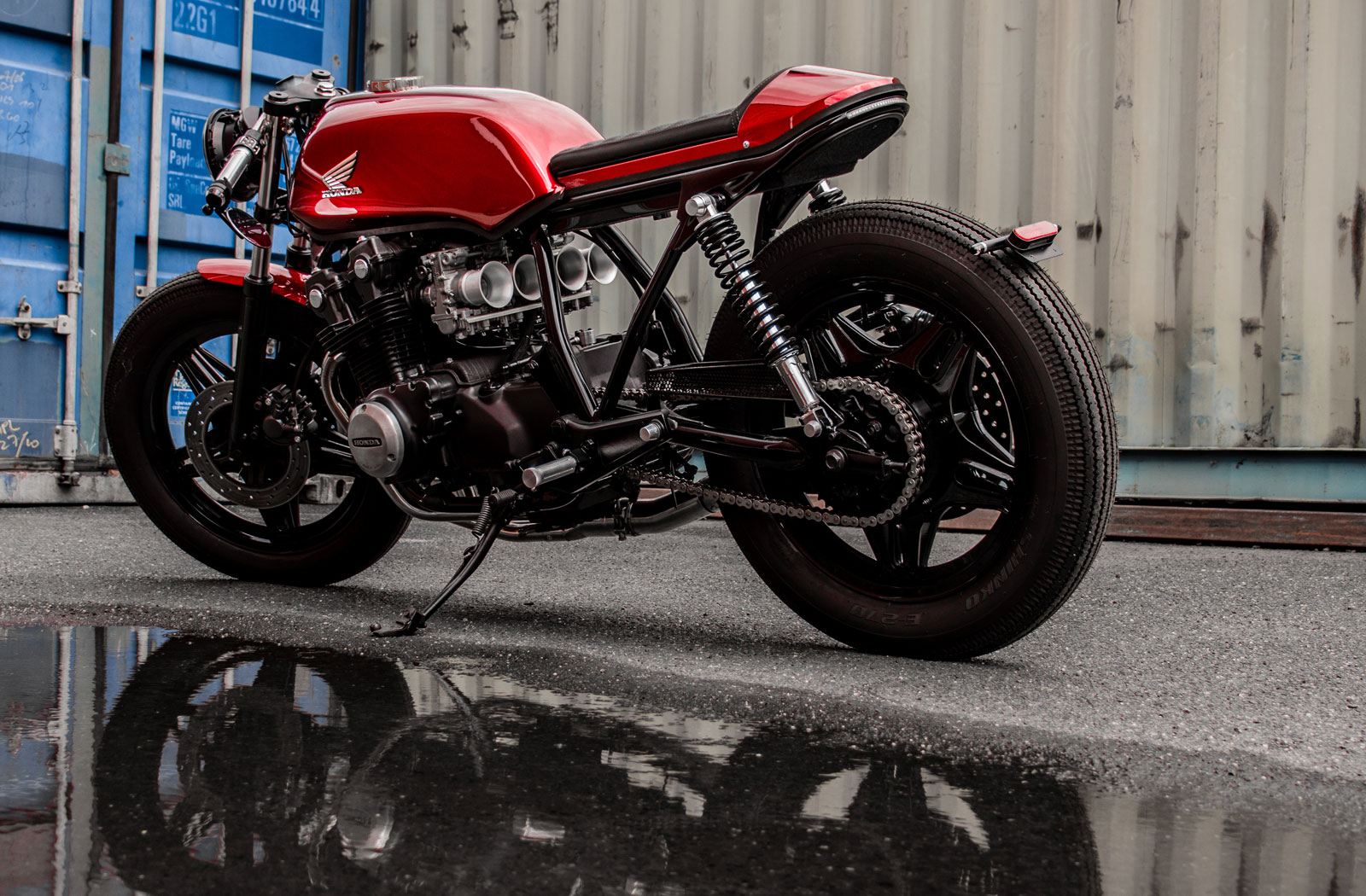 In terms of performance, JAX aimed to make strategic upgrades to improve the CB's power and reliability. To achieve this they swapped the stock carbs with Mikuni RS34 flat slide carbs. These reportedly provide a 25% power increase but JAX was more interested in reliability. Thankfully the conversion delivered on both fronts. The addition of an aftermarket Delkavic 4-into-1 exhaust further improved the bike's breathing and gave it a befitting sound. "Now it breathes, burns, and rumbles better than it ever did," Jas says.
To ensure the Honda handles as reliably as it runs, JAX also overhauled the suspension. The front forks have been rebuilt using shorter progressive springs while the rear end wears appropriately lengthed aftermarket shocks. Opting for equal parts performance and style they wrapped the wheels in Shinko's E270 Classic rubber.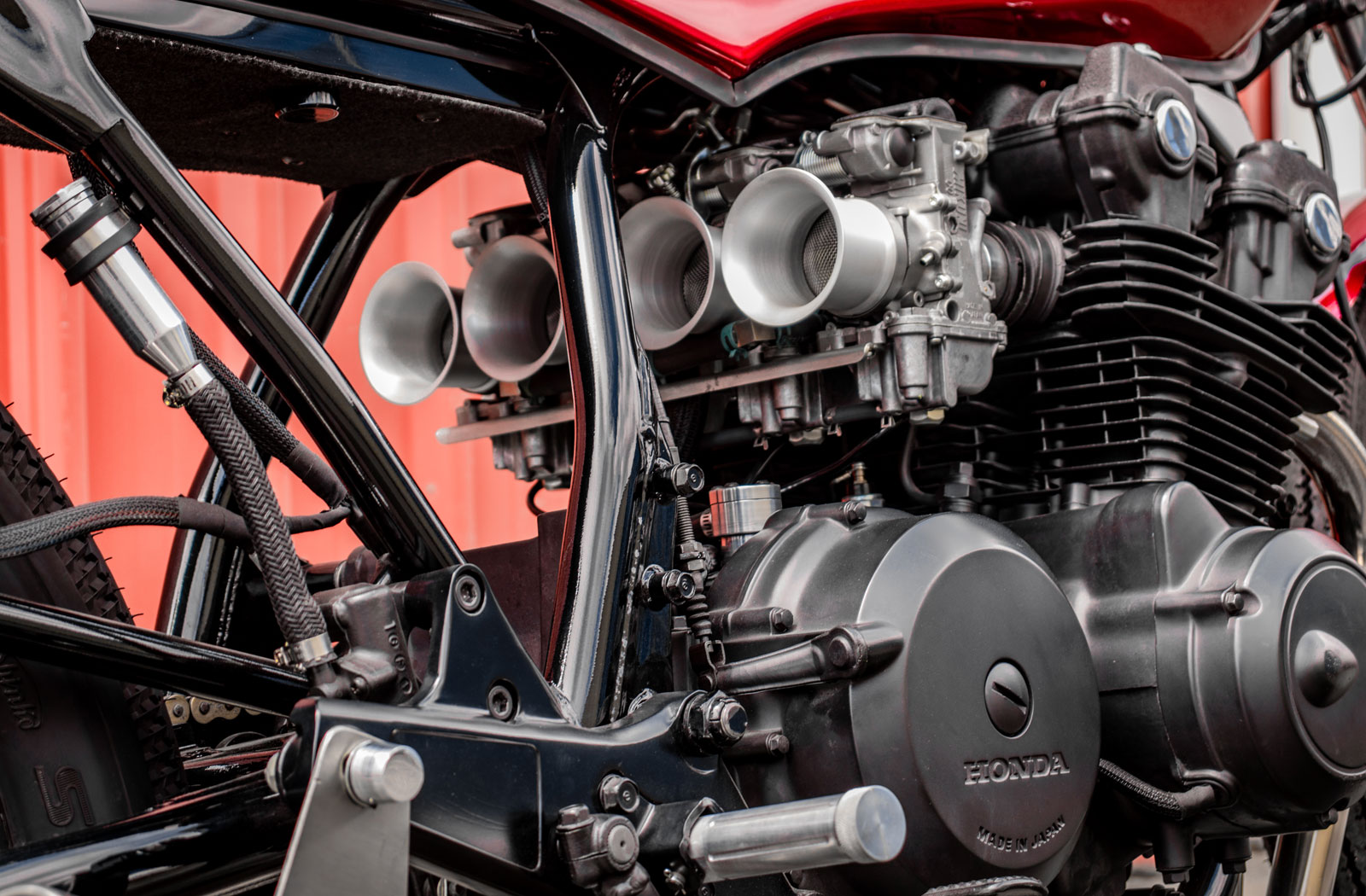 The bike still bares the original CB750F fuel tank although the filler is a custom addition. Jas shaped the tiny front fender from an aluminium sheet and they built a hugger-style support for the license plate and rear turn signals.
Once the bodywork was complete, Jas' father-in-law, a talented painter, prepared and painted the tinware using a silver base over which he laid a translucent red candy (Soul Red) paint. The resulting deep and lustrous finish is the perfect accompaniment to the premium feel of this impressive build.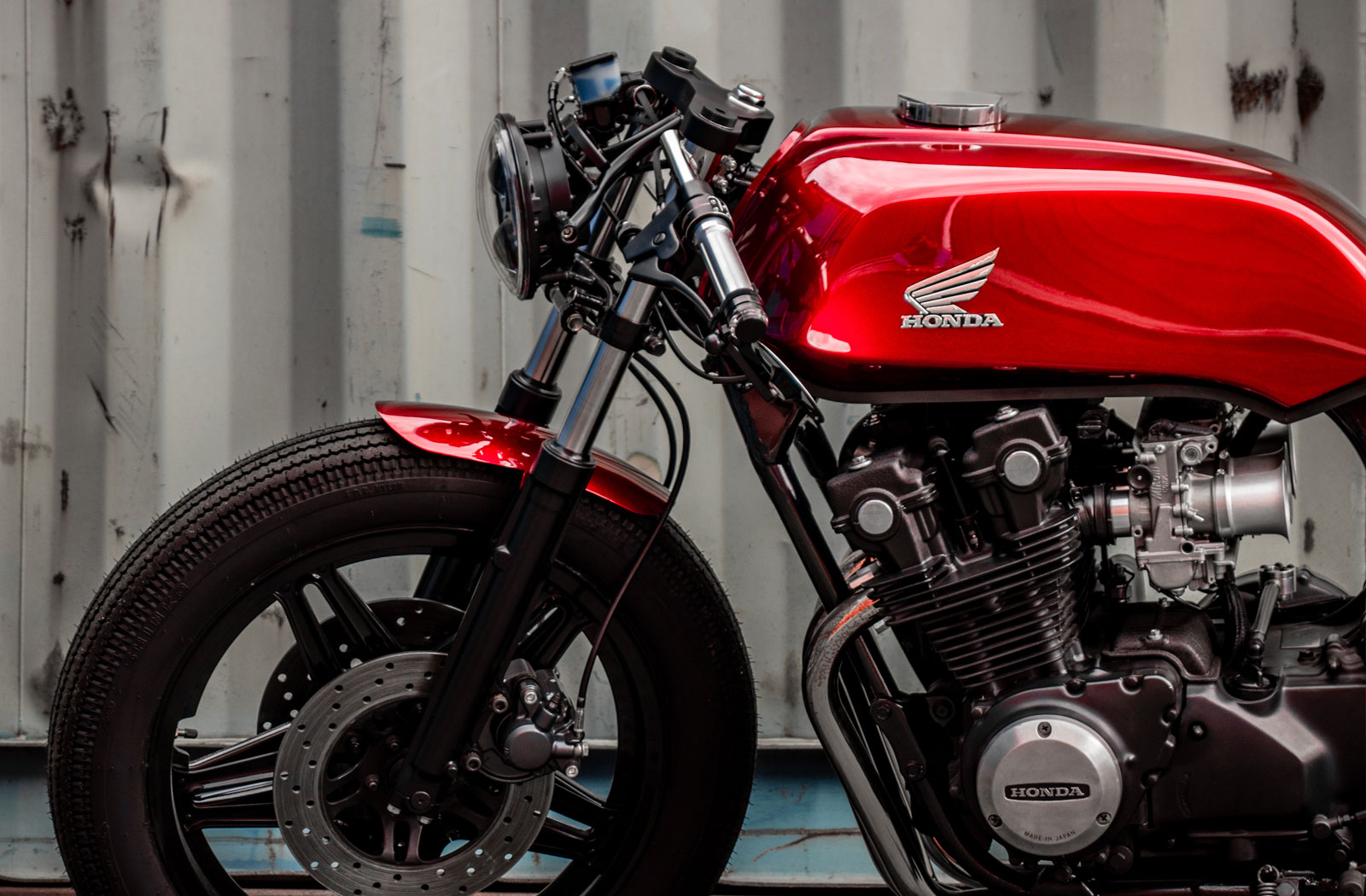 This '81 CB750F Honda cafe racer by JAX Garage is a testament to their dedication, creativity, and passion for their craft. It's a rolling work of art that seamlessly blends timeless design with modern performance and functionality. For those who appreciate the beauty of bespoke motorcycles, this meticulously crafted machine is sure to impress.