Automotive manufacturers have been using wood in their cars for more than a century. In the twenties, entire car bodies were made from timber. Later wood was used to adorn car exteriors and today, timber is used solely for embellishing the interiors of primarily luxury vehicles. In contrast, the use of timber in motorcycle design and manufacturing was very short-lived.
The first motorcycle ever made, Gottlieb Daimler's 'Reitwagen', used a steel-reinforced timber frame but after that, wood and the motorcycling world all but parted ways. The only exception to the rule is when a custom builder decides to try their hand at carpentry. As you'd expect the outcome is often less than appealing, but every so often, we see someone pull it off with impressive results.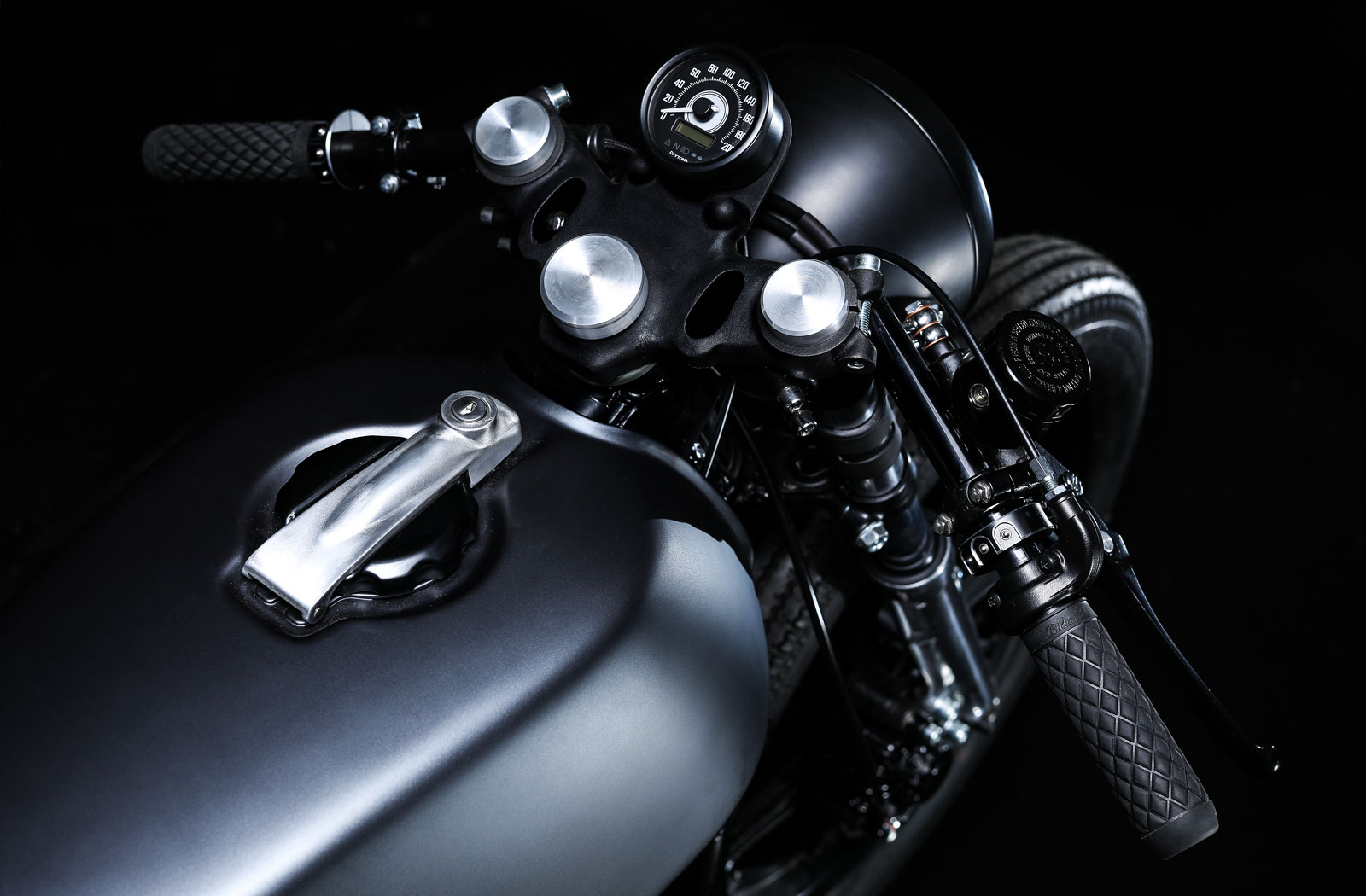 Custom motorcycle builder Žiga Petek is the owner and operator of the Slovenian workshop Gas and Retro. He gained his bike-building experience working for another European custom workshop for 13 years. Then 4 years ago, after growing tired of their restrictive approach, he went out on his own.
Žiga works almost exclusively alone, completing most projects unassisted aside from the paint. Thanks to his steadfast work ethic and creative flair he's quickly built a name for himself in the local scene. This has also meant that Žiga's customers are happy to give him creative freedom with their beloved motorcycles, which is exactly how his timber tailed 'Libertas' Honda cafe racer came to be.
"The Honda CB750 is a custom project for my customer, Martin Cvetko," says Žiga. "He came to me and asked if I would build a bike for him using his CB750. At first, I was a bit confused because the bike had already been heavily customized. I felt perhaps that it would be hard to achieve something new!"
Lucky for Martin, Žiga is an ideas man. So once the Honda was parked in Gas and Retro HQ, his creative juices started to flow.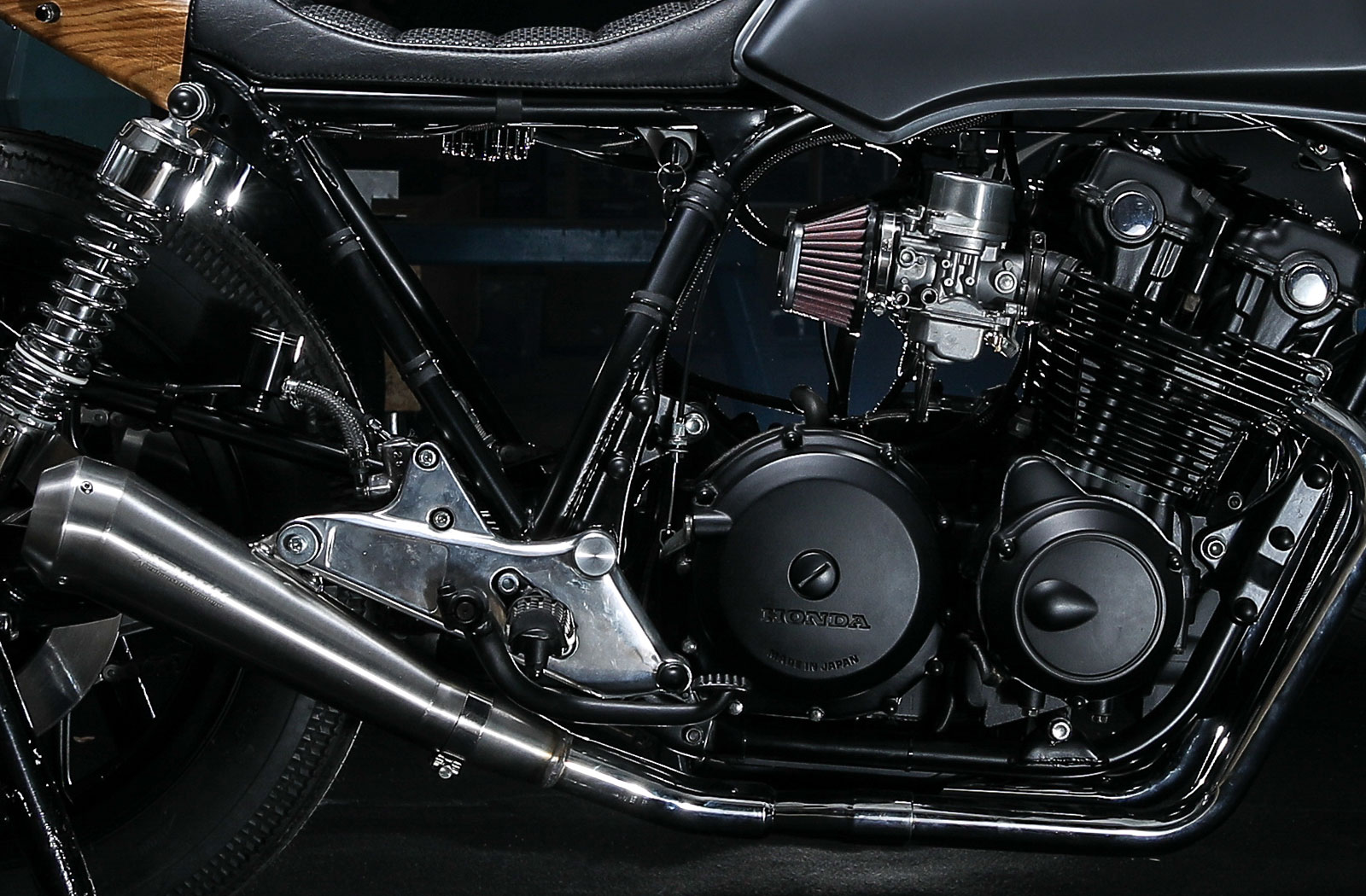 First things first, Žiga gave himself a blank canvas to work on by stripping the CB750 entirely down. Then while considering which styling direction to take a full engine overhaul was undertaken. After opening up the inline-four it was treated to new valves, some head work and all new seals and bearings. The engine's exterior then received an overhaul too. A new coat of black paint removes any sign of the bike's previous life and the stock carbs have been fastidiously cleaned. To give the bike a performance boost DNA filters replace the airbox and the carbs have been jetted to suit. As for the 4-into-2 exhaust system, it's a combination of the stock headers, which have been re-chromed, and modified Spark mufflers.
With the new bodywork, Žiga has managed to significantly tighten the Honda's proportions. The transformation kicked things off with the fitment of a smaller CB500 fuel tank. Fitting the 500 tank to the 750 frame meant cutting out the tank's stock tunnel. In its place is a custom-made version that sits the tank level on the frame to set up a classic cafe racer bone line. Along with providing a slimmer profile the new tank exposes more of the CB's iconic inline-four which makes the whole bike appear more muscular. Further enhancing the muscular appearance is a set of chunky Shinko Classic tyres.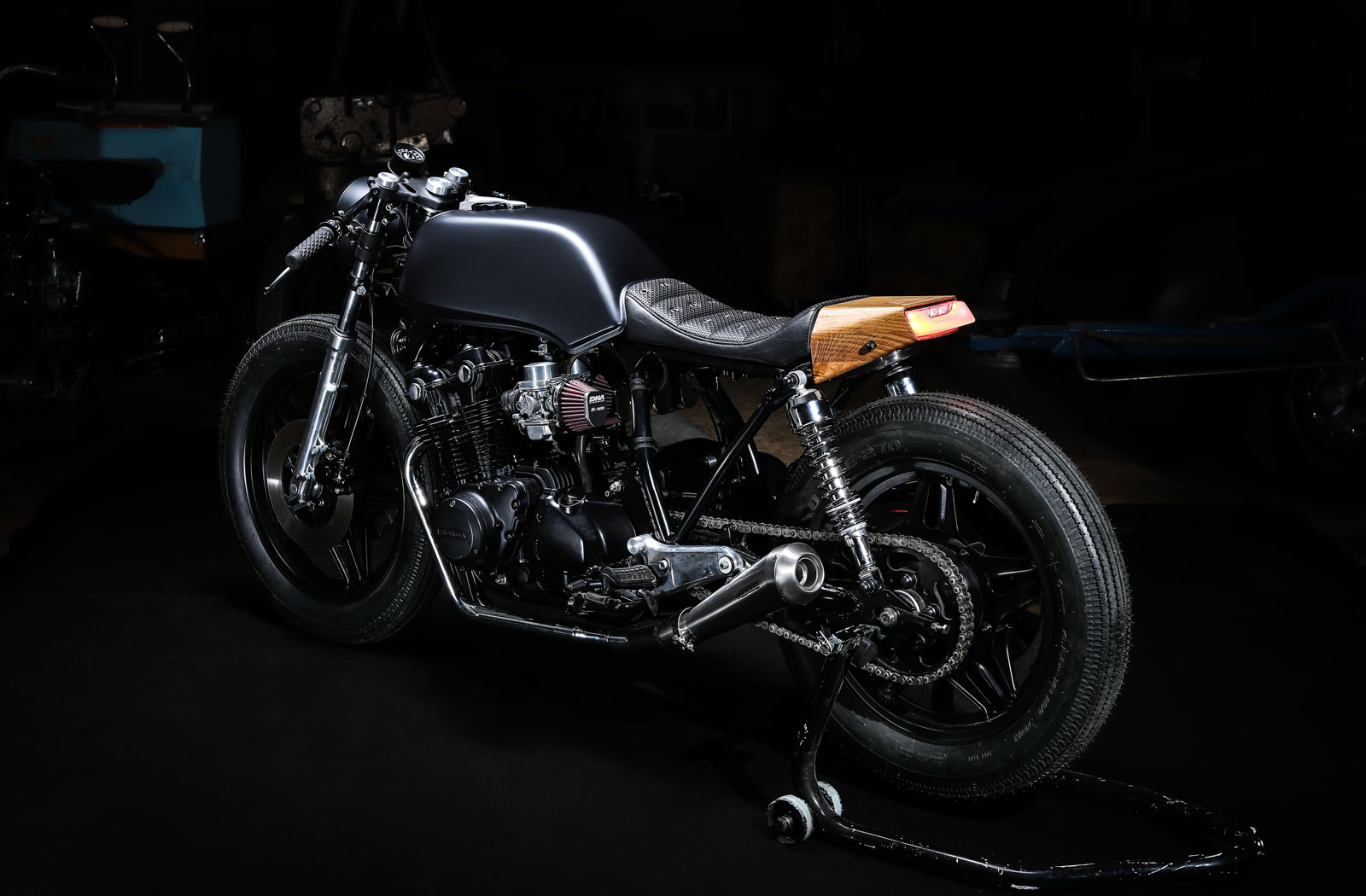 Another reason why this bike looks compact is due to Žiga's treatment of the front and rear end. Up front, he's stuck with naked styling. The rebuilt and polished forks wear a set of aggressive clip-on handlebars which are kept clean using Motogadget switchgear and by running all of the wiring internally. Žiga's also added custom-made alloy caps to the tops of the forks and triple clamp to disguise any clutter. The plastic-covered Honda gauges have been replaced with a single Daytona Velona Speedometer and the headlight is a classic aftermarket unit that's been nestled deep between the forks. While rewiring the bike Žiga also added tiny Motogadget indicators and hooked everything up to a Motogadget M-unit controller.
As for the rear end, this is where things get really interesting.
After shortening the stock subframe Žiga has finished it using a one-of-a-kind tail unit. Juxtaposing with the rest of the bike's classic styling, the tail houses a Husqvarna Vitpilen 401 brake light assembly, but rather than fitting the light's original plastic housing, the new version is made entirely from oak.
"First I made the tail out of a single piece of metal then my friend Blaz Sustarsic helped me 3D scan it," says Žiga. With his test piece digitised Žiga worked with Blaz to fine-tune its fit and finish. When they were happy with what they had, it was cut from a block of solid oak using Blaz's CNC mill. The finished tail is a 3-piece construction with the wood on top, 401 tail light in the middle and an alloy plate underneath to seal the assembly and attach it to the frame.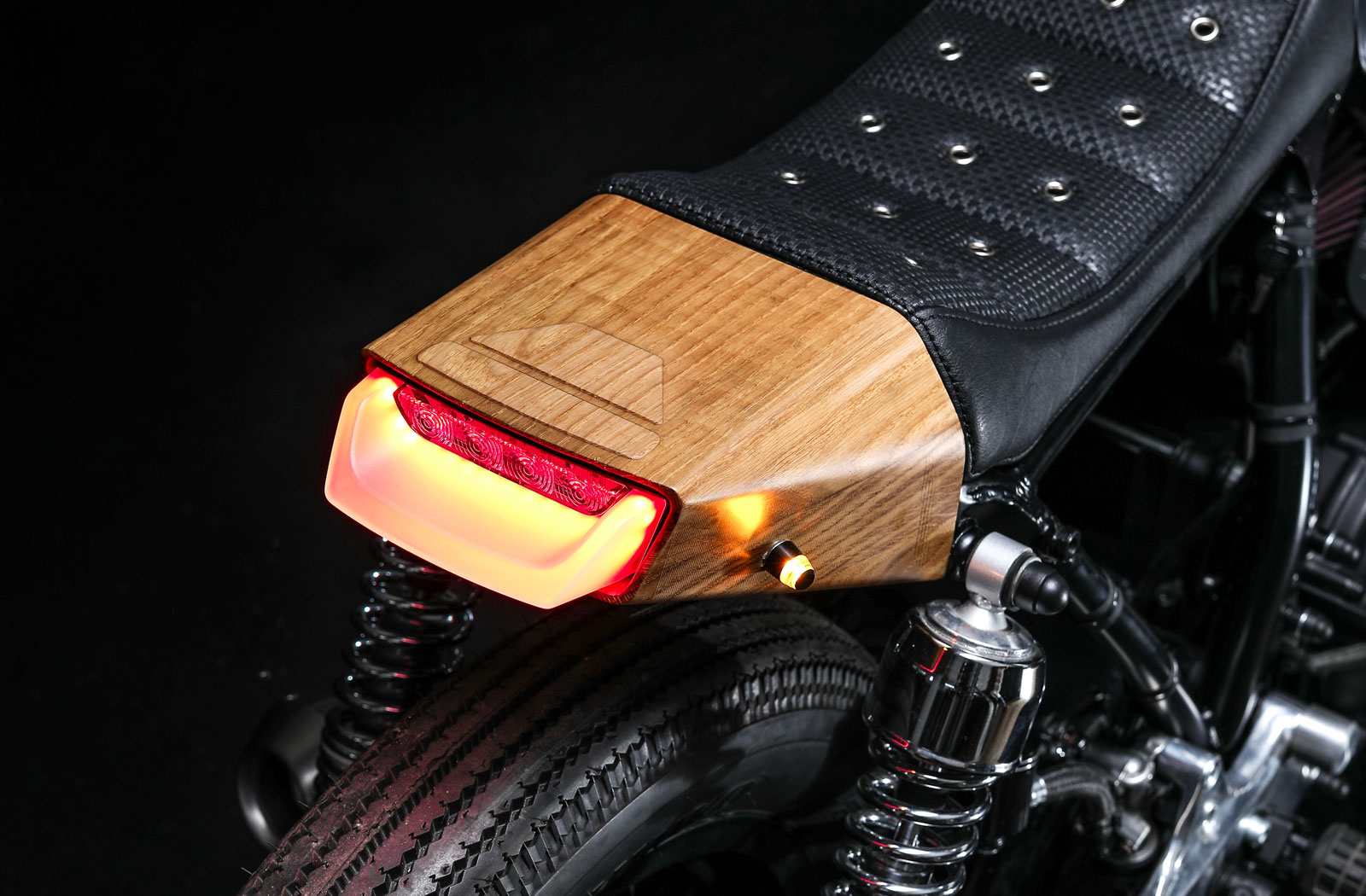 Adding to the visual impact of the wooden rear end is Žiga's choice of colour palette. The satin black scheme by Matej Mrzlikar is broken up by subtle touches of brushed aluminium but the oak tail is the real eye candy. Finally, a riveted black leather seat by Mitja Bizjak adds a touch of old-school hot rod style that is perfectly suited to this brash build.
According to Žiga, he's never been a fan of the Honda CB750. However, thanks to how this project turned out, his opinion has swayed, and it's very easy to understand why.