Family heirlooms come in many forms; from jewellery to antique furniture or even a motorcycle. Taking ownership of something that your father or your father's father once owned and cherished is a big responsibility. As the custodian of an heirloom, it's expected that you will care for it so that one day it can be passed on to future generations.
In 2020 Navy helicopter pilot Kevin Borough took ownership of his father's CB750. Although it had sat untouched for 3 decades the Honda marked a very special occasion in his parent's life. Being a motorcycle enthusiast Kevin knew he couldn't let this very special CB750 decay so he set about bringing it back to life.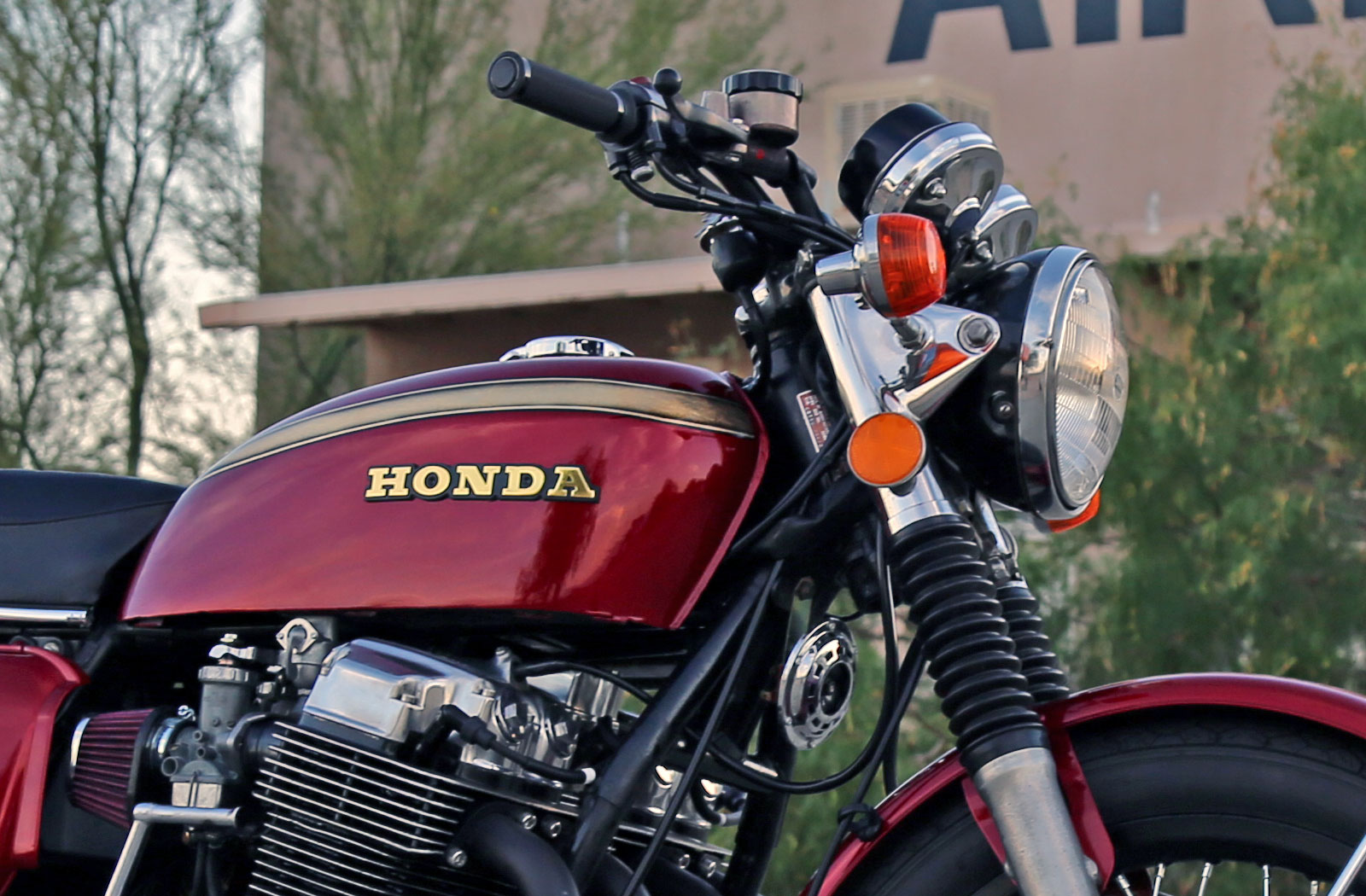 Kevin credits his father with fuelling his interest in the world of motorsport during his childhood. Later in life, he fell in love with motorcycles while completing an 8000-mile two-wheeled road trip with friends. He then met his wife who shared his passion and the pair now run The Starting Grid, a non-profit foundation that supports young people who want to pursue a career in motorsports.
This 1973 Honda CB750 became a part of the Borough family in '76 when Kevin's father purchased it from its first owner. The bike had never been anything special though. It was a commuter which his father rode regularly but seldom serviced. It had raised handlebars an unusual burgundy paint scheme, no badges and a rusted chrome 4-into-1 exhaust. It was a motorcycle that wouldn't warrant a second look should you pass it on the street, and certainly not something most would consider an heirloom. What made it special though was that Kevin's father took his mother on their first date aboard the CB750. An occasion that led to Kevin's existence.
Unfortunately, soon after his parents united, the Honda was parked in a garage and placed under a heavy down blanket which is where it stayed for 30 years. After seeing the CB750 parked in that same spot for most of his life, Kevin decided it was time the Honda saw the light of day again.
"I didn't want a Honda cafe racer, but rather a modernized version of a classic that was true to the original bike my parents took their first date on," says Kevin. "What you see is a culmination of that vision."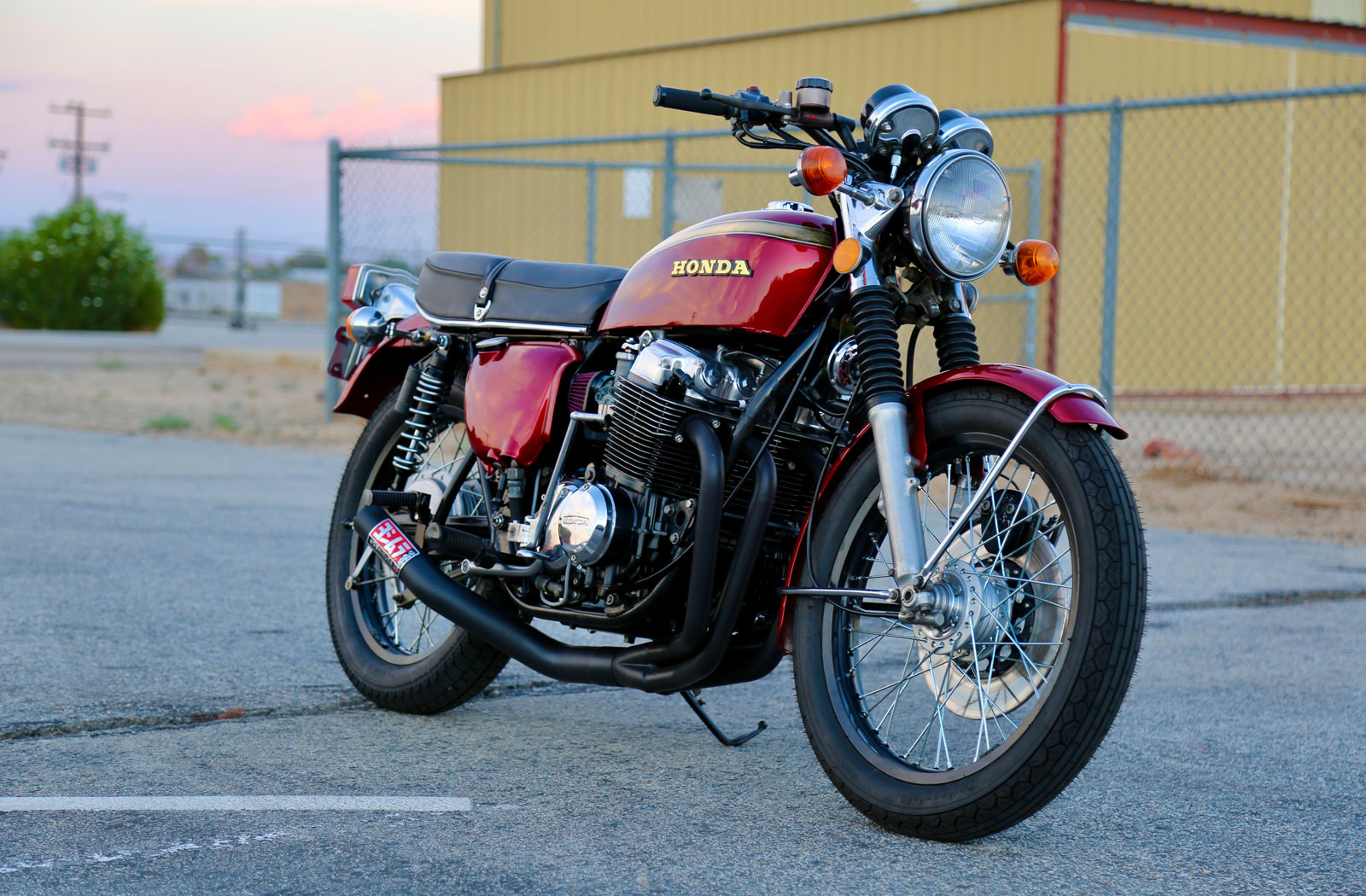 What started out as just an attempt to get the CB750 running again quickly snowballed into a complete frame-off restoration.
After discussing the project with his wife she convinced Kevin to fix the Honda's kick starter. After all, why rebuild a bike if you're not going to do it right? The kick starter hadn't functioned since before Kevin's father purchased the bike. The only trouble was that in order to assess the problem on these old CB750s you need to tear the entire engine down. So a complete engine rebuild was added to the list of things to do.
As the engine went back together Kevin got the kick starter functioning correctly and replaced anything that was showing signs of wear. To complete the rebuild the clutch and carburettors were overhauled too and Dyna Coils added for reliability. Since the project was always planned to be more restoration than modification most of the engine remains stock. The biggest changes are to the intake and exhaust.
To let the engine breathe more freely, Kevin has fit it with pod filters and tuned the carbs to suit. The blacked-out exhaust is a Carpy's Cafe Racers 4-into-1 Yoshimura-style system, which along with giving the Honda a vintage street racer vibe, celebrates the iconic inline four's unmistakable sound.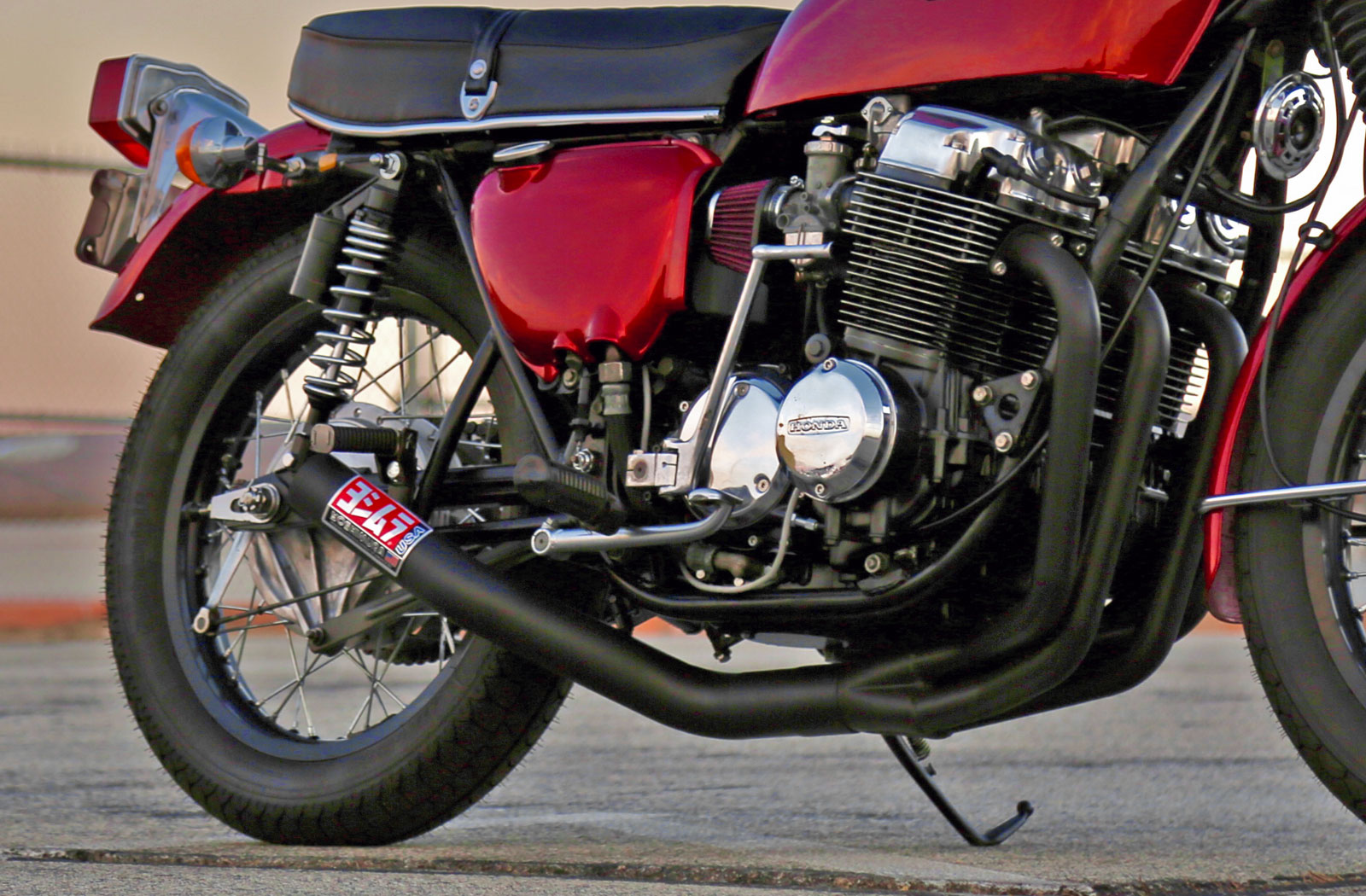 Once the engine work was done attention was turned to getting the bike handling right. Starting with the wheels he tore them down and fit the hubs with new bearings. To complement the new exhaust the chrome rims were blasted clean and powder-coated black. Kevin then laced the hubs and rims together using stainless spokes and wrapped each one in Continental's Sport Classic RB 2/K 112 rubber.
Next came the suspension. The front end is the stock Honda set up although it's been given a thorough rebuild and clean. Since there was no surefire way of improving the rear shocks Kevin opted to swap them out. The rear end now sits on modern remote reservoir units also finished in black. For improved riding comfort he then installed 2-inch rise handlebars and a reproduction seat.
The all-important question is of course "how does it ride?", and according to Kevin, "The 4 into 1 exhaust and free-flowing pod filters give the bike some noticeable pep in its step. Although the power and response will never match modern bikes, the bike handles like a dream and carves up corners as well as modern sophisticated machines. Honda certainly got it right back in 1973!"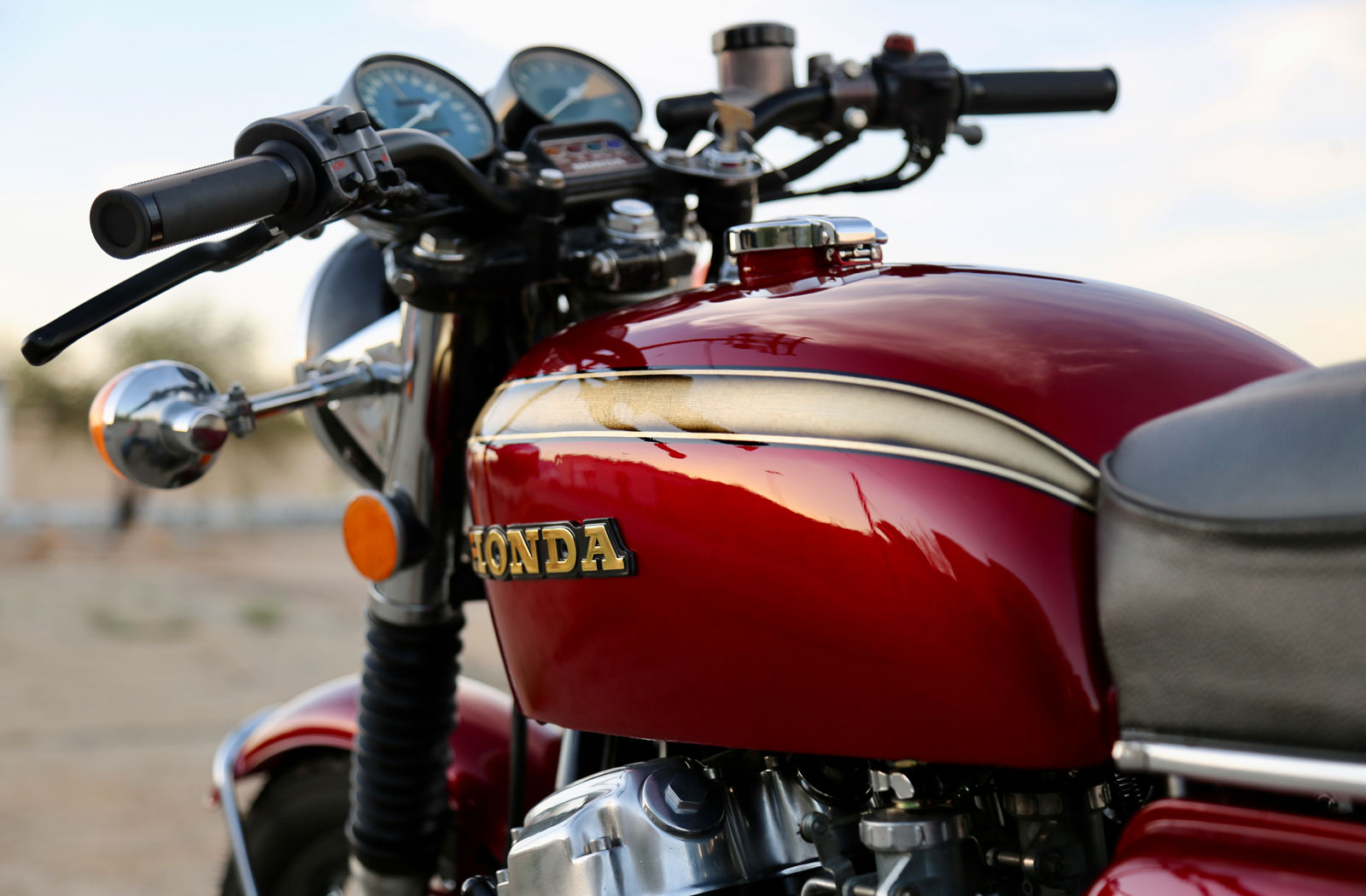 For most of the rest of the build, Kevin stuck with original or reproduction CB750 components.
The bodywork is all restored CB750 equipment.  To get it back to showroom condition it was stripped and cleaned and then handed over to a painter to finish it off. "The Honda was kept red to keep it similar to when my father bought it," Kevin says. "But I brought it back to its stock colour scheme with the Honda tank stripe. My father always wanted a deep candy apple red CB750, and I always wanted something with gold leaf. This bike represents a blend of both ideas. The fenders were also painted to modernize it, and the engine was powder coated black with polished engine fins."
Thanks to Kevin's hard work the Borough family CB750 is now much more worthy of being considered an heirloom and something that will be cherished for generations to come.