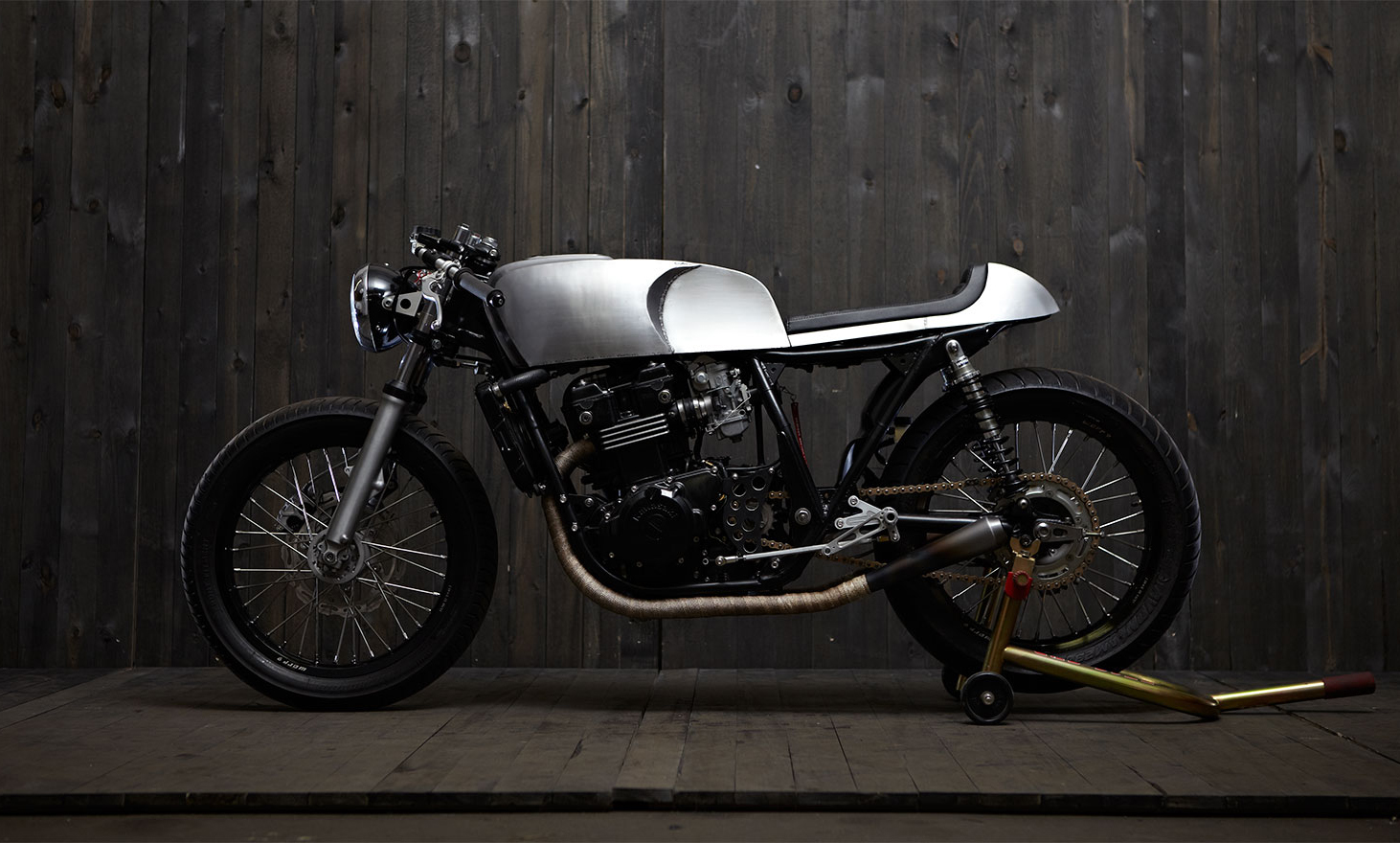 Ever since seeing the "We R Winning" short documentary about Twinline Motorcycles I've been a huge fan of the Seattle based workshop. With their builds appearing on this blog and the likes of Bike Exif and Pipeburn the Twinline guys have certainly got our attention. Someone else who has been paying attention to the Twinline team is the crew from Cafe Racer TV who recently approached them about building a bike for the series. With that Ian Halcott and Jeff Tower of Twinline started planning the build of a long time idea, a frankenstein bike that threw aside the boundaries of working with one model or manufacturer to create a bike that had power on tap, sharp handling, was lightweight and modern yet classic. The result was 'The Thorn'.

"The first step, make it run. Next, make it strong. Then, make it stop."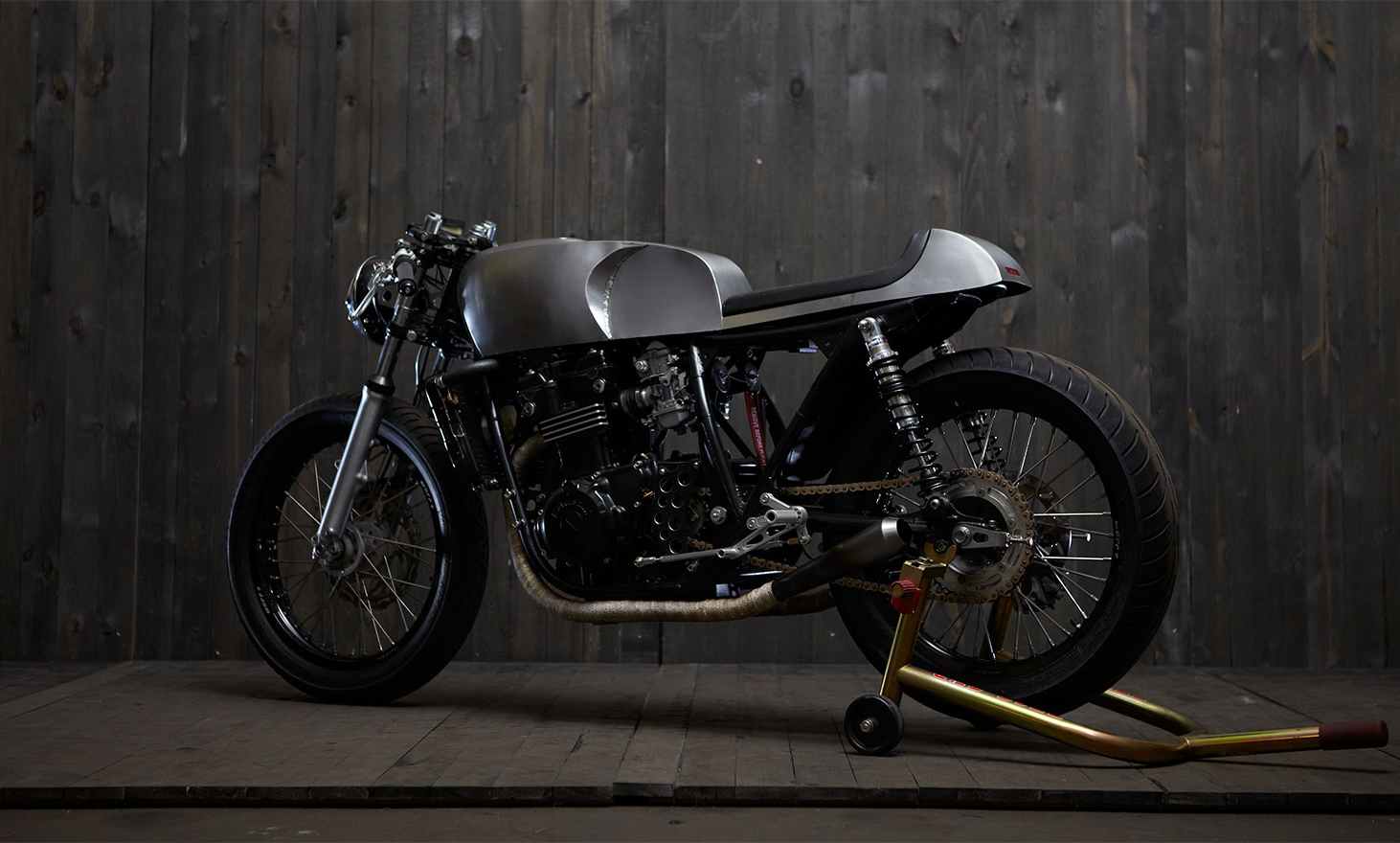 The Thorn takes the classic Cafe Racer concept of melding the best bits from different motorcycles to make one superior machine. A Kawasaki EX500 Ninja engine sits snuggly in a Honda CB550 frame with bodywork inspired by a Czech made 1960's GP bike and a seemingly endless list of add ons and upgrades, this is one bike that is truly unlike any other.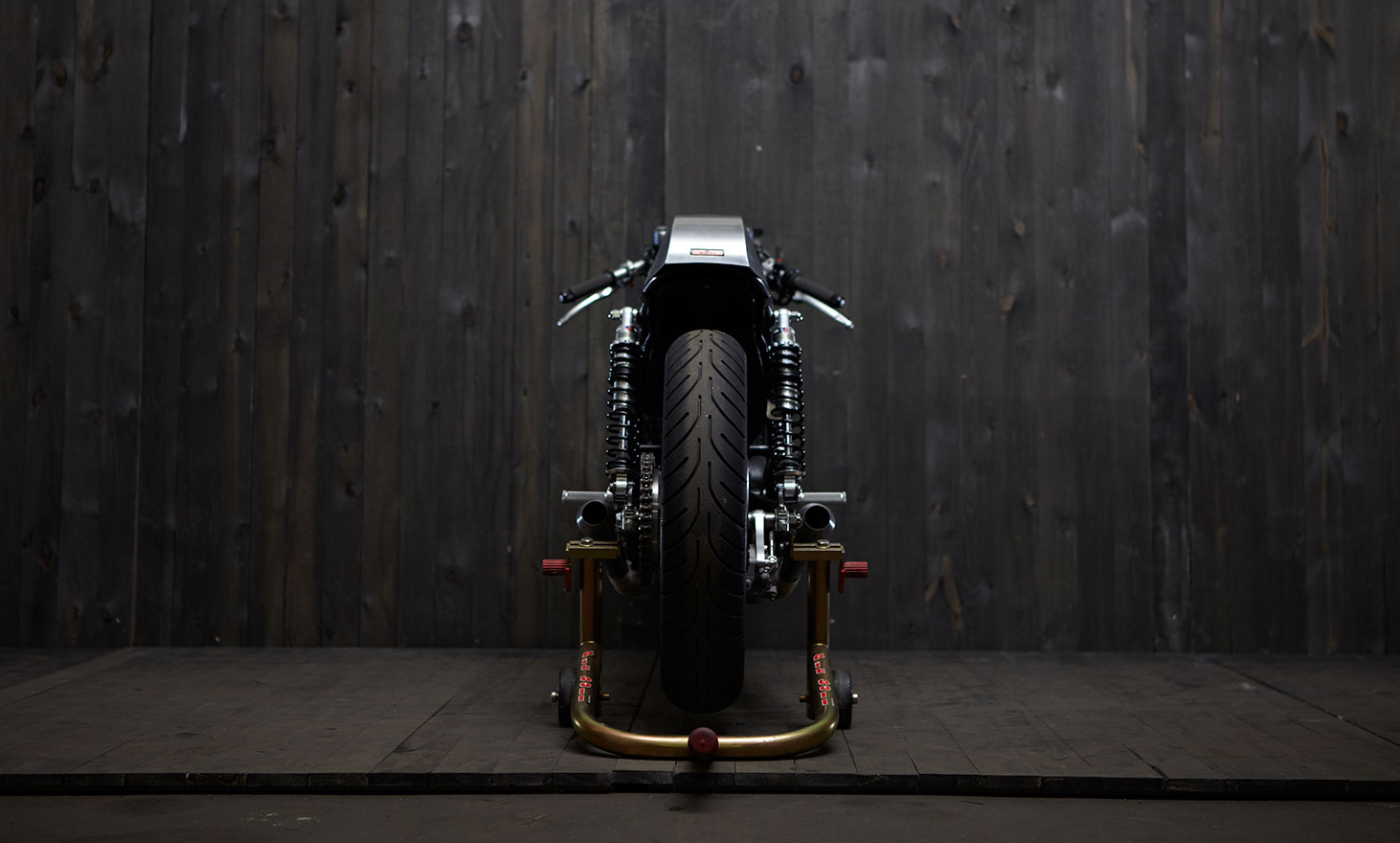 "We had tons of "bad, bad ideas" until we decided on a frame and power plant combo that might work together in all the right ways. We had to come up with something original for Cafe Racer TV, something different than just a stock build with clubman bars, this was a challenge of our skill. We chose the EX500 motor on the basis that it was a four valve per cylinder twin putting out decent power in a lightweight package. Then we chose a CB550 frame for its tubular construction and its handling. Both bikes are middleweight. Both are heavy and gutless stock and in no way the most beautiful machines ever created, so we thought that this combo might be a good platform to create a light, powerful project. We had no idea what it would look like or if it would even work."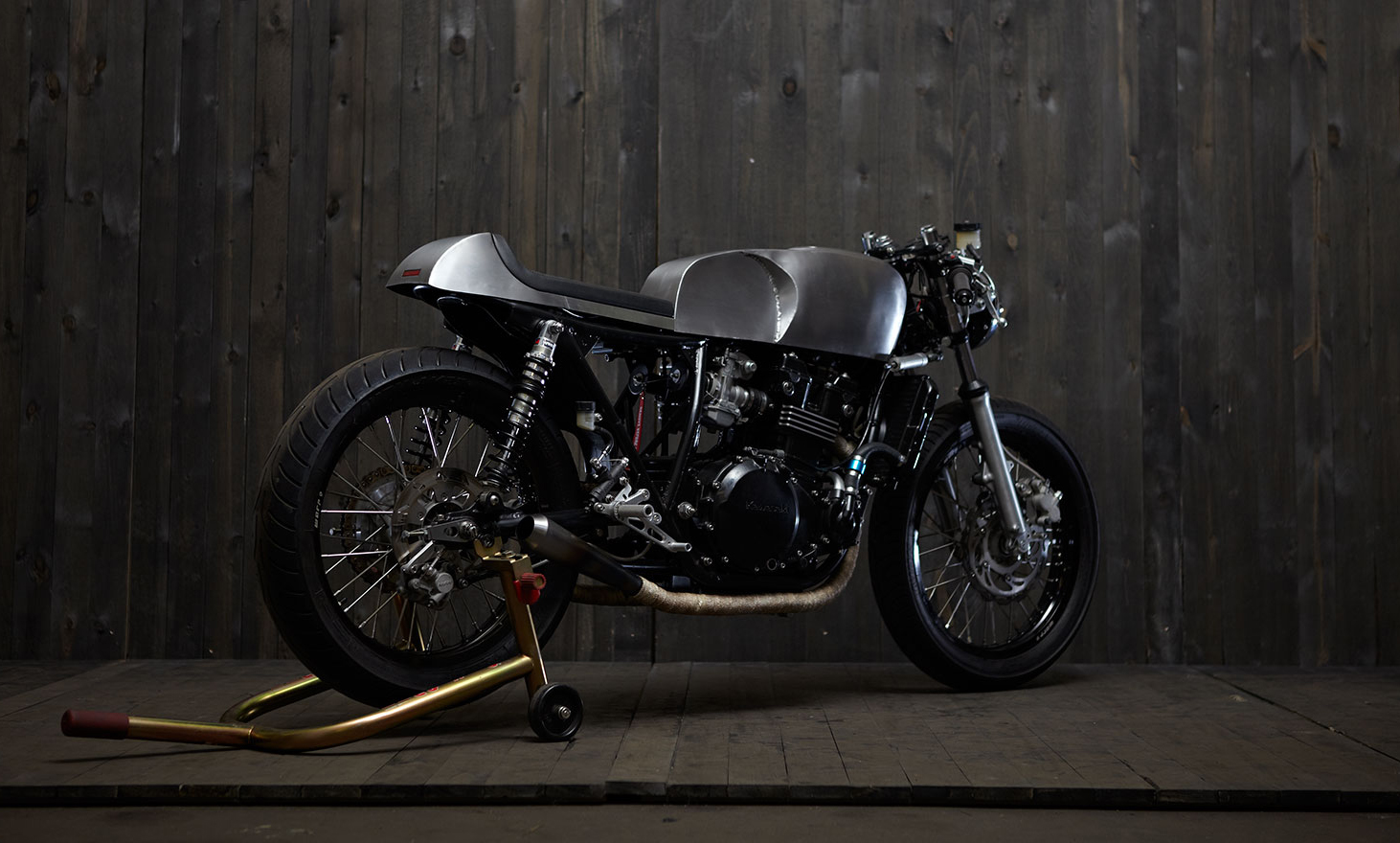 The bike which inspired The Thorn's bodywork was a CZ 350 V4 Type 860 (easy one to remember). For it's day the Type 860 was fast, with a top speed of just over 160mph. It was a 72bhp beast that shook up the GP dominating MV Augusta team during the late 60's and early 70's. To achieve the look of the 860 Jeff took the plunge into tank modification and fabrication and pulled it off with style. Starting with a CB550 tank he chopped it up and added new sidewalls with knee dents and elongated the whole thing by several inches. The tail and seat were also hand made using the same curves and sharp edges seen on the tank. While paint was originally the plan the advice of workshop visitors was to stick with the raw finish. After a mere 20 hours of sanding (!) was Jeff happy with the finish.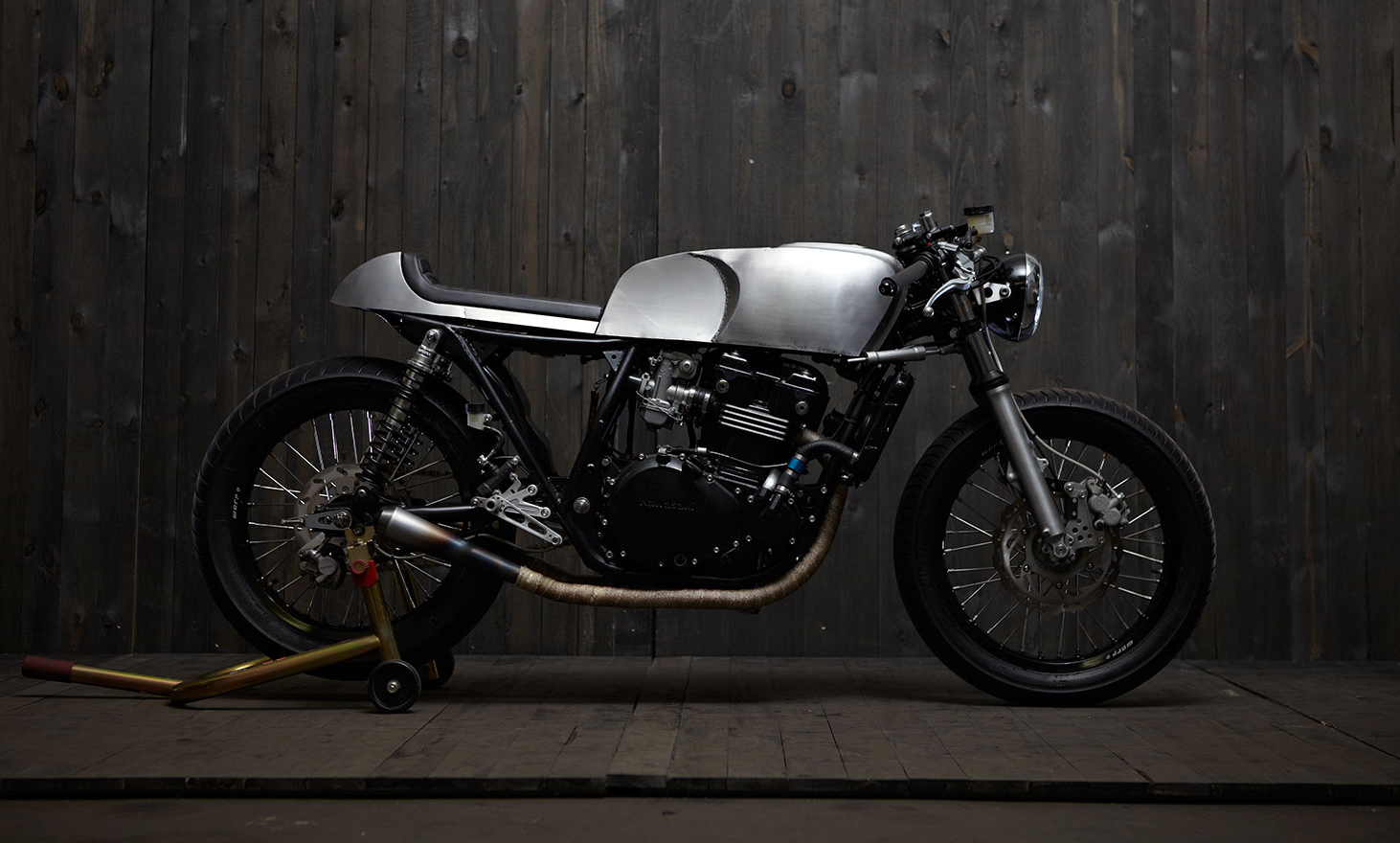 In stock form a Kawasaki EX500 Ninja produces around 49bhp, but that wasn't going to cut it for a Twinline bike destined for Cafe Racer TV. The Thorn's engine underwent a series of upgrades to achieve the perfect balance of power and reliability. Several top end rebuilds, a revised cooling system, a 600cc Engine Dynamics kit, Barnett clutch, heavyweight springs, a custom made exhaust and Keihin CR33 carbs boost the engine output up to an impressive 70bhp. Twinline then mounted the engine in a chassis set up that is 53kg (118 pounds) lighter than the stock Kawasaki making it one hell of a performer.
When it came time to test the Thorn, Cafe Racer TV track team the Bostrom brothers were set the task. After a stringent safety check the Thorn had little more than a few bolts to tighten up and it was ready to ride. How did it go? "Both Ben and Eric couldn't believe how fast it was. Quick, lightweight and manoeuvrable they praised the build and the track. The day turned out to be perfect, no failures, no problems, nothing but smiles all around."


"We succeeded in building something that shouldn't have been built, but was. A machine built from the idea of what could work and might work. A hybrid of all things motorcycle put into one package. A bike made from five different worn out bikes and thirty years of engineering. My advise to anyone building a bike, don't take no for an answer."
Watch the video below for a walk around by Jeff Tower of Twinline Motorcycles…
As Jeff mention the Thorn is in fact 5 bikes in one. The Kawasaki EX500 engine, a Honda CB550 frame, KTM and Kawasaki hubs and a few CB350 bits and pieces. There's also a Nissin/Brembo brake set up, a Trail tech Vapor speedo/tach, Motobits rear sets, Woodcraft clip ons and much more. If you ask me Twinlines Thorn could just about be the most accurate translation of modern Cafe Racer building I've seen so far. What do you think?