Thanks to their continued support of custom workshops, Yamaha Motorcycles have played an integral role in the growth of the "new-wave" custom bike scene. Their Yardbuilt series has generated an impressive portfolio of jaw-dropping builds based on current models in the range. But Yamaha also has an extensive back catalogue of bikes that are hot favourites with pro workshops and backyard builders alike. Models like the muscular XJR1300, bulletproof XS650 and the little single that could, the SR400, make frequent appearances on these pages. To celebrate our love for the Japanese marque we've created this list of the Top 10 Yamaha Cafe Racer builds to have graced these pages. Here they are in alphabetical order…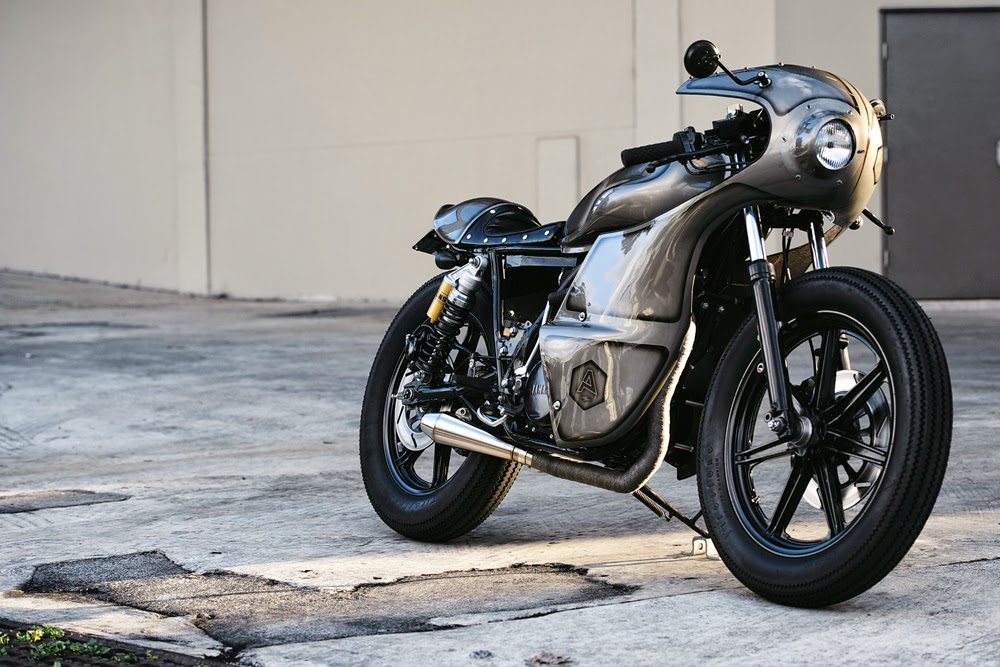 1. Addiction Customs Yamaha SR500
Japanese workshop AN-BU Customs has developed an instantly recognisable style of their own. Their recipe involves mixing tight proportions, with beefy tires and unique bodywork. All of the bodywork is built inhouse and almost always features an asymmetrical fairing with offset headlights. So when we spotted this bike in Sydney, Australia our first assumption was that it was imported from Japan. However, after contacting the owner we discovered that was not the case.
The 'Arcanum' Yamaha SR500 is the work of enthusiast builder Nicholas Blaxell. Nicholas wanted to build a motorcycle he could turn heads with at a local event. Knowing no-one else in the country had an AN-BU bodied bike he ordered parts direct from Japan for the project. Despite a stupidly tight deadline Nicholas managed to build a motorcycle that we're sure would make AN-BU proud. For the full story on how he did it hit the link below.
2. Auto Fabrica Yamaha XSR900 Type 11
Over the past decade, the UK has produced some impressive custom builders. Amongst the best of them are the Muharremi brothers who operate under the name of Auto Fabrica. Through a special collaboration with Yamaha and the Yardbuilt series they built not one, but 3 Yamaha cafe racers which they coined the Type 11. Of the 3 bikes in the series, T1 and T2 are based on Yamaha's Sport Heritage XSR900. The T3, however, was based on a 1977 XS750, a motorcycle which influenced the creation of the XSR.
The T3 Yamaha XS750 was an exercise in simplification. The bike was stripped down to its bare essentials before having is streamlined bodywork and exhausts fabricated and fitted. The T1 XSR900 was built as a form study, taking inspiration from race cars of the fifties. The bodywork was laid out in 3D prior to each individual component being printed or formed from carbon-fibre. With it's straight through pipes, carbon wheels, upgraded brakes and suspension and a lack of lighting T1 was built specifically for the race track.
The T2 XSR900 was actually the 3rd bike to be built in the series. It sits between the other two bikes merging T3's design language with T1's forms to create a street registerable bike. The bodywork of T2 was built as a single monocoque unit with the gauge recessed into the tank and the filler cap concealed beneath a hinged flap at the rear of the tank. All 3 of these Auto Fabrica Yamaha cafe racers warrant a mention here, but it's the T2 that we'd most like to own.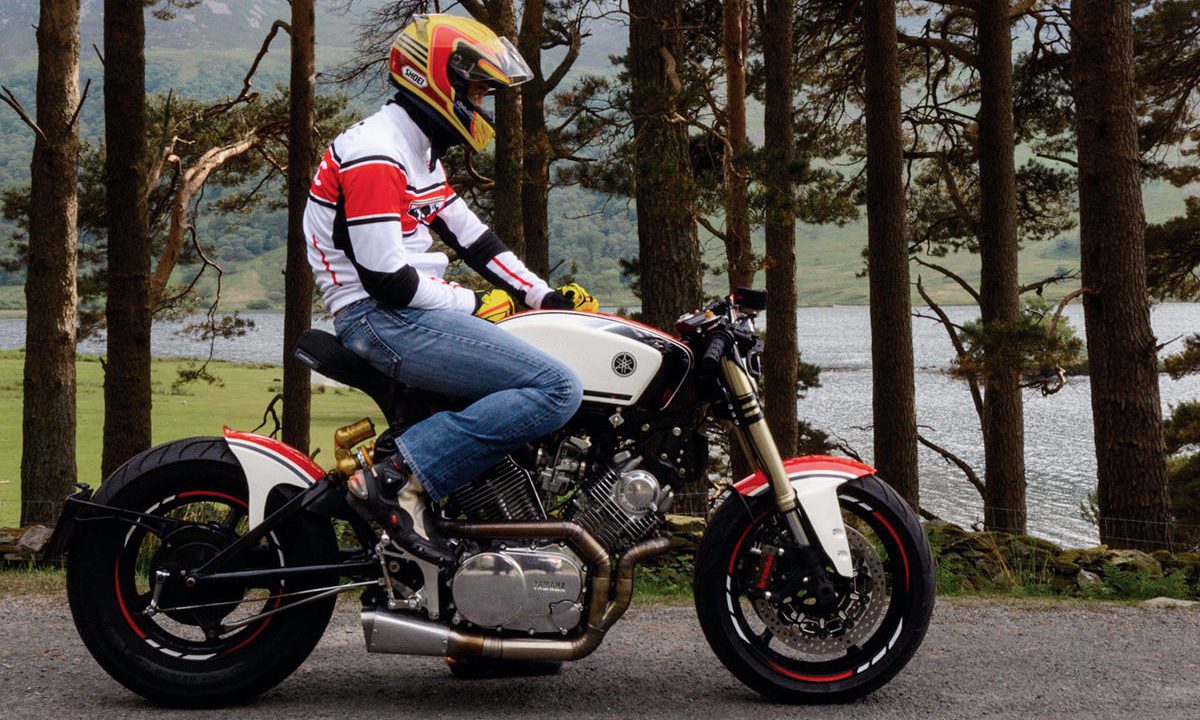 3. KSC Speedshop Yamaha XV750
Building a custom motorcycle is all about personalisation. This Yamaha XV750 cafe racer was criticised by some of our readers for its extreme riding position, but it was built that way for a reason.
Massimo Carriero runs the workshop KSC Dago with his good friend Fabian. Together they wanted to transform the XV into a much sportier machine than Yamaha had ever intended. The process of achieving that goal involved everything from retrofitting a Yamaha R1 front end and wheels to CNC machining a custom subframe and saddle. The result is one of the most radical Virago builds we've ever seen.
Sure the riding position wouldn't work for most people, but it's been tailor-made to suit Massimo's exact proportions and riding style.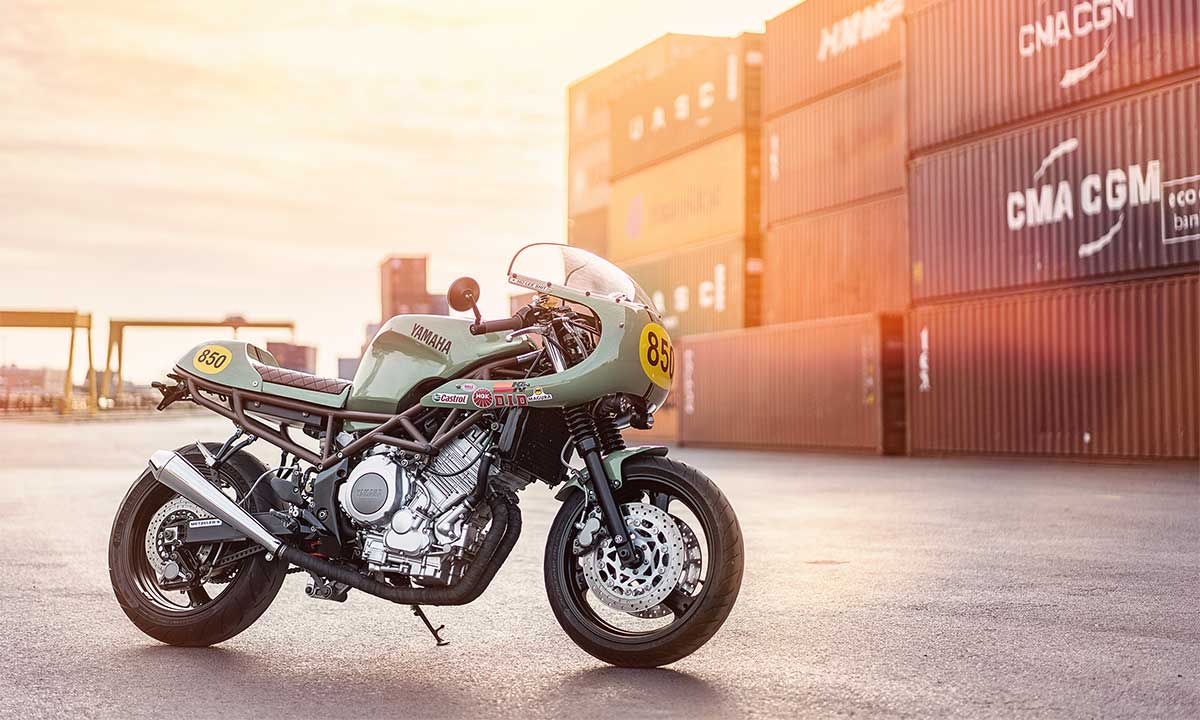 4. Manfred Schmidt Yamaha TRX850
Yamaha's TRX850 has been referred to as "the best Ducati that Ducati never built". The TRX has a lot of similarities with a Ducati 900SS, the bike it was designed to compete with. It featured a tubular steel trellis frame with the engine mounted as a stressed member. Most importantly it featured Yamaha's bulletproof engineering. But despite the motorcycling press hailing it as a successful design, the public didn't buy into the idea so production only lasted 5 short years. These days the TRX is enjoying a comeback thanks to enthusiasts and customisers like Manfred Schmidt.
Manfred's Yamaha TRX850 cafe racer takes Yamaha's 900SS concept and develops it further thanks to a replica Ducati front fairing. There's also plenty of work in the back where he modified the subframe and added a new Biposto style seat. Similar to those used by Ducati on their Sport Classic range the rear cowl can be removed to allow for a passenger.
What we love about this build most though is that it looks more like a track bike than a street registered machine. Manfred's done his best to tuck the lighting out of sight and gone all out with the racing livery. That earns him top marks from us.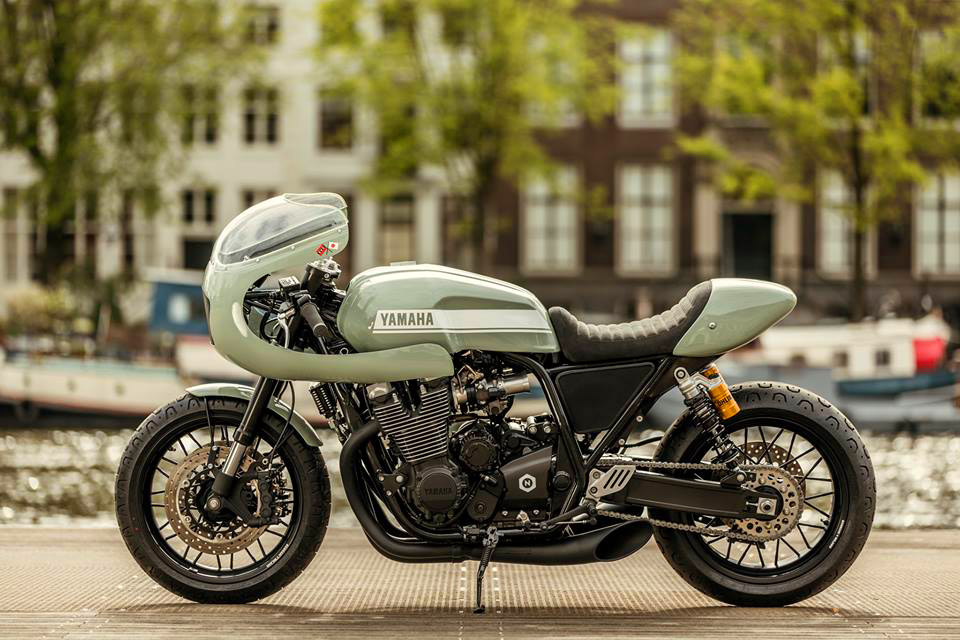 5. Numbnut Yardbuilt Botafogo-N XJR1300
Built by Amsterdam's Numbnut motorcycles in 2015 the Botafogo-N is based on the now-defunct XJR1300 platform. The XJR1300 was a legendary machine recognised for its muscular, retro looks and huge 105bhp 1250cc inline-four engine. Unfortunately, those 2 factors also contributed to the bikes hefty 230kg (dry) kerb weight. As far as cafe racer donors go the XJR wouldn't be our obvious choice, but when Yamaha contacted Numbnut about a Yardbuilt project that's exactly what they had in mind. Numbnut found inspiration for this project in the Botafogo Special; a 21.7 litre (yes, you read that right) aircraft engined Fiat owned by Jay Leno.
A revised tail section and half fairing containing a hidden headlight give this XJR the look of a classic racer.  Performance improvements were focused on freeing up the intake and exhaust while the handling has been completely revised using parts from an R1 and the Ohlins catalogue. The similarities between this bike and Leno's car may be limited to a pale green paint job, spoked wheels and the racing number 3, but there's plenty of other work here that makes this XJR1300 cafe racer a cut about the rest.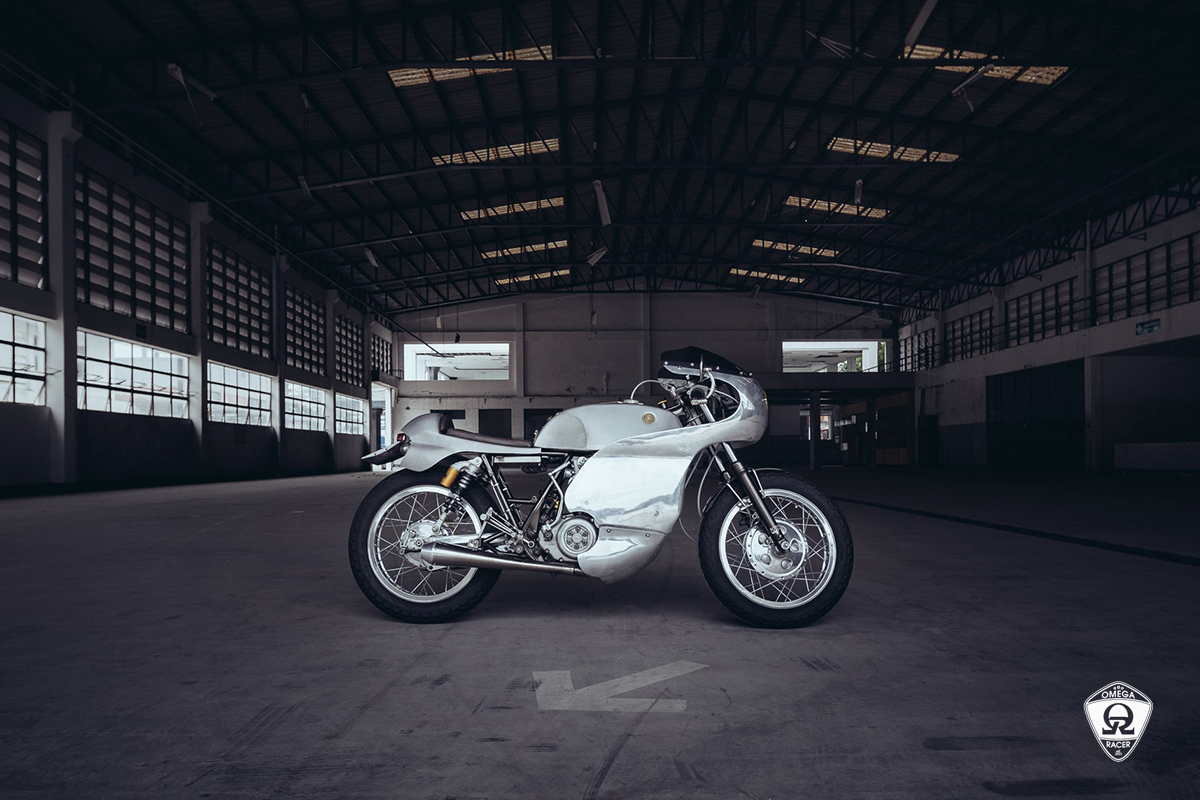 6. Omega Racer Sunmaster 14 SR400
The Omega Racer story is a great example of how a passion for two wheels can turn into a successful business – and it all started with an SR400. Omega Racer owner Markus Pintzinger built his first custom SR400 in 2011. As the project evolved Markus documented his progress on a Blog. When the site started gaining online traction people started asking him where to find the parts he was using. Seeing an opportunity he launched his aftermarket parts store and it's been going great guns ever since.
For this project, Markus set out to create a timeless design wrapped around a motorcycle with a clear racing purpose. Taking 18 months to complete it's a showcase of the skills of his bodywork suppliers. All of the body panels are hand fabricated aluminium shaped to perfectly complement the SR's geometry. Knowing the limitations of the SR400 engine power upgrades were limited to those achievable with a basic carb and exhaust upgrade. The handling, however, is vastly improved and an overall reduction in weight means this SR handles like it's on rails.
7. Shinya Kimura Faster Sons XSR700
Shinya Kimura is a legend in the custom motorcycle scene. The mild-mannered Japanese born builder tends to avoid the spotlight, but when he emerges it's generally amidst a flurry of excitement. Recognising that fact Yamaha teamed up with Shinya for the 'Faster Sons' Yardbuilt project.
Yamaha unveiled this bike hot on the heels of the release of the sport heritage range. Based on a Yamaha XSR700 Shinya reimagined the bike in a way that only he knows how. Shrouded in hand-beaten aluminium the Faster Sons XSR700 is a classic Shinya Kimura build. It's unique and effortlessly cool which earns it a much-deserved place on this list.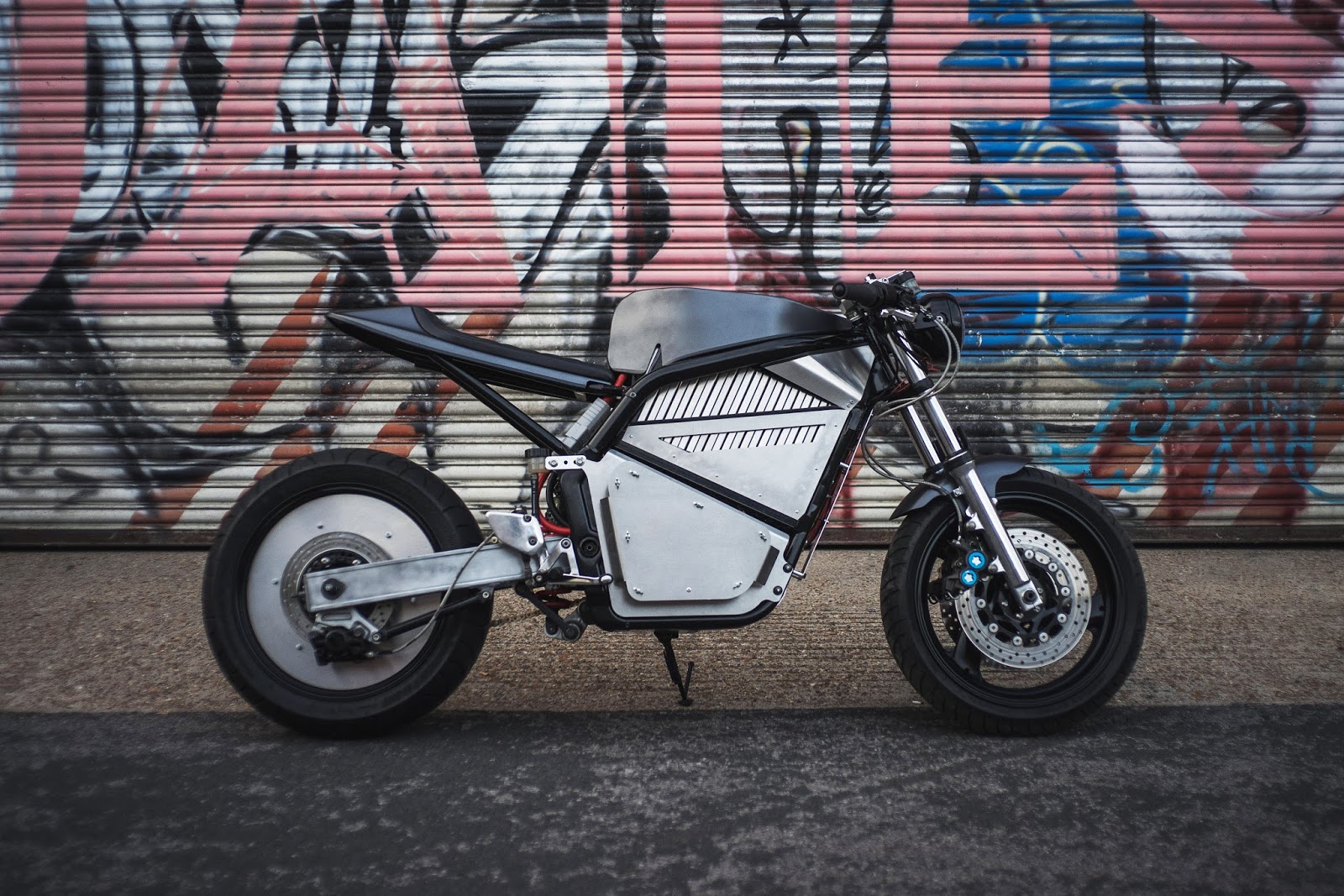 8. Union Motion Electric Yamaha Cafe Racer
We all knew it was only a matter of time before manufacturers started dabbling in electric motorcycles. But before any of them had even considered giving it a go independent workshops and manufacturers were all over it. What's even more interesting though is how many of them adopted the cafe racer style for their electric motorcycle projects.
This electric cafe racer was the work of Union Motion a start-up based out of Brighton in the UK. Union Motion was aiming to offer customers electric motorcycles built using the chassis of existing combustion engined bikes. Their prototype was this Yamaha Fazer 600 based cafe racer and it instantly sparked our interest (badoom-ching). Mixing future-forward technology with raw finishes and classic lines, their Zero Emission Yamaha Fazer remains one of our all-time favourite custom electric motorcycle builds.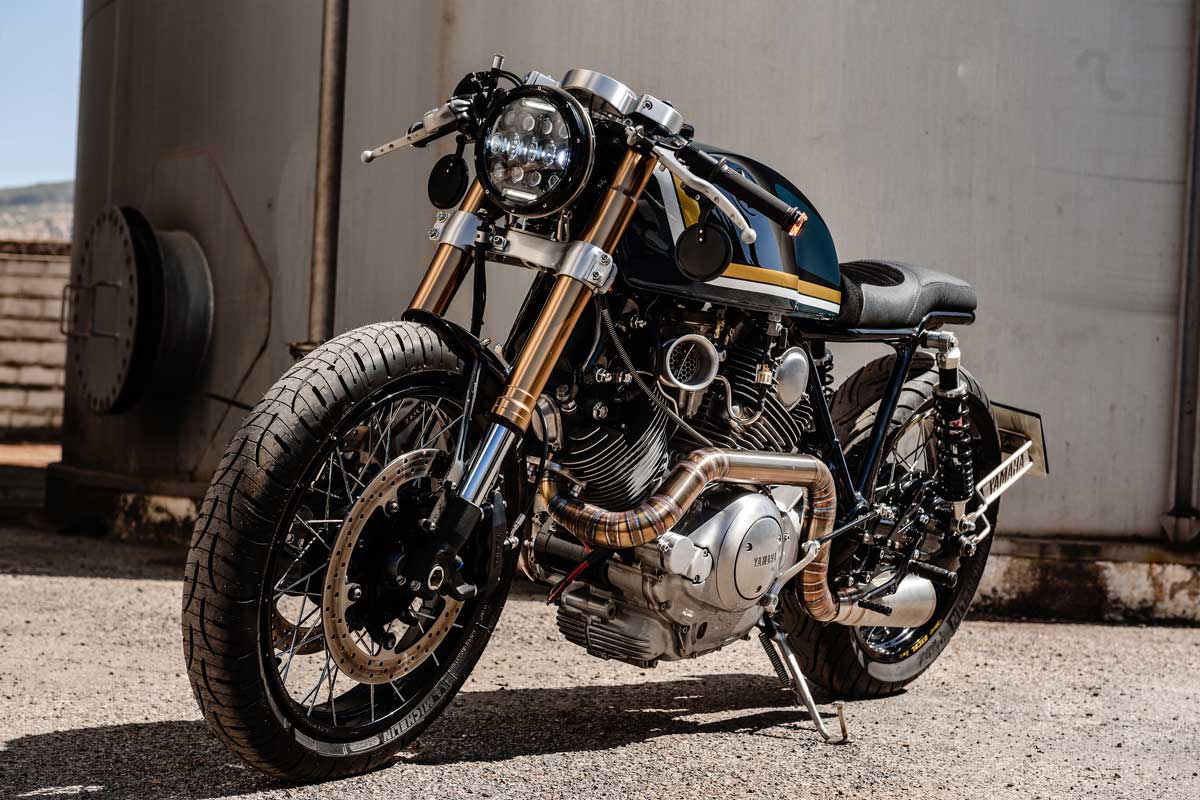 9. Voodoo Garage XV1100 Virago
This bike is the most recent build to make the cut on our Top 10 Yamaha Cafe Racers list. For reasons unknown to us, the "Sportster-clone" Virago became a hot favourite in the custom scene. This build was based on a Yamaha XV1100 Virago and is the work of Spanish workshop Voodoo Garage. It's their "retro-modern" interpretation of a Virago and features everything a good cafe racer should. All of the work done focuses on improving upon the bikes original abilities. Most impressive is the conversion from a cruiser to a cafe racer thanks to a complete suspension and subframe overhaul.
During the comprehensive build, the bikes v-twin was completely rebuilt adding improvements to the intake and exhaust for a boost in power. Most importantly, Voodoo has respected the bikes intended use. Knowing its owner was after a motorcycle that could be ridden hard and often it features the latest in lighting technology, improved brakes and modern rubber.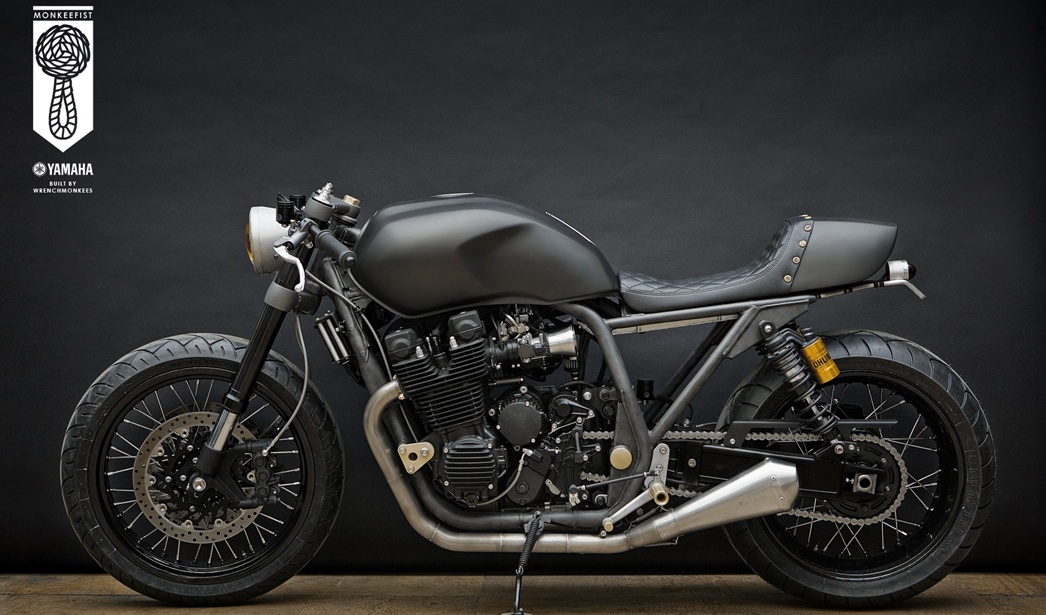 10. Wrenchmonkees XJR1300 Monkeefist
When the "new wave" custom motorcycle scene was at its peak the Wrenchmonkees were leading the way. It was as though the Denmark based team was rolling a new custom build out of their workshop every other week. Even more impressive though was that the quality of their work never wavered. They developed a style of their own and were prepared to do things differently which earned them a lot of respect.
The Wrenchmonkess work caught the attention of Yamaha Europe's project manager at the time, Shun Miyazawa. Shun had played a pivotal role in the development of the Yardbuilt series thanks to his own interest in the custom scene. So when Yamaha was looking for a workshop to create something really special with their updated XJR1300 Shun lead them straight to Wrenchmonkees HQ.
When the Wrenchmonkees took delivery of the XJR1300 they were given the simple, yet daunting, brief of "make it better"; and that's exactly what they did. The bike was so impressive that since the Monkeefist XJR1300 was completed in 2012 it's appeared in the several publications including The Ride, been featured countless times online, gone on an international tour and even been exhibited in a museum.
The Wrenchmonkees goal with the build was to show people what could be done with the XJR platform and "how cool it could look with a cafe racer style". I don't think anyone would say they failed to achieve that goal. You can read the full story behind the creation of the Wrenchmonkees Monkeefist XJR1300 here.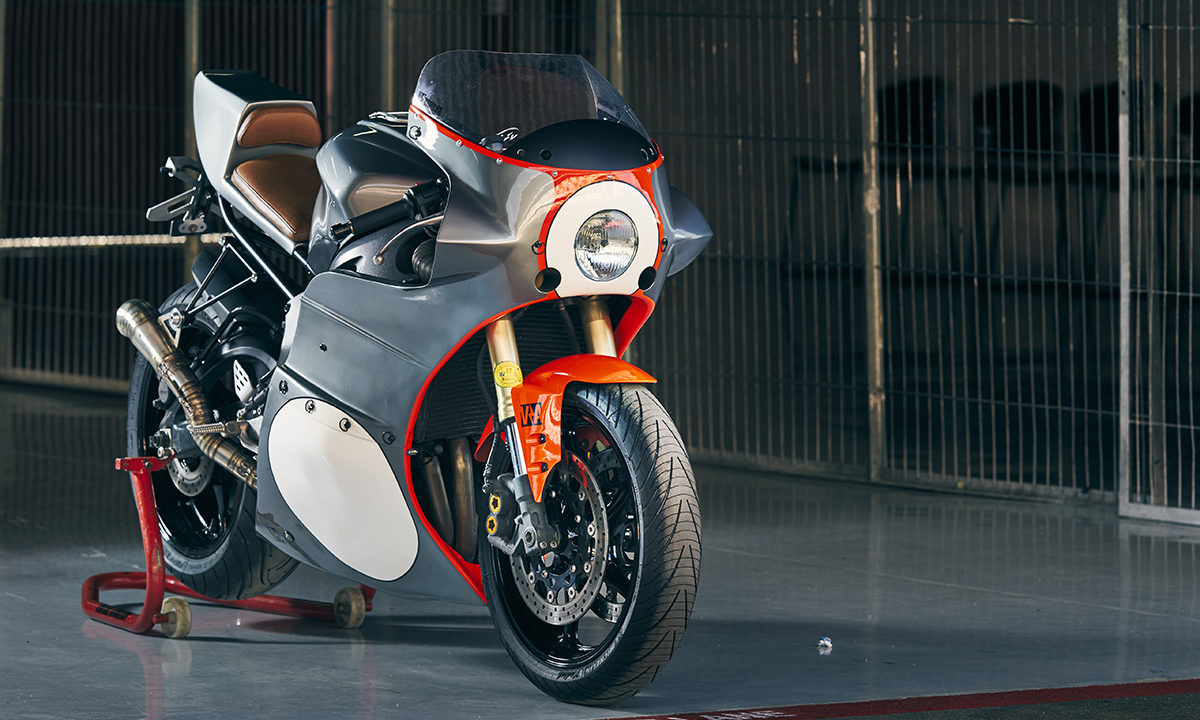 There's always room for one more. In this case, it's Vintage Addictions awesome retro R6 which blows our list out to 11…but who's counting anyway?
Honourable Mention – Vintage Addiction Yamaha R6
For this project, Vintage Addiction took one of the most iconic middleweight sports bikes from the early 2000s and added a healthy dose of retro-cool. In typical Vintage Addiction style, they found their inspiration in race bikes of the 70s and 80s. After previously completing an R1 for another customer they went into this project with confidence and the results speak for themselves.
Seeing as this bike was built for a customer who was upgrading from a 400cc Enfield, performance modifications were kept to a minimum. The bodywork, however, is anything but standard. Finished in striking gunmetal grey and bold red livery the fibreglass panels were custom mounted to the chassis and required the fitment of a bespoke subframe. The result is a retro-styled motorcycle with a modern edge that we would really love to ride.