The Arcanum build began when I picked up a '78 Yamaha SR500 from a guy in Newcastle, it was an Australian complianced and delivered bike and came with a second Aussie complied frame. The SR was sold as a "non-running, hasn't been started in 10 years bike" so I knew I'd have my work cut out for me, but it did allow me to get it cheap. The bonus of having built quite a number of SR's before means I hold a significant stock of both factory and custom parts, so I kind of knew I'd be able to sort the bike out pretty easily.
When I went to pick it up, it came to light that the engine in the complete bike matched the numbers on the spare frame. The owner said that the previous owner had transplanted everything into another frame when the swing arm had seized. He also told me the previous owner had done a top-end rebuild, but I couldn't confirm that of course. Either way, both frames were straight and unmolested.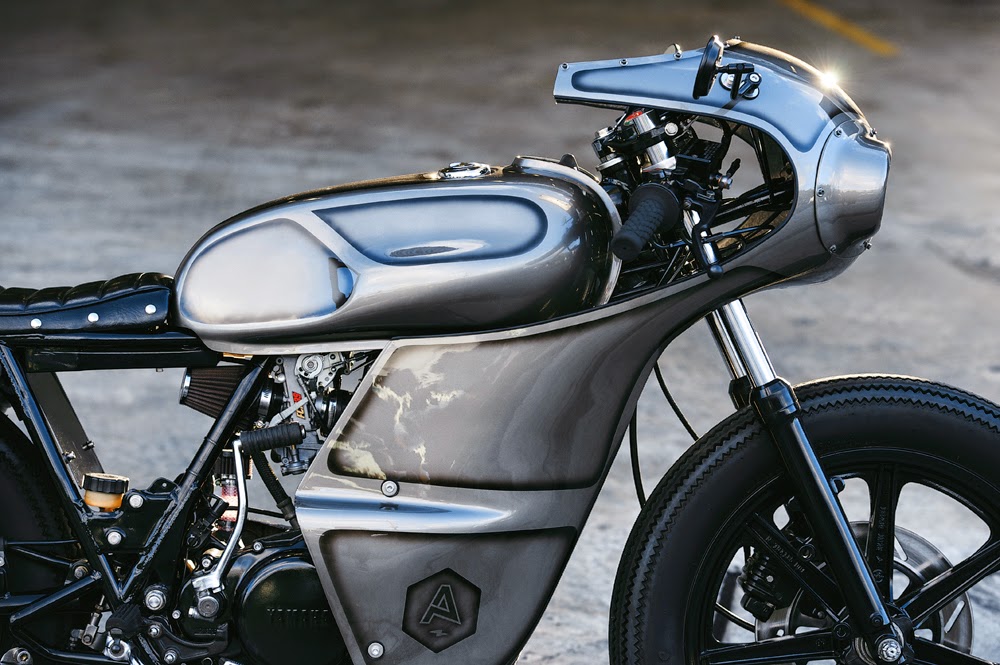 I've always loved the quirkiness that An-Bu Custom Motors has brought to the Japanese custom scene, and I'd had my eye on their fairings and seats for a number of years, so I placed my order and prayed the fairing and seat would arrive without damage. The build began on the 2nd March, 9 weeks before the  Throttle Roll show in Sydney, and it began by reuniting the engine with its original frame. That started with cutting out the seized swing arm, making sure no damage was done to the swing arm mounts in the frame. Every single part came off and I rebuilt the bike in stock form into its matching numbered frame. Obviously the bike was still a non-running bike so the first week was spent digging chunks of old fuel out of the carby, replacing the battery, checking compression and releasing its seized clutch. The SR runs a dry sump with the oil in the frame and I found loads of thick gelatinous oil deposits, blocking the oil pump feeds, returns and filters; it was a mess. However, at the end of that week, the bike fired up in a flurry of black and blue smoke as leaves and crud shot out the exhaust. A couple of laps around the block confirmed the clutch was almost gone, slipping at anything over 2500rpm and the steering head bearings and brakes were highly suspect. The basics were fixed to get the bike a roadworthy and registered. Now we had matching numbers, Aussie complied and registered SR500 that was rough as guts.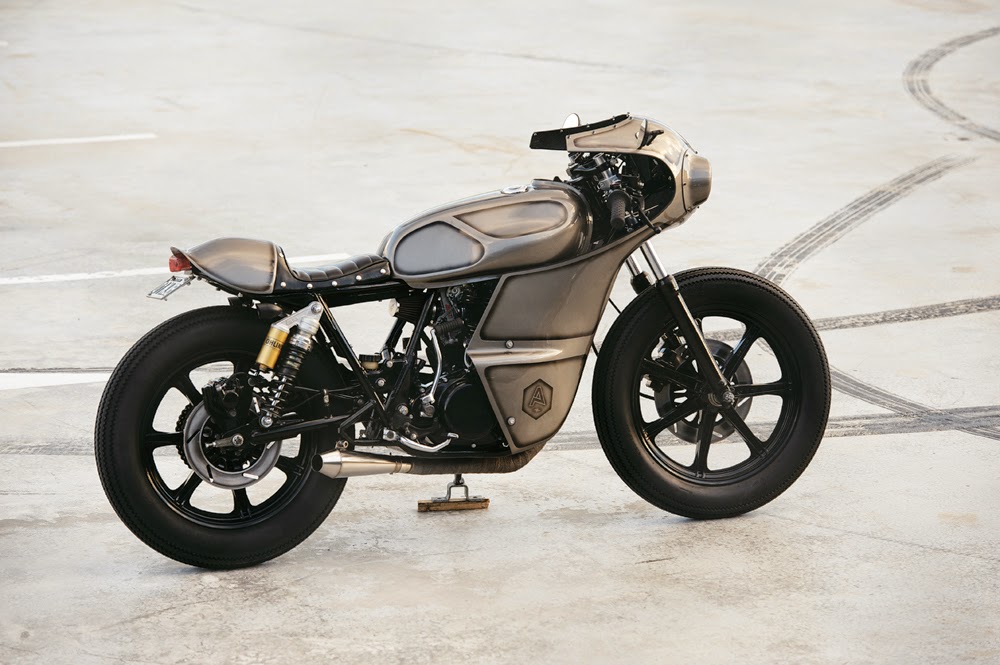 With 8 weeks until Throttle Roll the build started. The fairing, tank cover and seat had arrived and there were plenty of rough edges to sort out, but first was to strip enough of the stock bike back to mock everything up. The tank cover is a cool trick. It's made by Posh and fits over the stock tank of a late model SR400, so a suitable late model tank was sourced. The tank cover is about 2inches longer than the stock tank, so the seat mounts and a tail loop were fabricated first to ensure everything would fit. The hardest part was knowing that in the less than 8 weeks I had left I had to line up suppliers (sandblast, powder coater and paint) to ensure that everything would return in time for the next stage, but I couldn't send anything out until I had a solid mockup to fabricate everything I needed.
The fibreglass fairing straight out of the mould is pretty rough and actually needed significant shaping and smoothing, cutting about 40mm off the top, to fit in with the lines of the wider than stock tank cover. Also, knowing I needed about 5 weeks to allow the paint to be done just right meant I was soon to lose all the bodywork until just 3 days before the show.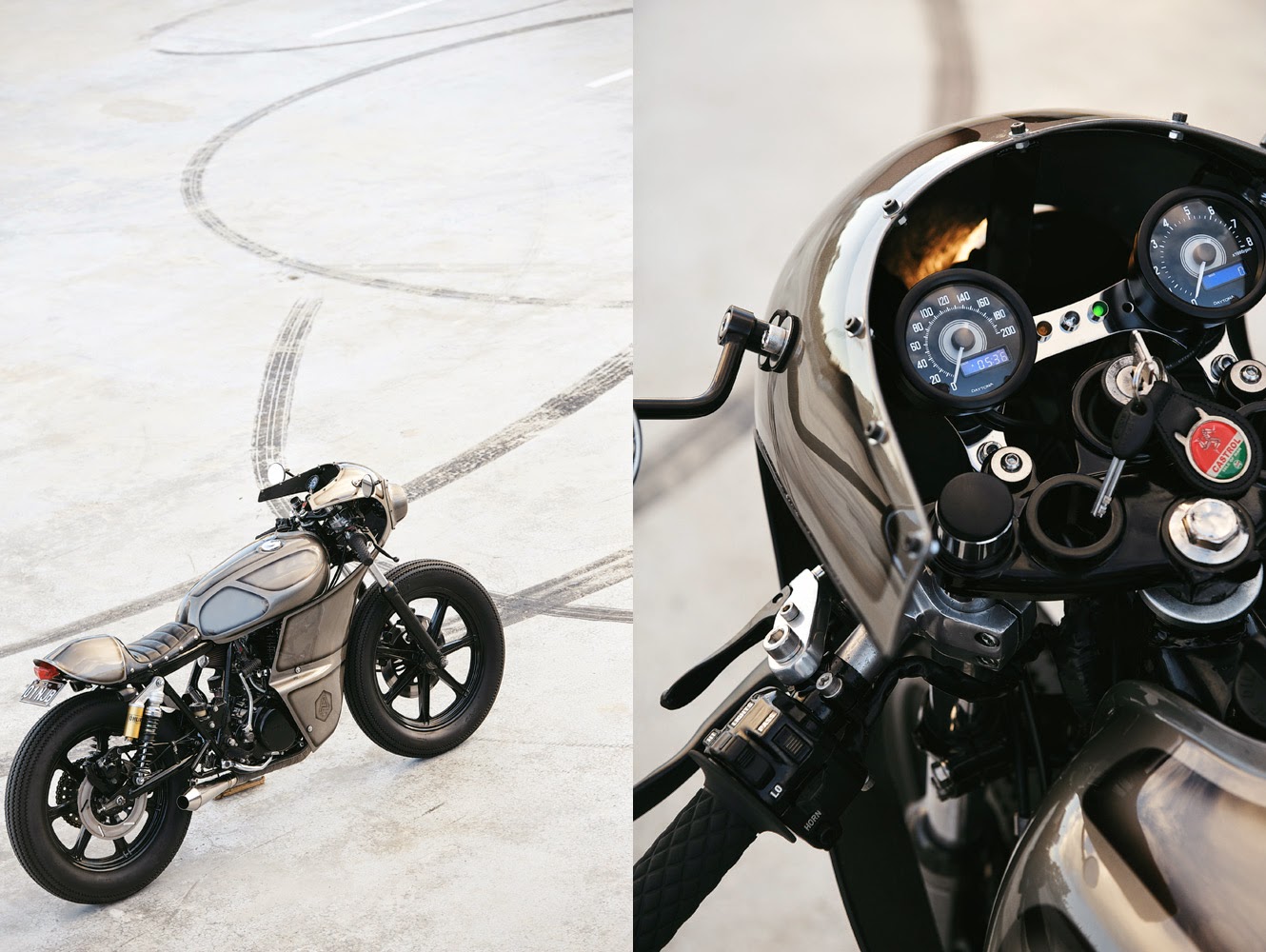 Addiction Customs is a part-time business for me, I also have a day job so I worked every night I had free to do a bit more on the build. I'd always planned to weld up my own 304 stainless exhaust, but my welding skills in stainless needed work, so in the middle of it all I commenced a welding course one night a week with the goal of making my own exhaust for the bike. Given the route, the exhaust needed to take and the muffler mount I needed to fab on the frame, you can probably see how meticulously planned the whole build needed to be. Bodywork, frame mounts, tacked up exhaust so that bodywork could go to paint and so on. There was no margin for error and more than once I was convinced that I wouldn't make the show. After that, the whole build was a bit of a blur. Late nights madly ordering parts online, sending metalwork out to sandblast and powder and praying there would be no hold-ups.
I had intended to bore it to 535cc and port and polish, but time was against me and I'd managed to get it running really strong with great compression anyway. As they say, "if it ain't broke, don't fix it" so the top end was left alone. The engine was cleaned up and painted whilst bolting on a Keihin FCR39 for the extra horses. Ohlins at the rear and Ikon front springs with fully rebuilt forks, tapered steering head bearings, wheel bearings, rebuilt master cylinders, rebuilt callipers with braided brake lines, new slotted discs, a brand new reproduction wiring loom, modified for the Daytona Verona digital gauges with a smaller gel battery and all electrics sitting in the fabricated tray beneath the seat which was welded rather than bolted in.
Kyle Smith of Smith Concepts came through with the paint, pulling late nights to complete it and fulfil my vision for the bike. His treatment of my logo is one of my favourite features. To be honest, I'd never used Firestones on a bike, but they are popular and I originally built the bike to sell after the show. Since then however I sold my other SR500 "Manxy Racer" so that I could keep this one, but having now ridden the bike on those tyres I don't mind them at all. The final piece of the puzzle was the exhaust, completely hand fabricated by me, my first crack at a stainless system. I finished that just days before the show, as I received the bodywork back from Kyle. I wish I'd left the pipes unwrapped but I thought my welding wasn't the prettiest. Turns out I've been told my welds aren't too bad at all so it must be the perfectionist in me that wasn't happy.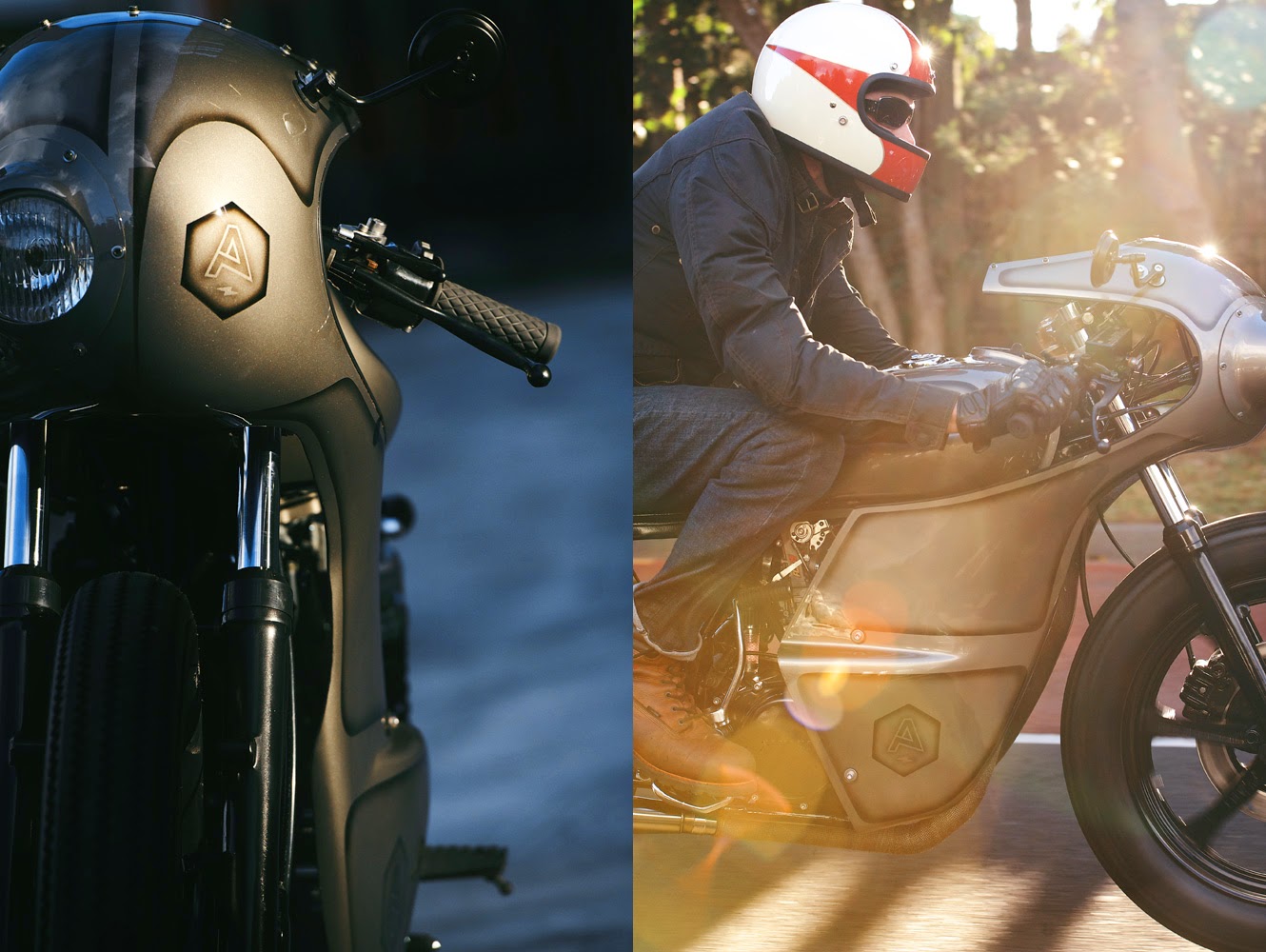 With 24 hours to go until delivery to the show, I was still tweaking and checking. I even managed to strip a seat bolt out of its fibreglass base on the day of delivery! When I rode into Throttle Roll on the setup day, the bike turned a lot of heads. I think overall it was really well received, I certainly found myself answering lots of questions and it's the kind of bike that people take a second and third look. I built it to challenge myself and push my skills. I wanted it to stand out from the Yamaha SR crowd and yet have the performance I like from my bikes. It's a hoot to ride, it's loud and brash with an aggressive stance. The An-Bu fairing is quirky and the off-centred headlight makes people question what it is, which I like. It's my showpiece bike for the business, but also my only ride so it gets a good flogging whenever I get out of the workshop. I haven't had it on the dyno yet, but I expect it will exceed my last SR500 which was putting out 35Hp and ran a 14sec quarter mile, so I can't wait to get it fine-tuned and give Arcanum a run down the track.
Thanks to Kyle at Smith Concepts, photographer Thomas Walk and to my very tolerant wife Caroline and my boys Connor and Riley, bike builders of the future.
Special thanks to Nicholas Blaxell
Shop This Look
| | | |
| --- | --- | --- |
| Image | Product | Buy Now |
| | Retro handlebar grips | |
| | Ohlins suspension | |
| | Retro tail lights | |
| | Cafe racer mufflers | |
| | Cafe racer mirrors | |