There are a handful of motorcycles that became the poster children of the "new wave" cafe racer scene at the start of the last decade. Some were obvious choices like the Honda CB750 due to its historical significance. Then there were a few less obvious ones like Honda's Moto Guzzi wanna be the CX500. Falling into the latter category was another motorcycle from Japan that was criticized as being an imitation when it was released. It was the Sportster-esque Yamaha Virago.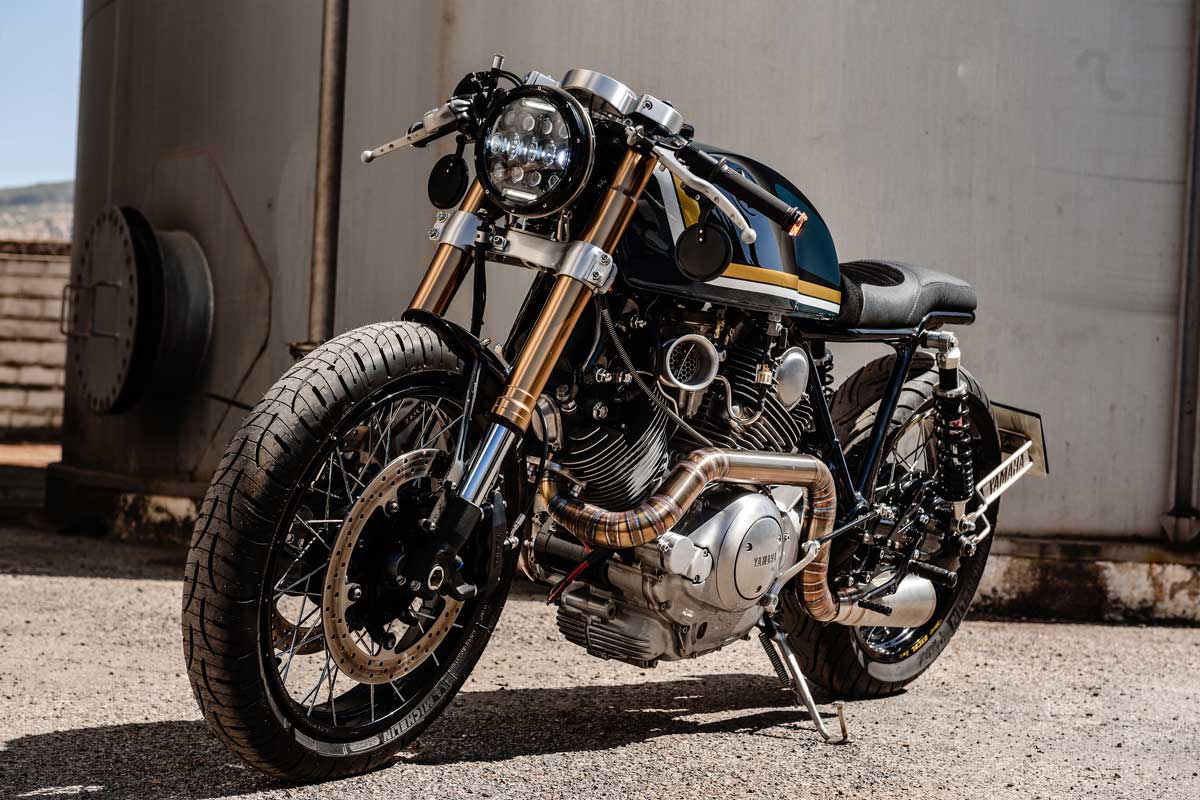 I think it's fair to say the Virago's prominence in the custom world can be attributed to one man's work, a man by the name of Greg Hageman. Back in 2011, Hageman built a svelte Virago cafe racer unlike any seen before. In the years that followed he built a handful of improved iterations of that design as well as other styling variations such as Virago Scramblers. But that first Virago cafe racer was all it took to set the wheels in motion. The bike was a viral hit and it wasn't long before countless copycat builds started appearing.
As great the Hageman Virago cafe racer was, I now shy away from any bikes that turn up in my email using his instantly recognizable styling formula. But this bike by Spanish workshop VooDoo Garage isn't one of them.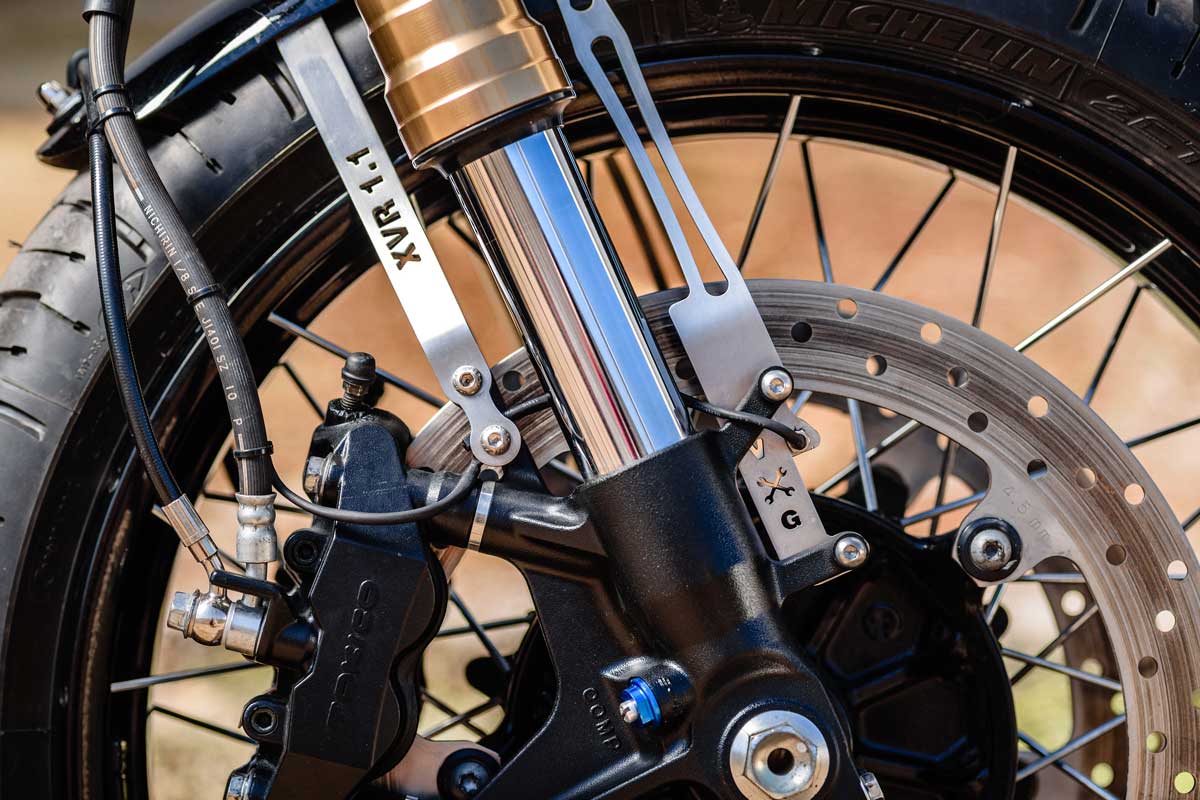 During its 26-year production run, Yamaha released the Virago in 10 different engine capacities and 2 suspension configurations. The largest displacement was the XV1100 Virago and it debuted in 1989. When the Virago was first released it was one of the first mass-produced motorcycles to use a monoshock rear end. However, in 1984, they switched to a twin rear shock design to appeal to the American cruiser market. As the basis for a cafe racer project, the earlier monoshock models are much easier to work with. This is mainly due to the ability to fit a bolt-on subframe that instantly sets up the ideal bone line. This is what VooDoo Garage frontman Victor Ortiz Ruiz recommended his customer look for during his hunt for a donor, unfortunately, the customer opted for capacity over convenience. On the bright side however, this mishap resulted in a much more unique end result.
"I advised him to use a 750 or 1000 central shock, but he appeared in the workshop with a double shock absorber," recalls Victor. "It was a challenge since this chassis of the XV1100 is horrible to make into a cafe racer." Despite the outcome, Victor and his team soldiered on with their initial idea. The goal was to create a "retro-modern" Virago cafe racer coined the XVR1100. A low and lean, large-capacity motorcycle that the Japanese marque could produce as an anniversary edition of the Virago…if they ever felt so inclined.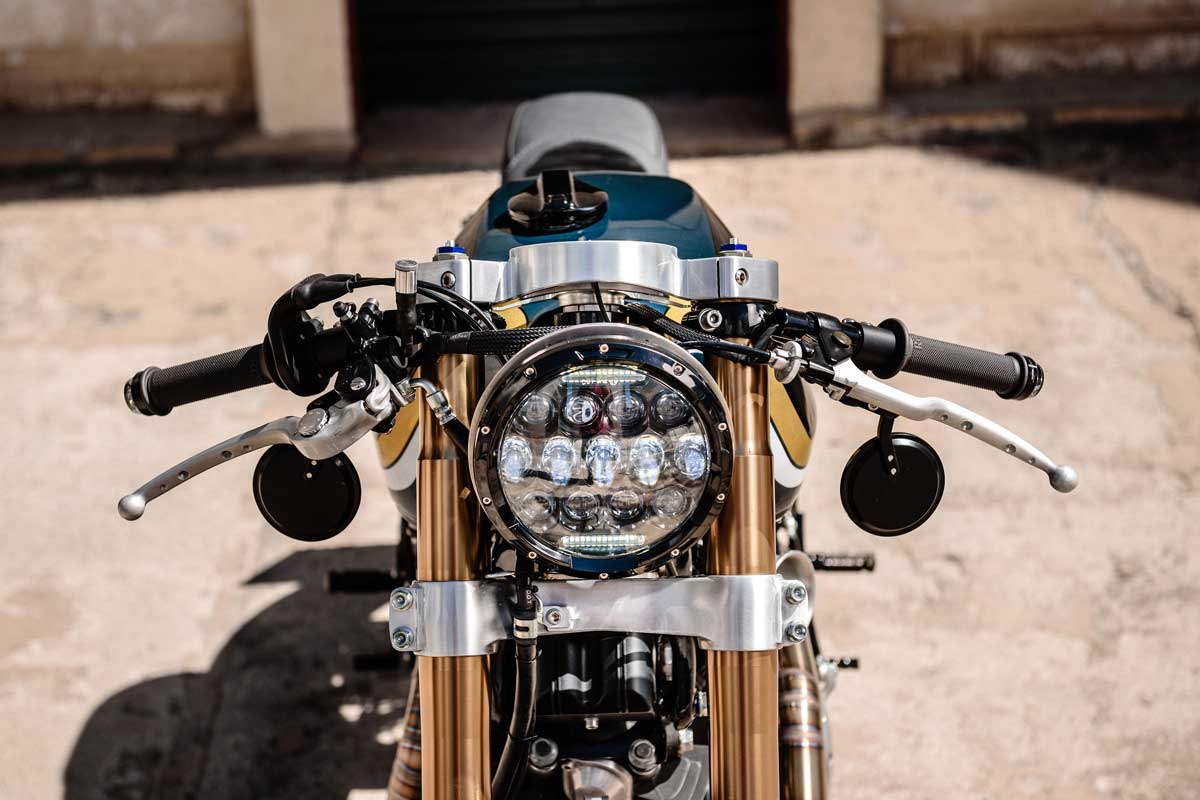 As Victor suspected the frame became the most challenging aspect of the project. The cruiser styled chassis of the XV1100 set the bike up with a slouched rear end that was far from ideal for a sporty cafe racer. So with no other option, they completely rebuilt the rear half of the frame to level things out. Along with the dramatic changes to the chassis, their Virago cafe racer received a comprehensive suspension, wheel and brake overhaul. Those gold shocks were once the property of a Suzuki GSXR1100. VooDoo installed the USD front end using a custom machined yoke. For improved braking, the front end now wears a 320mm disc while in the back is an XV950 setup installed using Cognito Moto adapters. Fresh rear shocks from YSS and 18-inch Excel rims were then added to complete the bikes perfectly balanced bone line. With all the really difficult tasks taken care of, VooDoo turned their attention to the styling of the bike.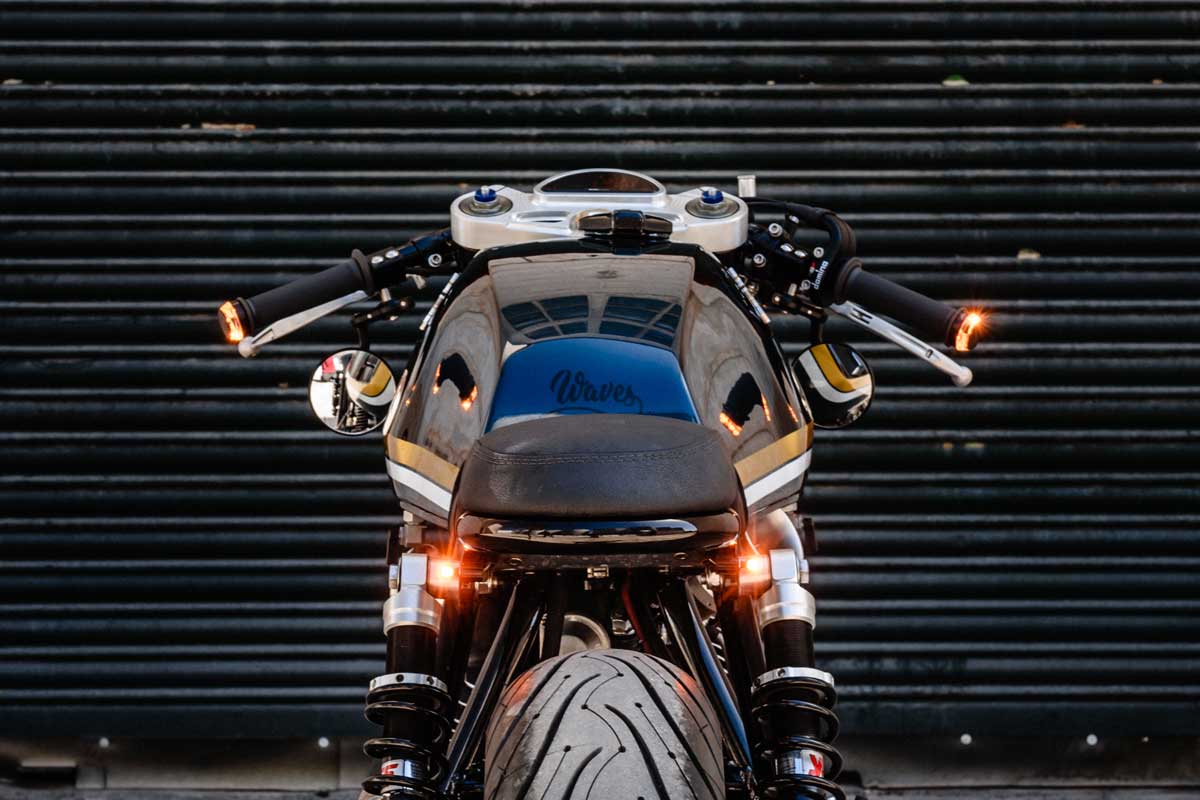 To set the bike up with a classic cafe riding position VooDoo has installed clip-on handlebars wearing custom switchgear. The XV1100's forward-mounted foot controls have been dispensed of and replaced by custom mounted rear-set footpegs. Back end lighting is managed by tiny Kellerman 3 in 1 Atto light units, while upfront there's a modern LED headlamp and Motogadget mo.blaze bar-end indicators. The use of Motogadget components continues with a Motoscope Pro gauge recessed into the top yoke and a complete mo.unit electrical system overhaul. To fit everything to the bike VooDoo has fabricated its own brackets featuring laser-cut branding. These include a custom made headlight surround and bracket, fender mounts, and brake stays.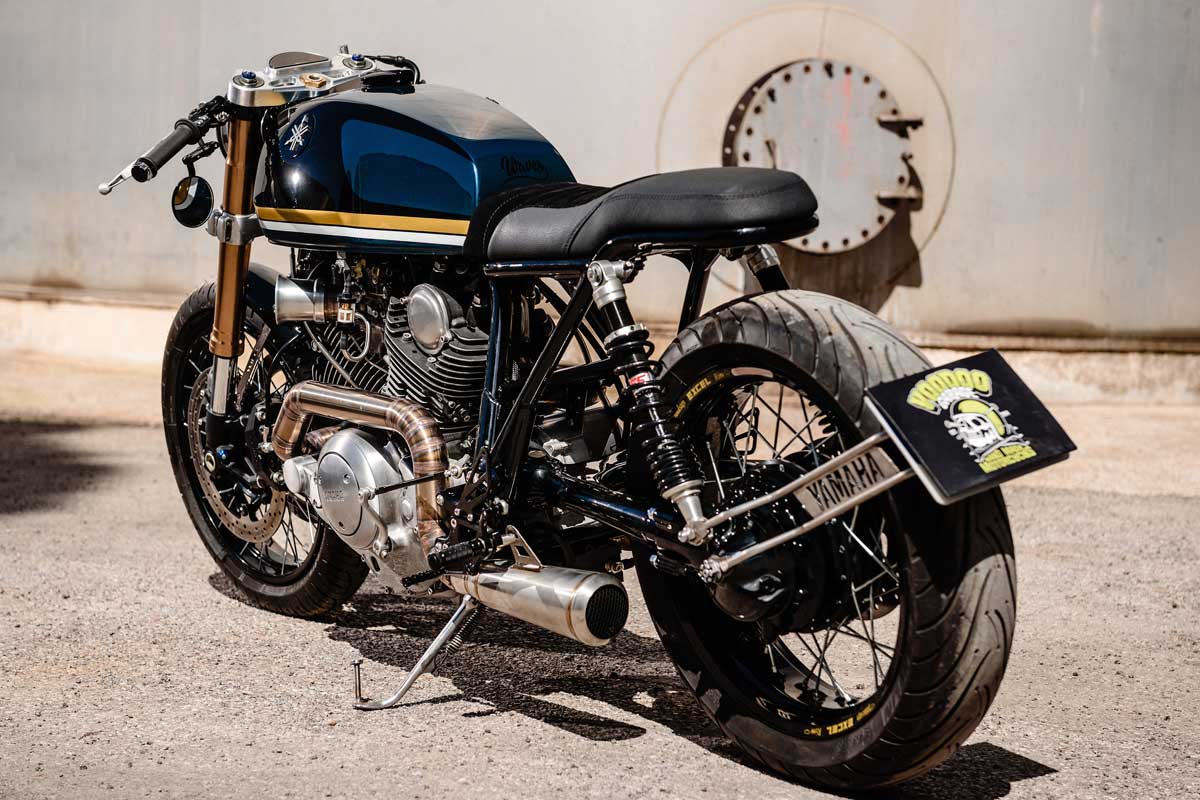 As for performance, the XV1100 v-twin has been completely rebuilt. To help it breathe more freely there's a set of custom made velocity stacks and a 2-into-2 pie-cut exhaust system exhaling through aftermarket muffler. Adding to the visual feast of matte alloy finishes on the engine is a one-off VooDoo performance clutch cover. The cover bears more laser-cut branding and includes a perspex window so you can watch the bike's internals in action.
As for the bodywork, the seat is a custom made unit that has plenty of room for a passenger. With the fuel tank, rather than the obvious Mojave option as pioneered by Mr. Hageman, Voodoo opted for a Laverda 1000J unit. This gives the bike a suitably muscular presence and adds visual weight where it's needed.
All up VooDoo Garage spent 8 months transforming the Yamaha XV1100 into this bonafide Virago cafe racer and it was time well spent. Perhaps a Virago isn't such an oddball option for a cafe build after all?