Mark Bliss is a man of many talents, but it's his work with motorcycles he's most proud of. Both of his parents rode motorcycles so it was natural he would follow in their footsteps. The big difference though was that Mark didn't just want to ride, he wanted to race. With the help of a good friend and the Post Classic Racing Association in New South Wales, Australia, his dream was realised – and he was hooked.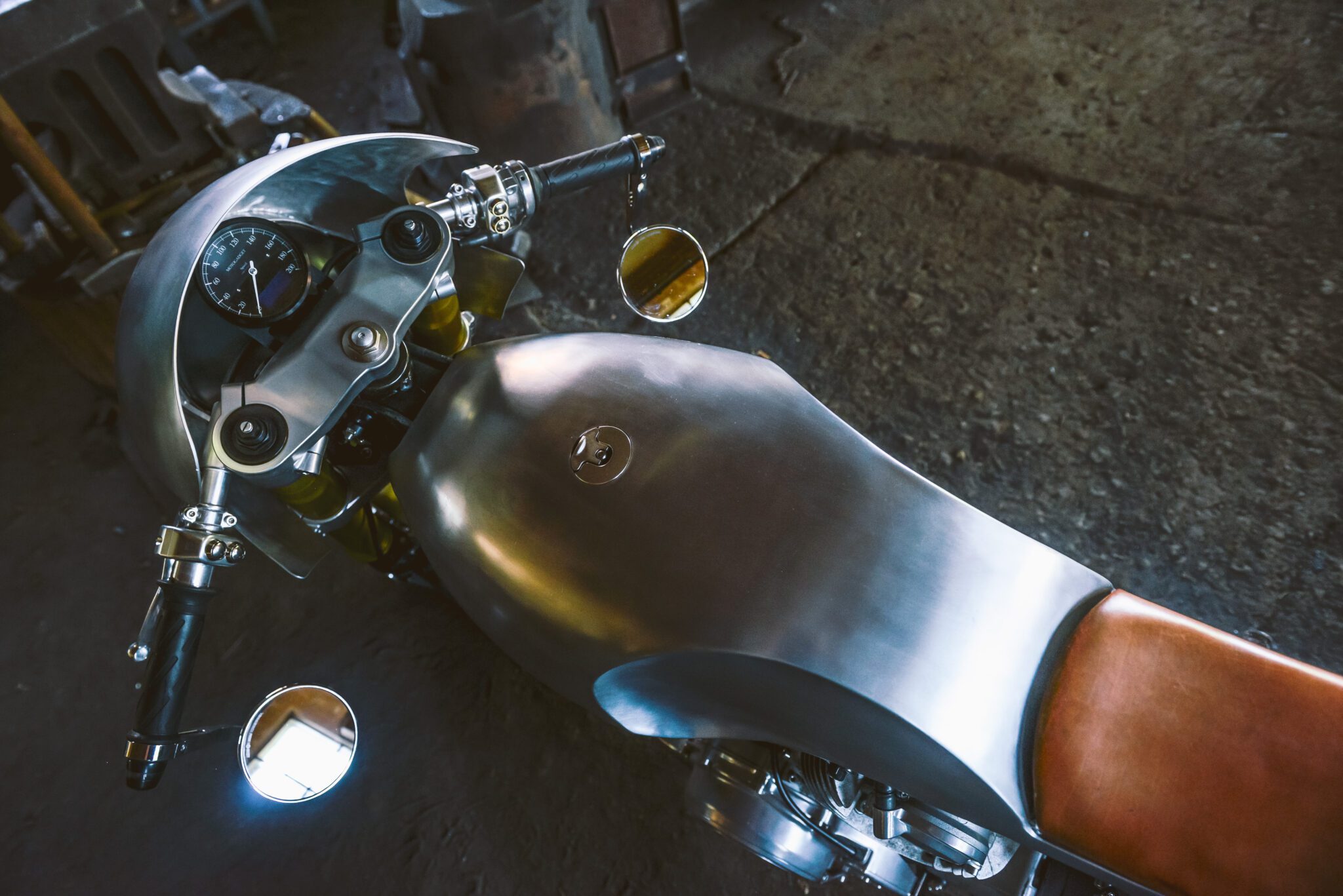 Building custom bikes, especially cafe racers, was a natural progression for Mark. He built his first cafe racer in 2010 after working on his race bikes. Soon afterwards he set up his first custom motorcycle workshop.
Together with his business partner, they completed 7 cafe racers projects before their premises was snatched out from under them. Real estate developers approached the owner of their venue and purchased the land to make way for a new development. With no place to go, Mark and his partner had no option other than to shut shop. But before they had to pack up their tools Mark had one more project to complete, his XV750 Yamaha cafe racer.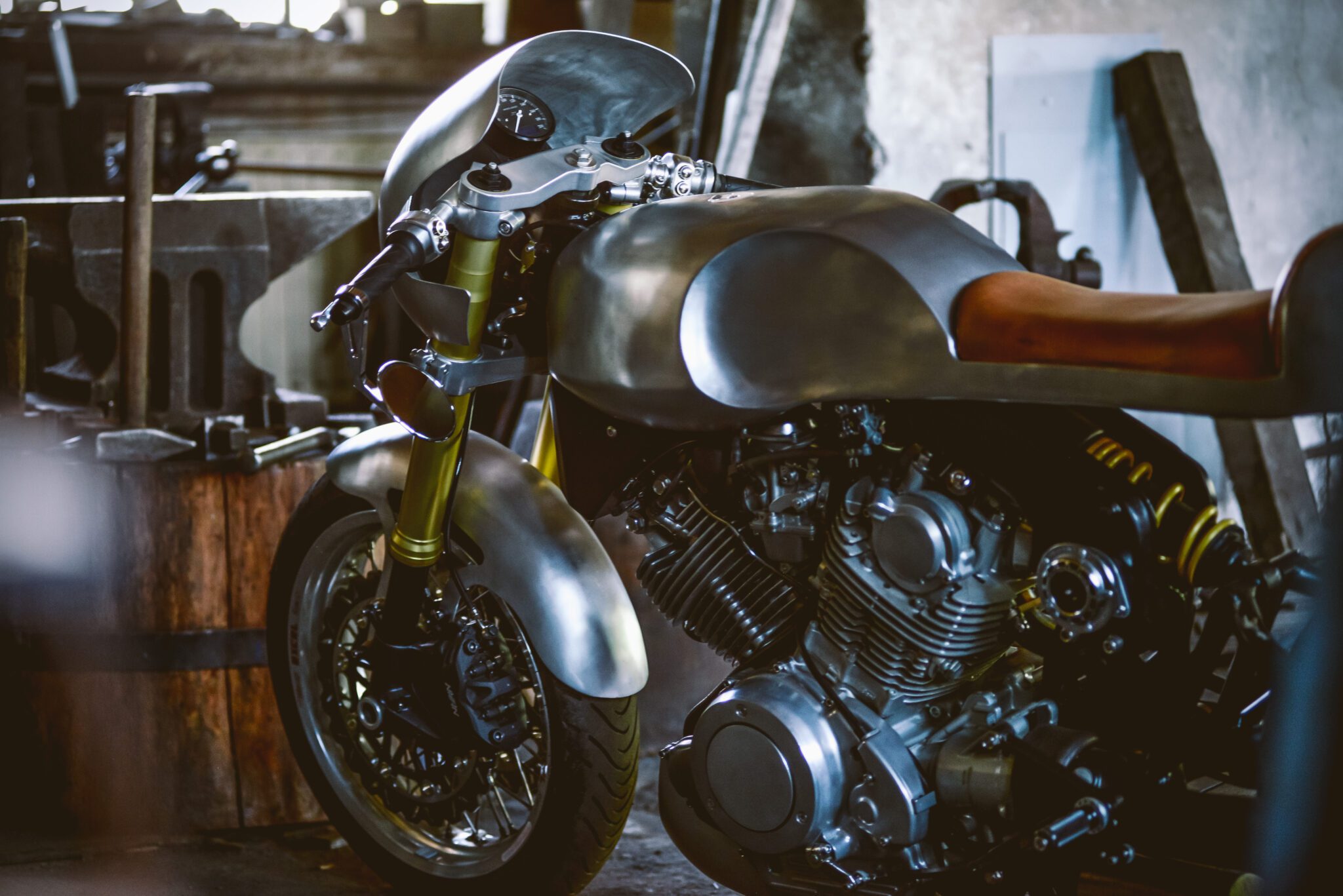 "The XV with its underslung engine offers a very unique opportunity to build around the motor which makes it the centrepiece," says Mark. "I also like the monoshock rear because it gives the bike a very clean look. My goal was to create a light looking bike with decent power and brakes for a quick spin around the countryside."
In a nutshell, Mark wanted to build a neo-retro cafe racer that exploited the XV's best-looking bits. Achieving this meant removing every iota of Yamaha's "Harley wannabe" cruiser styling and geometry.
Mark tore the bike down and with the frame exposed gave it a thorough clean and removed any redundant brackets. The usual approach with XV cafe racers at this point is to fit an aftermarket seat support to the frame, but Mark had other plans. He wanted to keep the rear end clutter-free to expose the mono-shock setup. To do this he set about designing a new subframe with his go-to fabricator Jakub Vetesnik.
Along with the bespoke subframe Mark devised a new trellis style swingarm to replace the XV's unappealing boxy unit. Unsurprisingly the new setup looks exceptional on the Yamaha, adding a dash of Ducati flavour to this bespoke XV recipe. To once again keep the tail clean, Mark relocated the license plate and rear end lighting to a hugger style bracket behind the wheel. He then turned his attention to the front end.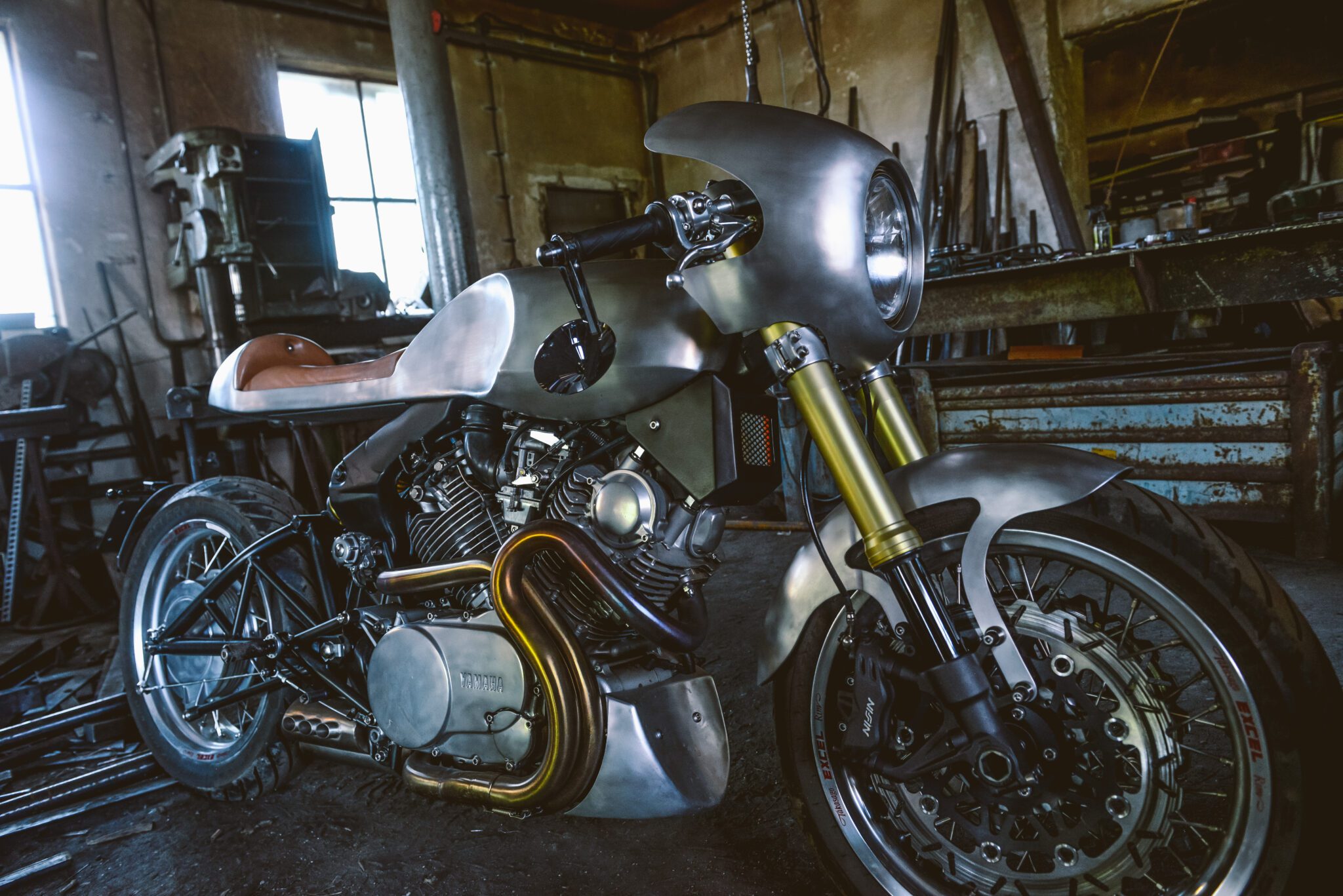 To correct the bikes stance, beef up the front end and hop up its handling, the XV forks needed a complete revision.
"The new forks were sourced from a GSX1100," Mark says. "New Excel rims were coupled with hubs from a Yamaha XV550 which had spokes. In the rear, there's a Harley Davidson front hub that's laced up using stainless steel custom made spokes."
Holding the Suzuki forks in place is a CNC yoke Mark milled himself. The rear shock remains the standard unit but it has been given a refreshing rebuild.
"Left with only the frame, engine and wheels I started to mould the shape of the tank, bikini fairing and seat from polystyrene," Mark recalls. "The hardest part of the project was the decision to build the tank and seat as one unit."
Once Mark had the shape and proportions all worked out his polystyrene buck was reimagined in metal. The bikes monocoque style seat and tank unit were hand-formed in aluminium by Jakub. To complete the look Jakub also built a Bikini fairing, front fender and engine belly pan to Marks exacting specifications.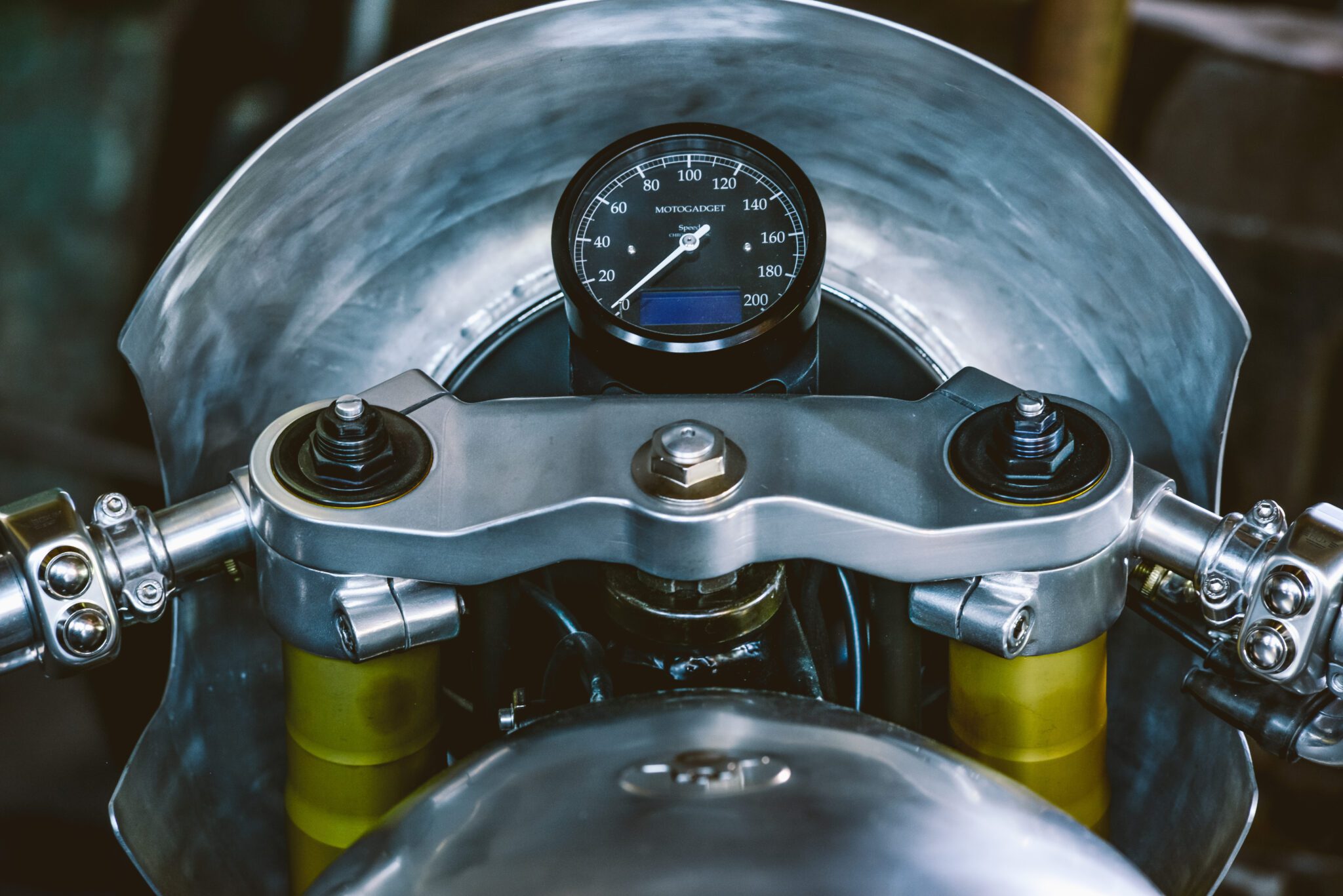 In keeping with the bikes, clean scheme, Mark has stashed everything he could out of sight. Hidden beneath a custom leather saddle by upholsterer Petr Josefus is a Motogadget m-Unit Blue. Under the tank is the brake master cylinder and the battery lives in the belly pan at the front of the engine. Mark has also opted for discreet LED turn signals – but it's the cockpit that really heroes the bike's uncluttered aesthetic.
Claiming pride of place beneath the alloy cowl is a Motogadget Chrono Classic dial. The clip-on handlebars wear Motogadget m-Switches in a brushed finish. A set of underslung mirrors hang from the end of each bar and there isn't a wire in sight. To complete the clean look Mark event went with a paint-free finish.
"Originally we had a paint scheme in mind but as the build was taking shape I was liking what we had in the workshop and decided to keep it that way. The surface was sanded back to a matte finish which ended up being much harder than painting it!"
When Mark purchased his Yamaha XV750 it had only just been broken in with 5000 km on the clock. This didn't stop him from wanting to finesse it a little though. Internally nothing has changed but the exhaust and fueling have been modified to unleash some additional horses.
When it came to building a new exhaust Mark's approach was unconventional but clearly effective. "The pipes were mocked up using vacuum cleaner hoses. This allowed us to determine how to keep things neatly tucked in and still work properly," he explains. "The muffler was placed between the engine and the rear wheel. The muffler and the headers were made by Petr Kulhanek of Tenax mufflers and they look and sound great."
Once the exhaust was in place, Mark used a Dyno Jet kit and a dyno to get the fueling dialled in.
As for the finished bike's performance, Mark has this to say, "I haven't weighed it but would assume we lost significant kilos all around. Replacing the original wheels with 17″ front and back has changed the bike's rideability quite a bit. It's a lot of fun in the twisties and no slouch on the straights either."
Although this Yamaha cafe racer was his workshop's swan song, we suspect this won't be the last time we hear from Mark. We're just hoping it's not too long a wait.