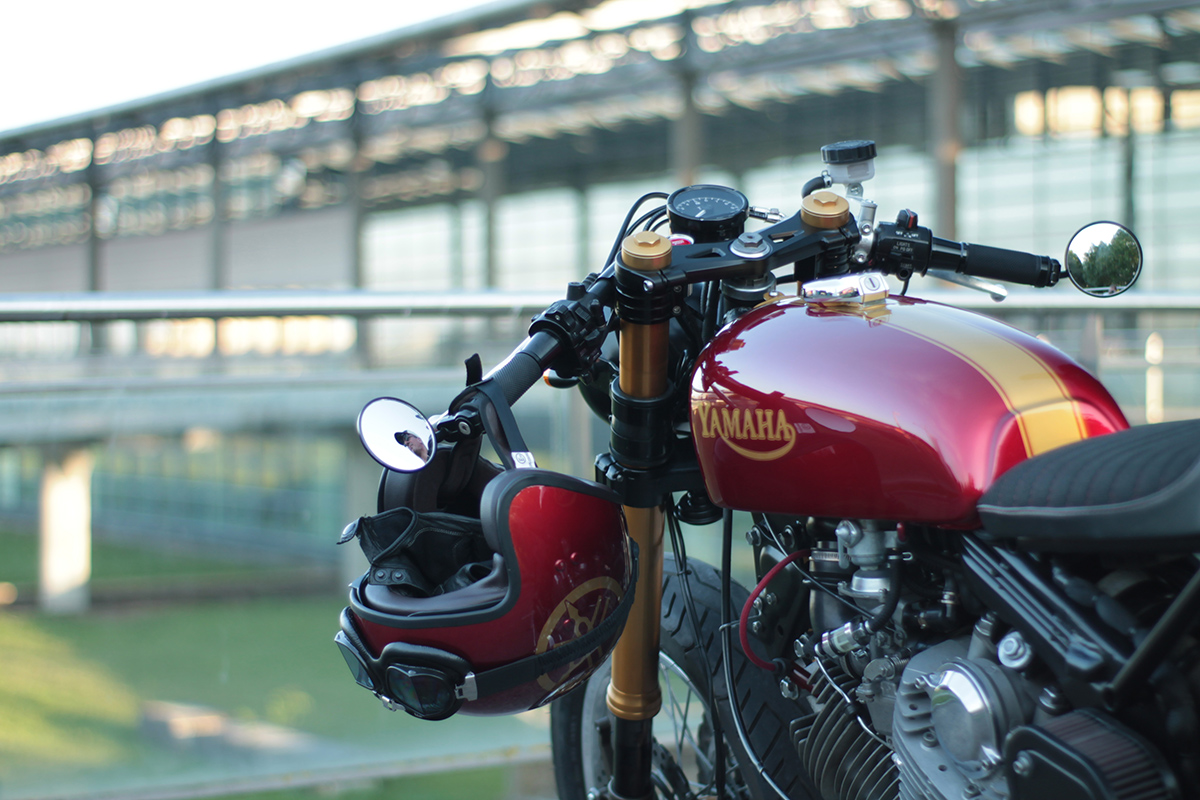 Greg Hageman, aka Hageman Motorcycles, aka Doc Chops may not have been the first to build a Virago cafe racer, but his bikes certainly captured the attention of the custom world. Using a custom subframe and suspension modifications he managed to level out the Virago's slumped stance. Then by mounting a set of clip on bars, rear sets footpegs and a classic tail and tank combo he completed the cafe racer package. The svelte proportions of the v-twin combined with his Virago's monoshock rear end ticked all the right visual boxes and we were all gobsmacked.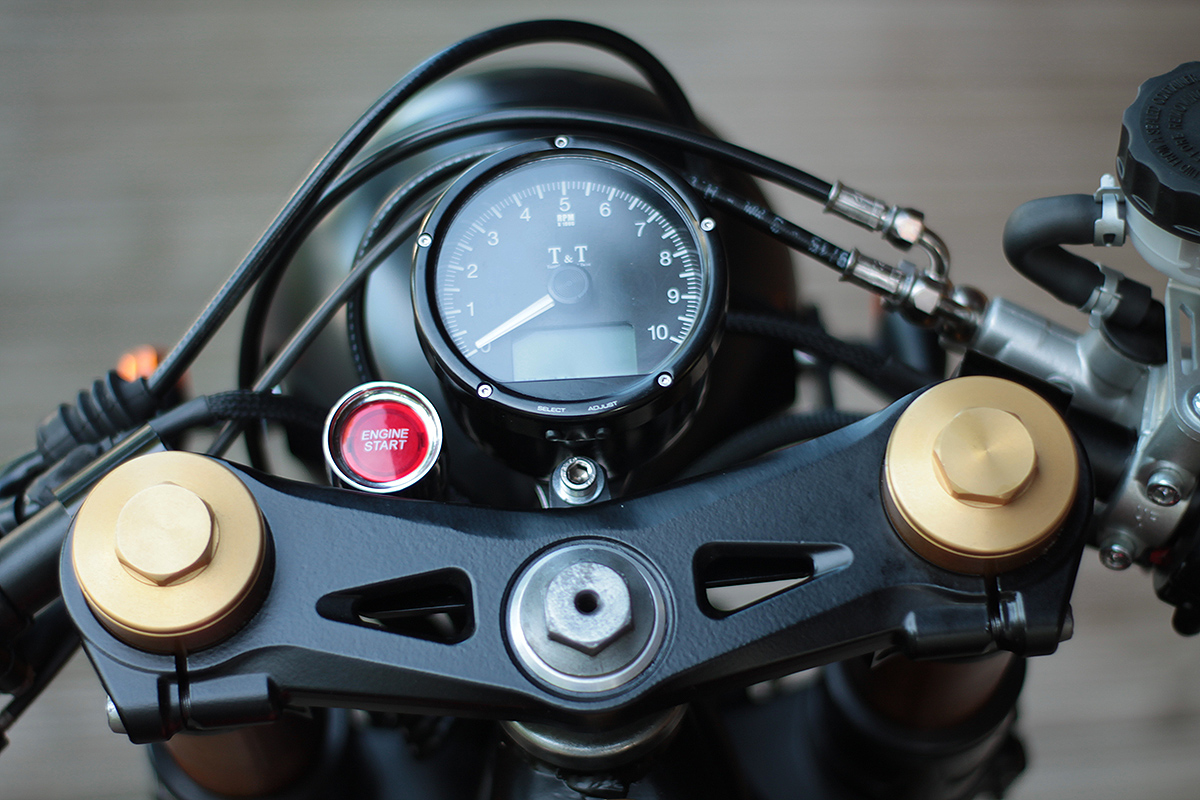 Since unveiling that bike some 5 years ago, Virago cafe racers have become a common platform for the cafe racer treatment with many aftermarket suppliers, including Hageman Motorcycles offering kits to help home builders perform the conversion. During it's long running production the Virago appeared in many engine sizes ranging from 125cc all the way up to 1100cc, but it's the earlier mono-shock models that provide the best base for cafe treatment. This cafe'd '82 XV750 Virago is the work of frenchman Jean Pierre Lagarde. A printer by trade, Jean-Pierre spent 2 years putting the bike together while struggling with cancer treatments and working out of a friends garage.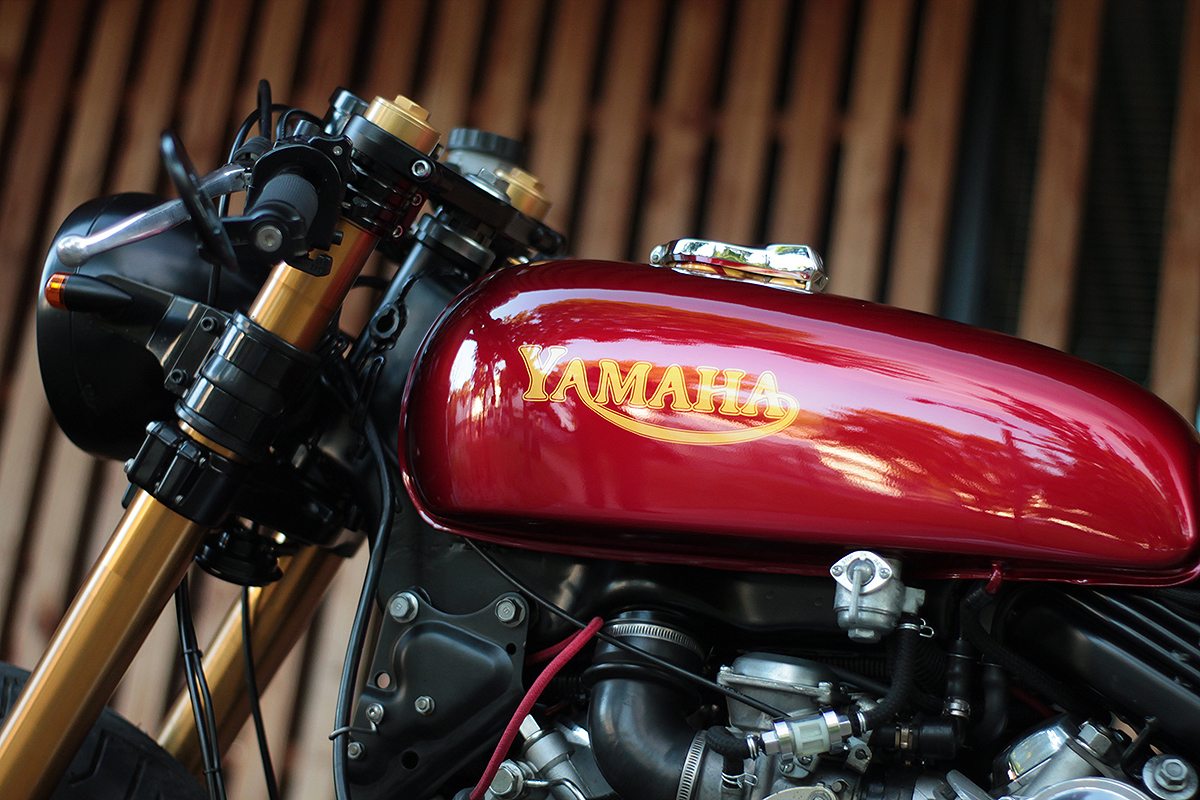 To get his Virago sitting right Jean-Pierre enlisted the help of Mathieu of FCR Original. Mathieu removed the stock subframe and mounted a custom, tubular structure in its place, integrating a dual function LED taillight into the rear loop and tucking a tiny lithium battery inside the tail of the Tuffside seat. Not satisfied that the stock front end would deliver satisfactory performance, Jean-Pierre sourced a set of Kawasaki ZX10R USD forks. Using a custom machined triple tree the forks were mounted to the frame still wearing their their Tokico twin disc brakes.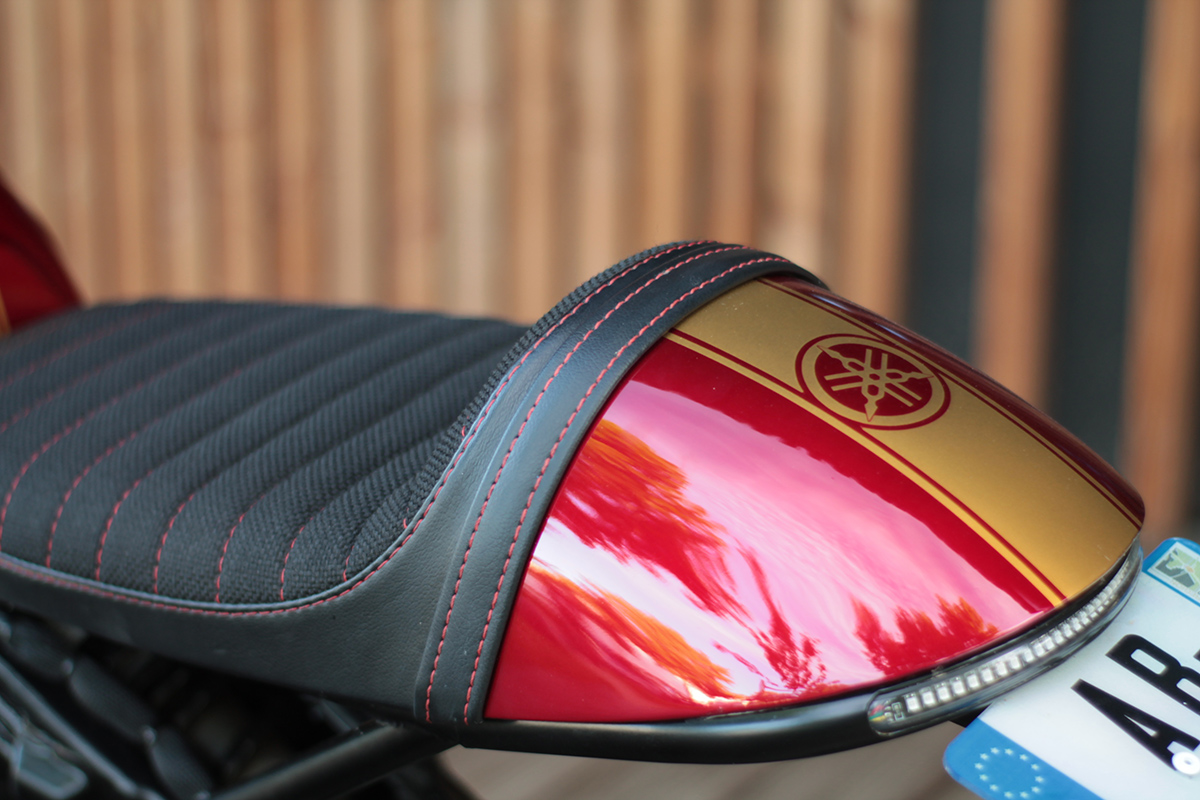 To address another of the Viragos less appealing design features, the cast wheels, he sourced a set of spoked rims and hubs. For great all round riding performance he then fit the 18/17inch wheels with Bridgestone Battlax BT45 rubber. The bikes 750cc v-twin engine was left relatively untouched. Instead he unlocked mild performance gains by tuning the carbs to suit a K&N filter upgrade and adding a set of Mac Performance 2-into-1 headers and an Inox Muffler.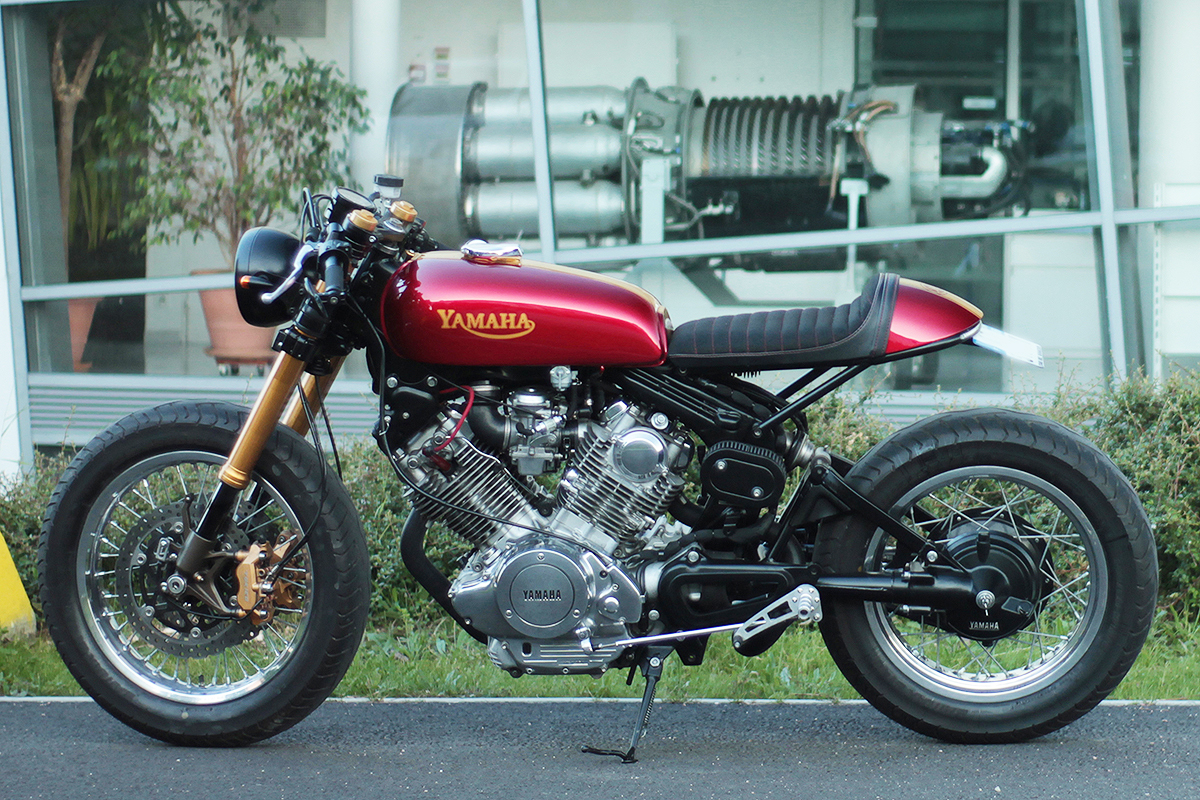 A new headlight and low profile indicators were clamped to the fork uppers along with clip on handlebars wearing new switch blocks and bar end mirrors. A T&T all in one digital/analogue gauge sits centered above the headlight and for a touch a racing style Jean-Pierre hooked up a push button engine starter.
Getting a level bone line was proving impossible using the stock Virago tank, so Jean-Pierre resorted to adapting an RD350 unit that had just the right length and look for his build. Then to finish it all off the crew at Design Bike painted the tins using a bold candy red and gold combo that compliments the modern front end.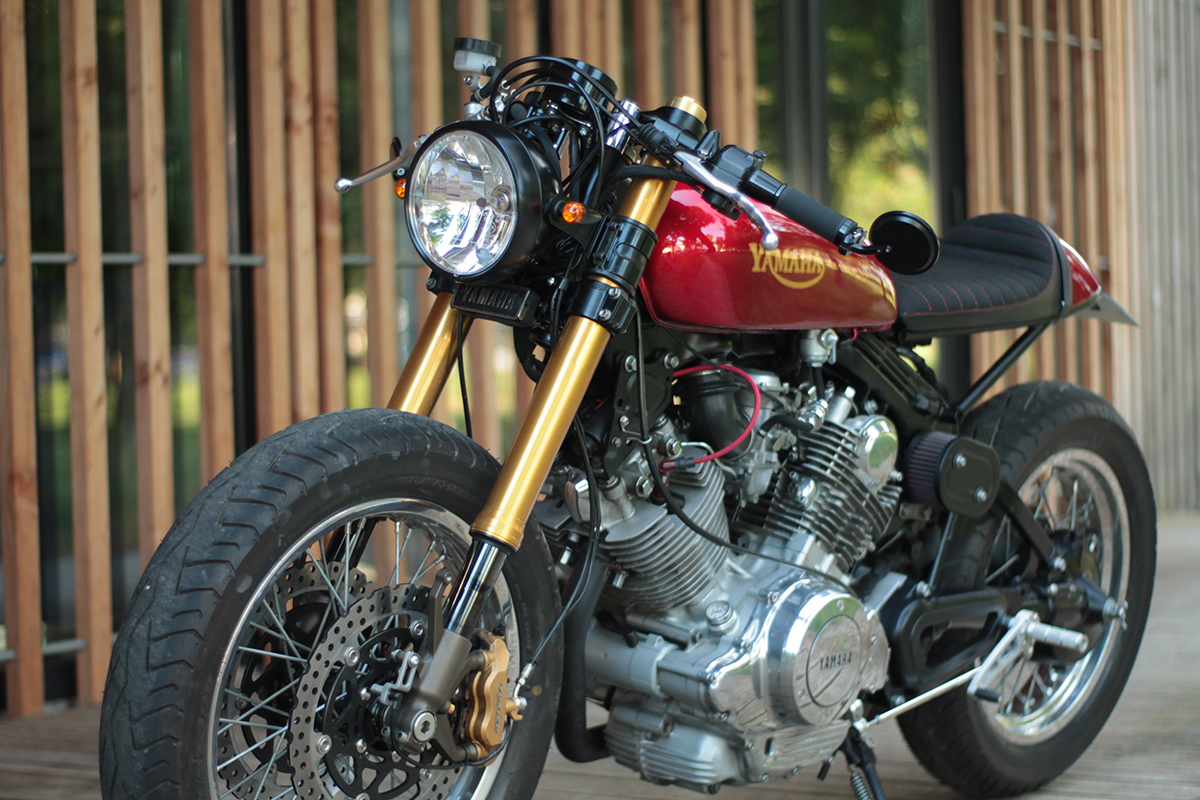 Thankfully Jean-Pierre's health has now improved and he can enjoy the fruits of his efforts, regualry riding the bike around his home town of Poitiers in the west of France. After completing his Virago cafe racer the bike also took out prize for 'best amatuer concour' at a French Cafe Racer Festival, a fitting result for a build that in many ways represents Jean-Pierre's personal struggle to overcome adversity.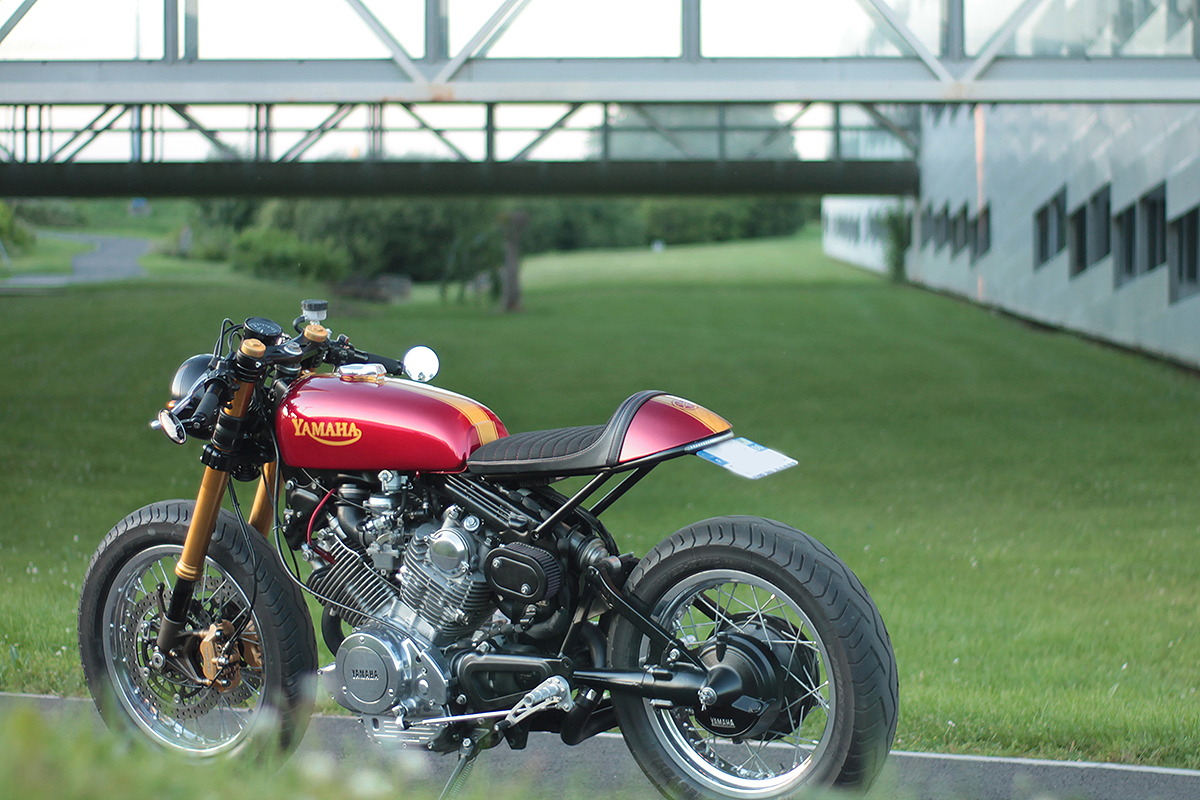 When
Yamaha
built their first v-twin powered motorcycle I'm sure the last thing they expected anyone to do with it was to turn it into a cafe racer. The Virago was designed to appeal to the cruiser market and was undeniably influenced by Harley's iconic Sportster. It offered customers a bulletproof Japanese built alternative to the Harley with solid performance and an appealing price tag. Lucky for Yamaha its release proved to be a very profitable exercise and resulted in the Virago being produced from 1981 right up to 2008 when it was rebadged as the V-Star series of metric cruisers. So, you may ask, how is it that the Virago became such a hit in the cafe racer scene?