In Osaka, Japan 28-year-old cafe racer enthusiast Yuya Ueda has been riding his SR400 for 8 years and it's lead to him taking a new direction in life. Despite working for 6 years as a full-time hairdresser, Yuya is now pursuing a career in mechanical engineering and it's all thanks to his beloved SR.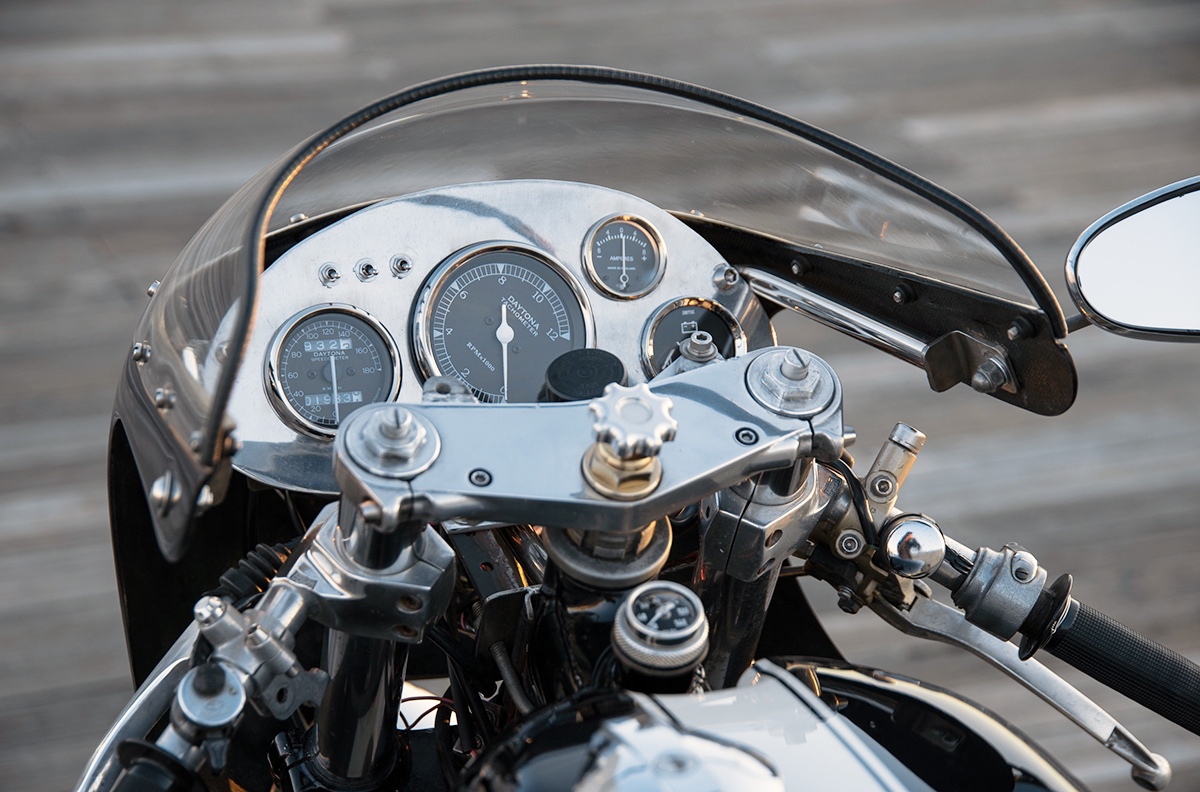 Yuya's SR400 has been an evolving custom build during the 8 years of ownership. His original concept was to customise the bike mainly for styling benefits, but as time went by this evolved into a desire for better handling and performance. As a lover of the Rocker style and cafe racer motorcycles, the first incarnation of the bike was a naked cafe racer. Magura clip-on handlebars, Brooklands rear set footpegs and a custom seat were all it took to transform the SR to his taste, but soon he was yearning for more.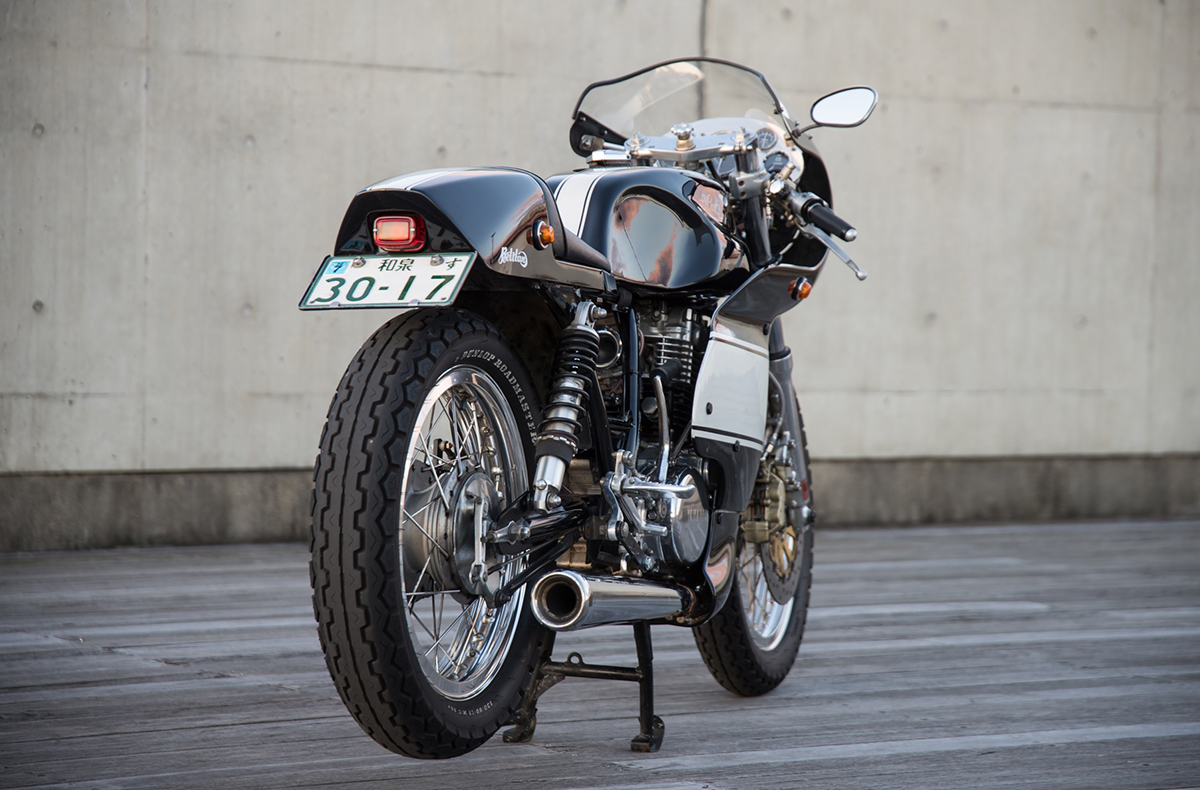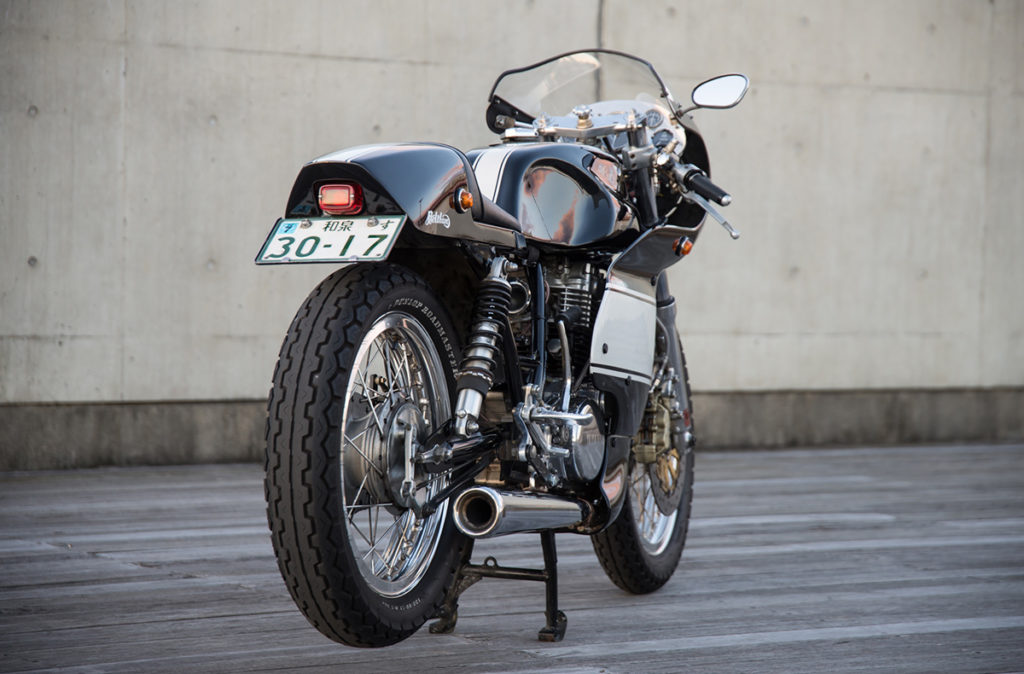 During the original build, Yuya became involved with local groups and his fellow enthusiasts opened his eyes to the SR's true potential. After 3 years riding the bike as a naked cafe racer and rubbing shoulders with other custom builders, he was ready for a change. With their support and advice, he began planning the second stage of his build that would see the bike become a finely tuned, race inspired motorcycle, or, as Yuya describes it, a "mixed style of old and new cafe racers"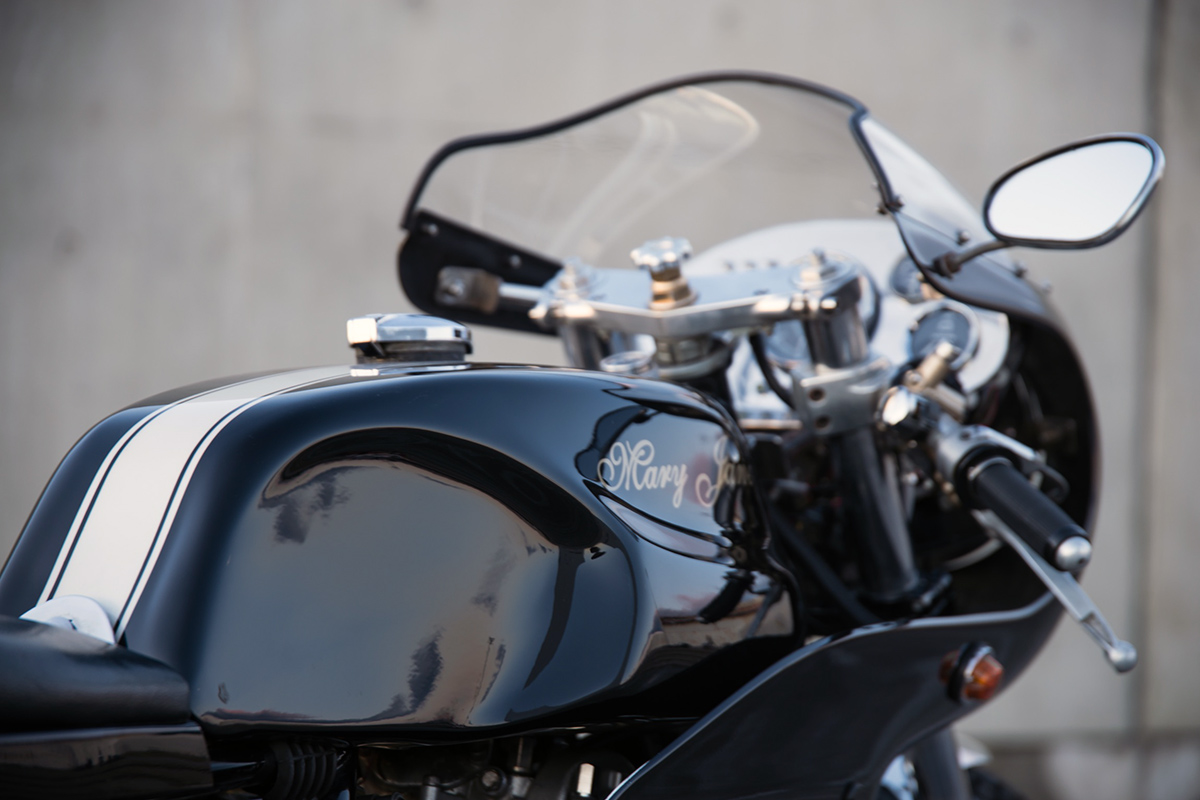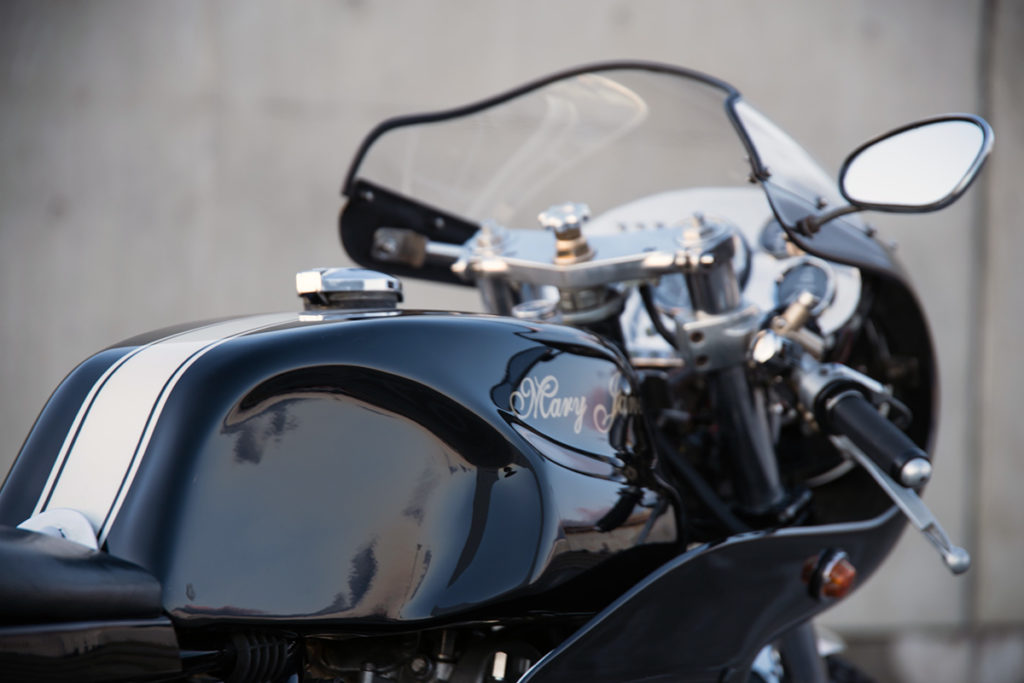 Not wanting to stray too far from the bikes '50s styling Yuya opted for a design influenced by British race bikes of the same era. For this, he purchased a full front cowl and fender from Japanese aftermarket supplier Peyton Place and modified them to his liking. At the rear, Yuya mounted a carbon fender from 'Bike Garage Thruxton'. The bikes Ducati 900SS styled tank was built by aftermarket workshop Brooklands, created specifically to fit the SR's wide OIF (oil in frame) backbone. He then paired the tank with a custom seat and cowl developed with custom experts RVD. To retain the SR's narrow proportions the bikes indicators were flush mounted to the bodywork and the brake light was tucked up into the tail. Up front, there's a Lucas headlight and the cockpit is a one-off aluminium part that Yuya fabricated himself to hold the bikes various gauges and switches.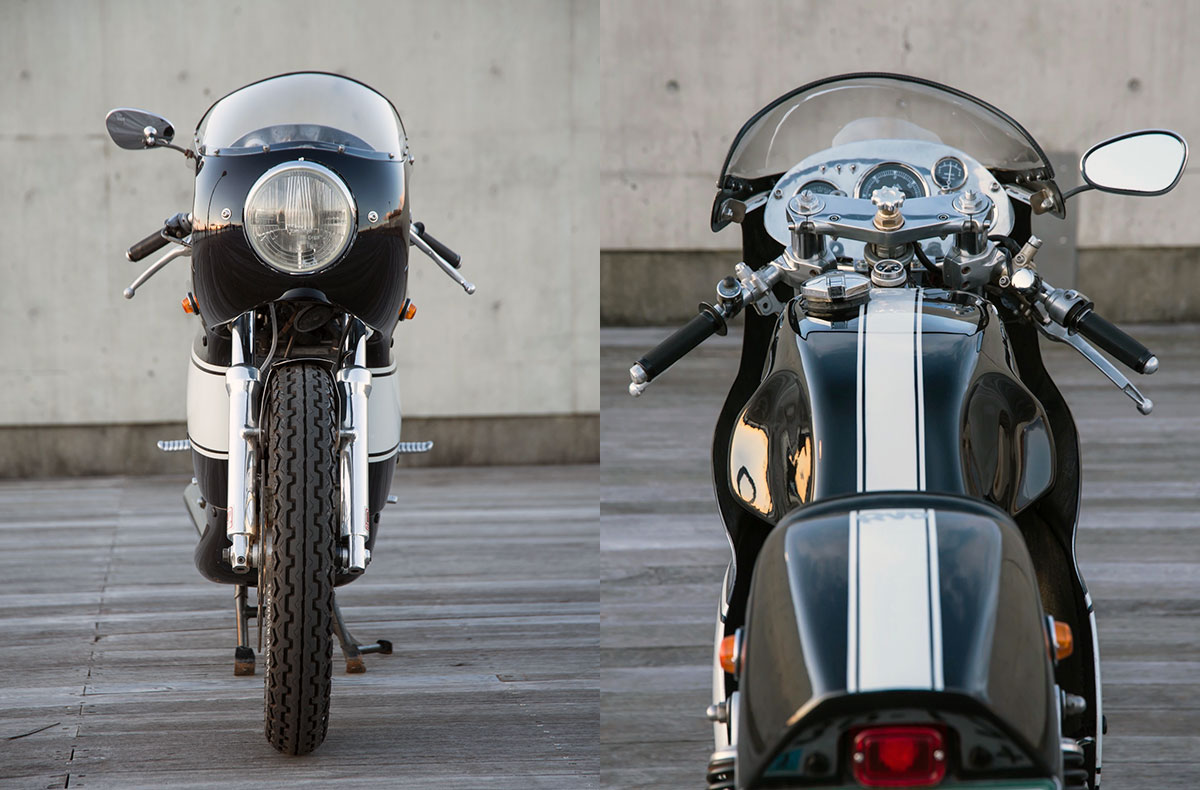 "You will recognise its classical styling at first glance," Yuya explains. "However, when you look closely at the parts on this motorcycle, you will find an array of modern performance parts."
Happy with how the bikes aesthetics were shaping up Yuya then began work on improving its performance. Stage 1 involved chasing horsepower, so capacity was increased from 400cc to 534cc. A 40mm Mikuni TMR carburettor was then added to boost fuel delivery and a Ducati Conti muffler added for a more free flowing exhaust. Stage 2 saw the bikes factory wheels being replaced by custom laced Excel H rims wearing Dunlop TT100GP classic racing rubber. The front brake was upgraded using a Sunstar 320mm disc, Brembo 4 piston calliper and Nissin master cylinder. Then to finish the performance upgrades Yuya replaced the spongy factory suspension. A set of TZR 3MA forks, chosen because their thicker legs looked best with the bodywork, were mounted to the front end. At the rear a pair of shocks from KYB round off the bikes handling package.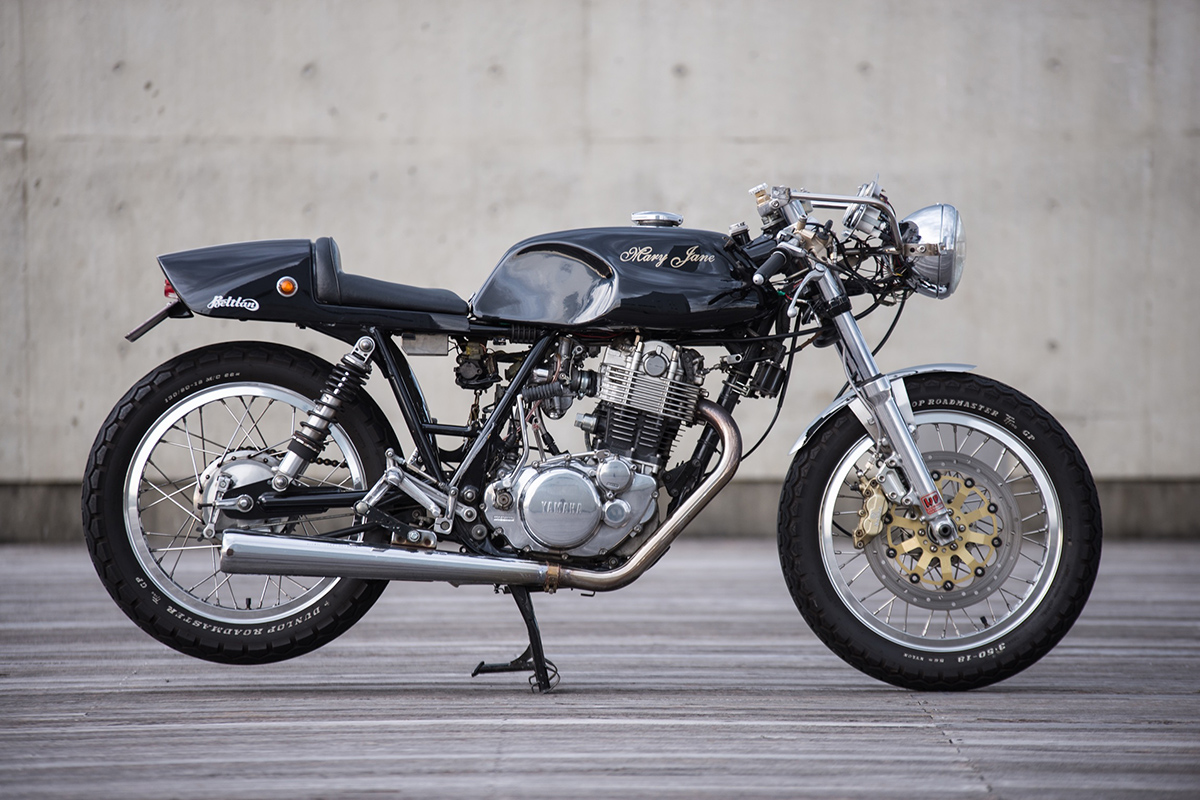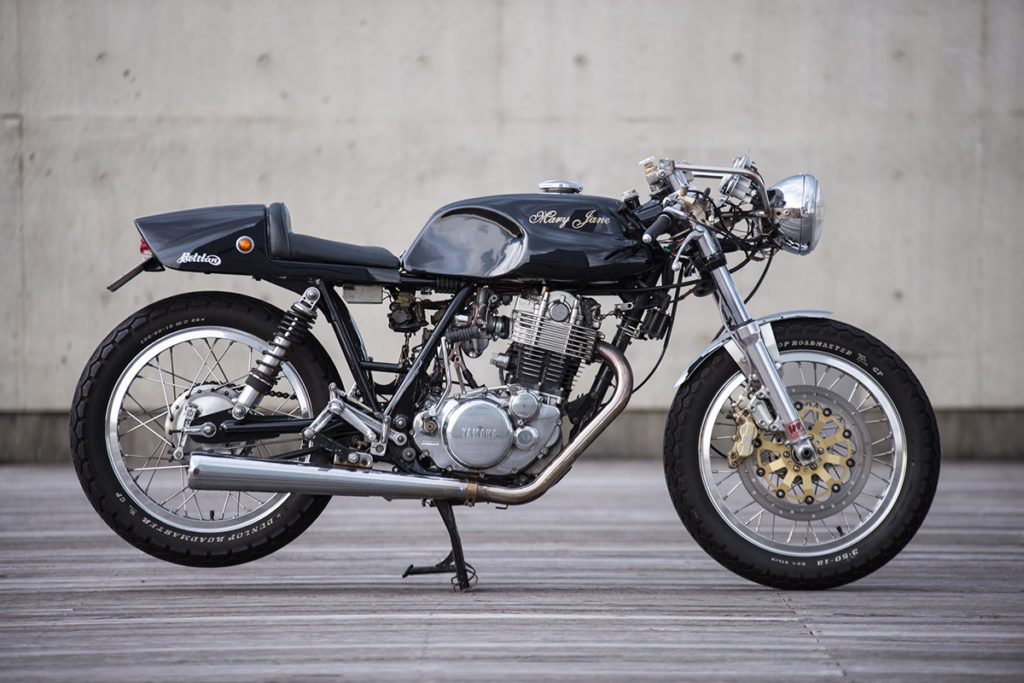 After having his 'Mary Jane' Yamaha SR400 painted in classic black and white racing livery by 'Grant Paint Works' Yuya says, "I'm finally confident in the customization. I feel that the function is now fitting of the form and the bike is very well balanced" and we couldn't agree with him more.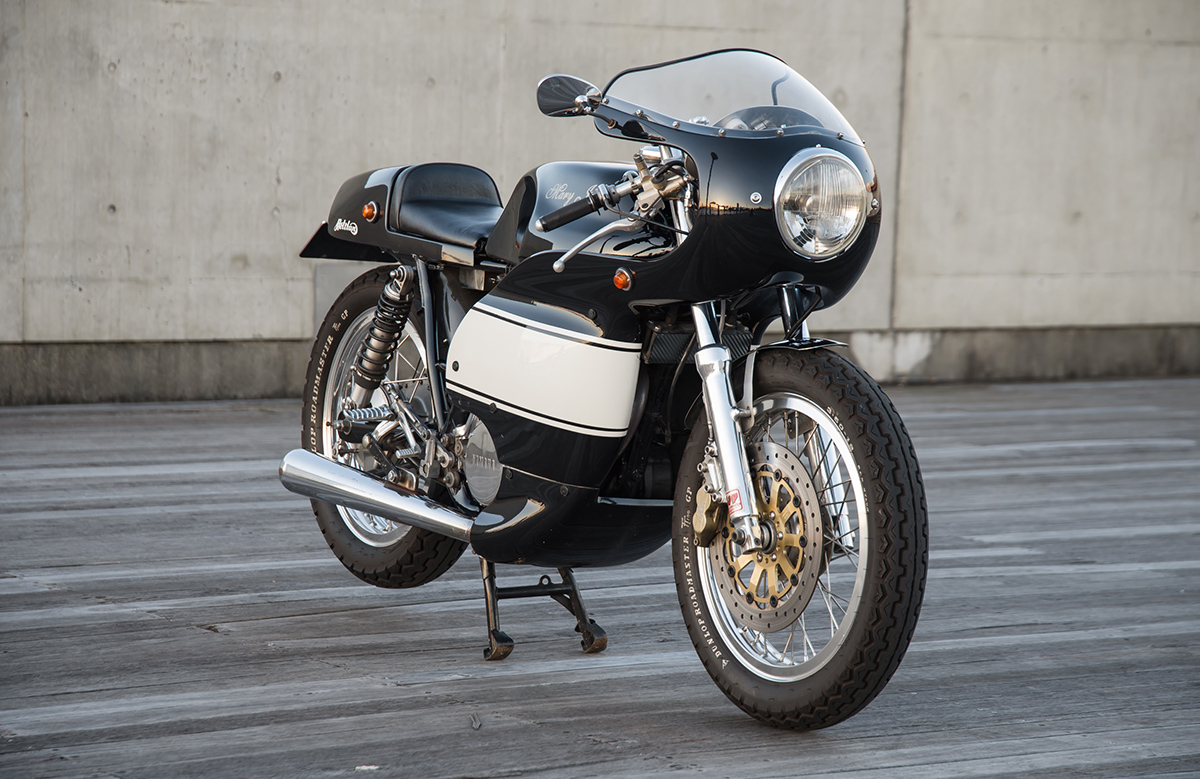 Follow Yuya on INSTAGRAM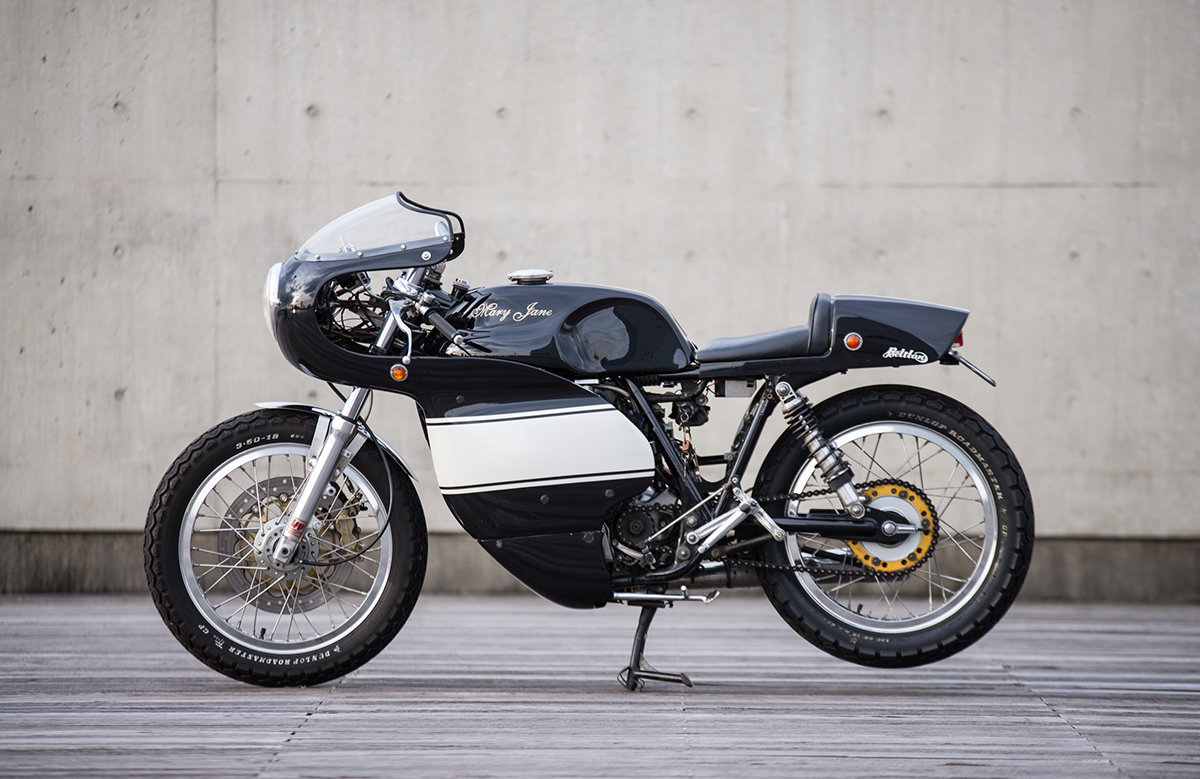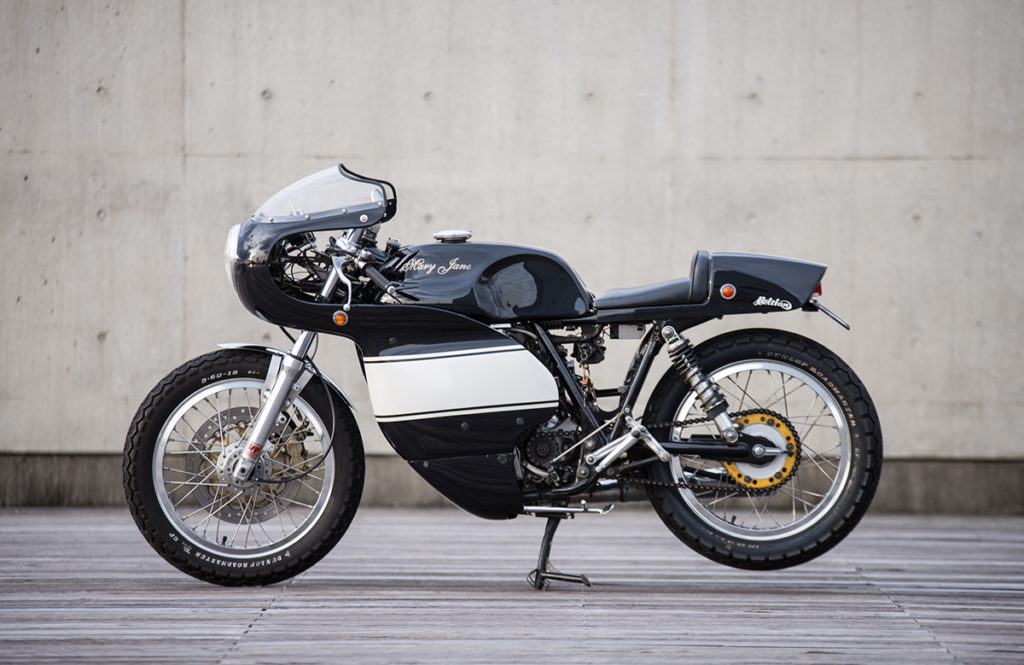 Yamaha's SR400 has been in production since 1978. The single cylinder 'thumper' was the work of Yamaha designer Atsushi Ishiyama who created the SR as an homage to their own XS650. The influence of British styling was also apparent, but its capacity was a product of Japanese demand. The 400cc engine made it a suitable bike for beginners with license restrictions and ultimately lead to its overwhelming success. As the youth of Japan embraced the SR400 it became a favourite basis for customisation and was instrumental to the success of many Japanese aftermarket parts manufacturers such as Posh and Daytona. Today the SR400 is still available from Yamaha showrooms. In recent years emissions laws saw it adopt electronic fuel injection, but almost every aspect of the original 1978 SR400 remains, right down to its kickstart only design.