There was a time when it seemed that every other custom build to roll out of a workshop was built on a Yamaha SR400 base. Over the past few years though the SR has dropped out of the limelight with people turning their attention to other popular models like CB750's and the R series airheads. It's hard to know exactly why that is, but if you asked me put together a list of bikes that are best suited for customisation the SR would still sit somewhere at the top of my list. Over the past couple of weeks I've been pleasantly surprised by some new SR builds appearing in my inbox and todays definitely piqued my attention. This bike is the work of Markus Pintzinger from Bangkok based 'Omega Racer' and it's the result of 18 months of hard work and product development. Here's how it came together…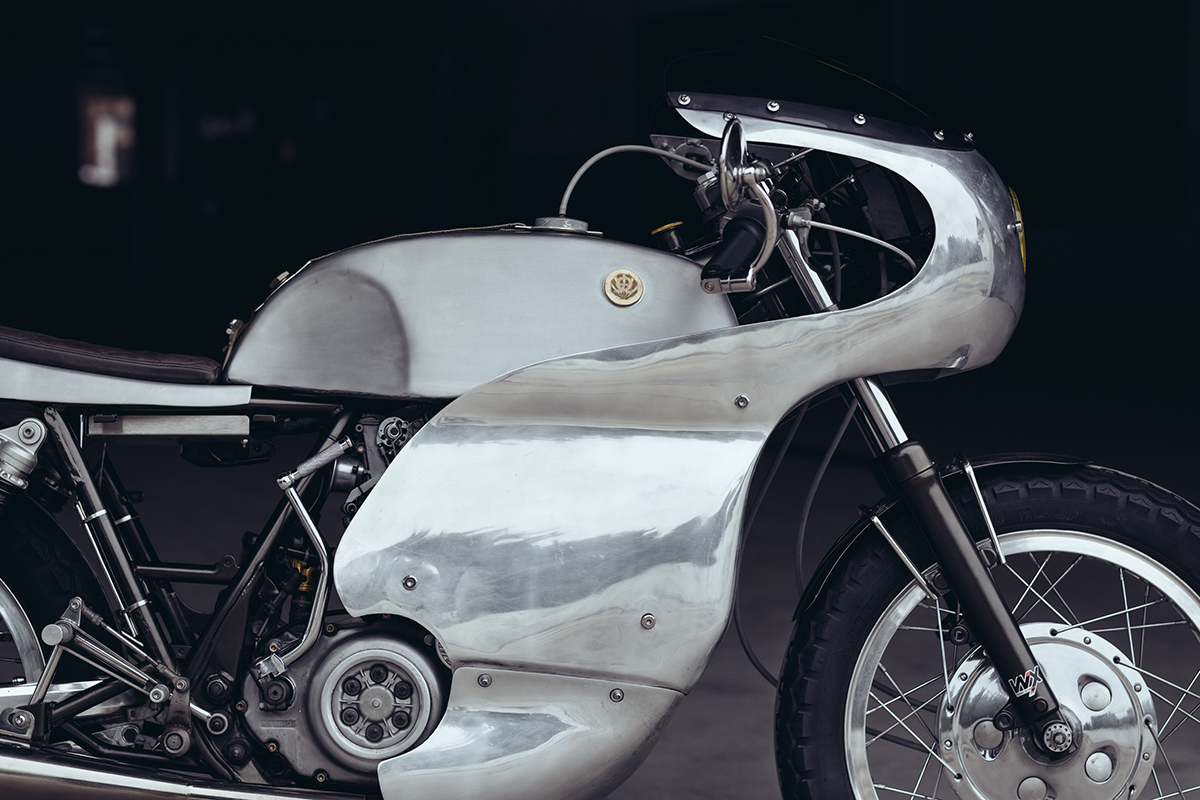 "I'm the owner of Omega Racer, a webshop specializing in custom parts for the Yamaha SR, Kawasaki W650 and Triumph," explains Markus. "I offer custom seats, handmade aluminium tanks, seat cowls, fairings and Elders Helmets.

 In a nutshell, the story of this bike goes like this…"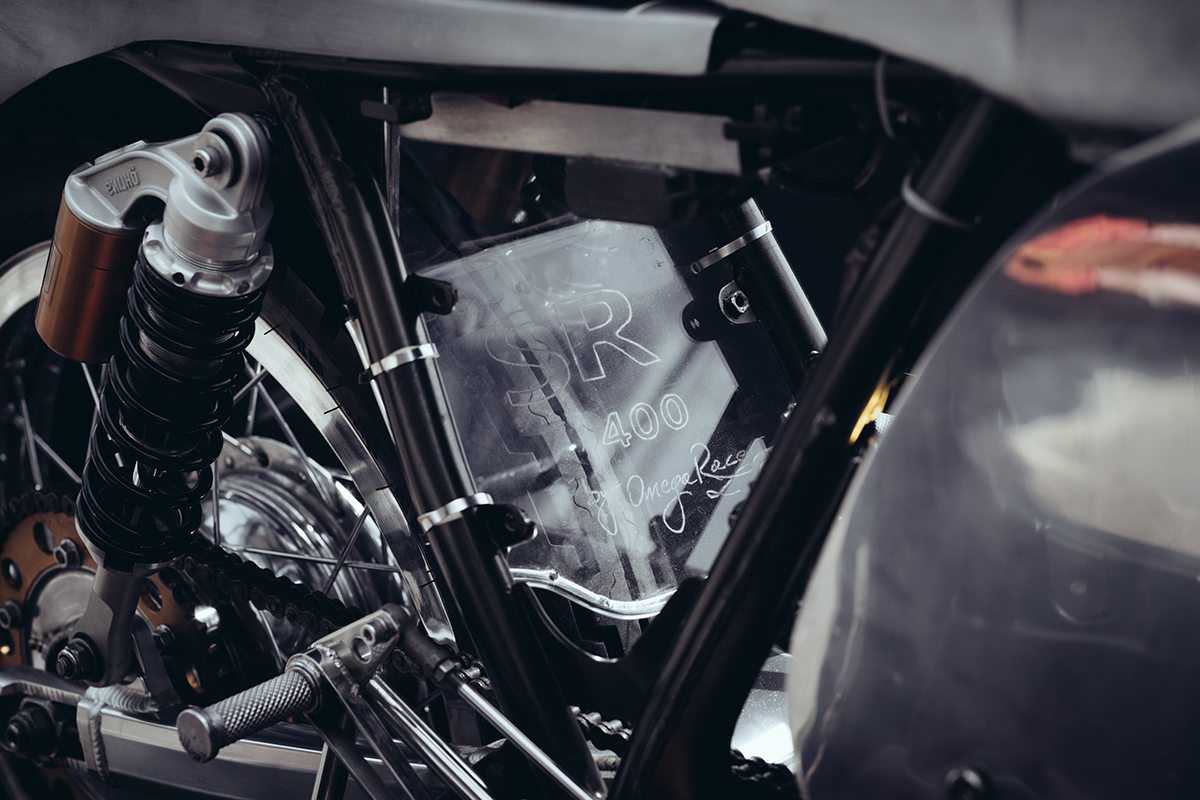 "In 2011 I got my first SR and fell in love with its simple mechanics, classic looks and the beautiful thumping big single. I was also excited by the unlimited choices you have when modifying one, especially in Thailand where the SR is extremely popular. I was so passionate about it, that I started a blog talking about the SR and riding in Thailand in general. Soon, people started asking me to find parts for their SR. A friend then suggested I should open a shop online, and the rest is history!"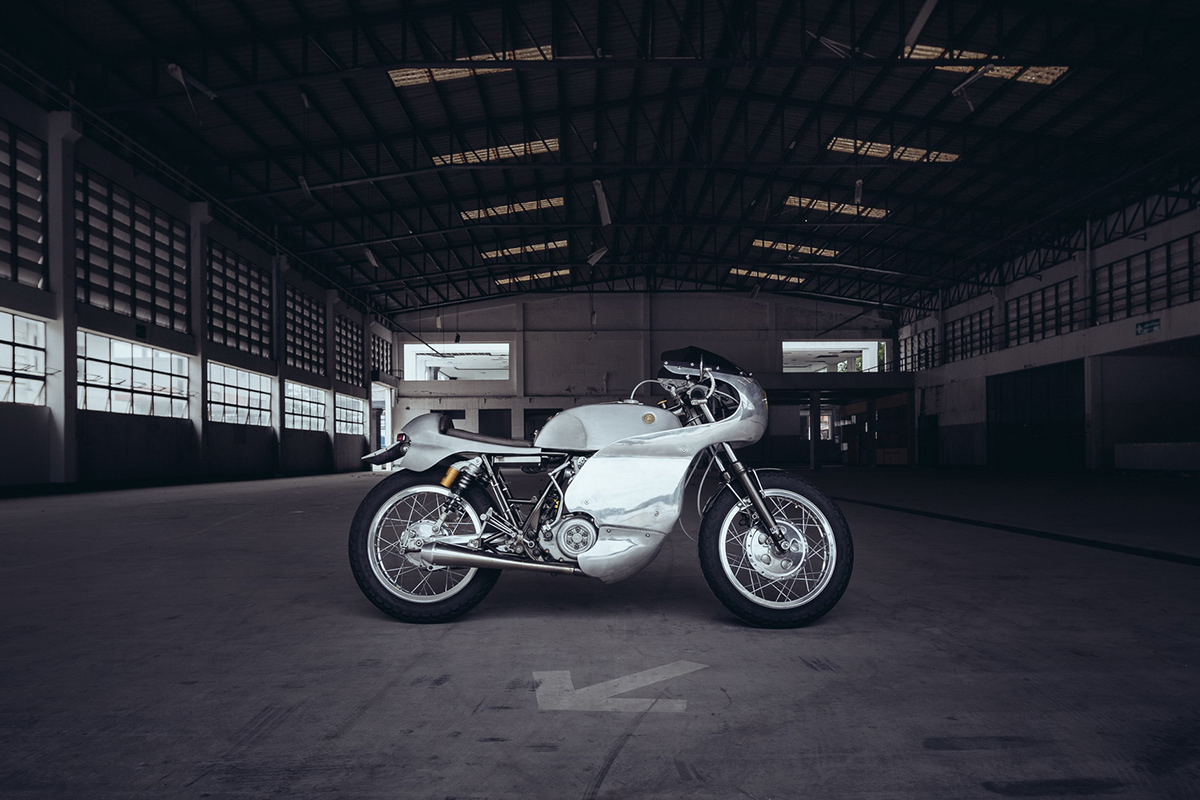 'Don't call me Café Racer!'
"

If this Yamaha SR400 could talk, that's what she would say." Markus jokes. "People are quick to label everything out of the ordinary as café racers these days, but my bike is definitely not one. My inspiration comes from the racing bikes of the '60s and '70s, where every part had the specific objective of making the bike go faster. My goal was to create a motorcycle with simple, timeless lines and a clear racing purpose."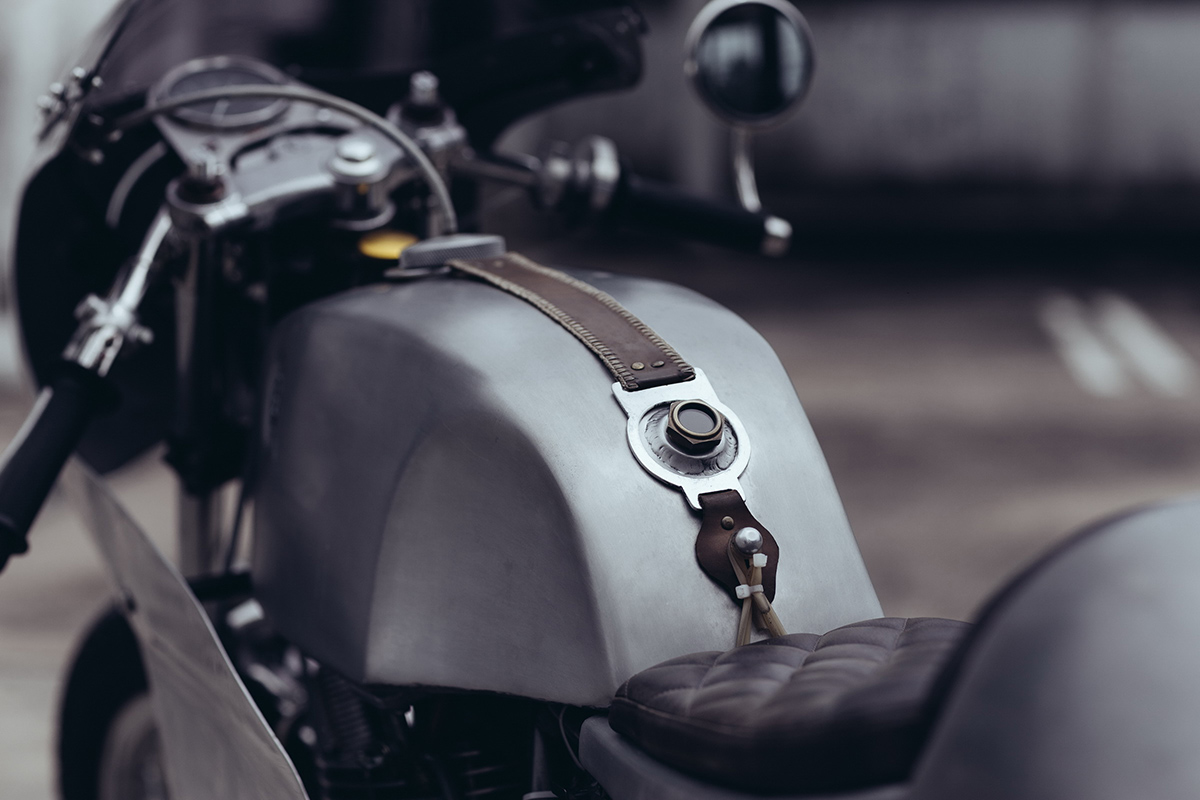 Rebuilt from the ground up over 18 months Markus knew exactly where to get the best parts for his bike from suppliers around Thailand where he's lived for the past decade.  "The first thing you notice is the sensual curves of the custom made aluminium fairing" Markus points out. It was made by the same supplier who fabricated the brushed aluminium tank and seat cowl. The leather seat was upholstered by the guys at The Sports, one of Thailand's best customizers.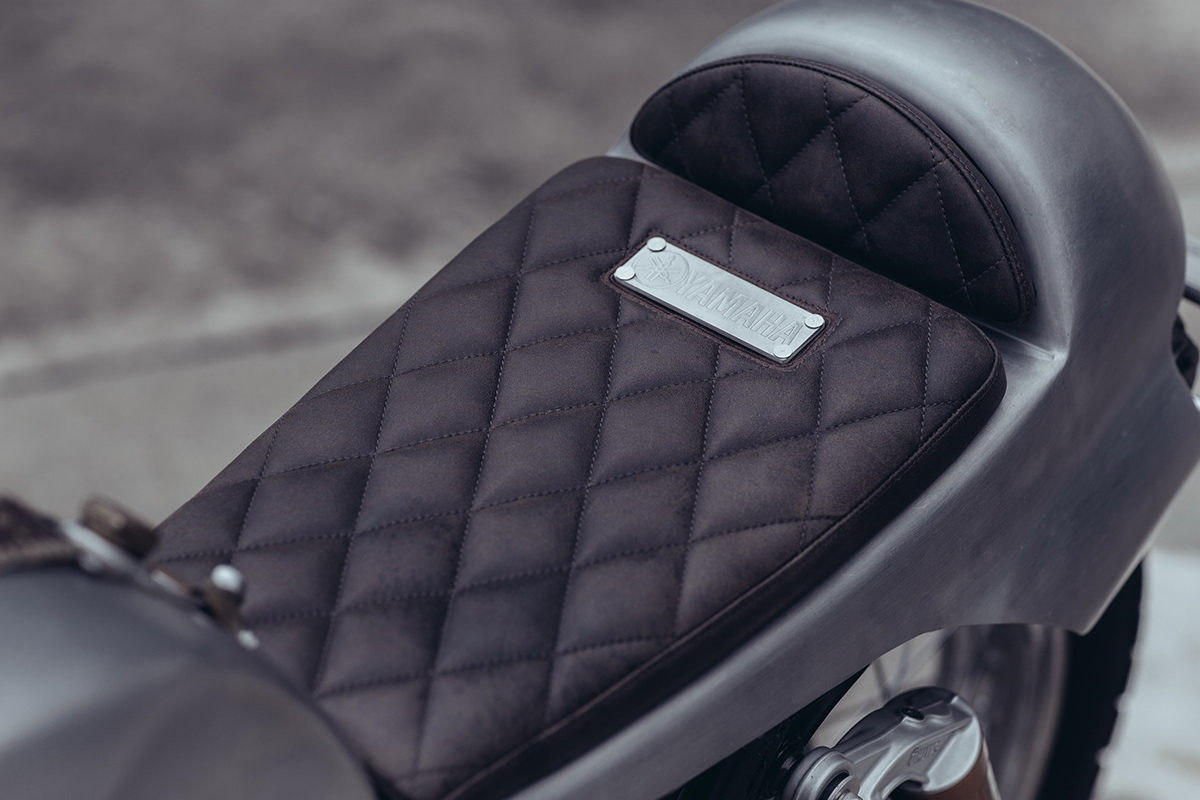 Not being the kind of guy who would be content riding a bike built entirely by other Markus completed some of the finer details himself. The leather tank strap, plexiglass laser-etched rear mudguard and the cast brass badges are just a few of his personal touches. Markus also planned and performed the handling upgrades himself swapping out the stock wheels for Akront rims, bolting a set of Ohlins piggyback shocks to the rear and upgrading the forks with WP progressive springs. Then to shed a few more kilos in a bid to further improve the power to weight ratio he swapped the steel swingarm for a lightweight aluminium unit.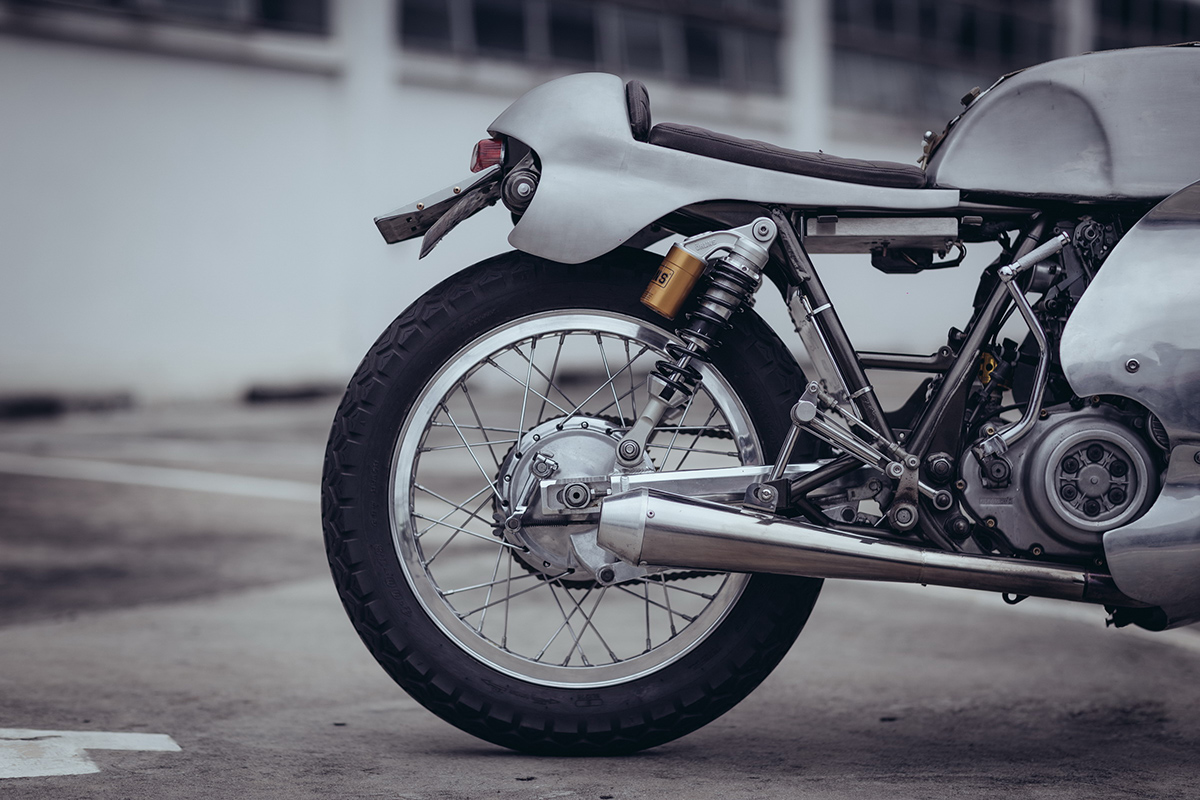 The engine was stripped down, cleaned and rebuilt. Although the internals haven't been touched, it's got a good deal more power thanks to a Keihin FCR39 carb and a free-flowing megaphone muffler. There's also an external oil cooler and bigger fins to ensure the bike stays cool and reliable in Thailand's hot climate. "A special mention should go to Nose at Paknam 2 Wheels, the only guy I trust to work on my SR. He got me out of an electrical nightmare and I'm forever grateful for that." Markus humbly admits.
As with any build, the SR project wasn't without its fair share of hiccups. "The frame was powder coated 3 times!" says Markus. "The first shop it went to managed to do an awful job, twice! It was only when I found Cog'n'Roll, a powder coating shop in Bangkok, that it turned out the way I had envisioned. I think the dark satin bronze looks great and complements the brown leather parts on the bike perfectly."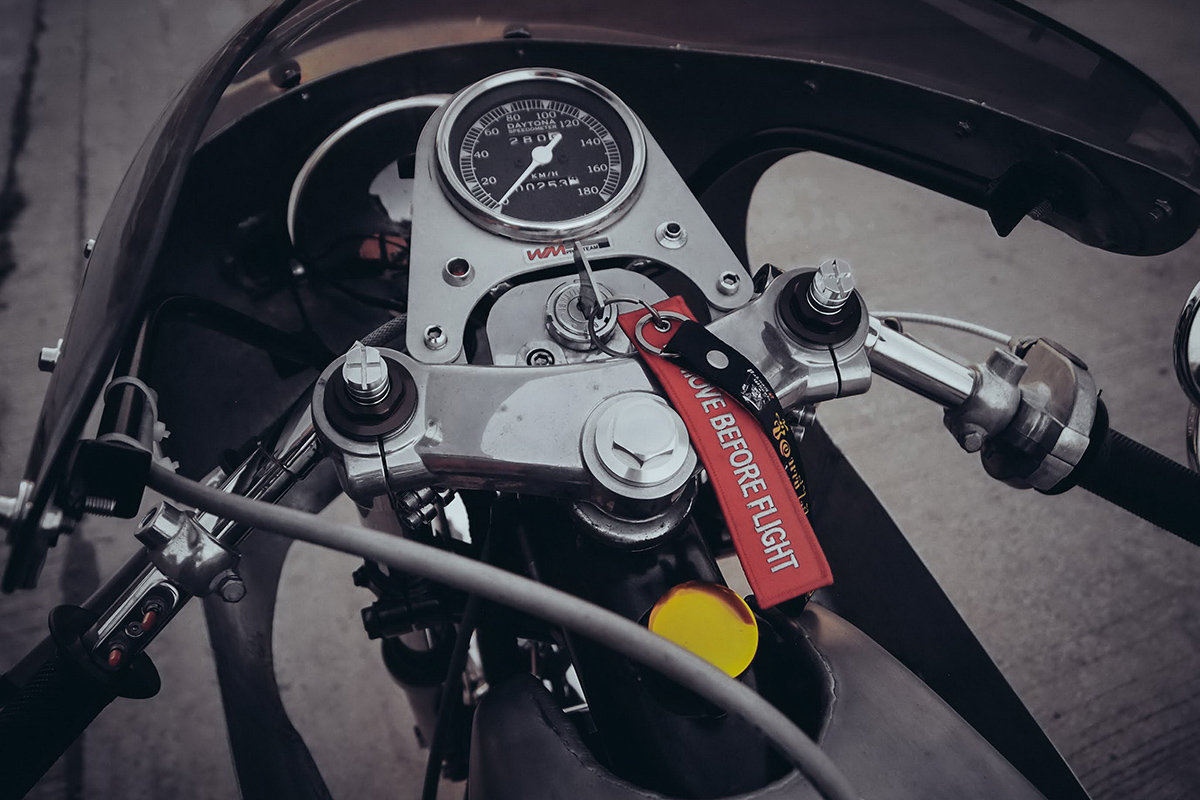 Markus has named the bike "Sunmaster 14" after a character in a sci-fi novel by Isaac Asimov. "It has both a majestic and ethereal ring to it and I think it matches the essence of the bike very well," says Markus. I don't know about that, but I do know that this is one cool looking SR400 that somehow manages to stand out amongst the plethora I have seen before it.
Photography by FAT Pictures