I never thought I was a fan of muscle bikes until I rode a Yamaha XJR1300. It was in 2015 when Yamaha held a global launch event in Sydney for the XJR1300 cafe racer. At the time I hadn't had much experience riding an inline four, let alone anything with a capacity of over 900cc. After the initial awkward period of getting accustomed to the weight and finding the optimum rev range, I was smitten. Whoever thought it was a good idea to put such a big engine in a bike is one-half genius and the other half completely insane. Thankfully despite having an engine capacity bigger than your average hot hatch, Yamaha's engineers managed to wrap it in a surprisingly user-friendly package.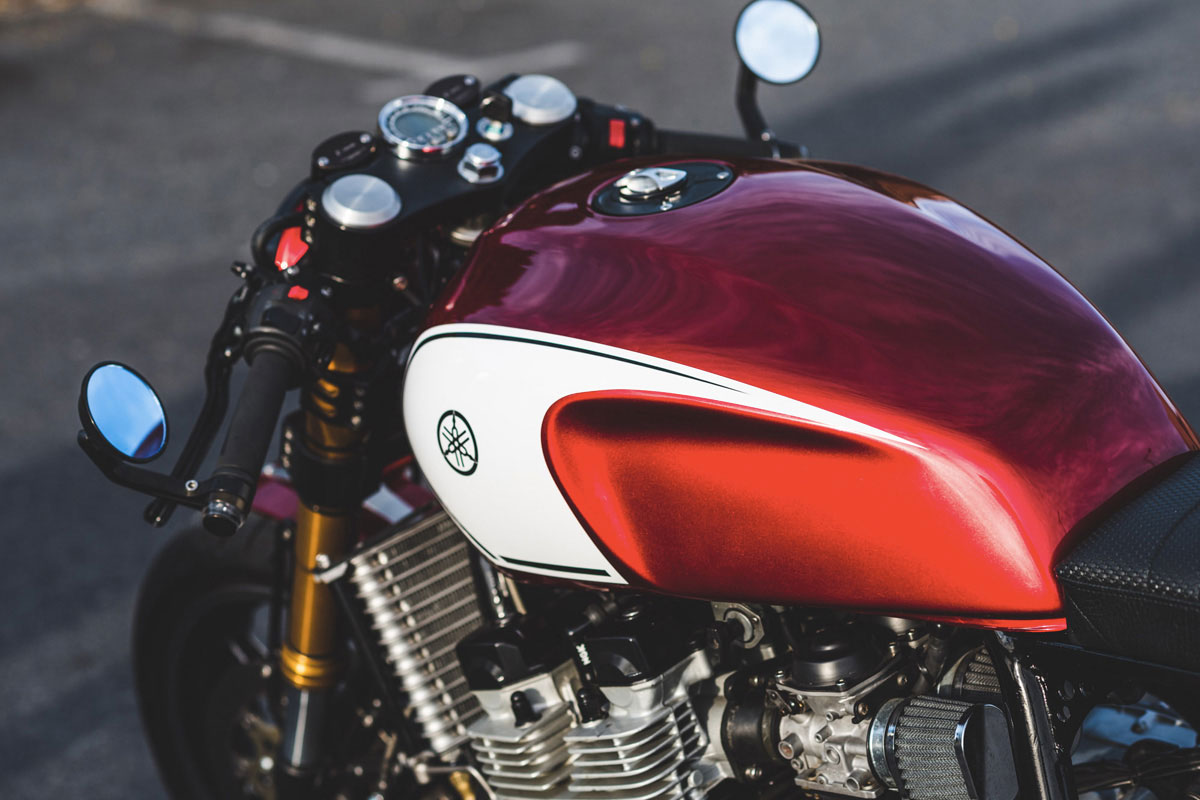 Since then I've been intrigued by the idea of building an XJR1300 cafe racer. The Wrench Monkees did a couple of custom XJRs as part of Yamaha's Yardbuilt series along with Deus Ex Machina, Keino Cycles, Numbnut Cycles and El Solitario. With the recent discontinuation of the XJR, its time in the limelight was coming to an end. Thankfully homebuilders like Ian Ketterer are keeping the tradition alive. In today's feature, Ian introduces us to his own interpretation of a Yamaha XJR1300 cafe racer and it's every bit as impressive as the examples built by the pros.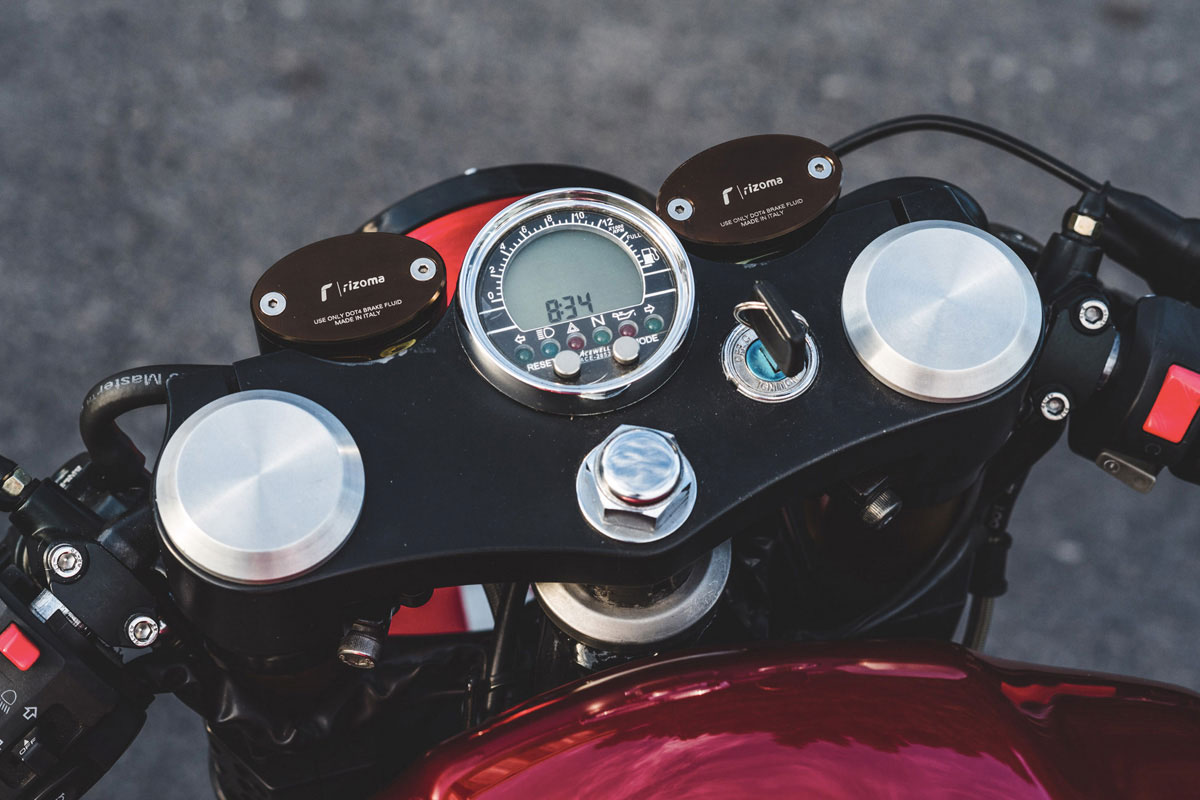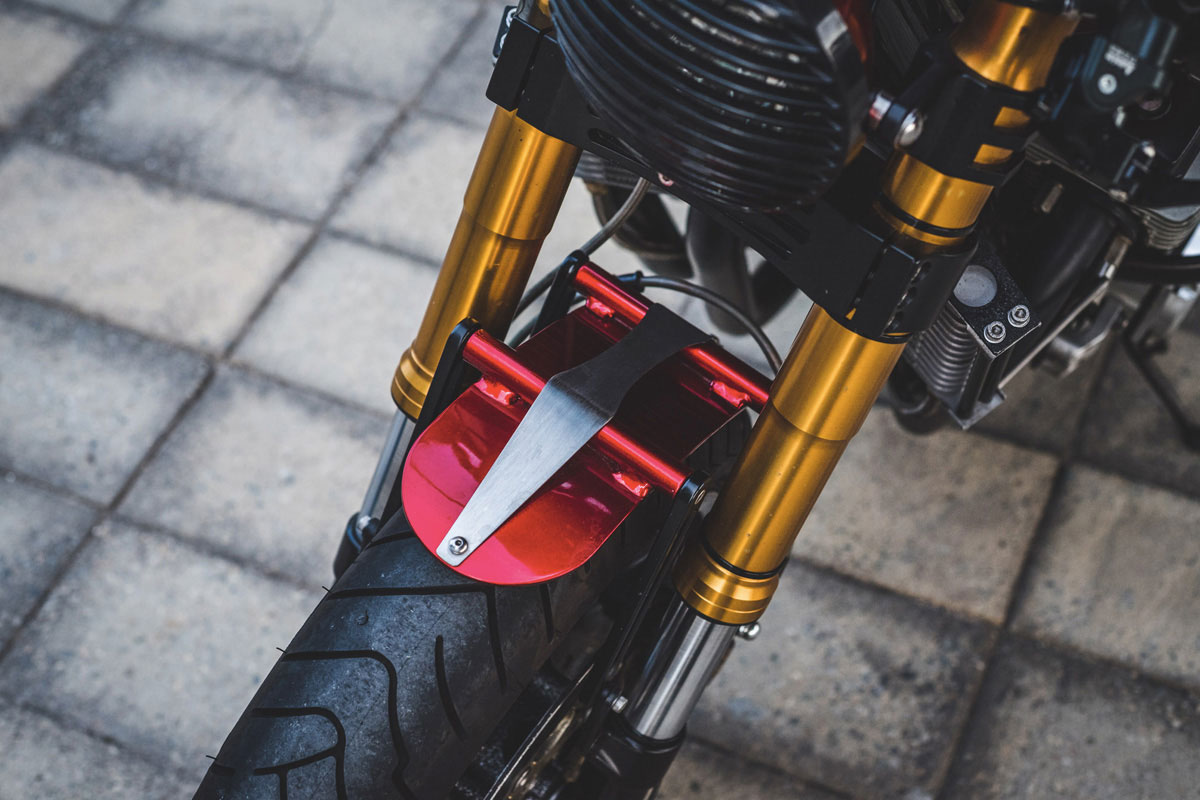 About the builder
"I did an apprenticeship in machining with Atlas Aircraft in the early '80s and made aircraft parts for a living for 18 years," says Ian. "From there I worked in the engineering field for many different companies. It was only in 2012 when I grew fond of the cafe racer style and decided to try my hand at customising a motorcycle. I've learned a great deal since then and have been able to combine my love of engineering with my love of motorcycles.
Blacksilver Customs was born by accident. A mate gave me an old 1966 Triumph Tiger that was in a million pieces. After 9 months it was running and transformed into a true, period correct cafe racer. A year ago my daughter Sam joined me and does all my running around and admin. The Blacksilver workshop is at my home and is basically a double garage split by a wall down the middle. On the one side, I have a complete machine shop which I've equipped rather well over the years. On the other side is the clean area where all assembly and electrical work takes place. I have also been very busy providing engineering services to other bike builders such as one-off billet alloy parts and front end conversion components."
The XJR1300 concept
"The inspiration for all my projects stems from the cafe racer style. I wouldn't say I draw inspiration from any particular builder or bike. Having said that I've always wanted to build a proper muscle bike cafe racer. It was a bucket list thing and this build gave me the opportunity to do it."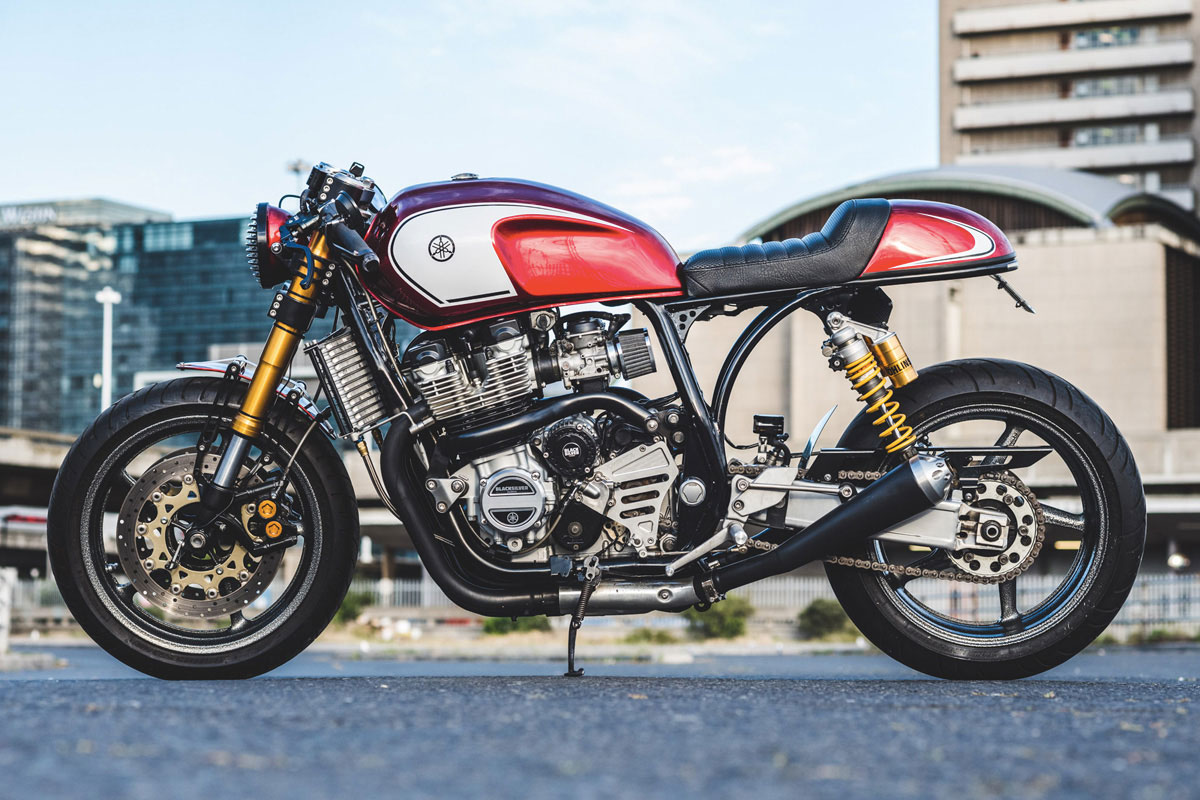 Building an XJR1300 Cafe Racer
"There were three main areas that were challenging during this project. Firstly adapting the new front end which came off a 2008 Yamaha R1. The triple clamps were designed and manufactured by myself. The top clamp was designed to accommodate the Acewell dial and Rizoma fluid reservoirs. I decided to reduce the distance from the centre of steering stem to the centre of forks in order to shorten the wheelbase. This means that she can turn quicker and is very nimble in the twisties, but it's a bitch to park.
Secondly, I've seen too many front-end conversions where the wheels are not the same. So the rear on my bike came from the same R1 donor. It took me a whole week of work to get it to fit. The XJR1300 axle is long and thin but the R1 axle short and fat. So I made a long fat axle and machined the swing arm to suit. As for the brakes, the XJR calliper hangs at the bottom of the swing arm and is supported by a rod. The R1 calliper sits on top and is supported by a slotted block inside the swing arm. To make the R1 brake work I had to fabricate the locating block and weld it to the XJR swingarm.
Next challenge was to get a clean bone line from the fuel tank back to the tip of the tail. All XJR's have a 1-inch drop from the tank to the subframe and my 1998 model was no different. So I chopped off the old subframe and built an entirely new one which was level with the tank. This left me with a pair of shocks that were too short so I extended the top mounts down and made billet alloy risers which were welded to the swing arm.
I also had to figure out how to fit that massive oil cooler up front without it interfering with the forks. Part of that process involved building the new front fender which is my own design. I felt like doing something different with a bit of an industrial look. As for the paint I was done for a potential customer who was interested in buying the completed bike. He showed me a photo of a similar bike and I used it as a guide. In the end, he decided not to take the bike, but I'm glad he didn't as I'm getting to enjoy it a little longer."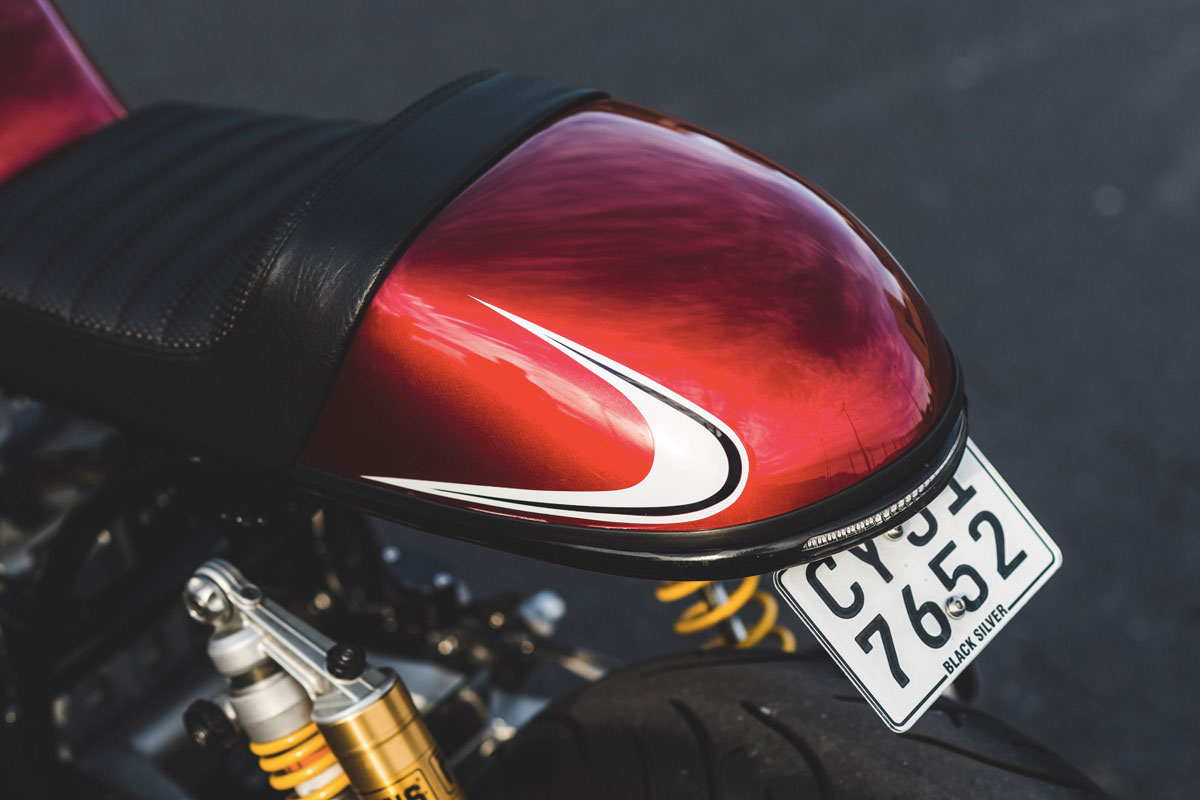 Ride and Handling
"This Yamaha XJR1300 cafe racer is certainly lighter than the original bike, but the engine is stock standard. It was a low mileage bike but I still had the carbs rebuilt and tuned to suit the pod filters. Not many mechanics like the pods but Rudi Du Toit tuned this bike to perfection. The R1 forks and the Ohlins shocks were also fully rebuilt by suspension legend Dave Mills. Now she sits sweetly on the road and is definitely not afraid of the corners."
Photography by Devin Paisley
Special thanks to Ian Ketterer and BikeExif.
Build Specifications
Component
Specification
Bodywork
Custom tailpiece, seat, fender and rear hugger
Frame
Custom subframe and frame brace. Modified swingarm.
Engine
Aftermarket oil cooler, pod filters and carb tune. Scorch exhaust ceramic coated.
Electrical
Acewell speedometer, Bar end indicators,
LED indicator/brake light rear.
Lighting
Prison bar style headlight.
Suspension
Yamaha R1 fork conversion, Ohlins rear shocks.
Wheels & Tyres
2008 Yamaha R1 wheels
Accessories
Custom machined crankcase covers, Rizoma fluid reservoirs, custom sprocket cover.