Dressed all in black the Skullmonkee is easily recognisable as a Wrenchmonkees build. Tight proportions, clean lines, killer finishes and a touch of class mixed in with plenty of attitude. The Wrenchmonkees have upgrade the XJR with more stopping power, better handling and a spattering of design tweaks that will soon be available to the next generation of XJR owners.
The entire frame, swingarm and tank remain stock, as they should for a build that's meant to demonstrate parts the average Joe can attach to their own XJR with a basic set of tools. They've lowered the forks by 60mm, added their own front fender and a set of triple trees both designed in house. LSL clip-on bars give a more aggressive riding position, which they've complimented with blacked out LSL rear sets and an LSL steering damper for good safety measures.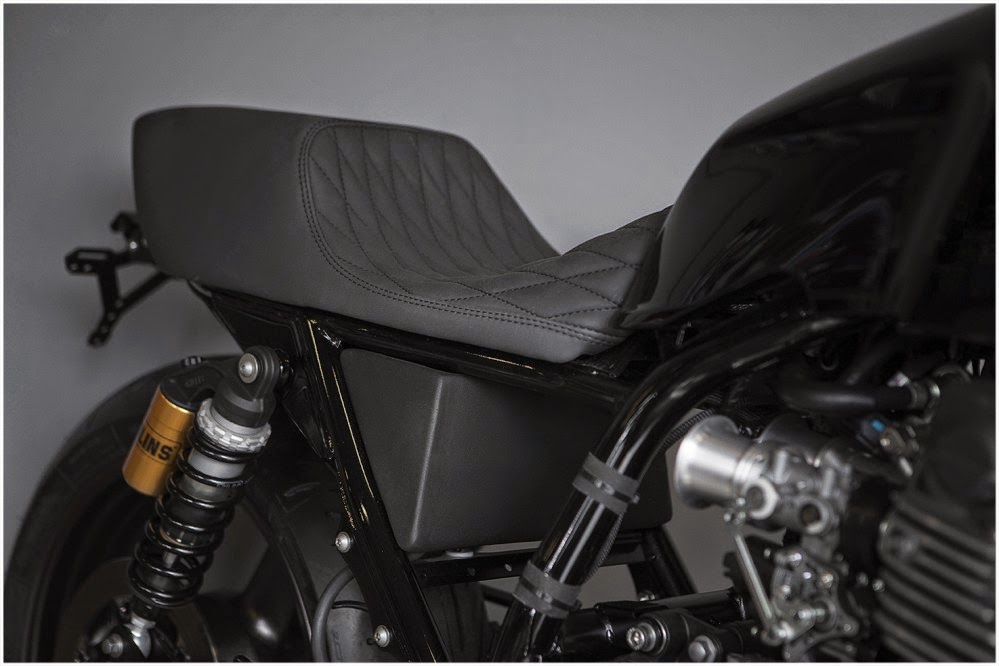 The tank is the smaller, standard 2015 design, repainted in gloss black with WM emblems embossed on its sides and the entire frame remains untouched. Rear suspension retains the stock ÖHLINS STX 36 shocks (why would you change them?), but the Monkees have taken the liberty of upgrading stopping power by adding Behringer Hypersport front and rear braking gear.
The factory airbox has gone to open up the frame and 4 alloy velocity stacks take its place. One of the features I quite liked about the 2015 XJR was it's blacked out exhaust pipes, but the Wrench Monkees decided to add their own stainless system with a Spark muffler, which would undoubtedly add more bark to this bike. To relocate the electrics an under seat alloy housing was designed to take them all including a slimline lithium-ion battery. To reduce clutter at the front of the bike a mini digital speedo from German instrument experts MMB sits snugly in a Sportster style headlight shroud.
"We worked hard to ensure we made no radical design changes for the build, instead focusing on a clean style and silhouette with no cutting or welding."
Some of the custom parts the Monkees have added to the XJR that are likely to be available as bolt-on items include the custom ignition cover, clutch cover, crankcase cover, tail light and its mounting hardware. Using the standard seat pan they've also added their own seat design and a 5.75-inch headlight with a yellow lens that tucks nicely between the forks and compliments the other gold accents on the bike nicely.
If you've already got one of the new XJR's in your garage and you like the look of this one keep an eye on the Wrenchmonkees website for updates regarding parts availability.