To transform the XV950 cruiser into a cafe racer styled machine Marcus began by dramatically modifying the bikes rear end. The stock swingarm was modified to accept taller Ohlins rear shocks and a custom subframe raises the rider to sit level with the fuel tank. LSL clip-on bars and custom rear sets reposition the rider for a more aggressive riding position and "prototype" progressive springs in the forks manage the change in rider weight placement.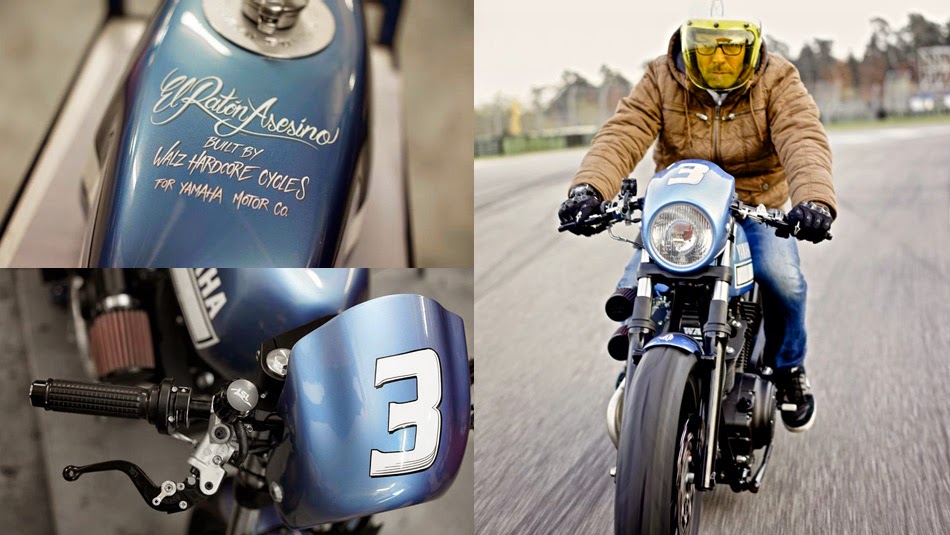 "I have to admit, after more than 25 years in this business there are only a handful of bikes I have avery special relationship with, and one of them is this Yamaha."
A set of lightweight magnesium Marvic, hand-cast wheels replace the stock Yamaha rims and modified brake callipers mounted to wave rotors dramatically improve braking performance. The fuel tank is also a custom made item along with the low profile tail section and hand-stitched leather seat. LED rear light units have been integrated into the tail loop while up front things are kept clean with bar-end indicators and a custom made headlight cowl.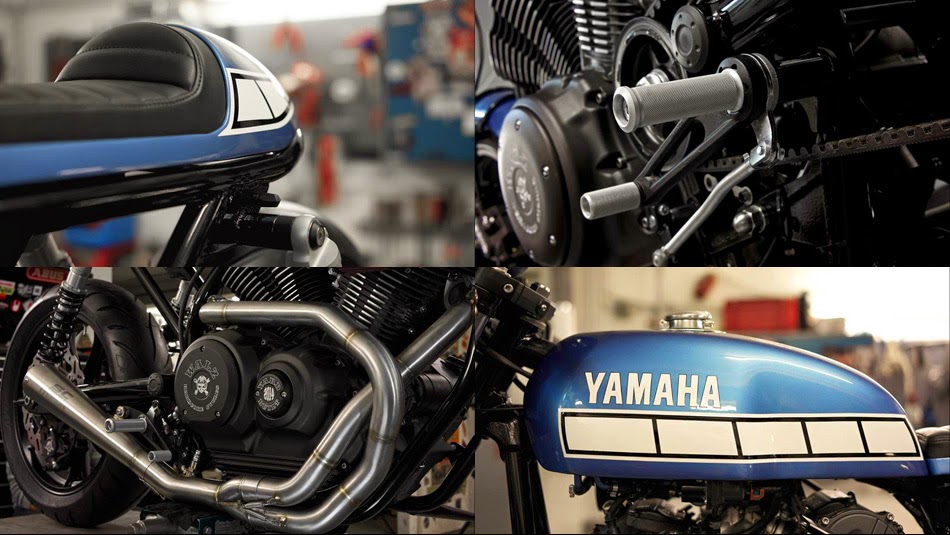 The custom controls mounted to the LSL clip ons include MotoGadget switchgear and "tiny" tachometer, a custom quick throttle system, LSL master cylinder and adjustable clutch and brake levers and a set of MotoGadget M-Grips. While the engine internals remains stock it's exterior has been tarted up with cylinder head plates, custom Walz casings and a custom forward-facing, twin air intake. Finally to add a bit of extra performance bite and plenty of audible bark SC-Project created a custom set of headers feeding a beautifully simple SC-Project muffler.
Dressed in a retro-inspired Yamaha blue with classic Yamaha speed blocks this is yet another dramatic transformation of the XV950 and has me wondering how Yamaha wants its customers to look at the XV range? Is it a street cruiser or a potential cafe racer? What do you think?
Yamaha has released details of the third XV950 in their Yardbuilt custom motorcycle series. German-born builder Marcus Walz has taken a similar approach to the builders before him and transformed the cruiser styled XV950 into a more aggressively styled cafe racer. Named "El Raton Asesino" the bike, like many of Marcus' builds uses prototyped parts and top of the range components to ensure it's performance is as impressive as its appearance.