The Eau Rouge Yamaha XJR1300 features a plethora of custom fabricated components made in house by the Deus Italian workshop. The angular '70s endurance racing-inspired bodywork is all handmade and left raw to illustrate its immaculate finish. The seat unit, tank and semi fairing with it's asymmetrical 'cyclops' nose cone replace the entire Yamaha factory bodywork and has been cleverly designed to complement the triangular lines in the exposed segments of the bike's frame.
Ohlins forks and shocks provide high-end handling as well as adding a splash of colour to the bike and a set of 5 spoke Marvic alloy wheels help to balance the mix of gold and silver. Engine modifications aren't mentioned in the build sheet as would be expected with any build performed at the request of a manufacturer, but Deus have created their own titanium exhaust system which is bound to add some extra bite to the XJR1300's performance.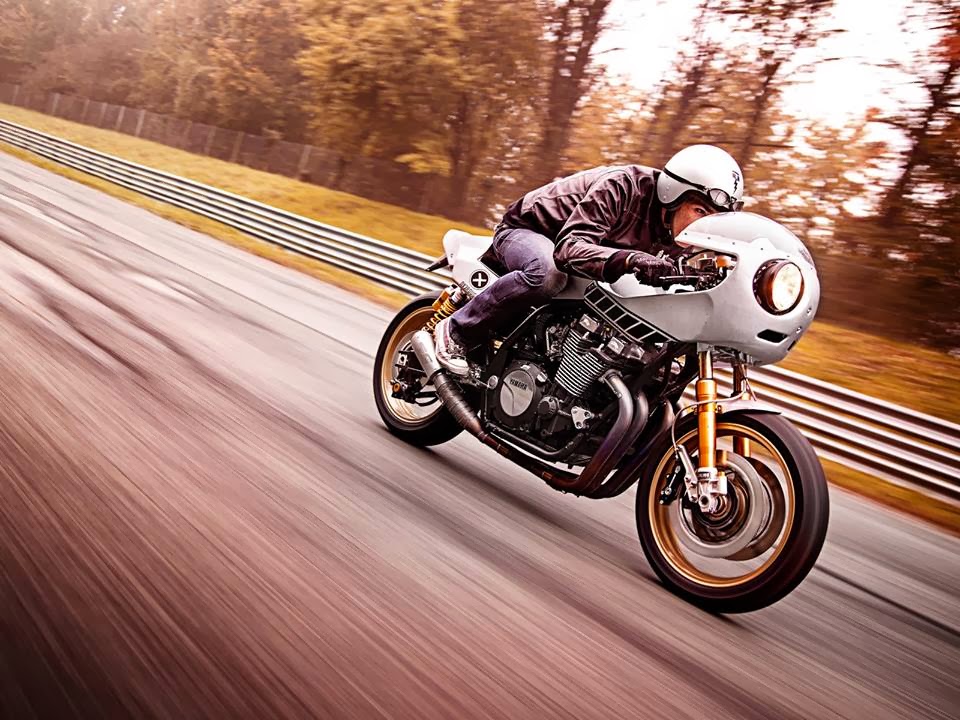 Devoid of any colour besides the anodised gold of the aforementioned parts, the only paint added to Eau Rouge is the all-black retro Yamaha stripes and Eau Rouge branding on the tail. The seat is finished in black suede leather and there's a seemingly endless array of raw alloy brackets and fixings to compliment the bikes alloy bodywork.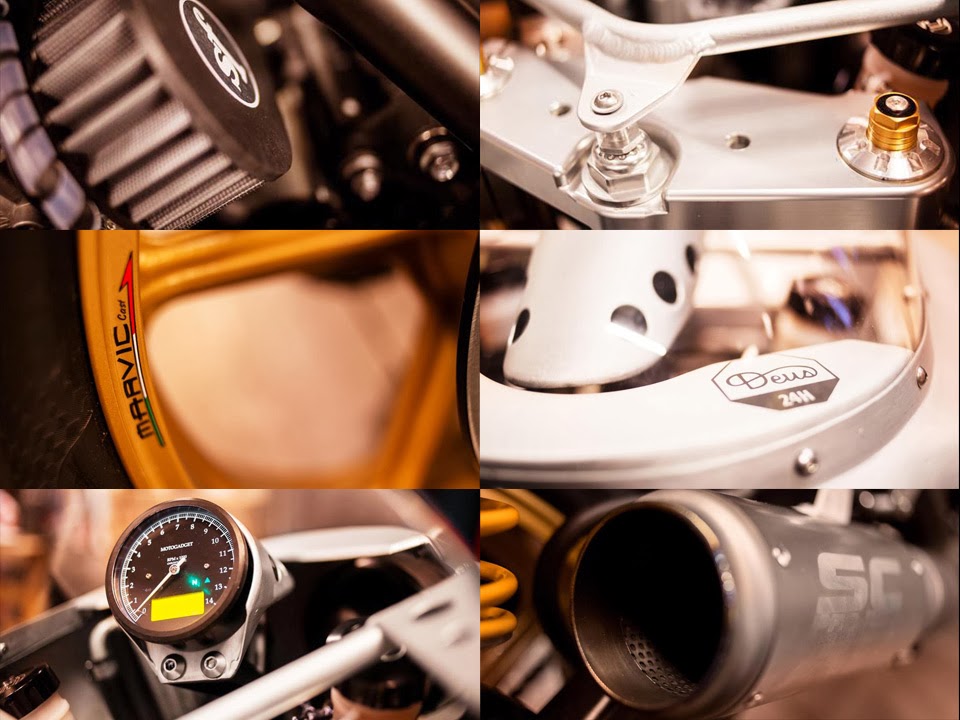 Yamaha seems to be leading the way with their series of invitational custom builds with the likes of Roland Sands and those clever clogs in Denmark, The Wrenchmonkees both contributing to their latest campaigns. It's a welcome change to the much more reserved and restricted approach we are seeing from other manufacturers and if they keep playing their cards right I'm sure we'll be seeing more bikes like these being made built by backyard builders and enthusiasts in the near future.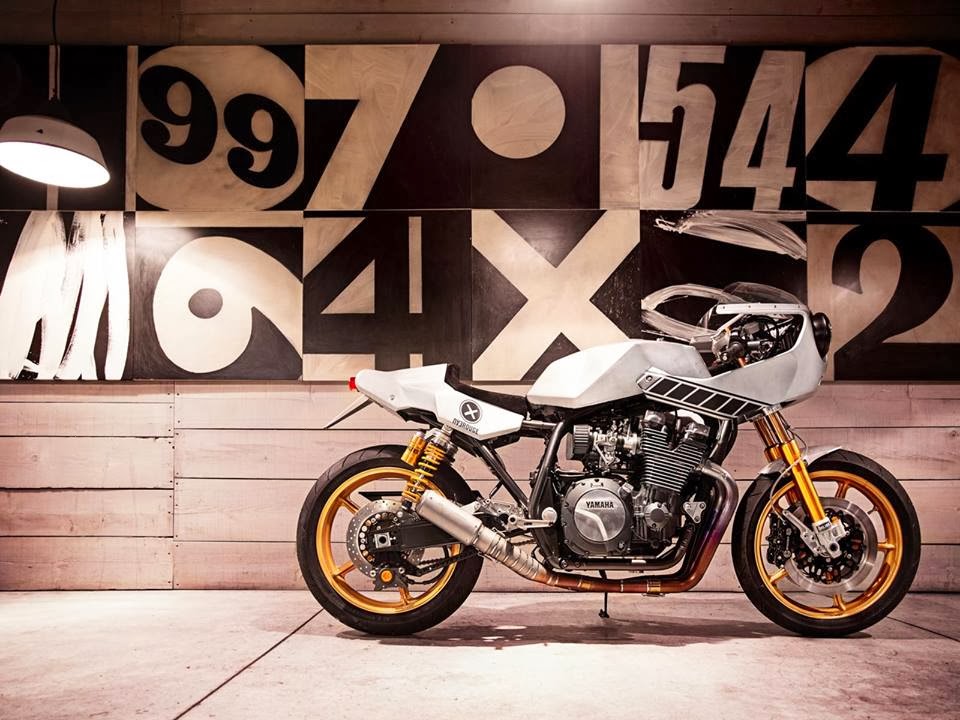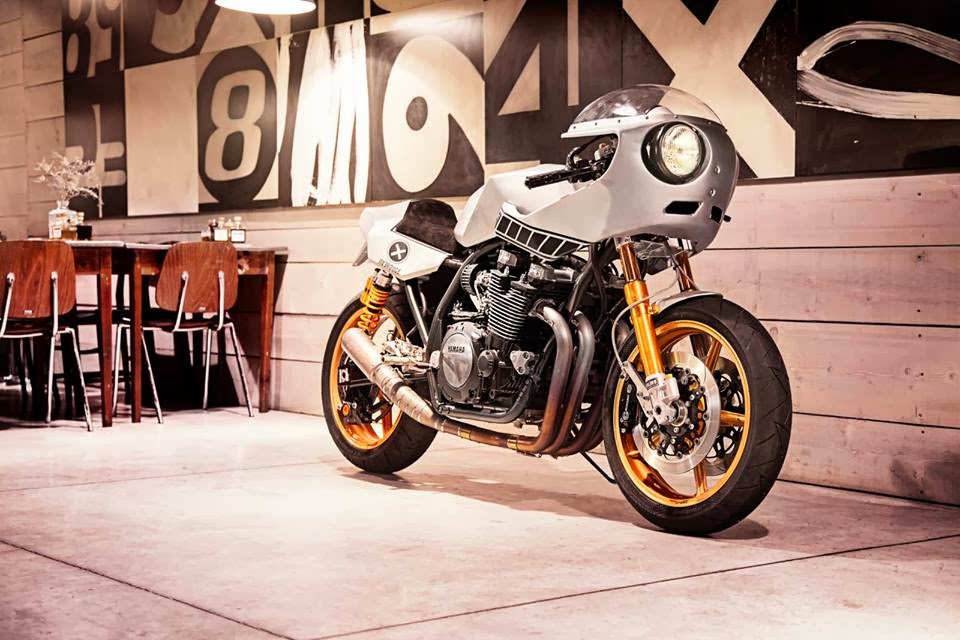 Deus Ex Machina Italy has only been up and running a few short months but they aren't wasting any time making their presence known in the custom motorcycle world. The Deus 'Eau Rouge' is their latest achievement using the 2014 Yamaha XJR1300 as a platform and has been developed as part of the Yamaha 'Yard Built' series of bikes.  The Eau Rouge is raw, aggressive and anything but tame and I have to say I'm a huge fan of this one.