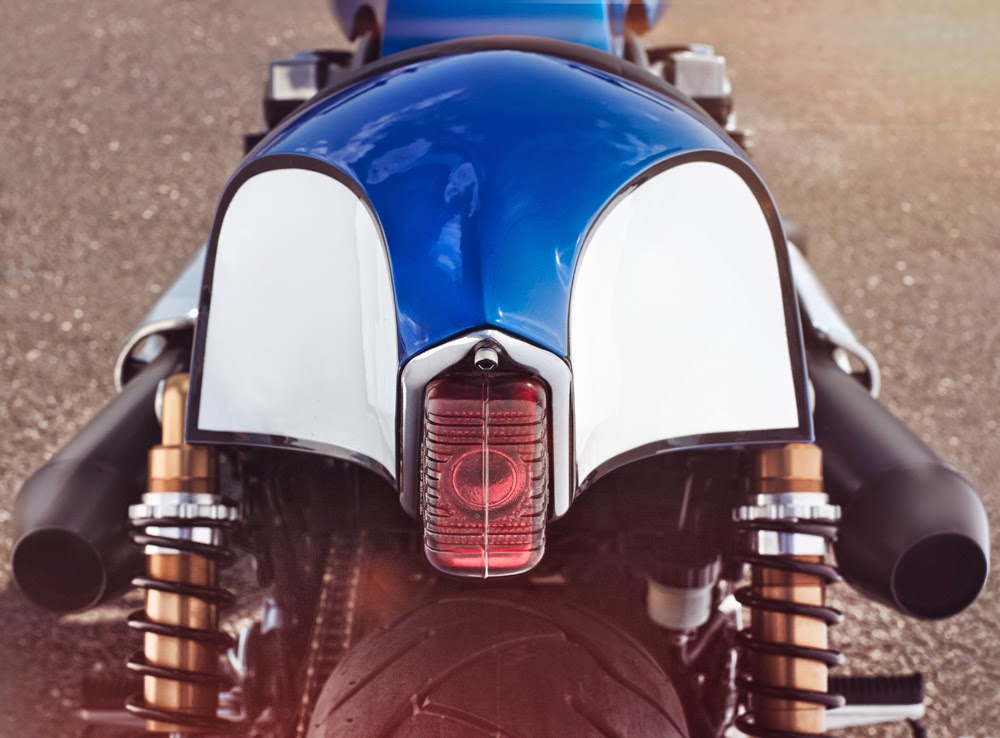 The Blue Rhapsody takes its main inspiration from the 90's race bikes Keinosuke saw on the streets of Japan in his youth, but also incorporates some of his trademark, chopper-inspired touches. These include the rather unexpected use of one of his springer style front-ends and a beehive style brake light taken from a vintage MG which been incorporated into the tail section. A custom-made diamond stitched saddle with matching grips from Biltwell complete the old school styling touches.
Three modern race shocks with gold details make up the bike's suspension with one of the three incorporated into the springer style front end in a kind of mono-shock set up. The XJR rolls on gold, 3 spoke rims that sport a custom mounted Brembo brake system paired with Brembo levers mounted to the bikes custom bars.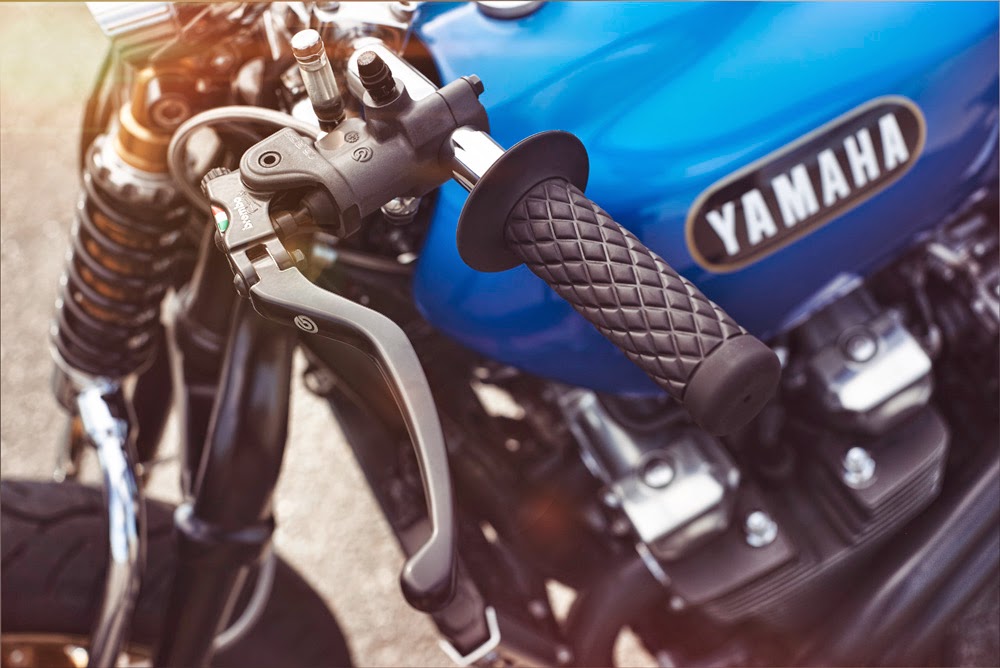 Keinosuke handmade all of the aluminium panels and covers that replace the XJRs factory units. He also custom made the low mounted, slimline tank, shapely tail end and the fake oil tank that houses electrical components and the battery. The stock airbox has also been replaced by a set of 4 hi-flowing pod filters and the EFI remapped to suit the changes in airflow.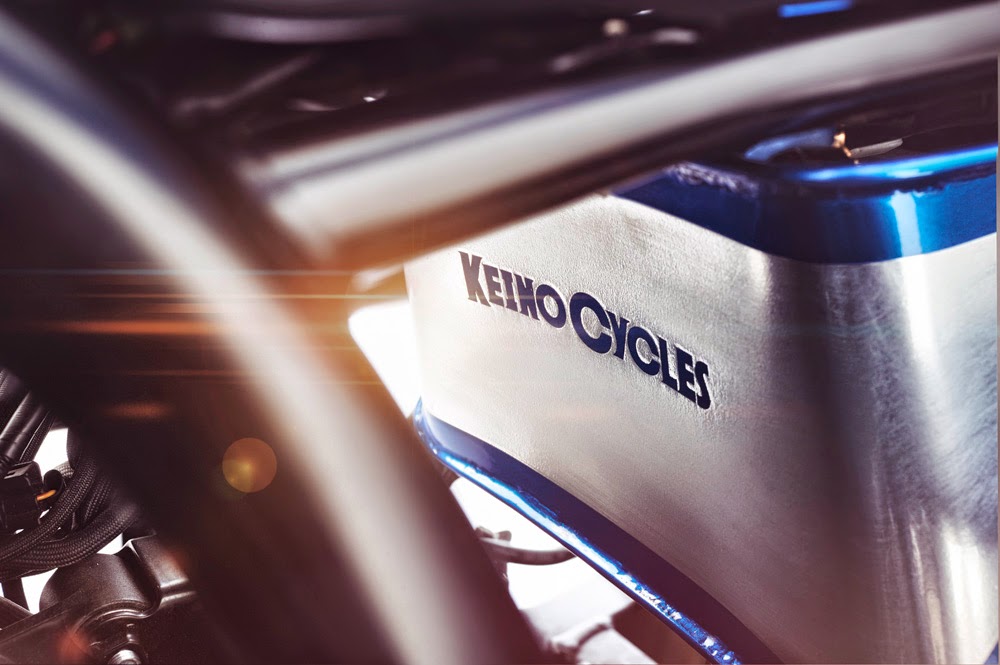 My favourite feature of the Yamaha is the bikes custom exhaust system. A set of 2-into-1 headers wrap around each side of the bike expelling exhaust gases via a pair of short reverse megaphones. A beautiful hand rolled heatshield on each side protects the rider from the skin-searing exhaust temperatures and the system has been finished in hi-temp satin black paint. To complete the build Keinosuke took Yamaha's classic blue paint scheme and added a metallic finish. Kenny Roberts racing style white and black panels run the length of the lower half of the tank and tail. To show off some of the alloy work Keino's left sections raw and protected them with a coat of clear.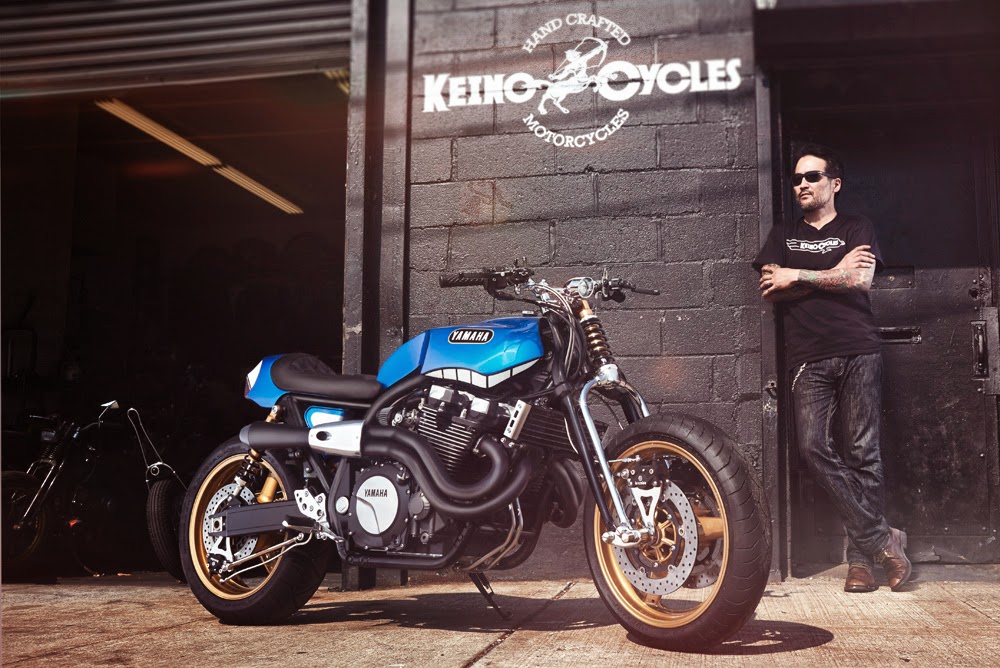 The next instalment of Yamaha's awesome 'Yardbuilt' series of custom motorcycles using models from their current range is here! This time they've collaborated with Japanese born, Brooklyn based builder Keinosuke Sasaki and his workshop Keino Cycles. Based on another Yamaha XJR1300  Keino's 'Rhapsody in Blue' now joins the ranks of the Wrenchmonkees 'Monkeefist' and the Deus ex Machina 'Eau Rouge' as some of the coolest modern XJR custom conversions around.