When Honda finally joined the new wave modern retro movement with the CB1000R Neo Sports Cafe we knew it was only a matter of time before we started seeing them customised. However, rather than waiting for workshops to take it upon themselves to modify the bikes, Honda has kickstarted things with several build-off style competitions around the globe. The bikes you see here are all part of the Honda Motor Europe Liberia (Spain & Portugal) 'Garage Dreams' build-off.
Earlier this year I test rode the Honda CB1000R Neo Sports Cafe. The 144bhp beast proved itself to be a great all-rounder despite the amount of power and torque on tap. Packed with the latest tech and featuring one of the best digital dashboards I've seen it is more Neo than Classic, but the cafe racer styling influences are obvious. I was also impressed by how good the bike looks in the flesh and was interested to see what kind of approach workshops would take given the chance to modify one. Looking at the bikes in the Honda Garage Dreams series it appears that anything is possible.
The lineup consists of 13 custom CB1000R Neo Sport Cafes, which have all been modified by Honda dealerships. Honda gave each dealer a modest 3,000 Euro budget for parts and fabrication and an additional 2,000 Euros for paint. The result is an eclectic mix of styles that demonstrate the flexibility of the Honda CB1000R platform. Here's a quick look at the 13 bikes that will be battling it out…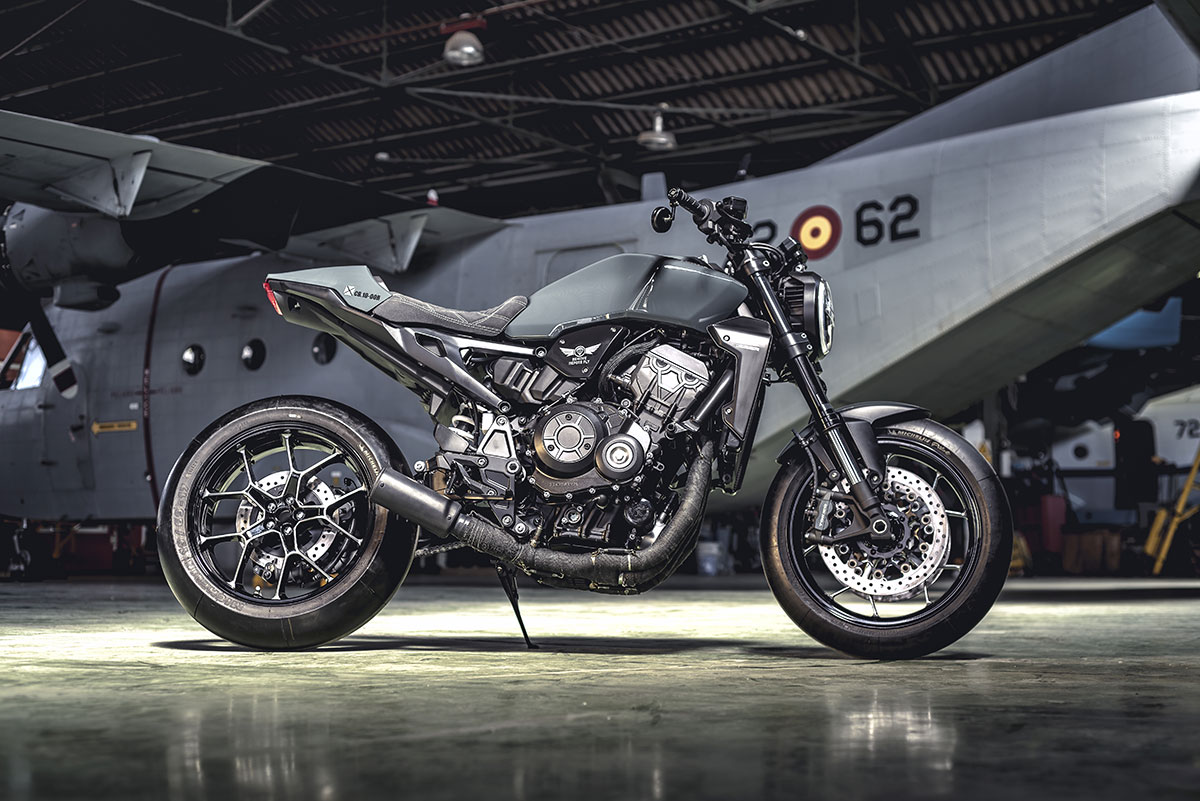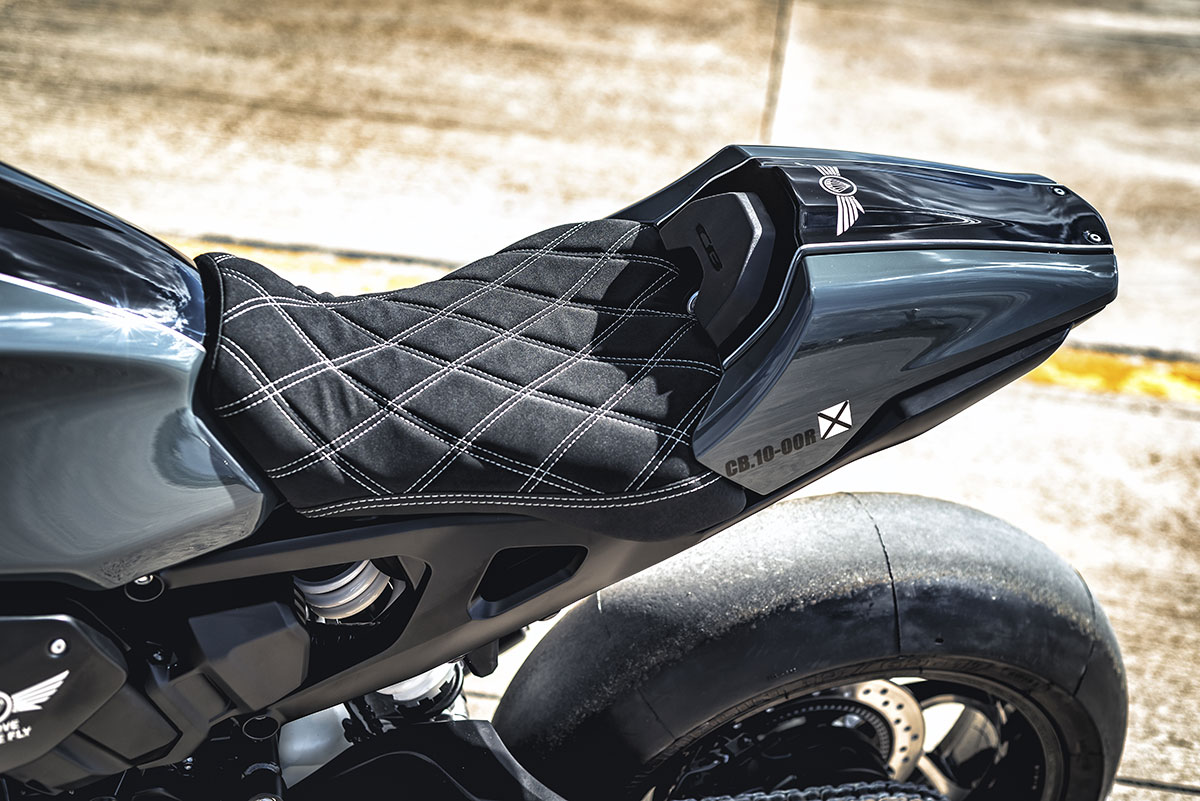 Autoferro Murcia – Raptor
Jet fighter grey is the new black. AutoFerro Murcia Honda in the south-east of Spain found their inspiration in vintage British fighter planes. The Raptor wears a custom made seat and exhaust and has been trimmed of fat such as the wheel hugger and passenger pegs. The main focus here was tightening proportions and adding plenty of aeronautical references to the bikes blacked out bodywork.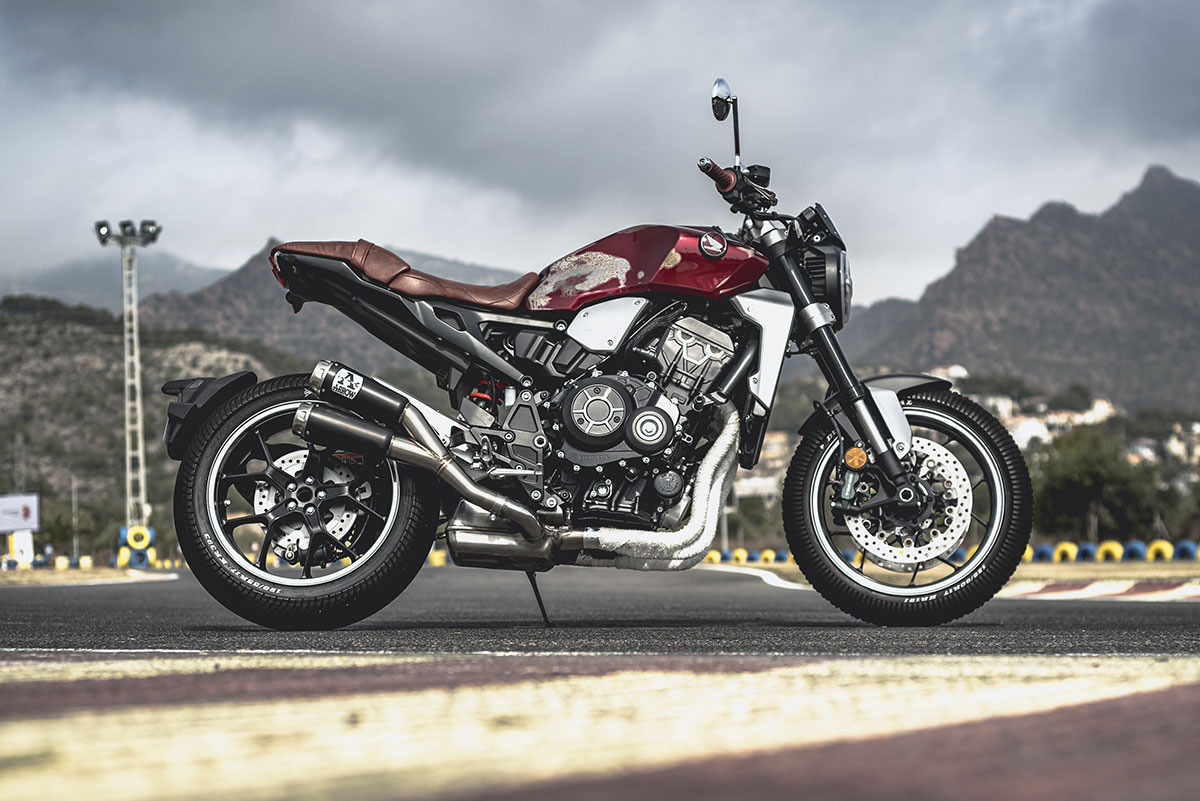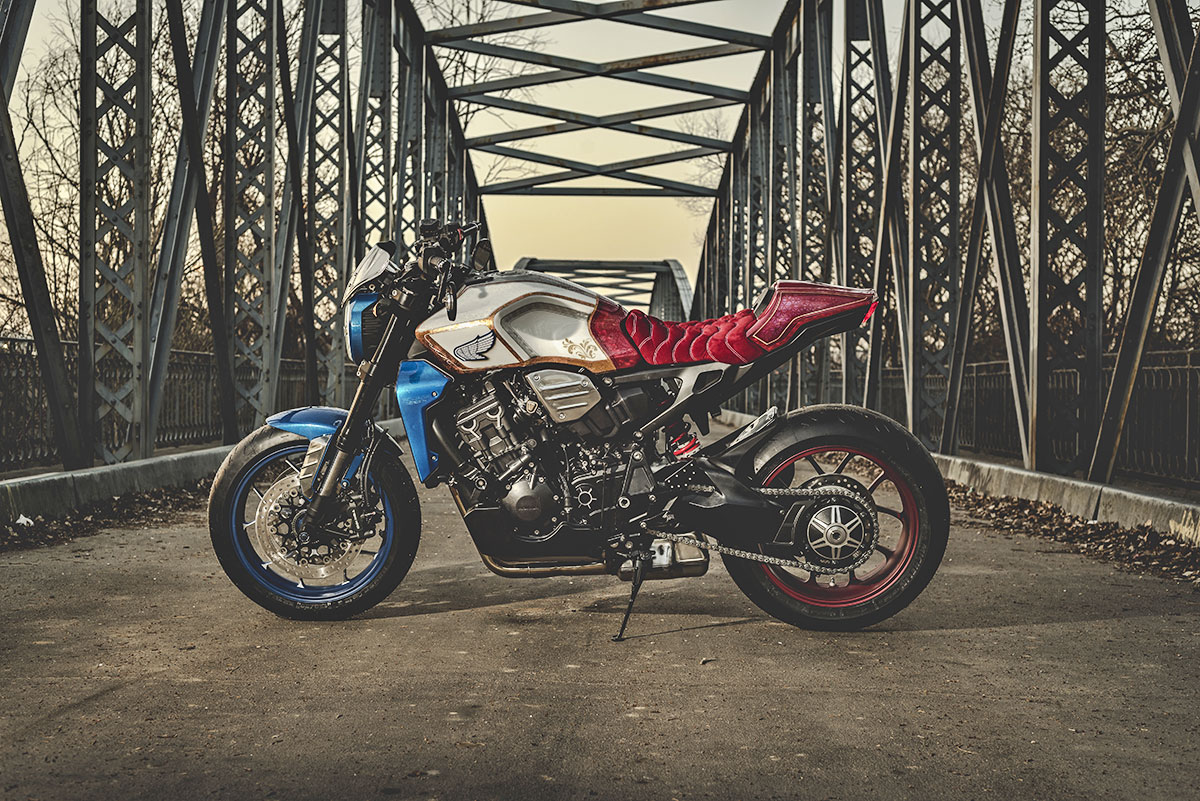 Honda Motocircuit – Four Experience
(Above left) According to the builder, this custom CB1000R is a nod to the original Honda CB. It features heavily patinated paintwork, wrapped pipes and a diamond stitched leather seat. These mods make it right at home in the new wave custom scene and they've rounded the project off with a 4-into-2 Arrow muffler.
Honda Motor Sport – 3
(Above right) The 3 was named in recognition of being the only Honda dealership with 3 women in management as well as being their third custom project. With it's red, white and blue paint scheme it would look right at home in Captain America's garage. This build is perhaps the most unusual in the mix with its mismatched wheels, gold-leafed panels, pinstriping and regal looking red suede saddle.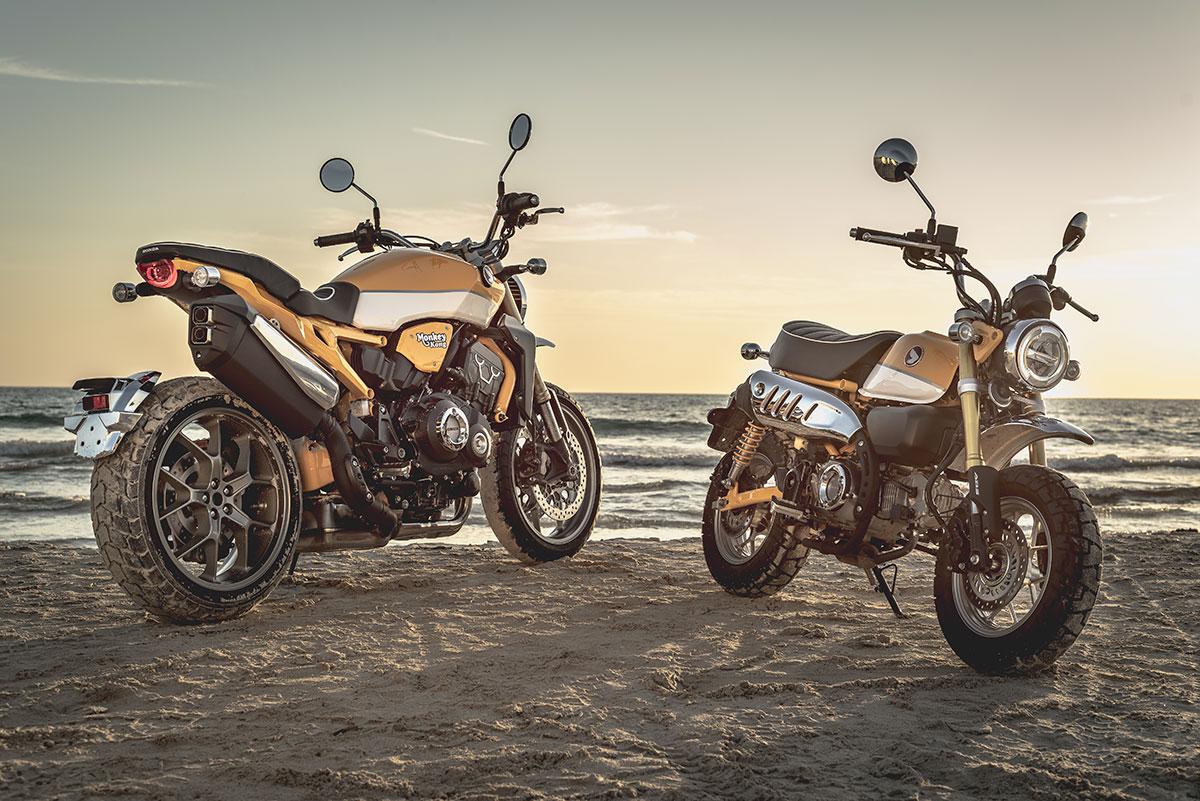 Honda Mallorca Motorcycles – Monkey Kong
"After several different ideas, we decided to christen our bike 'Monkey Kong' for obvious reasons. We wanted to join the celebrations surrounding the re-launch of the "new Monkey," so we decided to build a bigger and more powerful replica."
The similarities are obvious despite these two platforms being so vastly different. If making people smile wins votes then Honda Mallorca have this competition in the bag!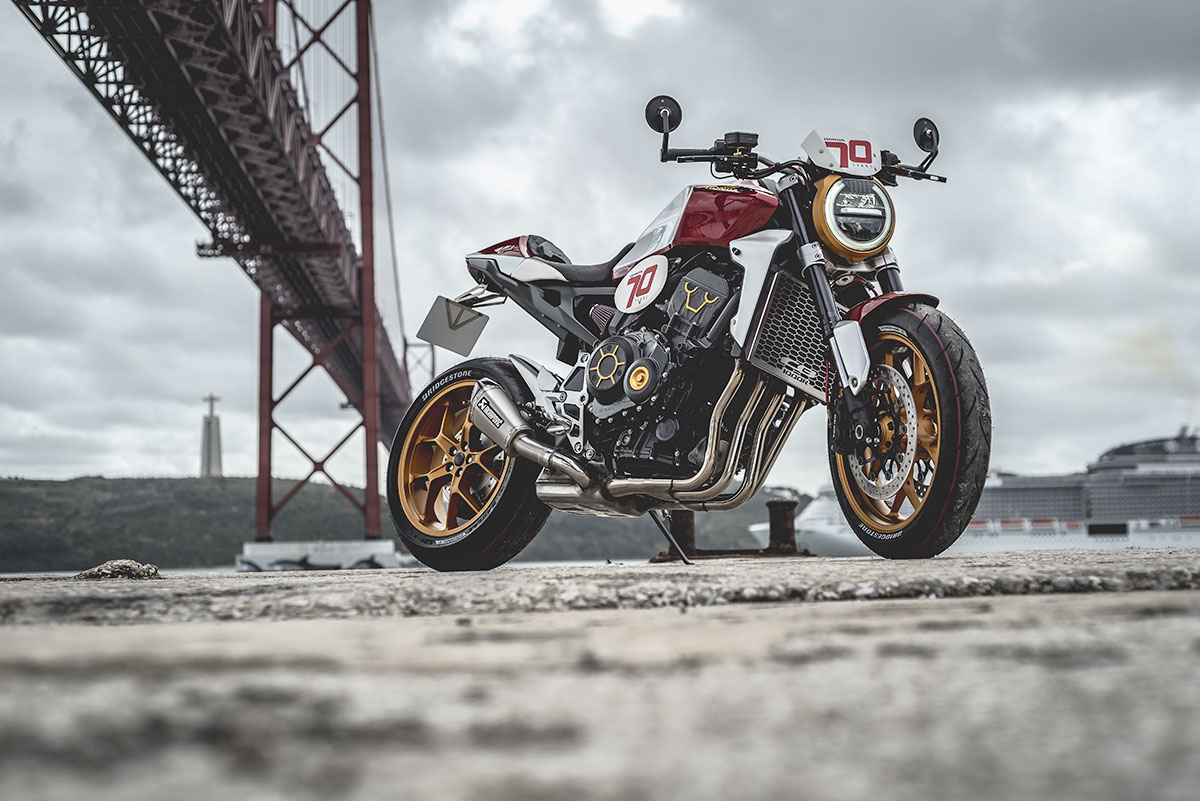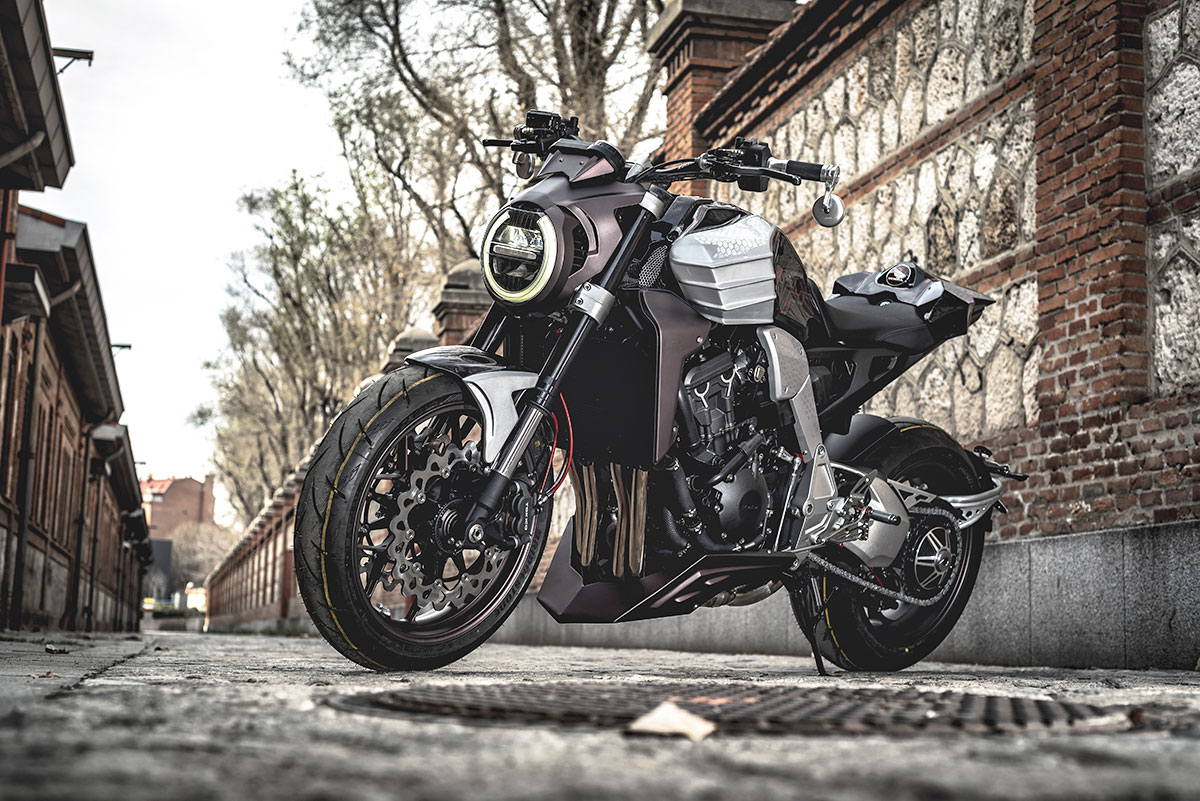 Honda Motorway – CB1000 R70
(Above left) Portuguese dealership Honda Motorway chose to commemorate Honda's 70 years of motorcycles with the CB1000R. The bike now wears a classic RWB Honda paint scheme and iconic gold wheels. Along with the aesthetic changes, it now wears a 70s styled filler cap, Rizoma accessories and an Akrapovic slip-on muffler.
Honda Otobai – Bauxite
(Above right) Using custom made aluminium body panels Honda Otobai have pushed the Honda's Neo styling further into the future. This heavily modified CB features hard lines, geometric patterns and anodised finishes as opposed to traditional paints. Taking performance into consideration they have also revised the riding position with rear set controls and improve brake performance by installing larger discs.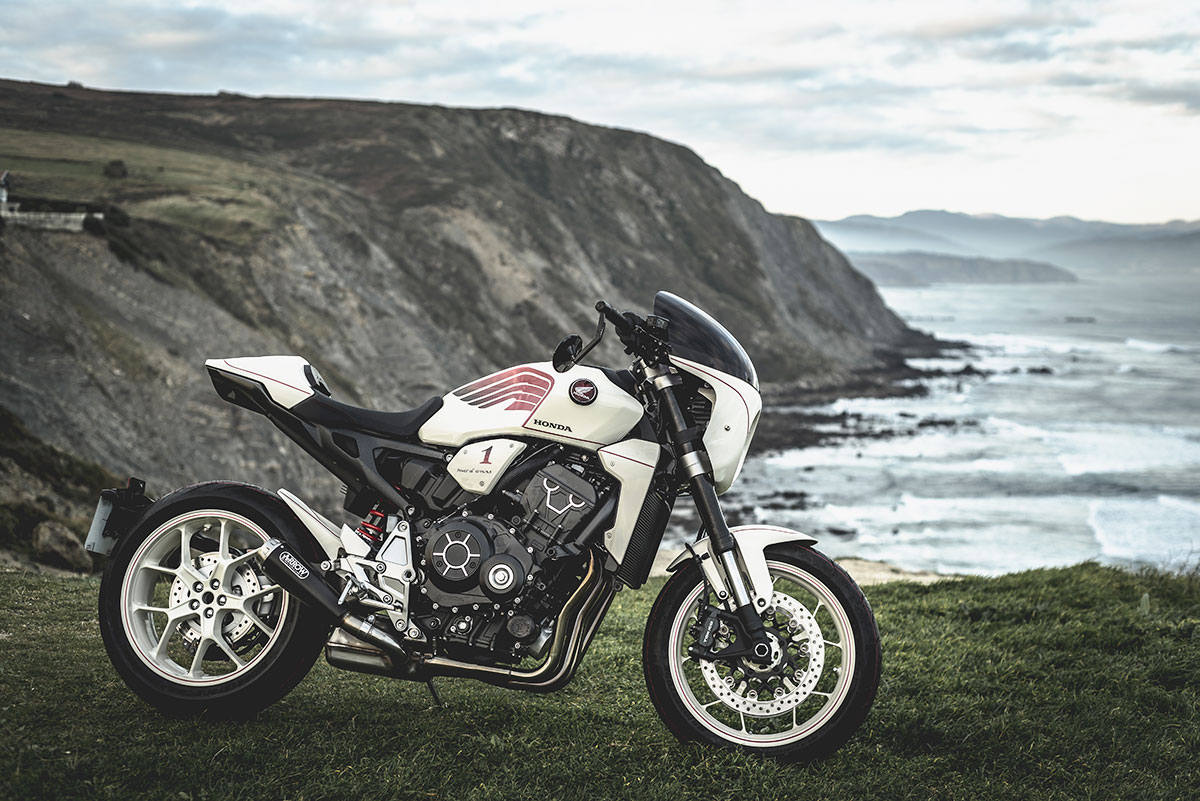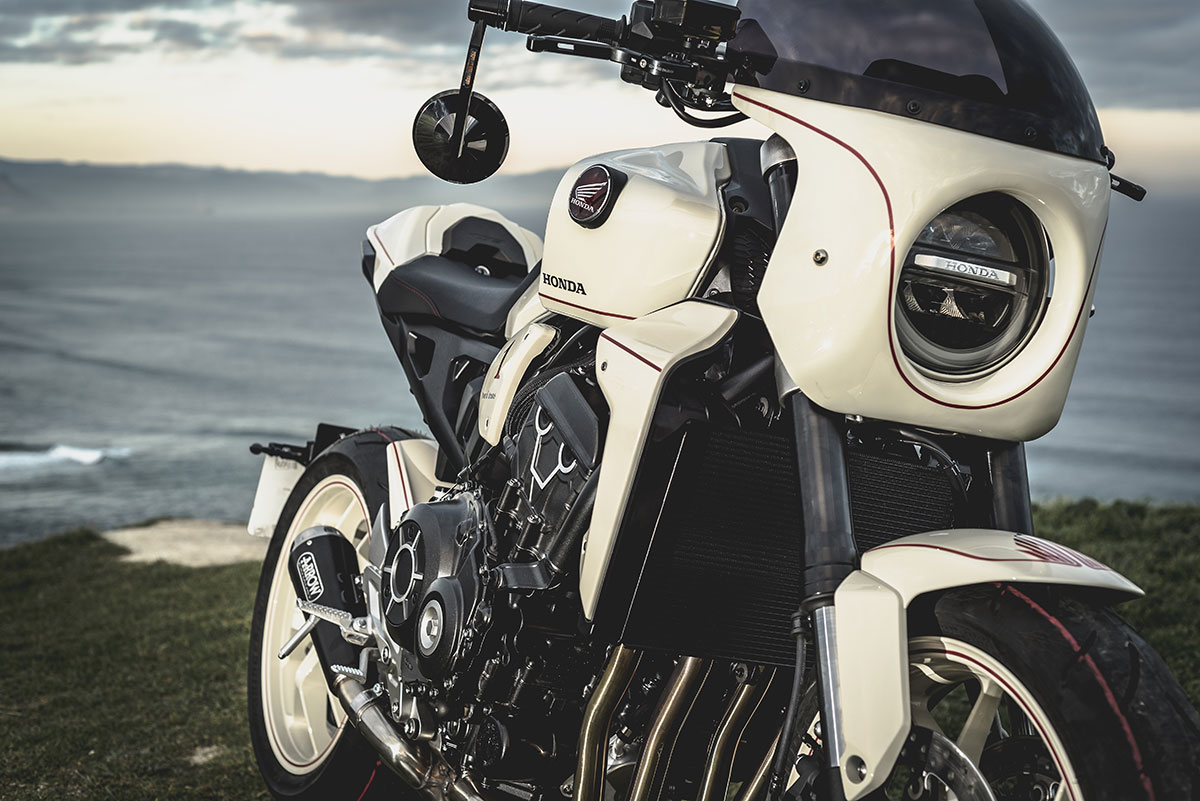 Honda Motorcycles Ortho CB1000R
If you didn't think the CB1000R Neo Sports Cafe was retro enough before, just look at it now! Honda Ortho has transformed the look of the Honda by fitting it with a viper cowl and an all-white retro paint scheme. This Neo Sports Cafe would look right at home parked beside a Kawasaki Z900RS Cafe, and that's certainly not a bad thing.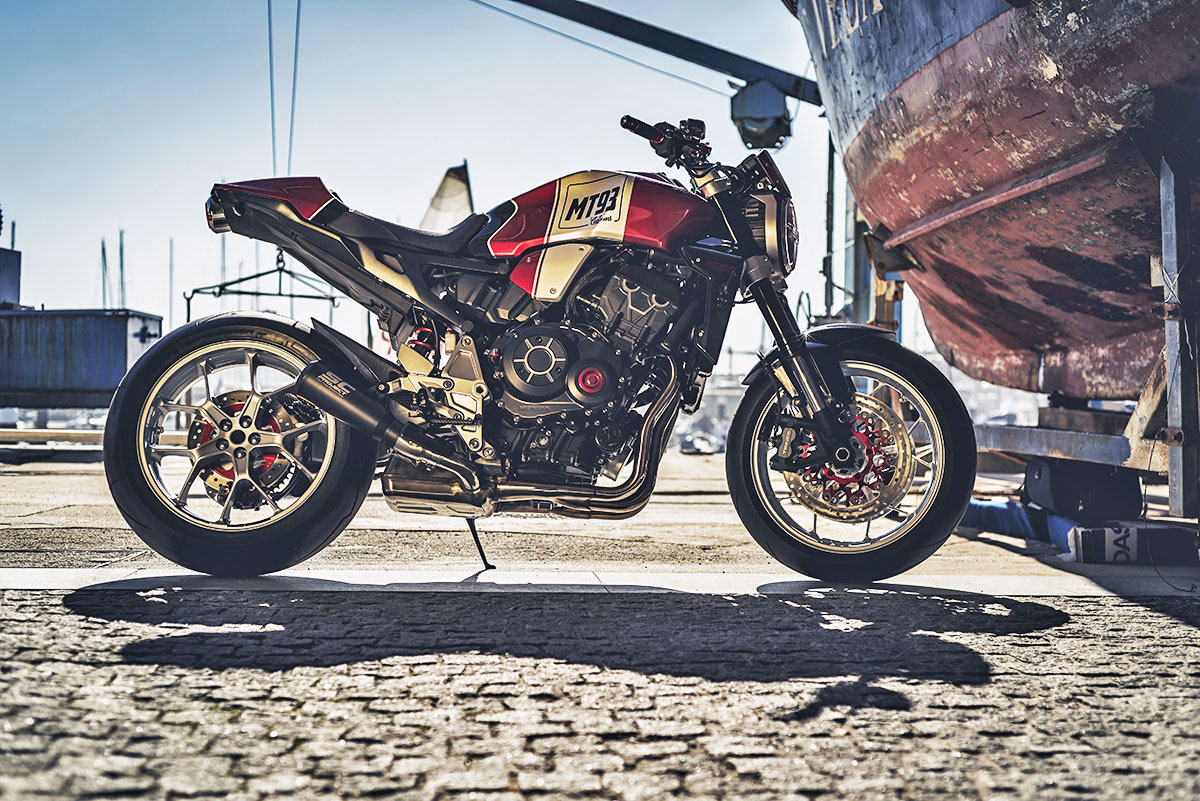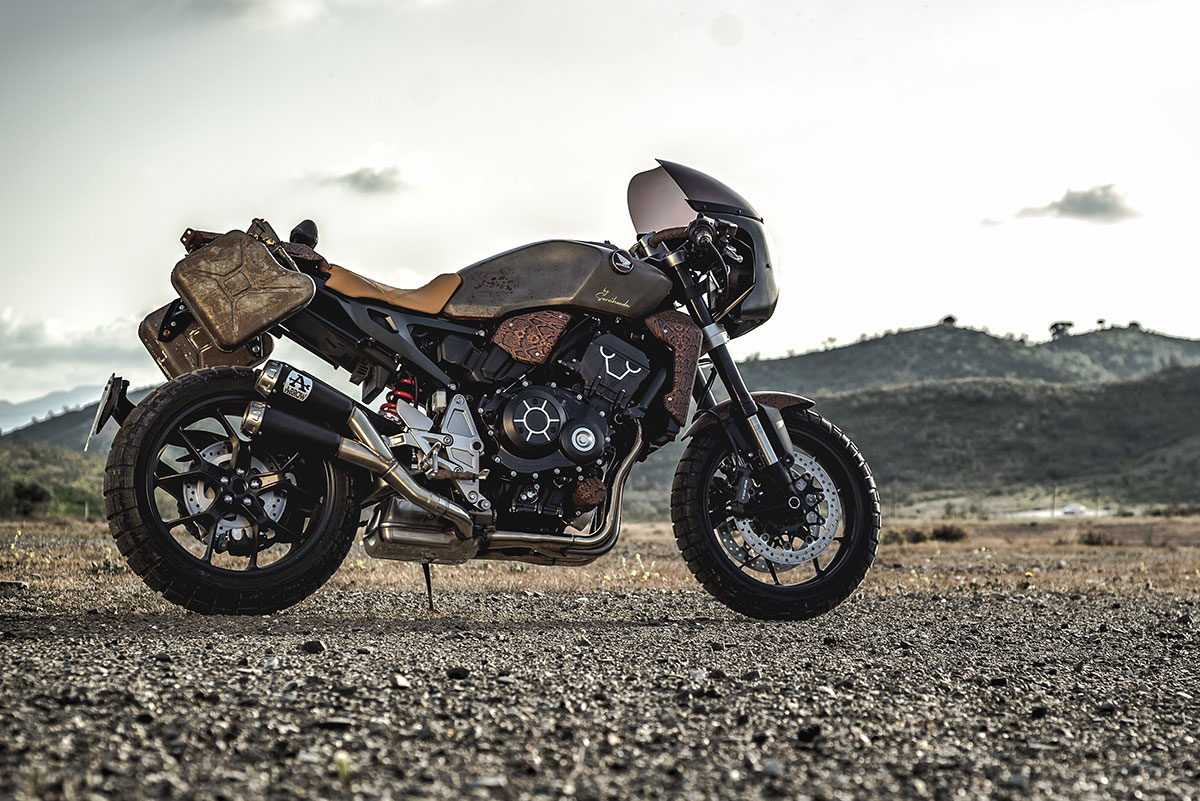 Honda Mototrofa – Ganbatte
(Top left) An SC Project exhaust and Pirelli Diablo SuperCorsa rubber set the tone for this carefully considered custom. Carbon fibre components have been paired with repurposed Monkey 125 parts and the paintwork is a hat tip to their own birthday.
Honda Towca CB1000R
(Top right) Honda Towca has added some off-road attitude to their CB1000R by applying touches of Scrambler styling. The bike now wears chunky enduro rubber, a custom headlight and radiator grille and racing style number plates. Like Ducati's original Scrambler it is perhaps more style than substance, but that doesn't detract from how good it looks.
Servi Honda – CB1000R Survivor
(Second row) We think someone's been watching too many Mad Max movies. The post-apocalyptic Survivor is geared up to tackle long hauls through the barren wastelands of a decimated earth. With this style of build, anything goes and these guys haven't held back.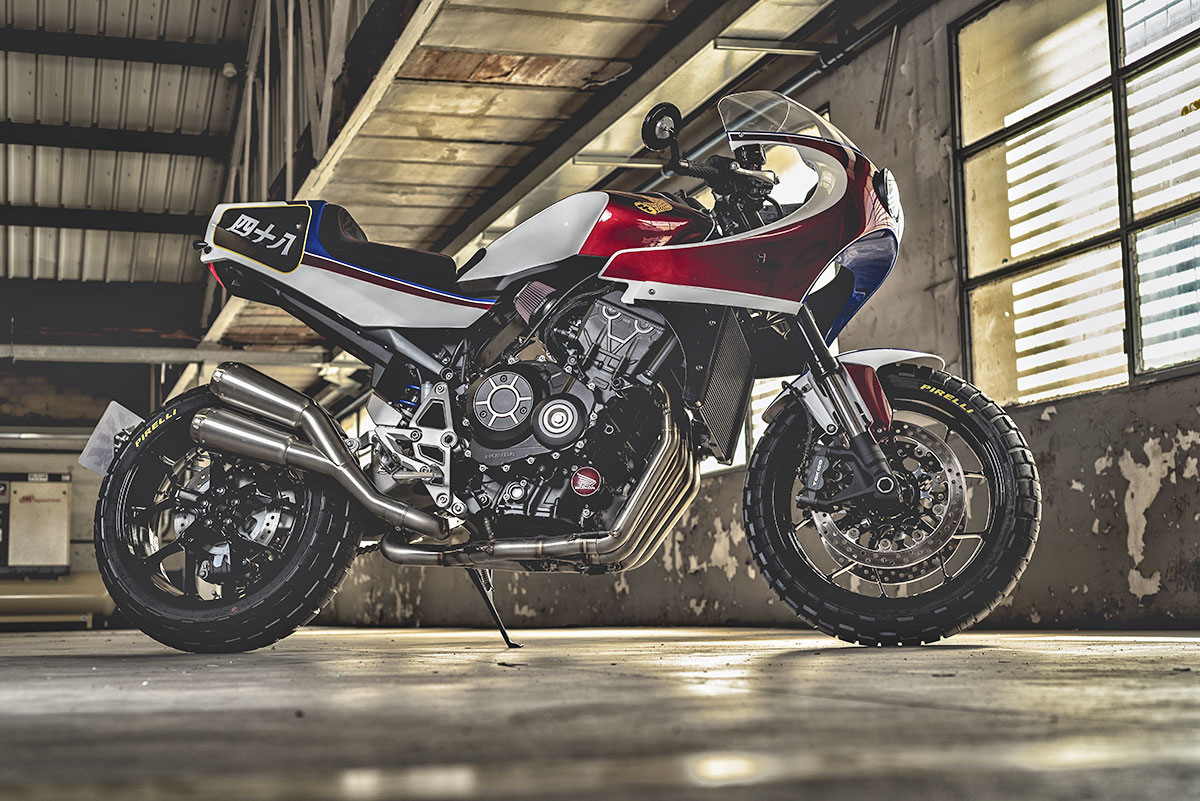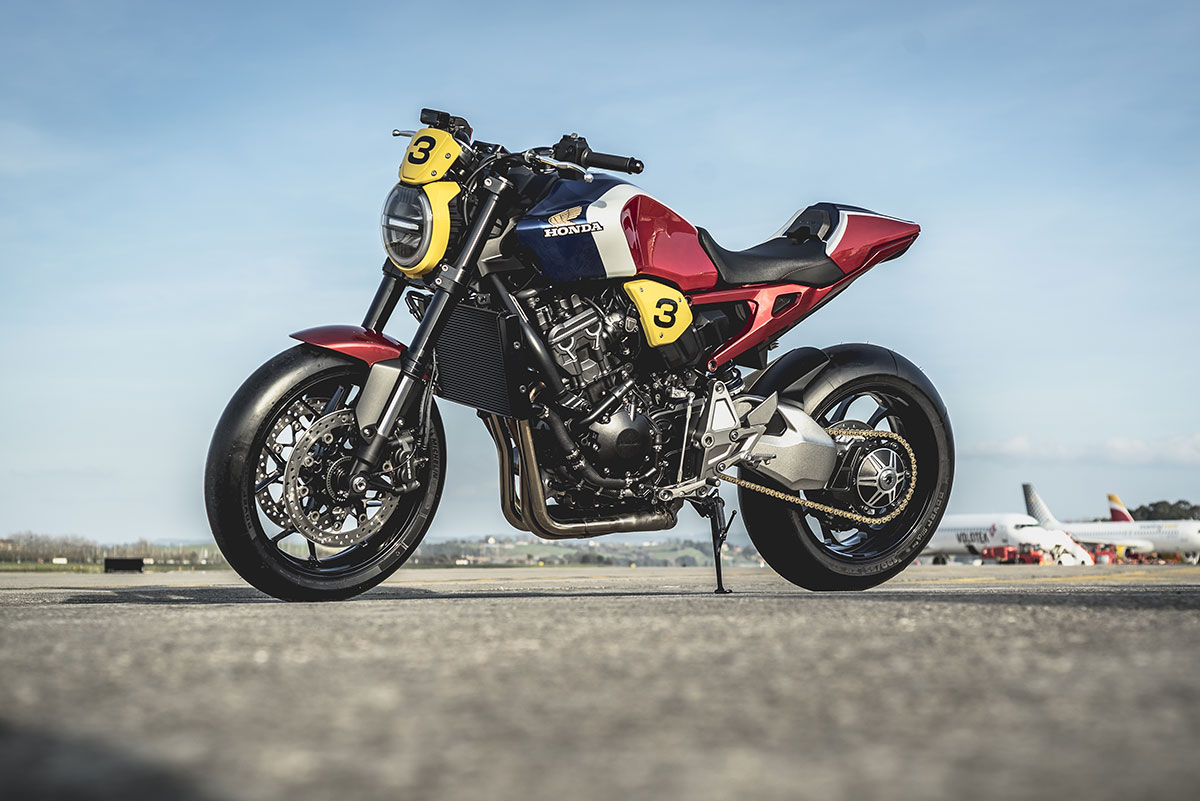 Honda VC Moto Sabadell – Nozomi
(Above left) Mixing styles can be a dangerous game, but in this case, it's so wild it may just pay off. The VC Moto Sabadell Nozomi CB1000R blends aspects of endurance racers and adventure tourers to create something radically different. The resulting bike reminds us of Japanese Bozozoku machines. Whether that's a good thing or not the voters are yet to reveal, but at least they'll have made a lasting impression.
Honda Hakuba – Alfredo
(Above right) Running slicks on a build can only mean one thing. This bike has been built to race. Dressed in classic Honda RWB livery and stripped of non-essentials Alfredo is destined for some serious track time.
Honda Impala CB1000R
Putting your money where your mouth is the best way to show you're serious. Honda Impala set out to convert their CB1000R into a flat tracker and that's exactly what they've done. The extensively modified bike features a custom made tank and tail section, revised riding geometry and track ready rubber, but the changes don't end there. The air box has been replaced by free-flowing pod filters, the exhaust is completely custom and fueling has been appropriately remapped. All road going running gear is gone and up front, there's a brazen number 1 racing plate. If that wasn't enough the whole package has been finished in first place gold paint. Confident much?
Between April 4-7 you can vote for your favourite one of these custom CB1000R builds on the Honda Garage Dreams website. The winner will then be unveiled at Vive la Moto Salon in Barcelona that same month.
Photography by Diego Bermúdez (Revival of the Machine)