It seems like ancient history now, but back in those scary days of early 2020, Italy was one of the first countries outside of China to experience the full force of the COVID-19 virus. Being the bike freak that I am, I couldn't help but think of all those custom builders I know from the region who were acting like some horrible avant-garde test subjects for the rest of the world.
So you can probably imagine my first thoughts when my good mate Filippo Barbacane from Italy's Officine Rossopuro reached out recently. "In Italy, it was really hard. Especially in the beginning when the whole world wondered what was going on here. Fortunately, COVID did not hit as hard here in Abruzzo as in other Italian regions and cities." Talk about the thin end of the wedge.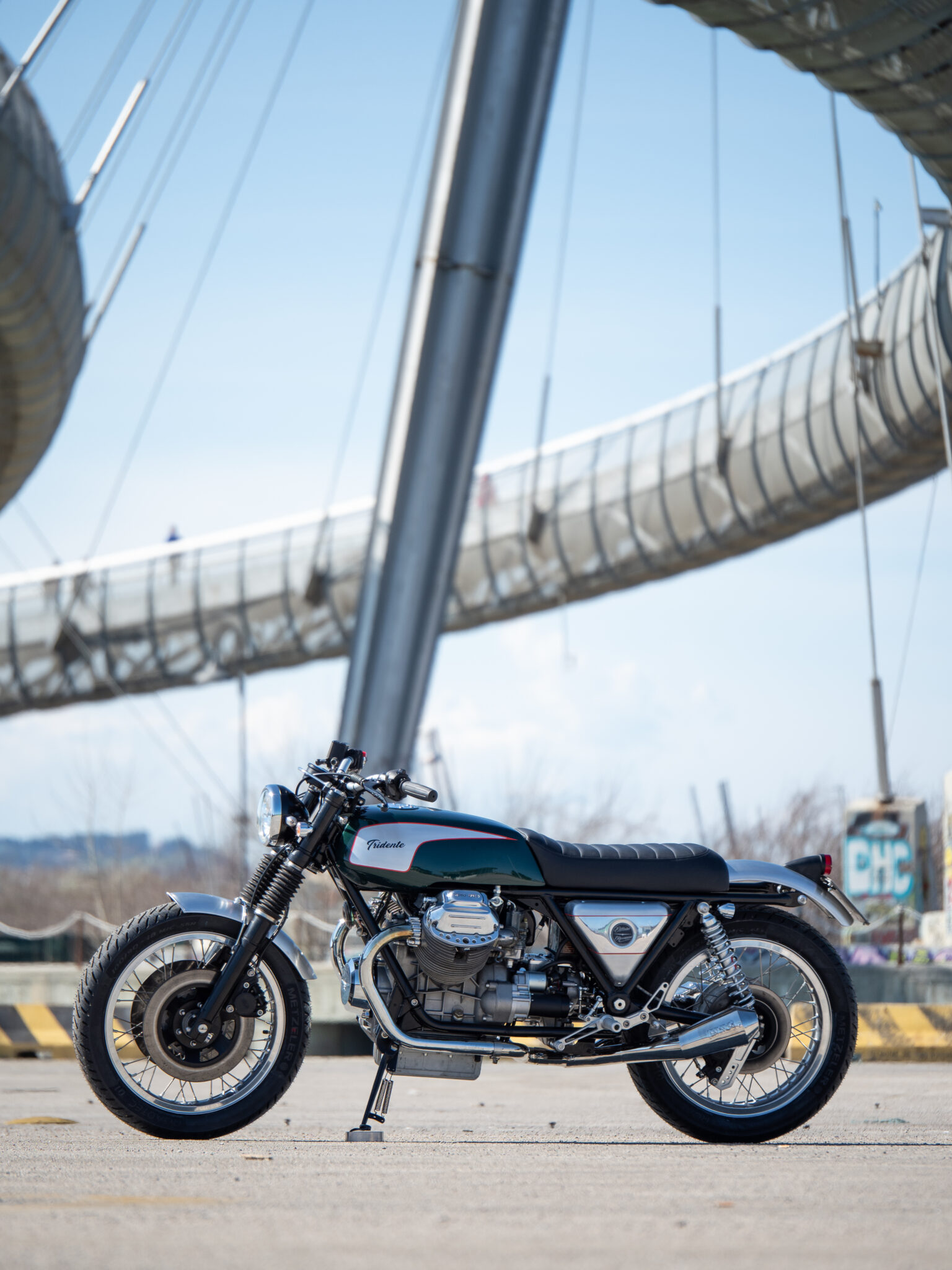 An Indispensable Activity
"I understand that there are probably more important things than riding a motorcycle; respect for life is the first thing. But for us who live and breathe motorcycling every minute of our life has really been as if they took away our oxygen." Living in lockdown Sydney for the past 11 weeks, what Fil says couldn't be more on point.
As far as the work is concerned,  Fil says he never expected what happened next. 'I've never worked so hard. I am now doing eight projects at the same time. When the whole world was closed, I could still go to work because according to the Italian laws, Officine Rossopuro's business is an 'indispensable activity' as I also sell spare parts for motorcycles.' I've said it before and I'll say it again. Italians get the meaning of life, their legendary design chops are just a byproduct of that.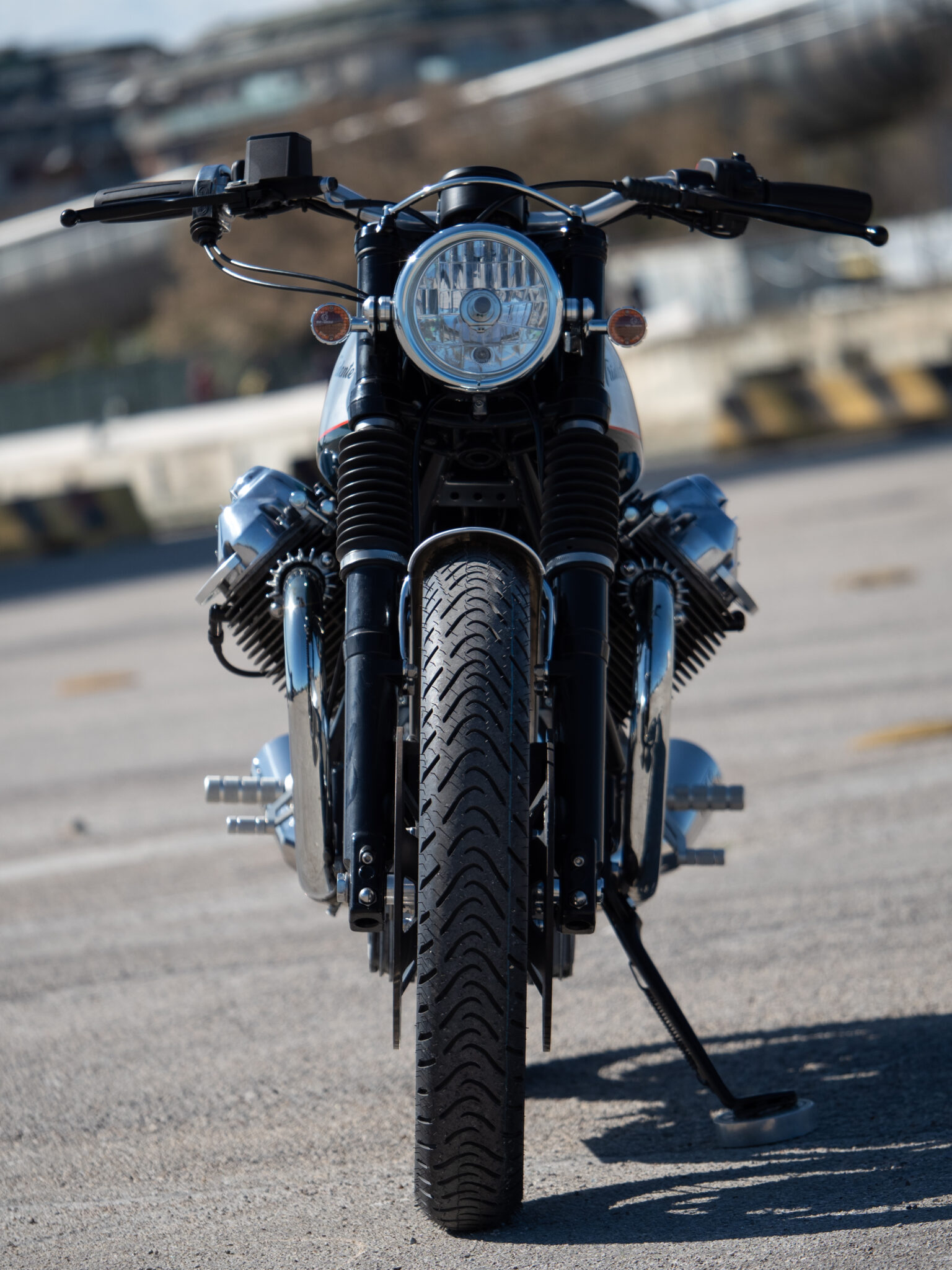 Of course, one of those projects was the bike you see here; Fil calls it the 'Tridente'. "The name 'Tridente' is a tribute to the customer, who has always been a lover of the sea and who has a proud Navy background."
The basic idea for this project was to create a light and versatile bike; one that could be used every day around town, but also as transport for longer journeys by the owner. "Just as in all my works, I started off by disassembling everything and overhauled every part of the mechanics of the bike, engine, gearbox, the cardan shaft, the frame and more."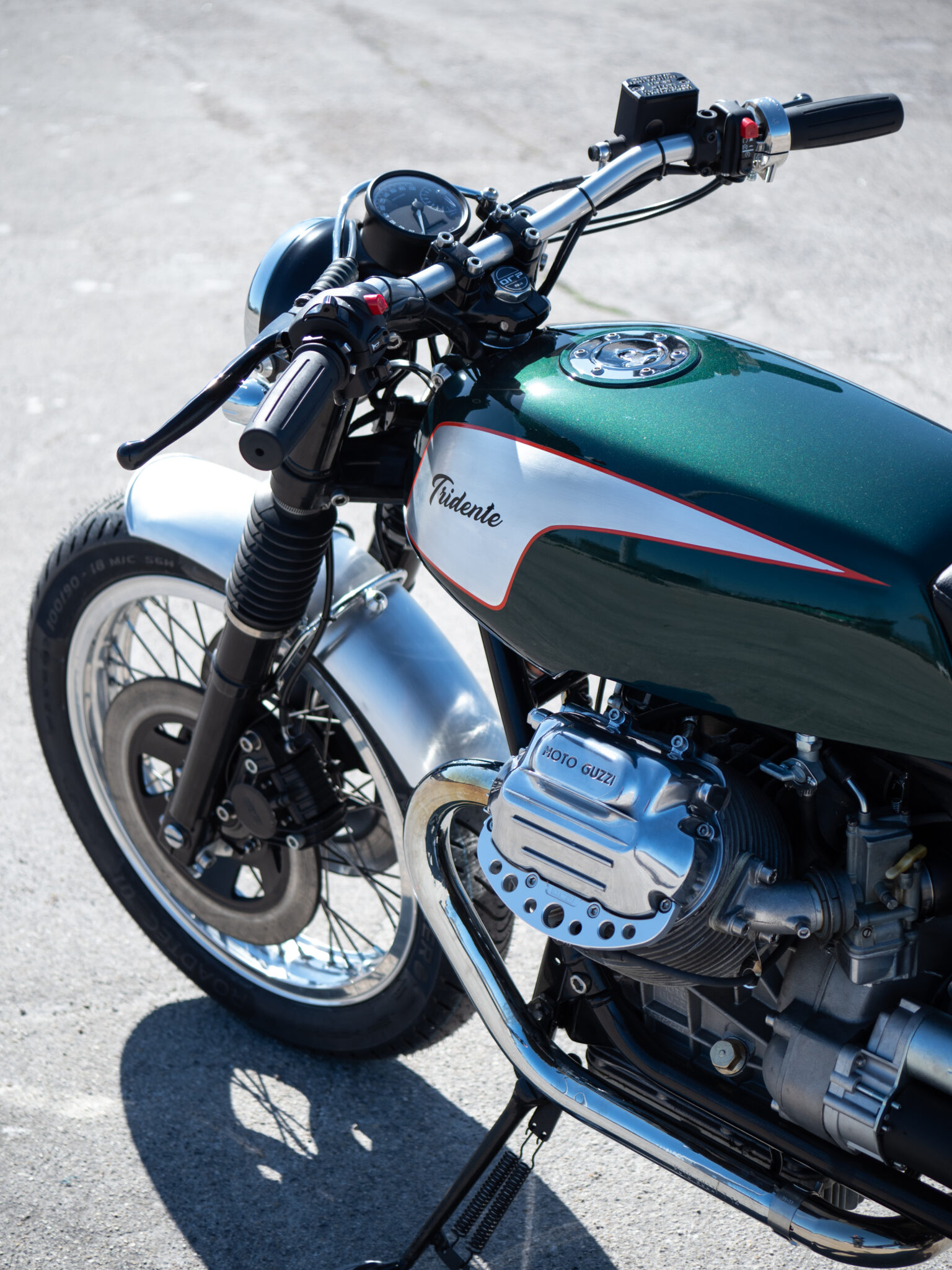 Plain and Simple
"On each of my bikes, everything is always 100% redone," stresses Fil. "This is because I have always believed that it is useless to have a nice custom bike if it doesn't actually work."
The donor Moto Guzzi SP1000 was already fitted with adjustable Bitubo rear shock absorbers and 35mm forks with Bitubo cartridges, so all that was needed here was a thorough service and fresh paint. "The braking system has also been revised; the old factory braking was eliminated and every other part was overhauled, with Brembo gold series brake pumps, 300mm discs, and aeronautical brake lines being added."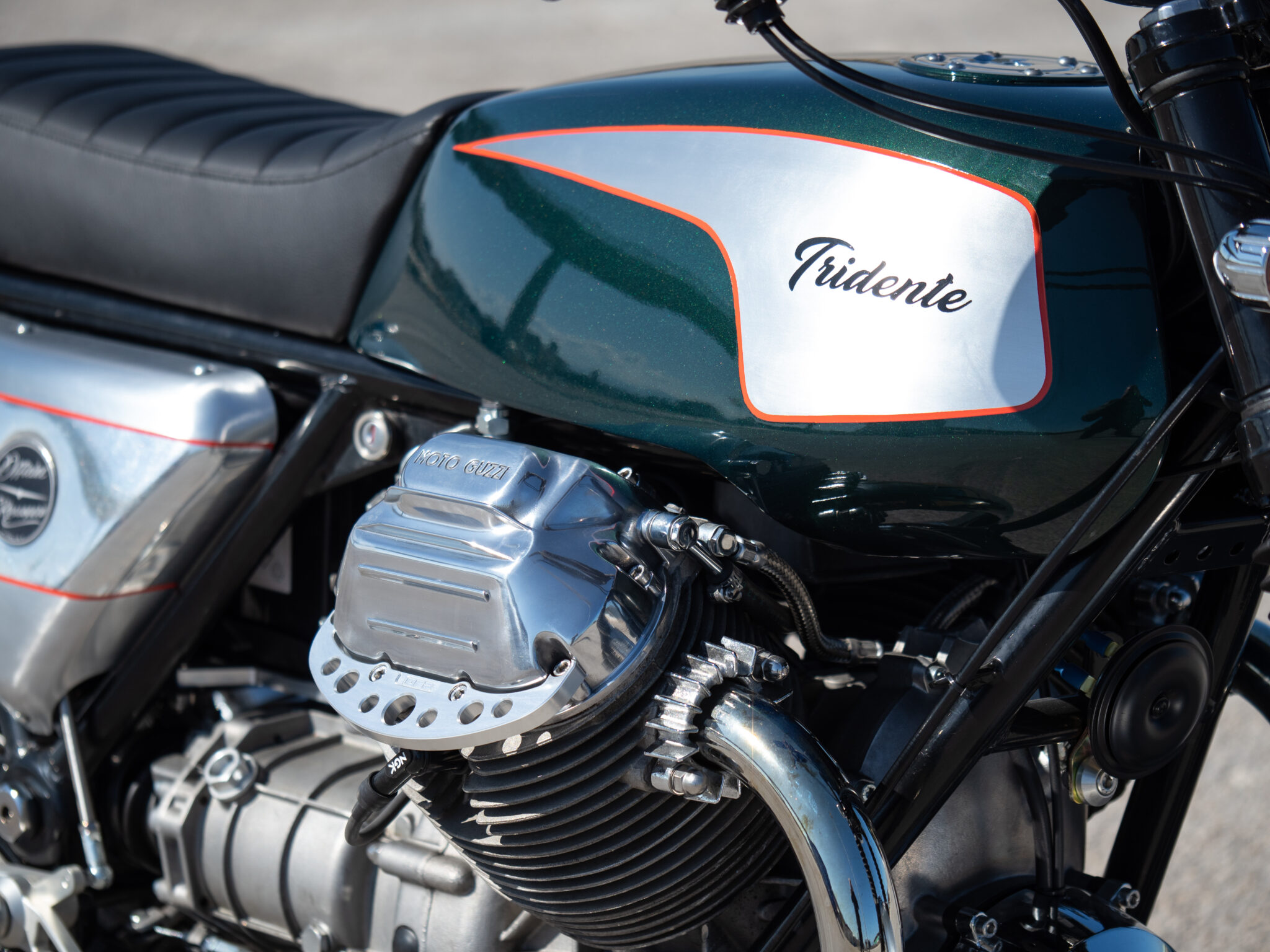 As any customiser worth their salt will tell you, a crucially important aspect of any 'classic special' are the rims. Get them wrong and the bike looks are toast. But not here. "I used spoked wheels with aluminium hubs, stainless steel spokes and Borrani Record aluminium rims: 18 x 2.5 in the front and 18 x 3.5 in the rear."
"The bodywork here, as in all my bikes, is unique. On every project, I think, concept and create an original design that never repeats itself. In my opinion, this is the core principle of customizing; originality."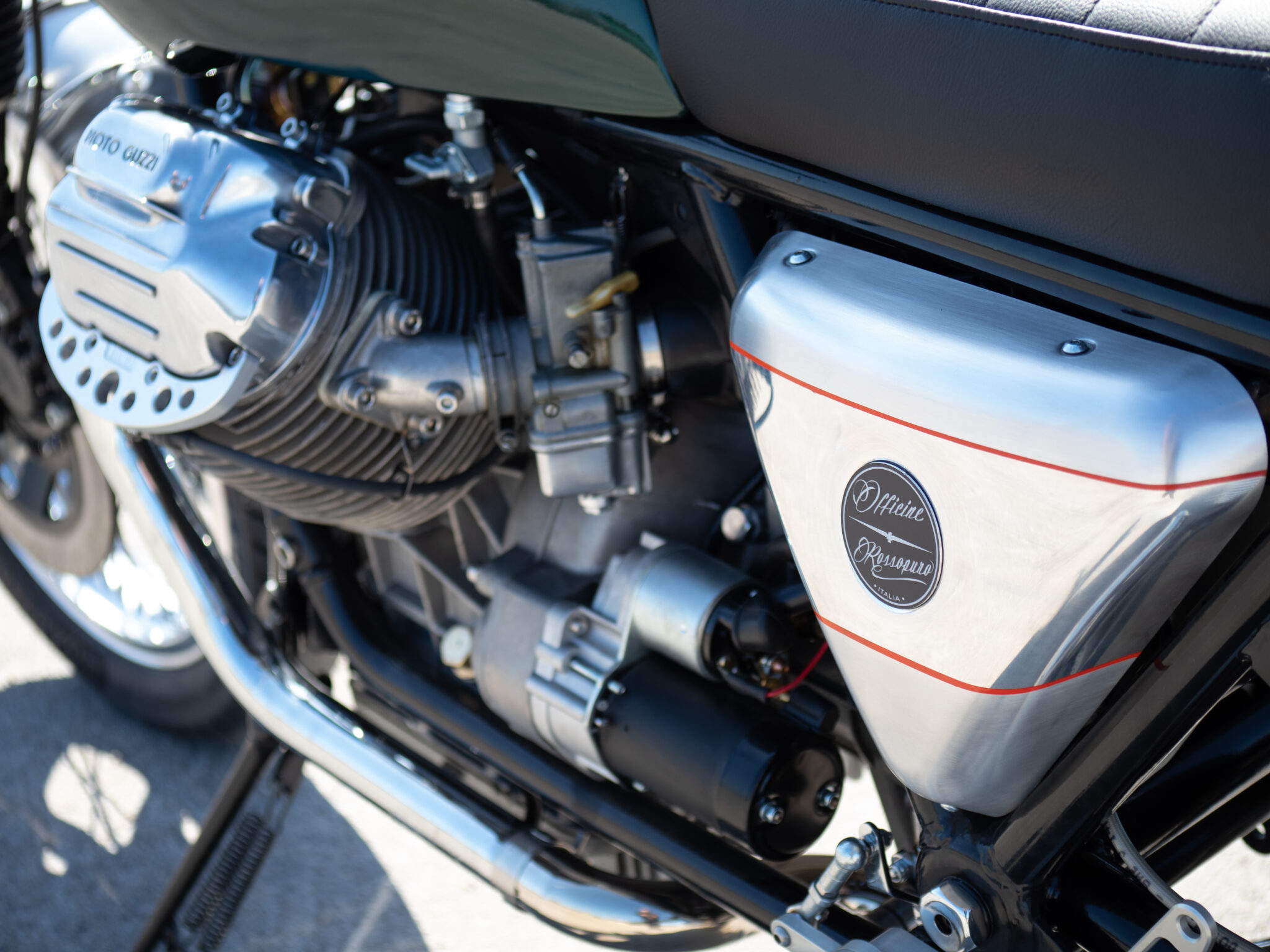 Breaking the mould
After creating a new template each and every time according to the project, Filippo then builds the hand-beaten aluminium body in the traditional way. In the case of the Tridente, the tank has been constructed in a rather ingenious fashion to have both a streamlined form and at the same time guaranteeing decent fuel capacity.
"Then all the special parts and accessories were revised," continues Fil. "The engine mounts and the rear calliper support are made of CNC'd aluminium, as are the adjustable footpegs."
"The bike's new accessories such as lights and mirrors were homologated like all parts on my motorcycles. Also, I don't like using LED lights on specials that are 40 years old, it just seems out of place to me. I prefer high-quality halogen lights."
Of course, Filippo upgrades the electrical systems, too. The Guzzi is all-new and features a modern starter motor, electronic ignition, and a 21st Century voltage regulator.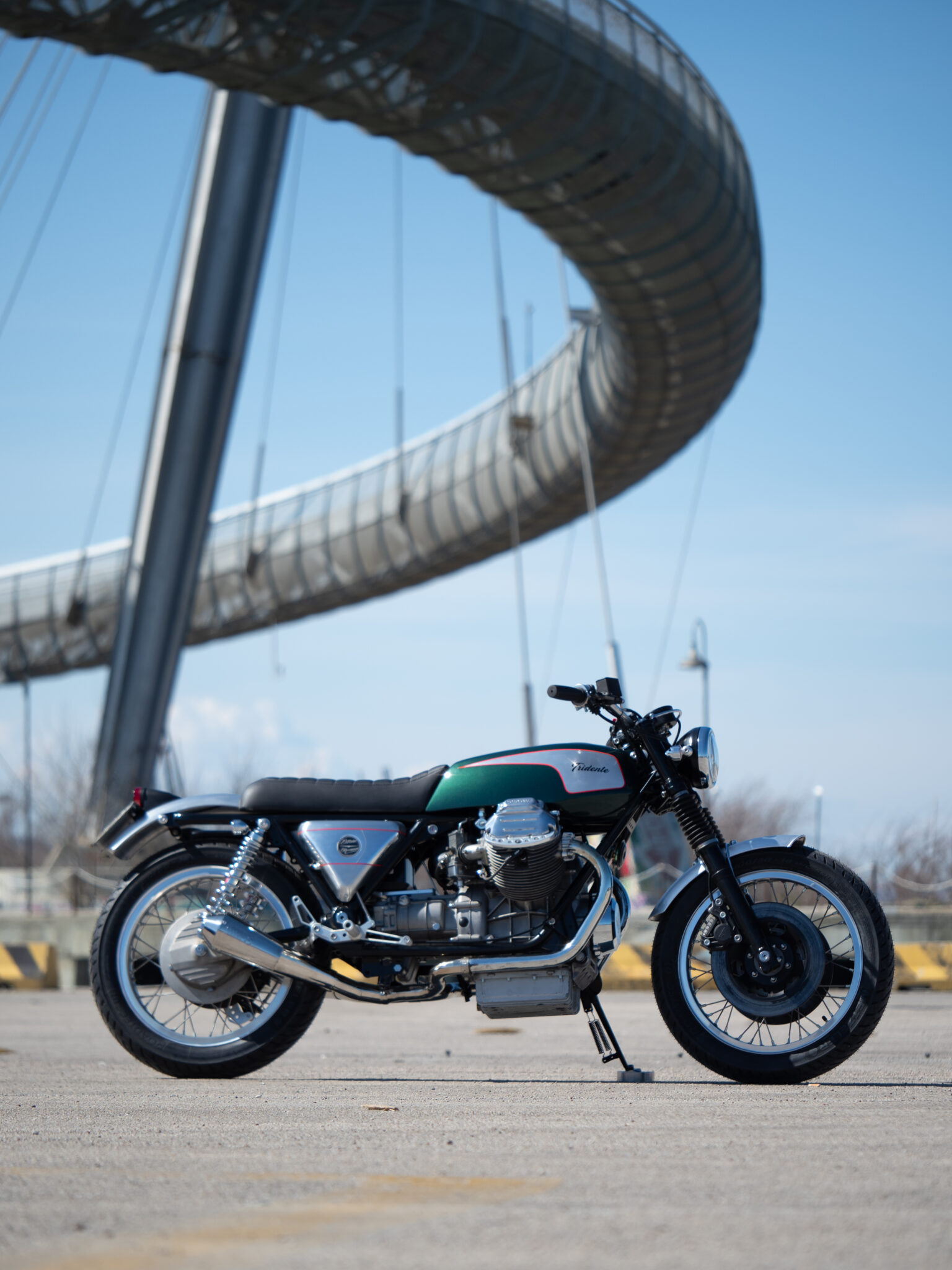 Mass Effect
The bike's molto Italiano Mass 2-into-2 exhaust is made to measure; a deal between Officine Rossopuro and the company means for each bike Filippo makes,  they fabricate a bespoke exhaust based on his exact specifications. And ditto with the homologation here. Detecting a theme, much? No, as a matter of fact, Fil doesn't cut any corners.
"The painting stage involved an application of a deep green metallic shade on carefully selected areas of the aluminium tank and side covers, highlighting the precious material it is made of. The logos and pinstripes are hand made by me with a brush."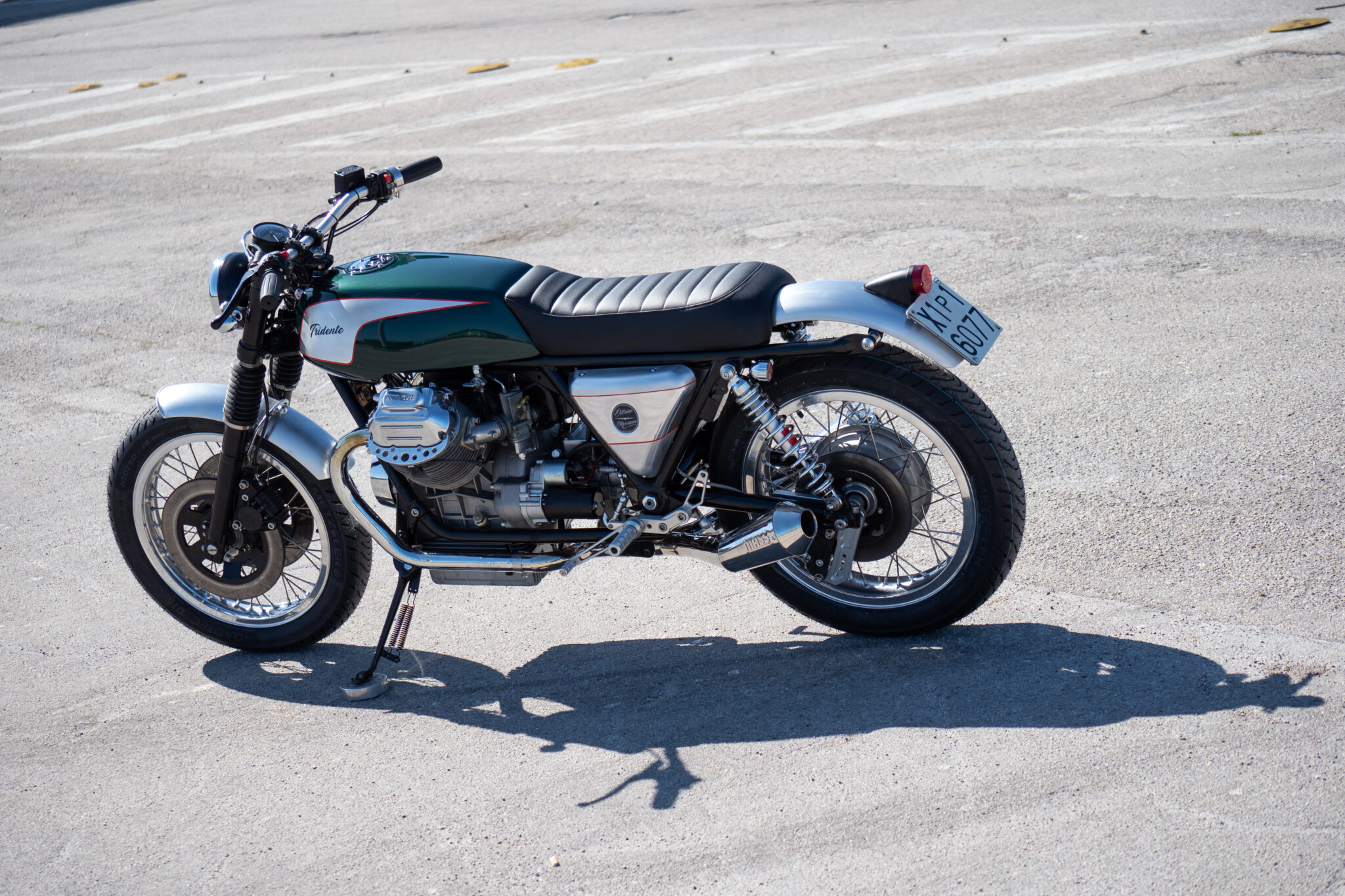 Pretty sharp, huh? Now put yourself in the rider's seat on a warm spring day, riding up the SS16 coast road from Abruzzo's sea-side city of Pescara with the Adriatic coastline on your right and the Apennine Mountains on your left. COVID lockdowns seem like a distant memory, and everything is in its right place. Welcome back Madre Italia. We really missed you.
Photos by Filippo Barbacane